With the massive comeback that wide-leg jeans have made into the fashion world, it seems everyone is wearing them nowadays. The good thing about wide leg jeans is that they look amazing on different body types. However, you have to pick the style that works best for your body type. 
You can style wide-leg jeans to fit your personal preference. Here is the ultimate wide-leg jeans guide for short and curvy women who want to stand out elegantly in their jeans.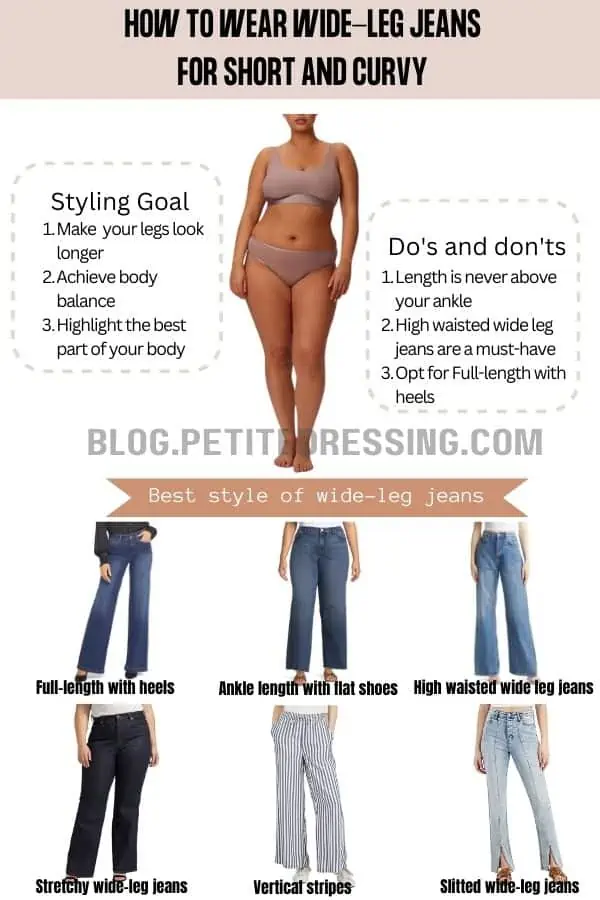 Best Length
At some point, wide-leg jeans faded out of the fashion world, but now they have made a super strong comeback. If you want to join the trend with wide-leg pants, then you should know the best length that works with your short and curvy body.
Don't worry; you can flaunt this amazing style flawlessly, and we'll show you how. Here are the best lengths of wide-leg jeans for short and curvy women.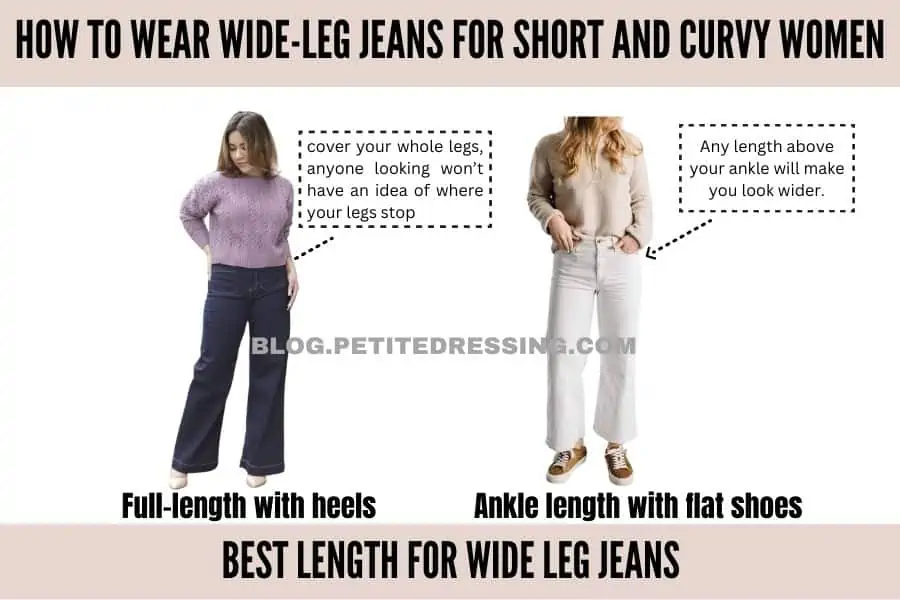 Full-length with heels
If you have short legs, there's no better combo than full-length wide-leg jeans with heels. When the wide-leg jeans cover your whole legs, anyone looking won't have an idea of where your legs stop, and that's where the heels come in.
If you're comfortable in a stiletto, you can rock those inches under your wide-leg jeans, which gives the illusion that your legs are much longer than they actually are. This looks very flattering on short and curvy women who want to look taller.
Ankle length with flat shoes
The ultimate mistake that short and curvy women can make with wide-leg jeans is to go for the extremely short variety. These will only make you look shorter, which is not chic. 
So, always ensure that the length of wide-leg jeans you opt for is never above your ankle. Any length above your ankle will make you look wider. At ankle length, you should have a cool pair of flats on your feet.
A great idea is to have wide-leg black jeans that sit right above your feet and flat shoes that are the same solid color as your top.
Best styles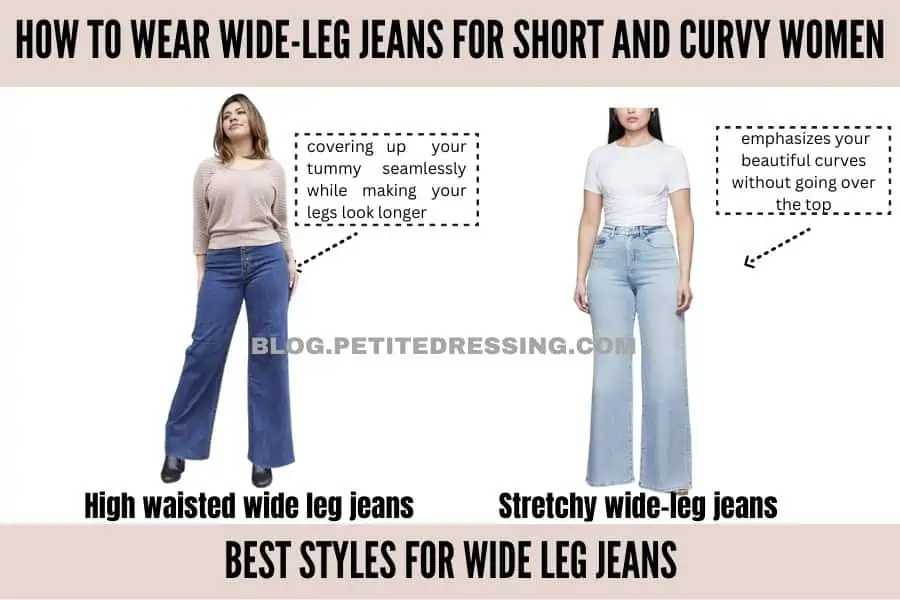 With the numerous designs and styles of wide-leg jeans out there, it can be quite overwhelming to choose the one that works best for your body type. Obviously, not every design is great for short and curvy women.
The goal is to choose styles of wide-leg jeans that emphasize your curves and complement your petite body without making you look like a sack of potatoes. So, let's get right into the best styles of wide-leg jeans for short and curvy women.
High waisted wide leg jeans
In the fashion world, high-waisted wide-leg jeans are a petite woman's best friend. In fact, high-waisted bottoms of any kind are always a win because they flatter this body type best. 
So, what's the secret power of this dressing style? It sits right on top of your tummy area, which helps in covering it up seamlessly while making your legs look longer. So, if you have a little tummy bulge that you wouldn't want to be visible under your clothing, high-waisted wide-leg jeans will help you achieve this easily. 
However, they also make your torso look shorter, which isn't so great for women who already have short torsos. If you fall into this category, your best bet is to choose mid-waist wide-leg jeans instead. 
Stretchy wide-leg jeans
The best way to emphasize your beautiful curves without going over the top is to choose fitted blouses. Of course, it would be an absolute disaster to pair the fitted top with baggy wide-leg jeans.
So, the better option is stretchy wide-leg jeans that mold into your body shape perfectly, accentuating the areas you want more attention on and concealing those you want to keep hidden.
Wear thick and stretchy fabrics for your wide-leg jeans, as they won't sit on your thighs like stiff fabrics. These will only make your thighs look bigger, and that's not a flattering look for your entire body.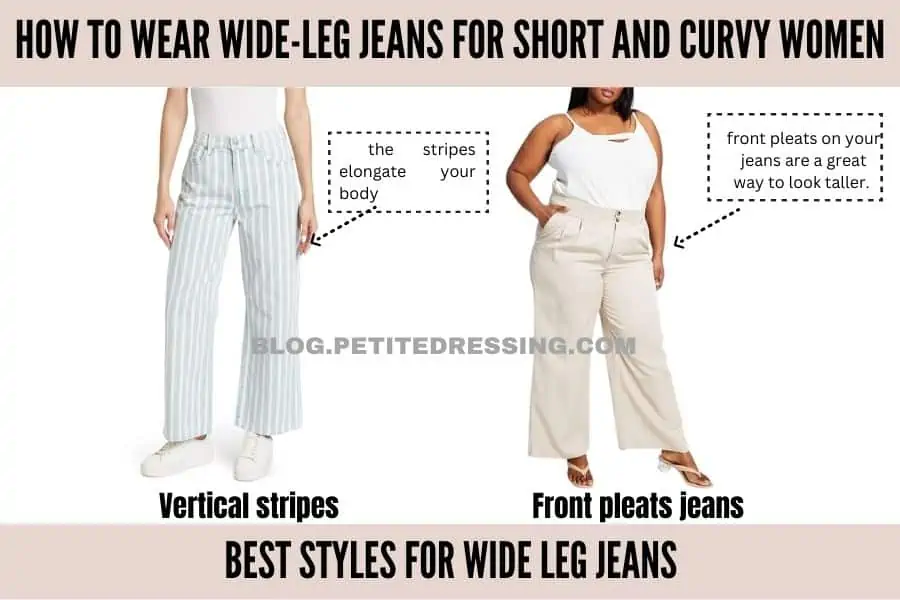 Vertical stripes
Another amazing way to make your legs look longer despite your overall petite body frame is to wear wide-leg jeans with vertical stripes. This is a stress-free method with beautiful results.
Vertical stripes on wide-leg jeans are perfect for short and curvy women because the stripes elongate your body. Pair this with a fitted top that will cinch your waist, making it look smaller.
With this, you're highlighting the best part of your body and taking attention away from areas you don't want people to focus on. However, it can be tricky to style wide-leg jeans with vertical stripes all the time.
If you don't want to have to worry every day about what goes perfectly with your vertically striped wide-leg jeans, get a few black fitted tops, including turtle necks, and switch between them anytime you want to rock your wide-leg jeans.
Front pleats jeans
Going for a flowy look is another excellent way to style wide-leg jeans for short and curvy women. You can achieve this look with front pleats on your jeans which are a great way to look taller.
Be sure to go for front pleats that sit above your thigh area, as this is the perfect spot for the pleats to hug your waist and mold into your body shape perfectly. No doubt about it, this is a trendy style for short and curvy women that won't go out of the fashion world anytime soon.
You can wear this to the office for business meetings by throwing in a fitted blazer or switching it up for a casual hangout with friends.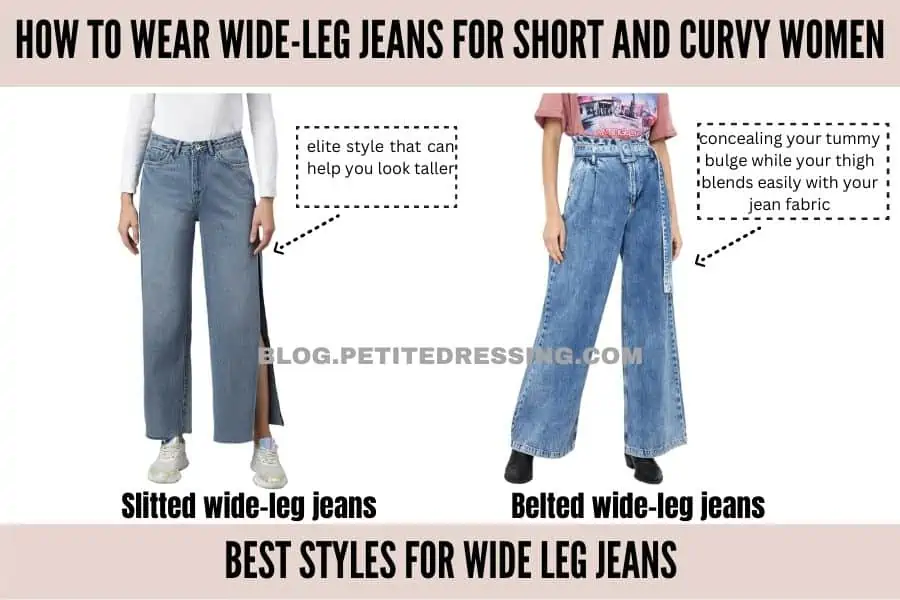 Slitted wide-leg jeans
Want another cool way to look tall without stressing? Slits are another elite style that can help you achieve this. In this case, we're referring specifically to side slits which will increase the flow of your wide-leg jeans and reveal your legs without the need to wear shorter jeans.
Depending on how adventurous you are, you can choose side slits that start a little below your knee or shorter side slits that start from your ankle. If you would like the freedom to decide how long you want the slits to be at any time, consider including side buttons.
Belted wide-leg jeans
Achieve an even more luxurious and sleek look with belted wide-leg jeans in your wardrobe. The amazing thing about belts is that you can adjust them on your waist as tight as you want, making your waist look smaller.
This also doubles as a fantastic method for concealing your tummy bulge while your thigh blends easily with your jean fabric. It really doesn't get any better than this.
Avoid too cropped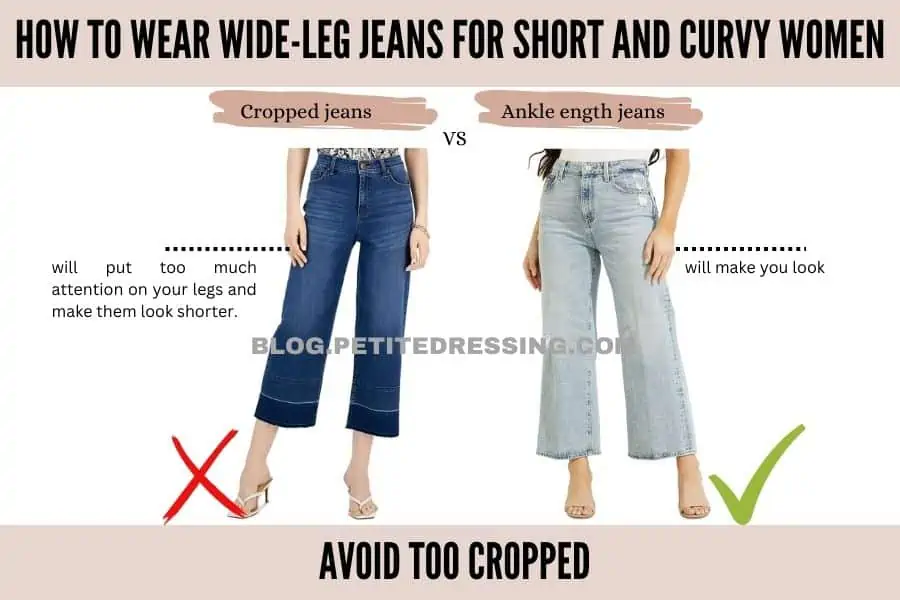 No matter the color or fabric style you choose for your wide-leg jeans, the ultimate no-no is cropped jeans. You should avoid wide-leg jeans that are too cropped as they will put too much attention on your legs and make them look shorter.
Instead, opt for full-length or ankle-length in bright colors that make your body look slimmer. Of course, you can also go monochrome, so you don't end up with too many bright colors like a traffic light.
How to Style
You can choose the best type of wide-leg jeans for short and curvy women, but they will turn out wrong when you don't style them properly.
Imagine how awful it will be to pair a flowy top with flowy wide-leg pants. So, here are some of the best ways to style your wide-leg jeans in the best possible way.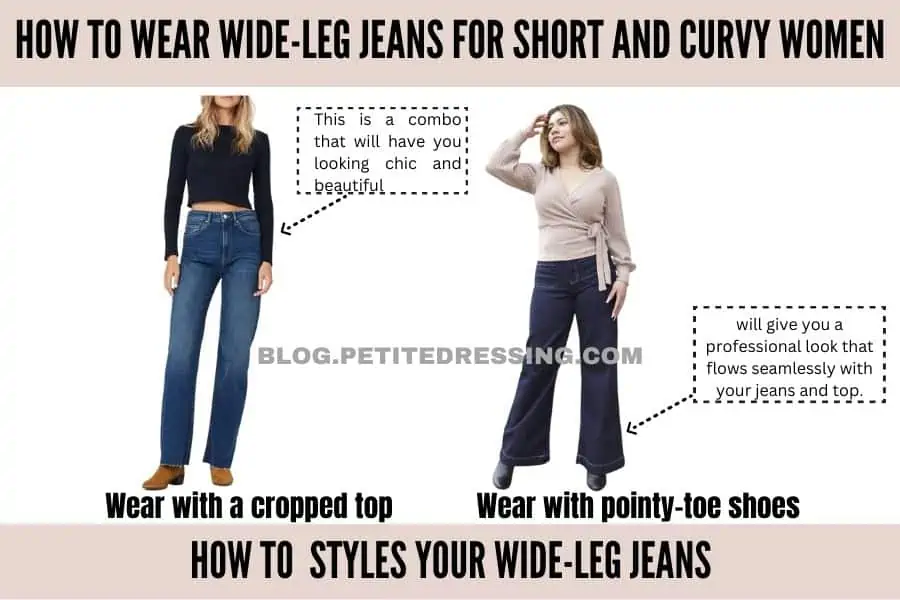 Wear with a cropped top
Wide-leg jeans go perfectly with cropped tops. This is a combo that will have you looking chic and beautiful enough to turn heads at any event. We recommend choosing round-neck cropped tops in solid colors like black, as this will give you a mature look.
Wear a fitted blazer over the cropped top to make it even better. This combo can be worn to casual and official events, and you'll look exceptional.
Wear with pointy-toe shoes
Shoes are also another important consideration when wearing wide-leg jeans. For short and curvy women, heels are the best choice for full-length wide-leg jeans, especially as they make your legs look slimmer and taller. 
These heels should preferably be pointy-toe shoes that look incredibly stylish and will give you a professional look that flows seamlessly with your jeans and top.
Avoid loose tops
Loose tops are a huge no when wearing wide-leg jeans, as this would only add more bulk to your frame. If you don't want to look bigger in clothing that does nothing to flatter your curvy figure, then you should completely avoid loose tops.
Loose tops on wide-leg jeans also draw more attention to your tummy region, which isn't great if you have a muffin top.
So, if you want to get the best out of your wide-leg jeans, be sure to follow these tips as they emphasize the figure of short and curvy women, hide tummy bulges and make you look taller in a fashionable way.