One of the most important things in a bride' appearance on the wedding day, besides the bridal dress, of course, is the wedding veil. A bridal veil adds quite a number of elegance points and a classy touch to the whole look.
One of the main reasons brides especially care about their choices of veils is that the options are overwhelming. There are a whole lot of different kinds of bridal veils in the catalogs, depending on what kind of theme the wedding has, what season the wedding is taking place in, whether it's a night wedding or daytime wedding, those suiting different kinds of face shapes, and the list goes on and on.
This this is the complete veil guide for any bride looking into her best option.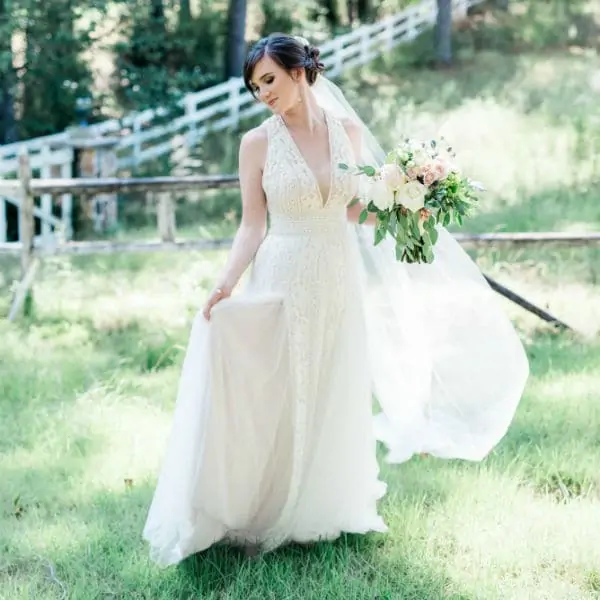 Should you go for a Veil or not
Each bride is different and unique. Opting for a wedding veil or not is a personal choice of the bride. However, if you cannot make up your mind on whether you want to add a bridal veil to your look or be the contemporary bride then there are a few points that can help you make the decision.
You should get a veil if
You have quite a traditional-themed wedding, specifically taking place in a church. Traditional wedding gowns also look great with a long veil.
You want to make a statement at your wedding because your wedding is the only occasion you get to sport a fancy veil. If you don't want t miss that occasion, then definitely go for a veil.
You have done your research thoroughly and have found the perfect headpiece to go for your wedding dress that will add to your beauty and confidence.
You want to add that blusher removing the part in your wedding ceremony. It adds a more traditional touch to the wedding.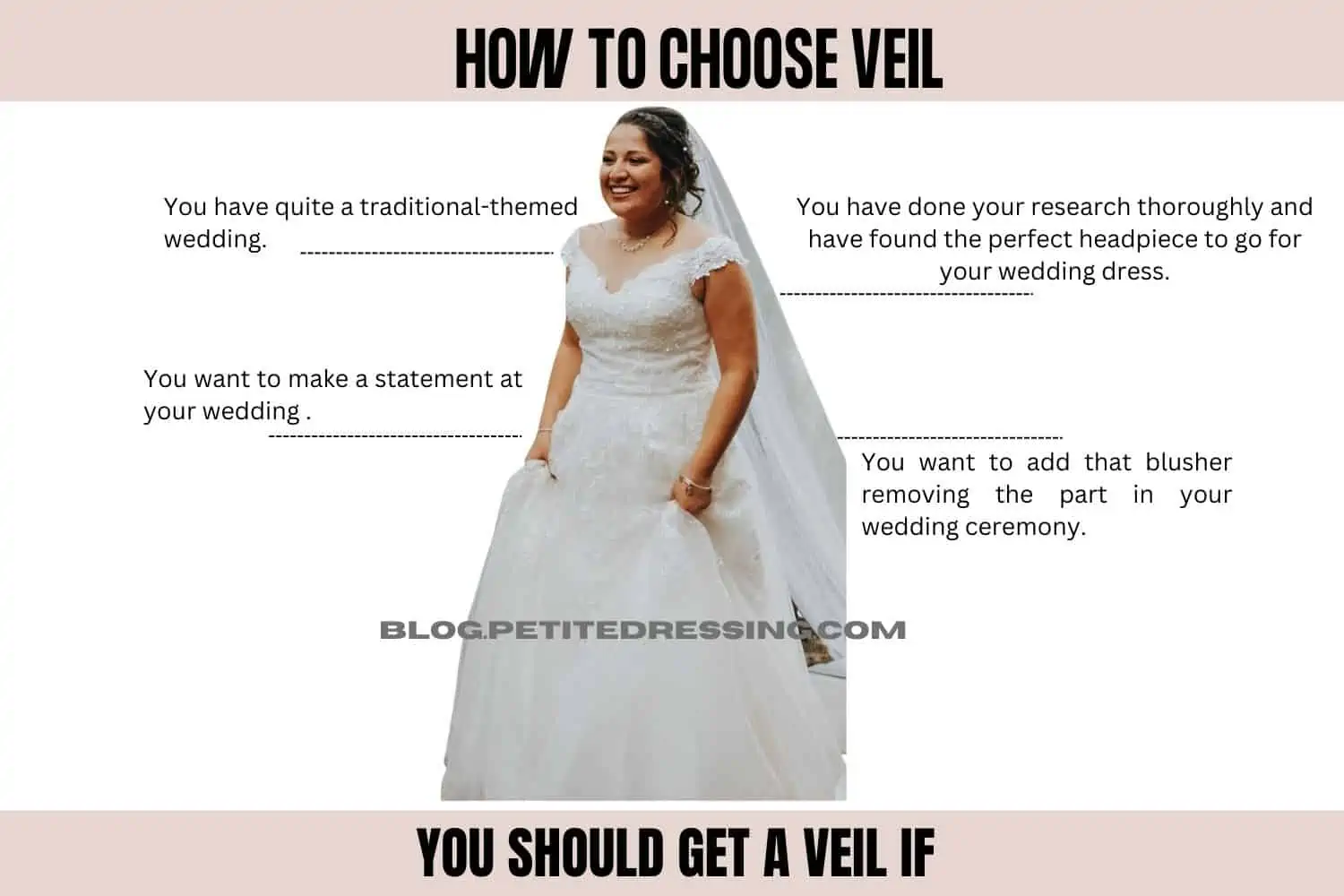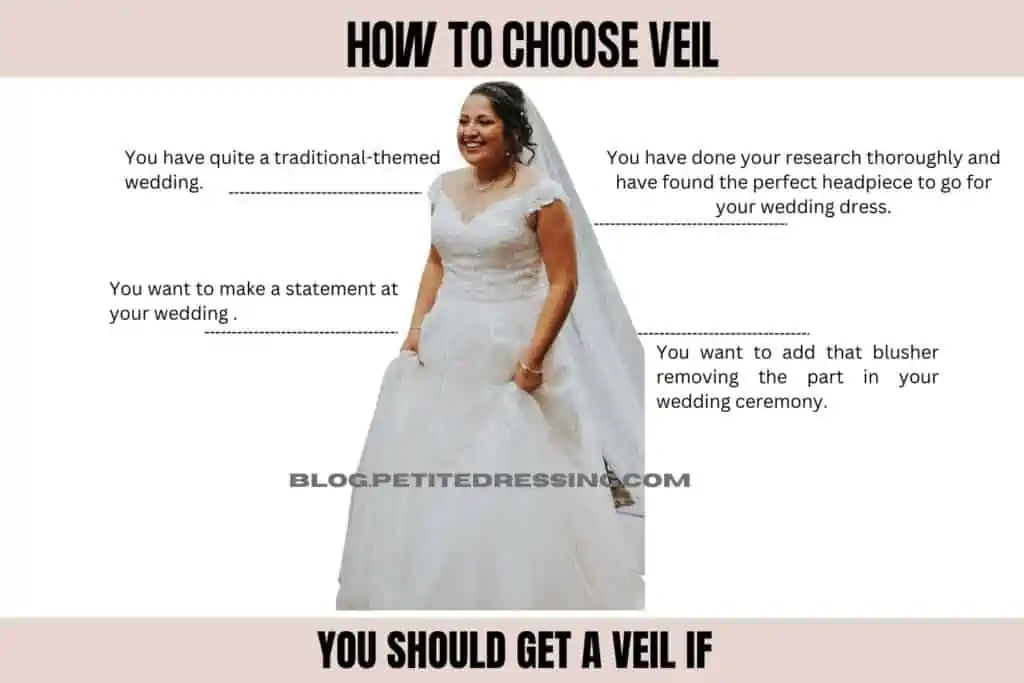 You should opt out of veil if
You are not comfortable with it or you know you would not be able to handle it especially if you have an outdoor wedding. The wind can easily mess up veils.
A veil, especially the long ones if it does not match your personal style. Your wedding is your big day and you do not have to be or look like someone else to look good. Be comfortable in your own style and be veil free if you wish to.
You have a very fancy hairstyle with a lot of hair accessories or flowers. It will hide the little details of your hairstyles that you must have spent hours in achieving.
Whether you decide on wearing the veil or not, it is all about your looking and feeling beautiful on your big day. Make a wise decision that you will feel comfortable in.
Types of Wedding Veils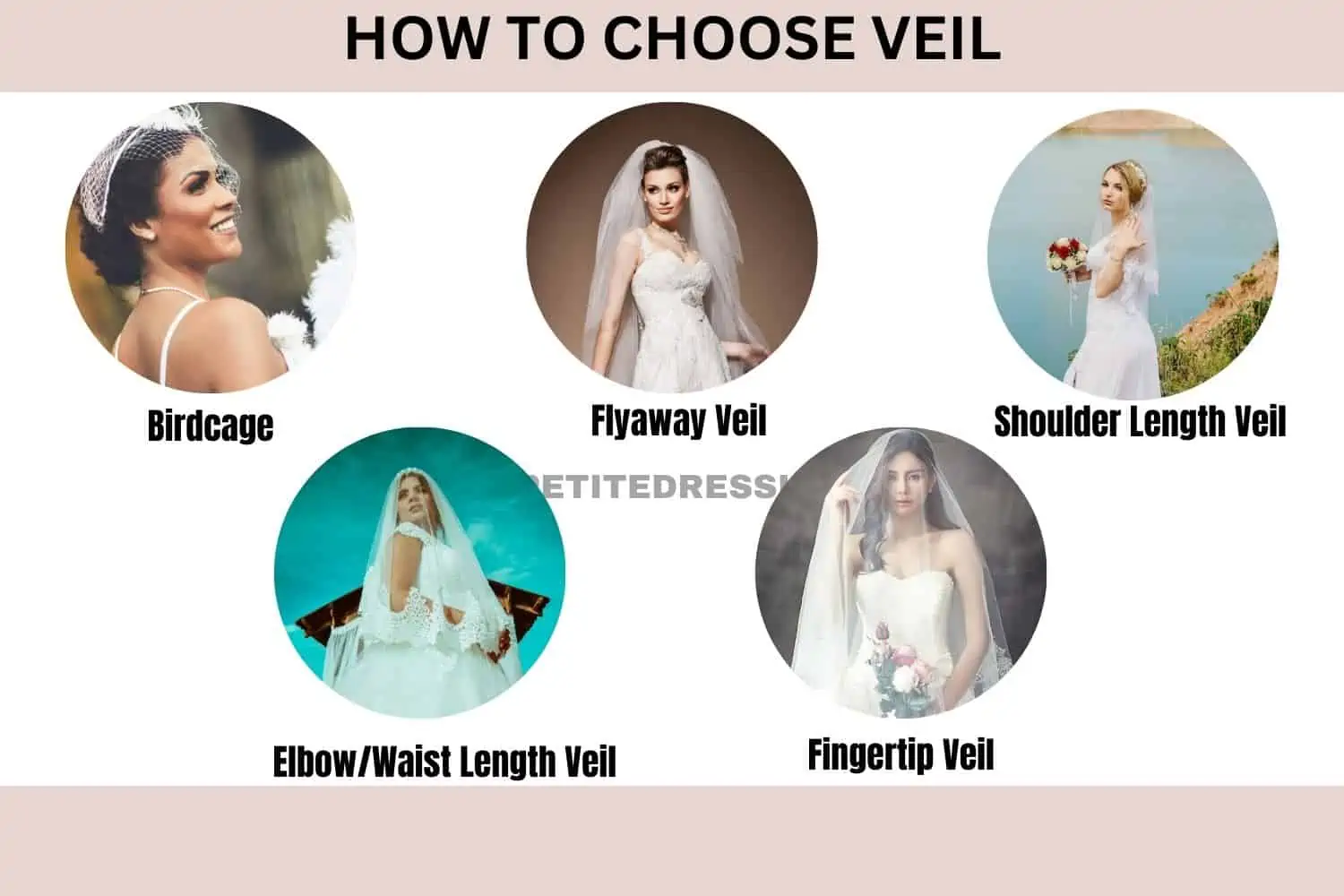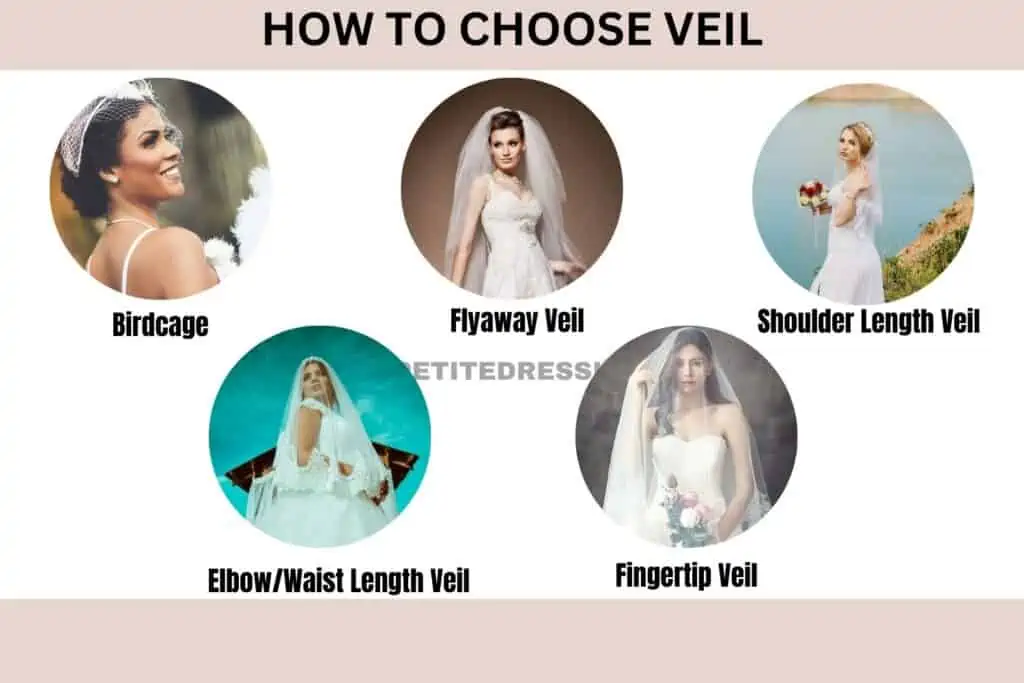 Birdcage
A birdcage veil usually ends at your forehead, and sometimes goes down to your nose, and the elegant net design is what will give your bridal outfit a lively and playful touch.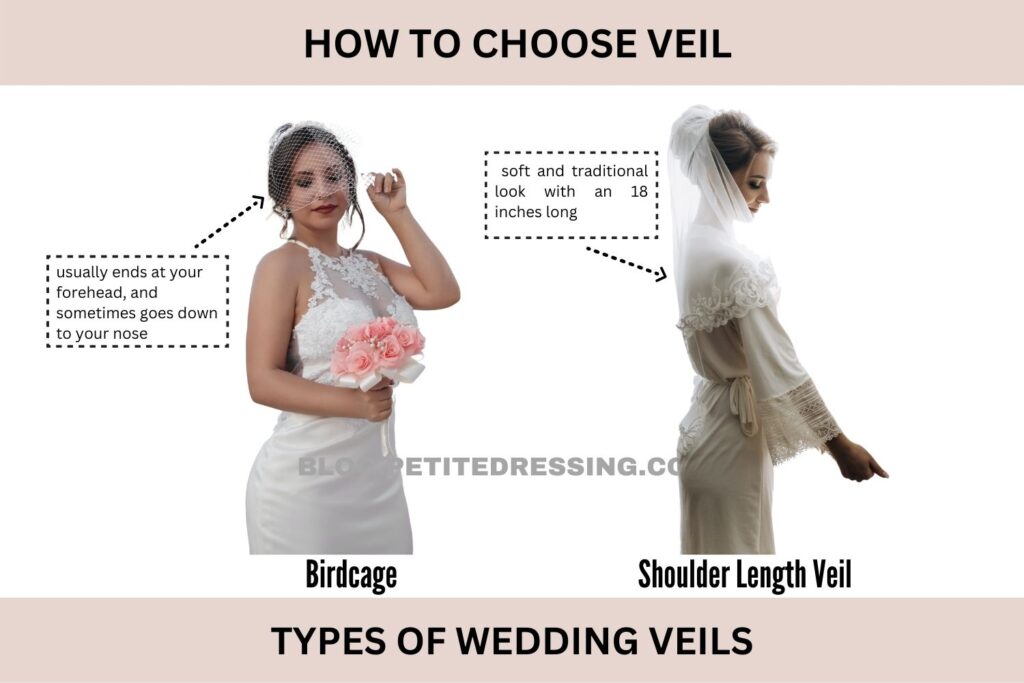 Flyaway Veil
Ending at your shoulders, a flyaway veil is made from a material that's a bit stiffer than usual wedding veil materials, resulting in a fluffed-up look, hence the name "flyaway veil". They are approximately 20 inches long.
Shoulder Length Veil
When you want to add a veil to your wedding dress for that soft and traditional look but don't want too much of it, then a shoulder-length veil is the perfect option. These are about 18 inches long.
Elbow/Waist Length Veil
For those who like their veil to be prominent to add that traditional, flowy appearance to their bridal look, a waist-length veil is a great idea to ace that looks. These are typically 26 to 28 inches long.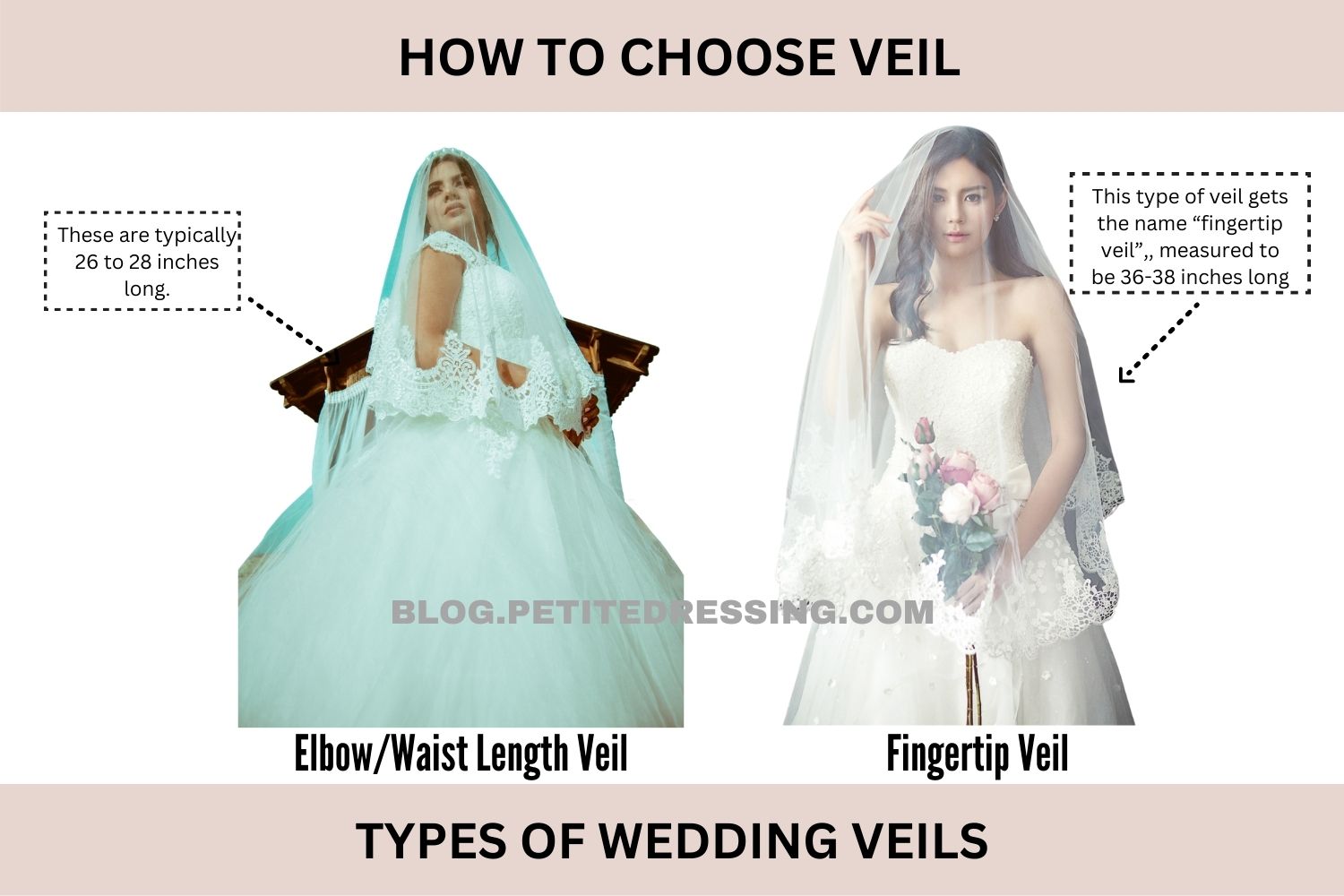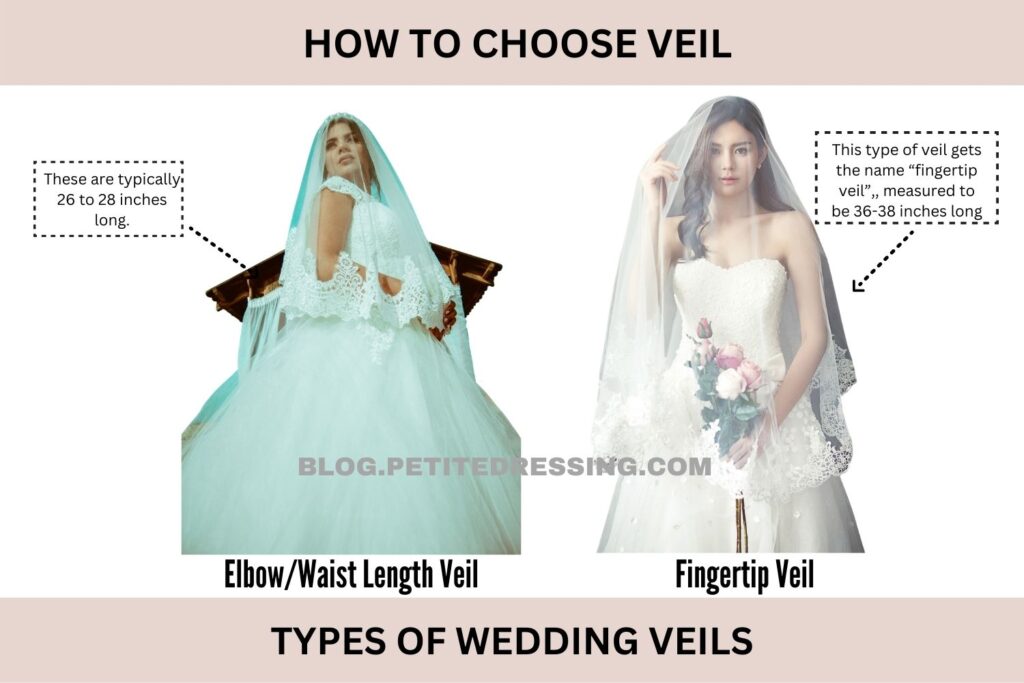 Fingertip Veil
This type of veil gets the name "fingertip veil" because this veil flows down to touch the bride's fingertips, which is measured to be approximately 36 to 38 inches. This style is popularly loved in traditional veil styles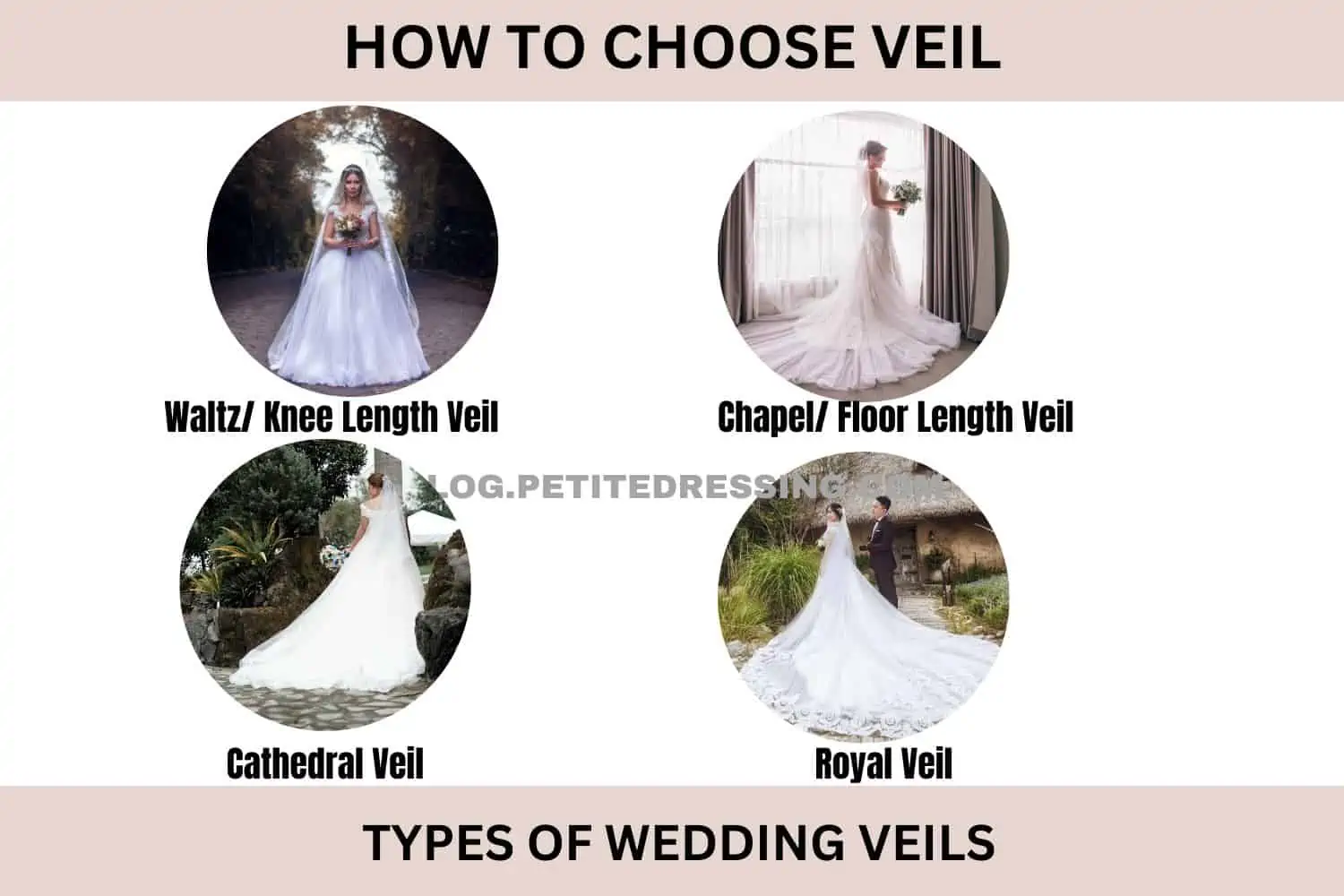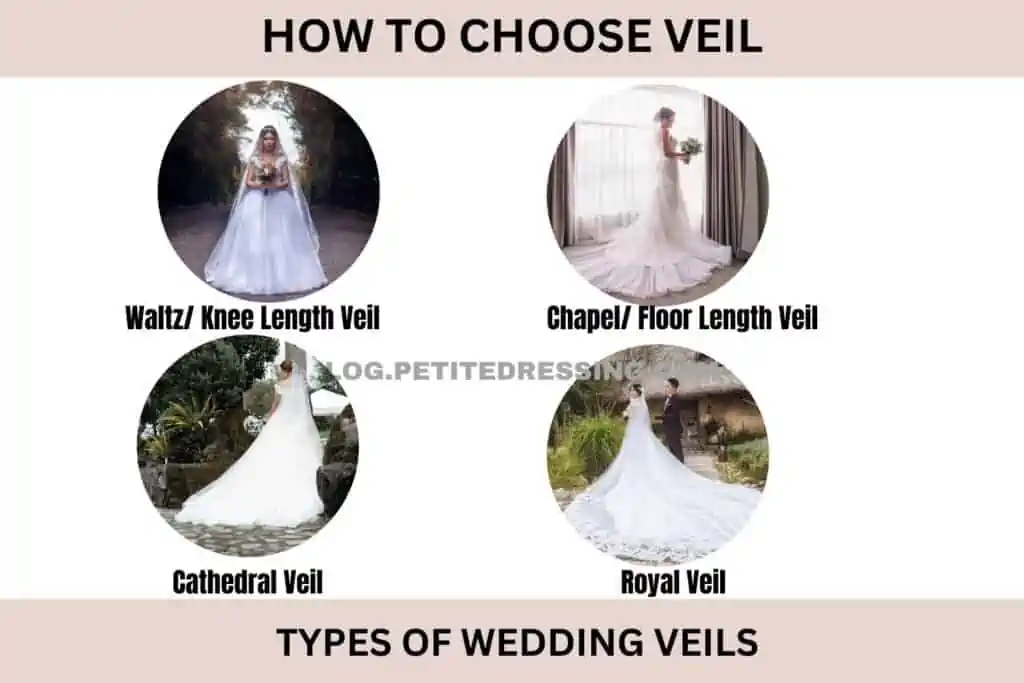 Waltz/ Knee Length Veil
Extending to approximately 50 or in some cases 60 inches long and reaching the bride's knees, this style of veils is also the veil of choice among those who prefer a nice and long traditional kind of bridal veil. Wouldn't it look amazing, swaying as you waltz with your partner on your wedding day?
Chapel/ Floor Length Veil
To go all out and have a gorgeous princess kind of look, it is best to opt for a floor-length veil that also goes by the name of "Chapel veil". A chapel veil is a traditional type of veil common among Catholic brides. It is more like a headscarf, long or short, that drapes over your shoulders like a coat. They are typically 80 inches long.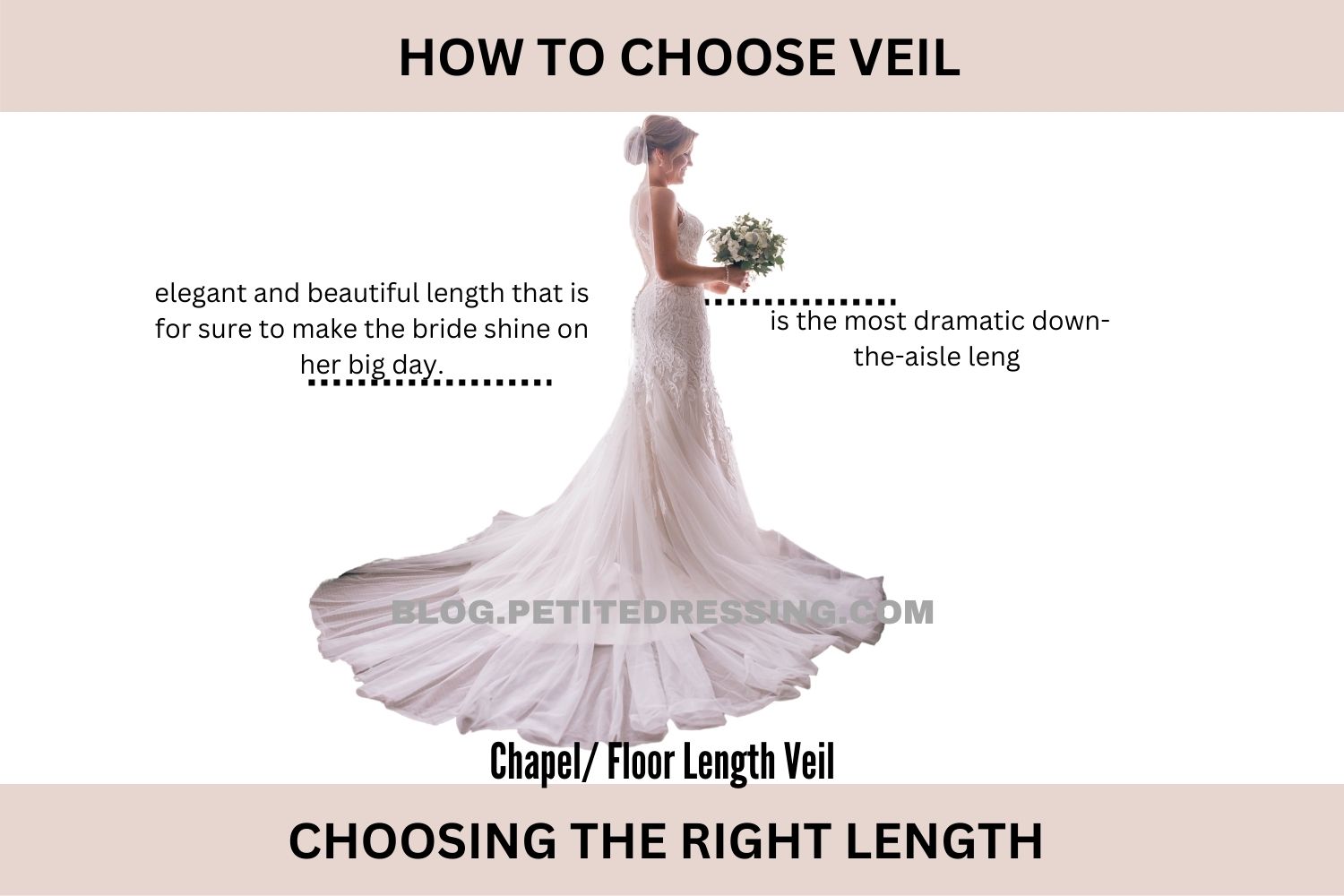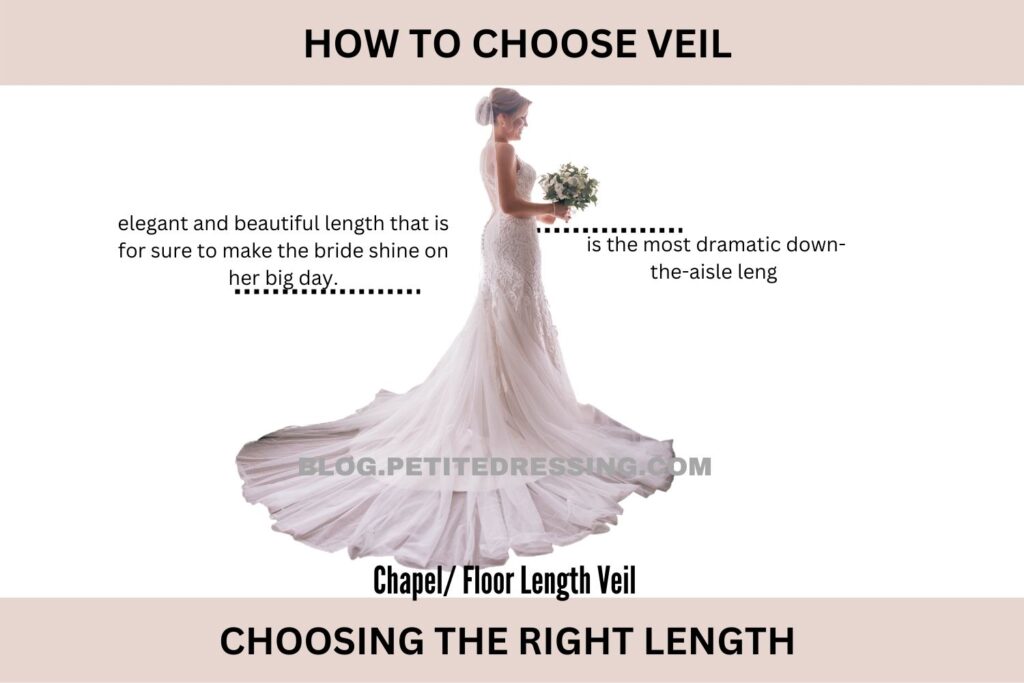 Cathedral Veil
This type of veil extends beyond the train of the bride's gown and is the most dramatic down-the-aisle length.
An elegant and beautiful length that is for sure to make the bride shine on her big day.
Royal Veil
The royal veil is the biggest and the most ethereal one of them all, reaching a stunning length of over 120 inches and are best suited mainly for grand weddings.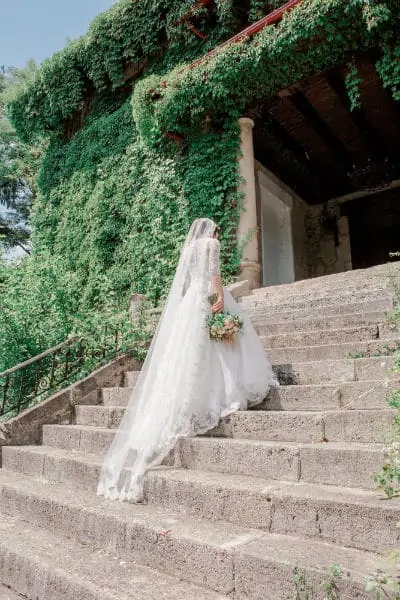 Main Considerations
Choosing a veil that goes ideally well with your bridal dress is not easy. You have to go through lots of research and trials to find that perfect veil for you, which is not fun, trust us! If you have your mind all set to sporting a veil to your wedding, then there are a few factors to keep in mind while you start your hunt for the perfect veil for yourself.
Here is what you need to consider while buying a veil for your big day.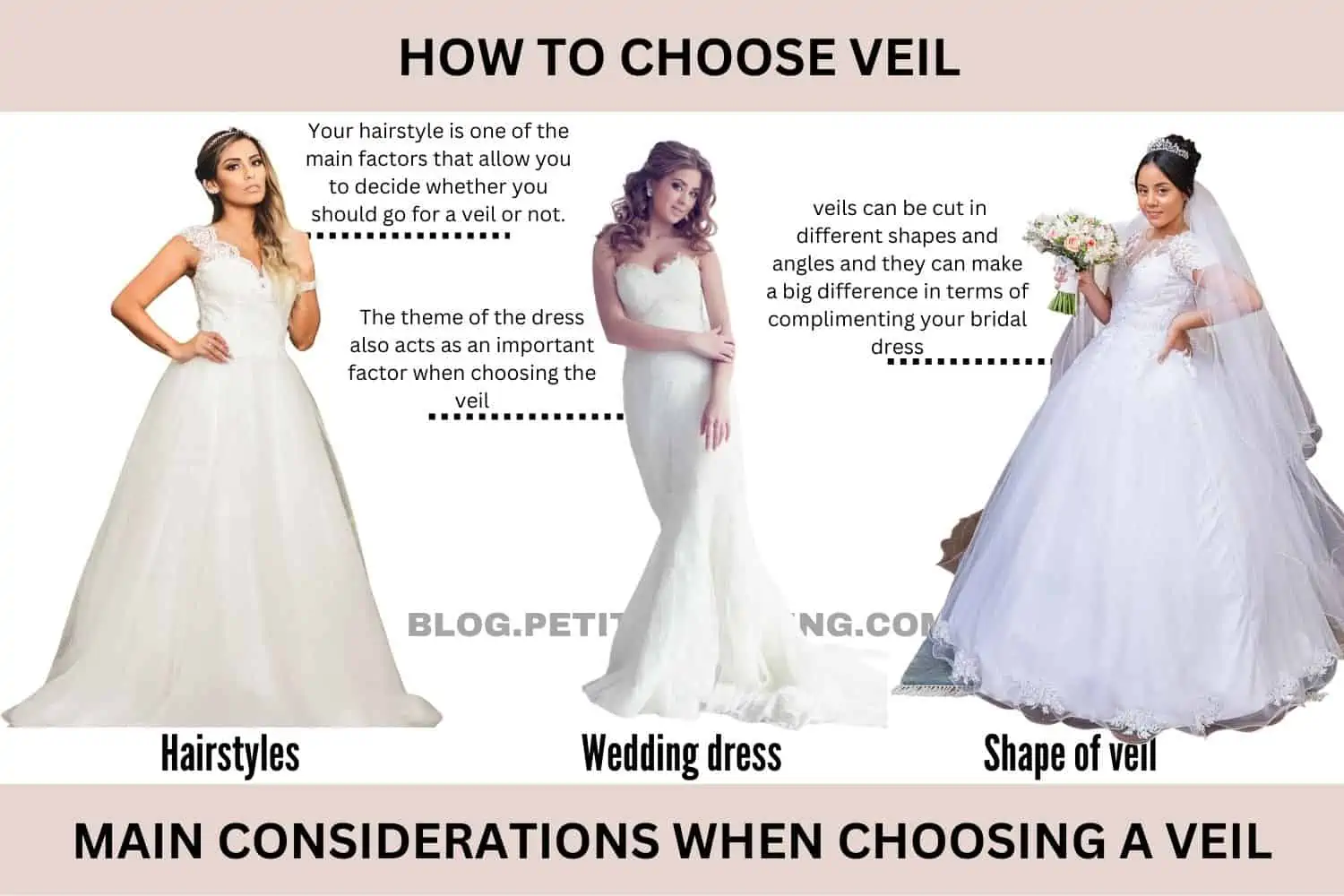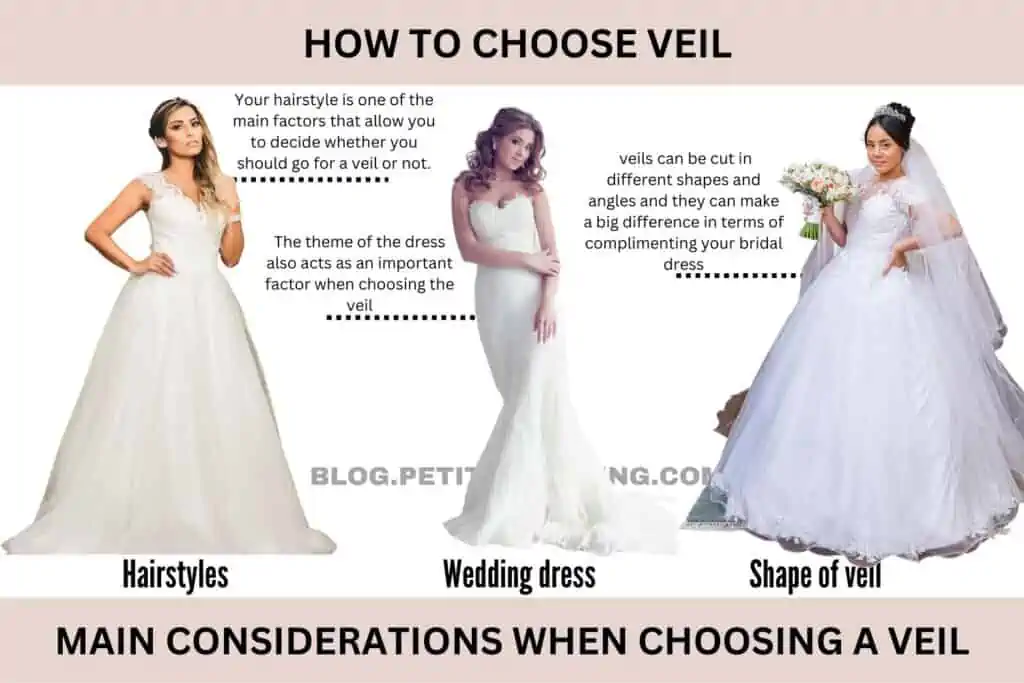 Hairstyle
Your hairstyle is one of the main factors that allow you to decide whether you should go for a veil or not.
As we mentioned earlier, if you have a fancier and more intricate hairstyle that is embellished with different hair accessories or flowers then wearing a veil to your wedding is not a good idea. It will hide the beauty of your hairstyle of can possibly weigh it down as well if you opt for a heavier veil.
However, if your hairstyle is rather simple then go for a veil to make your hair look a lot more interesting, and best suited for a bride.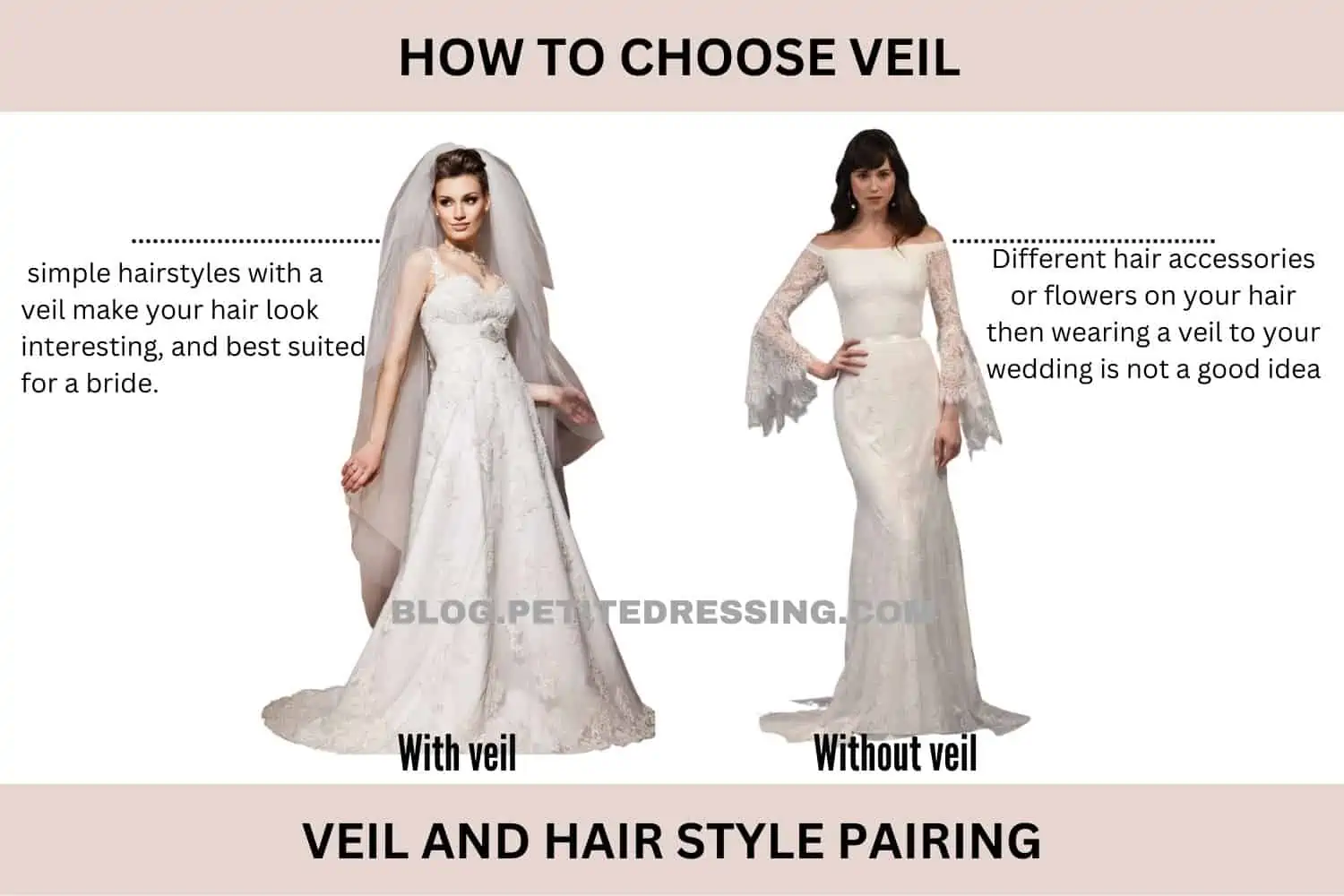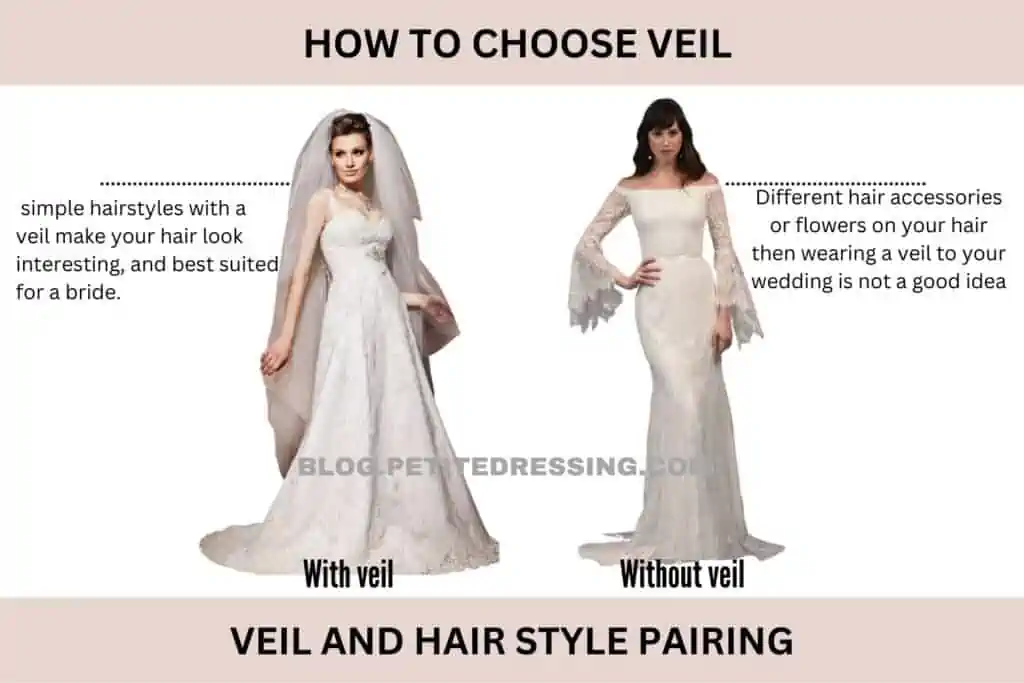 Wedding dress
While there is no strict rule on what veil should go with what style of wedding dress, your wedding dress still plays a major role in determining factor of the best choice of the veil for a bride.
Body-hugging dresses look amazing with longer veils while dresses with puffier skirts go well with smaller veils.
If you are going for a short wedding dress, then you probably do not want a veil longer than your elbow. On the other hand, if your dress has a long train, then longer veils will likely enhance the elegant and traditional look better than a blusher veil.
The theme of the dress also acts as an important factor when choosing the veil. If your wedding dress a vintage theme the birdcage veil is the best option for you to go for.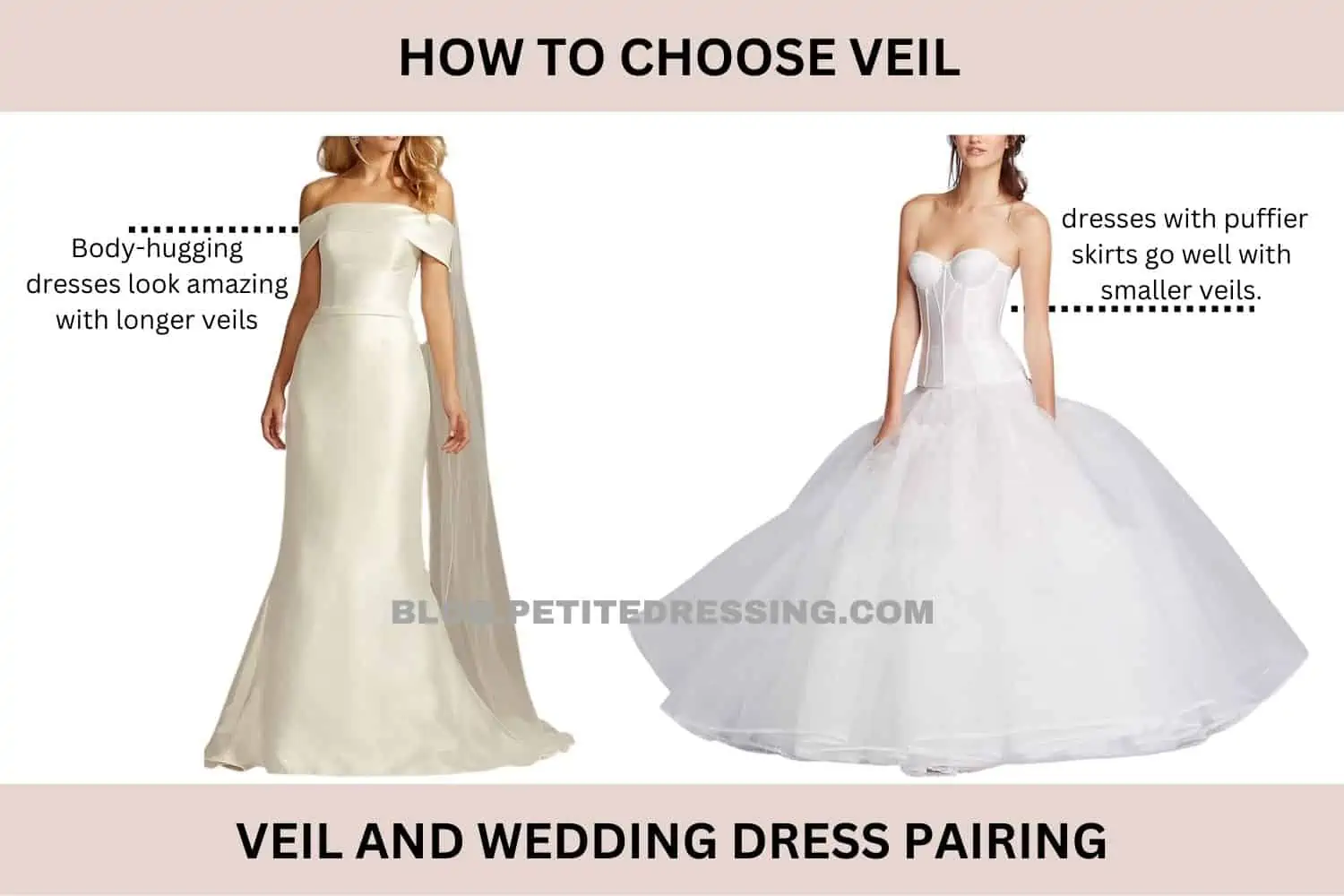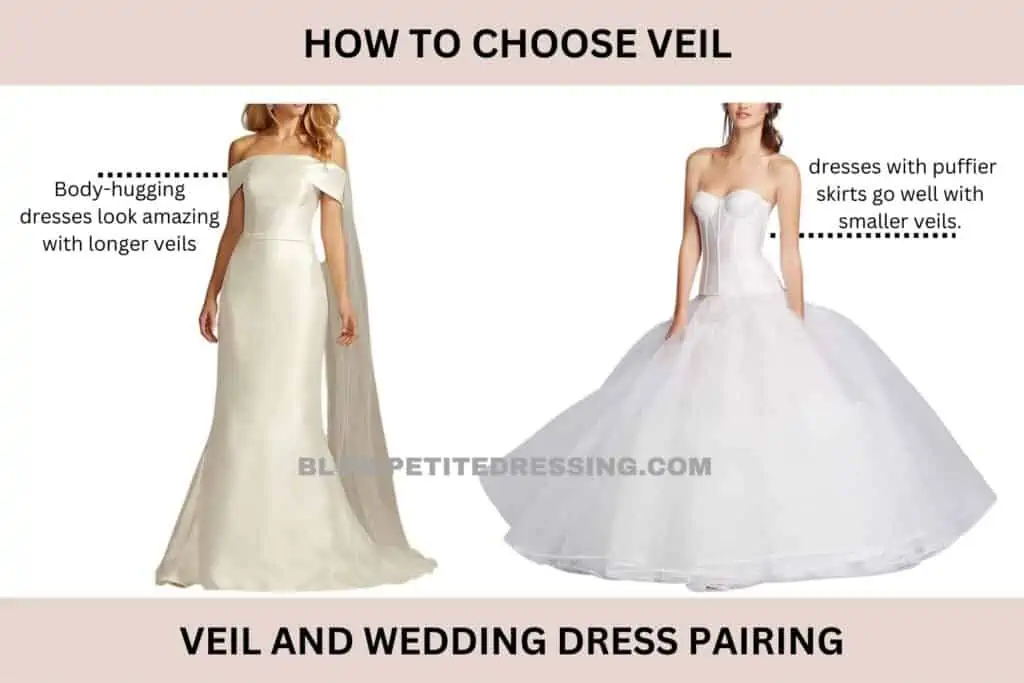 The shape of the Veil
Did you know that veils can be cut in different shapes and angles and they can make a big difference in terms of complimenting your bridal dress?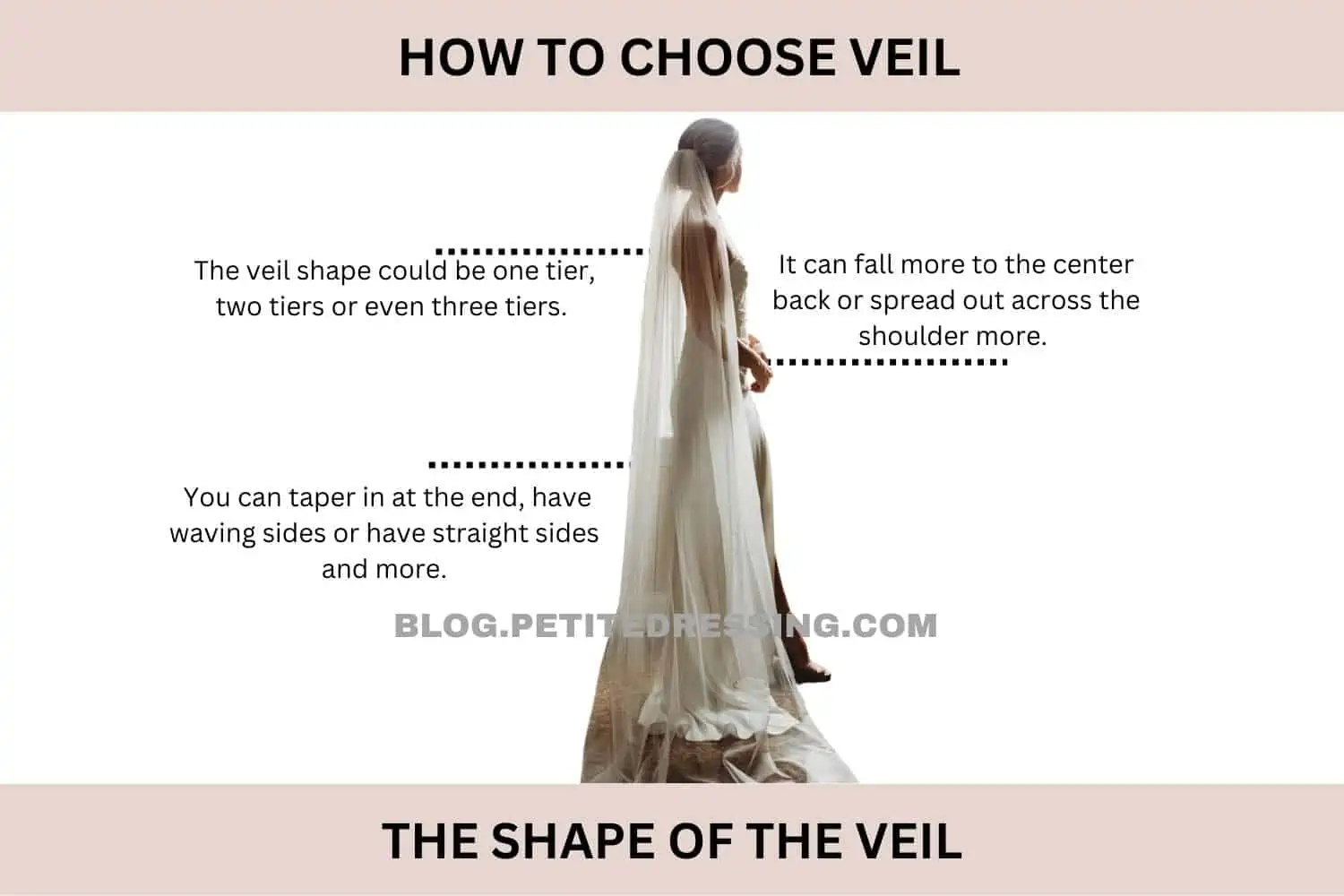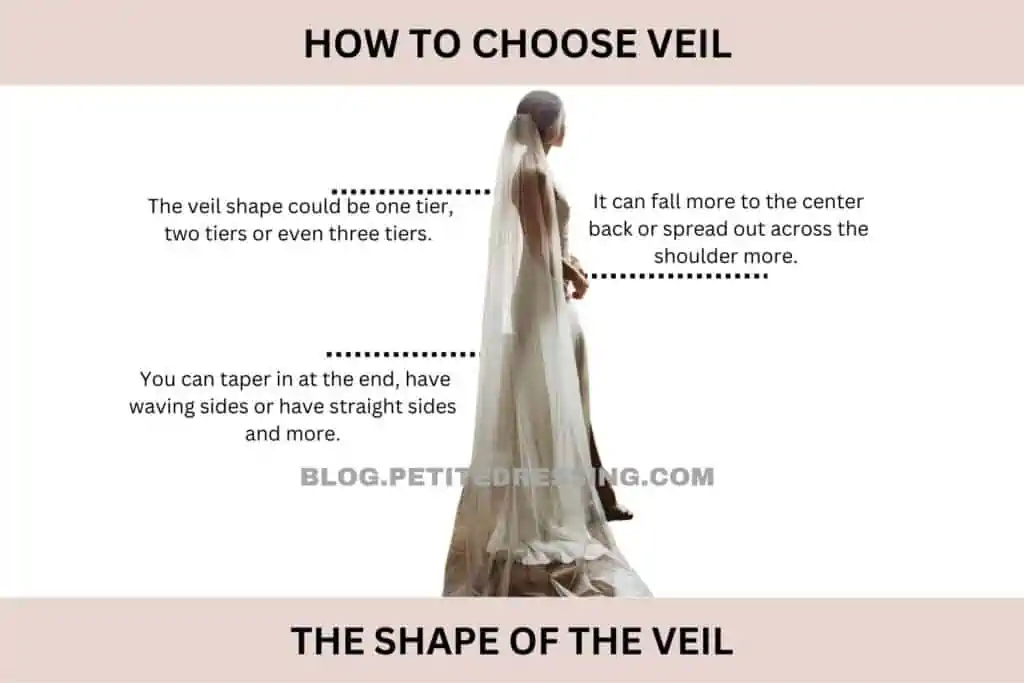 The veil shape could be one tier, two tiers or even three tiers.
It can fall more to the center back or spread out across the shoulder more.
You also have the choice of having them look thinner or look fuller. You can taper in at the end, have waving sides or have straight sides and more.
Don't underestimate what the shape can do to compliment your hairstyle and even the shape of your face.  If you can, have a conversation with the bridal salon you are going to and understand what works best on you.  Try on as many as you need to with your wedding dress before you make the decision to purchase.
Choosing the Right Length
Here's some of the most universally flattering length, no matter what height the bride is.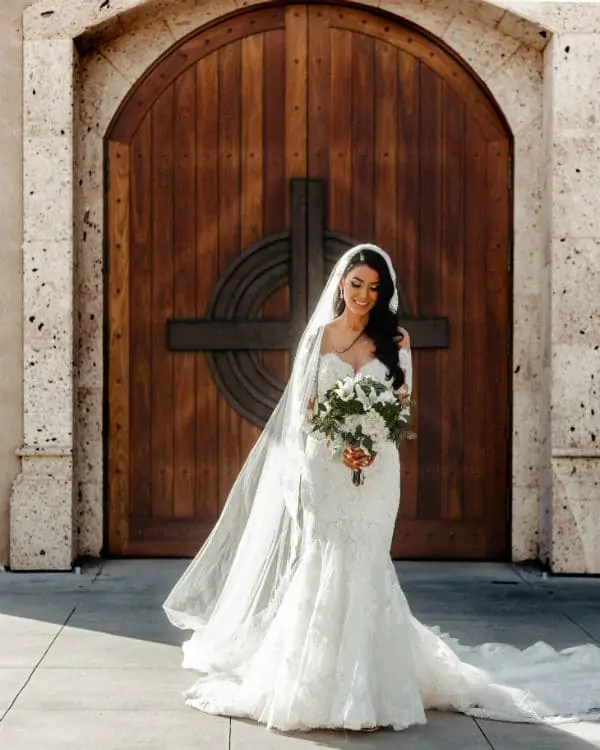 Short length
Vintage-themed weddings are all the rage and if you have also planned a vintage wedding then definitely go for a birdcage veil.
These veils are made up of a stiff net which makes it perfect for outdoor weddings as well.
This veil will not take the attention away from your legs while still help you make a statement with your headpiece.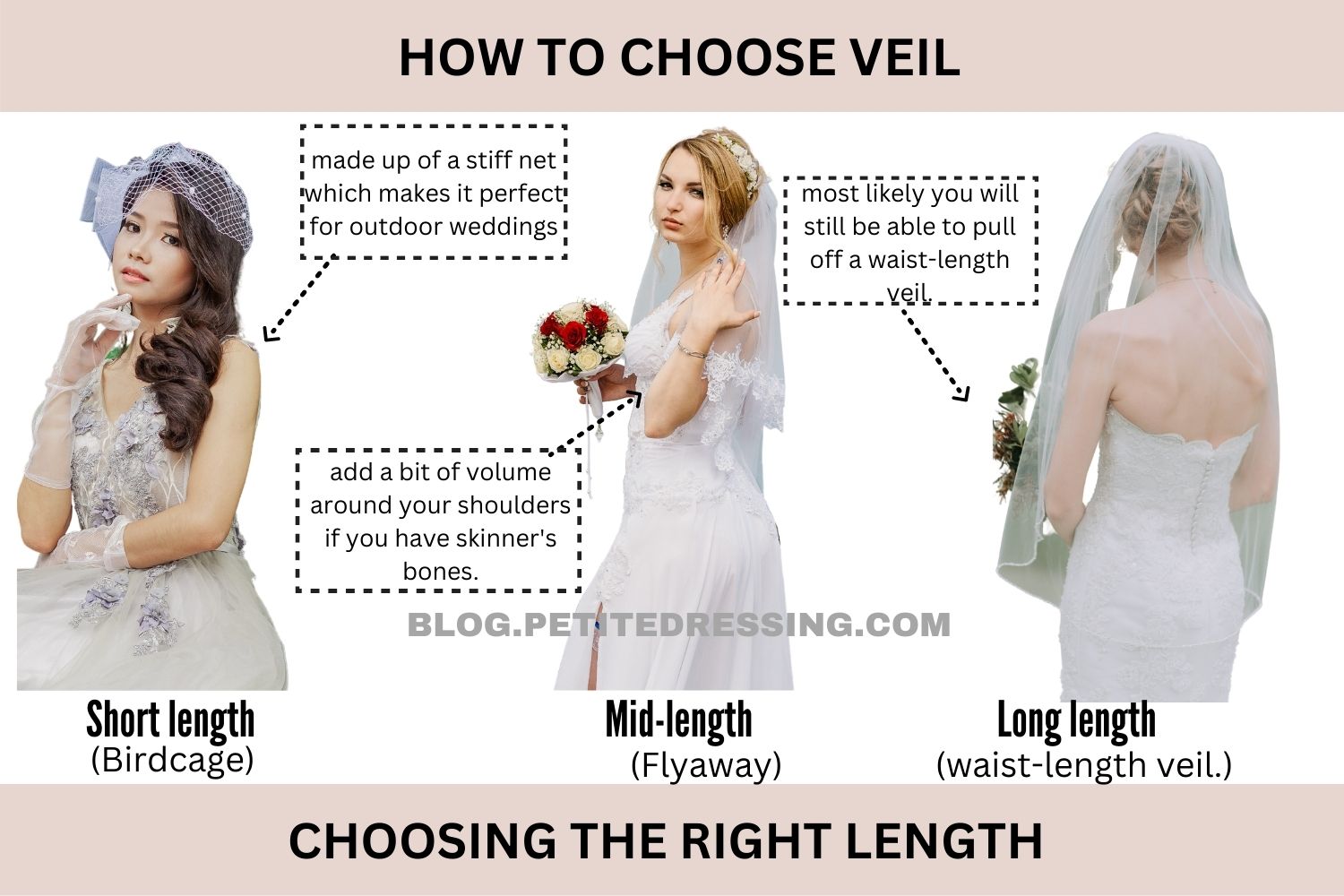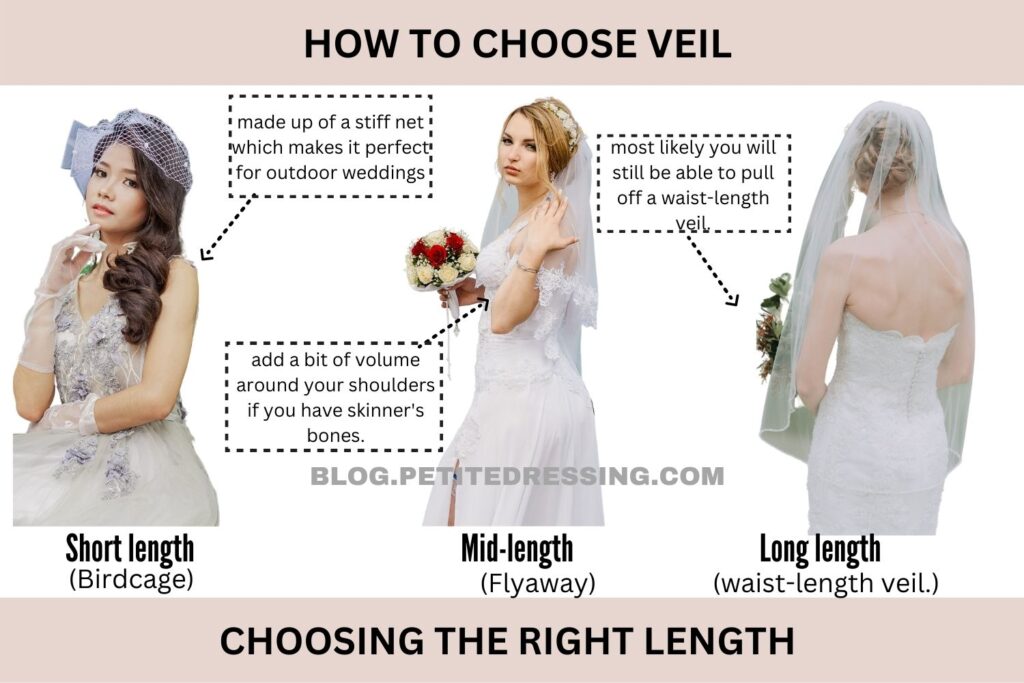 Mid-length
A flyaway veil screams bubbly and feminine.
It is the best mid-length veil as it will provide you with a nice amount of flow while still being shot enough to just reach your shoulders.
It will also add a bit of volume around your shoulders if you have skinner's bones.
Long length
Even if you are not a tall bride, most likely you will still be able to pull off a waist-length veil.
This veil might take a few inches from your look but it is better than a floor-length veil.
Should short brides wear a long veil?
This is one of the most commonly debated questions and is also the most often searched questions by shorter brides.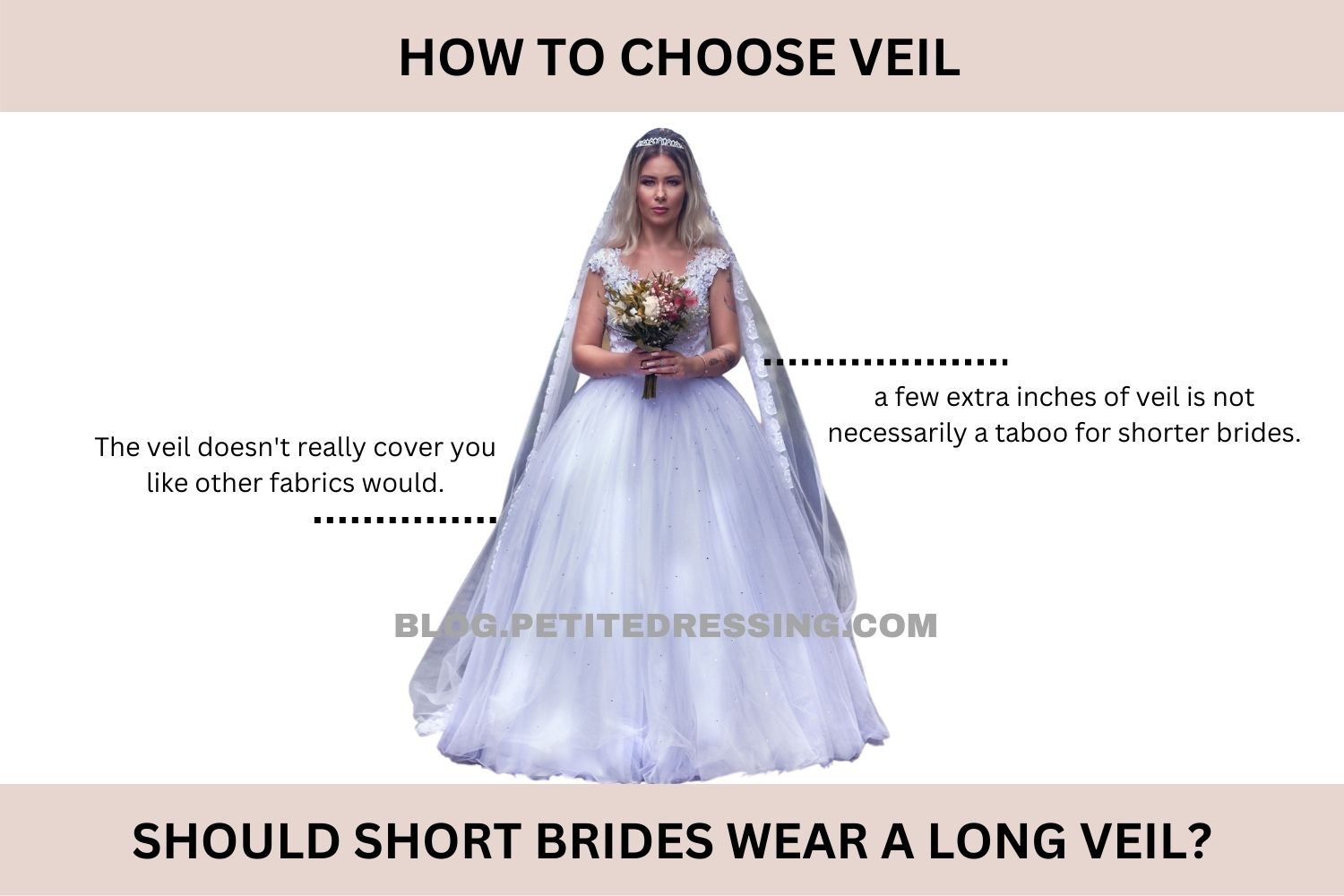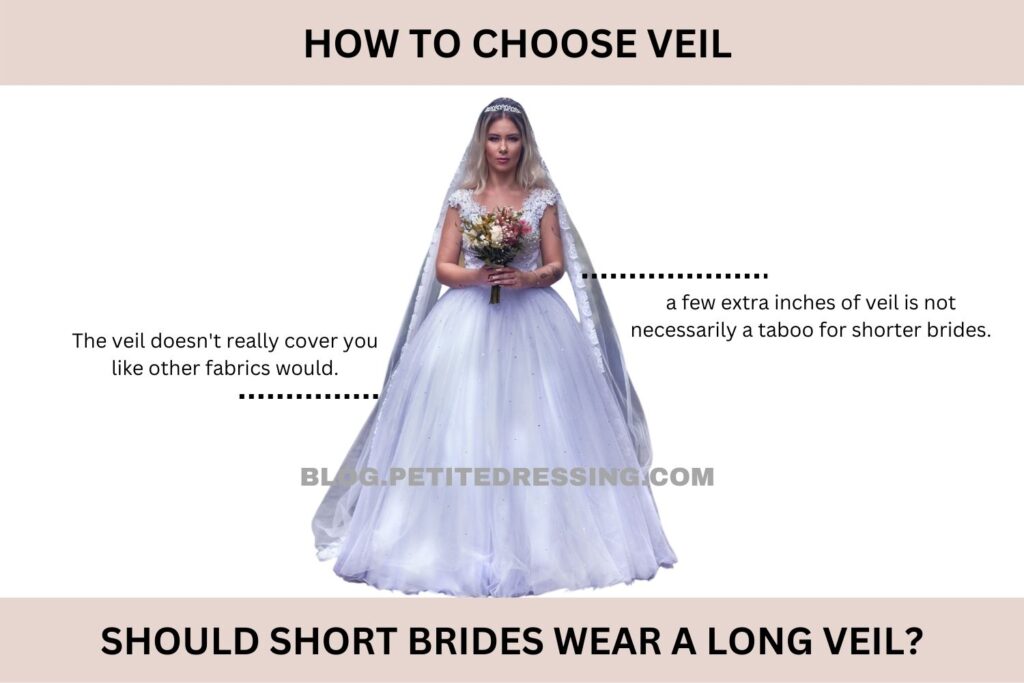 The answer is yes, short brides can definitely wear a long veil, and I can speak from my own experience!
Most petite styling tips are about avoiding excessive layers and length because they run the risk of overwhelming short girls. Why is veil different?
Because it is sheer. The veil doesn't really cover you like other fabrics would, so a few extra inches of veil is not necessarily a taboo for shorter brides.
I am 5'2″, for my wedding, I picked out an elbow length one tier veil.
The length is between the short blusher veil and the longer waist length veil, but I do not think that is the longest veil you should go with (as suggested by some websites).
I picked it just because I felt like that was the best length for my hair style.
I didn't want it to be too short, because I had my long straight hair down. Neither did I want it to be too long, because I had a trumpet style wedding dress without a train.
I wouldn't be surprised if a 5'4″ bride look stunning in a wedding dress with a train, and to compliment that, a cathedral veil might be a totally perfect choice.