Trench coat is such a cornerstone piece in your wardrobe. Once you find the right one, it is here to stay!
I am 5'2″, and it has been a challenge to look for the trench coats to fit my short frame.
Today, I have put together this comprehensive guide to help every short girl find their ideal trench coats. It answers all the questions you have about a perfect trench from the perspective of girls under 5'4″.
Best Length
Common lengths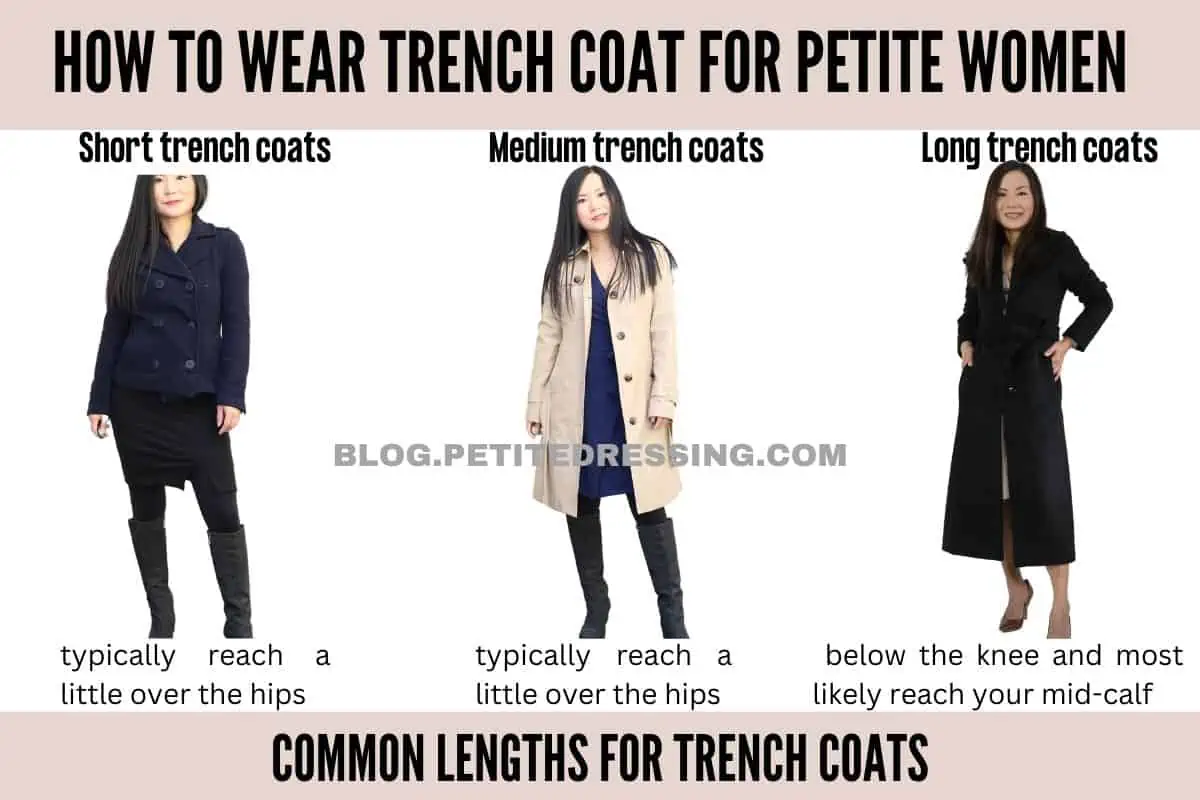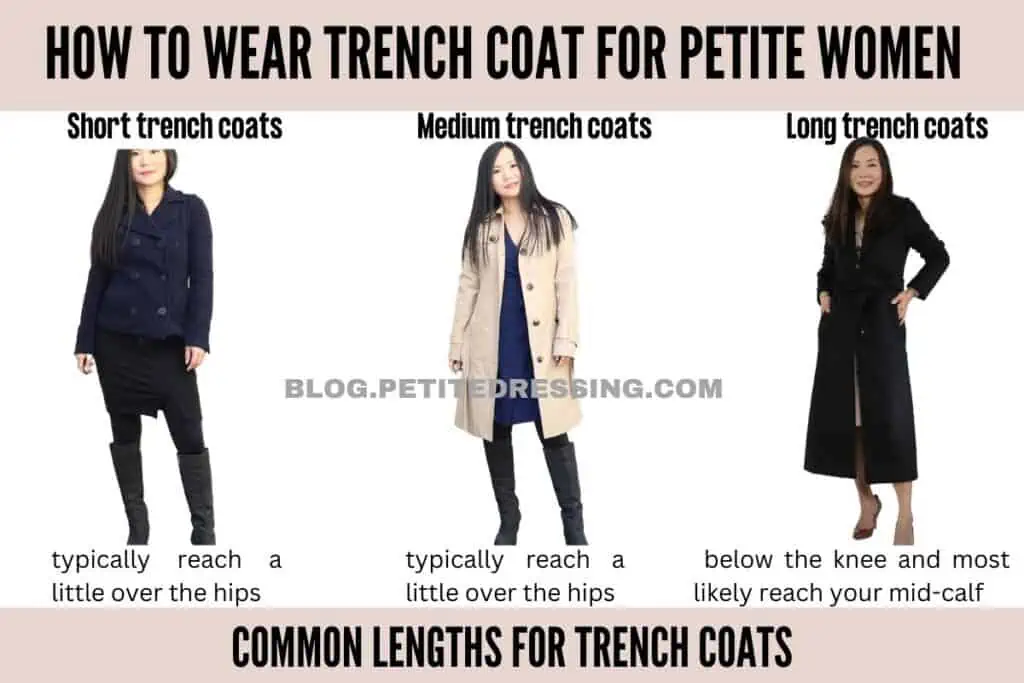 First things first, there are three basic length of trench coats:
Short trench coats: They typically reach a little over the hips. There are also trench coats of cropped length, which reach above your hips.
Medium trench coats: They typically are at your knee or slightly above your knee. This is the most classic length for trench coats.
Long trench coats: They are below the knee, and most likely reach your mid-calf or even longer. They are also called maxi coats.
Above the knee
It is obvious that when the coat is short enough, your legs seem to be longer and that will make you look taller.
The medium-length trench coat is the safest, and it fits almost all heights and body types. If you can own only one trench coat and you are not a risk taker for petite fashion, then go with the medium length.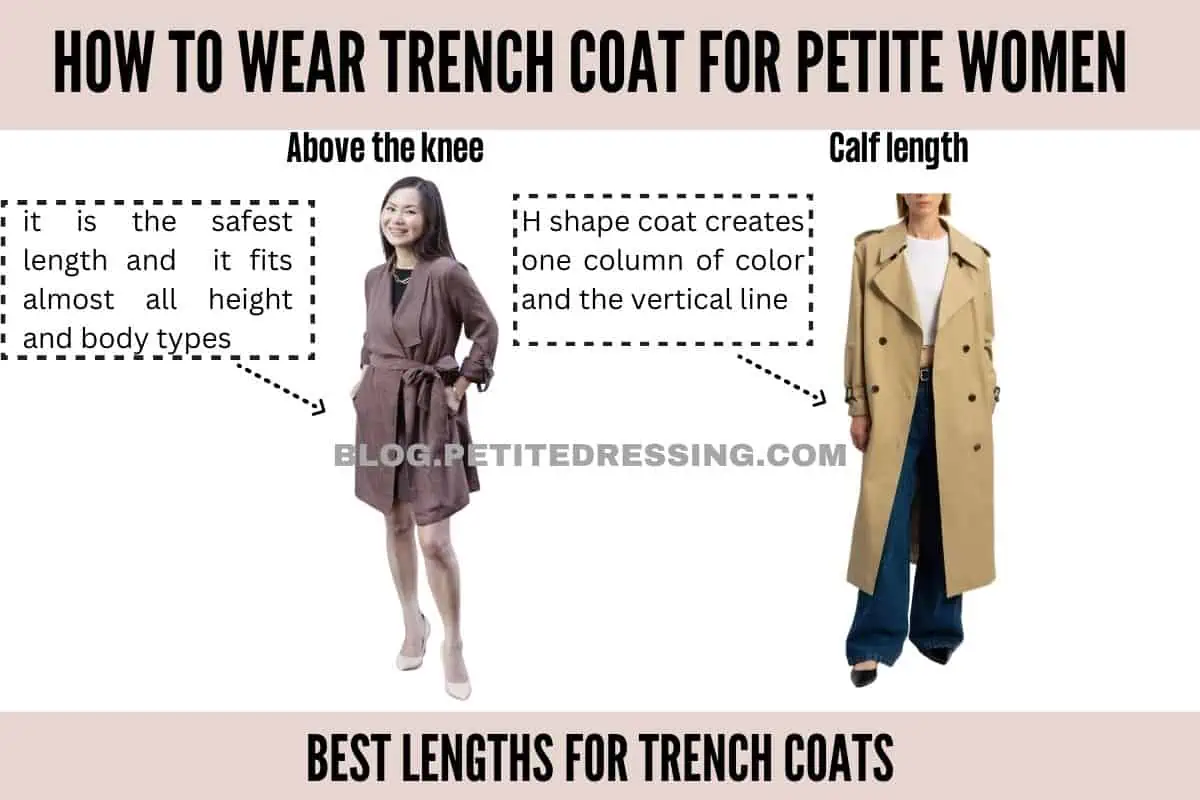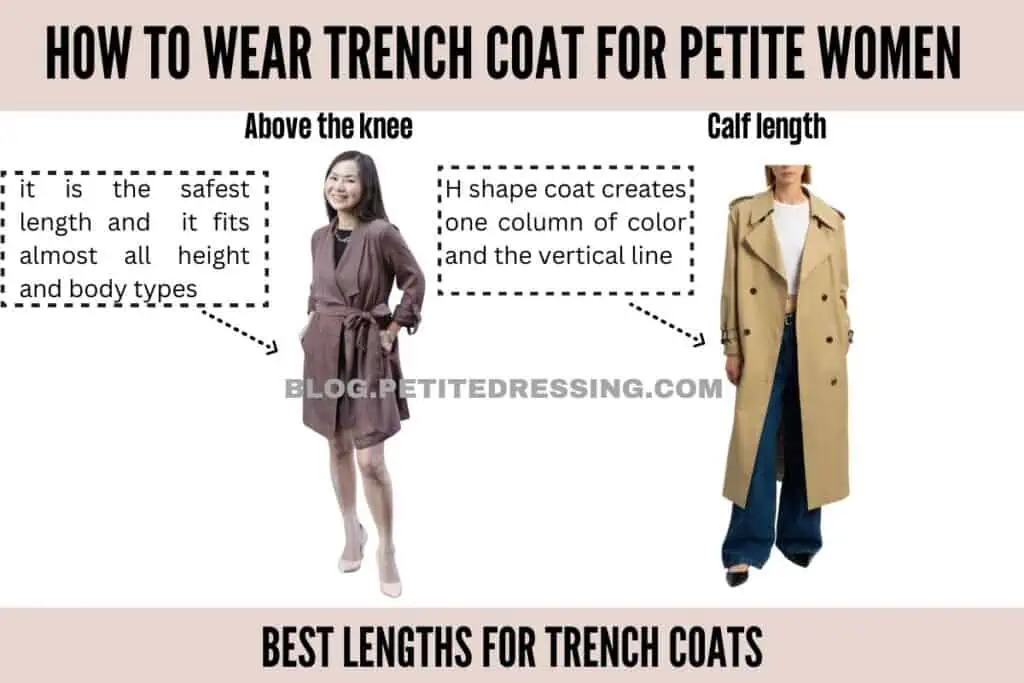 Calf length
If you have never tried long coats because of fear they might make you look shorter, you are missing out big time.
While I agree coats above the knee or at the knee are the safest length for petite women, going longer can actually be very flattering if you master the skills.
Long coats are one of the wardrobe staples of petite fashion. Let me make it clear, I am talking about very long coats, and they can be very flattering to petite women.
Because the H shape coat creates one column of color, the vertical line, this makes a long trench coat one of the most flattering to petite body frame.
They of course cannot be too long that they overwhelm your body frame, and they work best with heels at least 3 inches high. We do not recommend wearing long coats with flats or sneakers- that just does not look right and they will make you look shorter than you are, like the stylists suggested.
Best Fabrics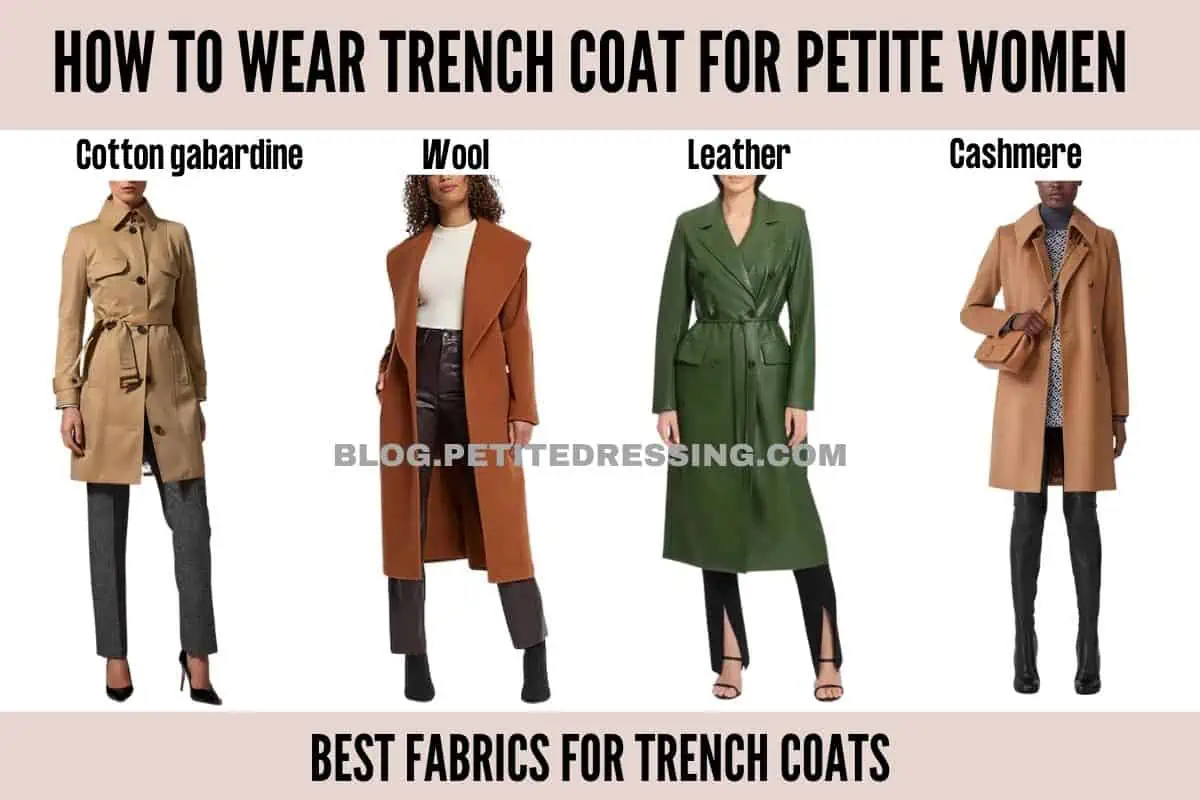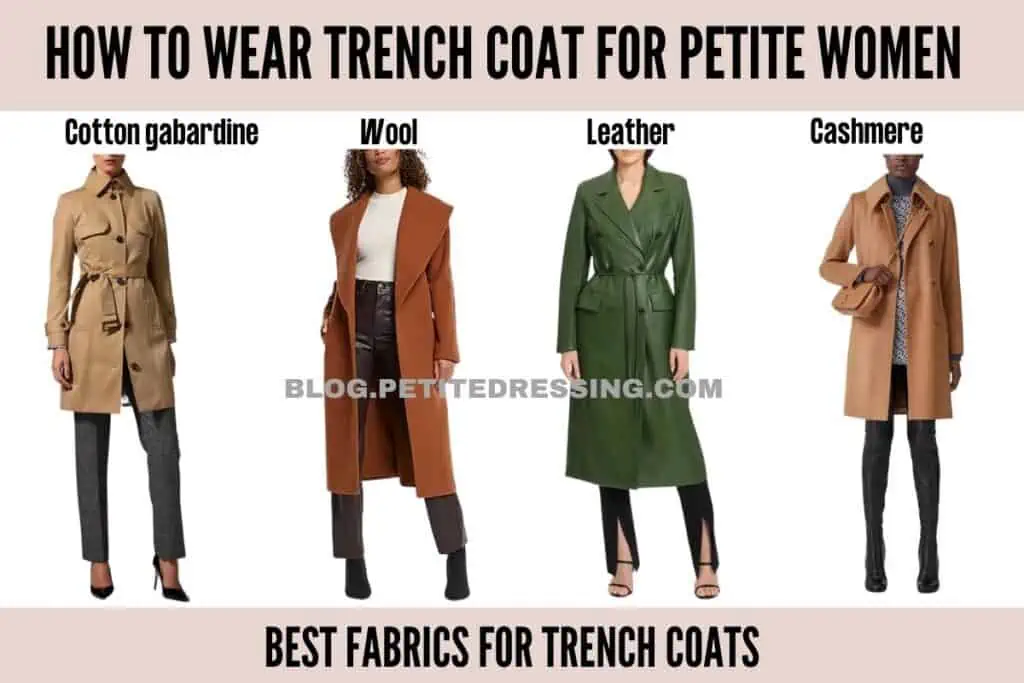 Cotton gabardine
When we talk about the fabrics trench coat, the first comes in mind is cotton.
For traditionalists, there is just one choice of trench coat fabric: 100% cotton gabardine as invented by Burberry. Tightly woven of a worsted cotton, it is both lightweight and durable.
Wool
A wool trench coat will cost a lot more than a cotton one, but it is such a great investment piece for your wardrobe and will last for years to come.
The fine wool material elevates the taste of your entire outfit, and will leave great impression especially in the business setting.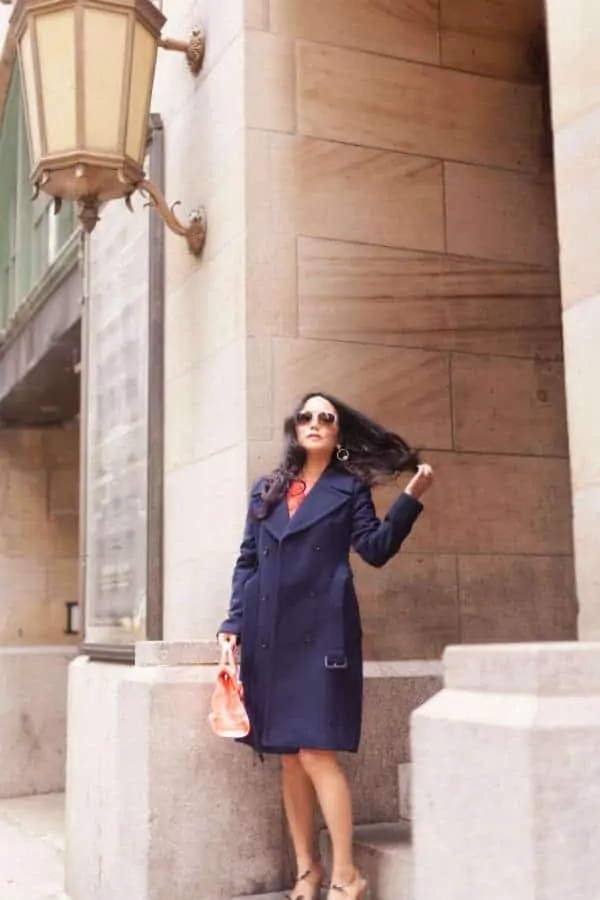 Leather
If you are looking for a heavy-weight trench coat, leather is the top choice to keep you out of the winter chill.
Heavier and warmer than its cotton or wool fabric brethren, it is more closely related to the overcoat in terms of functionality. Leather's ability to repel dirt and water and ease of cleaning also make them more appealing.
If you are out shopping for petite trench coat on a budget, there is plenty of choices on the market made of faux suede and faux leather, which holds up the shape and will not cost a fortune.
Cashmere
Want to splurge a little and step up your wardrobe one notch? Cashmere trench coat or suede is your top choice. Pure cashmere trench for petites are hard to find, but some high end brands like Brooks Brothers make wool-cashmere blend coats for in petite sizes.
Denim trench coat is another trend in recent years that you could try if you are looking to add variety to your closet.
Best Color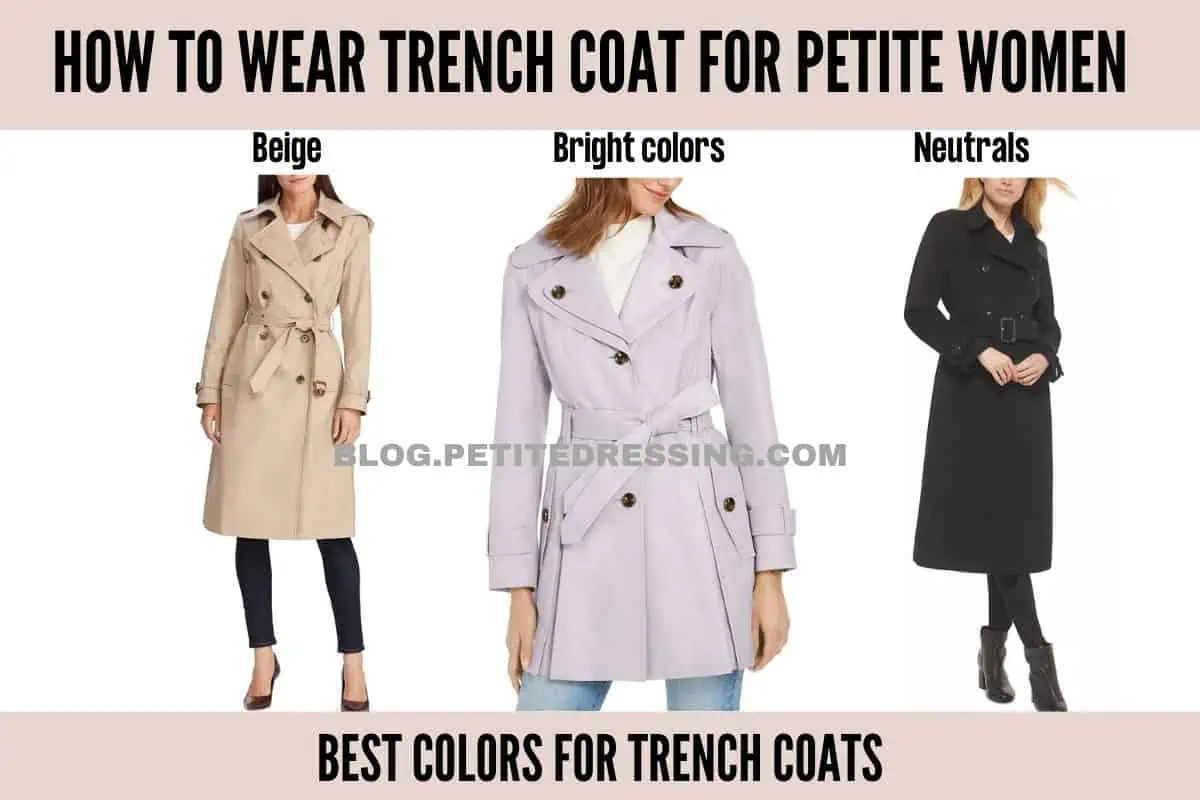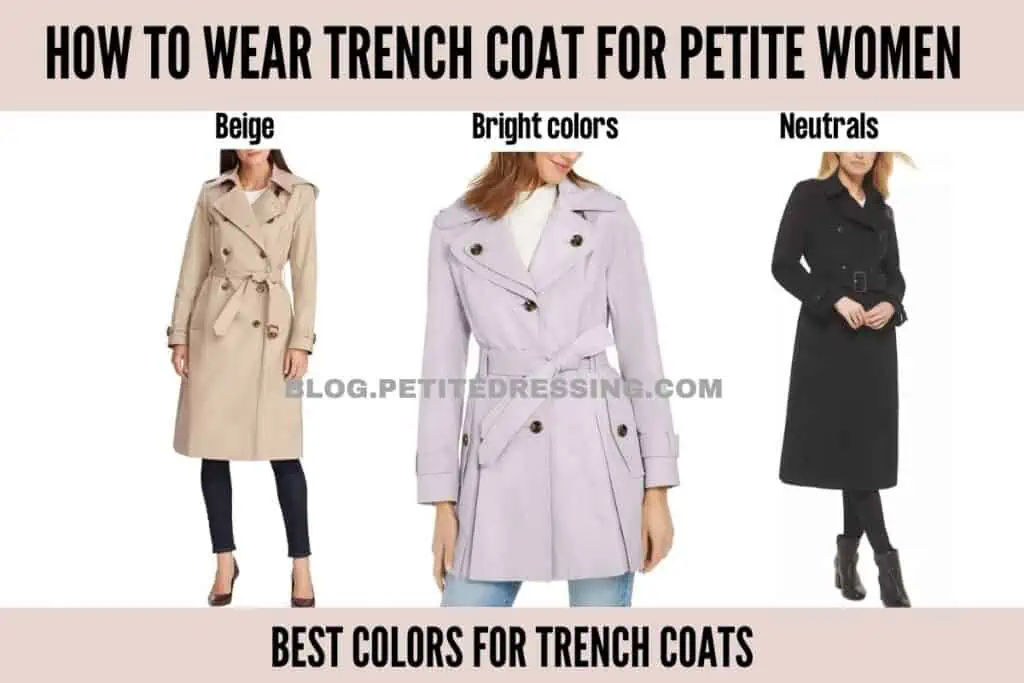 Beige
Traditionally, trench coats were beige. Today, beige or brown are still the most mainstream color choices for petite trench coats. But, you don't have to limit your style because of that.
Bright colors
What Color Complements YOU?
In the mood of trying something different this fall and winter? Choose a color that complements your skin and eye color. Women with dark hair and complexions will look good in bright colors. Those who are fair-skinned will be complemented by pastels and light shades in outerwear.
Are you somewhere in between?
You got lots of options. The best thing to find out the most flattering coats for you is to try them on, and see how they look against your hair color, eye color, and skin tone.
Neutrals
Maybe you are not yet ventured out with bold colors such as red or blue? Then you have the choices of other neutral colors such as navy, grey or black.
They are the safest colors to go with other than beige or brown, because neutral colors are the easiest to style and you can pretty much feel confident they will go with anything you already own.
How to Style
Once you find your favorite petite trench coat, it is just as important for you to figure out what you should wear under it and make the entire outfit look chic. Trench coat is so versatile, you can create drastically different styles depending on what you wear under and the shoes you wear.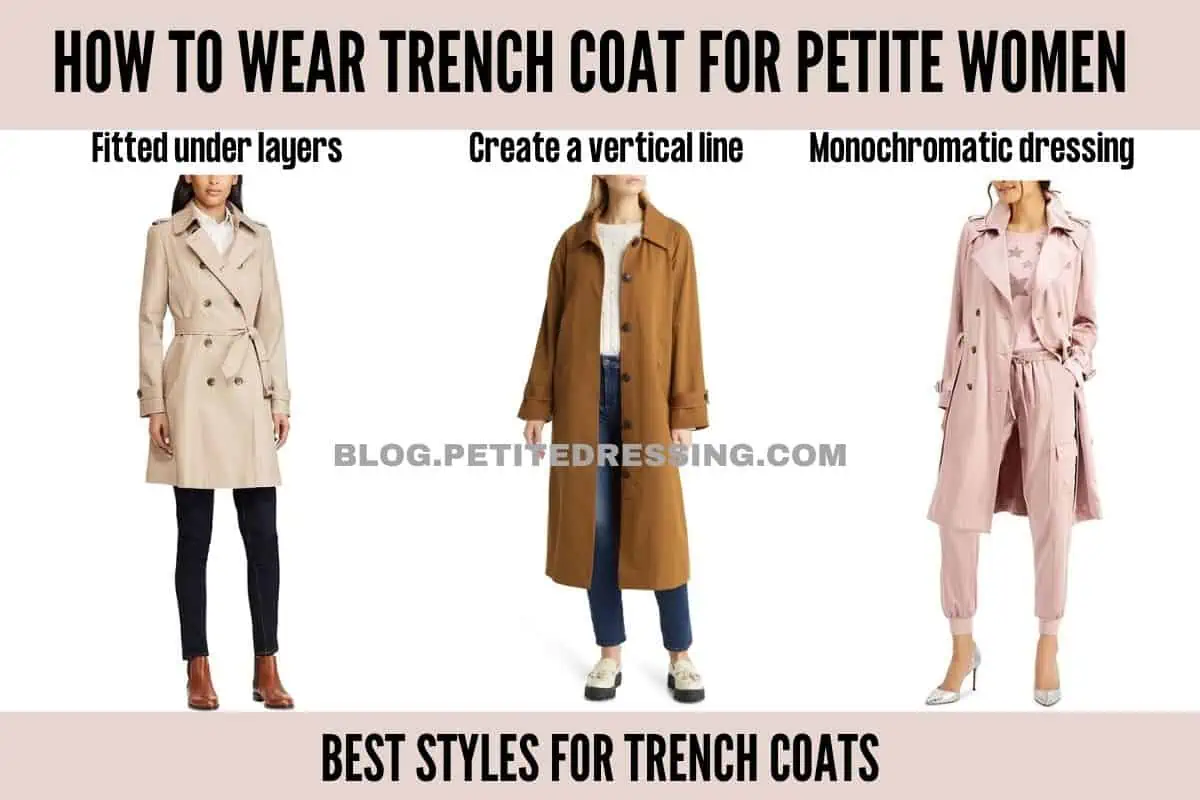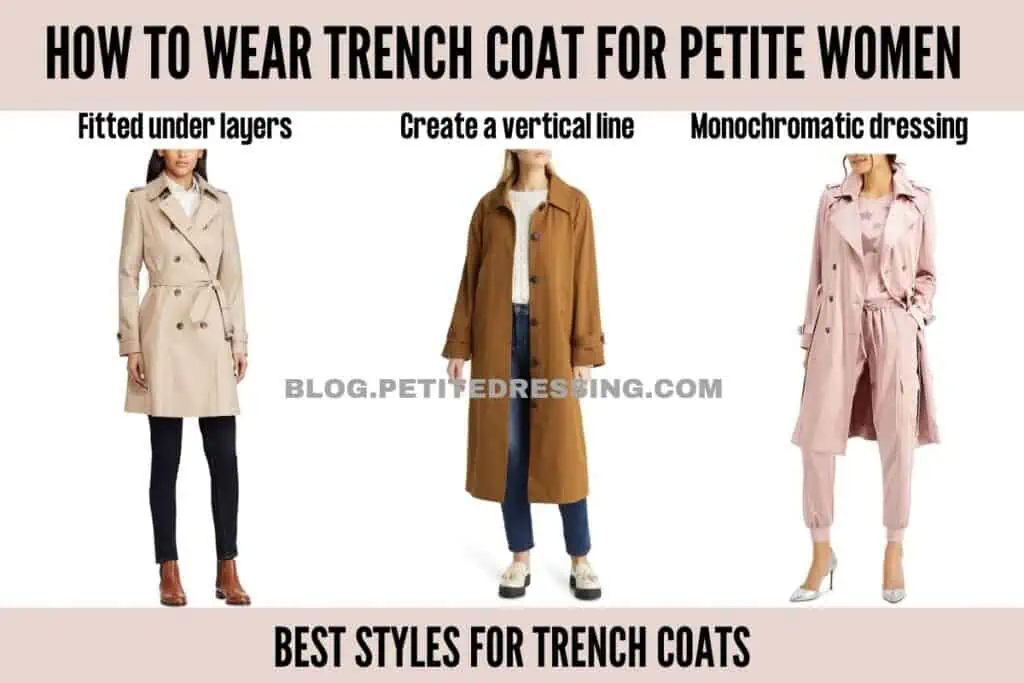 Fitted under layers
Since trench coats are typically fitted, it is important that you wear something fitted underneath
A slim-cut cashmere or wool trench coat defines a polished look, so your best bet is to wear a well-fitted sweater under it, which you can pair with skinny pants and boots.
Another choice is to wear a dress under the petite trench coat, paired with heels, to complete the look.
If you purchased a short or cropped trench coat, then you create many different casual looks with it. Feel free to wear sweaters and jeans, paired with sneakers or flats.
Create a vertical line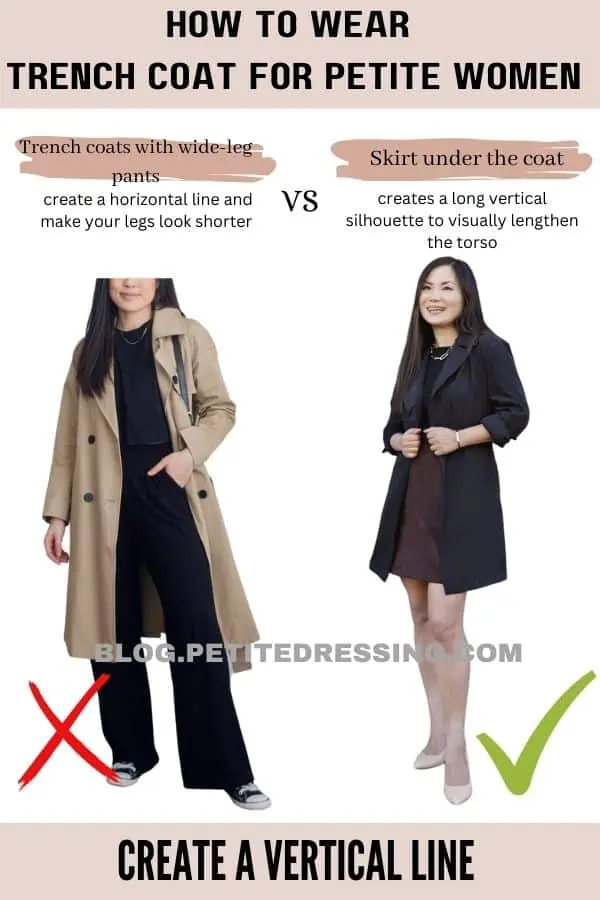 The secret to styling a petite figure is to make sure what you wear underneath will not break the continuous vertical line created by the coat.
What I mean by that is if you wear a dress or skirt under the coat, make sure it is not longer than the coat. Otherwise, the dress or skirt shown under the coat will make your legs look cut off and make a petite woman look even shorter.
If you are wearing pants under the trench coat, make sure the pants are long enough. Avoid wide-leg pants shorter than your ankle, because they create a horizontal line and make your legs look shorter.
Monochromatic dressing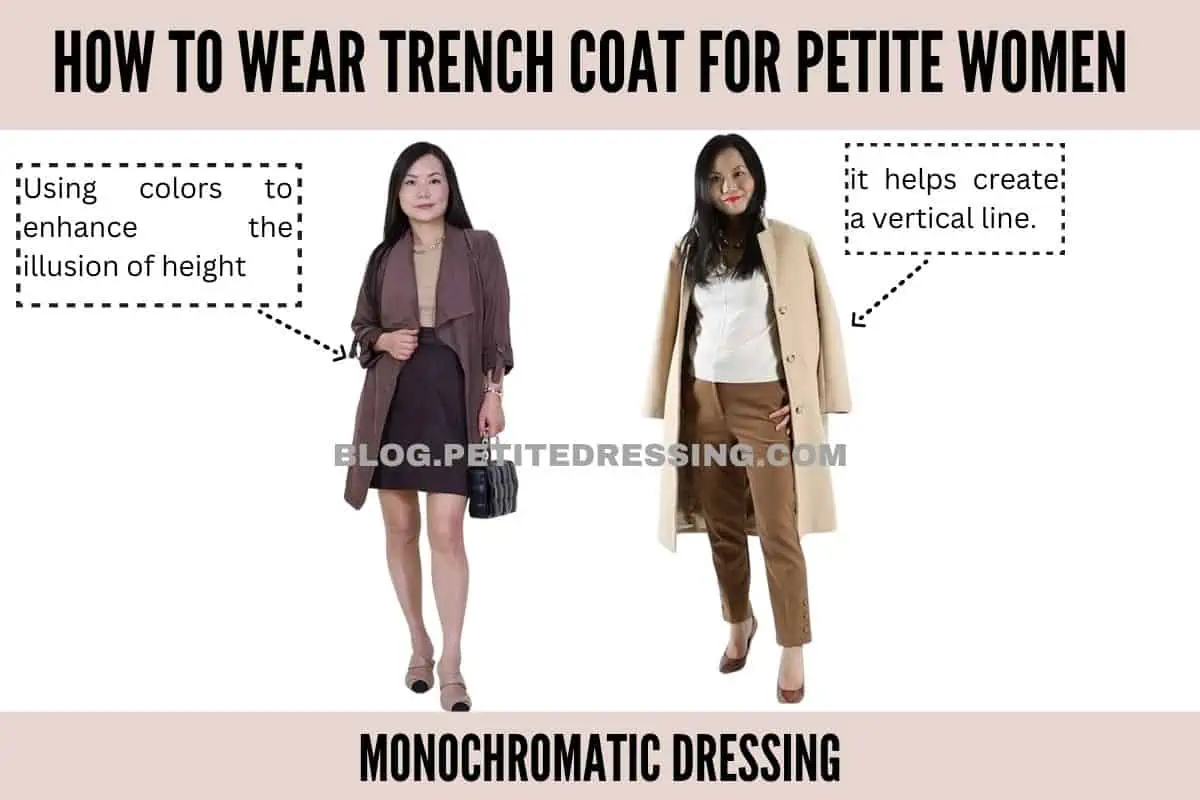 When styling your trench coat, it is important for petite girls to master the skills of monochromatic dressing.
Monochromatic outfits are most flattering to short girls because they create a column of colors, i.e. the length much needed by short girls. If you want to master the skills of how to look taller, then a monochromatic outfit is a must. Using colors to enhance the illusion of height is a highly effective strategy because it helps create a vertical line.
Apply monochromatic dressing does not necessarily mean short women should be wearing one single color from head to toe.
It just means if the colors you wear are all from the same color scheme with less contrast, you will appear to be taller.
Simple silhouette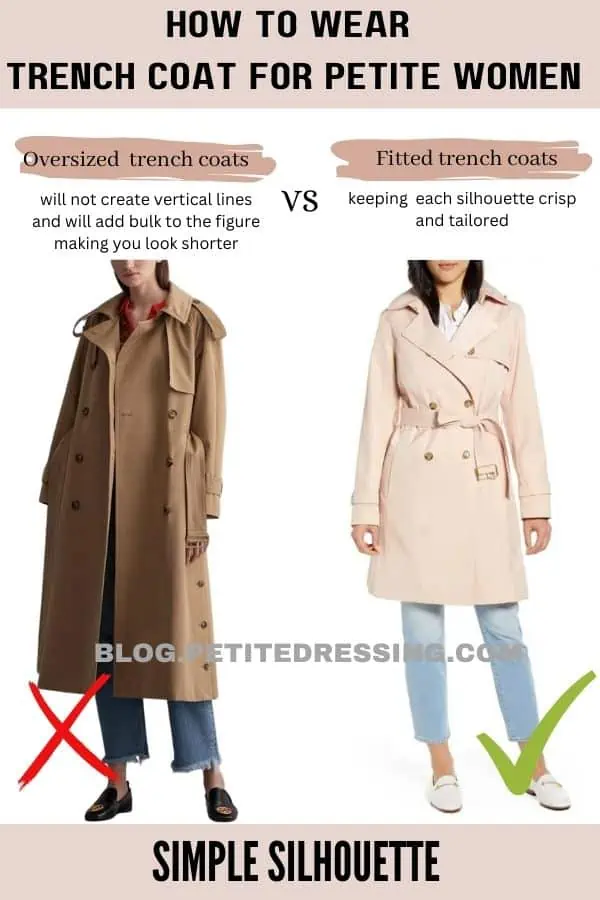 The trick for Petites to look good in any outerwear is to keep each silhouette crisp and tailored. For us short girls, you should avoid any oversized items anyways and always go for a fitted look.
You can consider wearing dark sweaters and pants under a black or navy trench coat, paired with black boots.
If your trench coat is beige or brown, then wearing a camel dress underneath would be the same color scheme. Paring that with a pair of dark brown boots would be the perfect finishing touch.
Choose the right shoes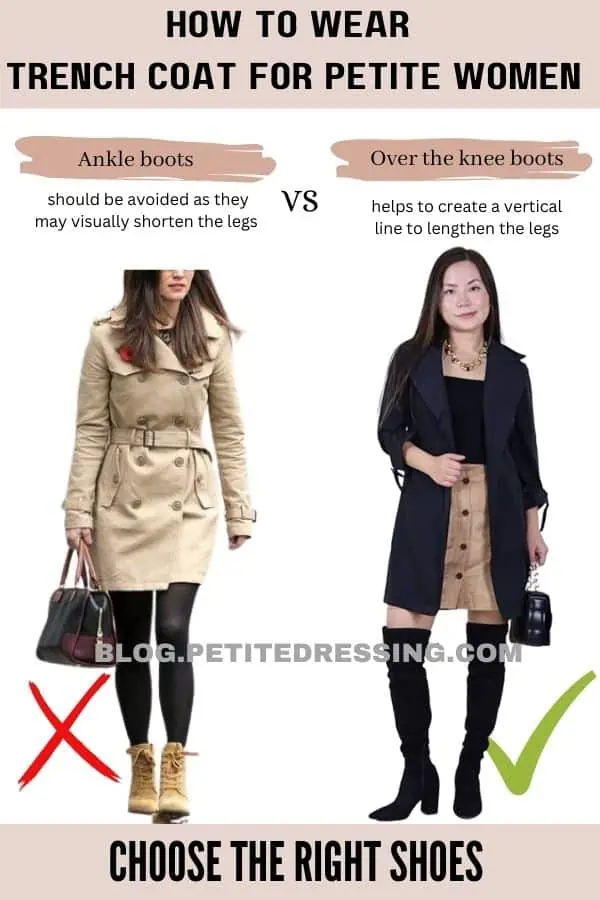 Tall boots, either knee-high or over-the-knee are the no-brainer that goes with almost any style of trench coat.
Short trenches are recommended to wear with high-heeled knee-high boots
Ankle boots should be avoided as they may visually shorten the legs.
Long trenches with flat ballerinas look very romantic and fresh, though shoes with small heels may also work well with long trench coats.
Platform shoes and brogues are just other alternatives to wear with trench coats.
How to Accessorize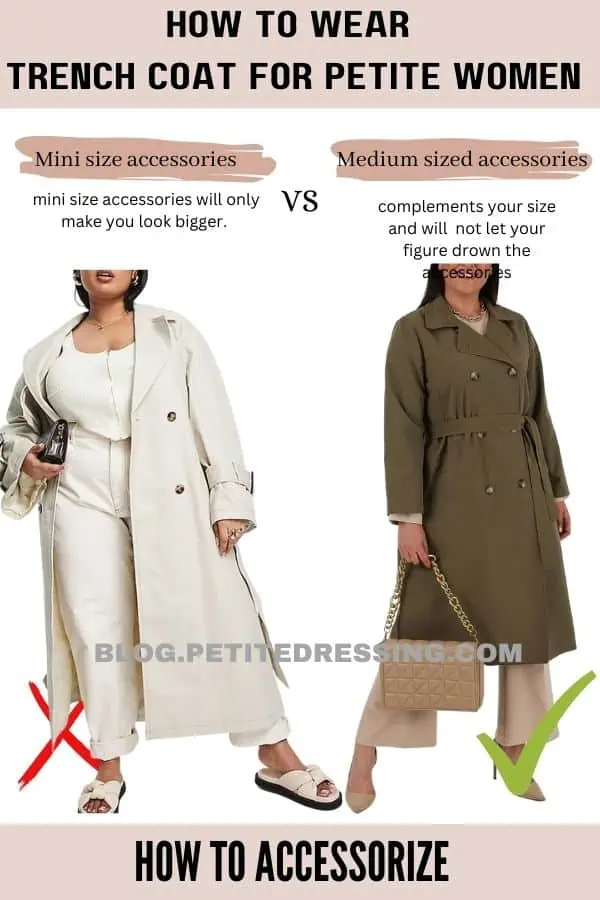 While a petite trench coat itself creates a great framework and foundation for your entire outfit, you can double their oomph if you complement the look with the right accessories. The accessories can be flattering to your small frame, while functional in the colder weather at the same time.
For instance, scarves and chiffon shawls romantically tied round the neck may create an instagram worthy look among crunching leaves in the autumn.
The key is to make sure your accessories (hats, jewelry, scarves and bags) are in scale to your size.
Does this mean the smaller, the better?
The answer is no. For instance, not all petites are skinny, if you are a heavier set petite woman, then mini size accessories will only make you look bigger.
Another important tip of accessorizing is to draw eyes above. For example, tying the scarves higher will elevate the balance point of your outfit, and make you look taller.
Best Brands
Traditionally, the best places to find the most petite brands for trench coats are department stores.
In recent years, most department stores have shrank their petite departments, so it almost made little sense for us petite girls to visit the local stores. It is time consuming to visit, searching racks after racks of clothing and only to be told they don't carry your size.
Independent petite designers
Petite Dressing carry trench coats that fit women 5'4″ and under from independent designers.
Not only they are the right length and size, but also they have the right design details to flatter a short girl.
Department stores
In my own experiences, Nordstrom and Macy's are my favorites when it comes to finding the best winter coats for petites.
They have classic designers for petites like Lauren Ralph Lauren, Calvin Klein, Michael Michael Kors, as well as emerging popular designers exclusive to Nordstrom and Macy's like Halogen.
Nordstrom and Macy's constantly have promotion events for every major holidays, so you might be able to score a high quality designer petite trench coat at just a fraction of the cost.
Other petite brands
Here is a list of other retailers that make petite size trench coats:
ASOS
TOPSHOP
Gap
Talbots
Ann Tylor
Jcrew