If you are 5 foot and. under, finding the right skirt style to flatter your shape is critical. I am 5'2″ myself, and that's why I understand how big a difference different types of skirt can make on a short girl. Besides, I also have a petite clothing line, so I am receiving feedback from thousands of my petite customers on a daily basis.
I've put together this guide to help you find the best skirt styles, based on my own experience as well as feedback from my customers who are your height.
Styling Goal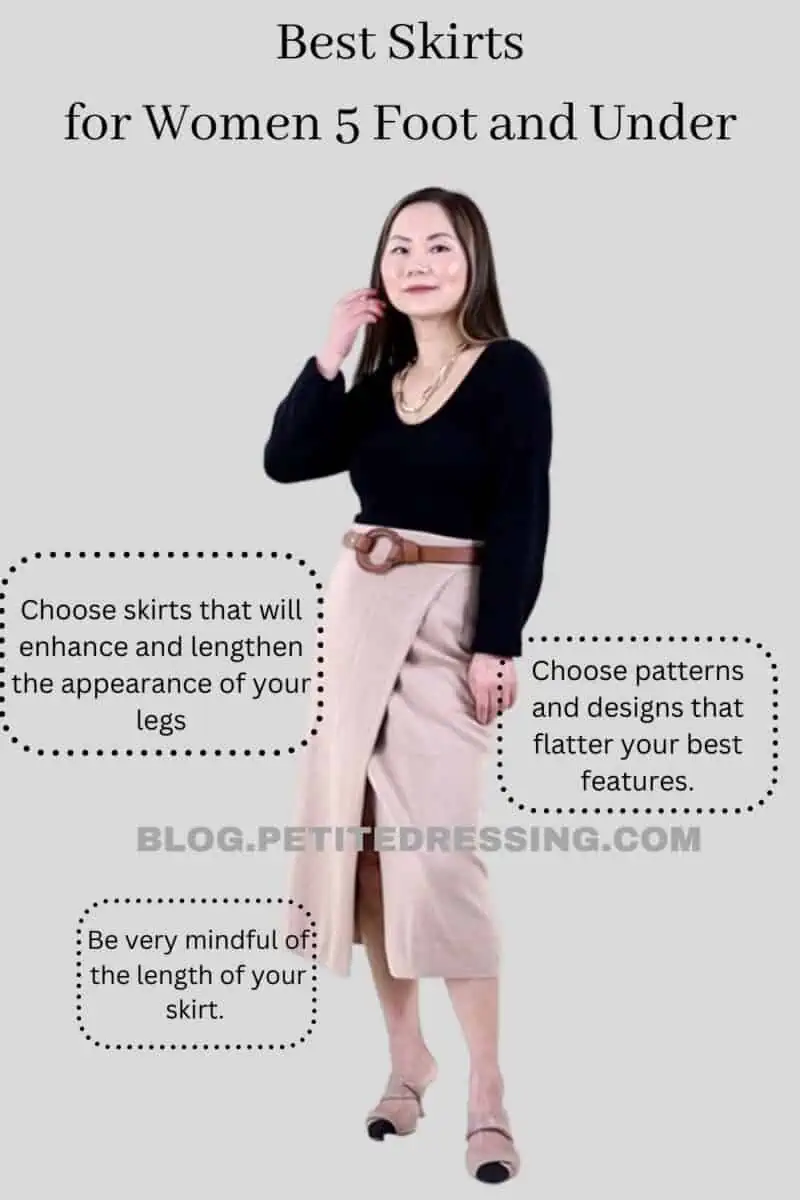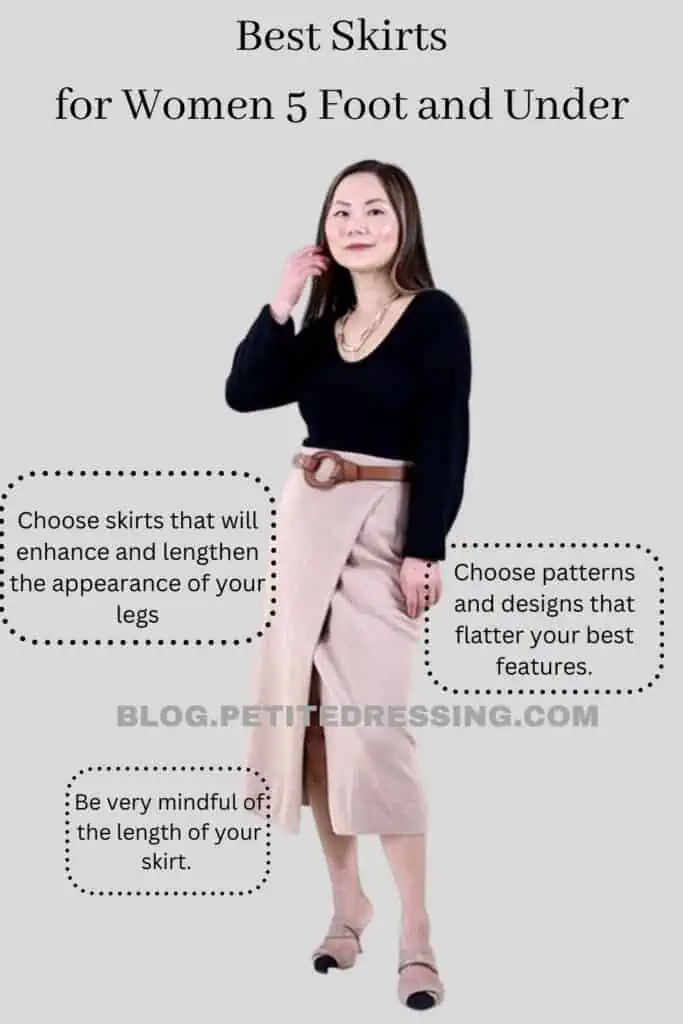 Choose skirts that will enhance and lengthen the appearance of your legs. Whether you opt for a mini skirt to show your legs off or a maxi skirt with vertical patterns, the goal is to elongate your frame.
Draw the eyes upwards to neutralize the attention between your short legs and upper body. You can do so by going for skirts that don't have too much volume and frills.
Be very mindful of the length of your skirt. Skirts that are too long (i.e. floor-length skirts) will instantly drown your petite figure so make sure you choose lengths that expose some part of your legs.
Choose patterns and designs that flatter your best features. Depending on your body type, your skirt should be able to tone down or amplify certain features in order to bring out your body's best assets.
Skirts can be quite tricky for short women who are 5 feet and under but there's no need to worry at all! In this guide, I'll share the best skirt styles that will absolutely flatter your frame and make you appear taller.
High-Waisted Skirts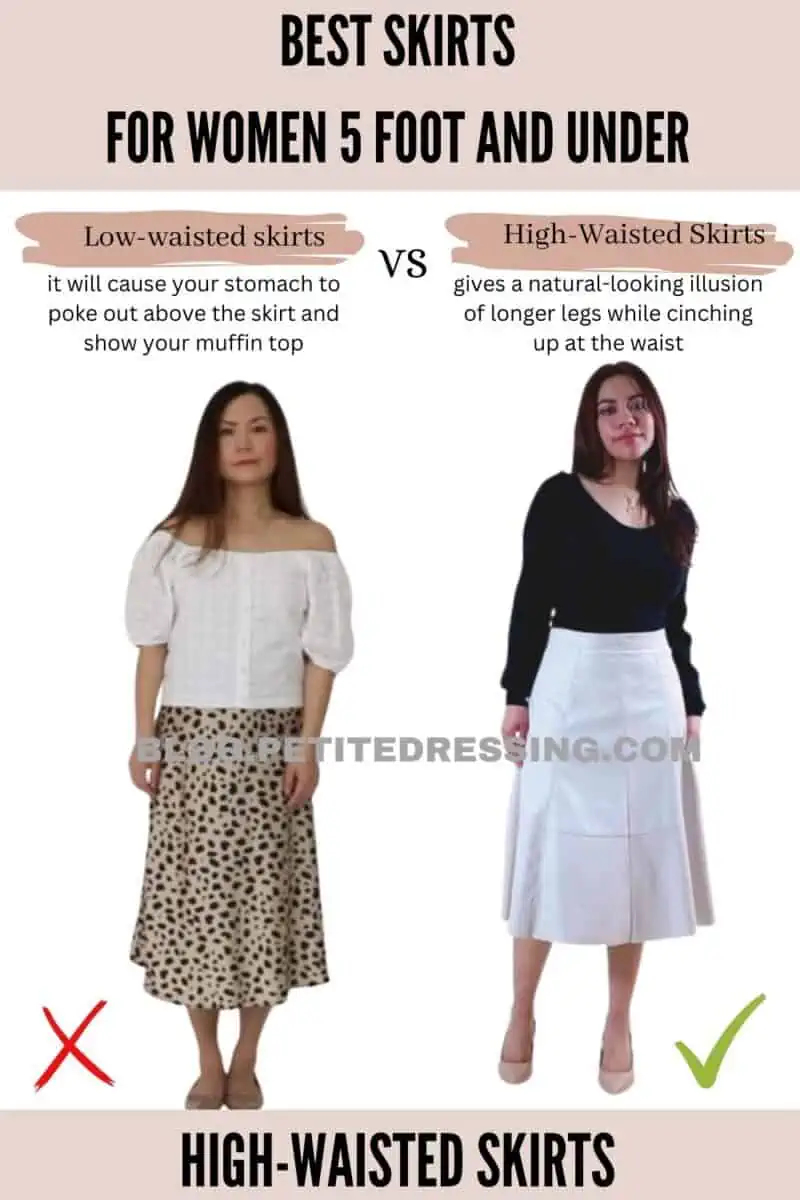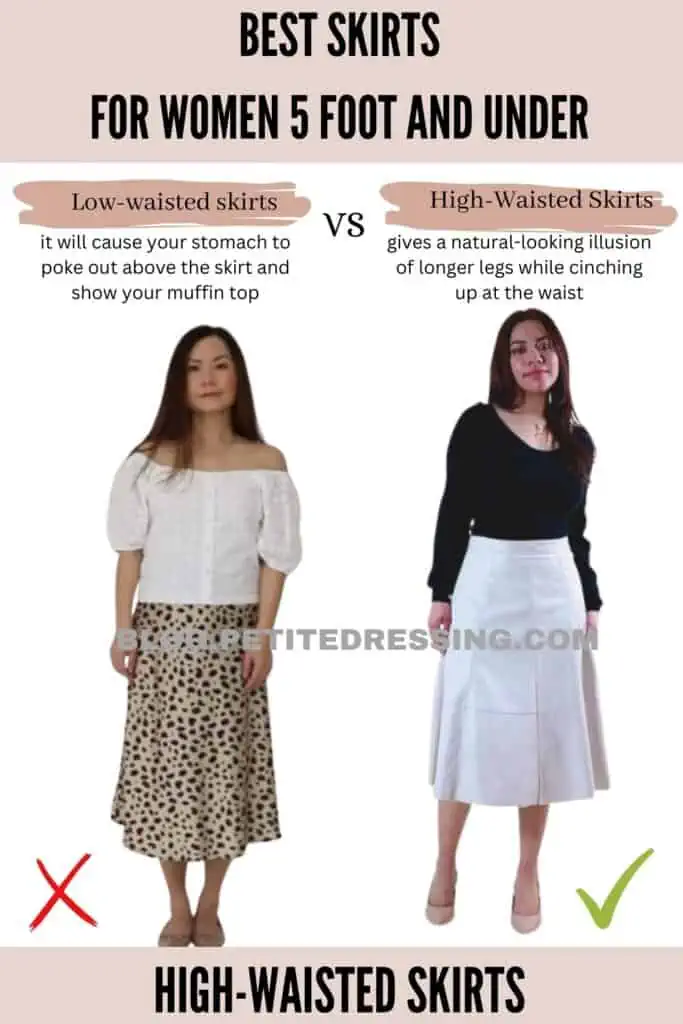 Tailored high-waisted skirts are always a popular style that elongates the legs and creates a more feminine profile on petite women. The high waistline gives a natural-looking illusion of longer legs while cinching up at the waist to showcase your curves.
Moreover, you can tuck in a fitted top or blouse to show off your gorgeous waistline. To elongate your silhouette even more, go for a monochromatic effect by matching the color of your skirt to the color of your top.
A fitted high-waisted skirt looks best in a structured fabric such as wool, tweed, or cotton and may be worn in a wide range of styles depending on the occasion. You can finish the entire look with stylish ankle boots or pumps to add a little elevation to your frame.
Skirts with Asymmetrical Hem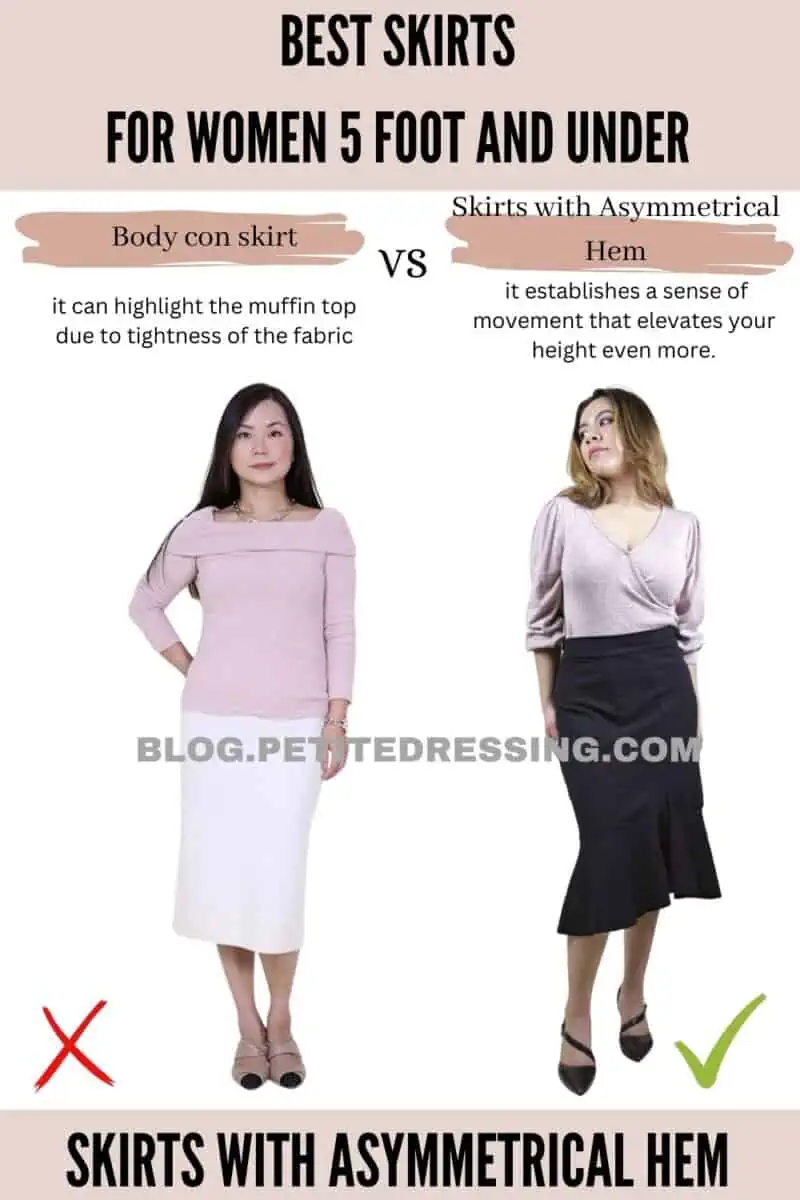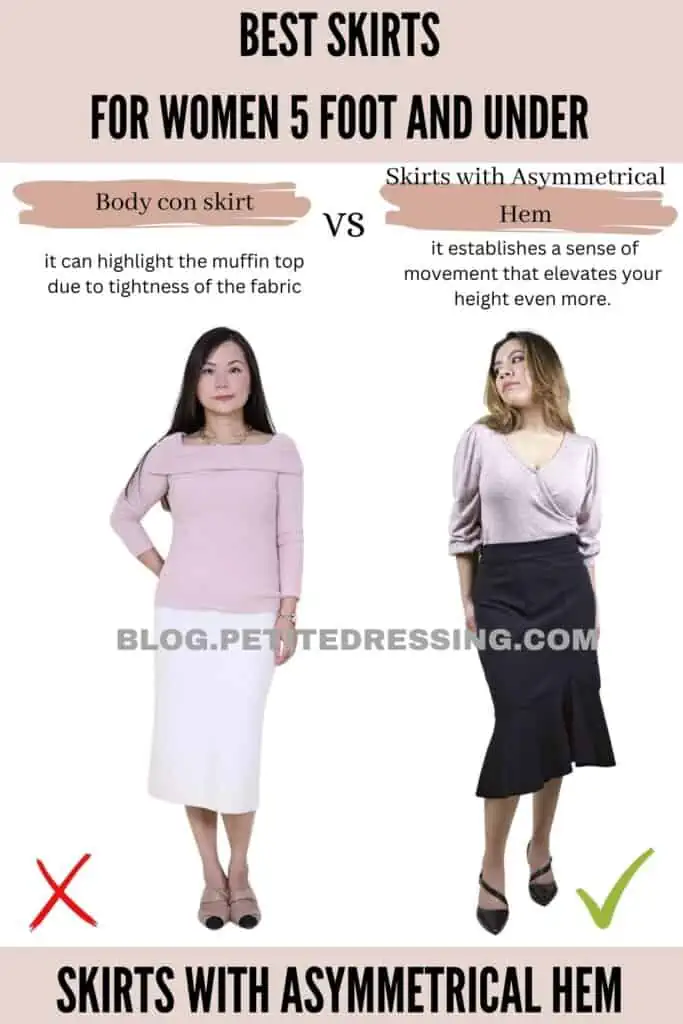 Asymmetrical hem skirts are a fashion-forward option for petite women as they have an uneven hemline that draws the eyes from waist to hem. The hem is usually detailed with ruffles or flounces of fabric so it establishes a sense of movement that elevates your height even more.
Additionally, asymmetrical hem skirts are typically made out of various fabrics, spanning from cotton to silk, and can be dressed any way you like. To spice up your look, wear this skirt style along with sandals or comfy sneakers for a more easygoing daytime ensemble, or dress it up with stilettos for a romantic dinner.
However, I discourage wearing lots of accessories with an asymmetrical hem skirt as it may detract from the distinct design of the skirt.
Skirts with Vertical Designs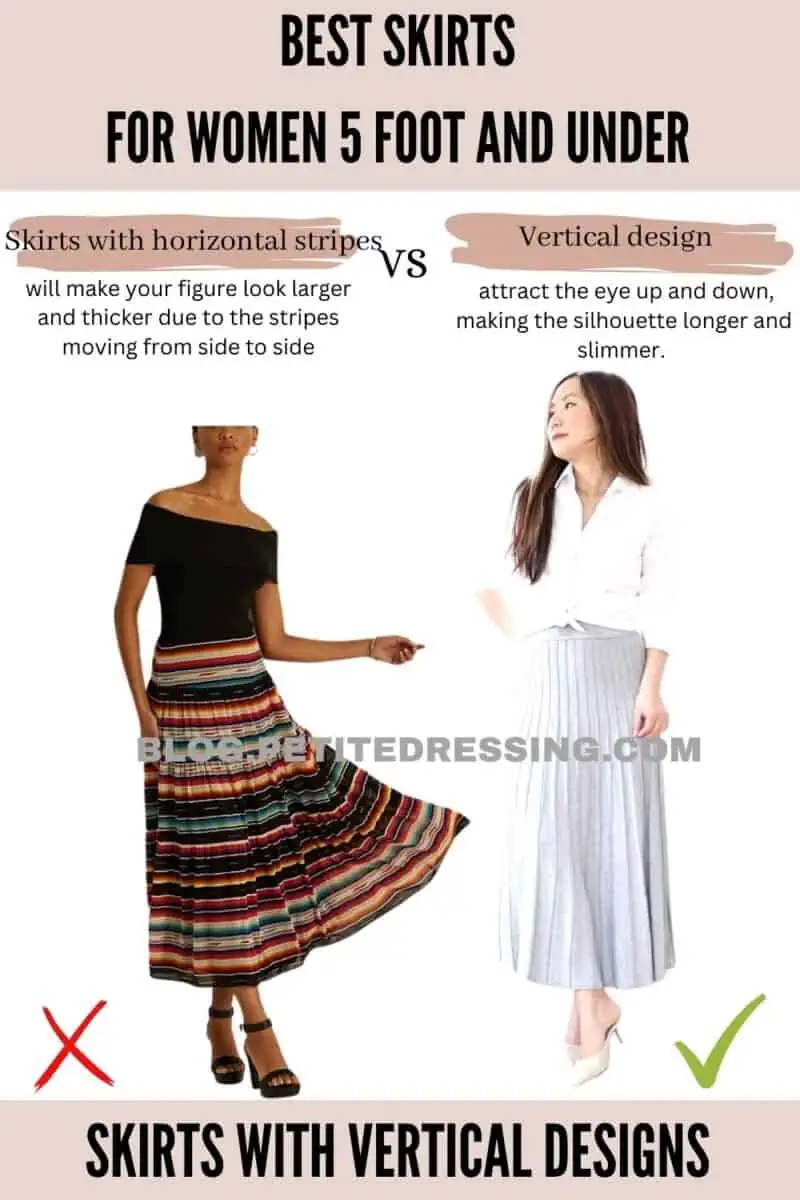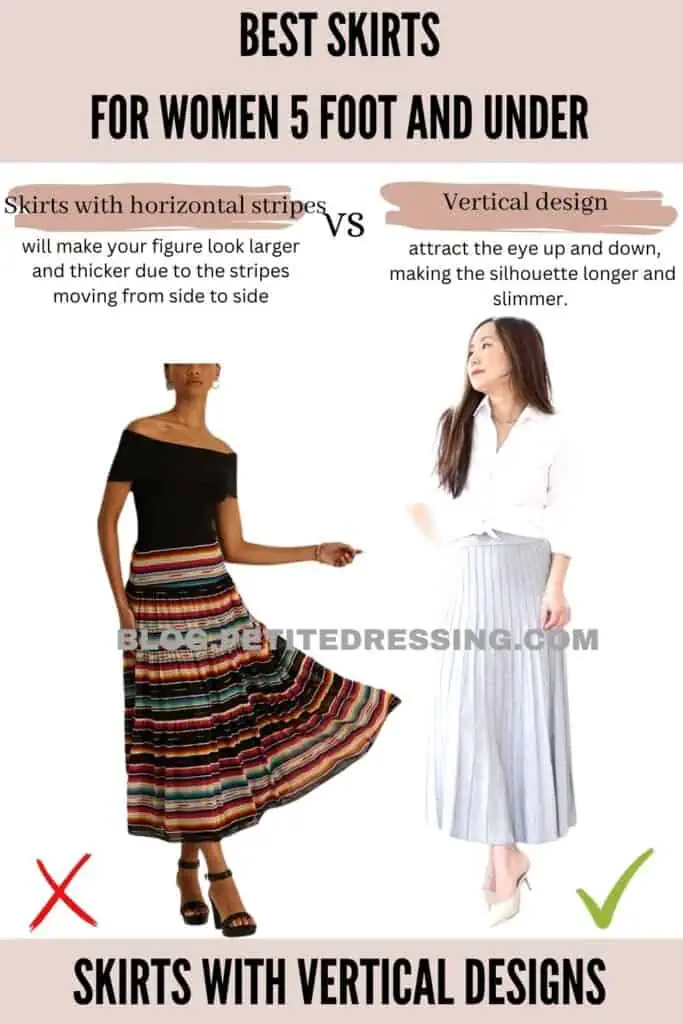 Skirts that display vertical designs such as stripes, pleats, or prints, effectively elongate the body and are ideal for women 5 feet and under. The vertical lines attract the eye up and down, making the silhouette longer and slimmer.
The reason this works is that vertical lines create a visual cue that makes the eye move up and down. When the eye moves up and down, it gives the impression of length, which can make you appear taller than you actually are.
Always pick a style that falls just above the knee and wear it with a fitted top or blouse tucked in to draw emphasis on your waistline. Vertical designs are available in an array of fabrics ranging from cotton to silk, making sure that you choose the ones that give you the utmost comfort.
Satin Pleated Skirt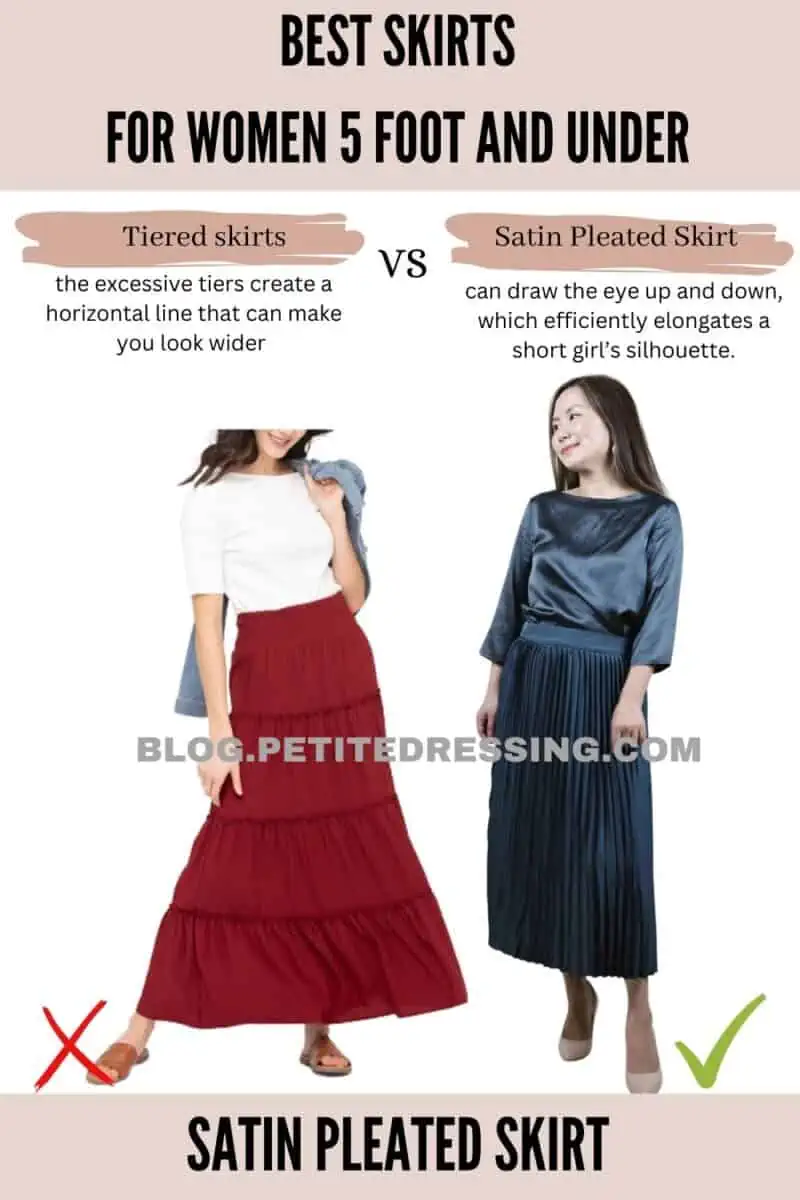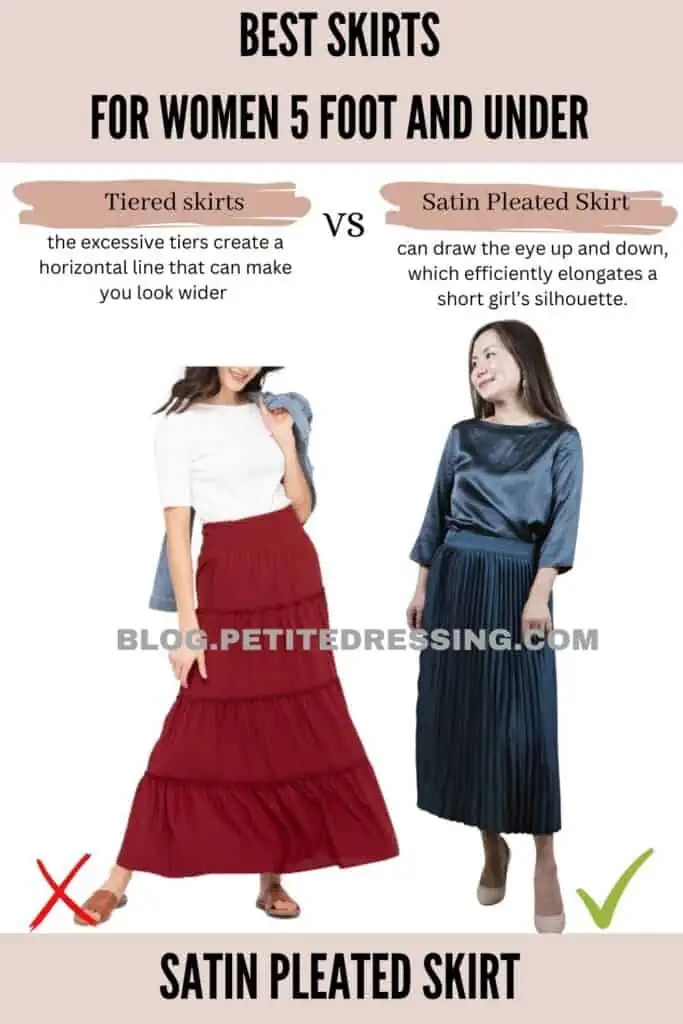 Satin pleated skirts are a versatile solution that petite ladies can confidently wear. The delicate pleats give the skirt a soft and airy texture, delivering movement, comfort, and the illusion of length.
The vertical lines created by the pleats can draw the eye up and down, which efficiently elongates a short girl's silhouette. To further enhance the frame-lengthening effect of this skirt, pair it with minimal tops to not overwhelm its pleated design.
Ankle Length Maxi Skirts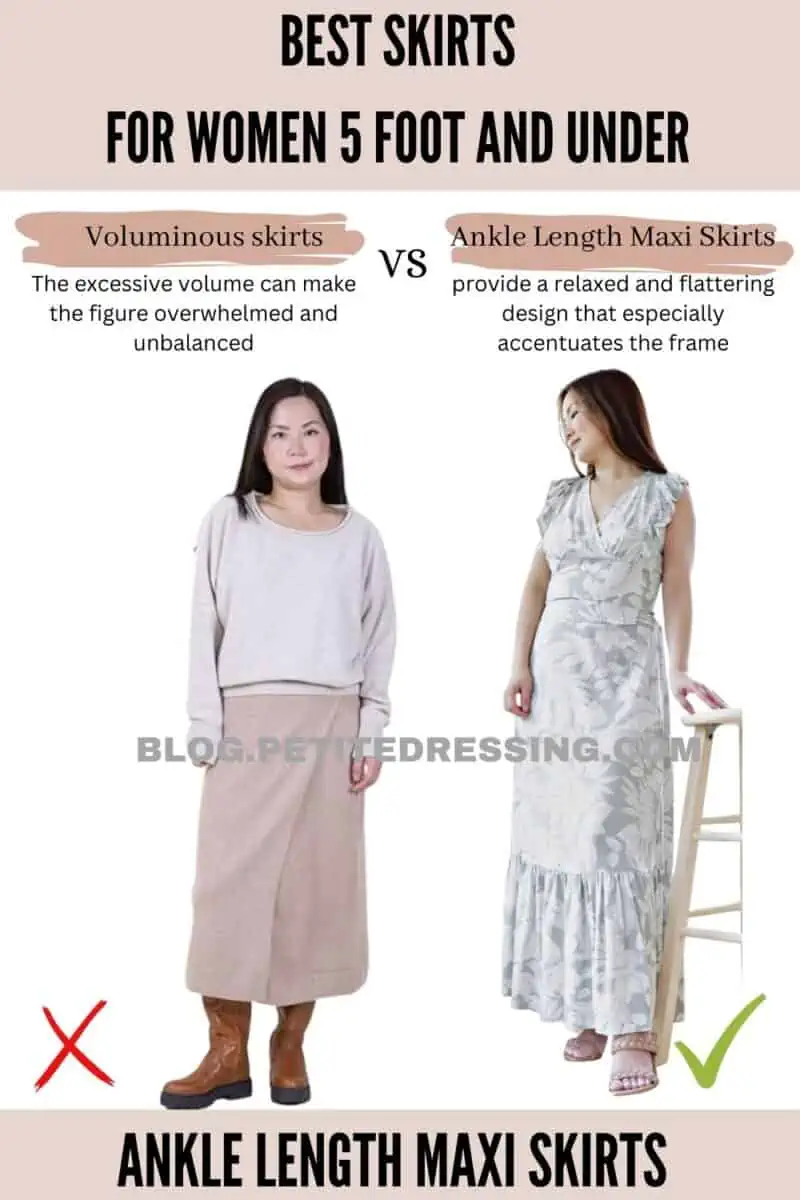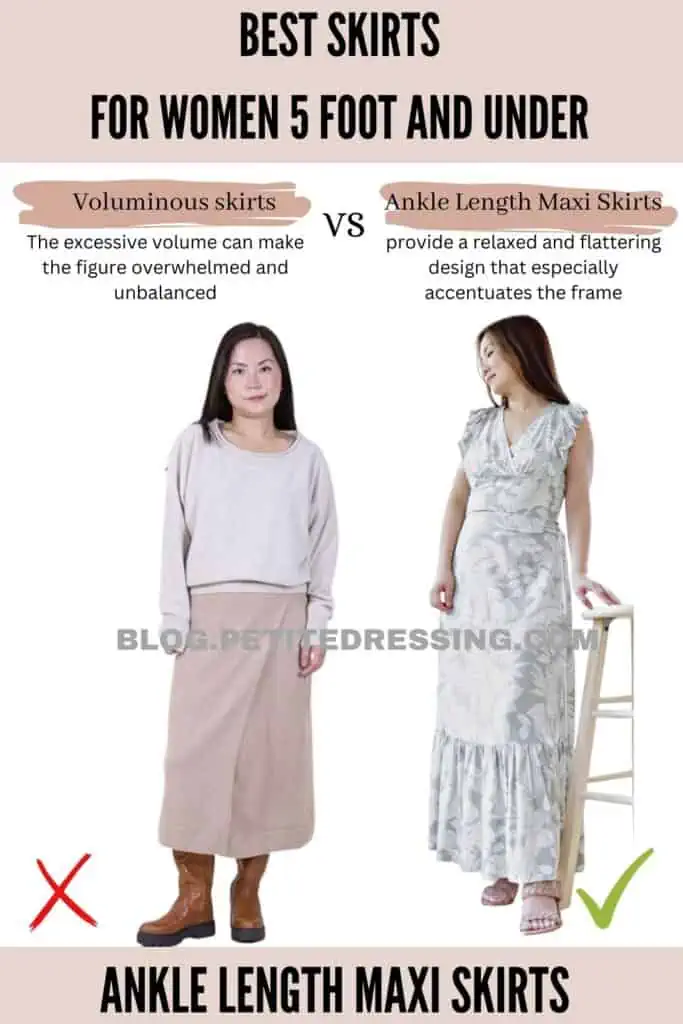 Maxi skirts, with a length that reaches the ankle, provide a relaxed and flattering design that especially accentuates the frames of women who are 5 feet and under. Consider wearing a high-waisted style that cinches at the smallest part of your waist and include it with a fitted blouse tucked in to display your curves.
Additionally, maxi skirts are indeed an effortless and chic preference for petite women who crave comfort, versatility, and aesthetics. To provide the appearance of height, I highly suggest wearing a maxi skirt with a side slit to display some leg and elongate your figure.
Flowy Knee-Length Skirts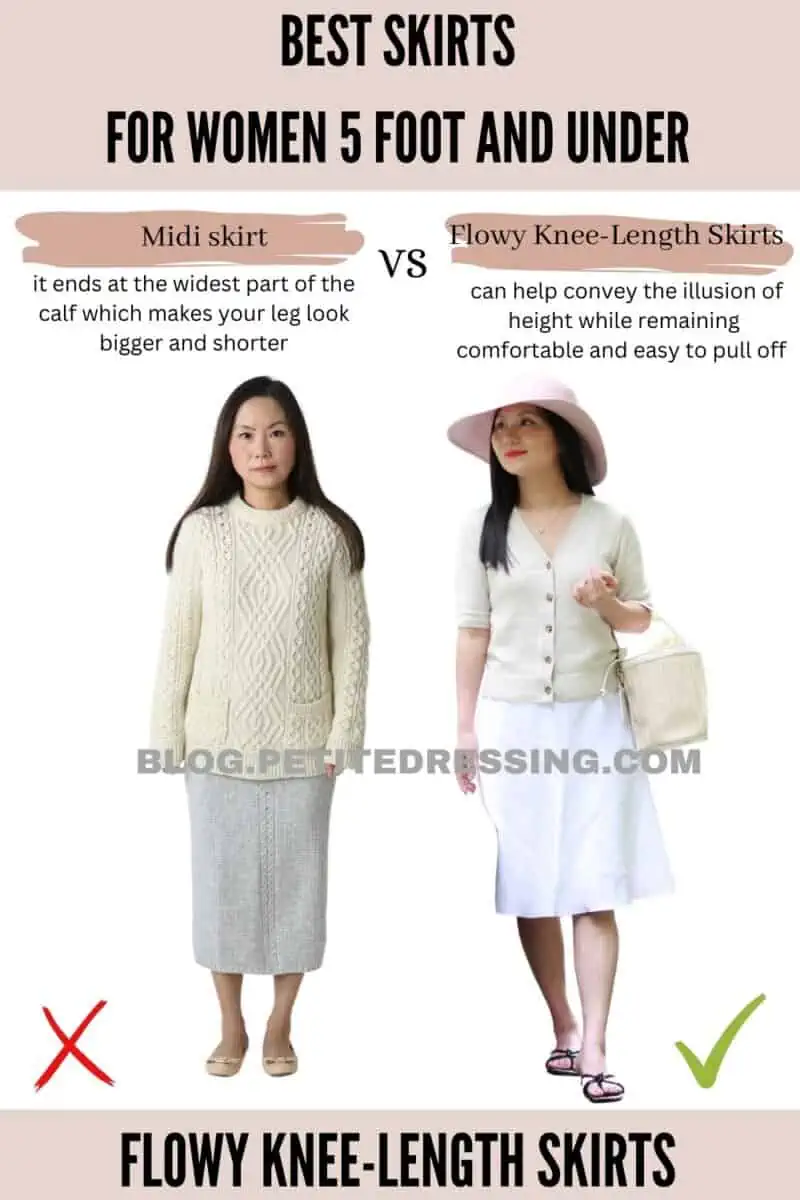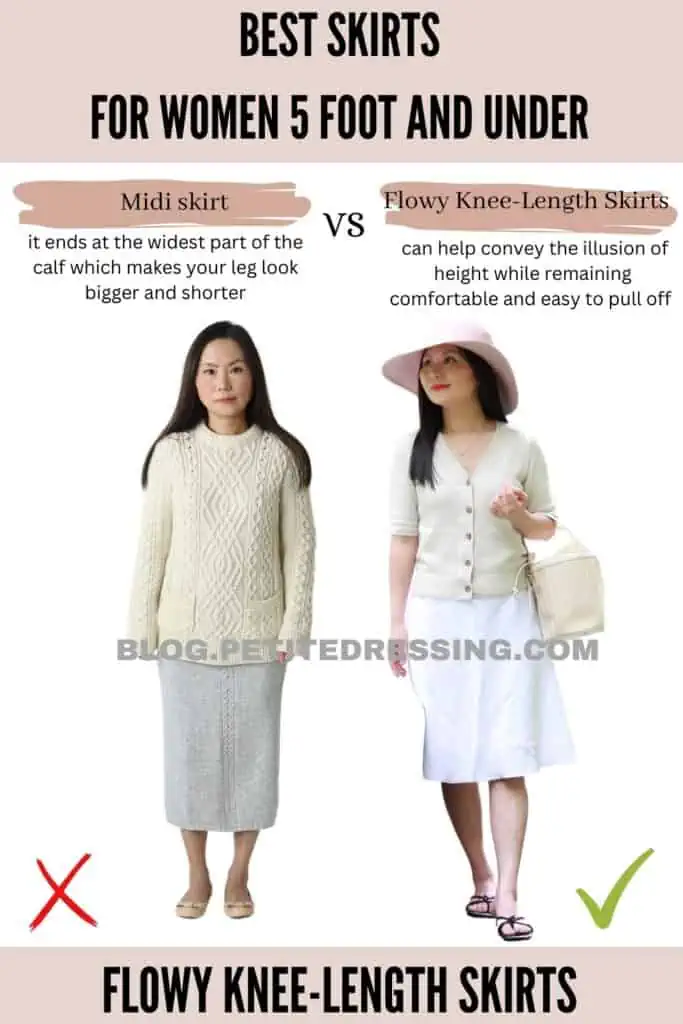 Flowy knee-length skirts can be an attractive option for women 5 feet and under. This skirt style can help convey the illusion of height while remaining comfortable and easy to pull off with any ensemble.
When looking for a flowy knee-length skirt, go for a style that accentuates your body shape. If you have a pear-shaped physique, for instance, select a skirt with a fitted waistband and a slightly flared hemline.
If you wish to flaunt your hourglass figure, it would be ideal to wear a skirt with a high waist and a flowing silhouette. To balance out the volume in your flowy knee-length skirt, wear it with a fitted top as well as a pair of heels or ankle-high boots.
Mermaid Skirt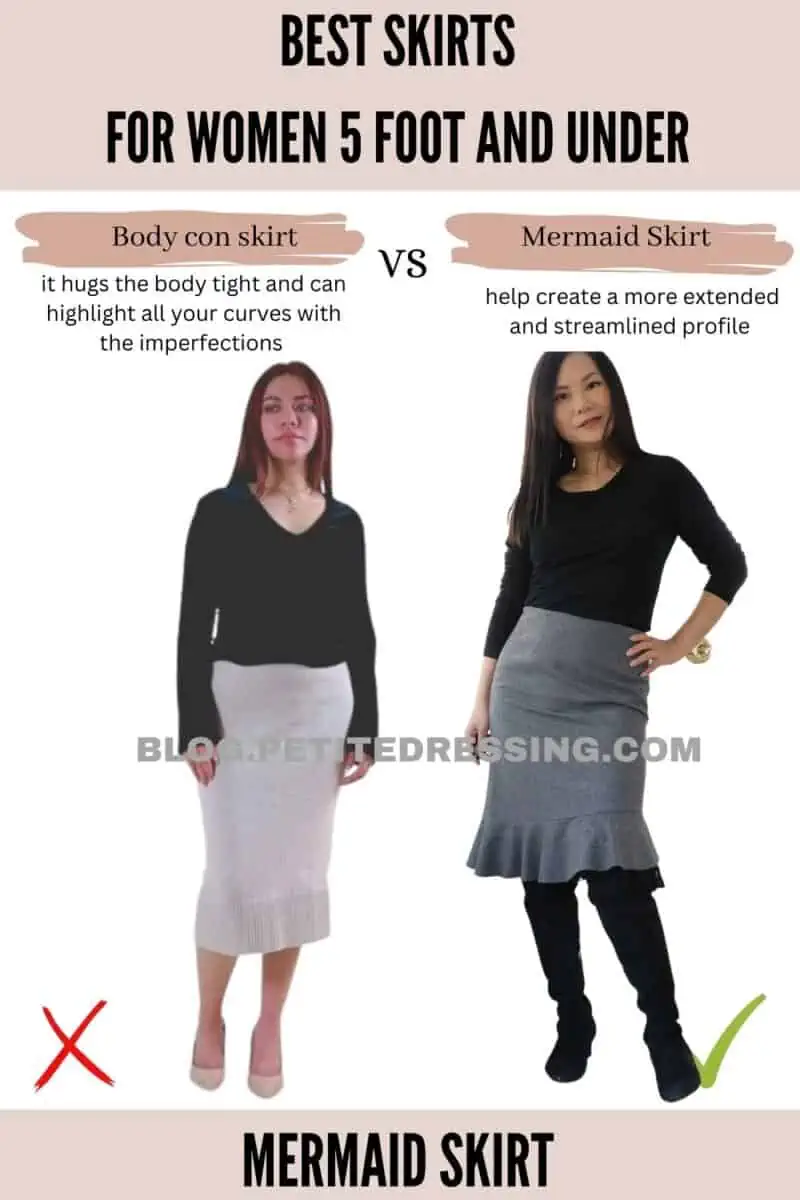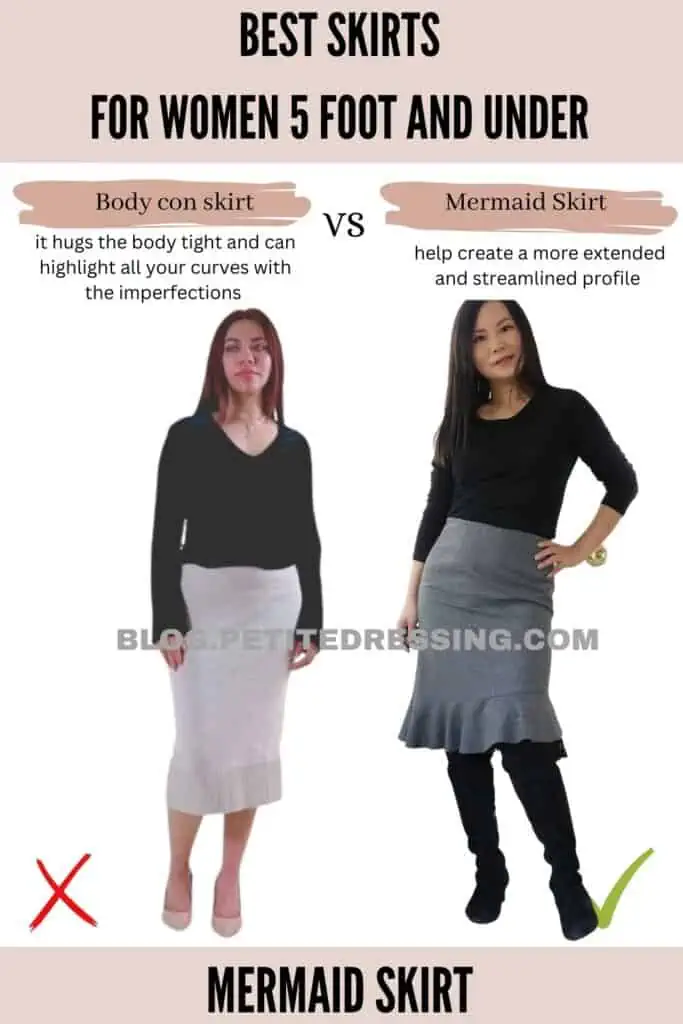 Structured mermaid skirts are perfect for women 5 feet or below since they help create a more extended and streamlined profile. This style of skirt is fitted at the waist and hips and flares out at the bottom, resembling a mermaid tail.
Furthermore, structured mermaid skirts are frequently made out of heavier fabrics such as satin or taffeta, which help them retain their shape. You have to consistently choose a structured mermaid skirt with a high waist to give the impression of a longer torso and finish it with high heels.
Skirts with a Slit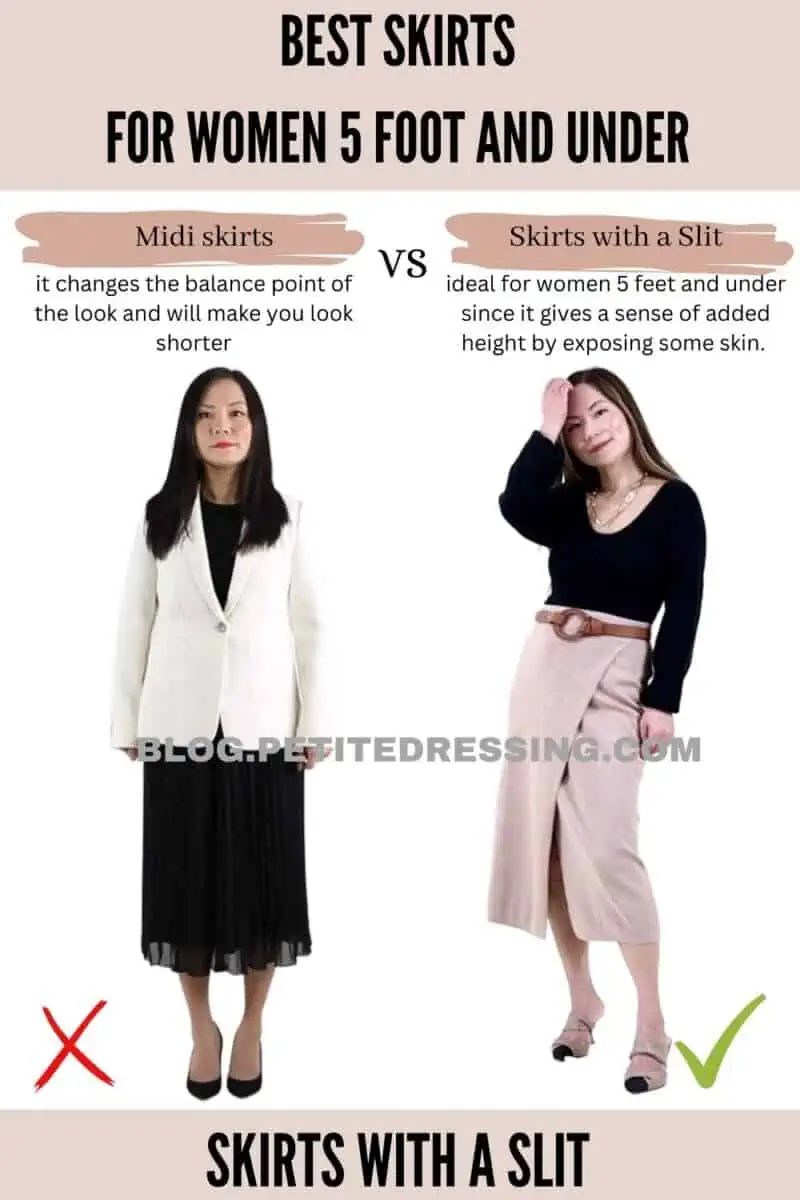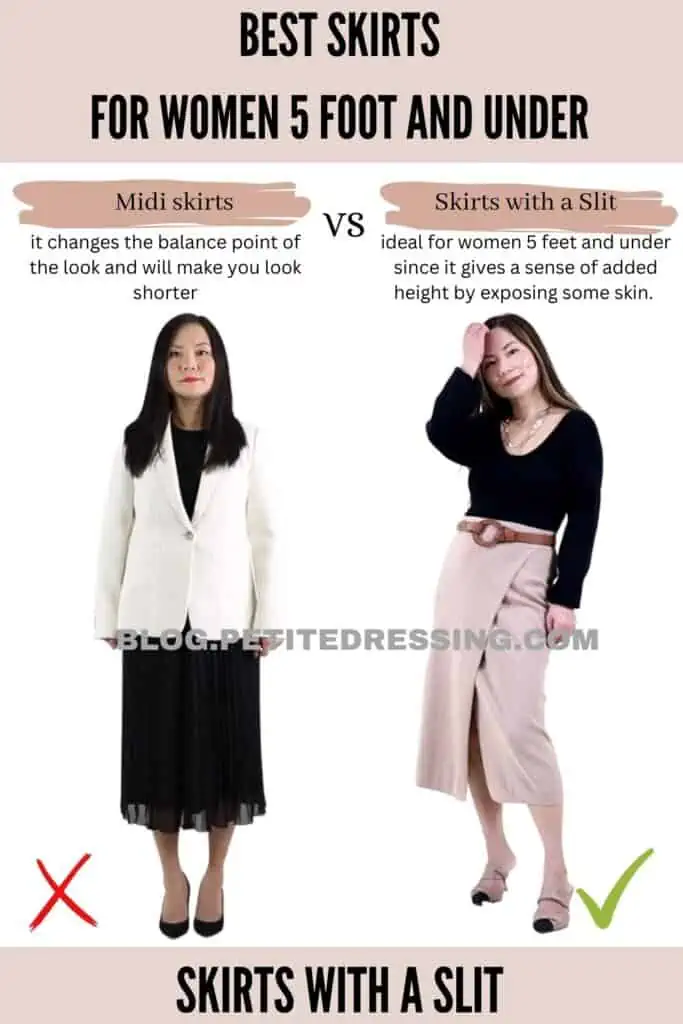 Look into wearing a skirt with a high slit for a sultry and eye-catching style. This style of skirt is ideal for women 5 feet and under since it gives a sense of added height by exposing some skin.
The classic choice would be a single side slit and that's actually enough to make you look taller. However, double slits are becoming trendier as well and there should be nothing to stop you from trying this one out as well!
Linen A-Line Skirts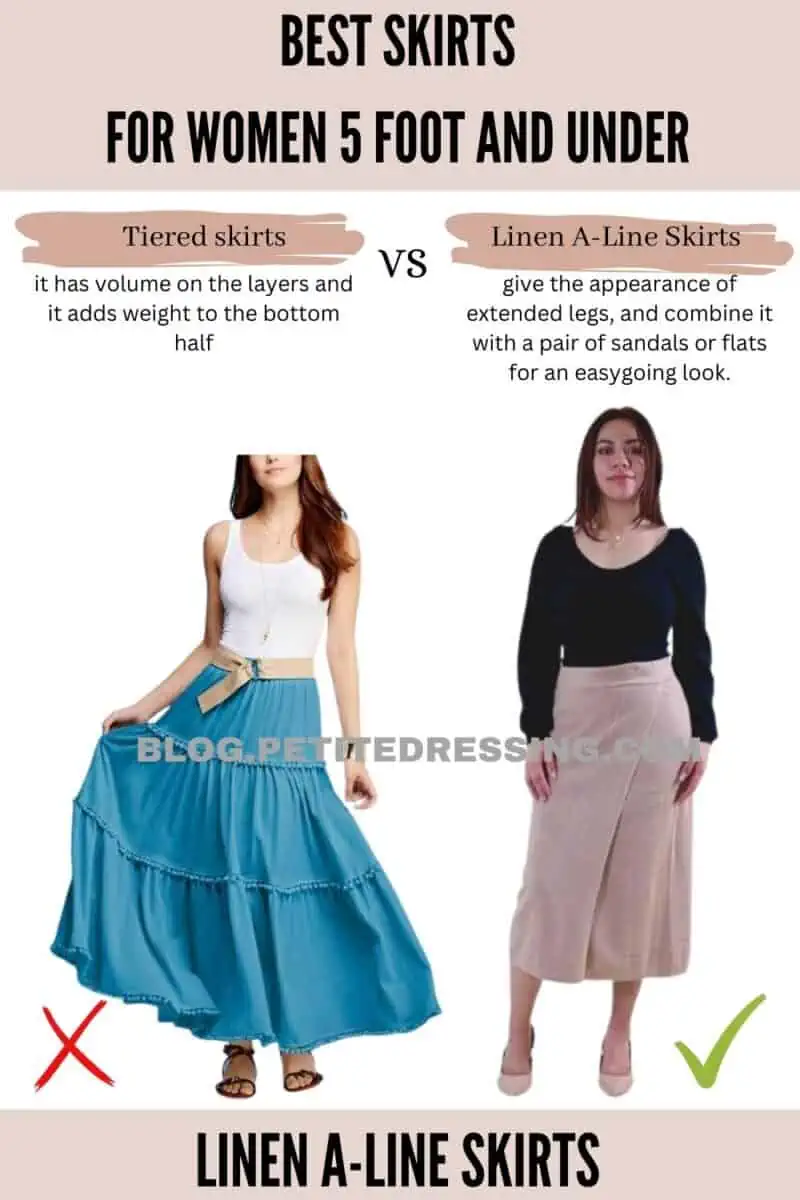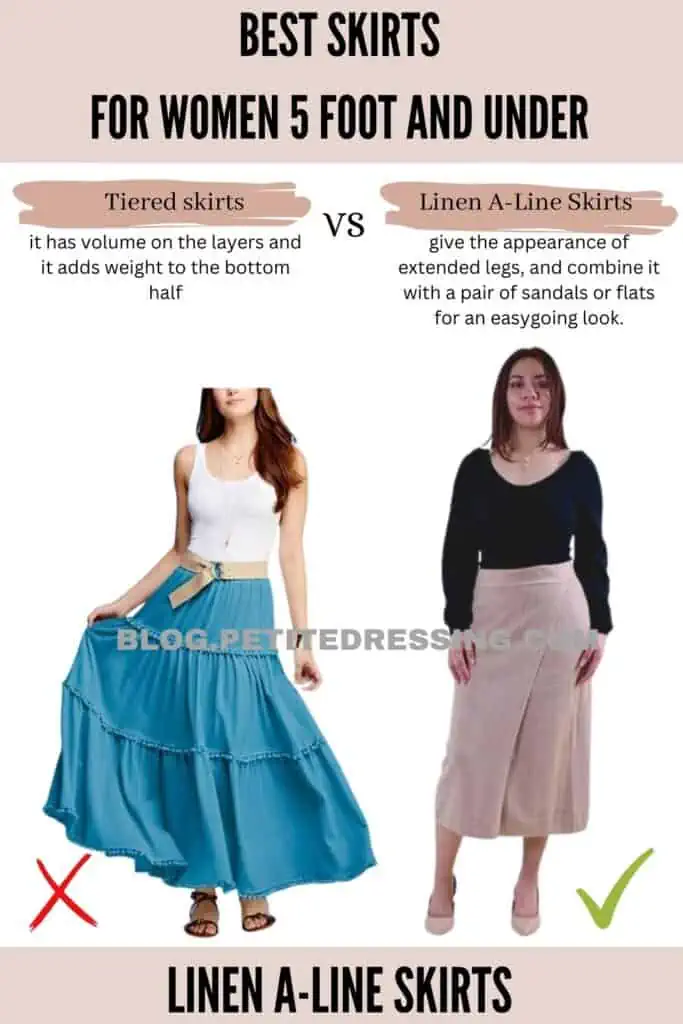 Linen A-line skirts are an absolute favorite by petite women as they are lightweight and easy to wear. This skirt has a figure-contouring waist and flares out at the bottom, similar to the letter A.
On top of that, linen A-line skirts are usually made from breathable fabrics, making them ideal for warmer days. Choose a style that hits just above the knee to give the appearance of extended legs, and combine it with a pair of sandals or flats for an easygoing look.
Wrap Mini Skirts
Mini skirts are an adorable choice for petite women since they help them elongate their legs and look more youthful. You may select from wrap, pleated, or skater styles depending on your mood.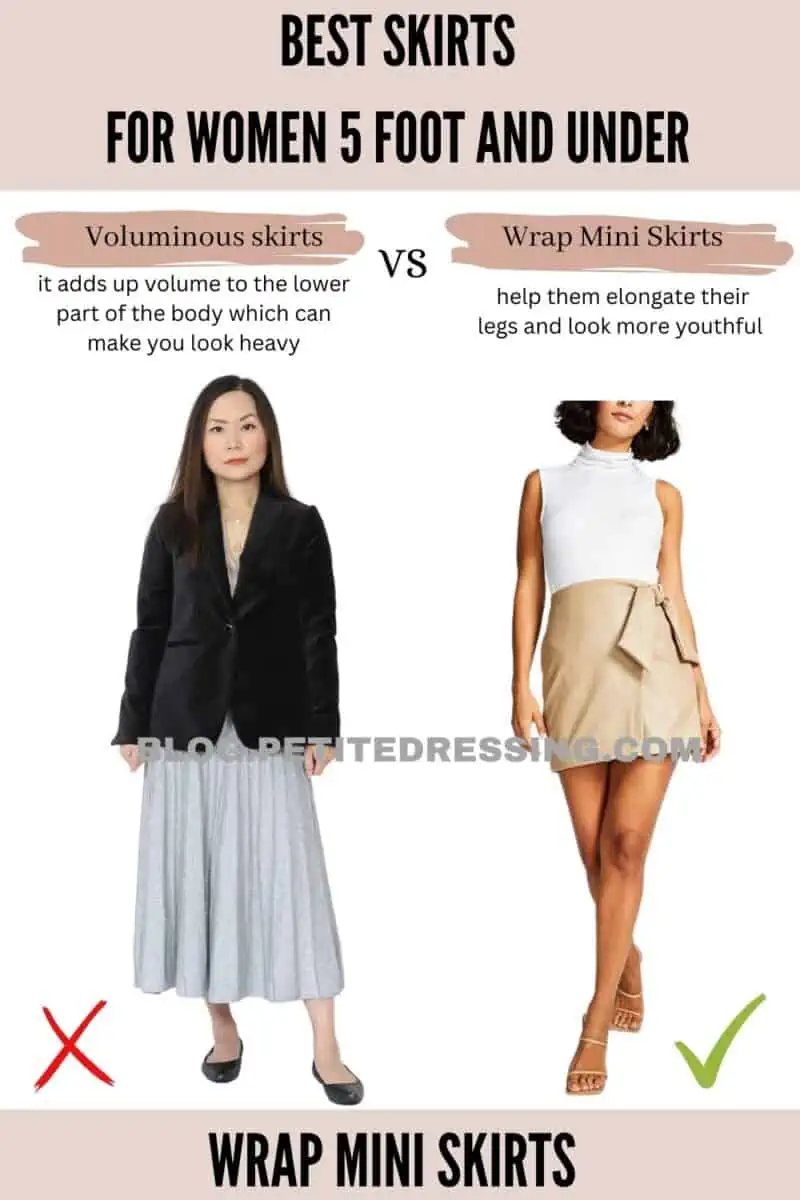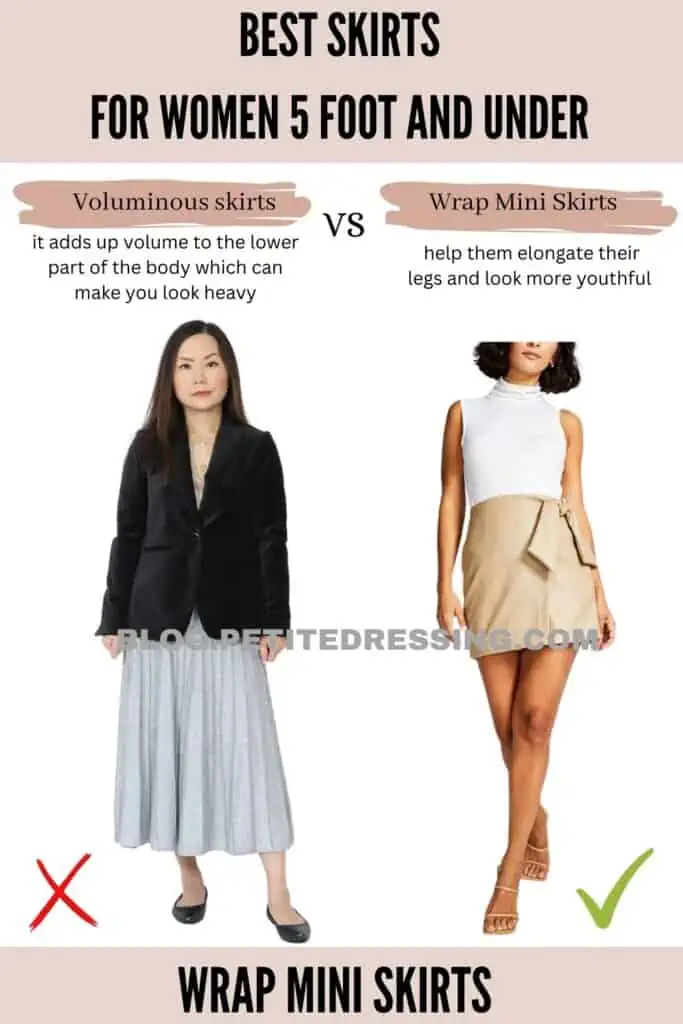 Wrap mini skirts have a nipped waist and a meandering silhouette, making them fantastic for a romantic date night. Pleated mini skirts, on the other hand, offer texture and volume to your ensemble, which makes them great for a stylish midday look.
If you're feeling playful and fun, a skater mini skirt would be an exceptional choice. This look fits perfectly at the waist and flares out at the bottom, giving it an aesthetically pleasing look.
The Key Takeaway
Women 5 feet and under can confidently pull off any skirt style with precise proportions and design. As you can see from this style guide, there are a lot of flattering options for you!
Always remember that the key is to select skirts that elongate the legs, draw the eye upward, and accentuate your best features. So go ahead and try on these styles I've shown you and discover the ones that make you feel confident and gorgeous!