If you have a skinny pear shape, that means your have the typical "pear" feature, i.e. wider hips compared with shoulders, and always gain weight first in your bottom half. Even though you are overall thin, you still carry weight mostly in your hips and thighs, which can make you come across as bottom heavy.
Since I have a petite clothing line, I style models of different body types and sizes for our weekly product fitting and photo shoot. Based on my first hand experience, I've put together this guide to help you find your best style.
Styling Goal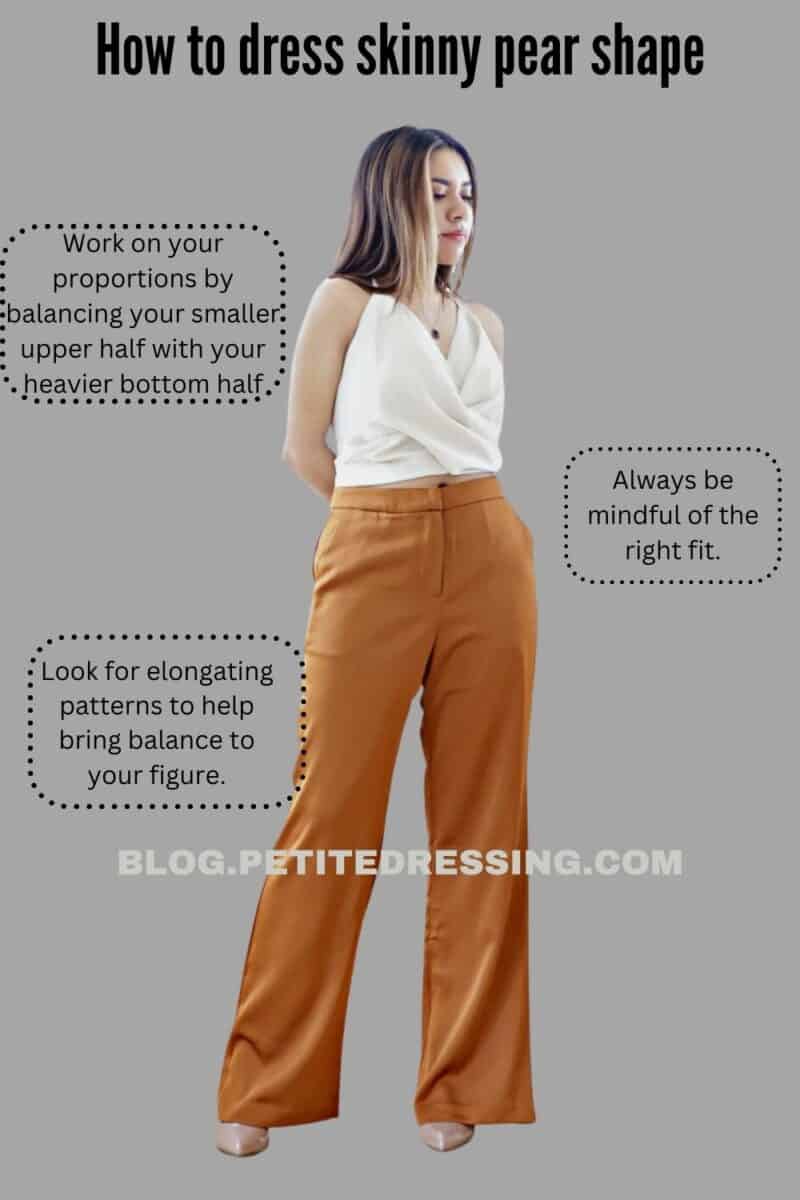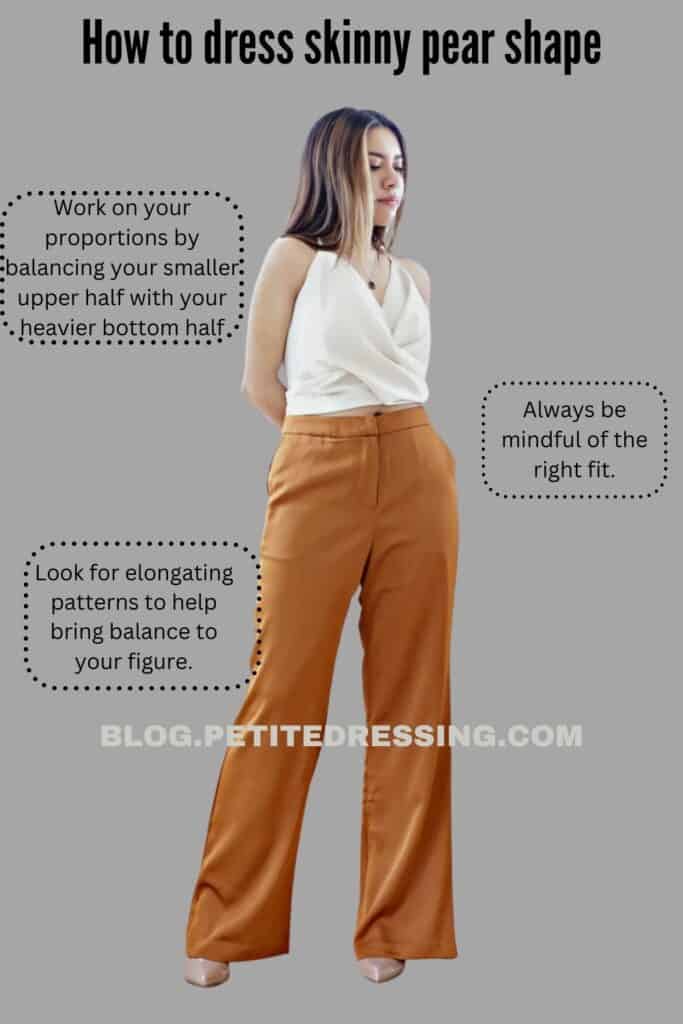 Work on your proportions by balancing your smaller upper half with your heavier bottom half. You can do so by choosing flattering structures that enhance your shoulders and bust while toning down your wide hips and thick thighs.
Always be mindful of the right fit. The wrong fit (clothes being too loose or too tight) can make or break your visuals.
Look for elongating patterns to help bring balance to your figure. Elongating patterns and prints help create a continuous visual line that contributes to giving you a very streamlined look.
Now that we have talked about our styling goals, let me walk you through each clothing category for the specific styles you should be looking for.
TOPS
Cap Sleeve Tops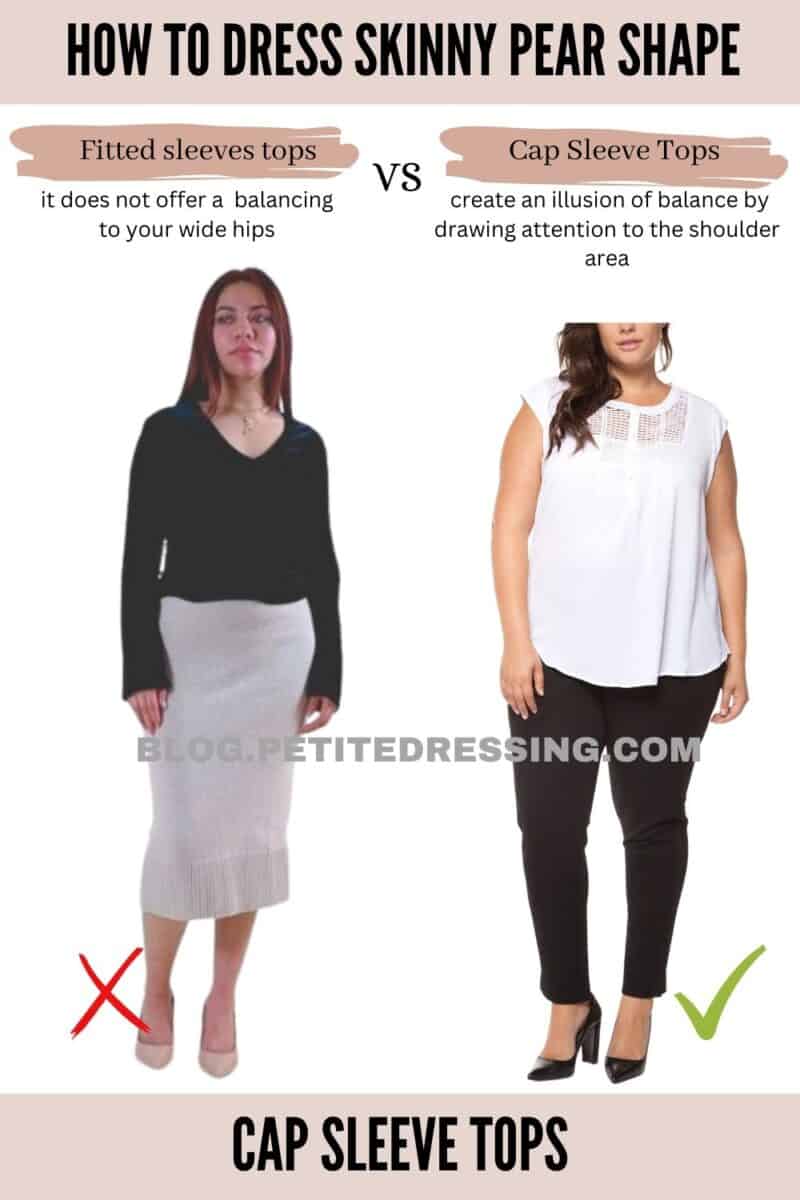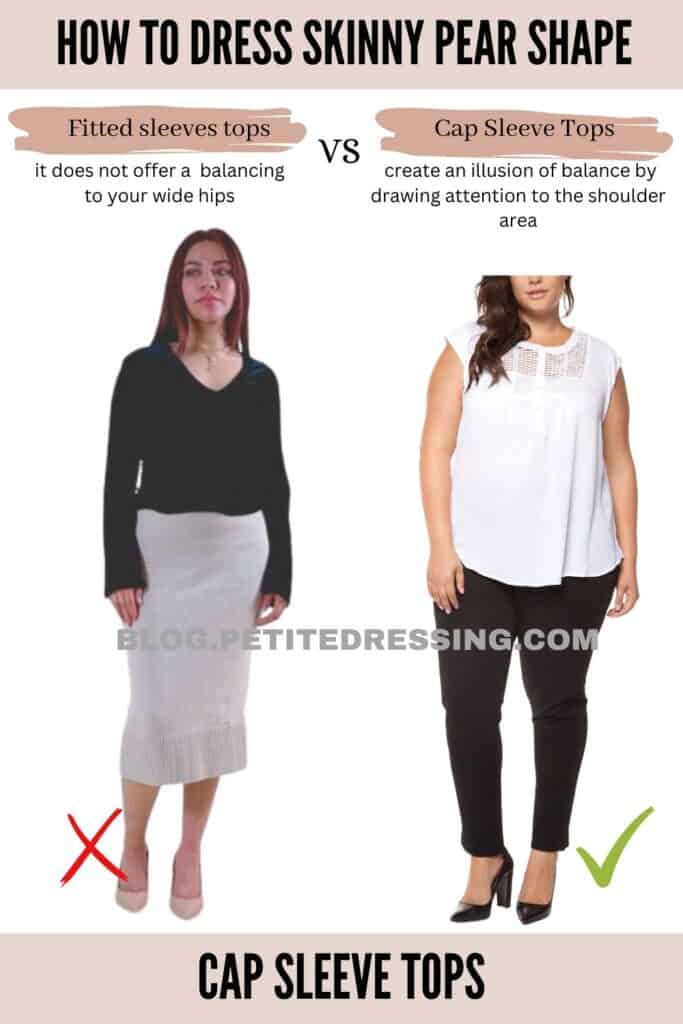 Cap sleeves create an illusion of balance by drawing attention to the shoulder area, which is critical for those with a heavier bottom half. This is why it makes a great top style for skinny pear-shaped ladies.
Opting for linen when selecting cap sleeve tops is a great choice. It's because it gives the sleeves a more defined shape while also being comfortable on the skin.
When choosing this style, it is important to keep in mind that the fit of cap sleeve tops is crucial. An ill-fitting cap sleeve top may not provide the desired look and appear unflattering so ensure that the seam at the shoulder rests at the corner or edge of your actual shoulder.
Tops with Shoulder Pads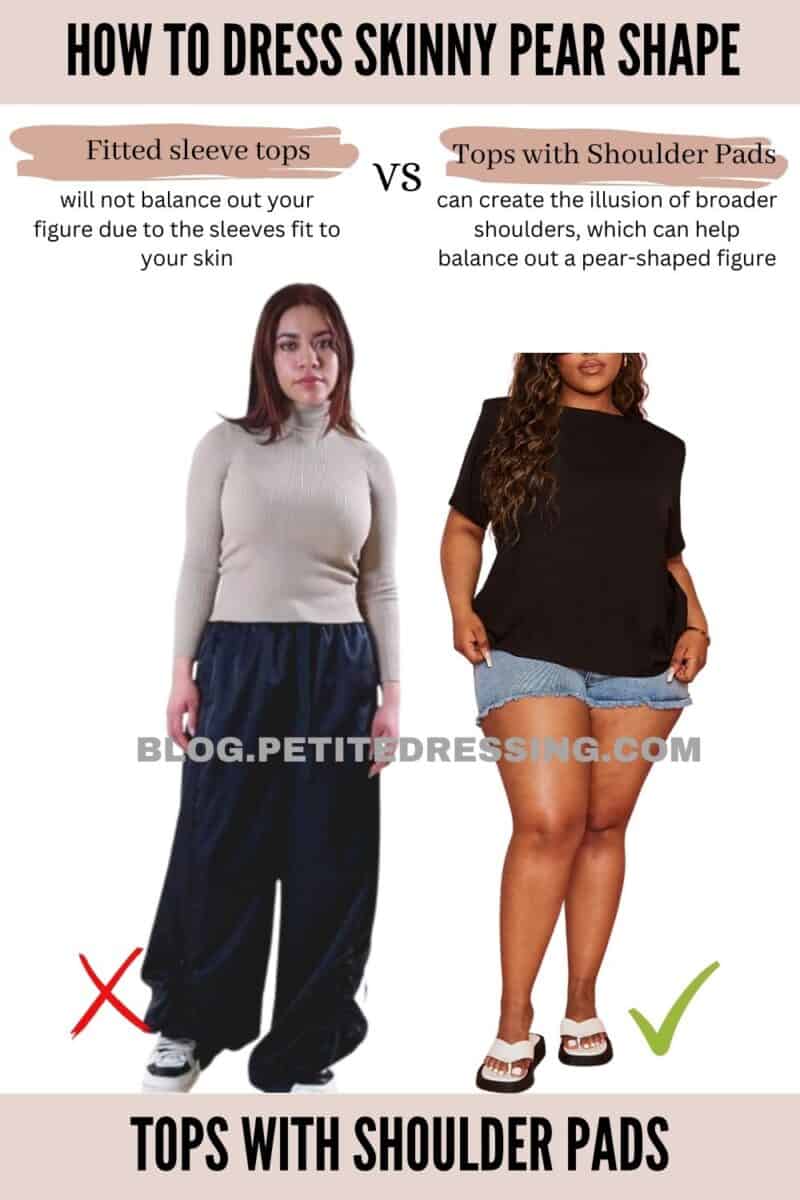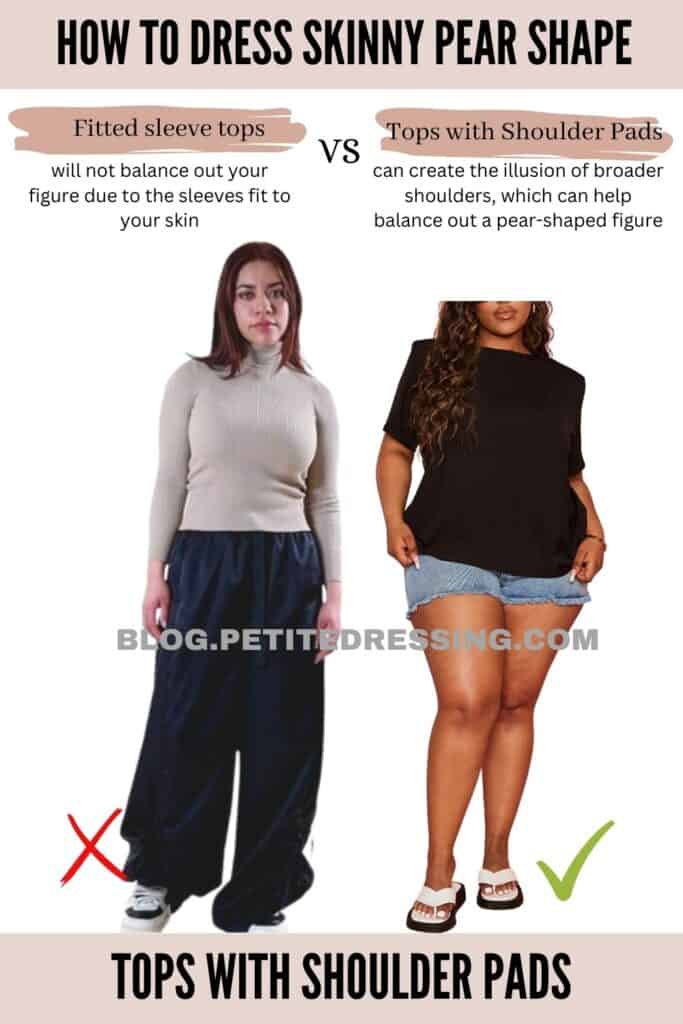 Shoulder pads can create the illusion of broader shoulders, which can help balance out a pear-shaped figure. By adding volume to the upper body, the shoulder pads can make the hips and thighs appear smaller in comparison, creating a more visually proportionate frame.
When you have narrow shoulders, you may find that some tops fit poorly and don't hang properly on your body. Shoulder pads can help fill out the top of the garment and create a better fit overall, which can make you feel more comfortable and confident in your clothes.
Not to mention shoulder pads give a very classy, vintage touch to your outfit!
Hip Length Tops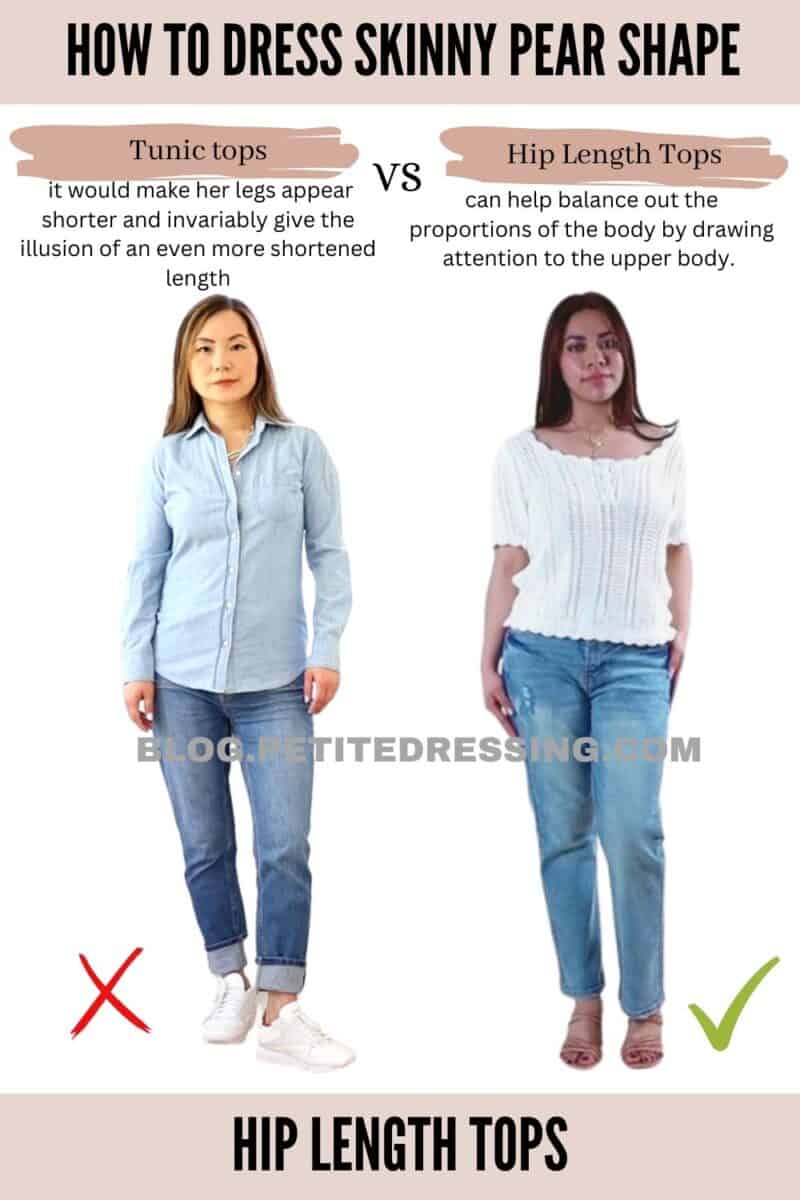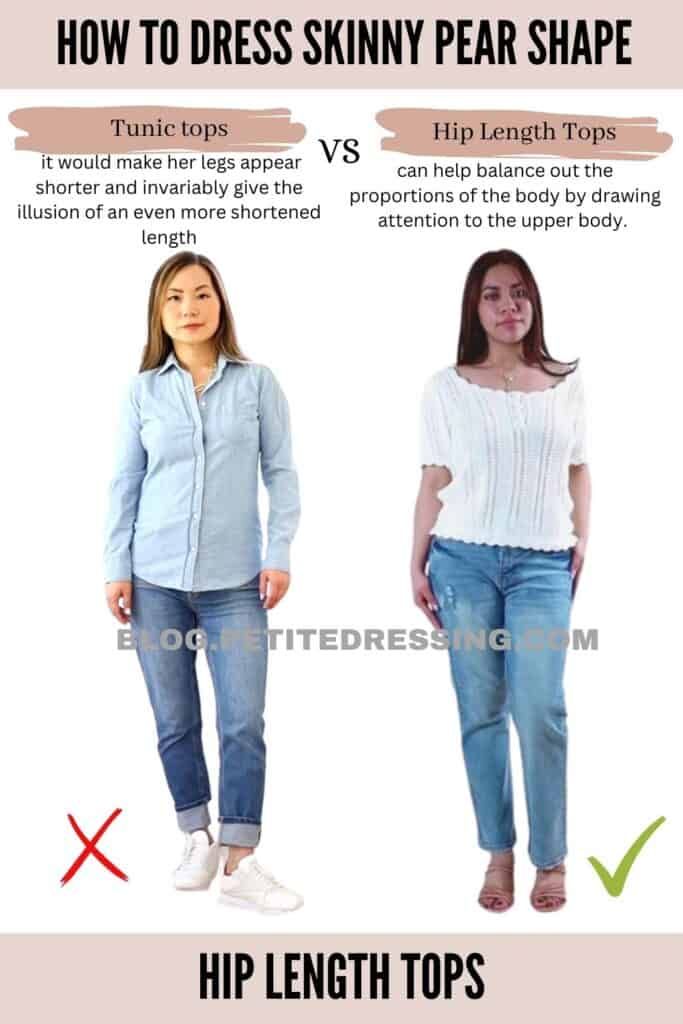 Since pear-shaped women tend to carry more weight in their hips and thighs, wearing a hip bone-length top can help balance out the proportions of the body by drawing attention to the upper body.
It also helps accentuate the waistline and create a more defined silhouette. This is important for pear-shaped women since this body type usually has a smaller waist in proportion to the hips and thighs.
Puff Sleeve Tops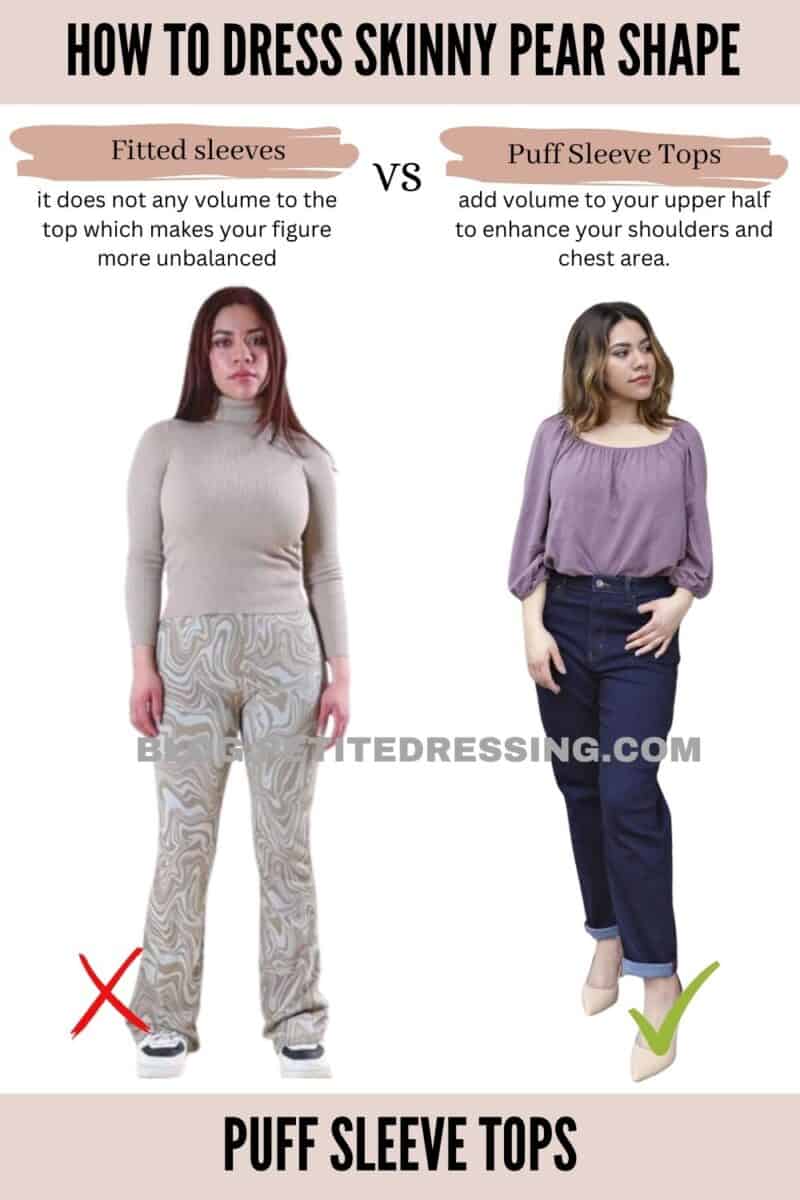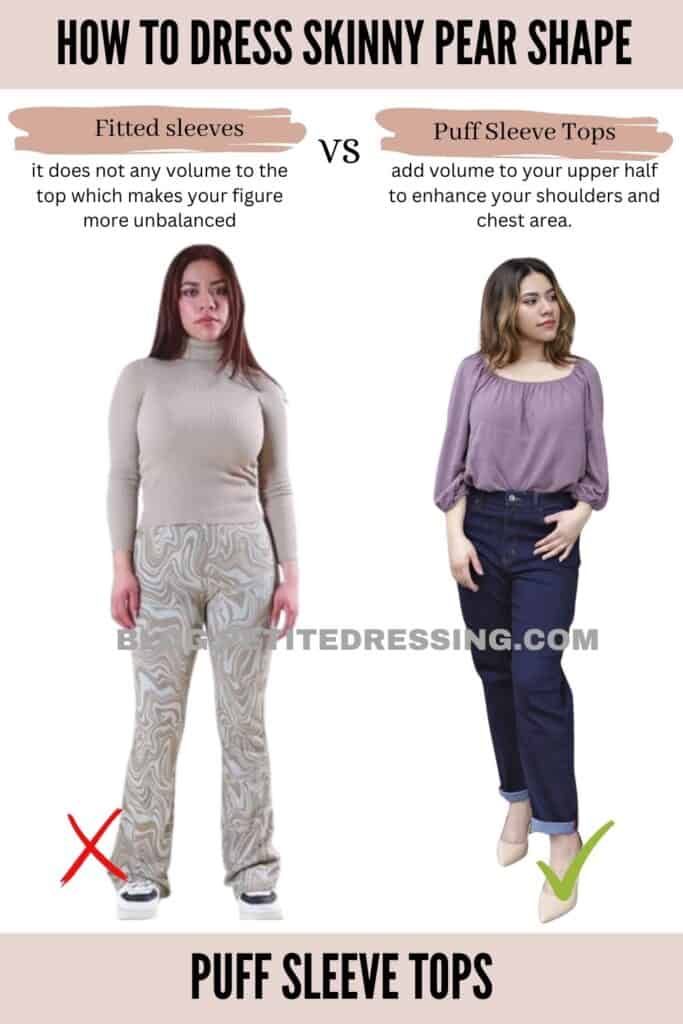 Amplifying and structuring the narrow shoulder area is possible by drawing attention to it through puff sleeves. They add volume to your upper half to enhance your shoulders and chest area.
With this strategic visual effect, your body would look more proportional as the upper half balances your wider hips and thick thighs. In addition to this, chiffon fabric also adds femininity and flow to your ensemble.
PANTS
Structured Bootcut Pants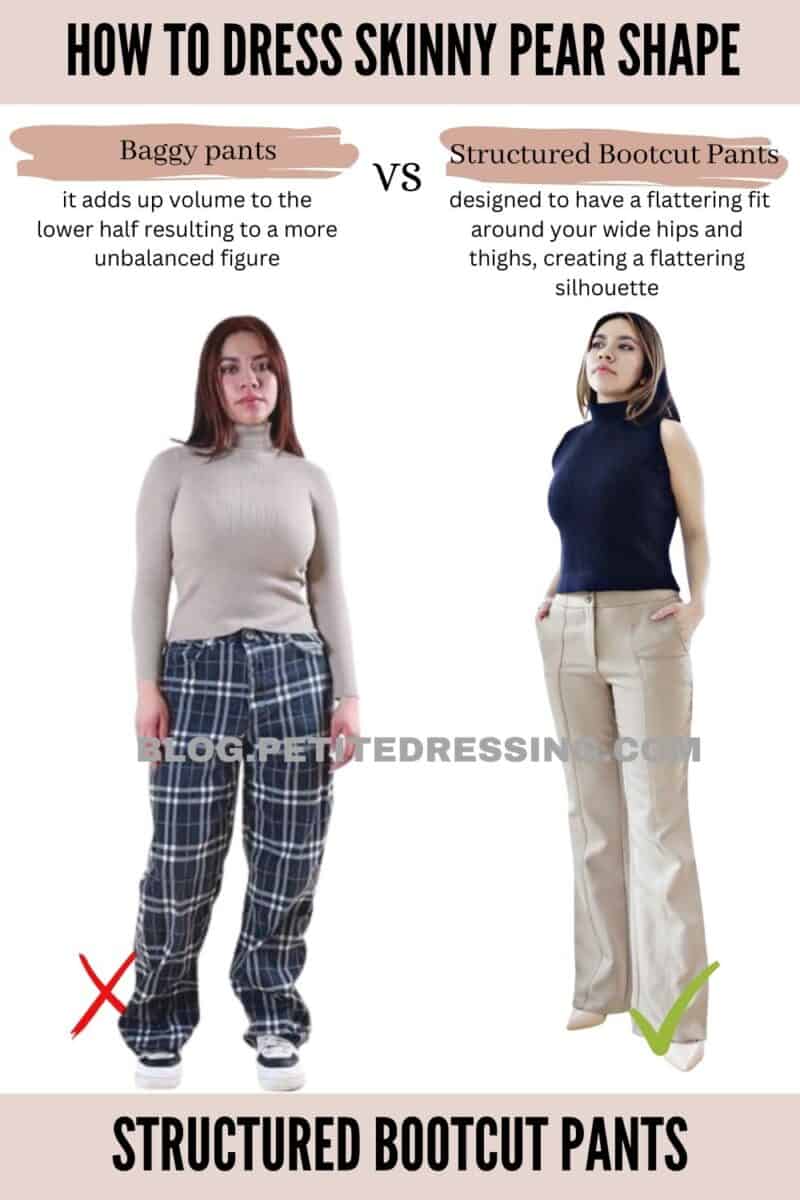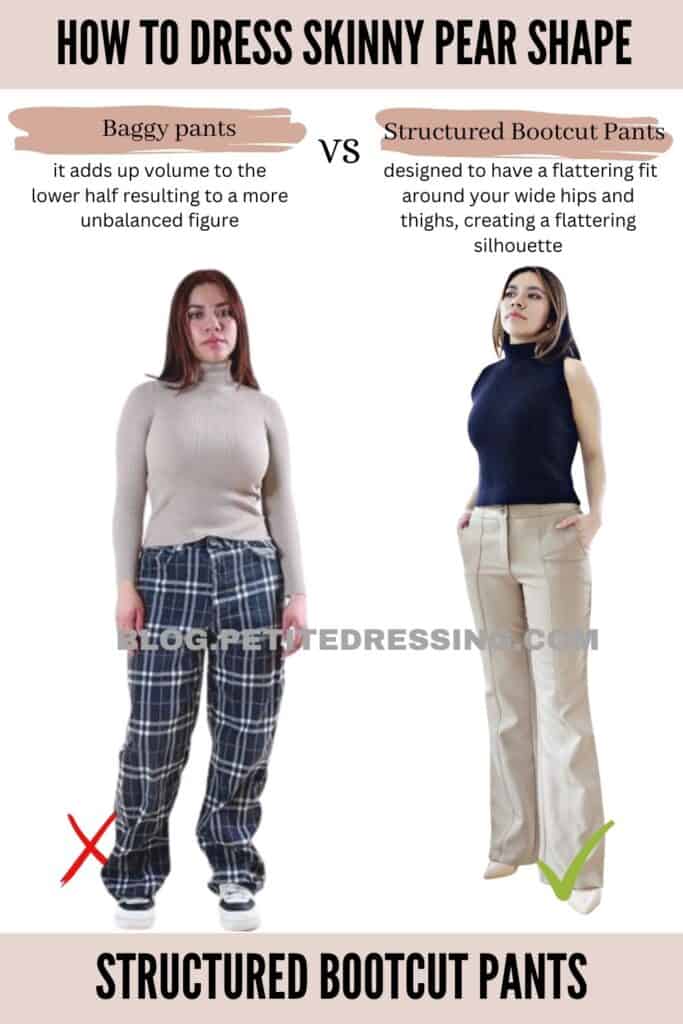 Bootcut pants are an excellent option for skinny pear-shaped women looking to highlight their body's best assets without the addition of volume on your bottom half. These pants are designed to have a flattering fit around your wide hips and thighs, creating a flattering silhouette that enhances your overall figure.
Additionally, the flare that begins just below the knee helps balance out wider hips and thighs, drawing attention downward past the hips and elongating the legs. Choosing bootcut pants with a mid-rise or high-rise waist that sits comfortably at or slightly above the natural waistline is key to creating a flattering line from the waist down.
Twill Wide-leg Pants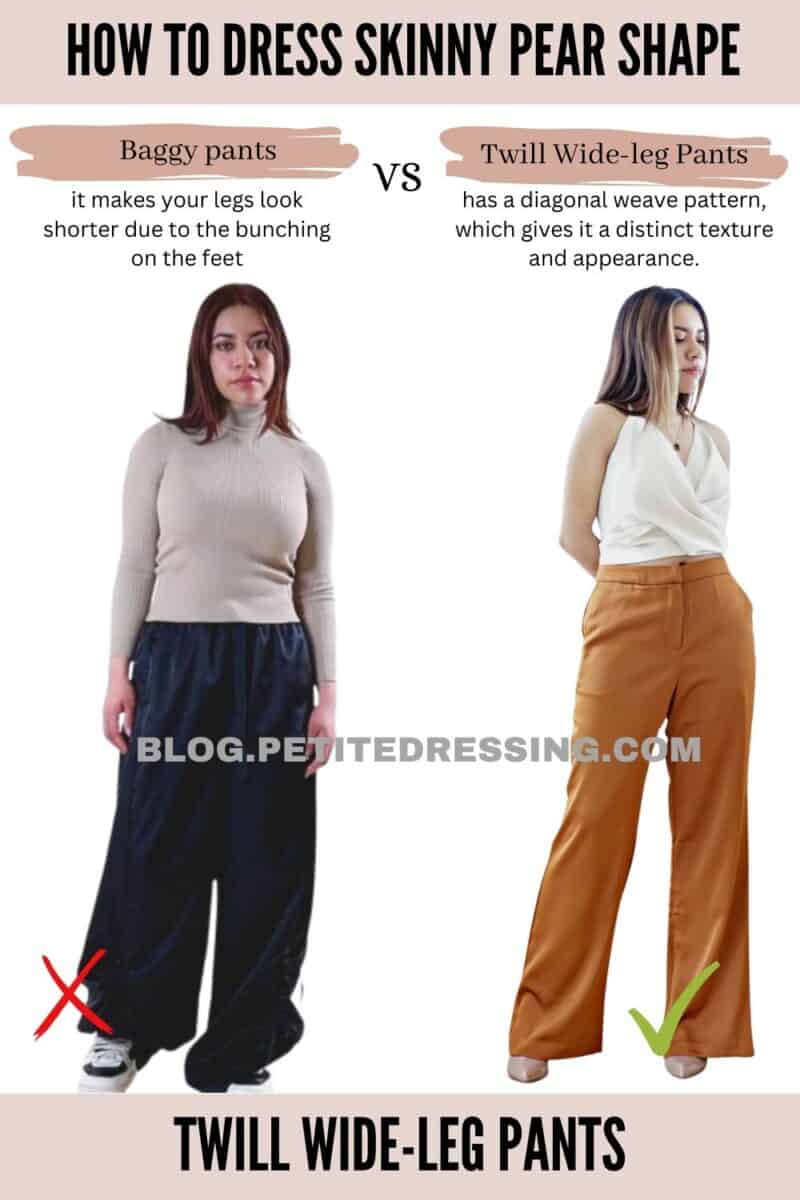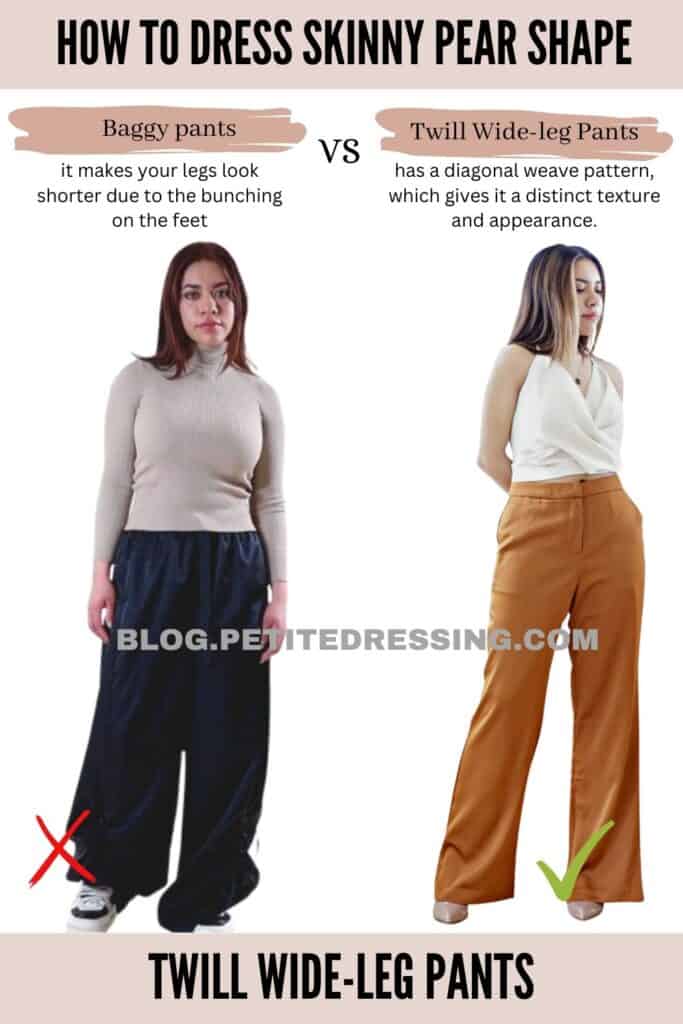 Wide-leg pants made from twill fabric can also be a very flattering choice for skinny pear shapes due to their material and structure. Twill is a durable and versatile fabric that has a diagonal weave pattern, which gives it a distinct texture and appearance.
The wide-leg silhouette of twill pants means that the legs are cut wider than traditional pants, which can create a flowing and relaxed look. This particular structure can help visually balance out the hips and thighs, while the flowy silhouette can create a relaxed and effortless look.
Tailored High-Waisted Pants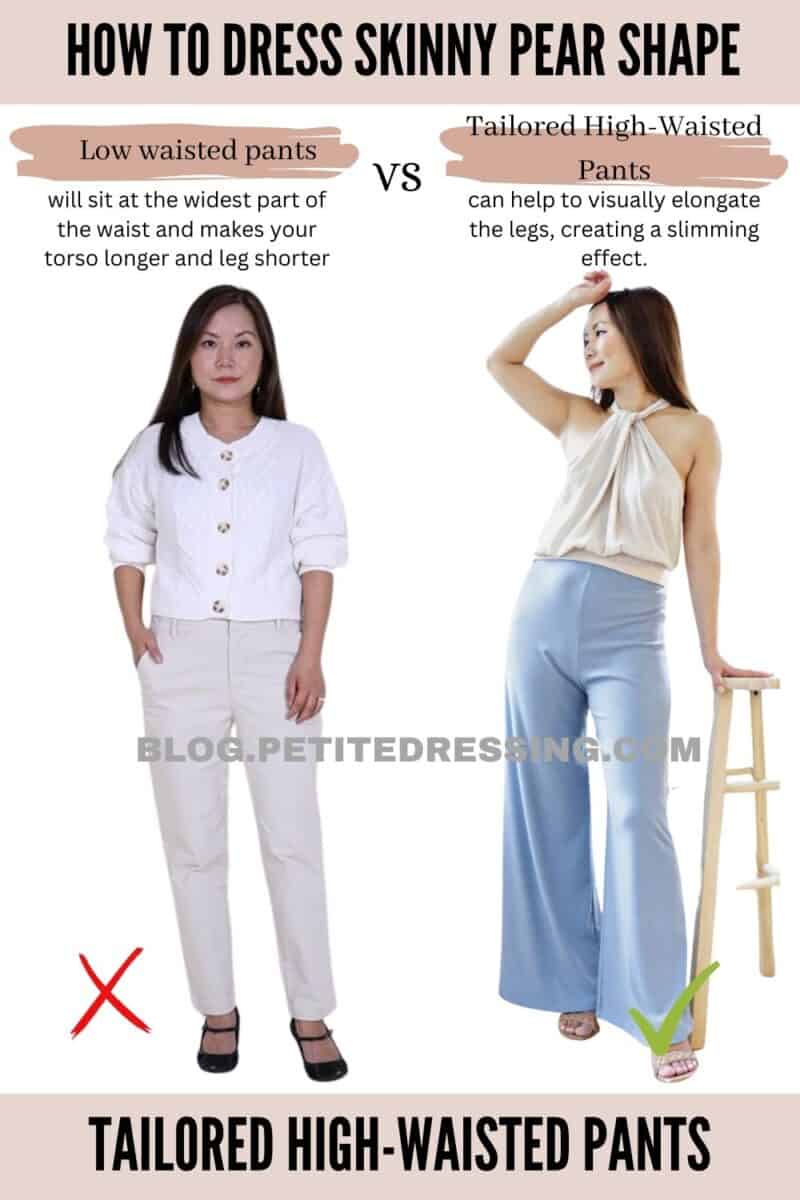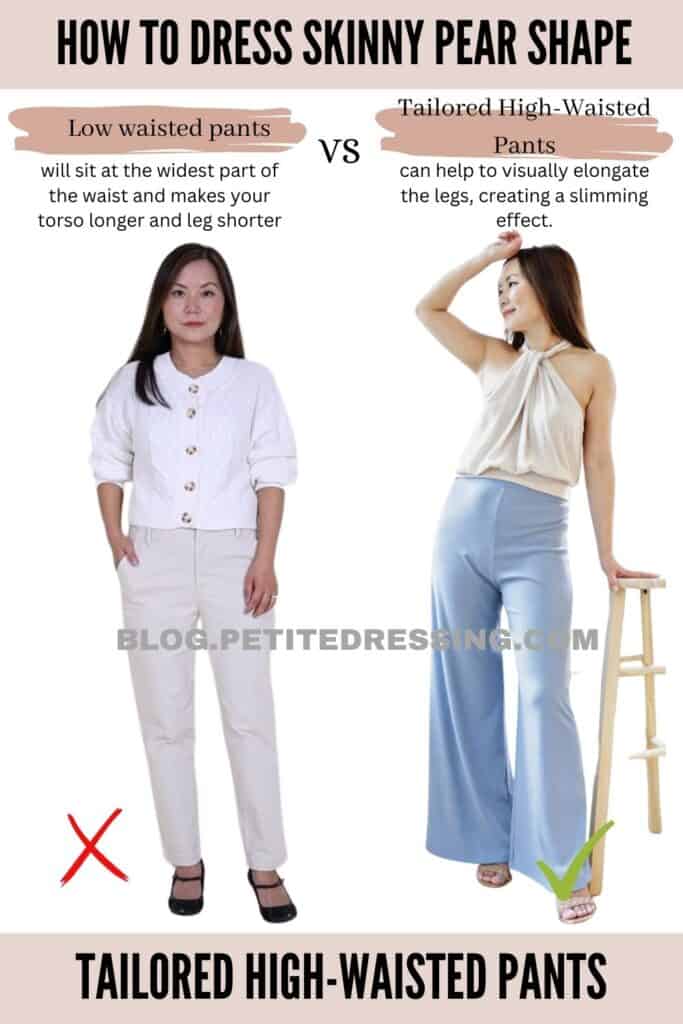 Tailored high-waisted pants have the power to flatter and accentuate a variety of body types, particularly those with a skinny pear shape.
The high-waisted style helps to create a defined waistline and accentuate the narrowest part of the body. By drawing the eye to the waist, high-waisted pants can help to visually elongate the legs, creating a slimming effect.
A properly tailored fit can amplify the visual impact of high-waisted pants on a skinny pear-shaped figure. Tailoring can help give you a streamlined look and a slimming effect by having the pants fit you perfectly.
JEANS
Dark Wash Jeans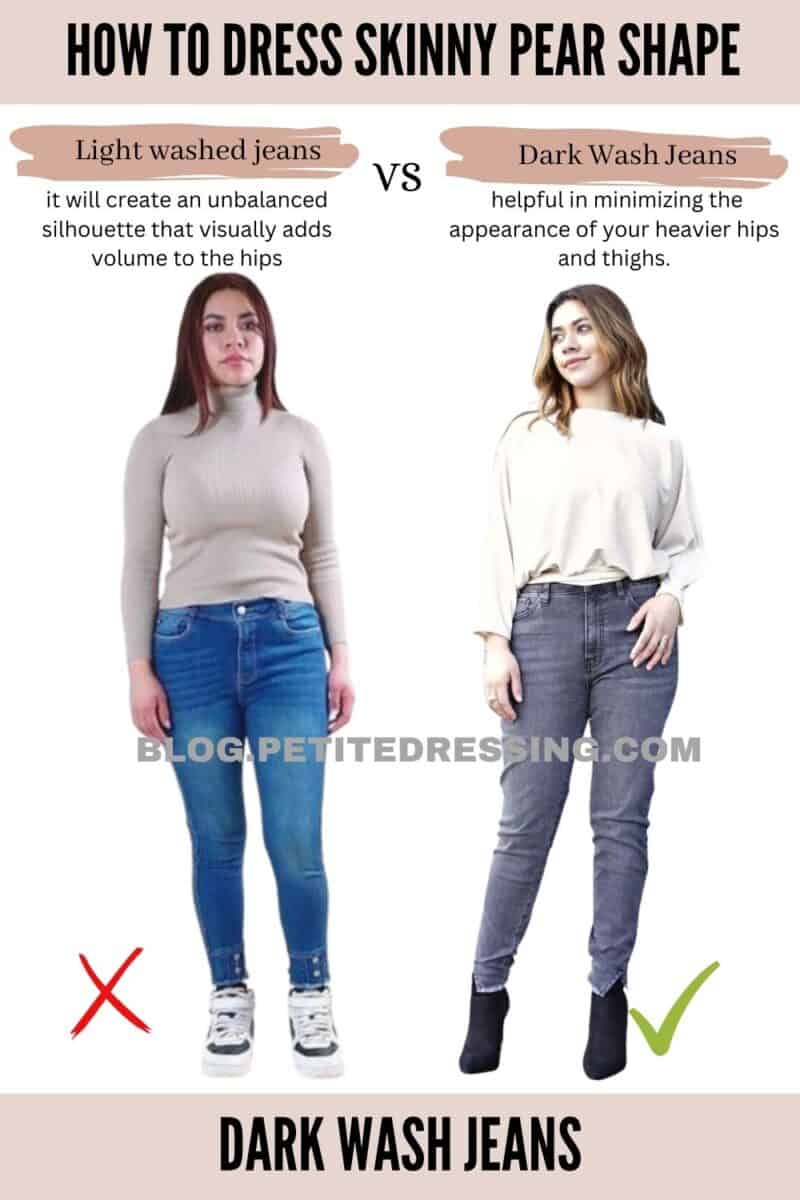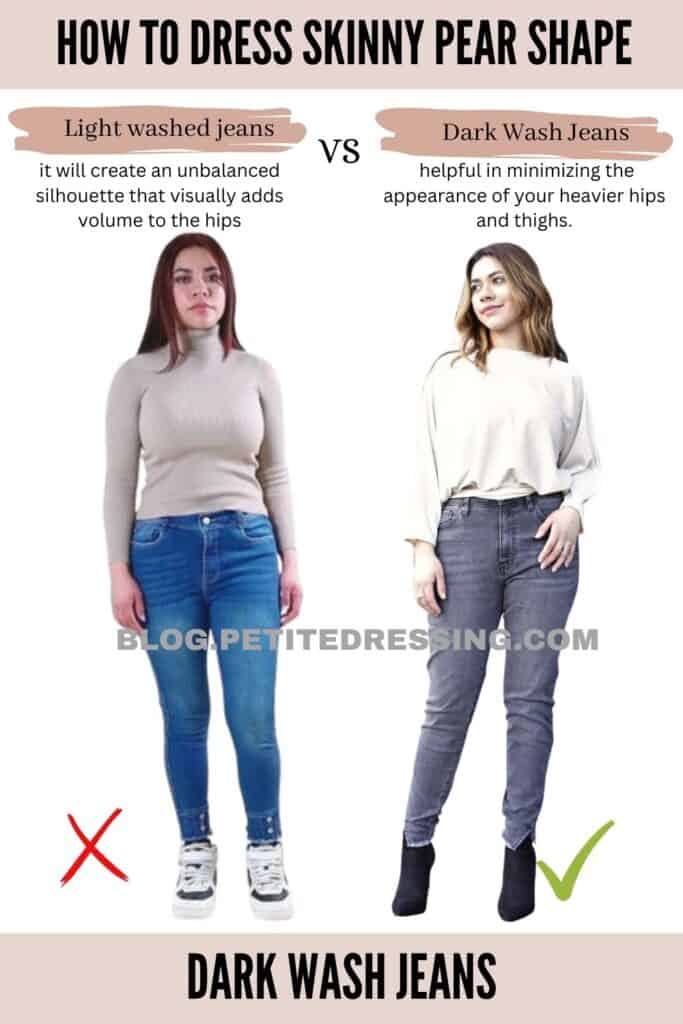 The deep, rich hues of dark-washed jeans can create an illusion of a slimmer and more streamlined silhouette. When it comes to skinny pear-shaped women, this is particularly helpful in minimizing the appearance of your heavier hips and thighs.
The key to finding the right pair of dark-washed jeans for a skinny pear shape is to look for jeans that fit well through the hips and thighs, without being too tight or too loose. In addition to the color of the jeans, you can also opt for a style that has a darker wash on the hip area and gradually lightens along the end of the pants as this creates a slimming effect by drawing the eye upwards.
High-rise Straight Jeans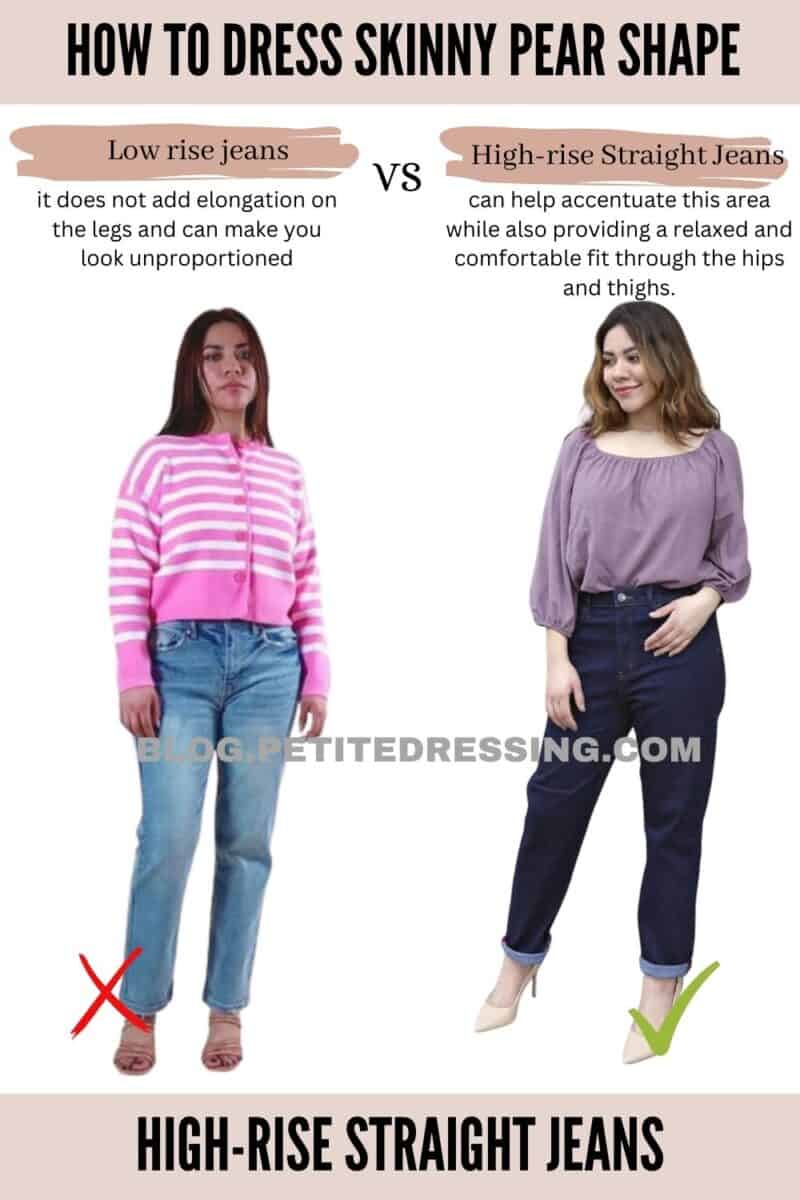 High-rise straight jeans can help to balance out the proportions of your upper and lower body. As a skinny pear-shaped woman, you most likely have a narrow waist as one of your best assets, and high-rise crop jeans can help accentuate this area while also providing a relaxed and comfortable fit through the hips and thighs.
They also elongate the legs, as this is very much needed since skinny pear shapes usually have a longer torso and shorter legs. The high waistline can create the illusion of longer legs, while the cropped length allows the ankles to be on display, visibly elevating your height.
DRESSES
Puff Sleeve Dresses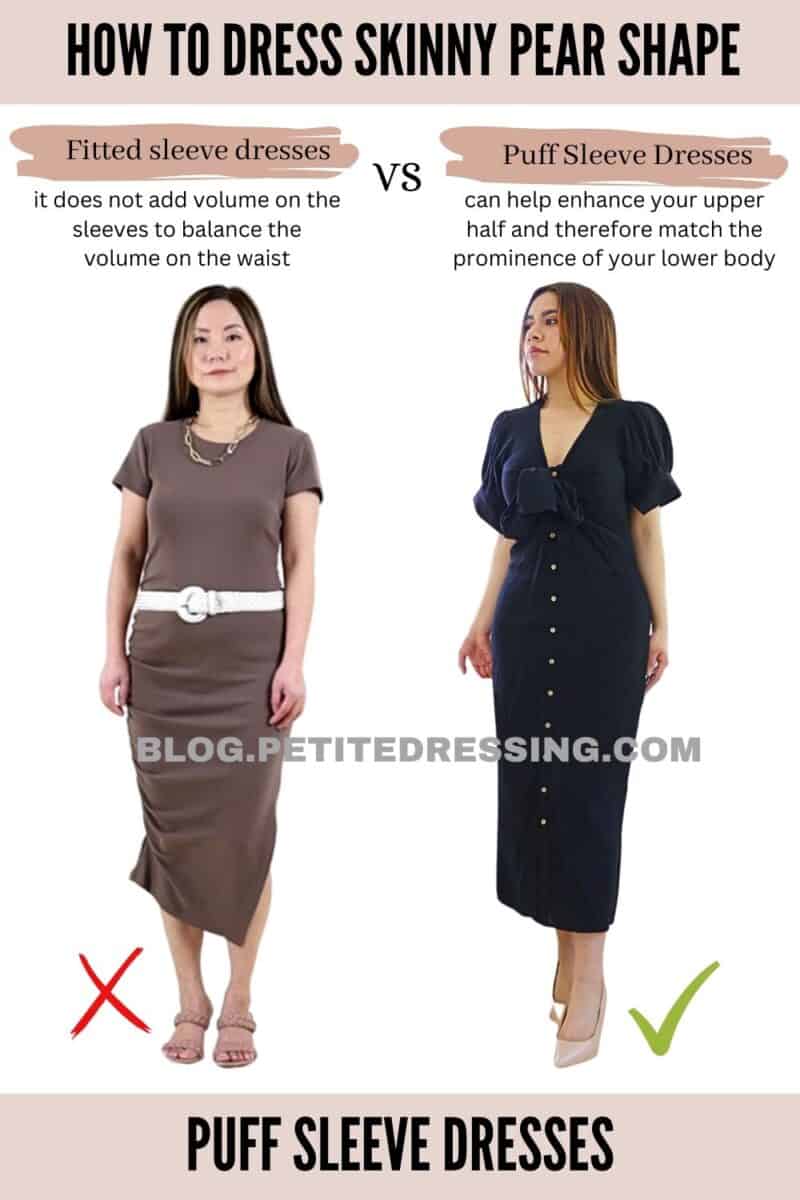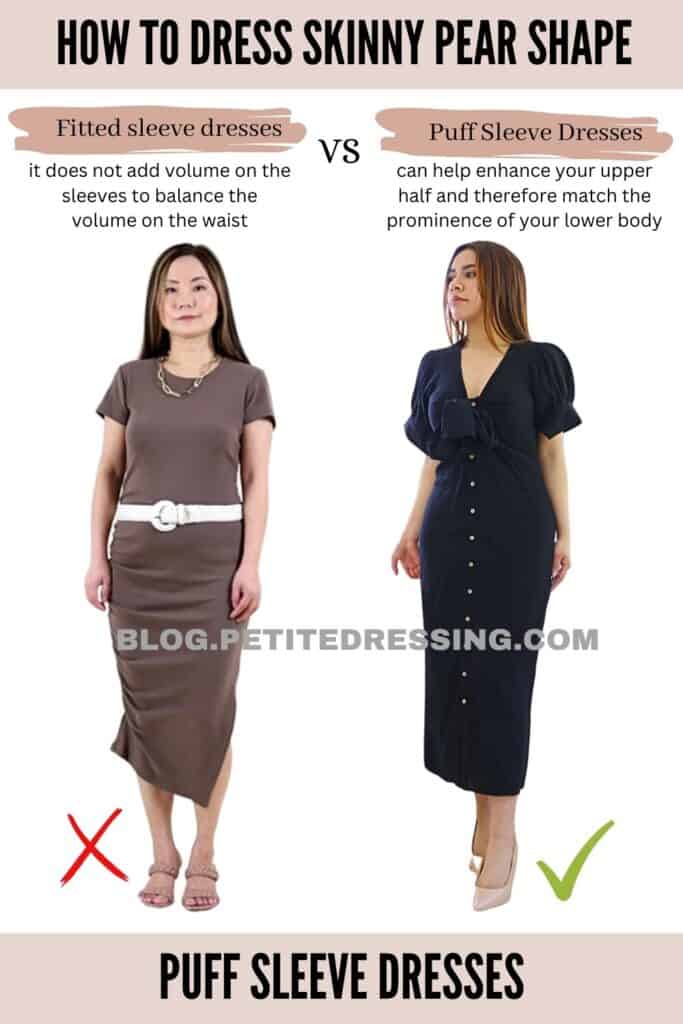 The first reason why it's a great choice for skinny pear shapes is that the voluminous sleeves of a puff sleeve dress can help pull your entire look together by bringing balance. By adding volume and width to the upper body, puff sleeves can help enhance your upper half and therefore match the prominence of your lower body.
Secondly, the puffy sleeves can draw attention to the upper body, which can help to shift the focus away from the hips and thighs. This can help to create a more balanced and visually pleasing silhouette.
X-Line Dresses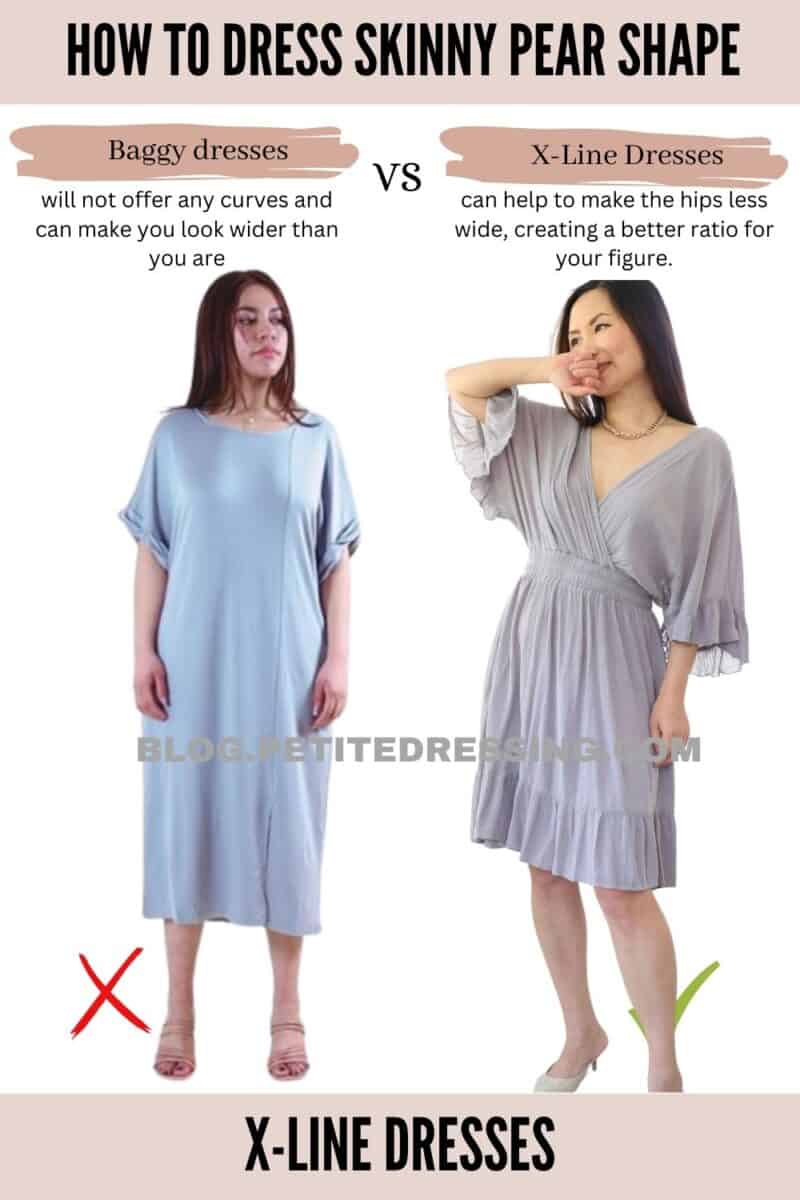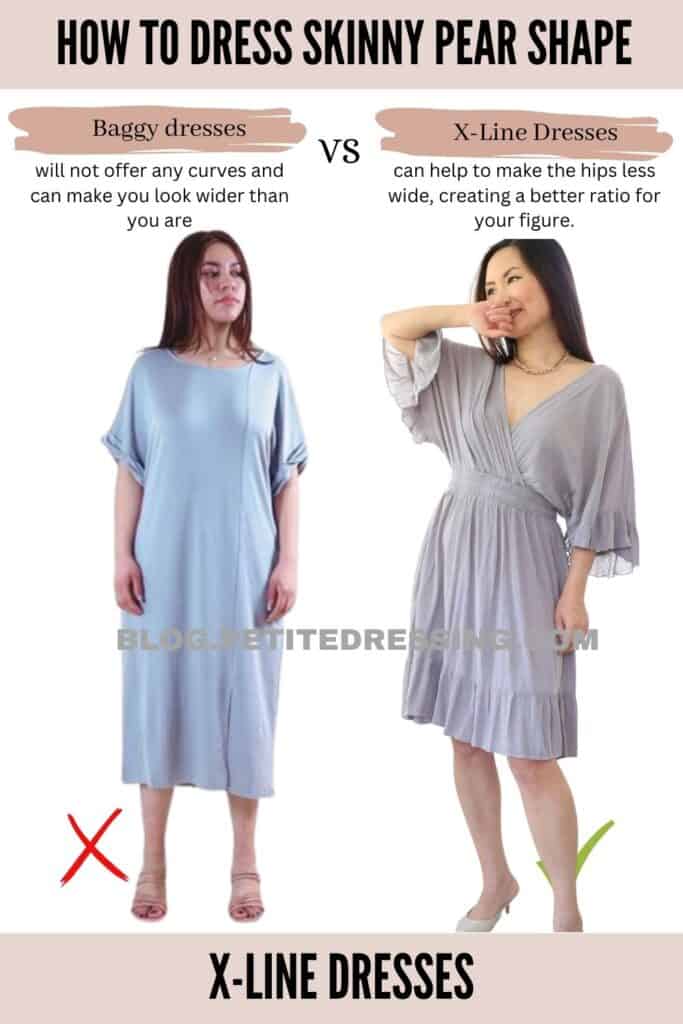 Neutral-colored X-line dresses are versatile, stylish, and incredibly flattering for your body shape! It's because the X-line shape of the dress that flares out slightly from the waist to the hem creates a silhouette wherein the key focus is your waist, which is again, one of your best features.
In terms of color options, neutral colors like black, beige, and gray are slimming and can create the illusion of a more streamlined and elongated silhouette. This can help to make the hips less wide, creating a better ratio for your figure.
Plunging V-Neck Dresses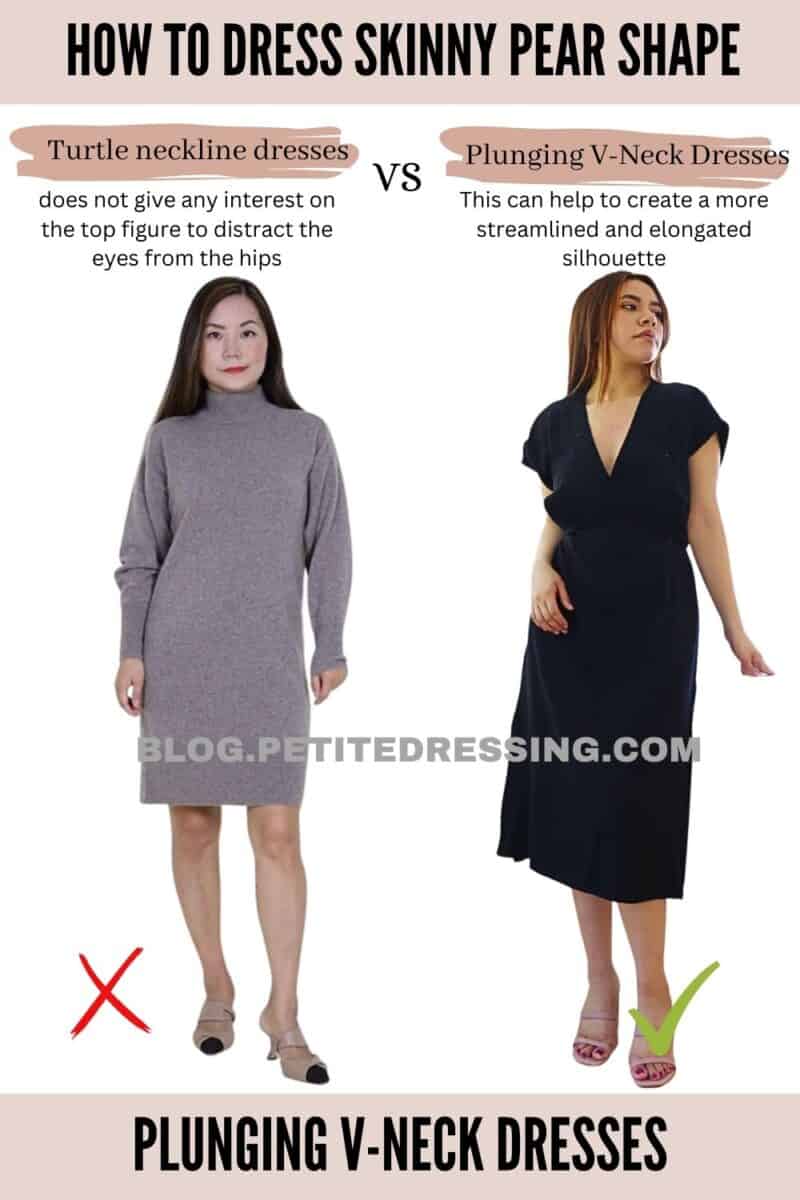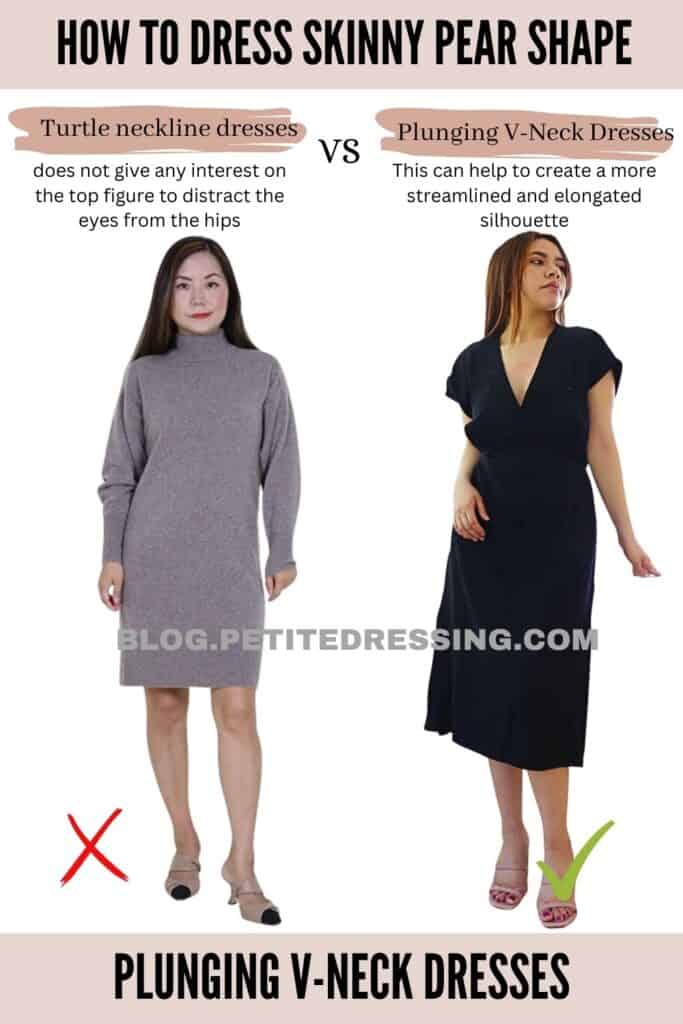 A V-neck dress is simply a classic and if you're feeling a bit friskier, have it dive a bit deeper with a plunging neckline! As a pear-shaped girl with a skinny frame, your bust area will need something to bring it to the spotlight and that's exactly what a plunging V-neck dress does.
The plunging neckline can elongate the neck and create the illusion of a longer and leaner upper body. This can help to create a more streamlined and elongated silhouette, which can balance out your proportions by neutralizing the apparent size discrepancy between your upper half and bottom half.
COATS & JACKETS
Structured Princess Seam Coats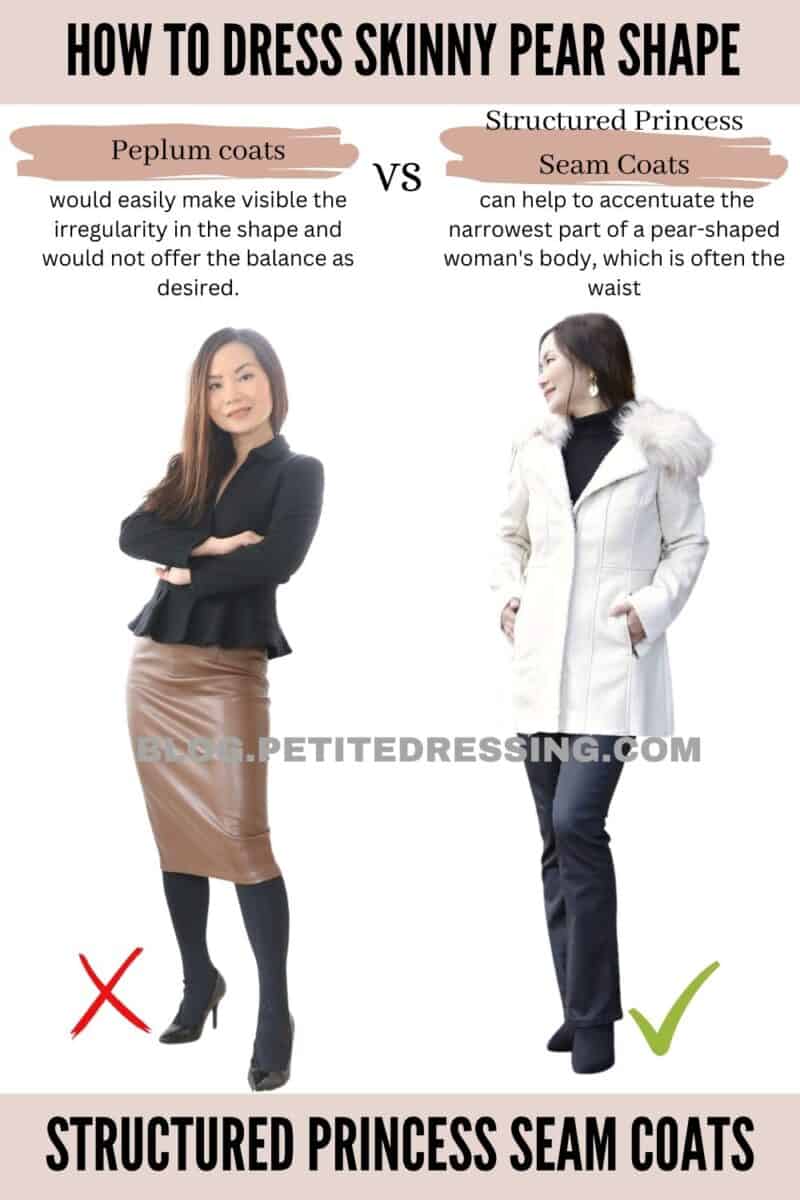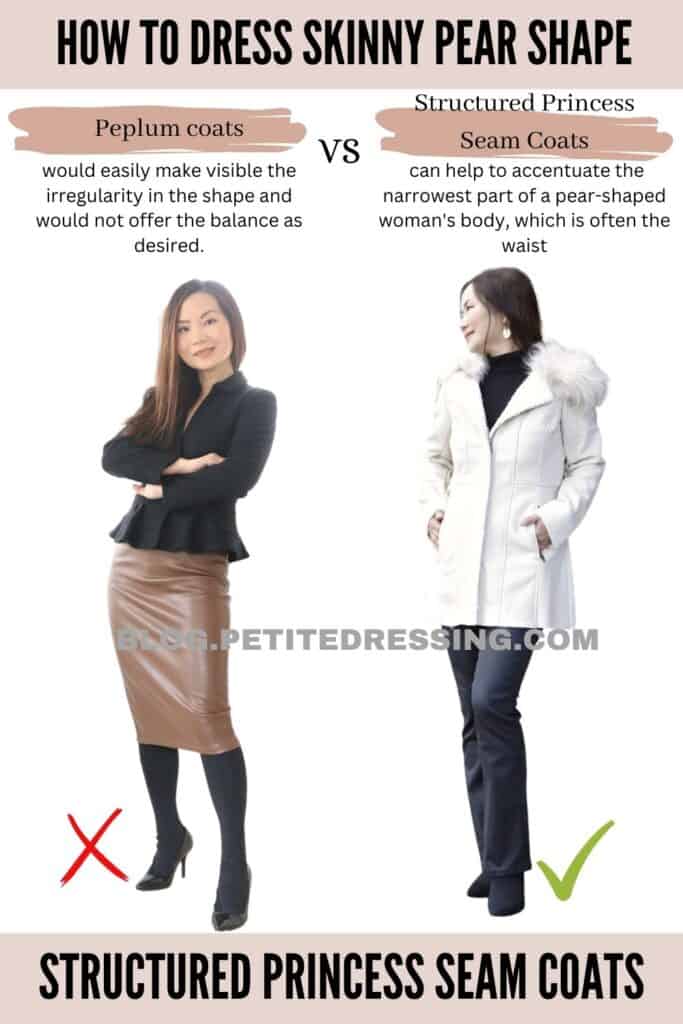 A structured princess seam coat features a fitted waist and has seams that run vertically from the shoulder to the hem. This exact structure is what makes it a nice coat style for skinny pear shapes.
The fitted waist of a structured princess seam coat can help to accentuate the narrowest part of a pear-shaped woman's body, which is often the waist. Also, the structured design of this type of coat can help provide more room for your hips and thighs, which is an efficient way to camouflage their large appearance.
Trench Coats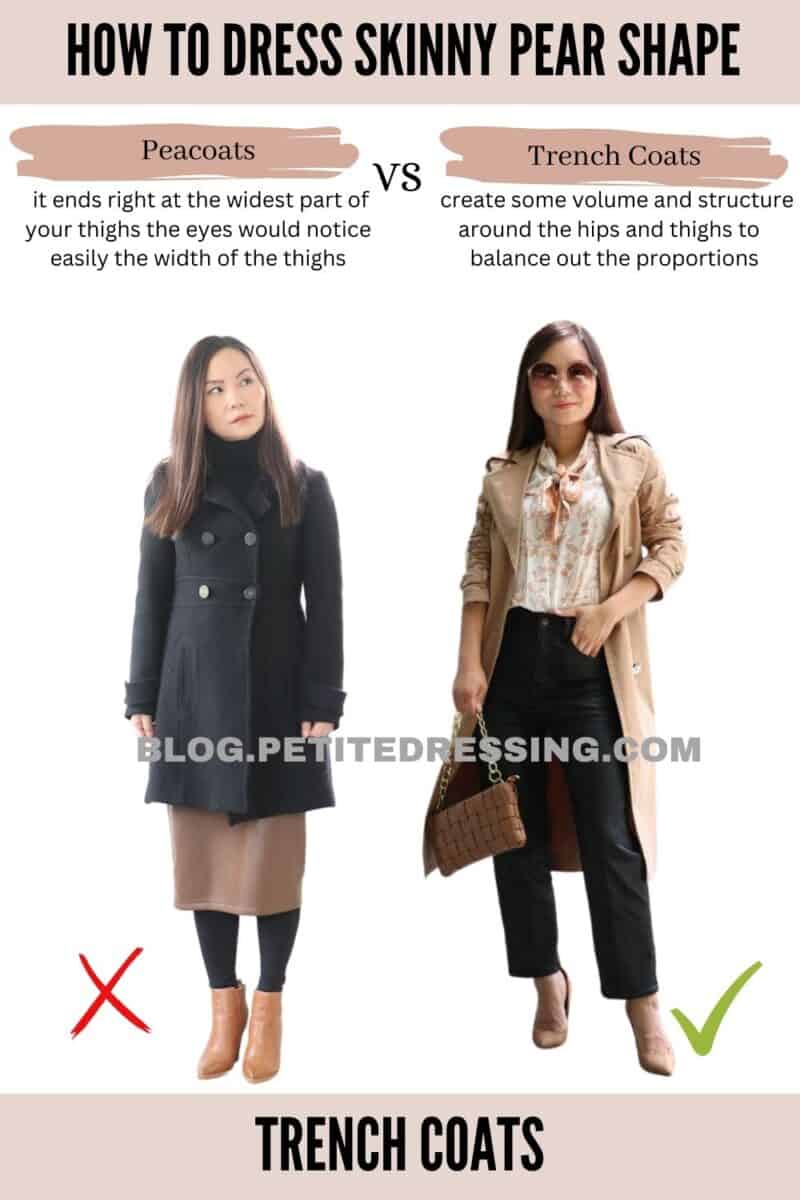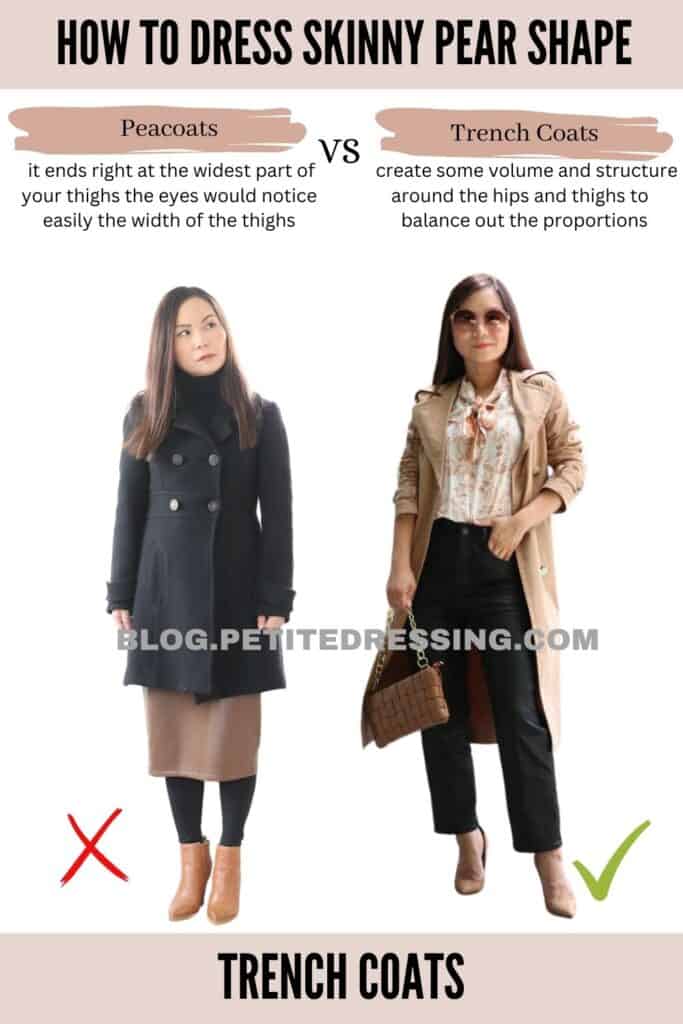 Trench coats are typically designed with a flattering A-line silhouette that flares out slightly from the waist to the hem. This can help to create some volume and structure around the hips and thighs, which can balance out the proportions of a skinny pear-shaped woman's body.
More importantly, trench coats also have very distinct details that are mostly placed on the upper part of the coat. This helps get attention and therefore veers the eyes away from your wider bottom.
SHOES
Pointed Toe Pumps
Pointed-toe pumps are very elegant fashion pieces that can accompany you on many different occasions, but other than this, they also have visual benefits for your figure. The narrow and pointed toe can steer attention away from the wider hip and thigh area to create a more flattering overall frame balance.
Additionally, pointed-toe pumps can help to elongate the legs, which can be particularly helpful for women with a shorter leg-to-torso ratio. The pointed toe draws the eye down and creates the illusion of longer legs, which can help to balance out the proportions of the body and create a more streamlined silhouette.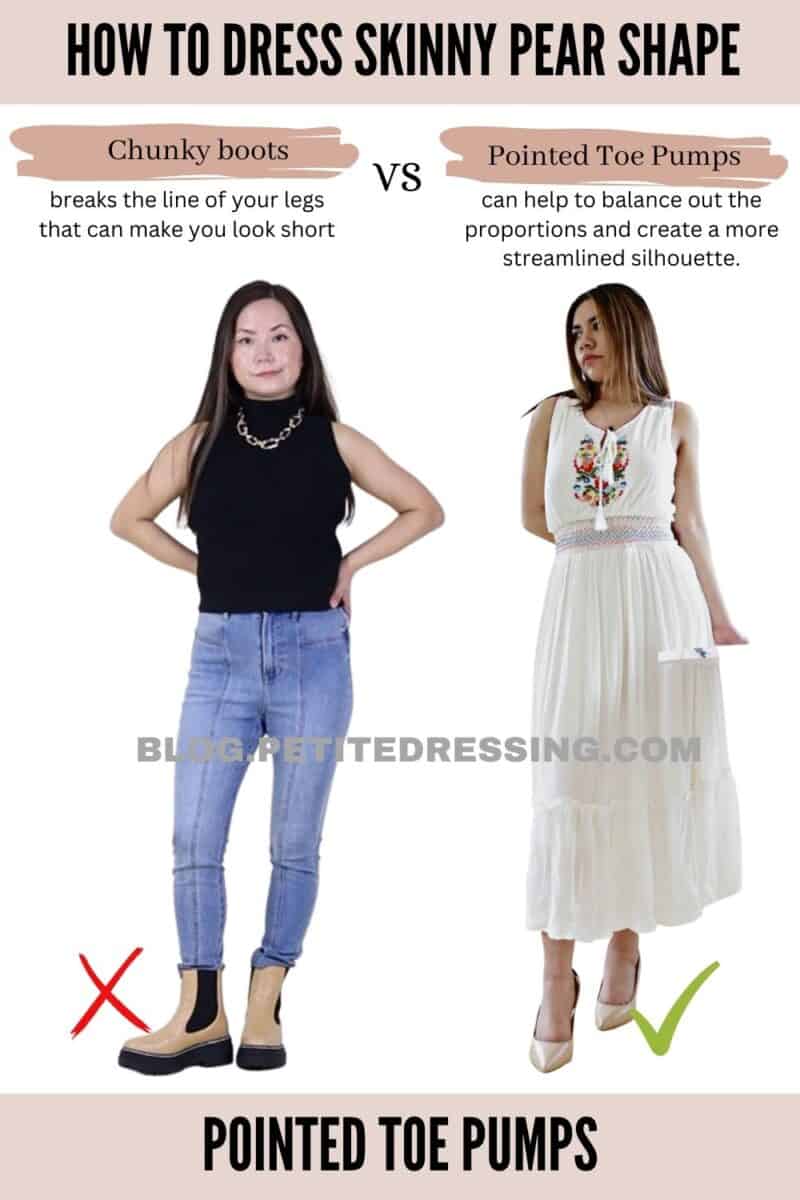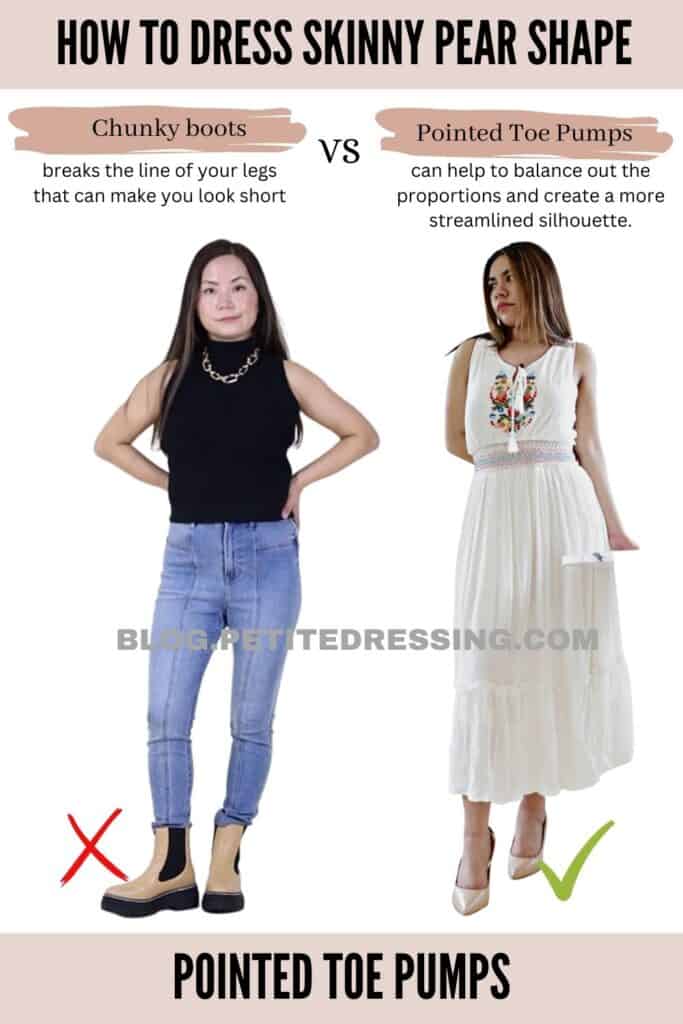 Low Platform Shoes
As you have narrower shoulders and waist and wider hips and thighs, it can be difficult to find shoes that compliment your figure, as you may not have the desired effect of elongating the legs and creating a more streamlined silhouette.
However, platform shoes can help to offset this imbalance by adding height and volume to the lower part of the body. The added height can elongate the legs, making them appear longer and slimmer, while the extra volume can create a more proportional look by balancing out the wider hip and thigh area.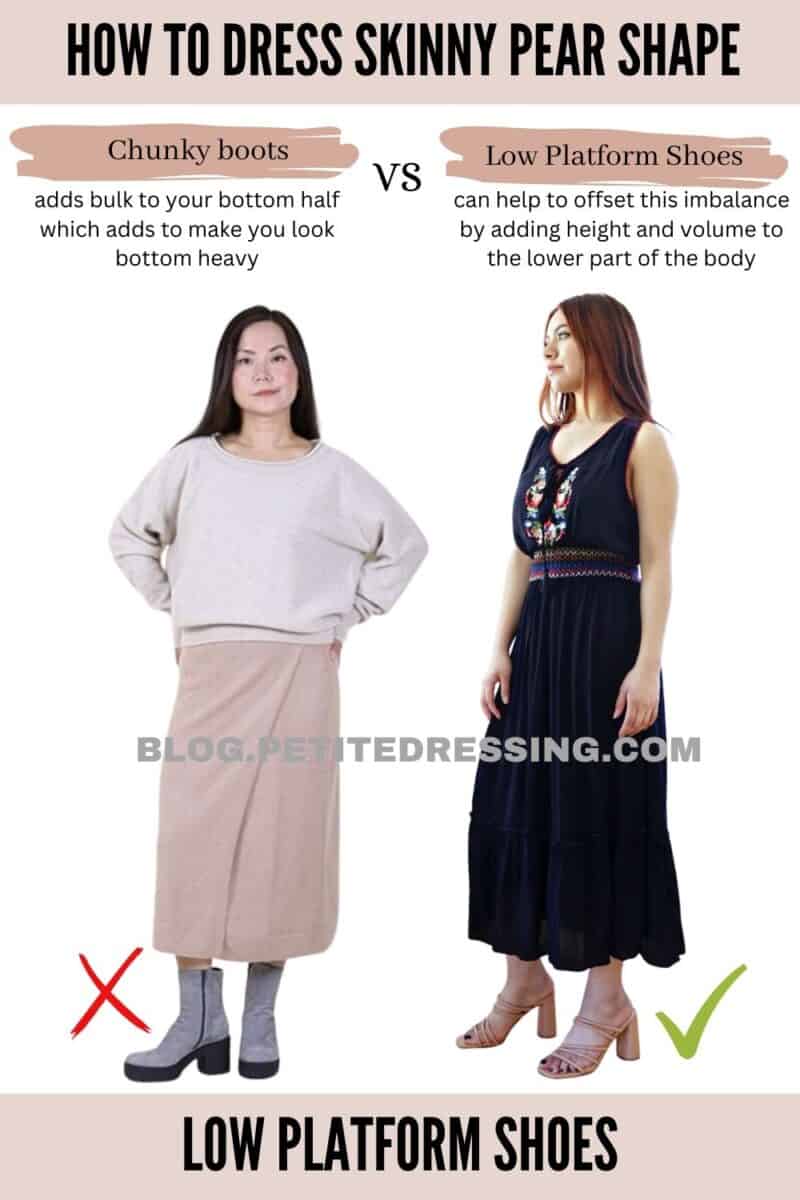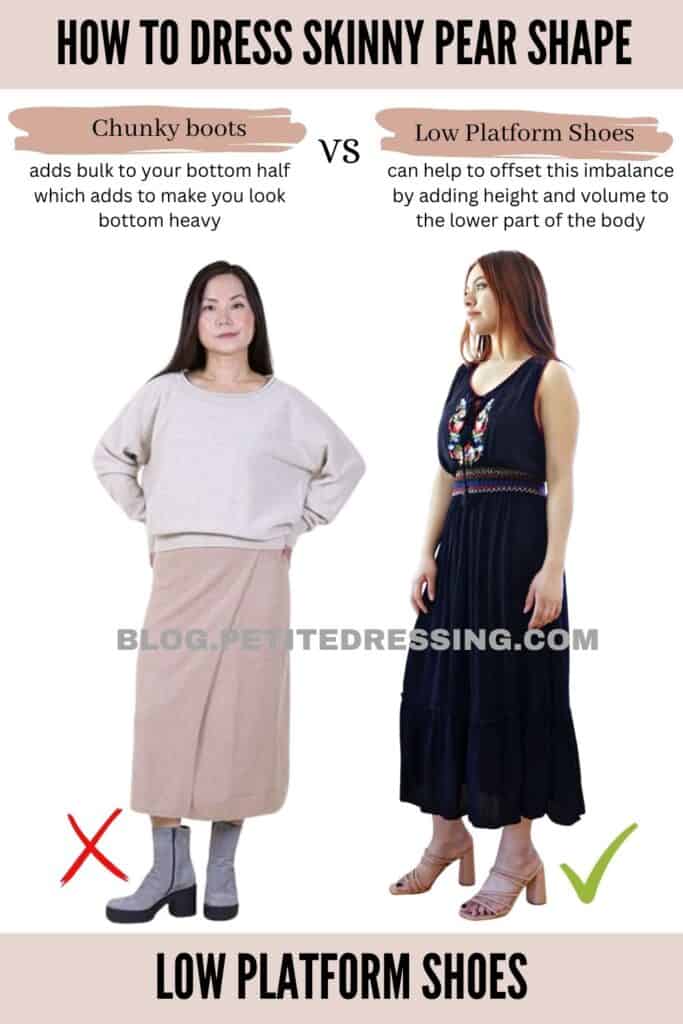 ACCESSORIES
Statement Necklace
Wearing a statement necklace is also a very efficient way to draw the eyes on your chest area rather than your areas of concern, which are again, your wide hips and thick thighs. It's a subtle way to bring your figure into a nice balance without adding so much bulk and dramatic details.
The Key Takeaway
Putting together an entire ensemble is not always easy for pear-shaped ladies with skinny frames due to the significant difference in the size of your upper and lower half body. However, once you have mastered the key points of styling your figure, gearing your wardrobe up will eventually be a piece of cake!
I hope this comprehensive style guide gives you the jump start you need to find the clothes that fit you best.