Investing in plaid pants is a great and almost fail-proof way of adding some spice to your wardrobe. The plaid pattern has been around for a while and is a favorite especially for corporate environment. The pattern is most popular around fall but can be worn all year round depending on what you're going to style it with.
These pants are versatile and can suit any kind of style, whether you like to look preppy, smart, grungy or you just like to be in a laid back casual look. The options are endless when it comes to what to wear with plaid pants for women.
With a matching blazer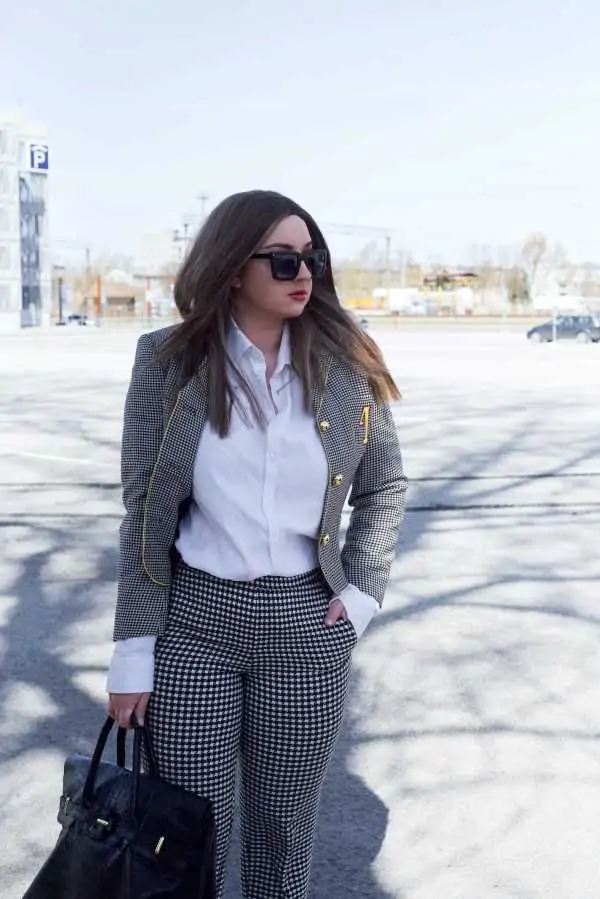 Wearing a blazer that matches your plaid pants instantly upgrades your look by completing a plaid suit.
There's a name for a pairing of pants that match with a blazer, of course, a suit. Every woman should own one, whether in a relaxed or tailored style, as a suit is an easy and faster way to have everything well put together since the pieces come as a pair.
A plaid suit can be very classy and is a classic that women have been wearing to work and events for years. You could style your plaid suit with a camisole, a tank or a blouse underneath. You also have the option of wearing your suit on its own over a bralette.
A suit with a subtle plaid pattern will often appear too serious for a fun girl that's why different brands have come up with bolder and fun suits that have a more visible plaid pattern. These make for a cool casual fit.
Going for fewer colors when wearing the plaid pantsuit is the easiest way to keep it classy. You have the option of going with sneakers instead of heels for a casual chic look.
With a crop top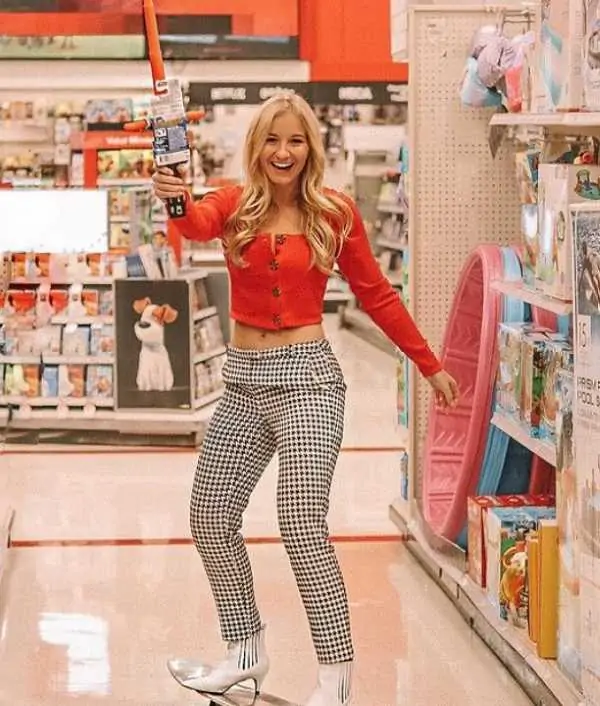 A crop top and plaid pants combination is not only a fun one but can also give you that youthful look. The key is to find a high waisted plaid pants to balance out the shorter length of the top.
Different crop top can bring different feel and style to this look. Crop tops are a nice way to dress down plaid pants, especially when they are flowy. If casual is what you're going for, then feel free to grab your flowy crop top and plaid pants that are bolder in color.
A crop top can also look dressier with plaid pants, if you go for fitted plain ones. If you choose lace crop tops and add a pair of heels, you can look even dressier with this combination.
If you do have a midsection concern, then the best way to wear this look is to make sure there is no gap between the top and your plaid pants. There exist different color combinations, even though they are all plaid pattern. Some are bold, some subtle. If you have bigger hips or thick thighs, the best way to to wear plaids in a darker shade.
When you opt for high waist pants and add heels, you get the illusion of height. You will therefore end up looking taller in your plaid pants outfit.
With a white button-down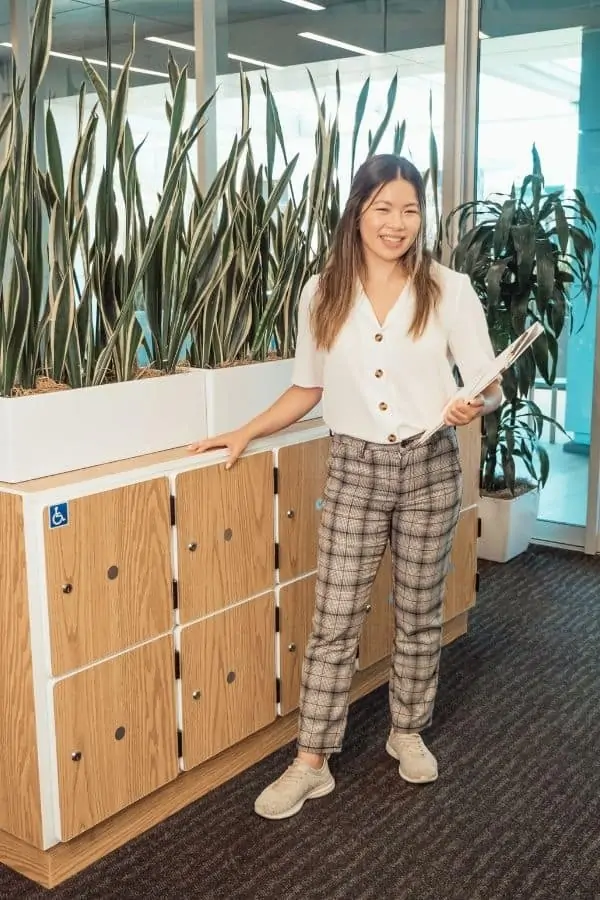 Every woman should own at least one plain white button-down shirt, if not many, since it's that classy wardrobe piece that will never let you down. It works for every environment, whether you're going for a dinner date, an office function, to work, to school or even a fashion event.
You can wear your plaid pants with a white button-down neatly tucked in, complete with some heels for that office-ready kind of outfit. Swap the heels with some brogues or ballet flats and you get a more preppy look with the same combination. For this, colors such as greys and other neutral ones work best.
A white button-down can be worn with plaid pants in a more playful way. Go for a larger plaid pattern in a bold color and switch up the footwear with sneakers, boots, or sandals.
You can plaid pants with a white button-down shirt and cinch your waist with a wide belt. While heels are the easiest way to make plaid pants look smarter, other options like loafers and mules also work.
With a plain t-shirt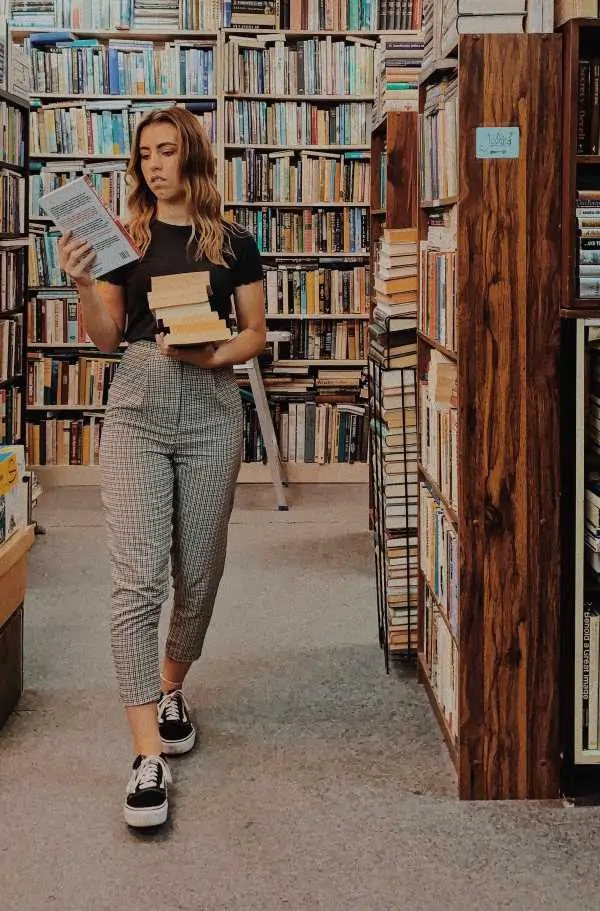 When you choose to wear your plaid pants with a plain t-shirt, you have the freedom of choosing whether to go all dressy, all corporate, casual or edgy with your outfit just by the choice of your shoes.
It's hard to recommend outfit pairings without recommending a plain t-shirt. Just like a basic button-down, a plain tee is a classic, timeless piece that simply goes with everything.
That's how easy a plain tee makes life for you when you need to get dressed. Since plaid pants can make a statement, a basic t-shirt gives the outfit a cleaner look by making it simpler allowing you to experiment with everything else including your accessories.
It's a minimalist look considering it combines classic colors, that is, only black and white. The best addition for such a look would be a black or a white structured bag although the beauty of black and white is that they allow you to add a pop of color too.
With a cable knit sweater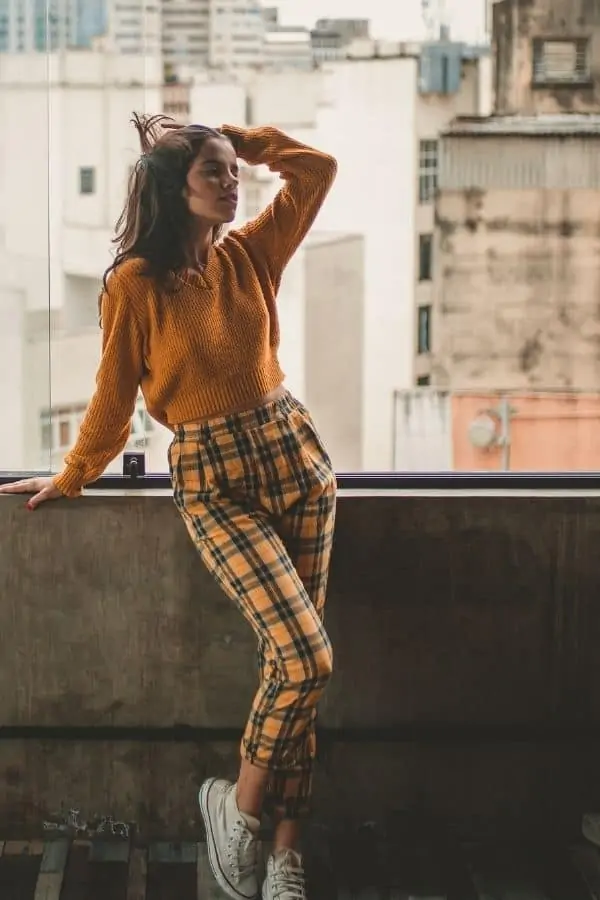 Plaid pants can be playful so pairing them with the old school style turtleneck top adds a touch of class to the outfit and makes your look more powerful.
Cable knit sweaters are great pieces to add to your closet, especially in colder months. The traditional cable knit sweaters are also looked at as modest pieces of clothing since they cover most of your upper body.
While mostly seen as modest, this type of sweater tops can also be very feminine if you choose a cable knit top that's figure-hugging. Today, cable knit sweaters come in a variety of designs. Some are cropped, some sleeveless, and some have cutouts to show some skin. All of these can be worn with different plaid pants and all you have to do is coordinate the colors right.
Going for fitting pants is the easiest option although, with a fitted turtleneck top, you can easily look great in any kind of plaid pants, especially if the turtleneck is either black or white.
With a graphic t-shirt
Graphic t-shirts are bold and have become so popular because they are comfortable and easy to wear. They are an effortless way to stand out from the crowd. Plaid pants, just like graphic t-shirts, can also be bold but that is not to say that they can't be worn with your favorite graphic tee.
If you still want to try this pairing, the best way to go about it is to either choose plaid pants that are minimalist or a graphic tee that's in a neutral color. If you love a burst of color, pick a graphic tee in a color that's also on your plaid pants to be on the safe side.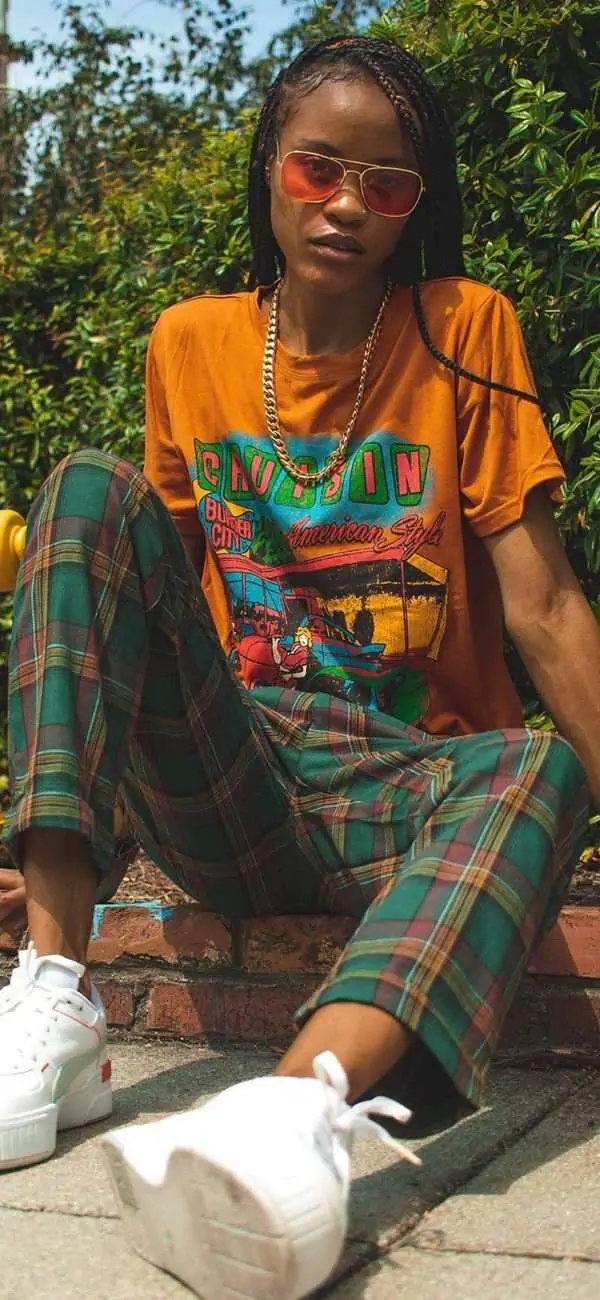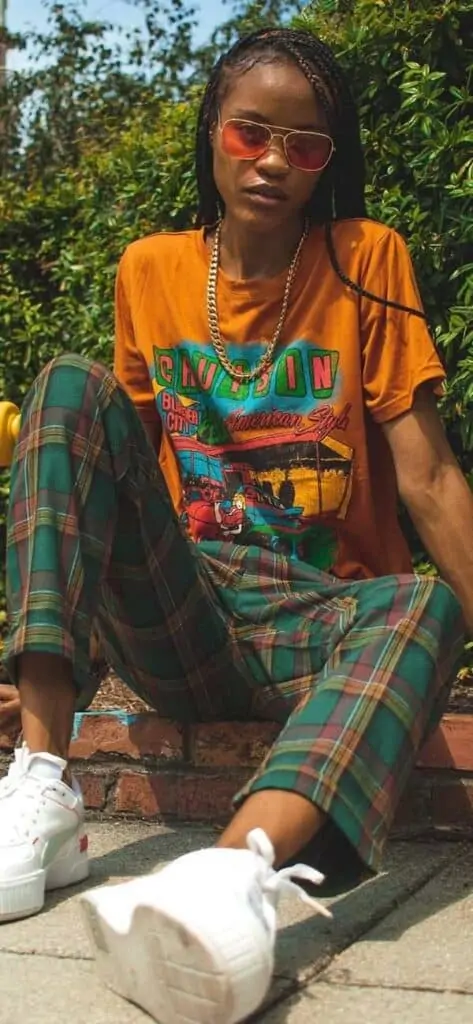 Dezmonay (above) wore her bright colored graphic t-shirt with a pair of contrasting plaid pants. The color of her t-shirt is also on her pants which balances out the look. To complete such a plaid pants look, it's best to go for a simple-colored shoe such as black or white since they are classic colors and are also minimalist, keeping the attention on the clothes.
With a sweater/ cardigan
You can wear your sweater or a cardigan with your plaid pants to make your outfit more feminine.
Sweaters or cardigans are cute wardrobe pieces that are not only comfortable but are also functional since they keep you warm. They also come in different colors which is great in adding that pop of color that your outfit probably needs every once in a while.
In case you want to go all preppy, layer a shirt or a collared blouse under your sweater and then complete with some oxfords or ballet flats. Remember, you have the option of going for an oversize sweater or cardigan for this look.
Jeanne (above) is wearing her plaid pants in a style that looks more festive, she styled them with a red sweater. Since the pants have some red on them, she went for everything else red. Coordinating your colors keeps your plaid pants outfit balanced.
With a leather jacket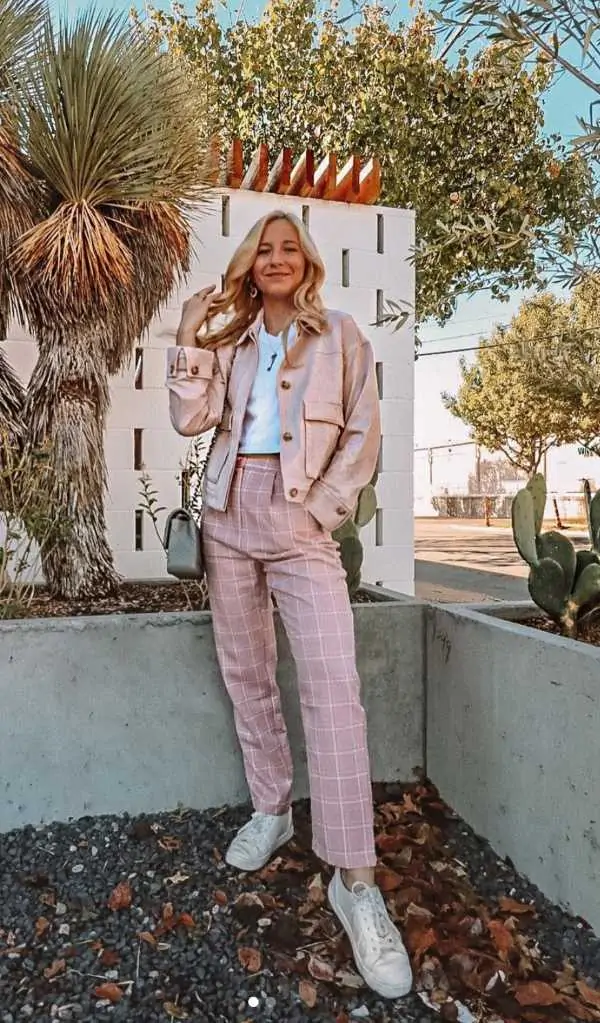 Leather jackets will go with any type or color of plaid pants you choose to wear as long as you go for a black one. Leather jackets are great especially because they keep you warm but in a stylish way. They come in handy particularly during fall and make for great layering pieces in winter.
The beauty of a leather jacket is that you can wear one to school, work, a date, brunch, a night out, you name it. However, leather jackets don't only come in black. You can get a more colorful one for your outfit but make sure the color goes well with the colors on your plaid pants.
A black leather jacket always has a way of toughening up any look. It adds authority to an otherwise playful plaid pants look.
With a matching shirt
If a bolder suit still feels too serious for you, there's another option, a co-ord set. They are trendy, reliable and most of all stylish wardrobe pieces that also make your life easier. Finding a pair of plaid pants that comes with a matching shirt is great because you won't have to put too much thought into what to wear your plaid pants with. After all, they come together.
With a plaid co-ord set that involves a shirt, you can crop the shirt, button it up, wear the shirt over a t-shirt or even wear a jacket over the shirt. You could tuck the shirt in for a cleaner look although this can easily be mistaken for a jumpsuit, which isn't bad at all. The possibilities are endless and the best part is that a plaid co-ord set is versatile and can be worn to different places. The secret is in the shoes you pick, the accessories and jewelry you go for.
Such a plaid pants co-ord set can be dressed up with a longer tank tucked in and switching up the shoes with a pair of strappy heels or stilettos.
With a statement top
If you are thinking plaid pants themselves already make a statement, you are absolutely right. If you want to go for an edgier look, you can wear a statement top with these pants, making it an outfit that is guaranteed to turn heads. Since your pants already have plenty of patterns, it's best to go with a plain color statement top like the one above.
With a duster
A duster is also a great wardrobe piece to have considering it's usually long and flowy. Wearing one is a great way to make an outfit effortlessly chic and also hides some of the flaws that you might be conscious about. You can wear your plaid pants with a plain duster to keep the look nice and chic.
This pairing is suitable for different settings and just like a blazer, it dresses up a look and makes it appear like you put in that much-needed effort while you were getting dressed in the morning. Whether what you have underneath is edgier, casual or dressier, a duster will make your plaid pairing look even better.
The best way to complete a plaid pants-duster pairing is to keep everything else in a single color if possible. Wearing well-fitted pieces underneath the duster makes the look all the more flattering.
These outfit ideas with plaid pants will have you achieve different looks every time you step out in that nice pair of plaid pants.