Do you have small feet? If you are under 5'4″, you probably agree one of the biggest challenges as a short girl is to find shoes for petite feet.
I am 5'2″ and size 5 (to be exact, one shoe is 5 and the other is 4.5).
I live in New York city area, which is supposedly the retail heaven for shoe lovers. However, most of the department stores or shoe shops in Manhattan start with size 6, so, it is frustrating for short women like me to find a store that carries my size.
It is important to understand what works and what doesn't, in order to pick out the best shoe style for your small feet and avoid those that make you look shorter.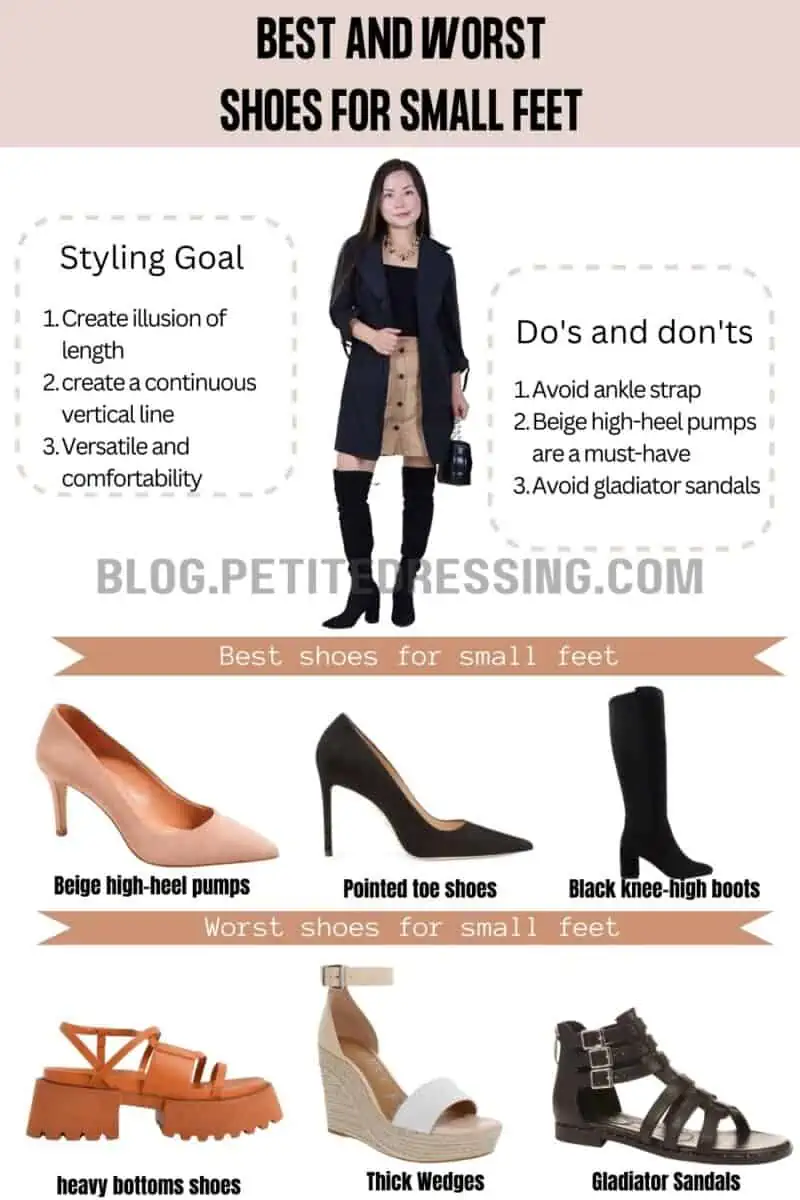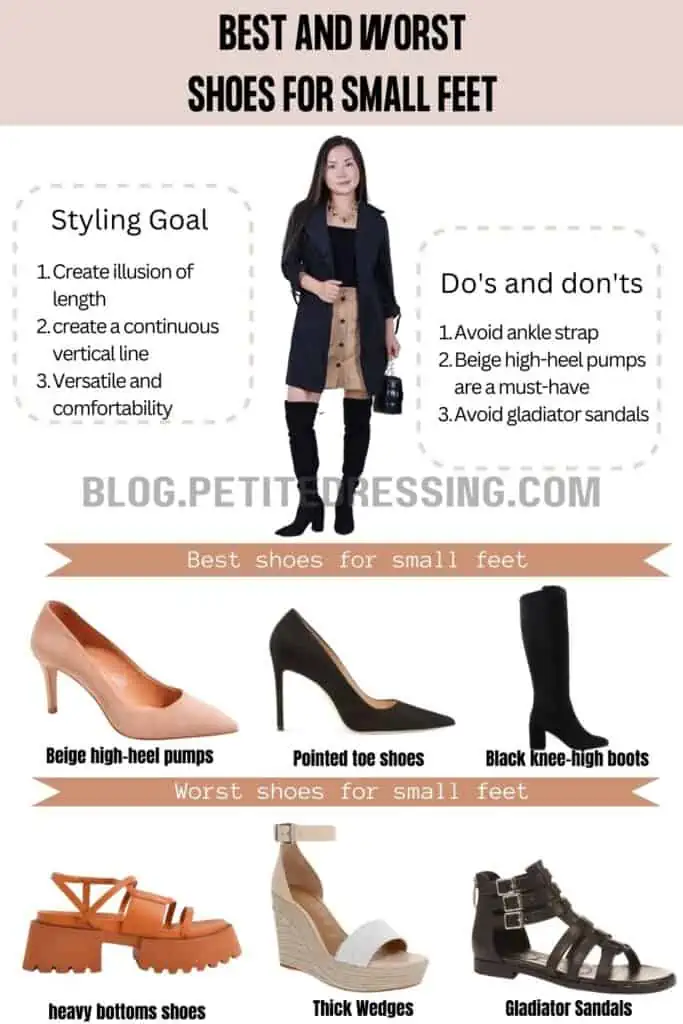 Beige high-heel pumps
For girls with small feet, high-heel pumps are a wardrobe necessity without a doubt.
Since there are not that many brands that make small-size shoes for us, I find it important to get shoes that are really versatile and that can go with just about anything in your closet.
That is where beige-heeled pumps can come in handy.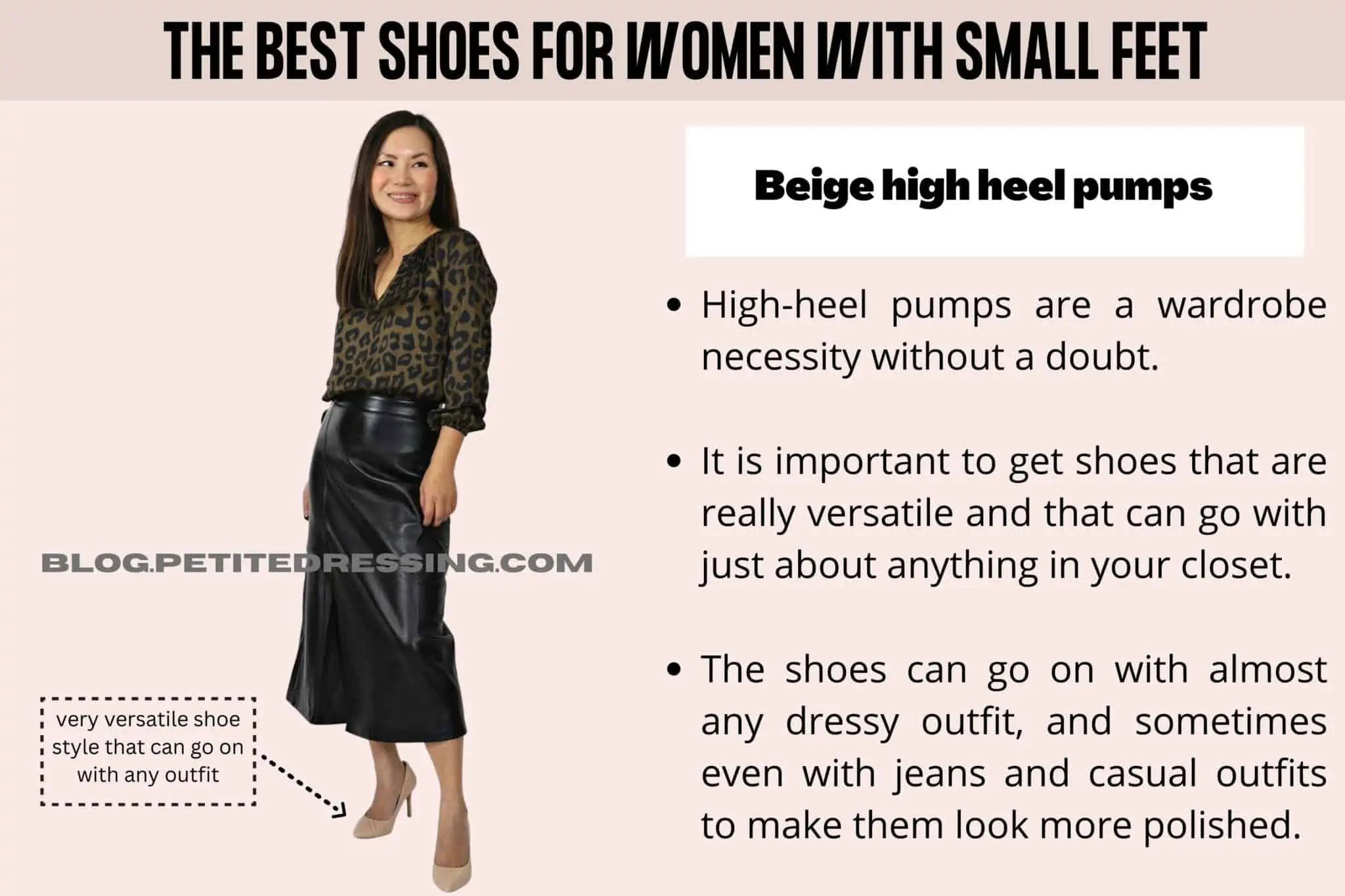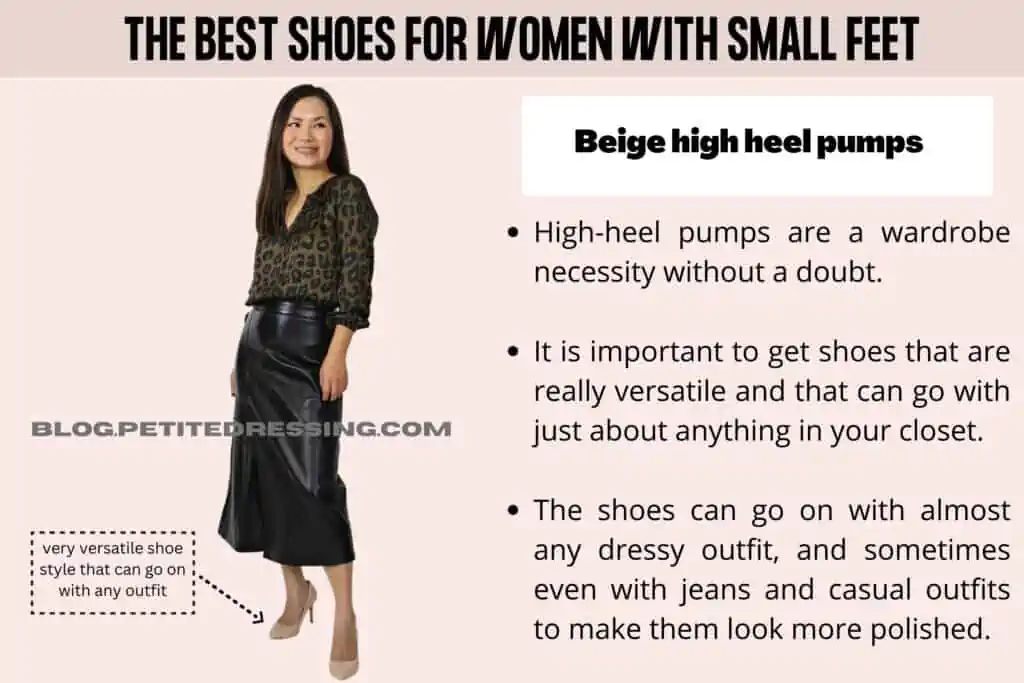 I find that I put throw them on with almost any of my dressy outfits, and sometimes even with jeans and casual outfits to make them look more polished.
Avoid ankle strap
The best pumps for petite girls should have no ankle strap.
Why?
The ankle strap forms a horizontal line that visually makes your legs look cut off. The more contrasting the color of the straps is with your feet, the more obvious the cut-off looks. That is the OPPOSITE of what a petite woman wants!
What we want is to form an unbroken line from your legs to your feet, so that you look taller and your proportion look better.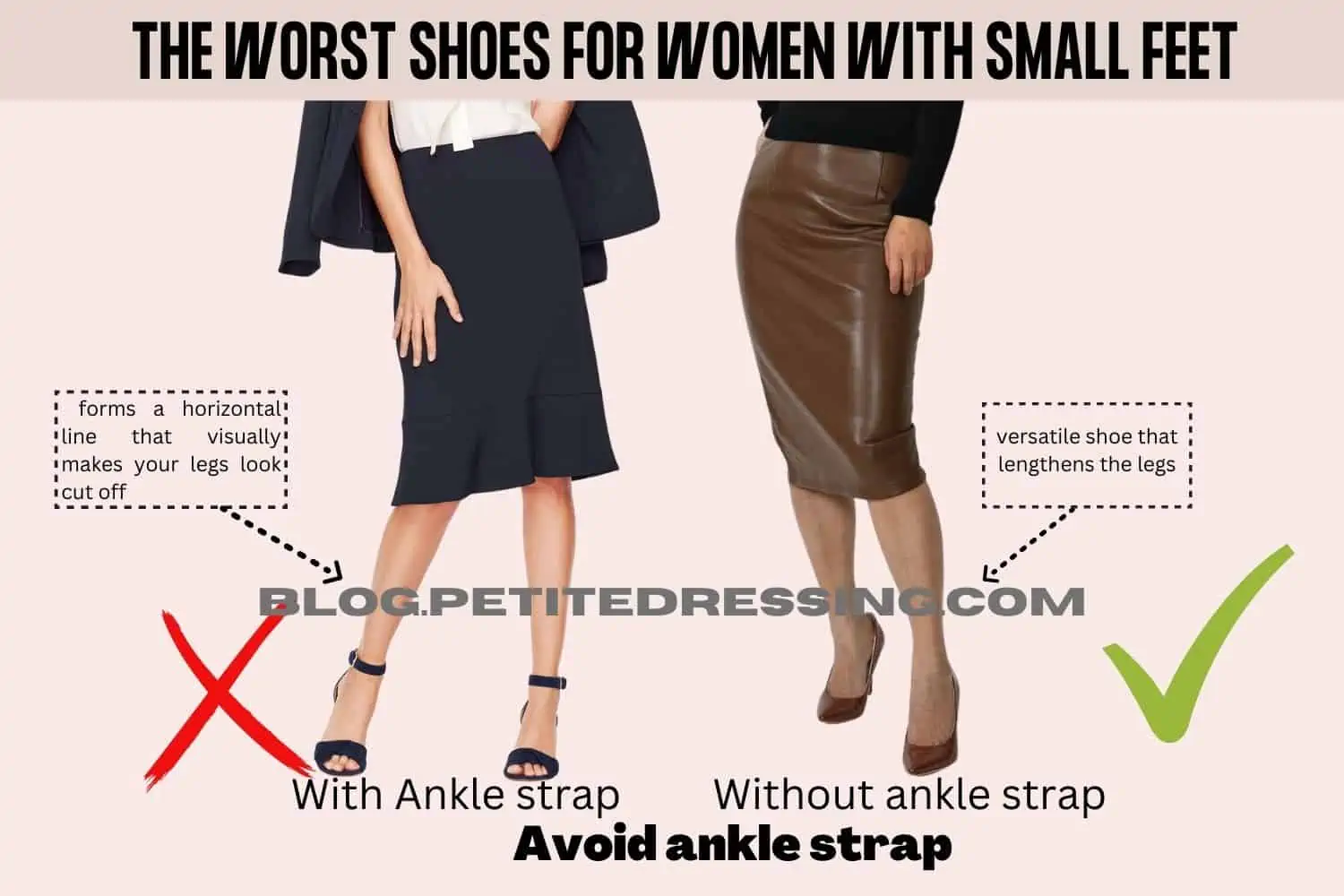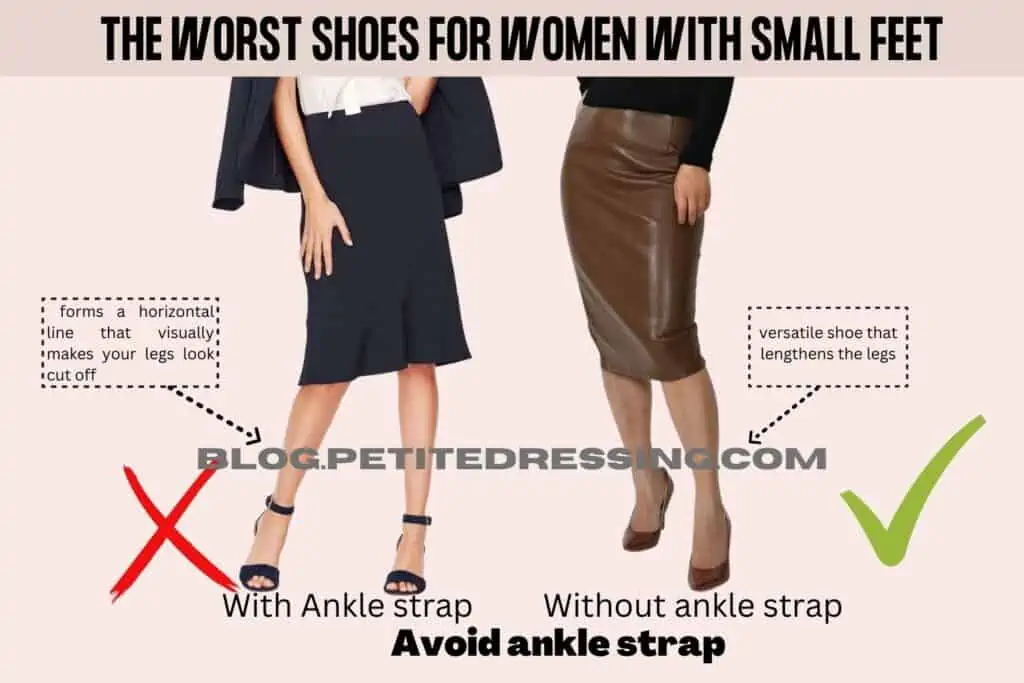 Now, you see why ankle straps are not our friends. However, some of us got a dilemma here.
Since we have small feet, many of us will actually NEED ankle straps to keep the shoe from sliding off our feet. Is that you? You are not alone. I have had this problem for years and I almost gave up looking for pumps without ankle straps.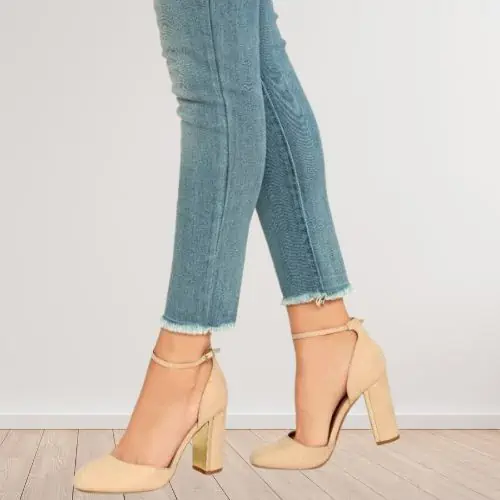 The solution?
If I wear ankle straps, I only wear nude shoes with very skinny straps in the summer, and I make sure to wear black straps on black stockings in the winter when I'm wearing a dress.
That way, you will make sure the color of the straps blends in with your legs and they don't make your legs look cut off.
Pointed toe shoes
This is the most flattering style for petite women with small feet!
Pointed-toe shoes seem to be just a one-inch difference at the toes, but they make a whole world of difference and make your legs look so much longer.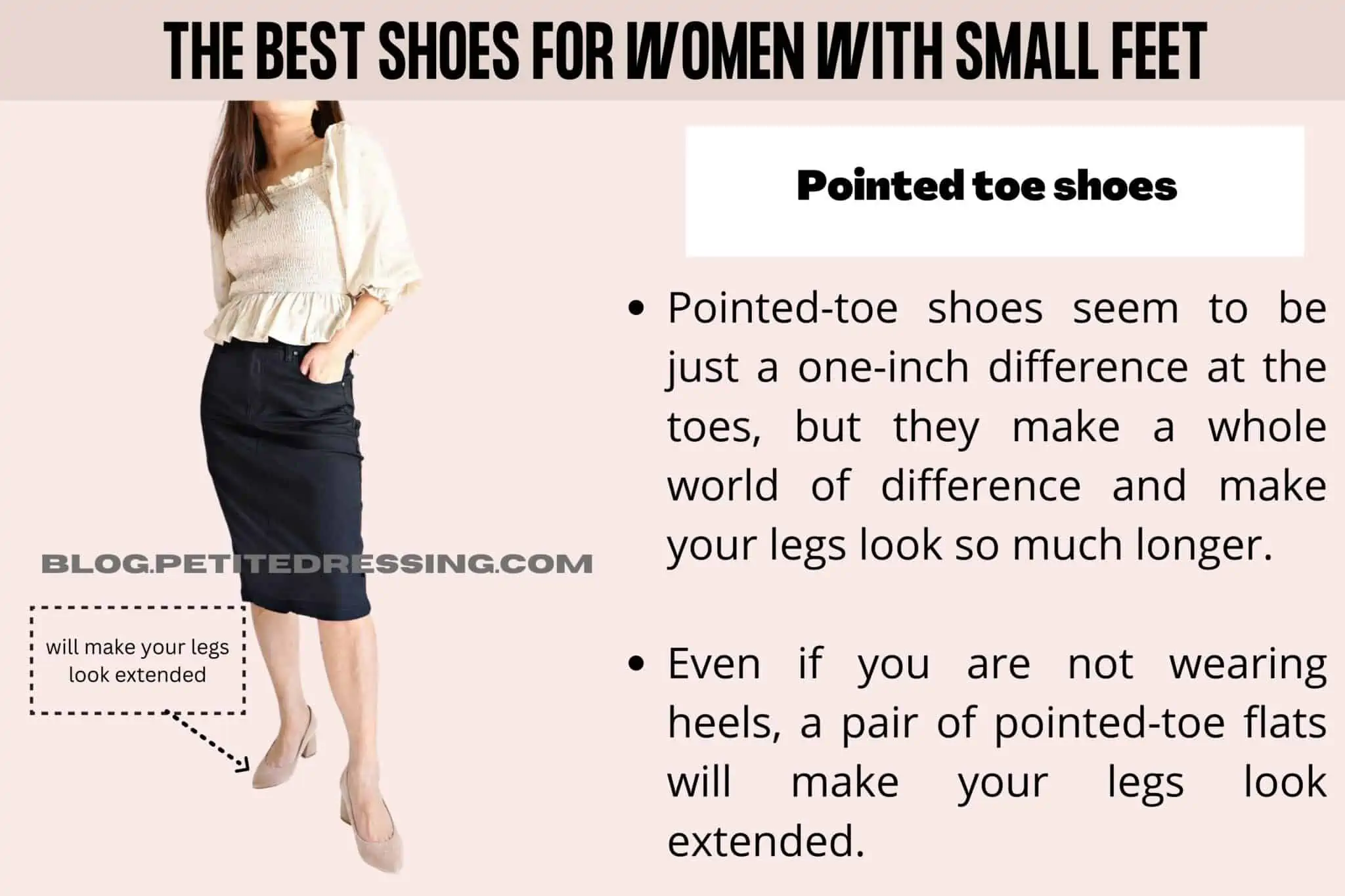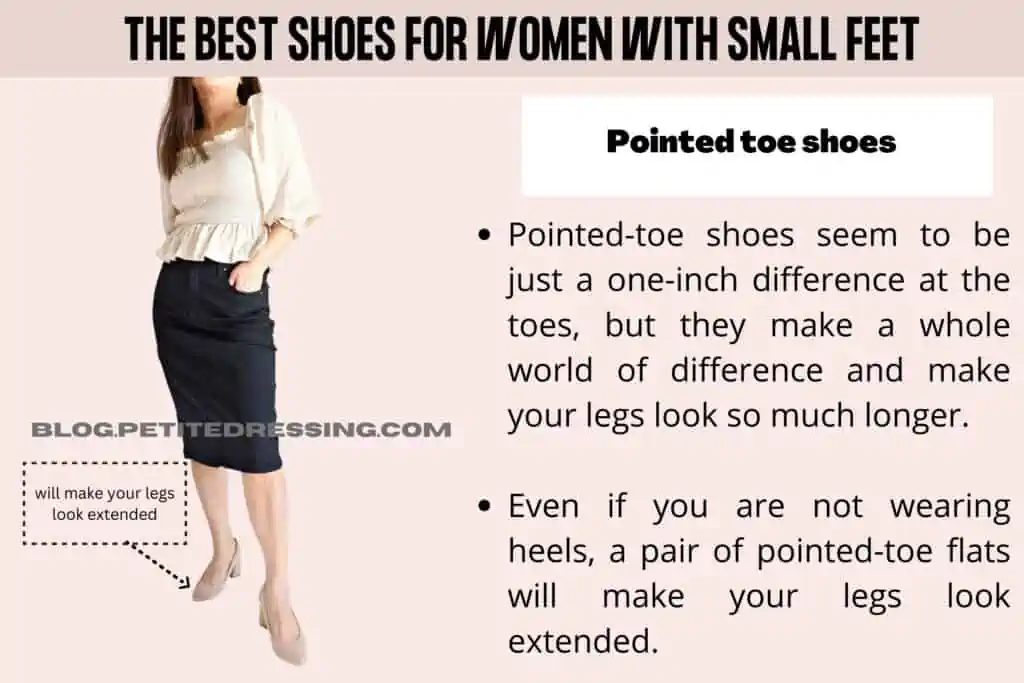 Even if you are not wearing heels, a pair of pointed-toe flats will make your legs look extended. Try it today, if you don't own a bunch already!
Avoid square toe
Square-toe shoes are not as flattering to girls with petite feet.
Because square toe for a horizontal line in the front of the shoes, they will widen your feet, and make your legs appear shorter than they actually are.
For women with smaller feet, our goal is to elongate, not to widen.
So, avoid square toe even though they are a huge trend currently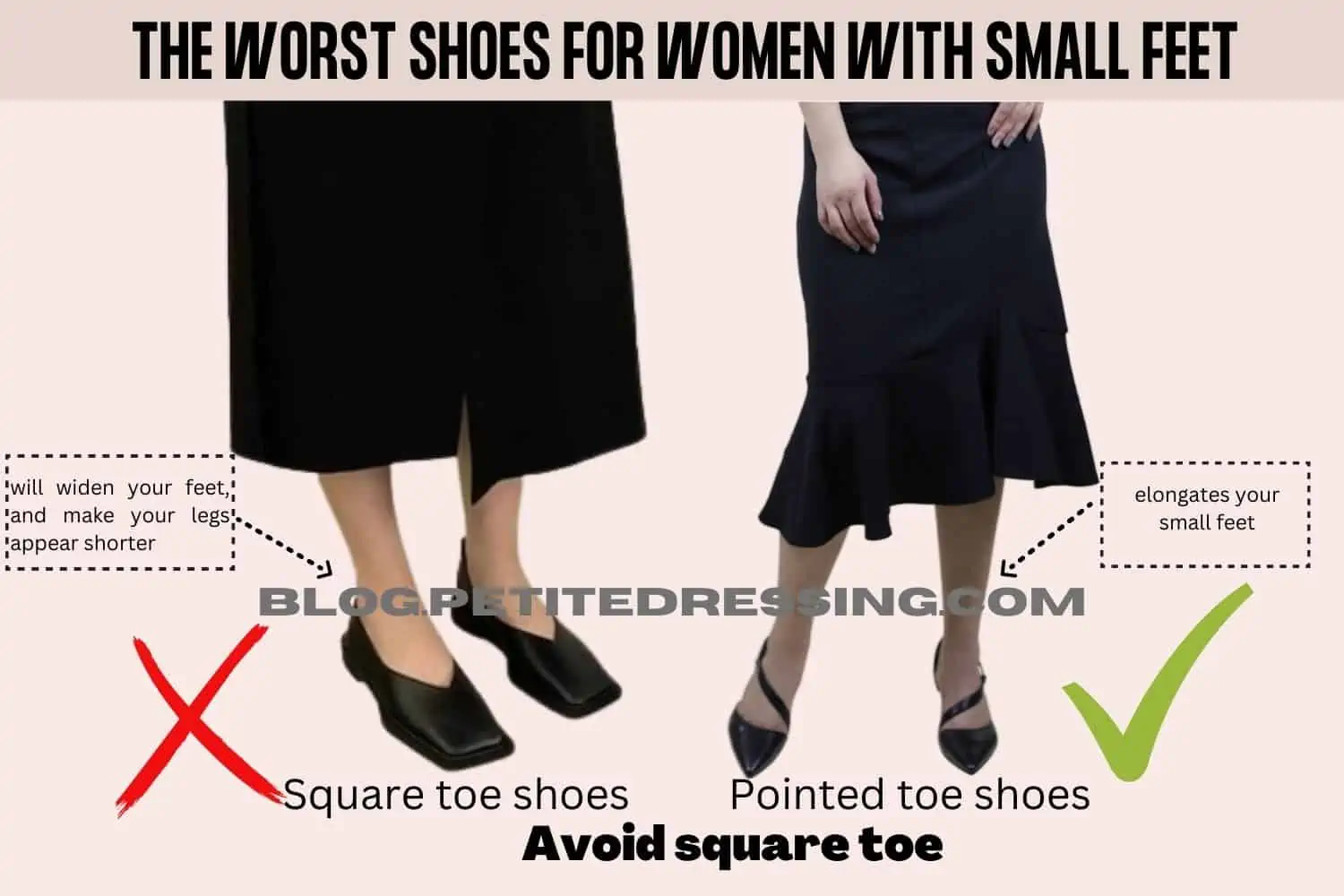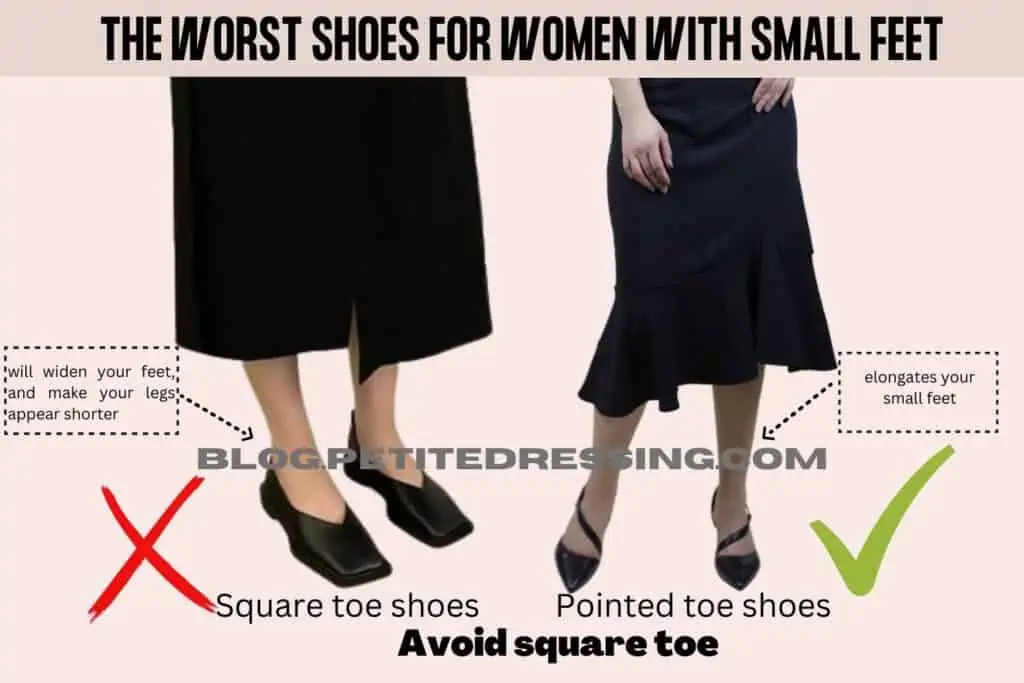 Black knee-high boots
If you have petite feet, it is important to create length in your styling. Knee-high boots can extend your legs and are your best bet in the winter.
That will really elongate your legs and make your proportion look better instantly.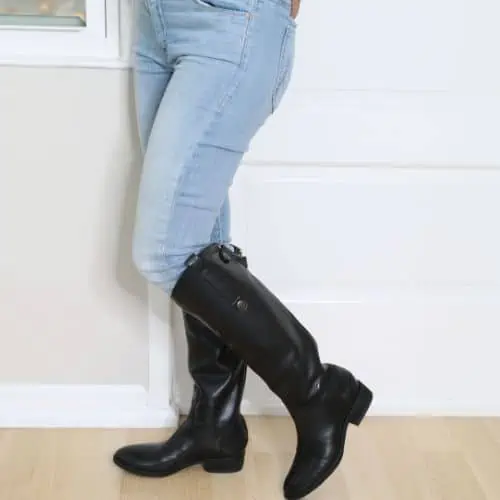 Considerations with length
The most important tip to choose the best boots for you is to make sure you match the color of your boots with that of your pants or jeans!
If you are wearing them with dresses, make sure to pair them with similar color stockings so that you can create the length you need in your bottom half.
OTK boots
Now, as a petite woman, you probably have found it super hard to shop for tall boots for small feet, even more so than any other shoes like pumps or sneakers. Why?
Boots have one critical measurement that is different from other shoes. That is the boot shaft.
Since the boot shaft is made according to the measurements of average-height women, that means petite women under 5'4″ are most likely going to be too long for our legs.
That is why I have put together a post on how to choose the best boots if you have short legs and the top 5 boot brands for petite women.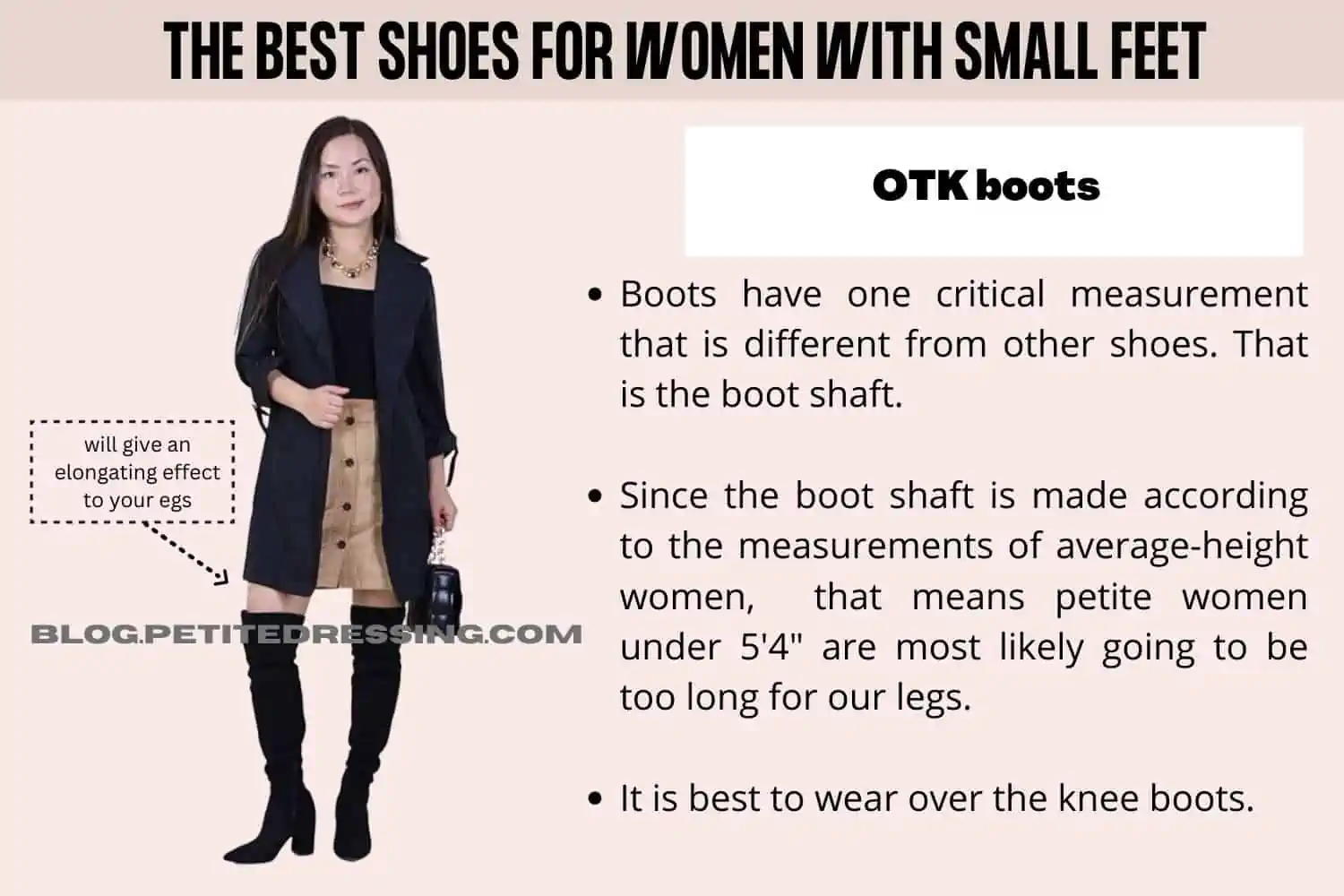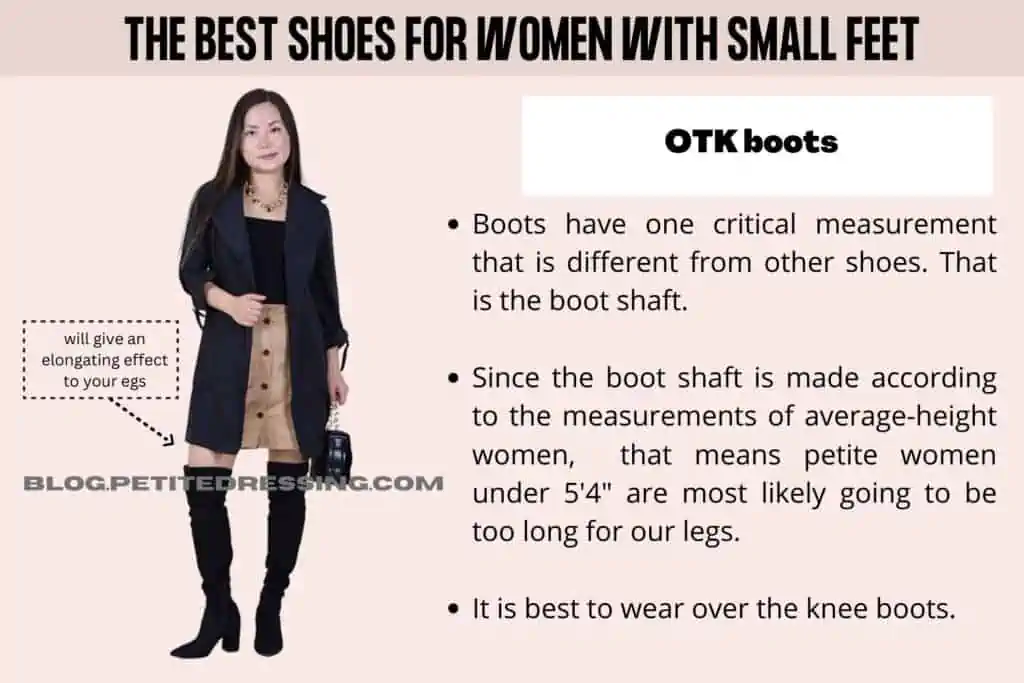 The solution to that is to wear over-the-knee boots instead!
Nude or skin-color shoes
Nude shoes are a must for girls with petite feet. They visually extend your legs by the length of your heels! If you have to wear flats, wearing flats with pointed toes in nude color will make your legs look so much longer.
Heels with a low vamp
First, what is low vamp? Although the term may sound foreign to you, I'm sure you have seen them.
These are the shoes that show a little bit of toe cleavage. The lower the vamp, the less covered your feet are thus the longer your legs look.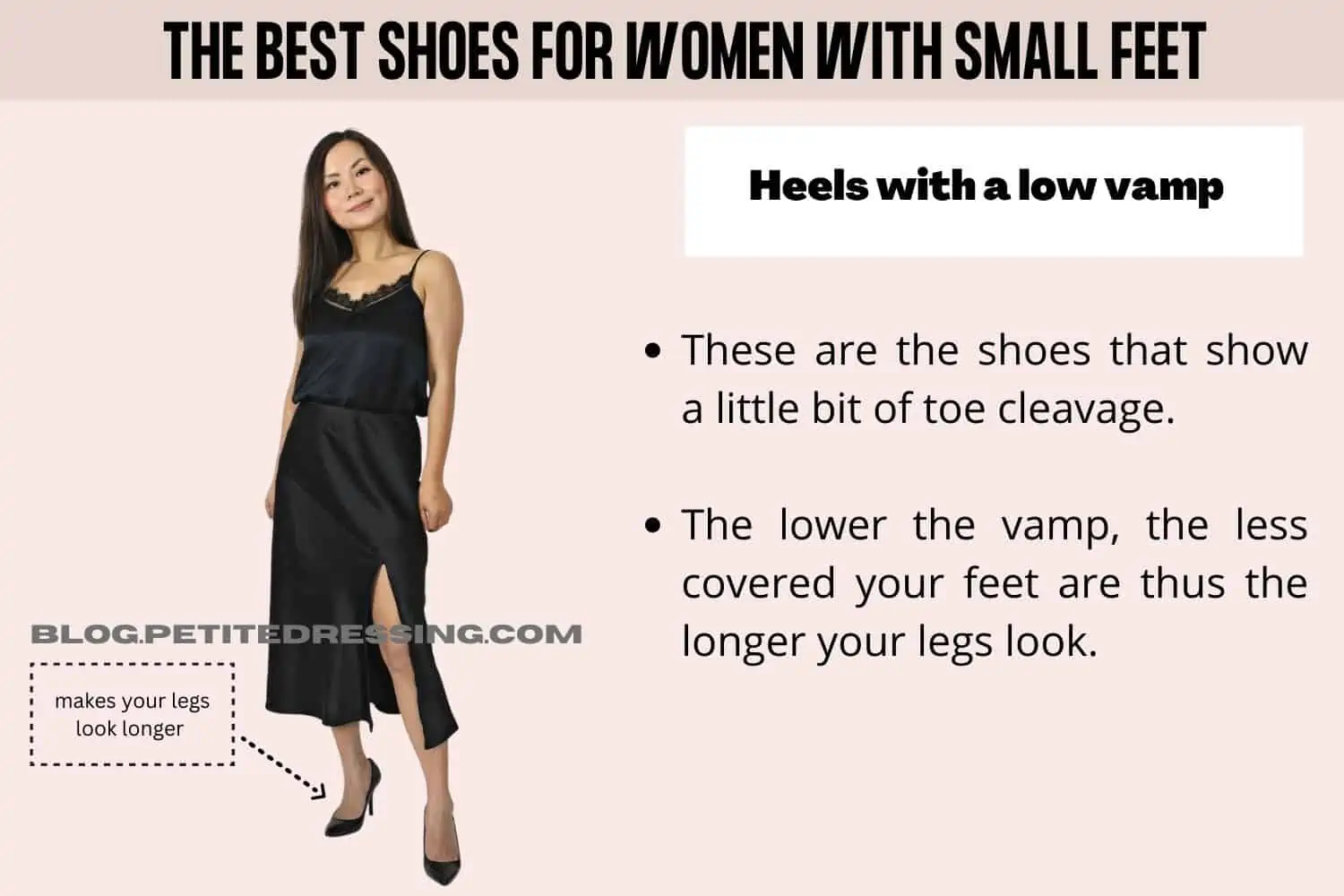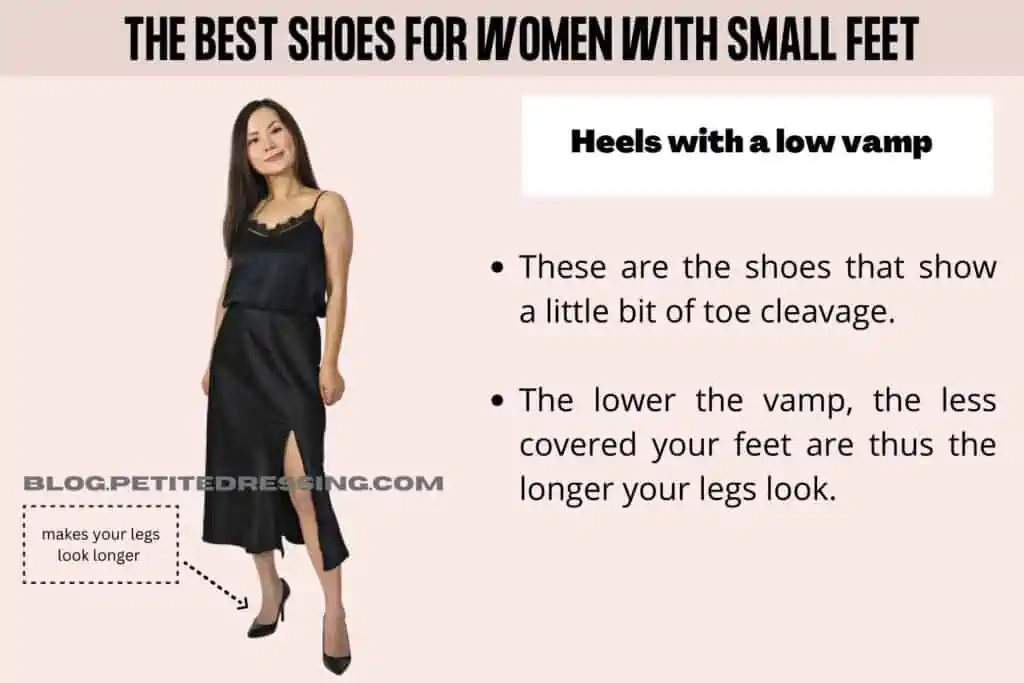 Many premier shoe brands like Christian Louboutin, Valentino and Manolo Blahnik really have mastered this kind of design, which is why you get the impression that more expensive shoes make your legs look better!
There are also reasonably priced brands such as Sam Edelman, Coach, Cole Haan also have many low vamp style, so you don't have to spend $600 for a pair of designer shoes to get the look.
Now, let's take a look at what does not work.
Avoid heavy bottoms
I think most of us at one point have all tried the so called platform shoes. Does that seem to be the shortcut for girls who want to add 5 inches instantly?
Yes, on the surface it does add 5 inches to your height, but I have to tell you that does nothing to help your proportion. I first noticed this when I saw a petite woman wearing those really high platform shoes standing in the New York city subway.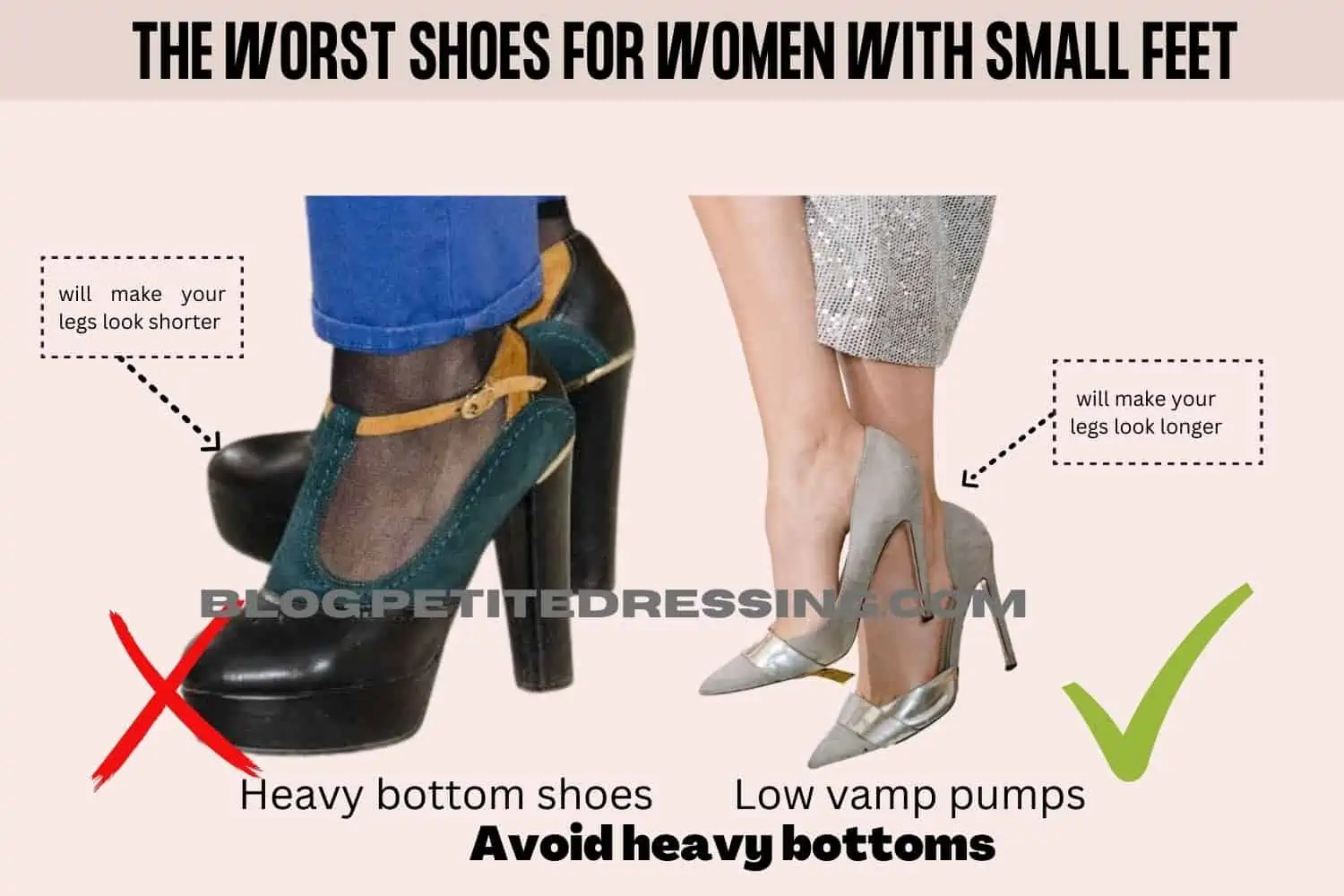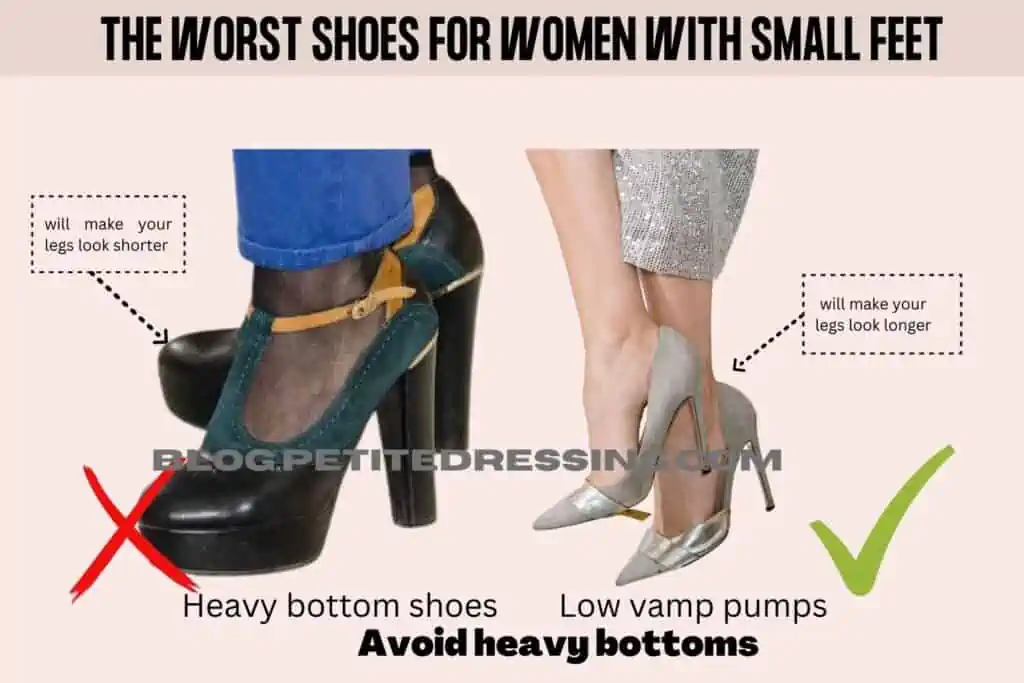 The platform height was so extreme that she obviously was struggling to walk down the stairs. I was concerned she might trip over them! Worse yet, her legs looked shorter because of how heavy those shoes looked on her! I felt really sorry for the girl and wish she had a chance to read this article.
In fact, girls with petite feet should avoid shoes with heavy bottoms, which create bulkiness in your feet and look out of proportion for your petite body frame.
Even though they may seem to have added a few more inches to your height, they are visually not flattering and may make you look shorter.
Avoid Thick Wedges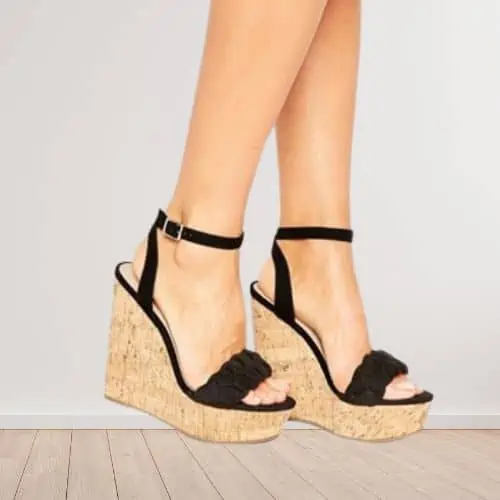 How to choose a wedge
If you need a pair of walkable wedges, go with those designed with thinner wedges (not necessarily lower) which will reduce some of that heaviness for your feet.
I personally LOVE wedges! For people like me who live in the New York metro area and have a commute that involves over 10 minutes of walking, wedges are the top choices (other than flats)!
However, I have to admit they do run the risk of making your legs look shorter if the wedge is too thick. So, use a lot of caution when you are shopping for wedges!
What I have found helpful are wedges of nude color! Since they blend in with my skin color, the heavier bottoms are less noticeable.
Avoid Chunky heels
Chunky heels are not flattering for petite women with small feet. Because of the heavier heels, they seem to be easier for walking, but they actually add too much weight to your bottom half and make you look shorter.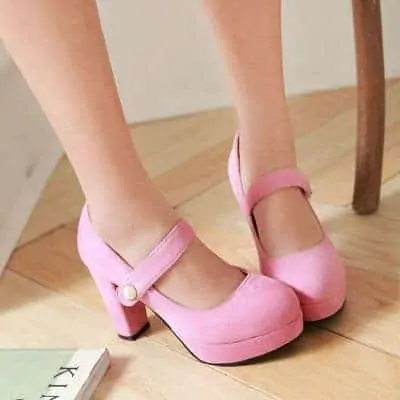 Avoid Gladiator Sandals
Gladiator sandals have been extremely popular in recent years, thanks to all the celebrities and fashion bloggers in the wake of the blockbuster Hollywood movies.
Although they can look very trendy and fashionable, they are not flattering to girls with short legs.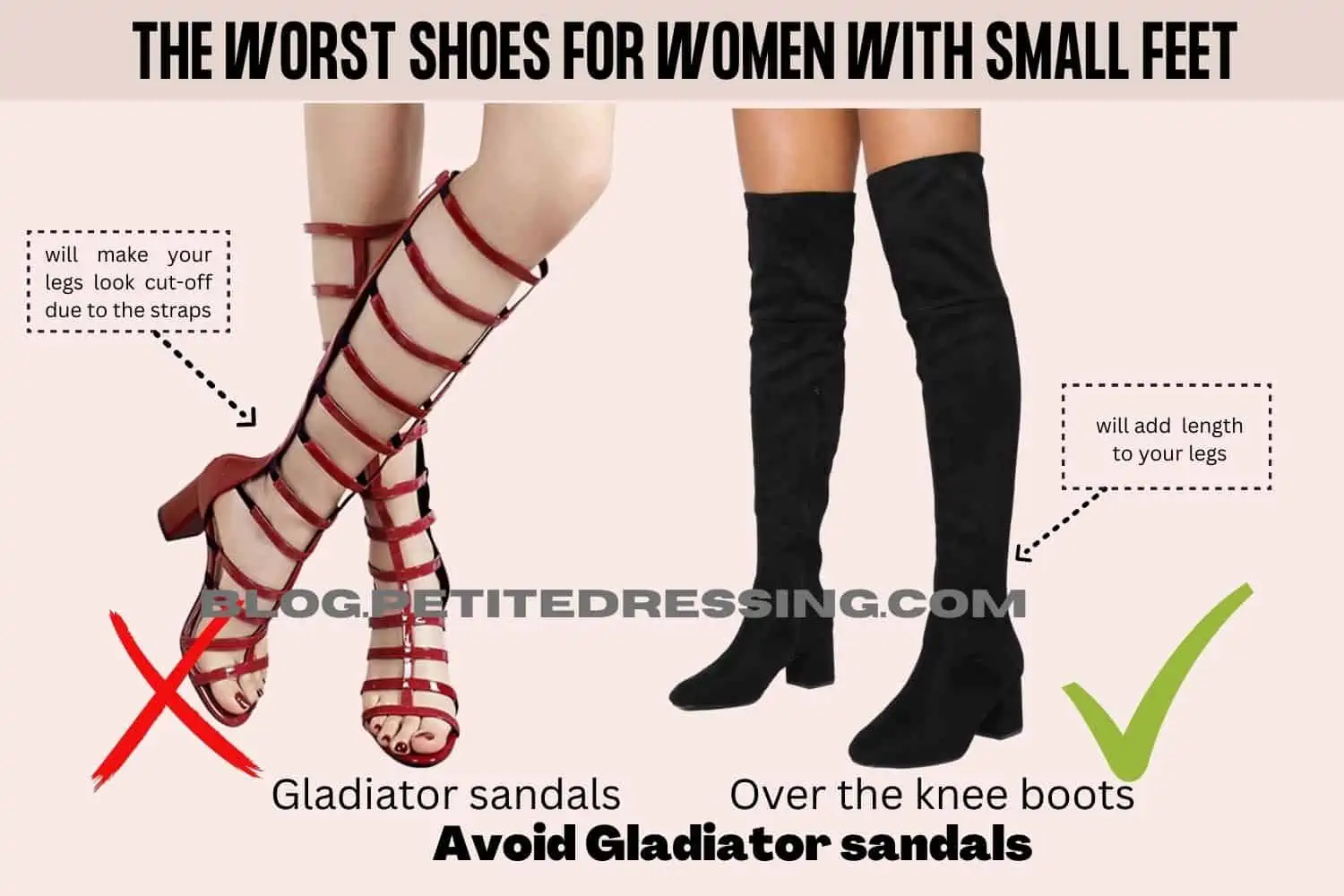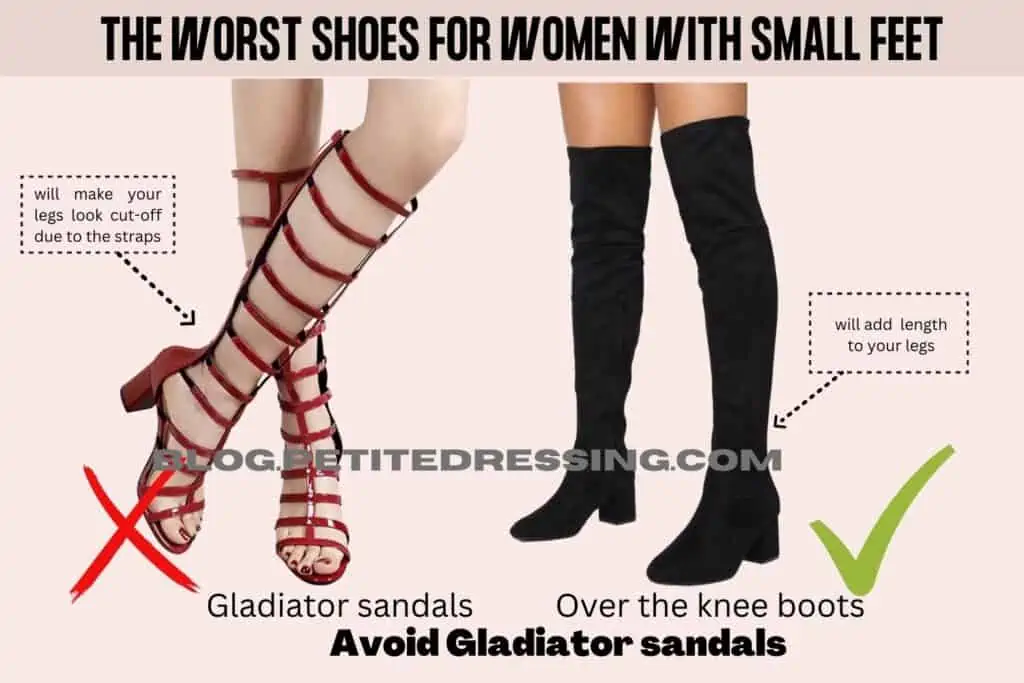 If you have short legs, horizontal straps will make your legs look cut off, let alone gladiator sandals with numerous straps. The worst is the tall gladiator sandals which look are normally the height of tall boots but have straps all over. They will make your legs a lot shorter than they are.
Caution with Mid-calf boots
If you have short legs, you should be very careful about boots that reach your mid calves.
Mid-calf boots are an awkward length and they make your legs look shorter than they are. Worse yet, they end at the widest part of your legs, thus making your calves look wide.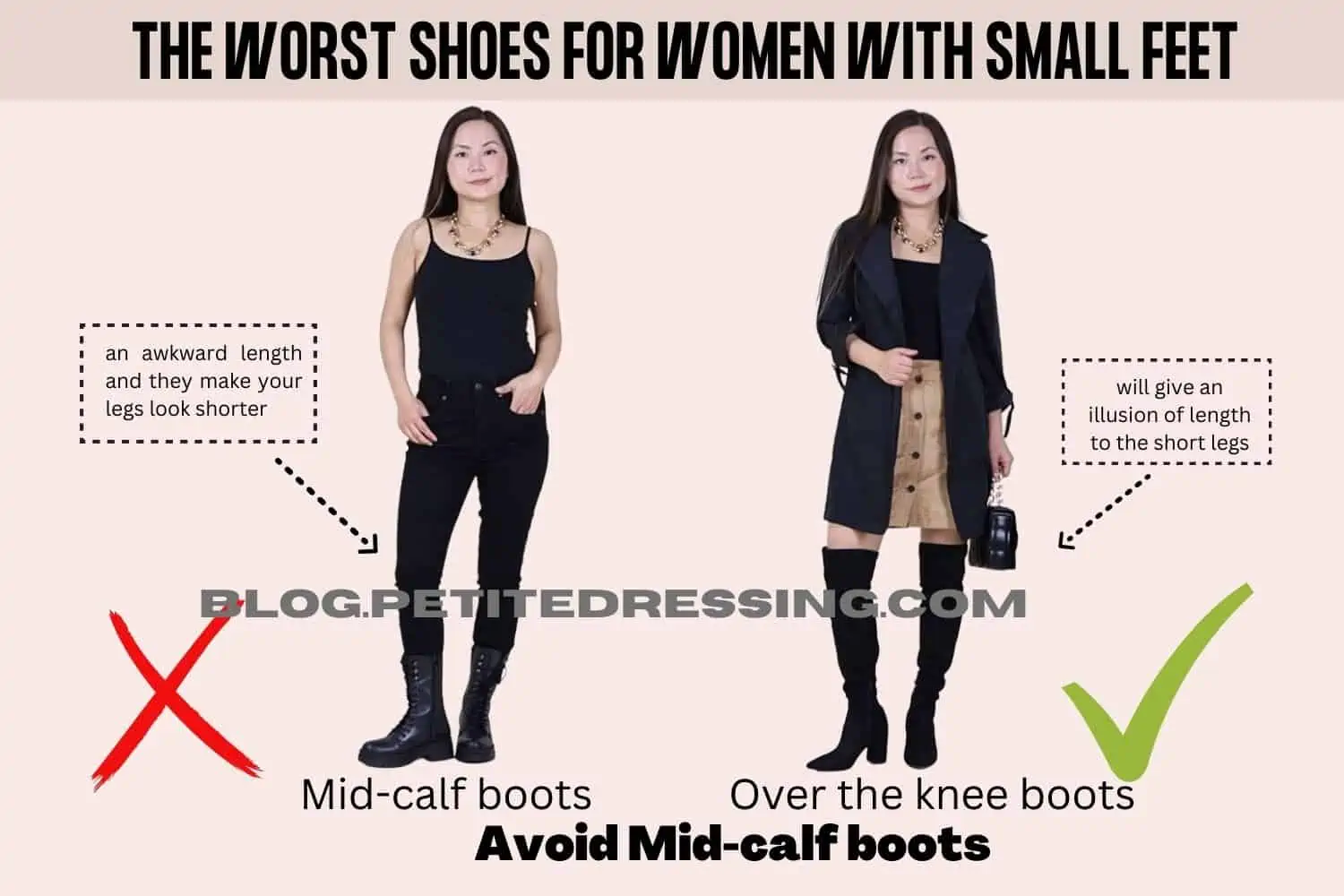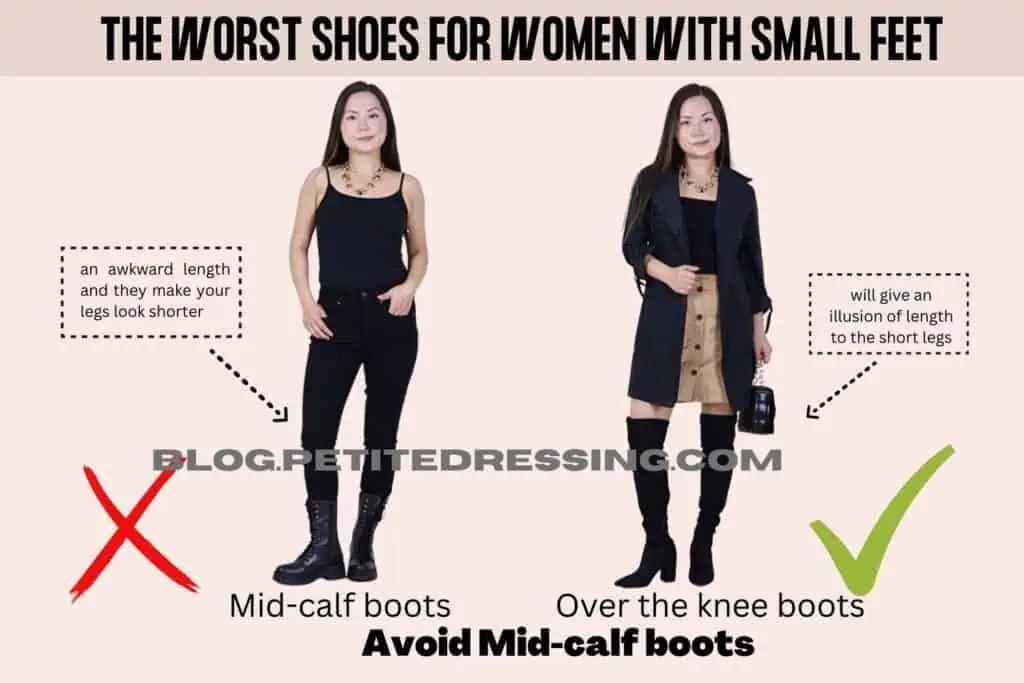 The problem is even more exaggerated if the mid-calf boots have fluffy furs around the openings, which will draw all the attention to how short your legs are.
Uggs are one of the most popular winter brands in recent years, but unfortunately, a lot of their mid-calf styles are not flattering to girls with short legs.