I'm 5'2″, finding cocktail dresses for short women is harder than many expect.
There are a few key attributes to consider when selecting a cocktail dress to ensure that the one you wear is flattering AND appropriate for the occasion. Not to mention that not all dresses are created equally, especially for the petite woman.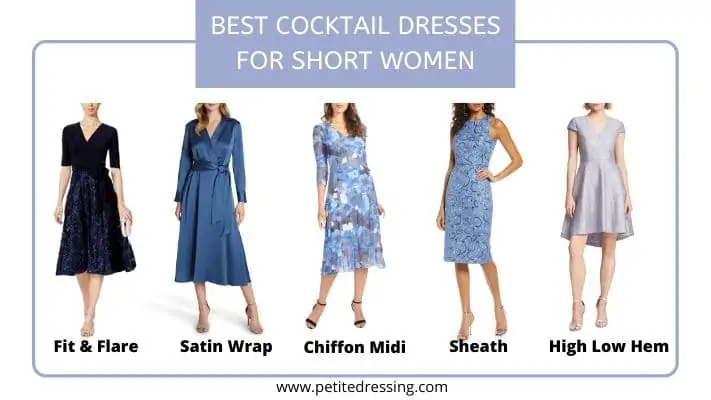 [adthrive-in-post-video-player video-id="pucODKUl" upload-date="2020-01-20T00:21:42.000Z" name="Petite Style Tips- Best Cocktail Dress for Petites" description="Petite cocktail dresses are plenty, but which ones are right for you? Follow these 7 steps to find the best style for your height. Number one secret is to.." player-type="default" override-embed="default"]
WHEN TO WEAR IT
Let's first talk about WHEN you should wear a cocktail dress and when you should not.
Essentially a cocktail dress is a special occasion dress. A cocktail dress is formal, but not quite as formal as a full gown. In other words a cocktail dress falls into a semi-formal dress category.
A good rule of thumb is to determine what men are expected to wear to an event, if men are to wear a suit with a tie then a cocktail dress is going to be appropriate for the occasion. Some experts suggest considering what you believe the host will be wearing to the event as a guide as well. Most often if you're invited to a special occasion type of event the invitation will specify the dress code.
Cocktail dresses aren't a dress style you would wear for brunch with your girlfriends or a baby shower but rather an event that calls for a semi-formal dress code.
Here's the events you would wear a cocktail dresses:
Wedding
Holiday party
Gala for cocktail attire
BEST LENGTH
For petite women like myself, length is EVERYTHING. This also applies to when you are choosing cocktail dresses.
We mentioned above that most cocktail dresses are shorter in length, as far as formal dresses go. Chances are when you think of formal occasions you think of floor-length dresses and gowns. Since cocktail dresses are meant for semi-formal occasions the length is shorter to accommodate the setting.
Above the knee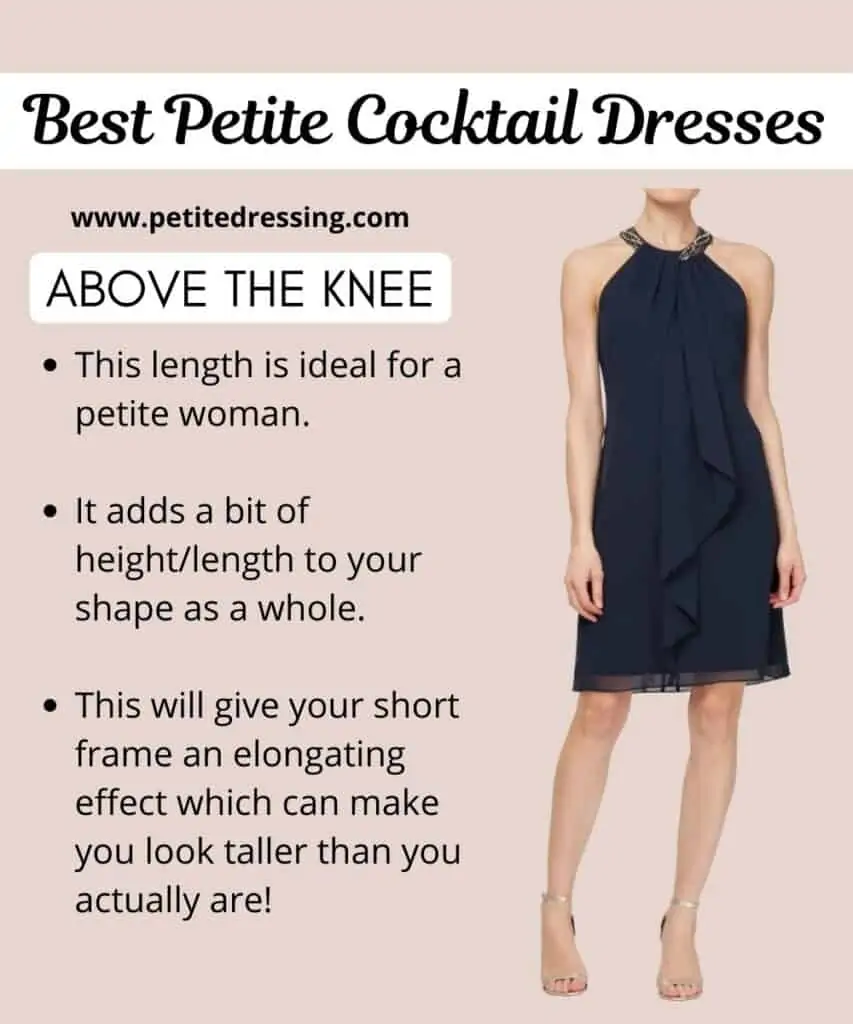 As a petite woman choosing the best dress, regardless of the occasion, highly depends on the length of the dress you choose. We find the best cocktail dresses for petites are just above the knee in length.
This length is ideal for a petite woman primarily because it adds a bit of height/length to your shape as a whole. If you are wondering how to look taller, this is the best length for women with short legs.
If you can, we suggest to avoid a petite cocktail dress that rests just below the knee in length. It may seem like a slight difference in length but it makes a huge difference in elongating your shape as a petite.
High-low hem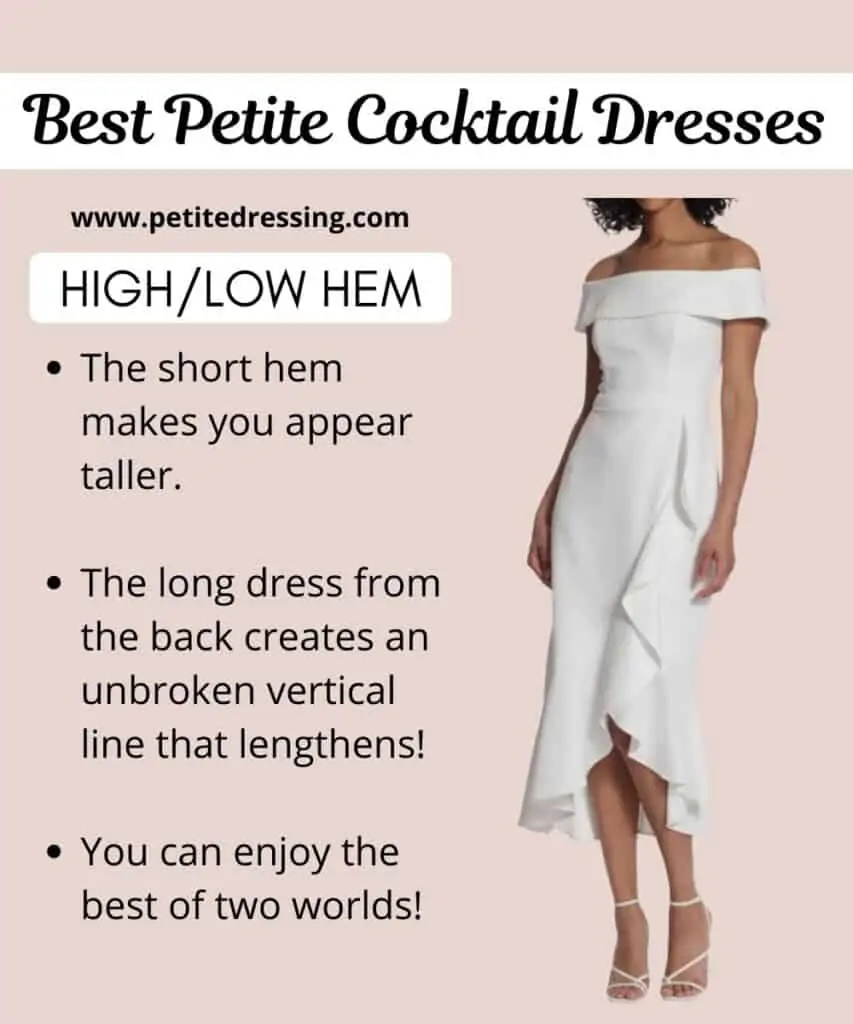 That being said there are a number of petite cocktail dresses that have a high-low hemline, even as a petite woman you can definitely style those options as long as the high length is above the knee.
Midi?
Midi is a huge trend right now. I put a question mark because the midi length is not the easiest dress for short women to pull off. The reason is since it's somewhere between your knees and ankle, it could potentially make your legs look cut off. As petites, we certainly don't want that, do you agree?
That said, I do understand that many petite women (especially mature ladies) prefer to wear midi length, for many good reasons. I totally get that. So, if that is you, I highly recommend you read my other post on "How to Wear Midi Dresses if you are Petite" to get all the tips and tricks to do it the right way.
BEST SILHOUETTE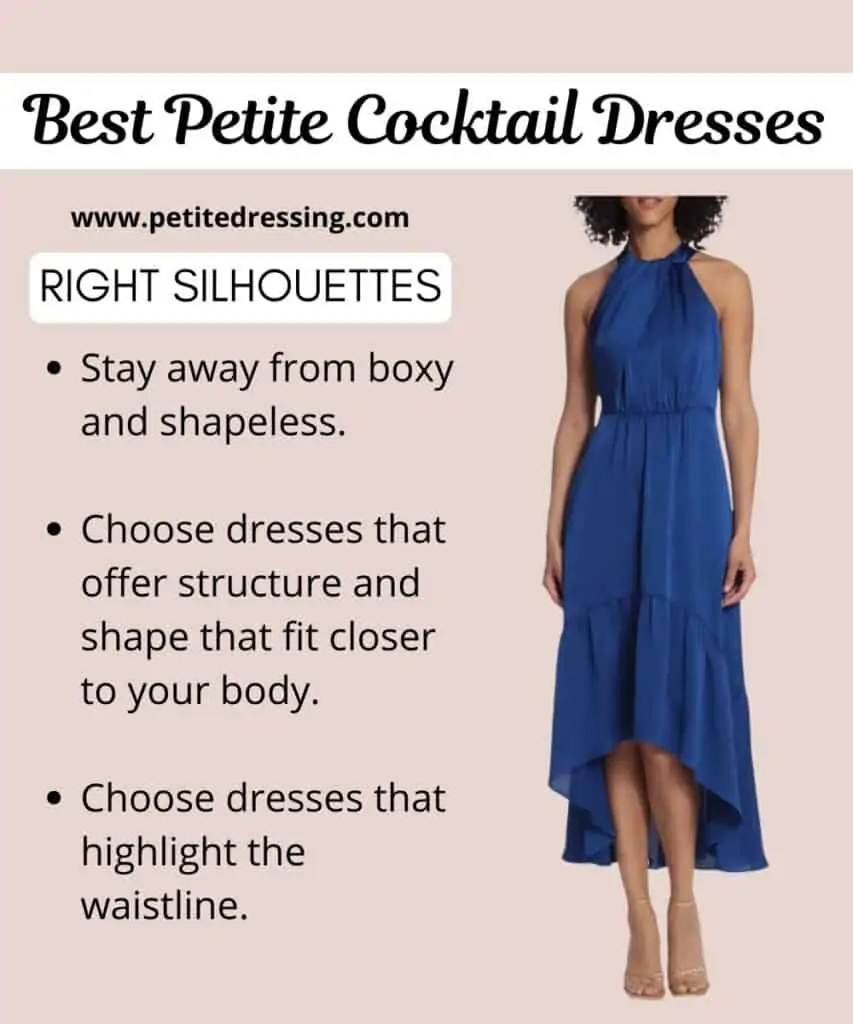 In addition to choosing the right length for your petite cocktail dress, the silhouette comes in as a close second (although they're really even in our book). We suggest staying away from cocktail dresses that are really boxy and shapeless. These silhouettes don't flatter your petite frame and obviously, you want something that flatters you!
Waist cinching
Personally, I love petite cocktail dresses that highlight the waistline.
When your waist is emphasized in a dress it's instantly slimming and gives the illusion of longer legs – a petite woman's dream!
This means you don't need to only stick with bodycon cocktail dresses, just as long as we see YOU in the dress. You should be wearing the dress, not the other way around.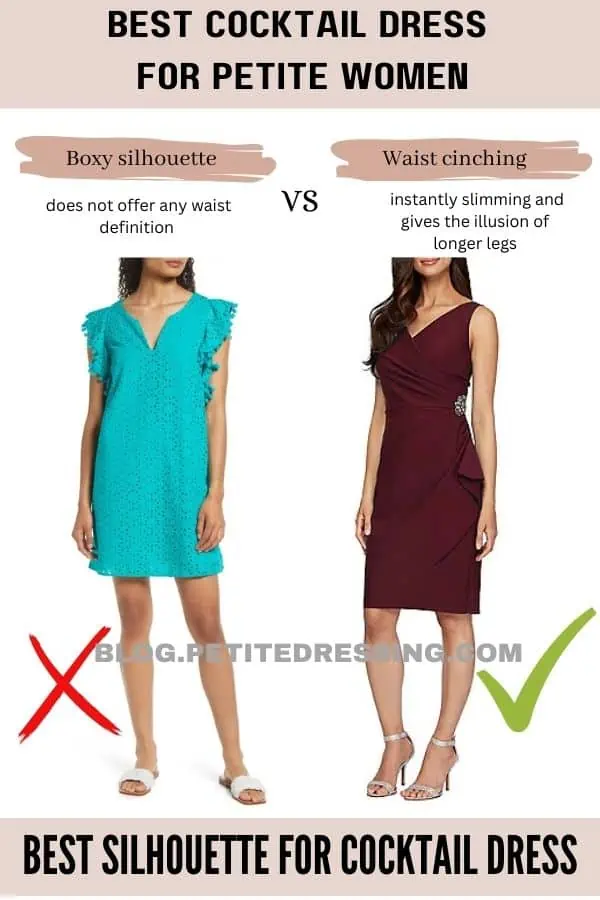 Structured
I highly suggest sticking to petite cocktail dresses that offer structure and shape.
You may have heard about "structured" many times but not quite sure what it is referring to.
Essentially it means the dress is well-tailored so that it fits closer to your body.
The key is that you can see where your body is in the dress.
Structured also means the dress can hold its own shape, which entails fabrics need to have enough weight so that the dress will not flimsy.
This is critical for a petite woman because a structured dress will be more flattering on a short frame, without overwhelming your short figure.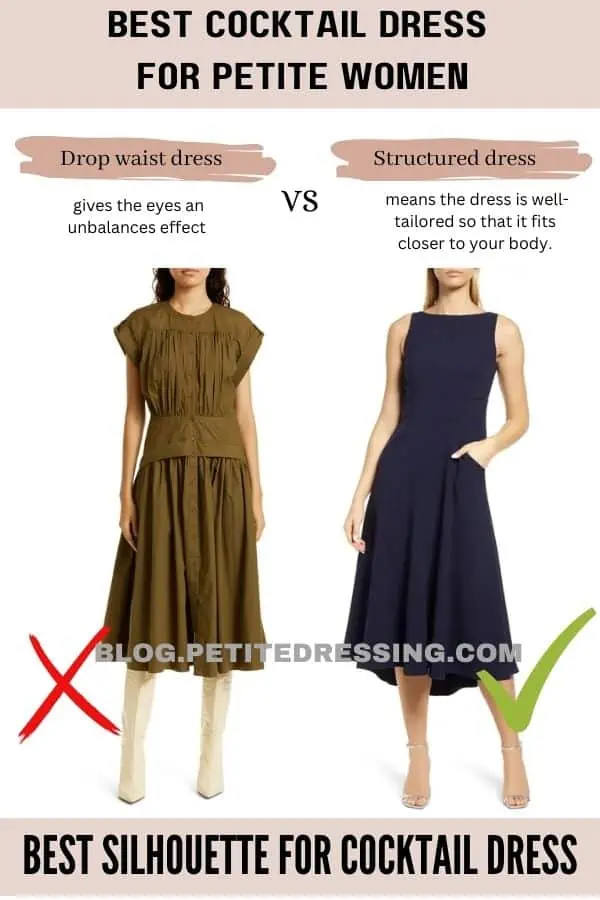 Fit and flare
This is a universally flattering dress silhouette that is suitable for women of all heights, but it is especially a great option for Petites.
The reason is that they are fitted on top and then flare out at the skirt's bottom.
In other words, the shape of the dress naturally creates a "waistline" for you, therefore making the eye believe everything under that point is your legs.
That is exactly why this type of silhouette can give petite women the illusion of elongated legs.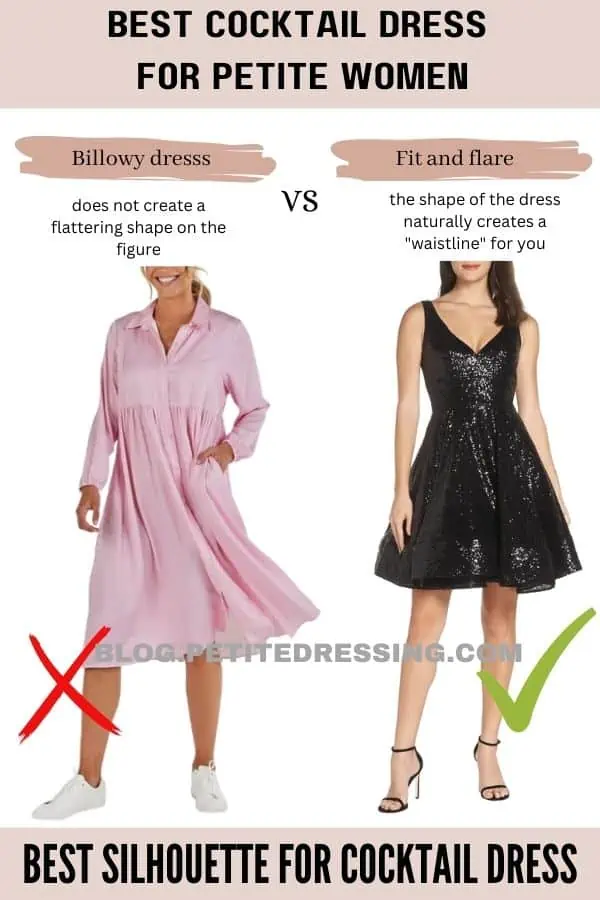 Wrap
Another wonderful option for shorter women like us is the wrap style, especially if you are a petite woman with a larger bust.
The reason this style of cocktail dress is so flattering is that it goes with your curves.
Since petites with bigger busts tend to come across as "top-heavy", a wrap cocktail dress can effectively balance out your chest area and flatter your curvy figure in a very tasteful way.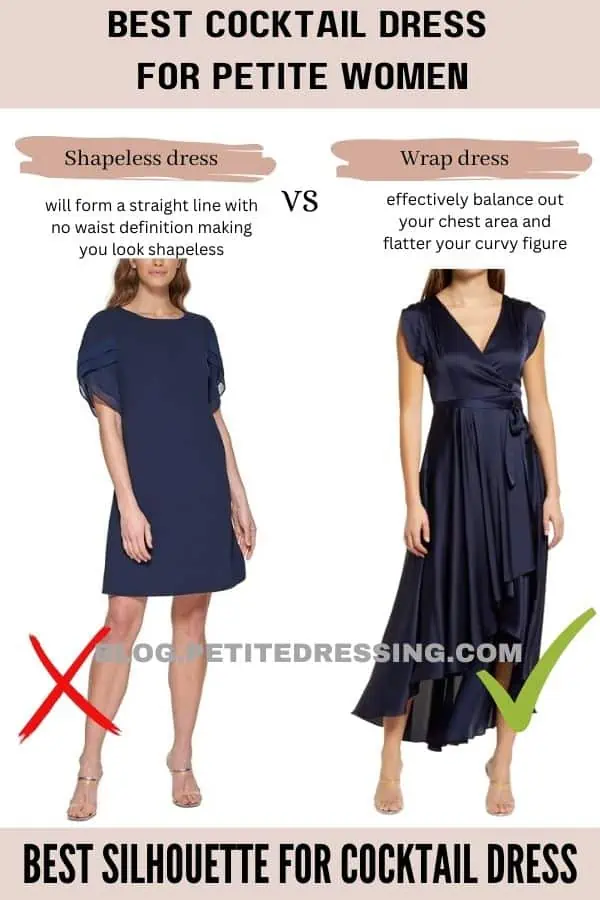 Avoid shapeless
When you're petite, some dress silhouettes can overwhelm your shape.
Essentially anything that does NOT show your waist is going to look less flattering on you.
Not only they can make you look shorter, but also they will make you look heavier than you actually are.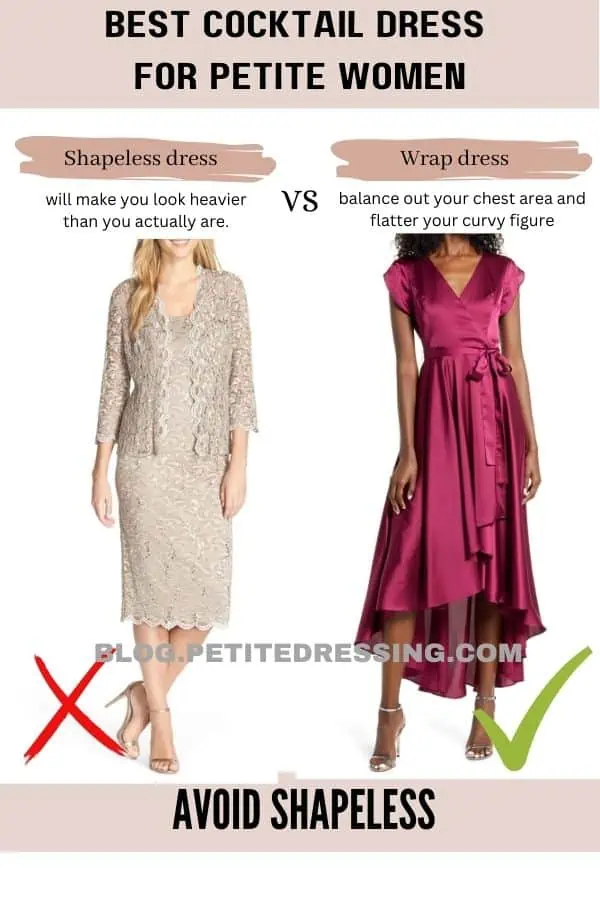 BEST FABRICS
While there aren't a ton of hard rules when it comes to dressing appropriately for a cocktail attire occasion, it's important that you honor the fact that it's a semi-formal occasion.
One of the attributes that can vastly change the aesthetic of a cocktail dress, and it's appropriateness level, is the fabric.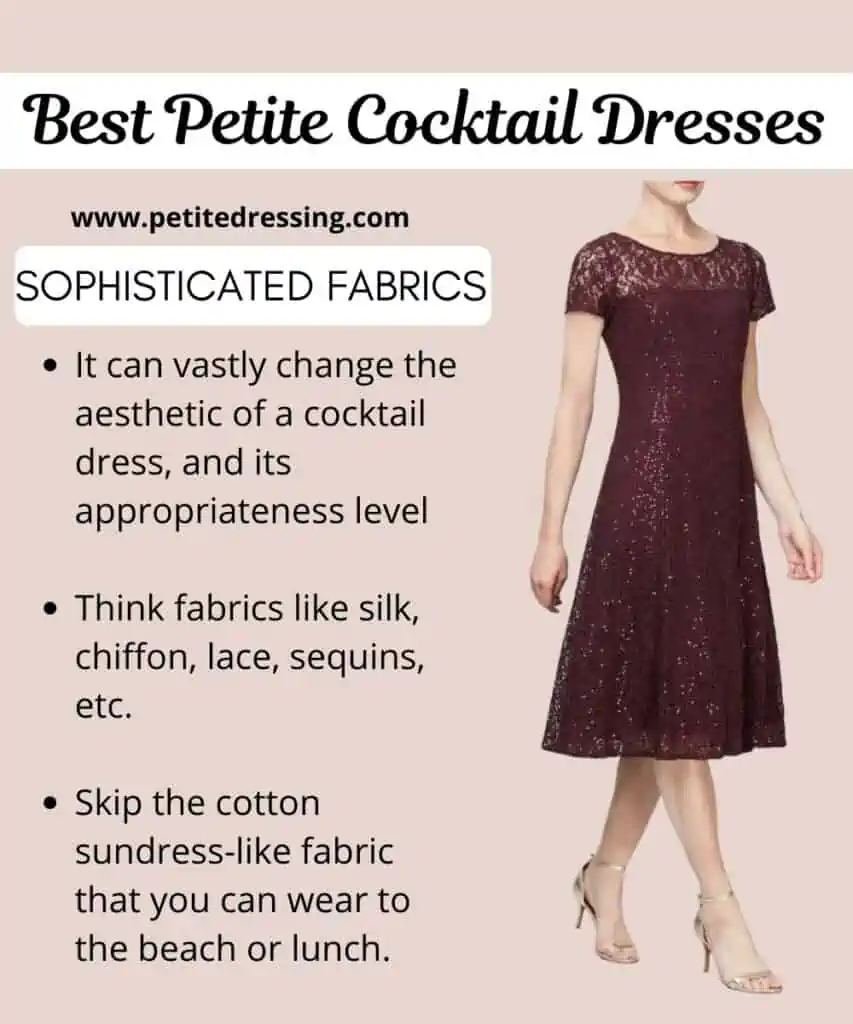 Sophisticated fabrics
Think fabrics like silk, chiffon, lace, sequins….you get the point.
Even though you are petite you can have fun with different petite cocktail dress fabrics, as long as the fabric isn't too heavy or overwhelming for your petite shape.
Avoid cotton-like fabrics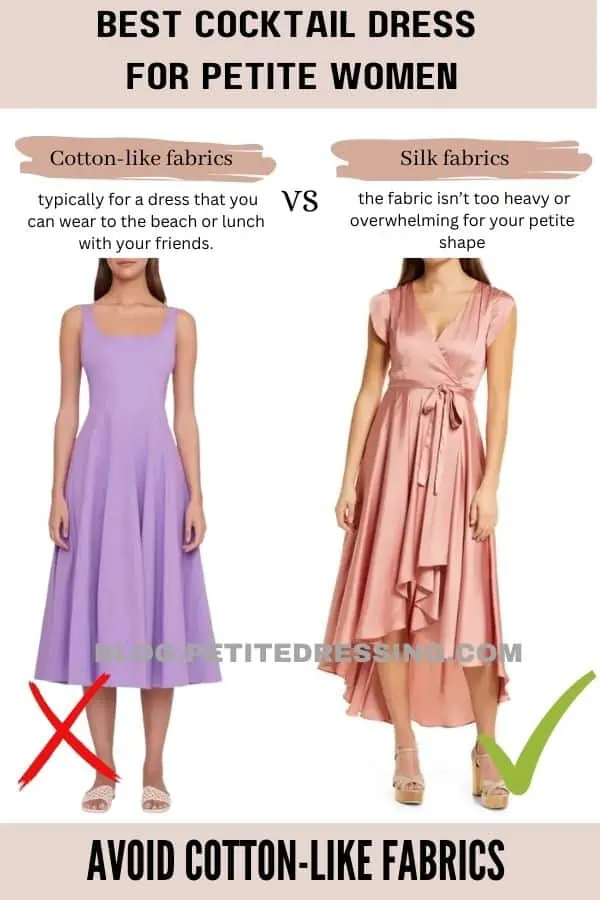 When it comes to cocktail dresses, you will want to skip the cotton sundress-like fabric.
Those fabrics are typically for a dress that you can wear to the beach or lunch with your friends.
SIZING
If you get an invitation to an event that calls for 'cocktail attire', you're going to want to go straight for the petite cocktail dress section at petite clothing stores.
Don't waste your time and frustration trying on dresses that aren't petite size.
You've probably tried to shop in the other sections plenty of times, but why keep doing that to yourself? Fortunately, there are plenty of brands and stores that offer a wide selection of petite cocktail dresses for you to choose from.
ACCESSORIZING
Now when it comes to accessories for cocktail dresses, it largely depends upon the neckline and overall style of the dress. But because we are petite, it is always important to consider your height and your body scale.
Proportional to your size
Accessories can overwhelm a petite frame just as much as a boxy petite cocktail dress can. That being said, you should always wear accessories that are proportional to your shape.
Avoid large-statement jewelry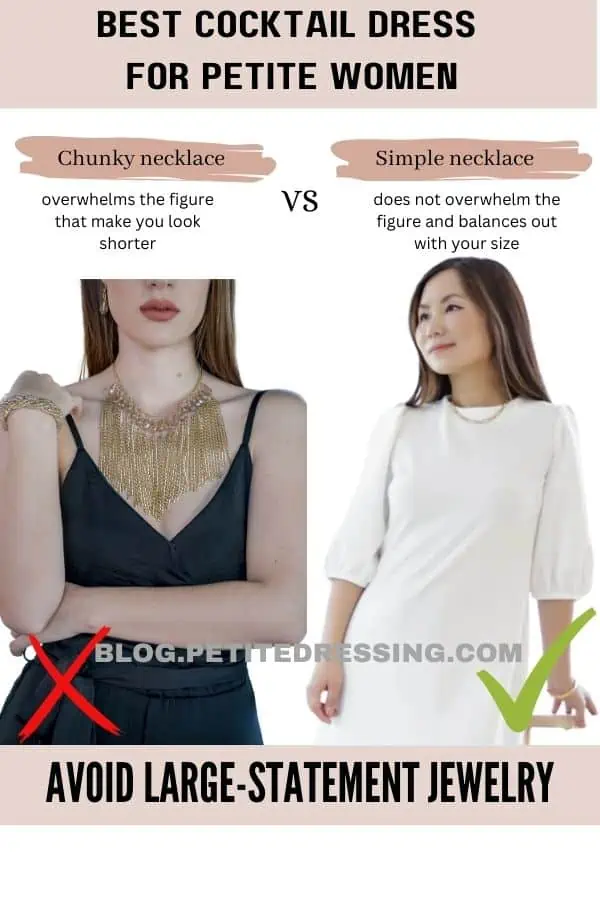 Stay away from any accessory that's really large in scale.
When you wear big accessories they give the illusion that they are taking over your entire petite shape and can make you appear shorter than you are – it's true! Instead, choose smaller scale accessories.
Avoid over-accessorizing
My tip is to make sure that you aren't over-accessorizing yourself.
In addition to the accessories themselves being too big and overwhelming you, many women tend to over do it with accessories for special occasions. And we have to tell you, ladies, over-accessorizing yourself can just be WAY too much.
Take a cue from the iconic Coco Chanel and take one thing off before you leave the house with your completed look.
SHOE PAIRING
Here's the deal with cocktail attire: heels are the best shoe option if you are petite.
We realize you may not ALWAYS want to wear heels, but when you're completing your petite cocktail dress look, heels are going to be the best shoe option for you.
We don't have to tell you, as a petite, that heels instantly give your shape length (for obvious reasons).
That being said there are a couple things to take into consideration when choosing the right shoes for your cocktail dress.
Skin color high heels
These are the most flatting type of shoes for petite women, especially when you are going to cocktail occasions.
The reason is because they can make your feet look like an extension of your legs since the color of the shoes easily blend with the color of your skin.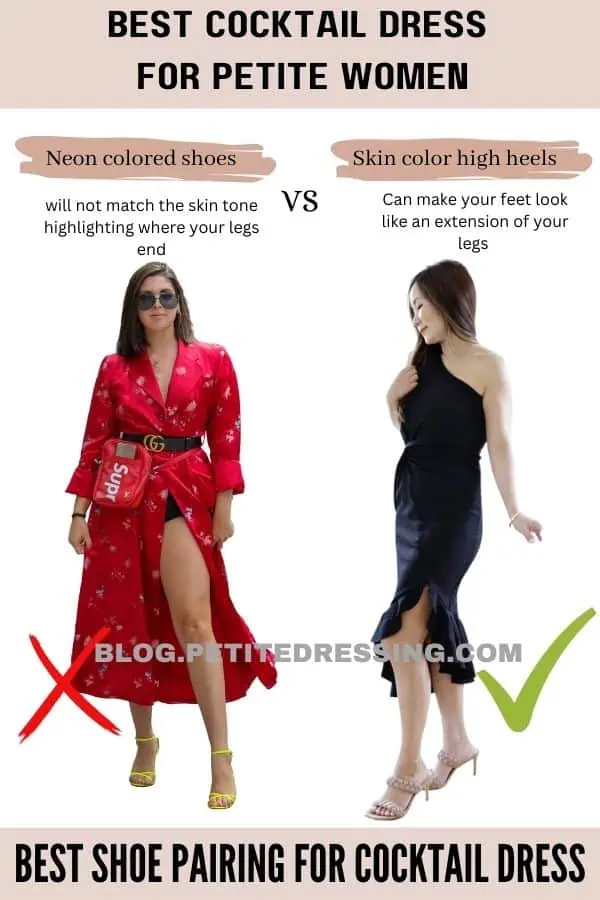 Pointy toe pumps
Another shoe that's going to create the illusion of an elongated leg line is anything with a pointy toe shape.
Even though you may think the toe shape is just one inch long, it can actually make all the difference in terms of how they make you look.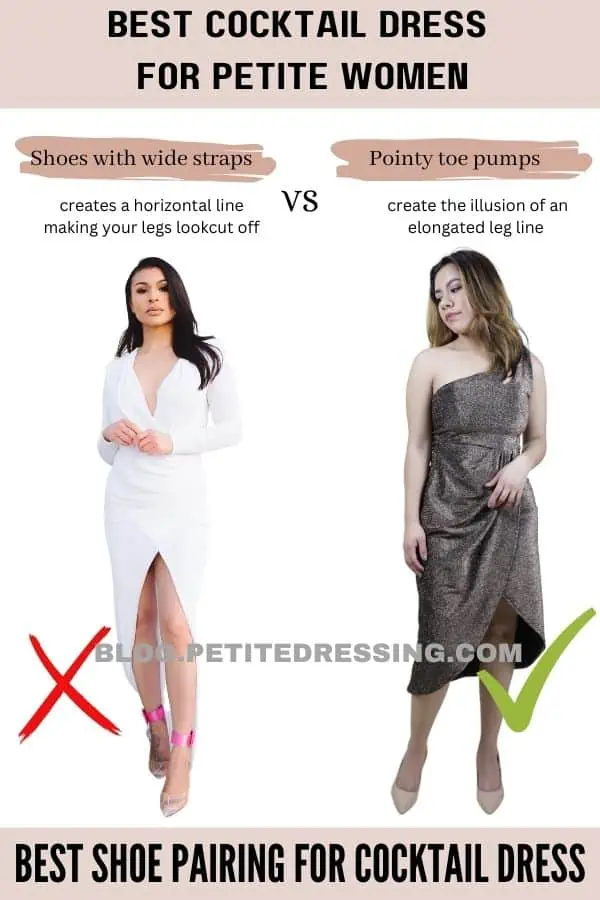 Metallic flats
In the event you really do not feel like wearing heels, you can consider the option of flats made of metallic materials.
These types of flats are still appropriate for the semi-formal nature of cocktail occasions, but they will also give you the comfort you are looking for.
Finding the best petite cocktail dresses can be quite a journey and does depend upon your personal style preferences, budget and the so many other things. Petite women are like all other women and have different body shapes, comfort levels and preferences. We suggest taking your time to look for a petite cocktail dress that ultimately makes you feel confident – that's the #1 priority!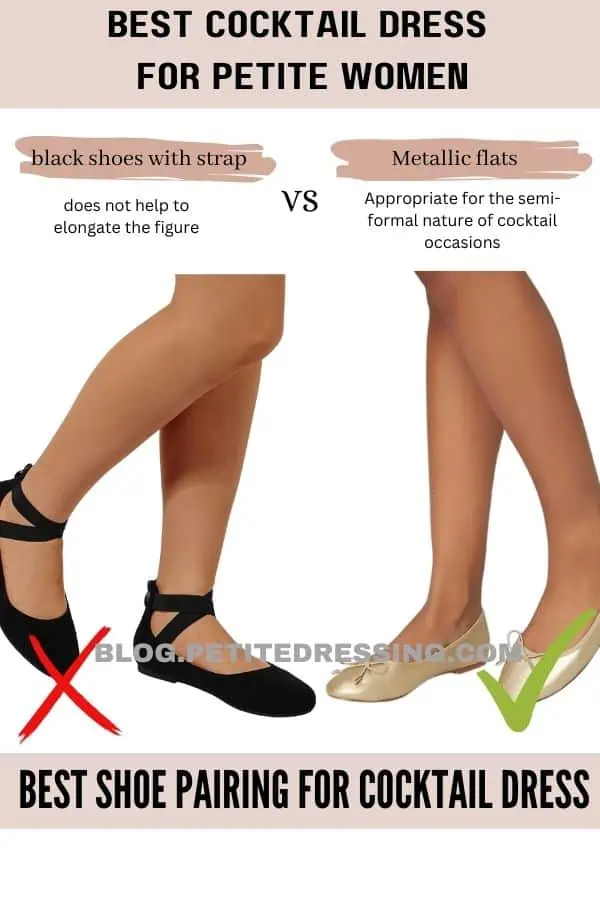 Take these tips with you on your journey to find the perfect petite cocktail dress but make sure that you are also focusing on dresses that highlight your personality, personal style and you ENJOY wearing. Make adjustments to the tips as you need and find the ultimate cocktail dress for your upcoming occasions!