CHARACTERISTICS
When we talk about the apple shape, the first thing that comes to mind is the plus size women. That is a misunderstanding.
Apple shaped women could be curvy, just like they could be thin. Whether you are plus size or not is really not the key consideration here.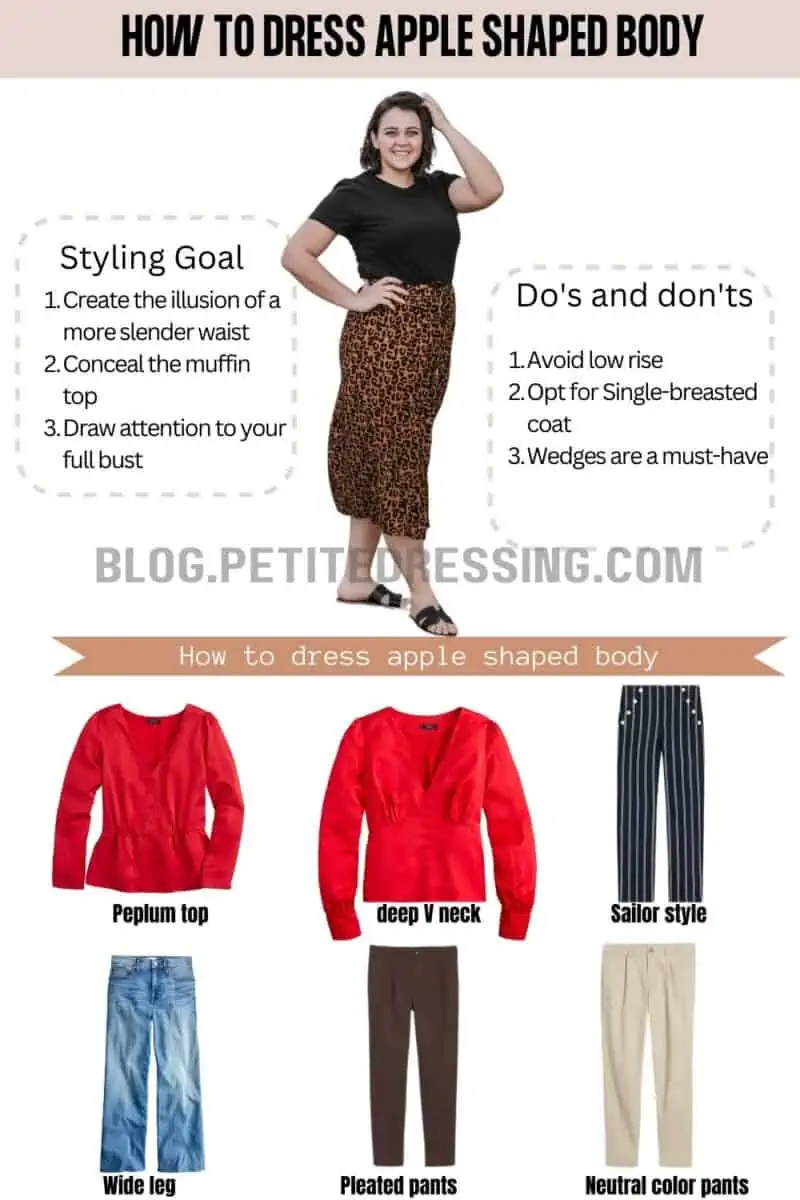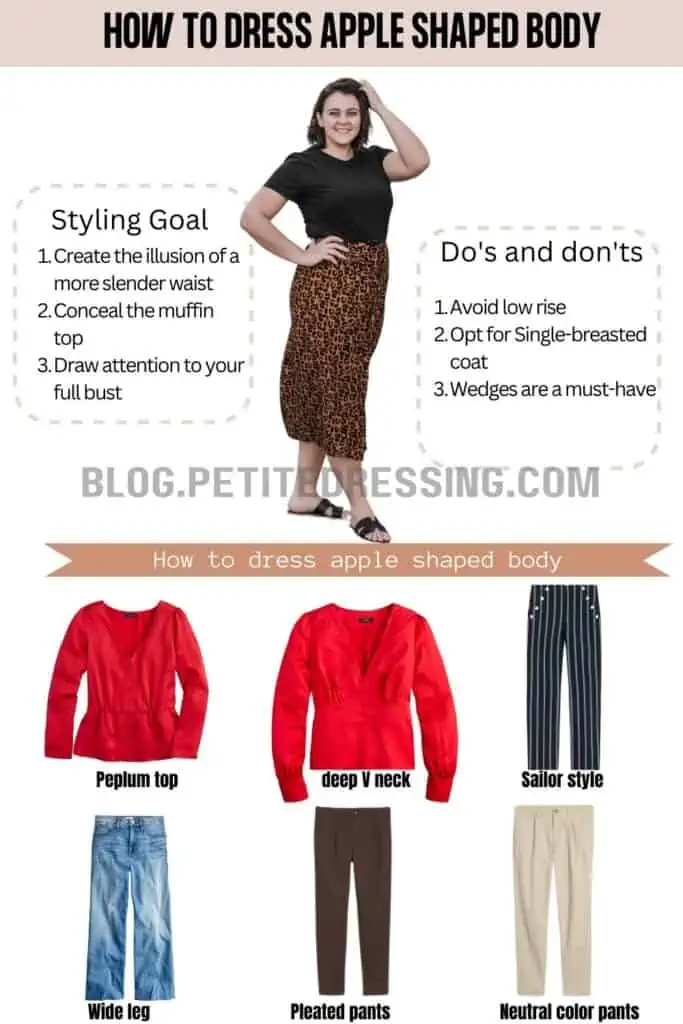 I myself have very typical apple shape features, even though I am an overall skinny person.
Here is list of that characterizes a typical apple body type.
Your hips and shoulders are well balanced, i.e. they are roughly about the same width. If you want an exact number, your shoulder and hip measurements are within 5 % of each other.
You do not have a defined waistline. Your waistline has the same width as or is wider than your shoulders and hips.
You have a full bust, waist and upper back
You may have flat buttocks
If you gain weight, you tend to gain weight mainly around the waist, at least in proportion to the other parts of your body
You probably have slender legs and arms.
You might be short waisted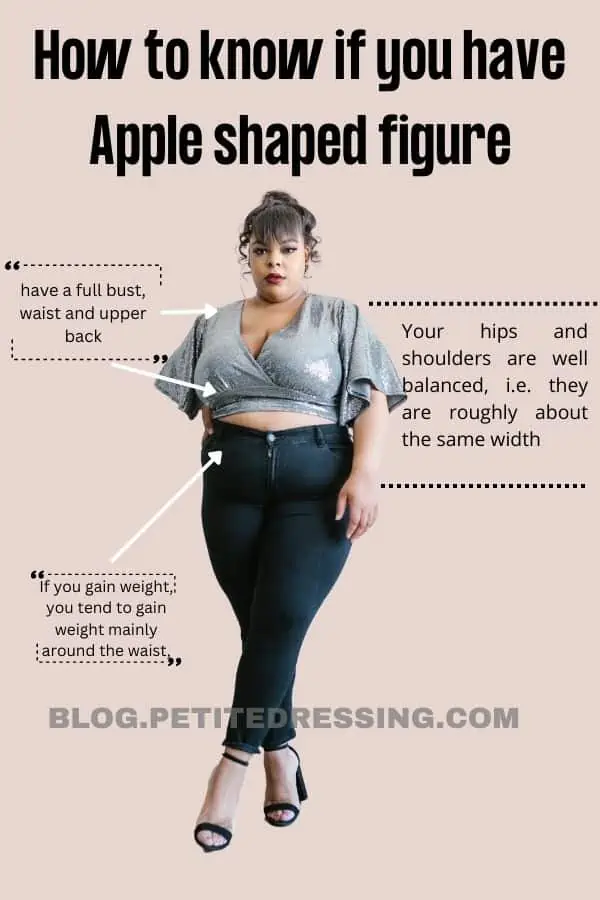 STYLING GOAL
Apple shape can be similar to an hourglass figure in terms of the breasts and hips, with very noticeable feminine curves. Because of that, some apple shaped women, who are skinny, can sometimes give the impression of hourglass shape.
The overall styling goal for the apple should be
Create the illusion of a more slender waist
Conceal the muffin top
Draw attention to your full bust and accentuate your feminine curves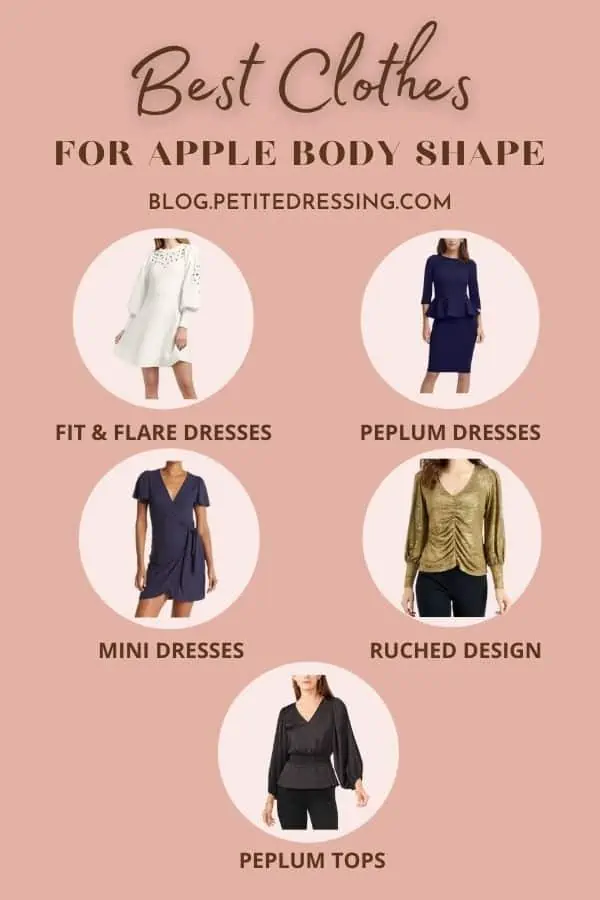 TOPS
Peplum tops
Peplum style can be a top or a dress, I have found both works quite well for hiding the stomach area and defining the waistline.
When you are wearing a peplum top, the length is key! Keep in mind the flounce of the peplum is where it will draw attention to. So, because your goal is to hide the belly, you need to make sure the flounce part of the top is actually long enough to cover your midsection!
Not all peplum tops are created equally- choose carefully when you are looking for the top and make sure you try on different lengths and compare which works the best for you.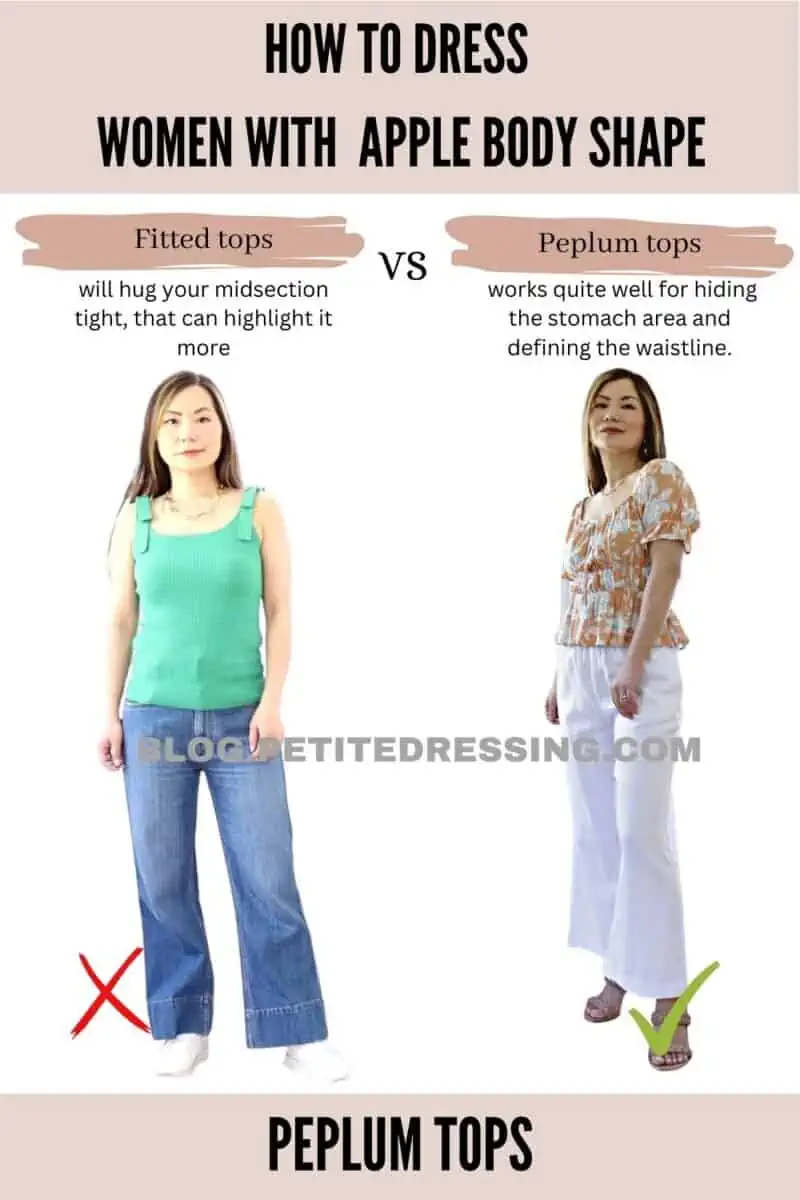 Ruched tops
These worked wonders on me because the ruched waist has an amazing slimming effect. If you are an apple body type on the heavier side, it is important for you to choose a dress that is not skin-tight!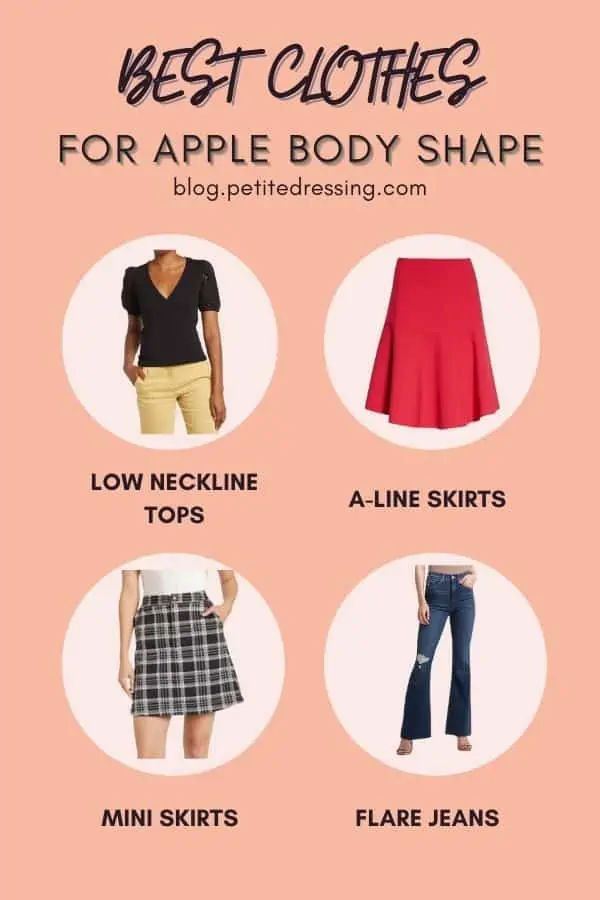 NECKLINES
The apple shape have great round-shaped breasts, which is one of your best assets, and you should definitely not be hiding them.
The more attention you bring to your chest area, the fewer people will notice your mid-riff!
Low neckline tops could have different designs. For instance, I have found these all work pretty well:
U neck
deep V neck
sweetheart
Off the shoulder
The key is you want the neckline to be low and open so that you can show off your beautiful breasts.
PANTS
Apple body shapes have their slim legs as one of their best assets. With this mentioned, you have to go for a pair of pants that will highlight just that.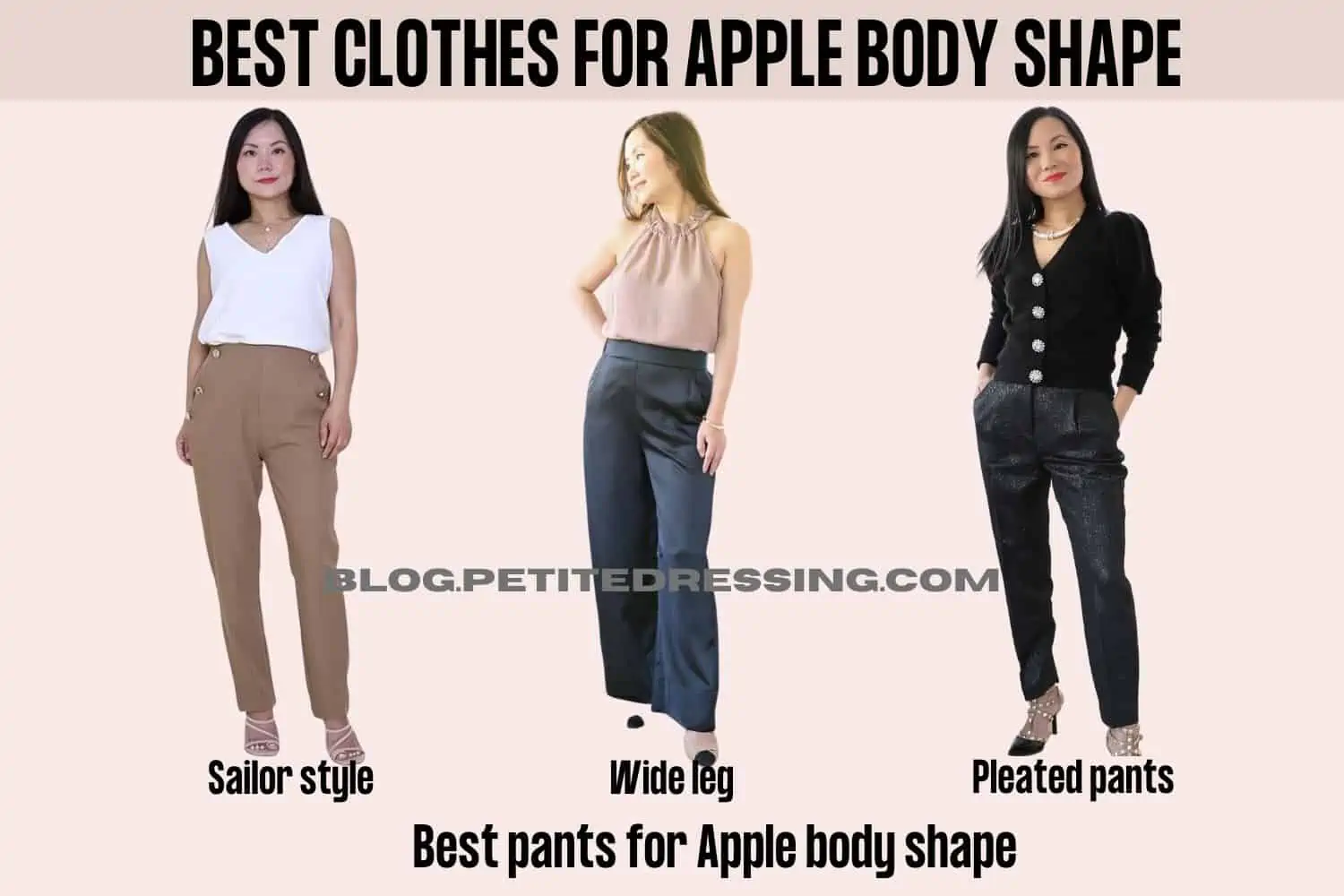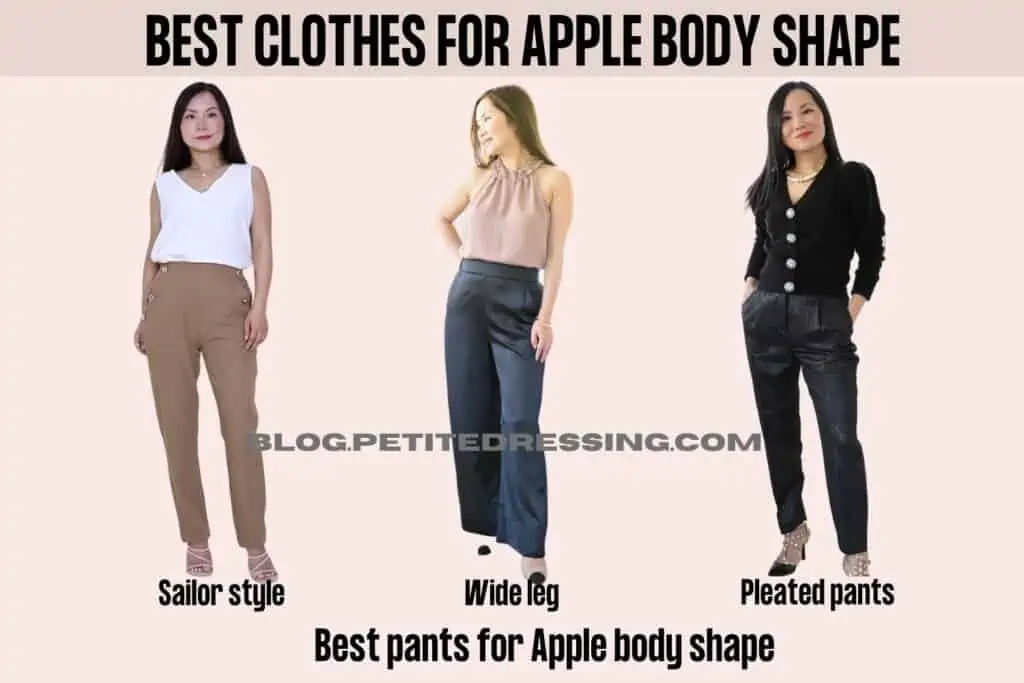 Sailor style
These are high-waisted pants that have buttons along the side pockets. They usually come in wide-leg silhouettes but in recent years, they may also come in slimmer fits.
As an apple-shaped body doesn't have much waist definition, the wide waistband gives the illusion of a more prominent midsection.
In addition to this, the side buttons that usually grace the side of the hips give the waist a perfect visual balance. The "bib effect" that the sailor-style pants give a very classy touch to your coordinates.
Just be a bit mindful when choosing your pair of sailor-style pants as many of them usually come in very spacious wide-leg cuts. Avoid the ones that look very loosely fit on the legs and instead, opt for the ones that have a more tailored cut that goes slimmer on the way down.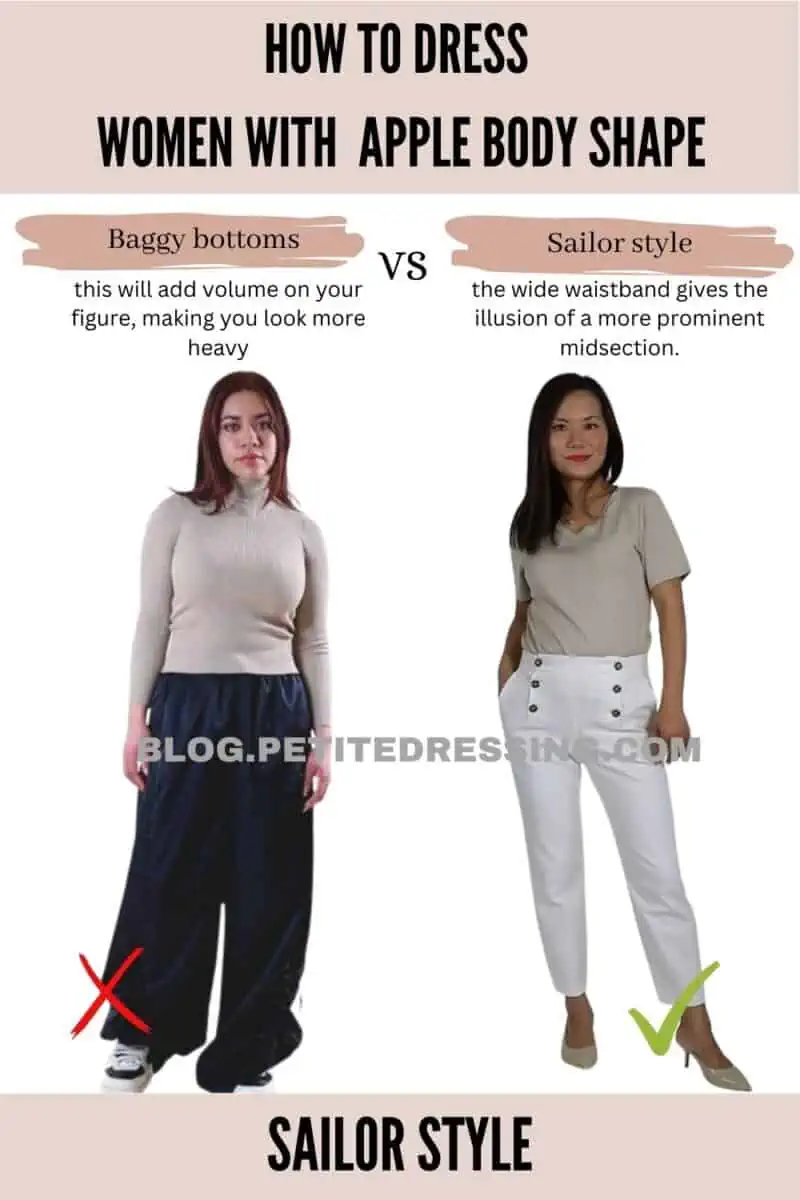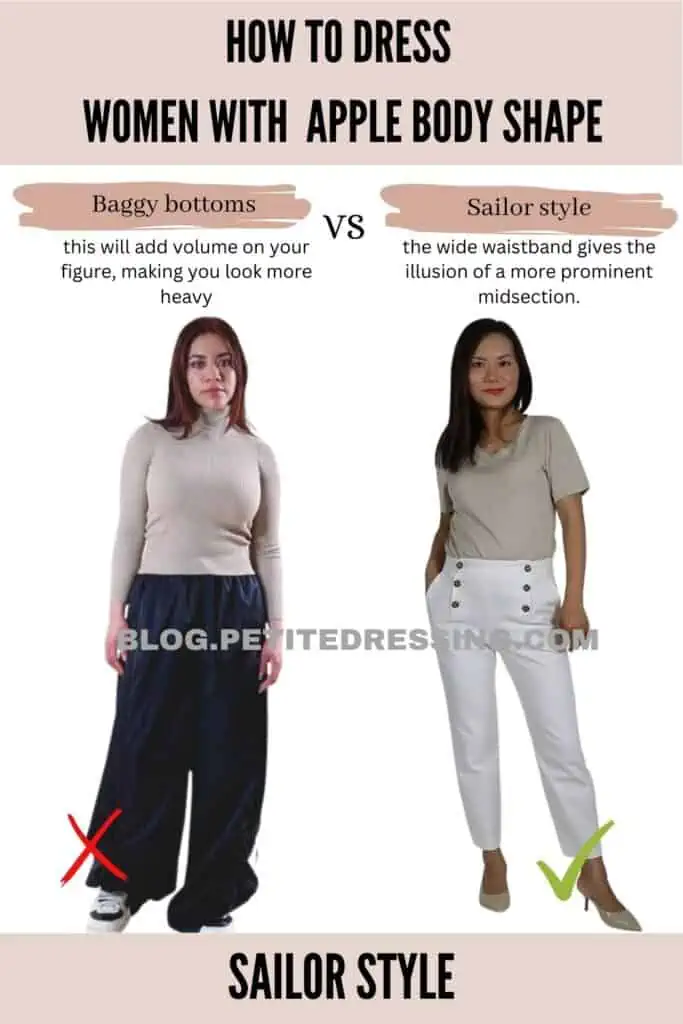 Wide leg
Wide-leg pants add a nice amount of volume on the bottom to balance the heavier upper half of the body. A pair of nicely-fitted wide-leg pants will accentuate the great shape of your legs while also giving them a more elongated look.
The right fit of wide-leg pants shouldn't be too loose nor too tight on the hips and buttocks. The goal is to give balance to your narrow hips and less prominent bottoms.
The fabric is very important in choosing wide-leg pants since some fabrics may look too heavy or baggy on your lower body. Flowy and dark-colored fabrics are the most flattering options for apple body shapes.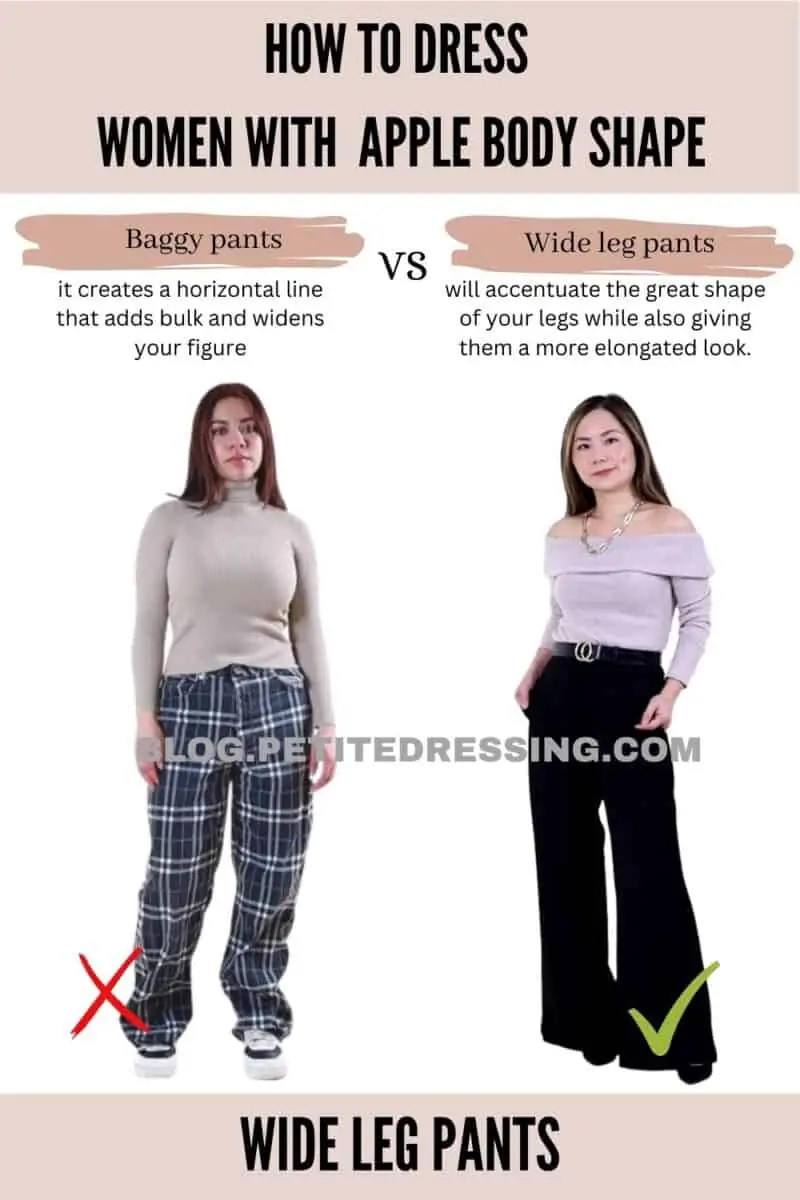 Pleated pants
If you're looking for something smart casual and edgy, a pair of pleated pants should help you achieve such a look.
Pleated pants, just as what the name says itself, feature a tailored look with subtle pleats along the waistline. The placement of these details gives a strategic visual effect of a flatter tummy and longer legs.
One great way to style your apple-shaped curves with pleated pants is to pair them with a chiffon fabric top or a classic button-down shirt! This will give you a more proportioned look while enjoying superb comfort.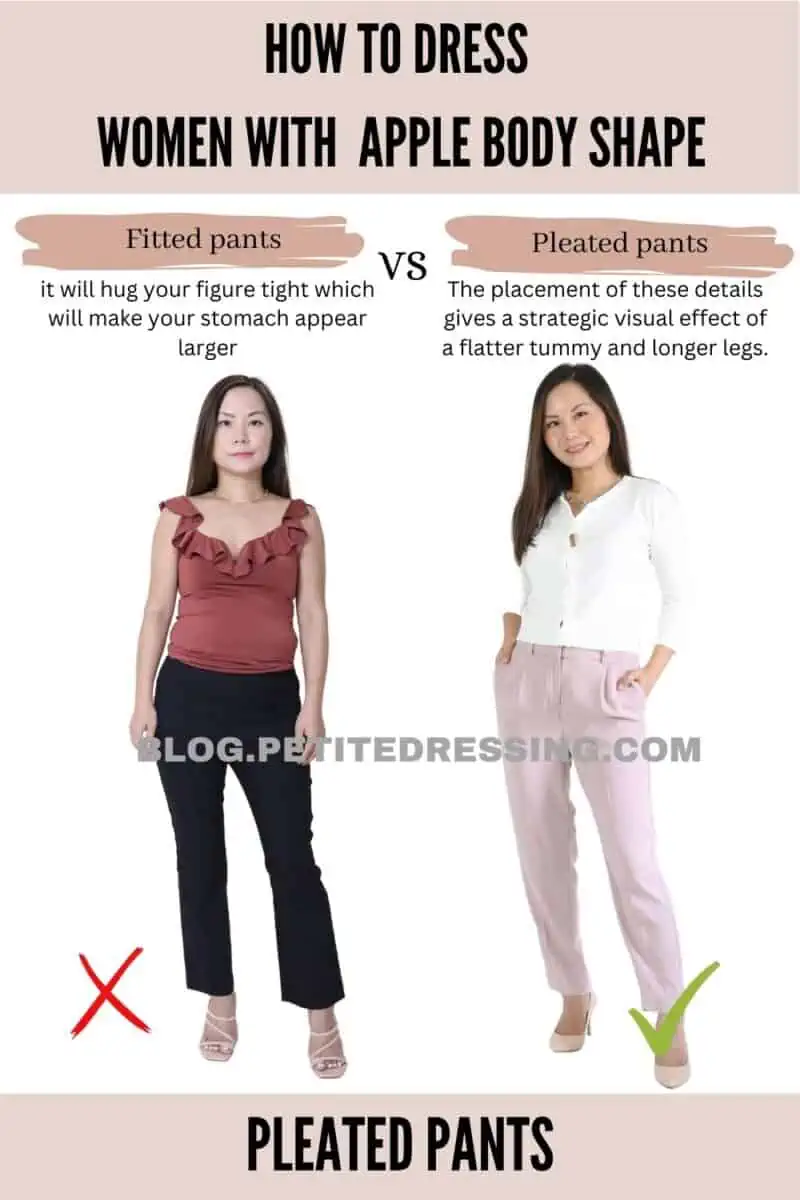 Tailored high-waisted trousers
Also known as dress pants, tailored pants or trousers can also be an apple-shaped body's best friend. With its sleek and sophisticated fit, it makes a great fashion piece to wear at work or on semi-formal occasions.
Tailored trousers usually come in softer fabrics so high-waisted cuts would look more befitting since it gives a gently snug fit on the waist.
You can also go for dress pants that have a side enclosure instead of the usual front zipper or fastening. This helps prevent adding extra bulk to your midsection area which tends to be apparent in softer and more flowy fabrics.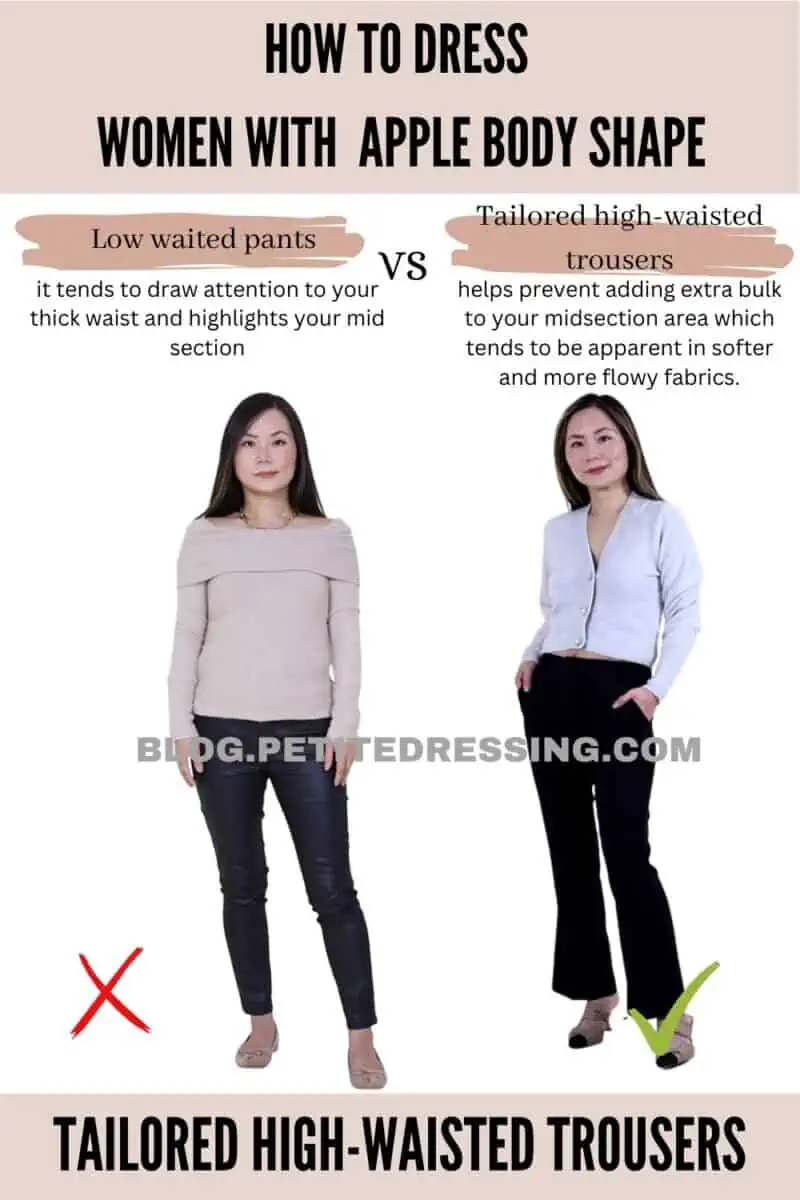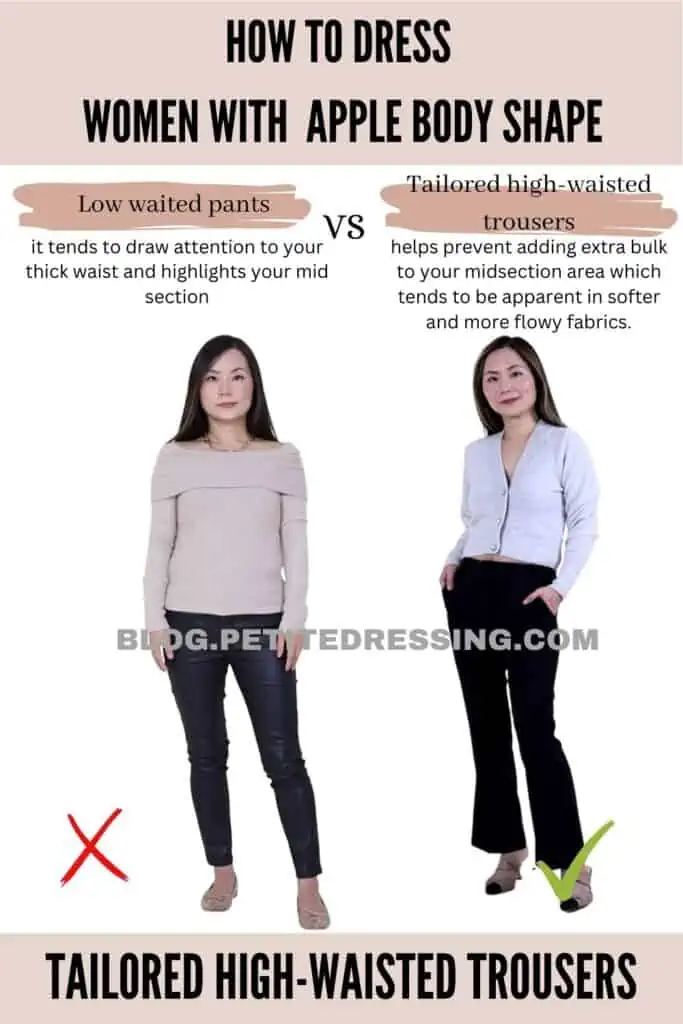 Caution with tie-waist pants
This one is also a very stylish option for apple body shapes because of its tie embellishment. Just take note that this can be a bit tricky, but we'll surely guide you through styling this!
Belts and ties tend to draw attention to your thick waist when not used strategically. So, here are two ways for these tie-waist trousers to look flattering on your body shape without highlighting your heavy midsection.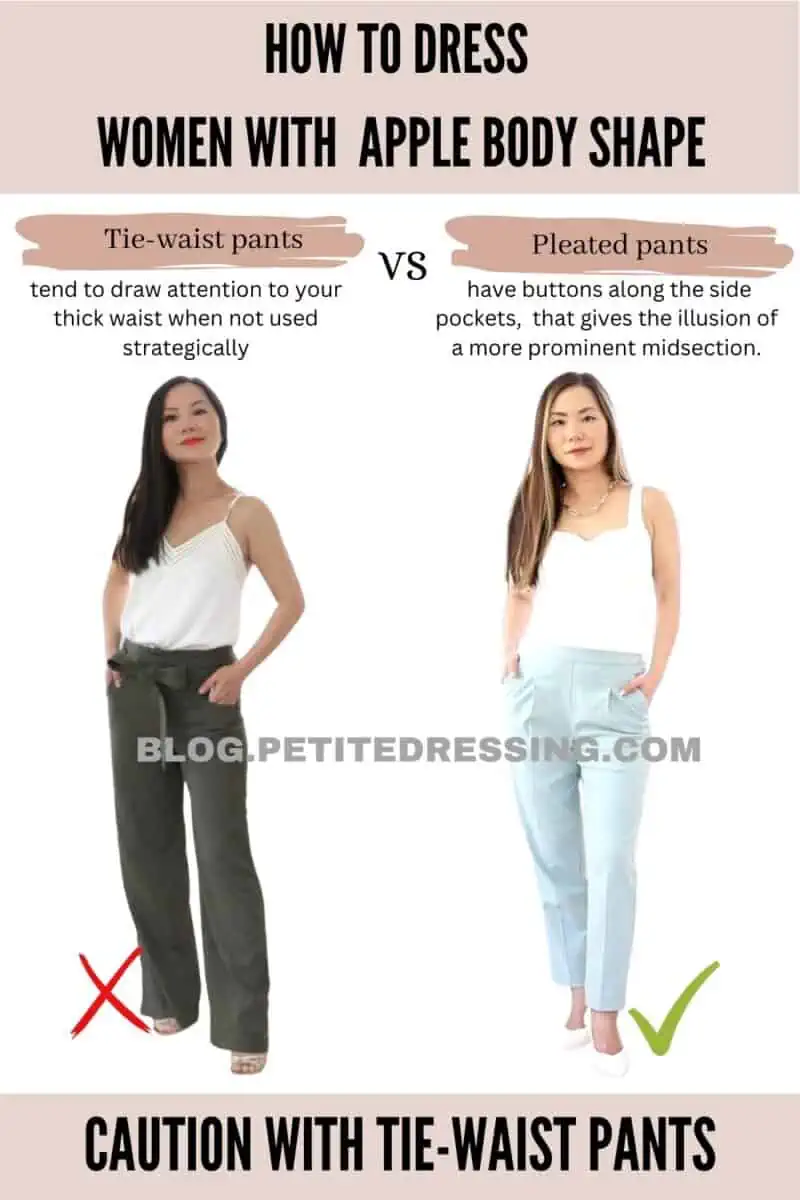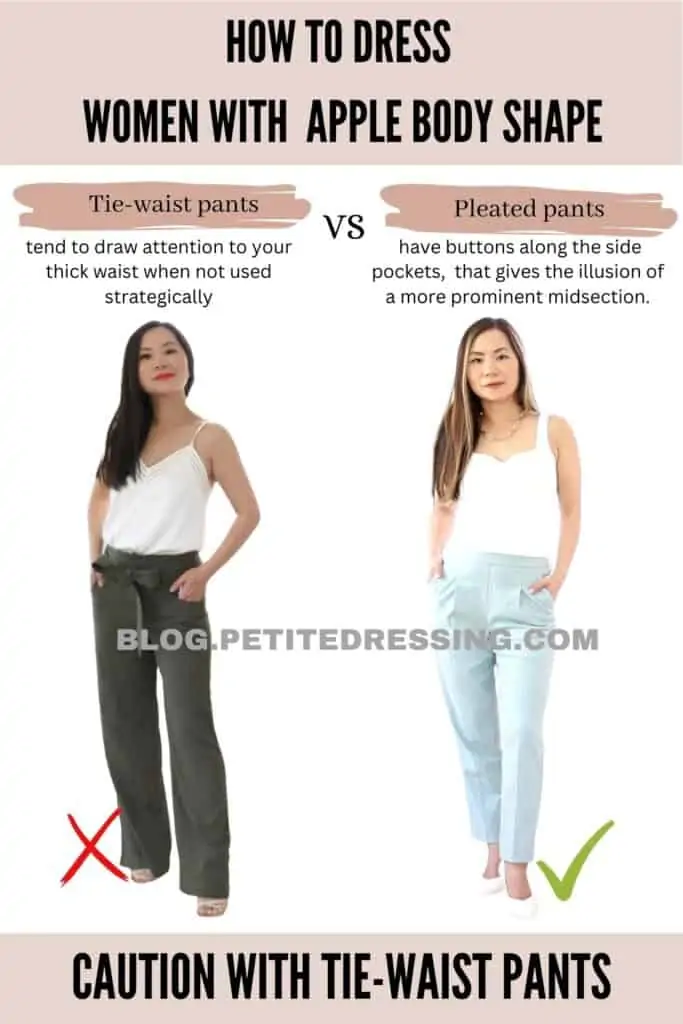 First is to choose a pair that features a tie that comes in the exact same color as the pants and one that is thick enough to not squeeze your muffin top out. This will prevent drawing attention to your midsection.
Don't go for bulky ties! Simple, flat tie knots should fashionably gear you up quite well without accentuating your thick waist.
The second is to tie the knot on the side. This will give your hips more prominence while also giving your waist more shape.
Neutral color pants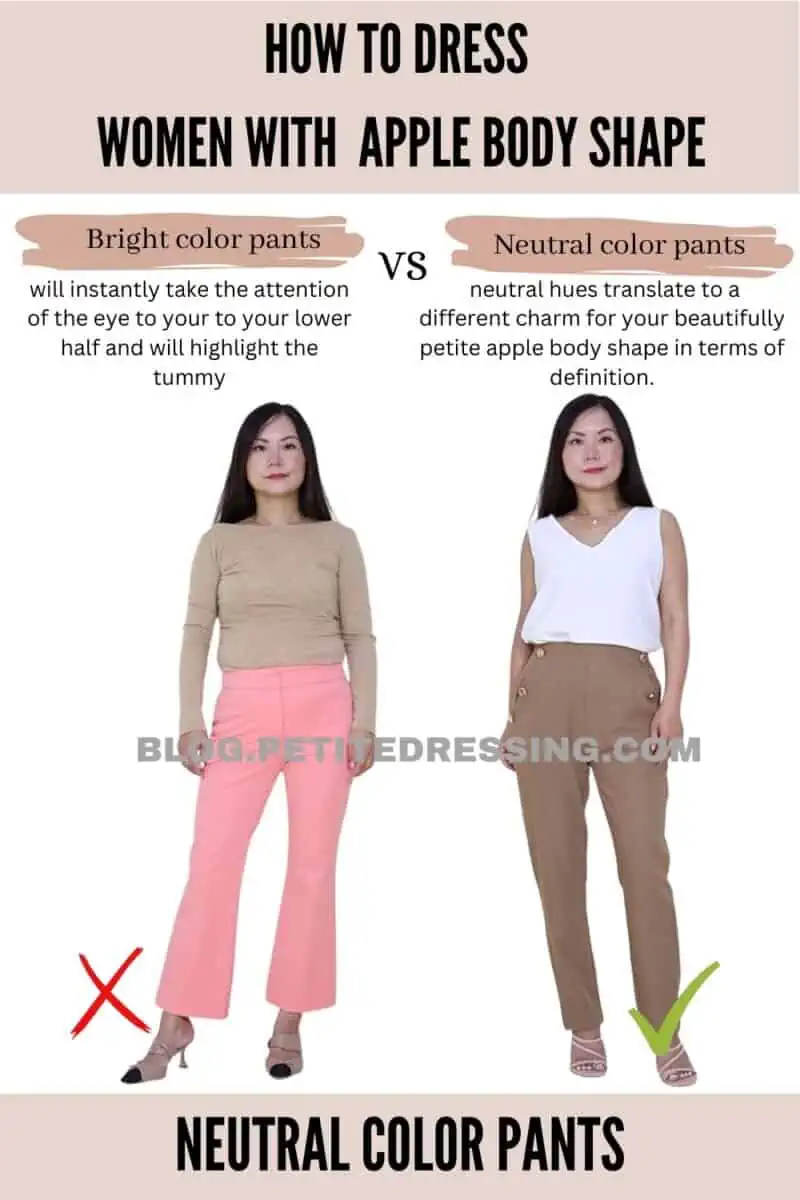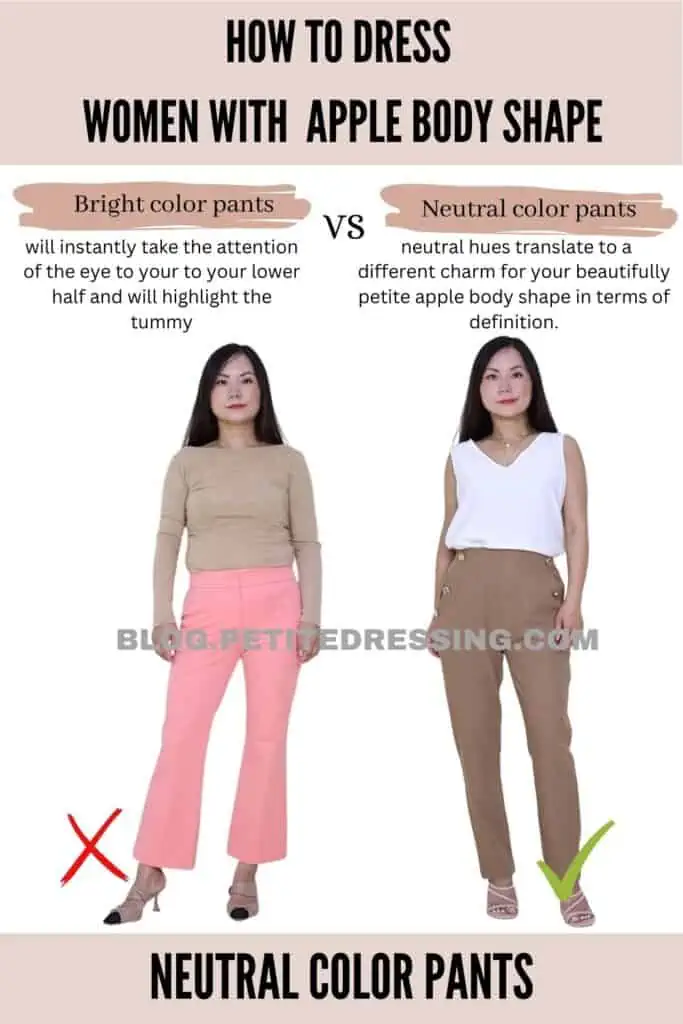 Don't get us wrong, a vast variety of colors would look great on apple body shapes too! However, neutral hues translate to a different charm for your beautifully petite apple body shape in terms of definition.
Lighter neutrals like taupe, beige, and soft gray are quite ideal for flowy fabrics such as dress pants and tie-waist trousers. Darker neutrals like navy blue, dark olive, and chocolate brown would be a more flattering option for those heavier fabrics such as cargo pants and sailor pants.
JEANS
Finding the jeans that fit your body type is critical to every shape. With an apple-shaped body, the biggest frustration with jeans is the muffin top.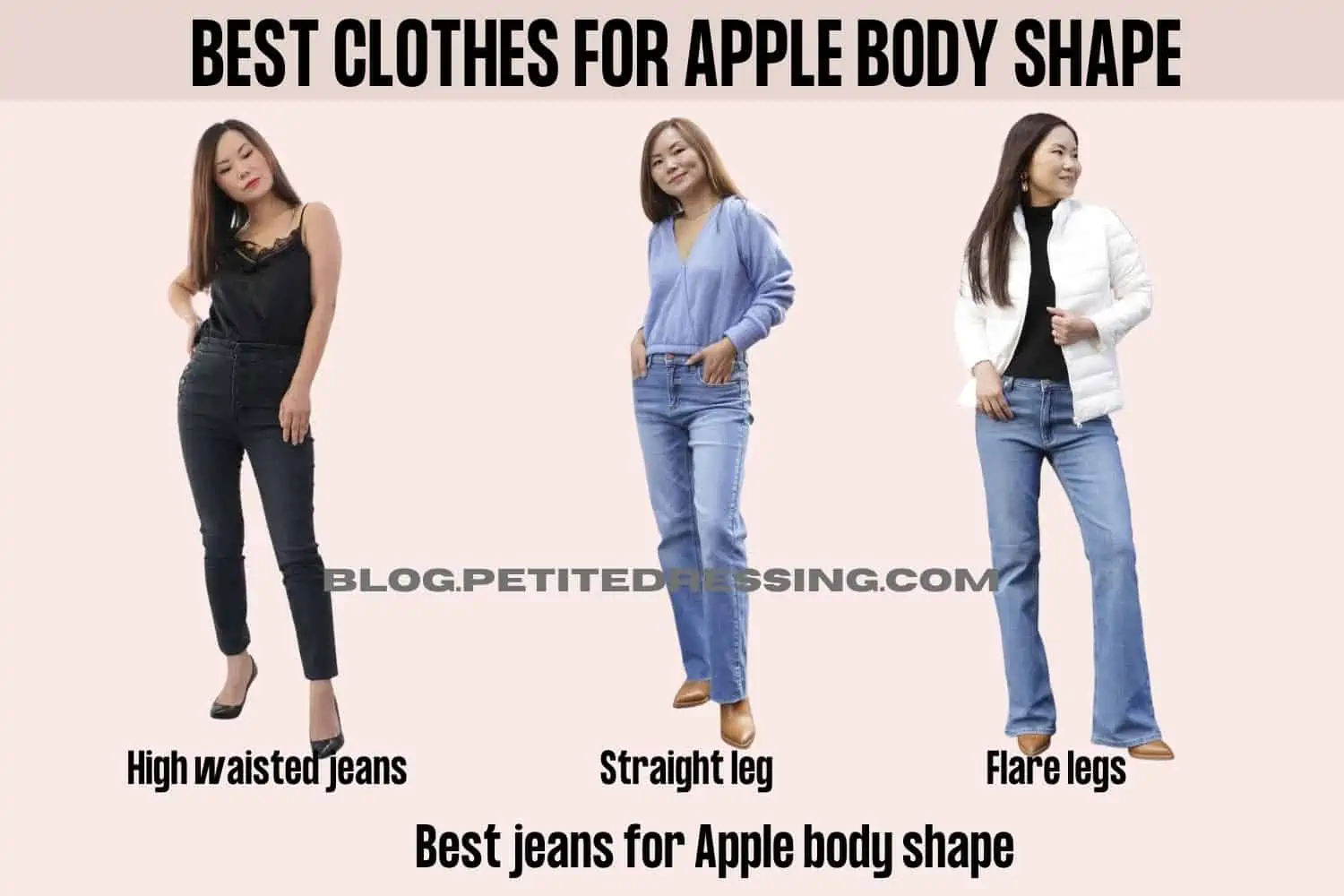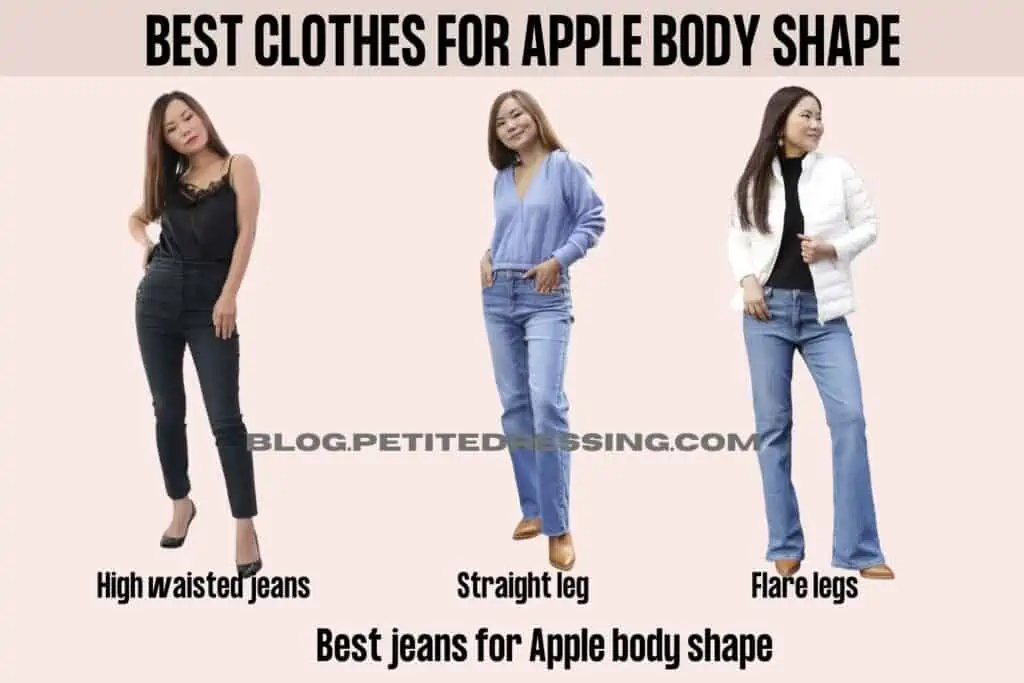 High waisted jeans
That is why high-waisted jeans stretch jeans are the top choice for apple-shaped petite women for a number of reasons.
First and foremost, high-waisted jeans typically have the pants rise of 9 inches or higher, which means it is up to or even higher than your belly button. That alone will make your muffin top almost disappear!
Secondly, most petite women want their legs to look longer desperately. With the high waist design, your legs just instantly look extended.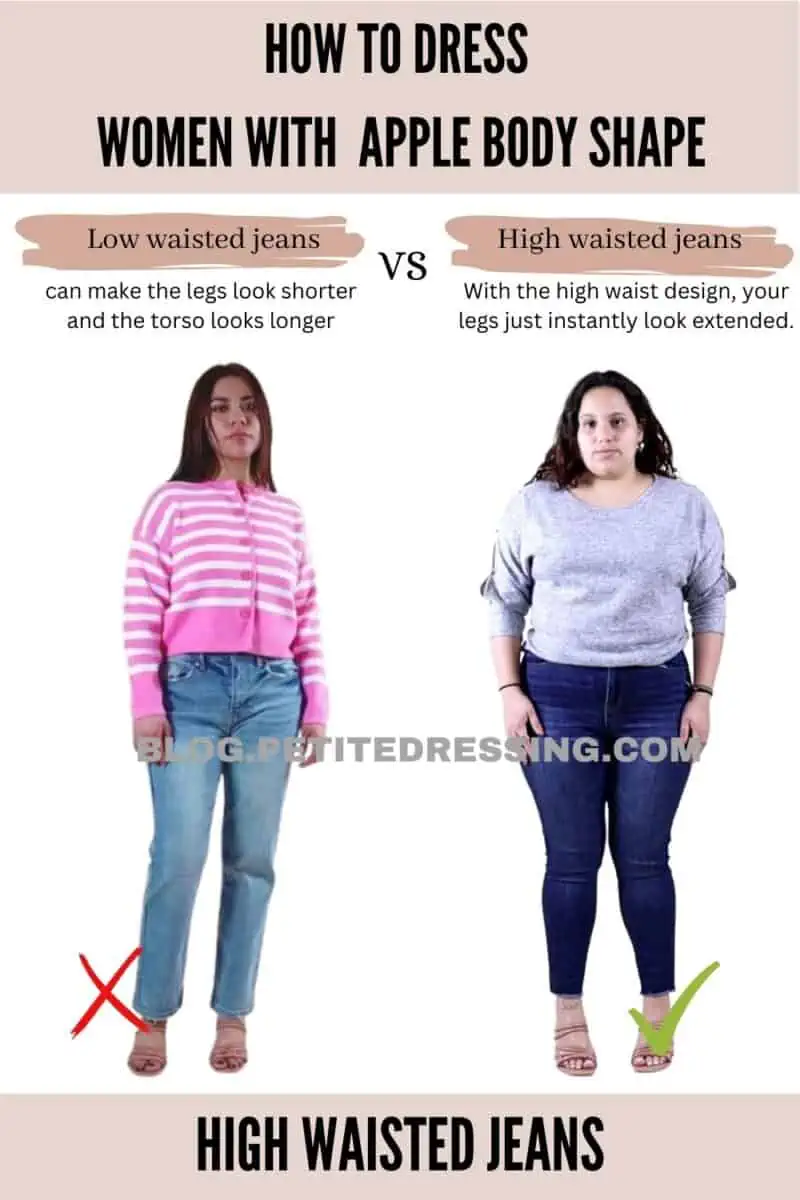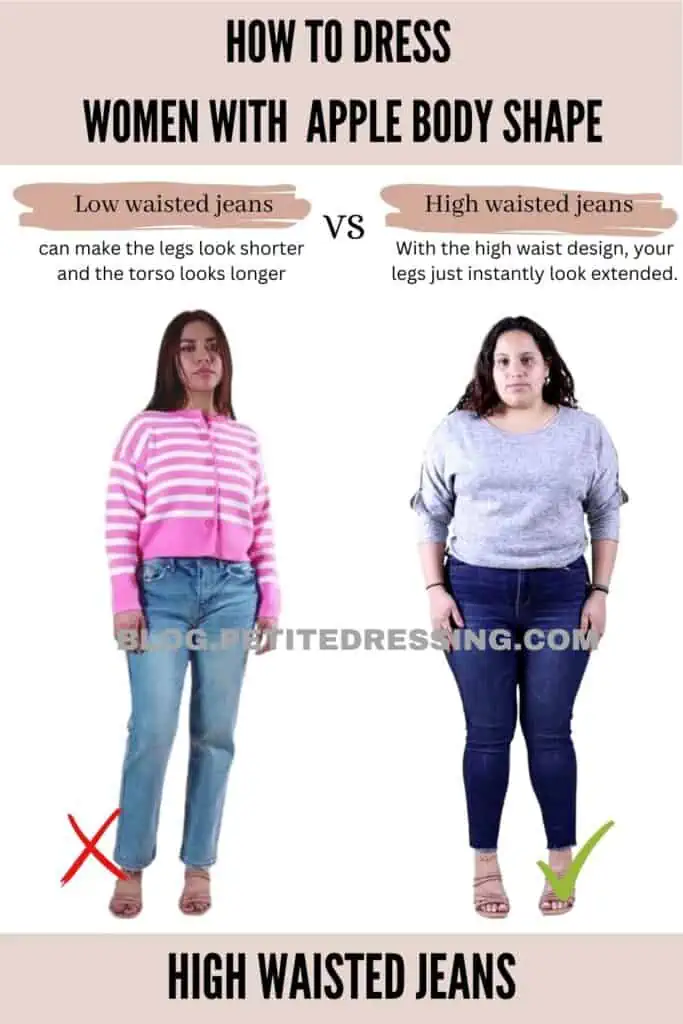 Straight leg
Girlfriend jeans are a type of straight-leg jeans that feature a slimmer fit. Because it's not as loosely fit as boyfriend jeans, it doesn't hide your nicely-shaped legs!For this, try to go for high-rise jeans and a cropped hem. This will not only accentuate the legs but also visually conceal the bulk in the midsection area.
Flare legs
Besides the high waist, the flared leg is the most flattering to the apple-shaped body, or actually, any petites who wish to have longer legs.
Avoid low rise
You should ALWAYS avoid low-rise jeans! What it does is it will have you spilling all over the place. Plus, they are the worst pants for Petites because they just make your legs look shorter.
Even though the low rise is making a comeback on the runway this year, I urge all my fellow Petites (especially if you are apple shape) to stay away from it.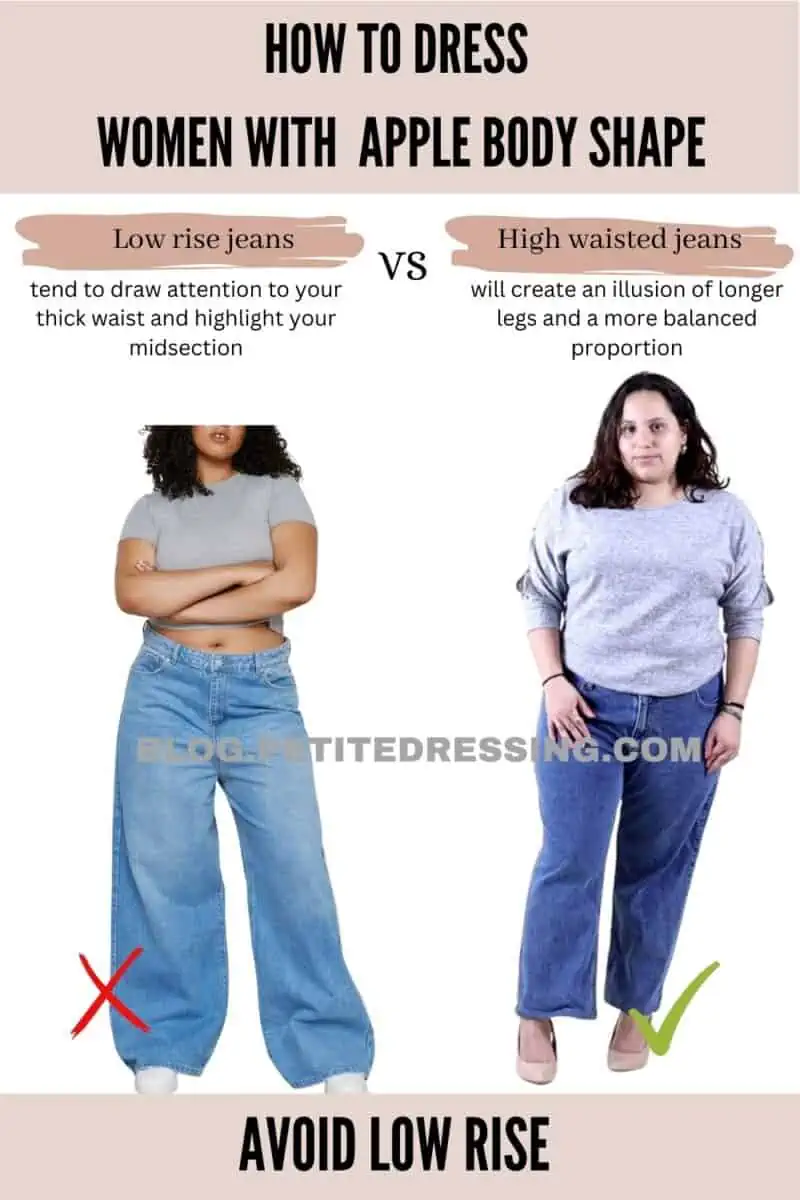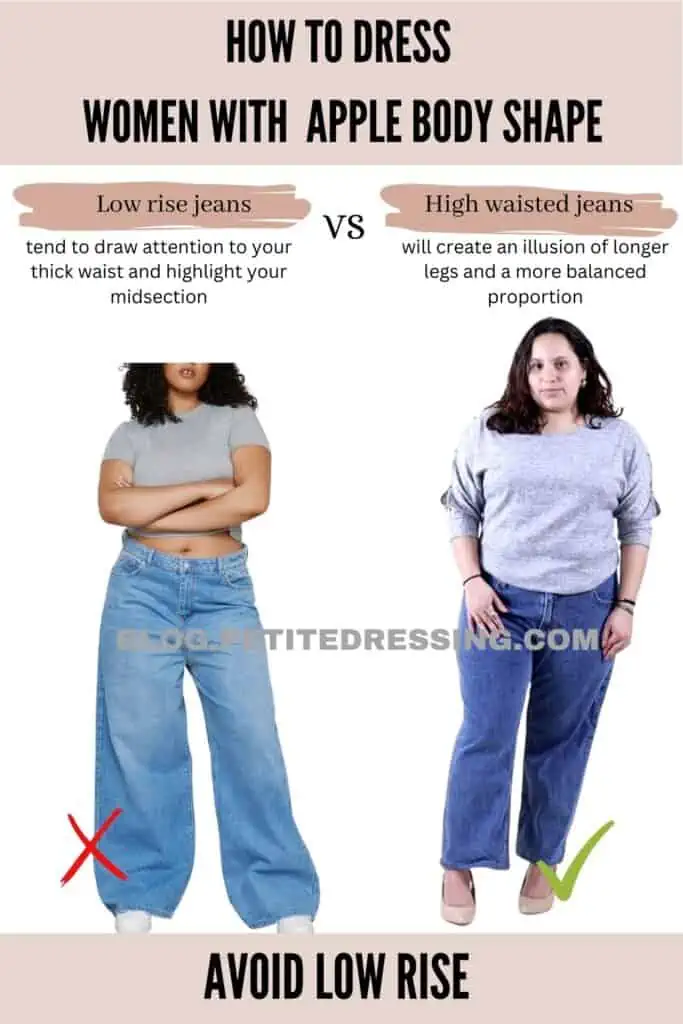 COATS
Coats are meant to be warm and comfy but this doesn't mean that you need to go for thick, baggy ones! This will drown your gorgeous apple-shaped body.
Swing style
A swing-style coat is a classic option for many types of body shapes, including apples, of course. Its structure is flattering for it is fitted on the shoulder area and gets flared all the way to the bottom.
This gives more depth to one of your best assets – your bust area. Swing-style coats lay on your body with a more figure-hugging fit, flawlessly defining your upper body.
As it flares out to the hem, it's preferable that you choose the length which goes past your midsection. Choose a coat that's around hip-length or even a tad longer for this will highlight your hips and legs much better.
The timelessness of the swing-style coat gives a more vintage vibe to your look as a bonus!
Minimal collar details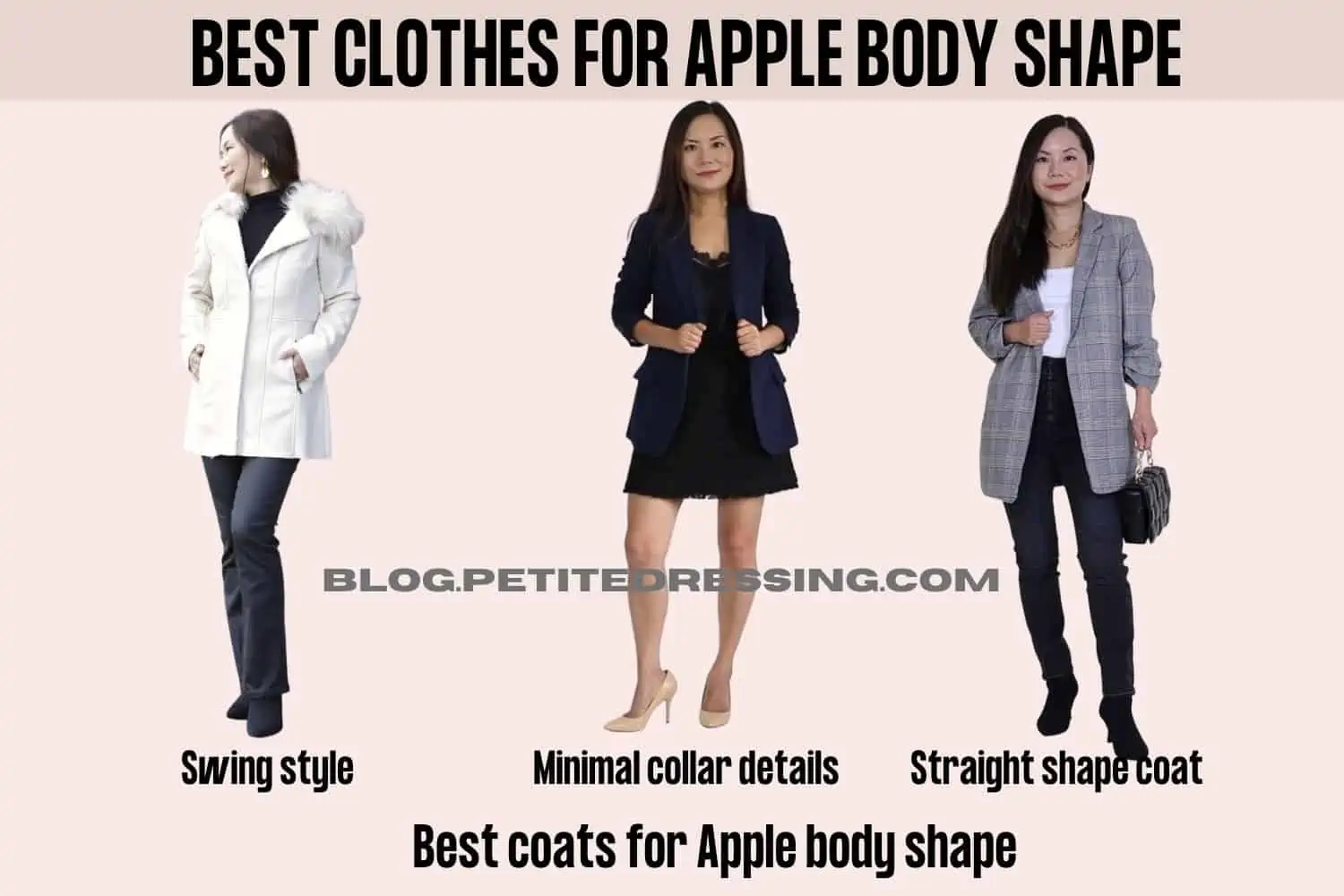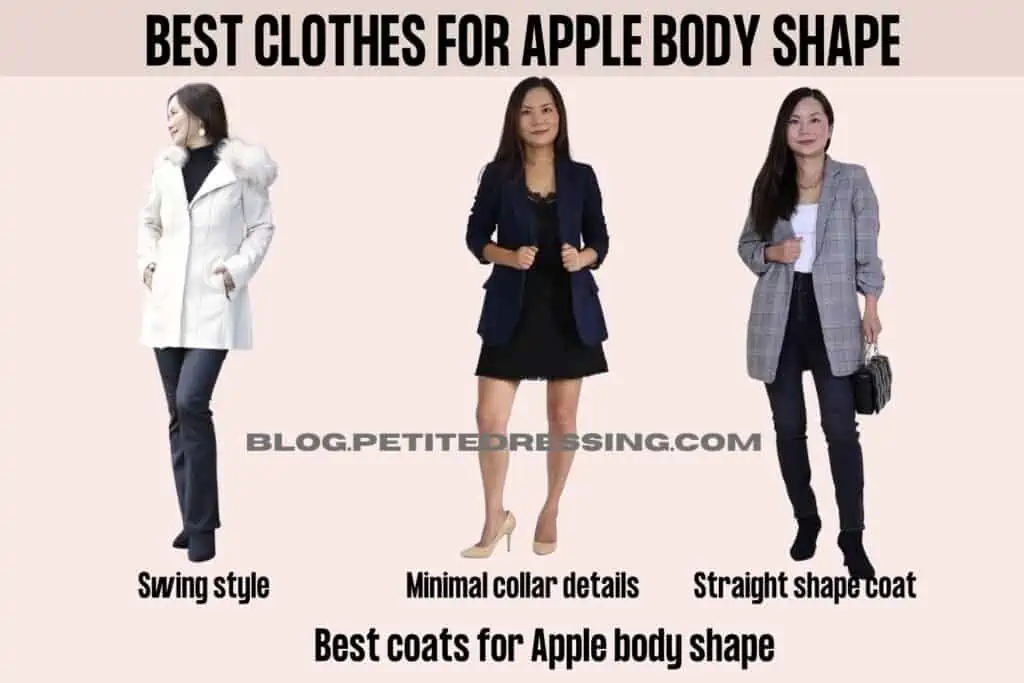 For apple body shapes, your shoulders and bust are your biggest strengths so you wouldn't want to drown them with big and heavily-embellished collars. Choose collar designs that are neatly structured and minimal.
Eton collars and notch lapels are exceptional style choices for apple-shaped bodies. They give a balanced visual effect on the upper body that accentuates the shoulders and bust area.
On the other hand, huge and heavily-embellished collars will diminish the appearance of your apple-shaped body assets. It will make you look too heavy by making your upper body unproportioned to your lower body.
On the other hand, huge and heavily-embellished collars will diminish the appearance of your apple-shaped body assets. It will make you look too heavy by making your upper body unproportioned to your lower body.
Straight shape coat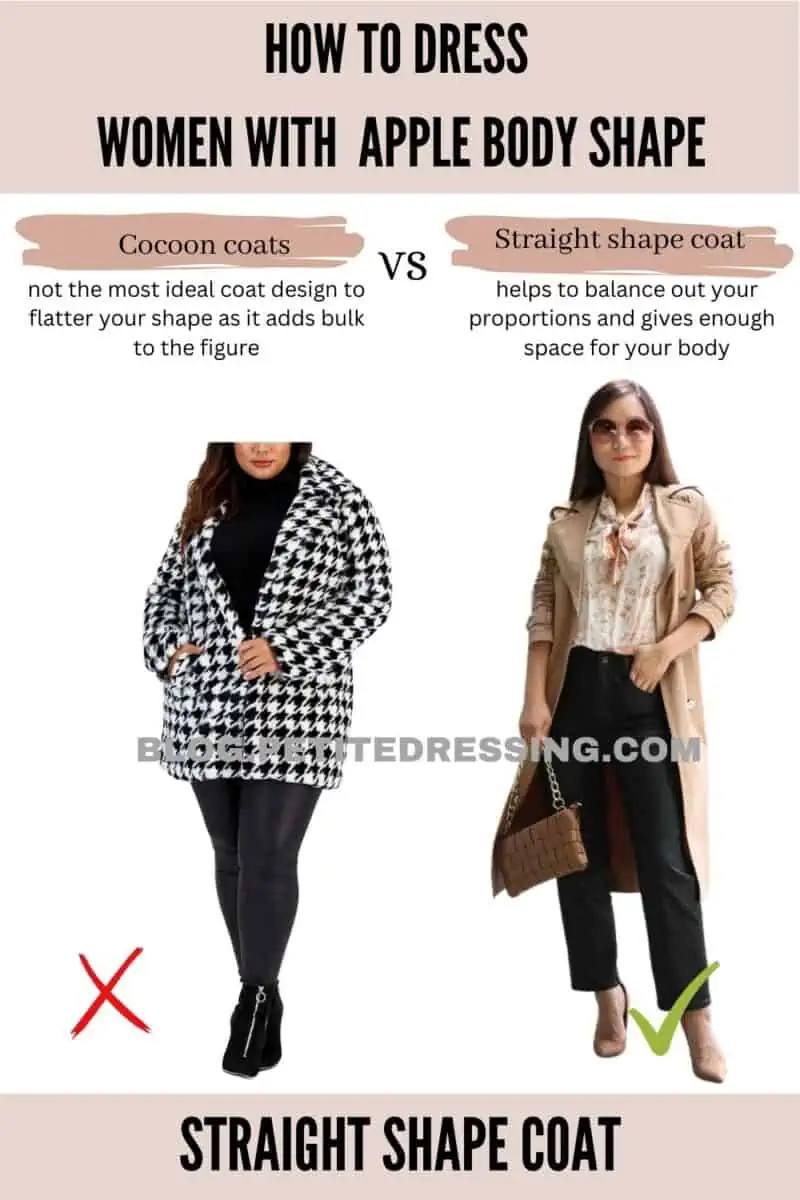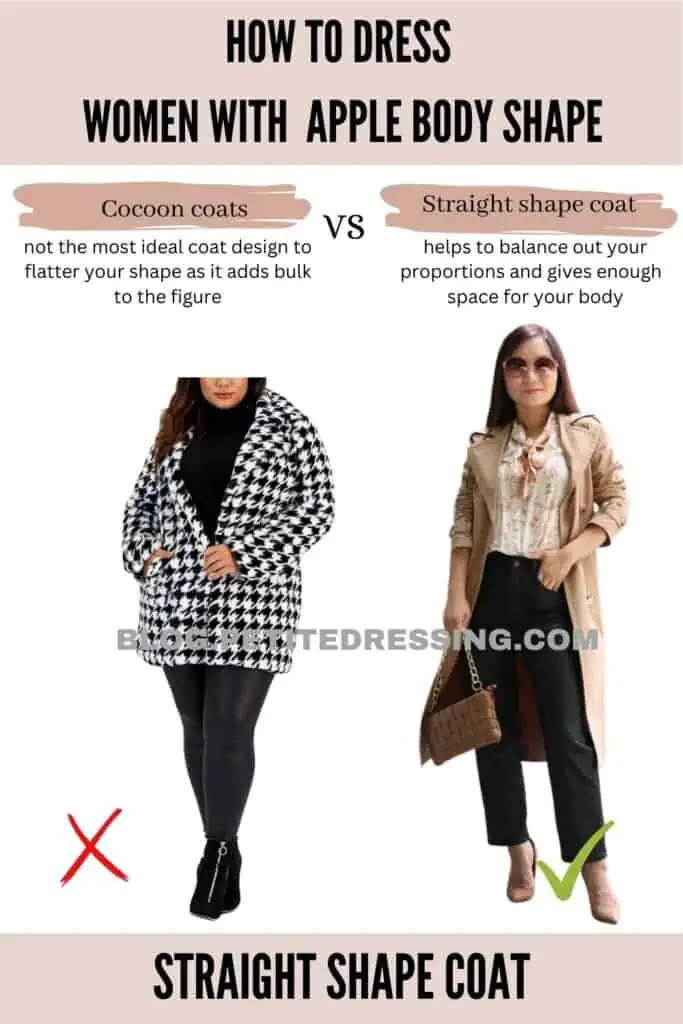 If you're wearing slim-fitting innerwear such as a knit top and high-waisted jeans, then a straight-shaped coat should give your overall look a nice balance. It also works quite well if you're wearing a blouse that features heavy prints, laces, or ruffles.
It's a pretty straightforward outfit choice and you can almost never go wrong with a straight-shaped coat. Just note that you need to carefully choose the right fit which won't hide your bust area and shoulders.
Empire waistcoat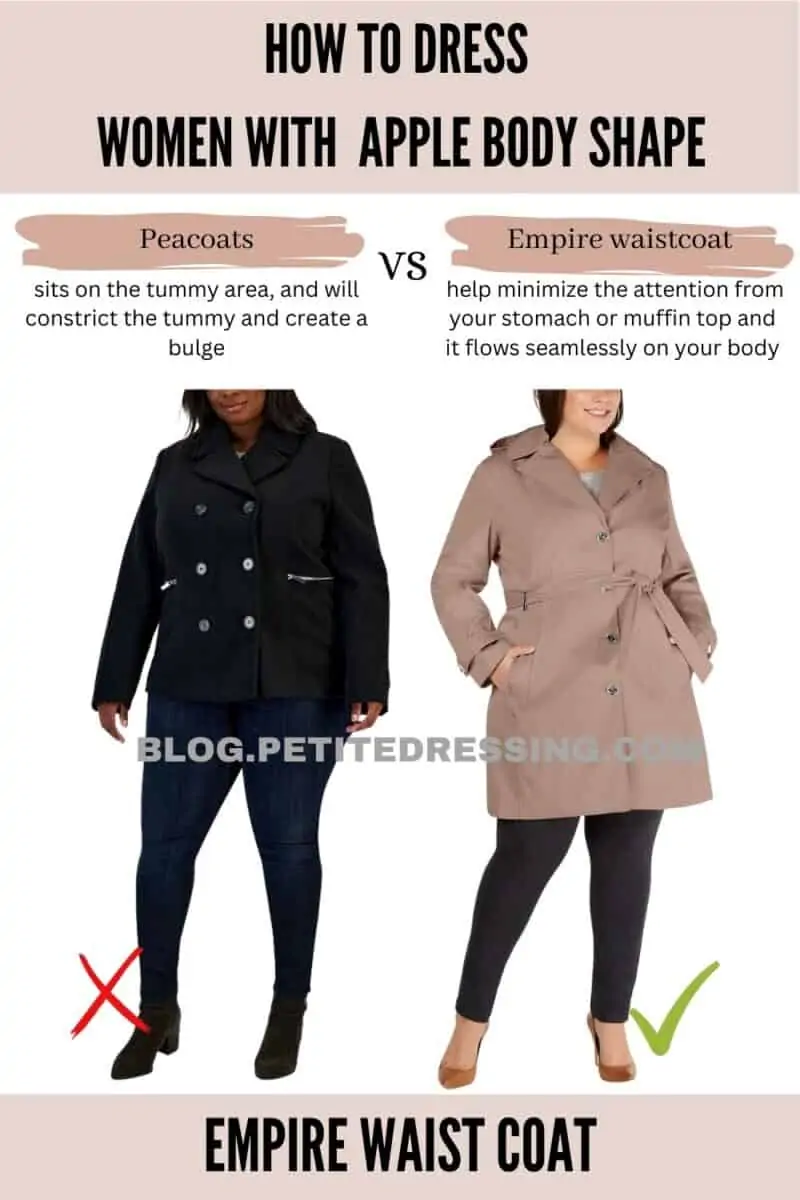 The Empire silhouette in any type of clothes is always flattering for apple body shapes for it is a cut that skims the midsection. It's a style that perfectly showcases your bust area and legs.
It's ideal to go for an empire coat that goes all the way past your hips as this will give you the illusion of longer legs. This is also a subtle way to efficiently conceal your muffin top.
Empire coats usually feature a voluminous bottom. However, while it's a good thing to give depth to your lower body, going for something that's too big for your size might make you look as if you're pregnant!
So the key to properly styling empire coats is to stick to structured ones that fit you well. A bit snug on the shoulders and bust while subtly flared out to an A-line from under your breasts on the way down.
A-line coat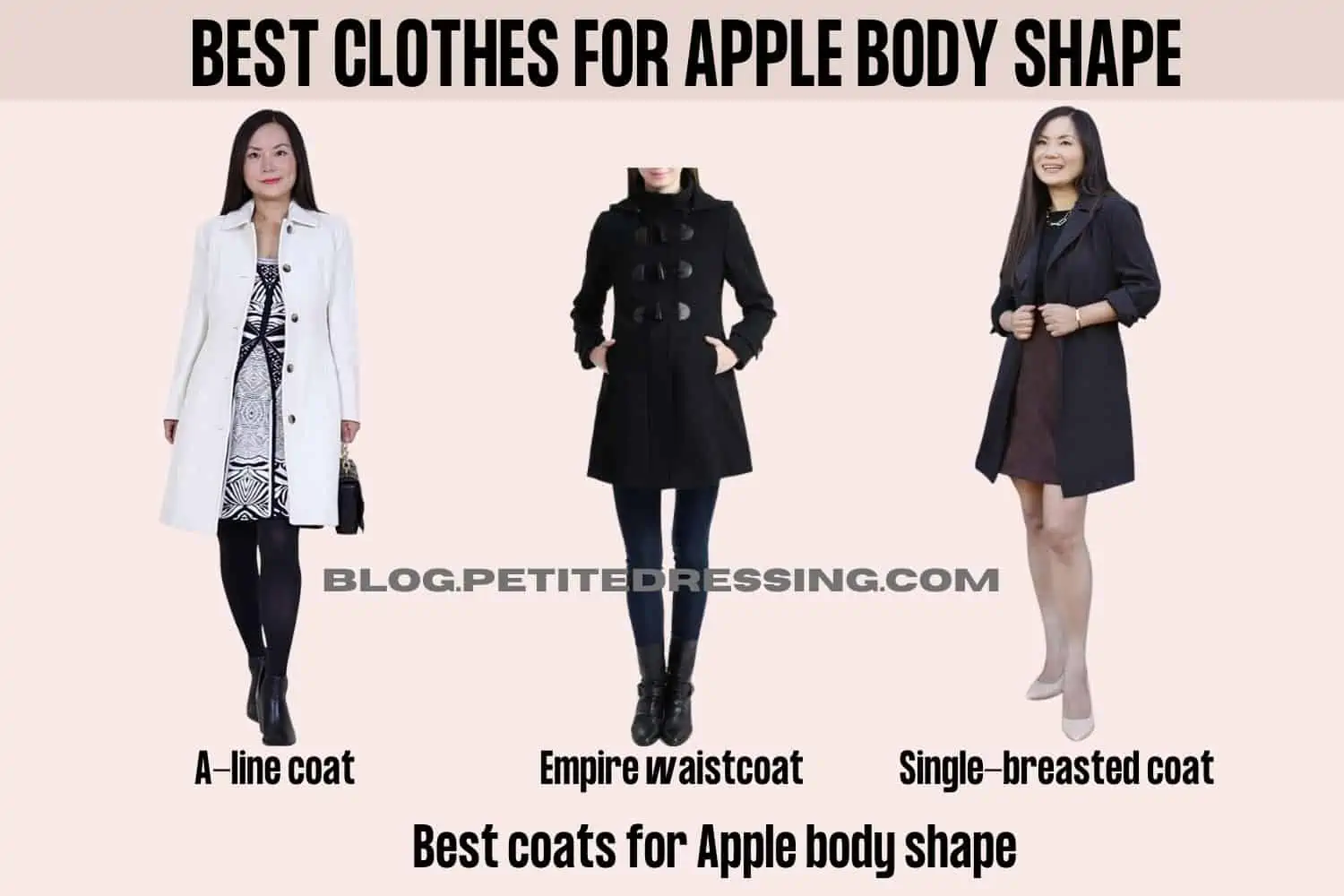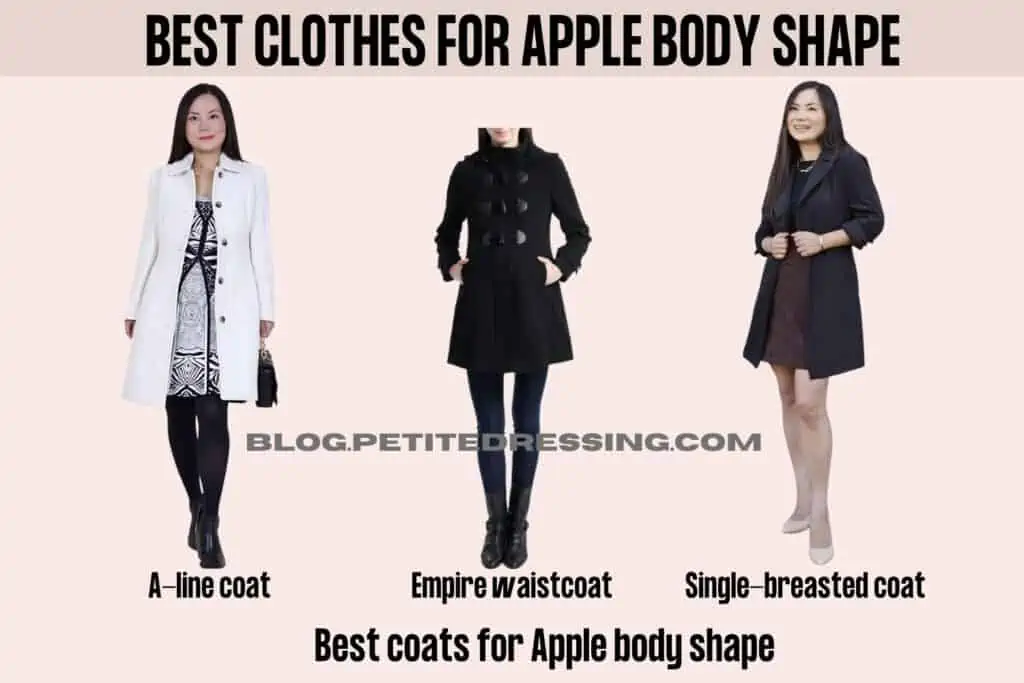 This features almost the same principle as empire cut coats. The slight difference is that empire cuts usually start flaring out from under the bust area while A-line coats usually start from the waist down.
To give your legs more elevation while also effectively defining your waist, you can opt for an A-line coat with a matching belt. The belt shouldn't be too thin and it should be enough to give shape to your waist.
A-line coats should also be a staple in an apple-shaped woman's wardrobe because they can basically take you pretty much anywhere! Its flattering cut makes it an easy go-to coat for everyday casual wear to even formal wear.
Single-breasted coat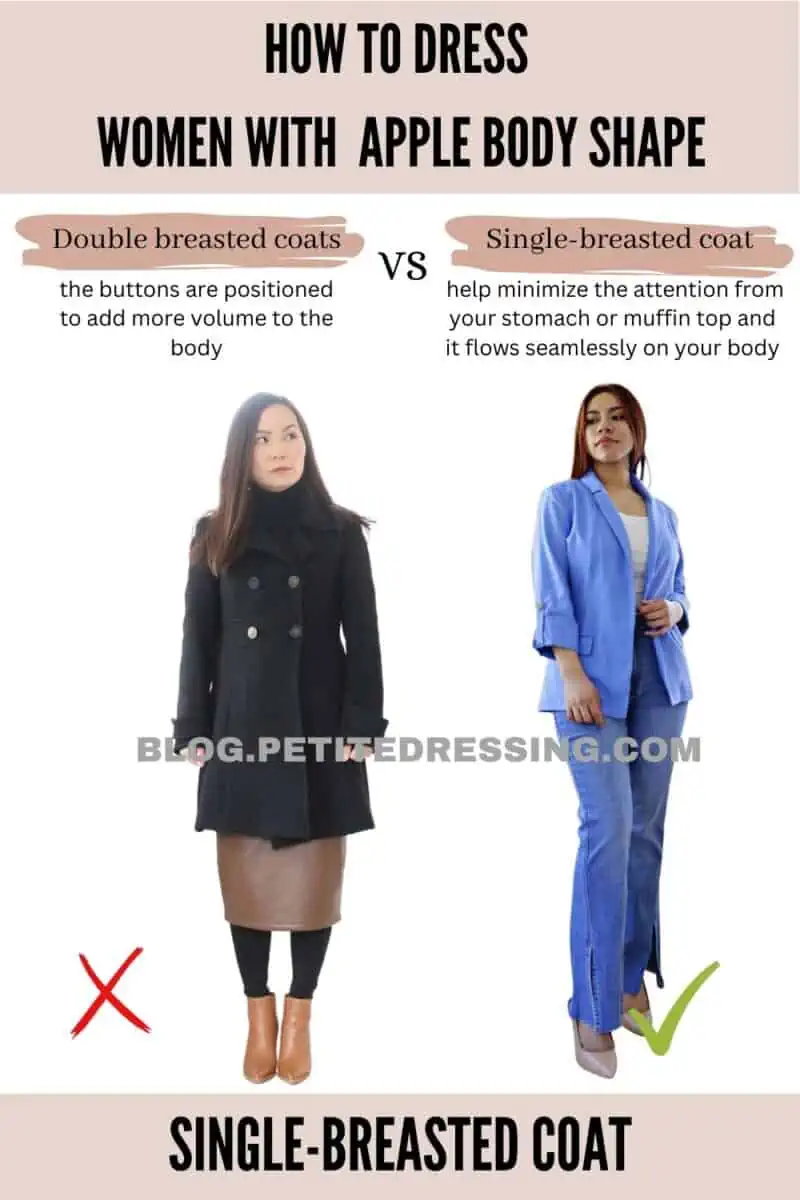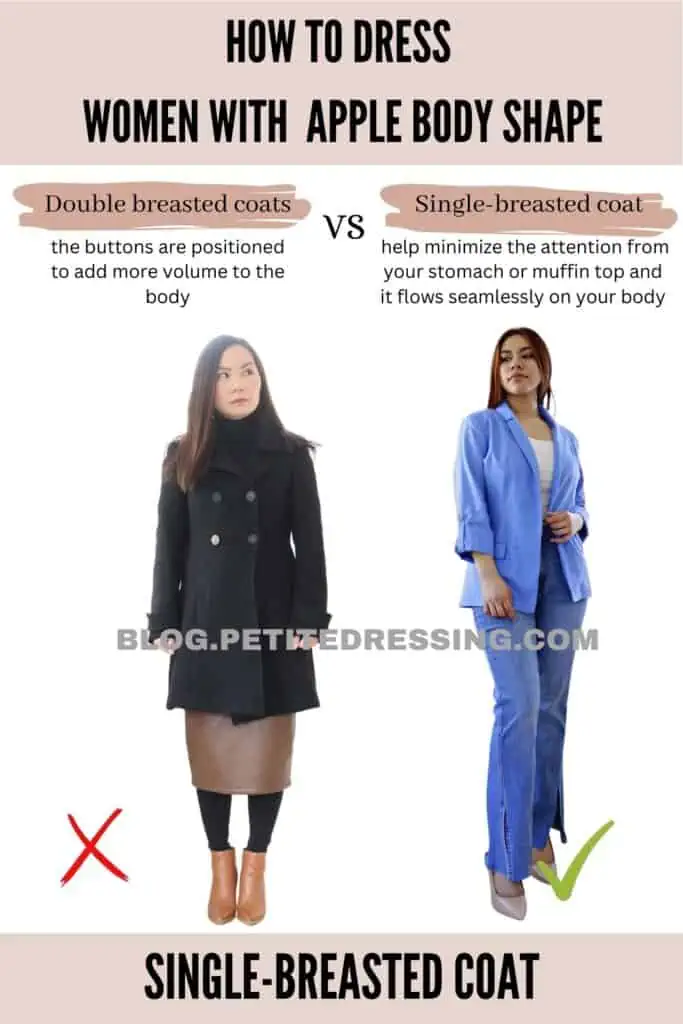 You wouldn't want to add more weight or volume to your midsection which is something double-breasted coats do to apple shape bodies.
Single-breasted coats help minimize the attention from your stomach or muffin top and it flows seamlessly on your body while highlighting your shoulders and hips.
These rows of buttons will visibly make your waist appear wider and therefore unproportioned with your bust and hips.
JACKETS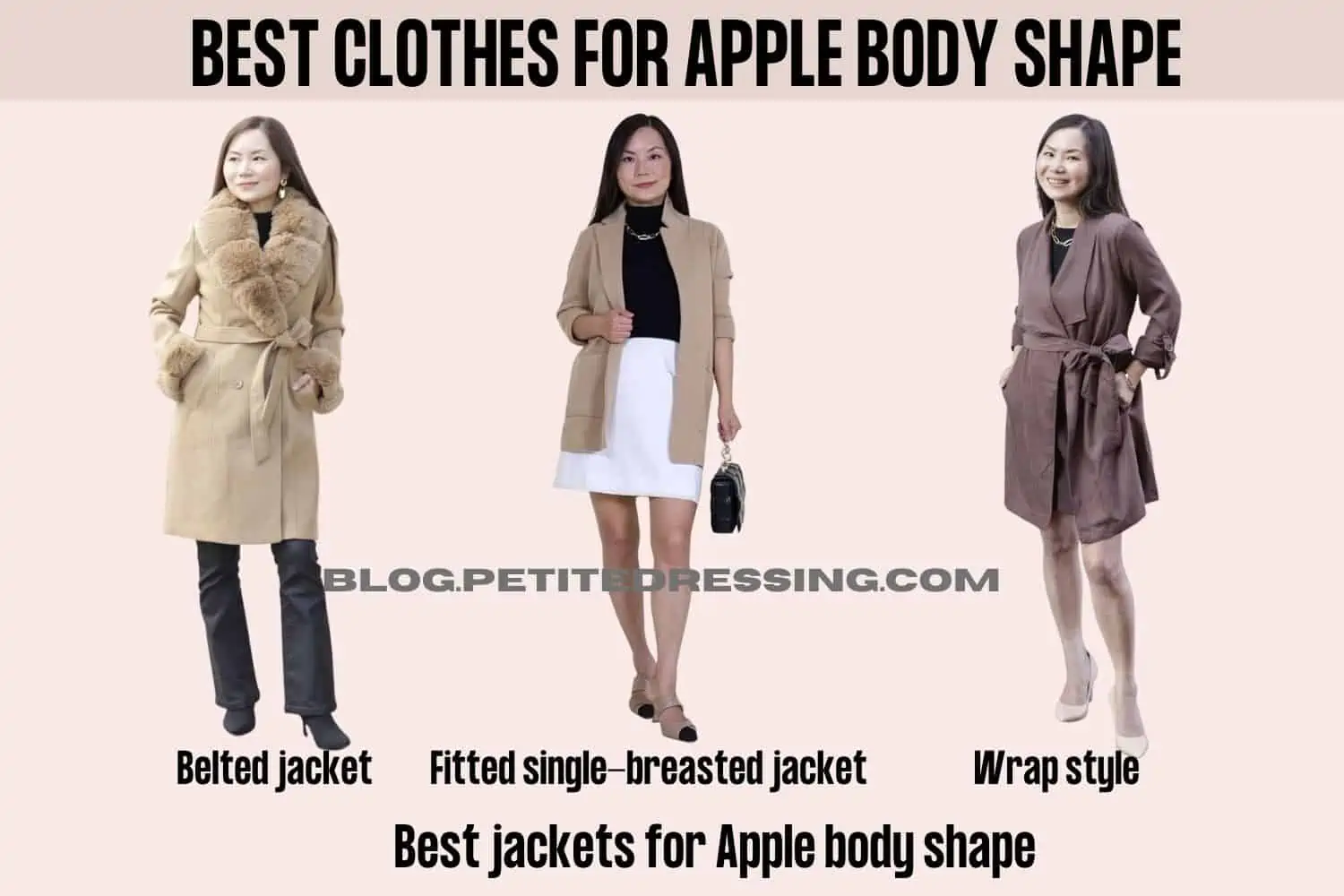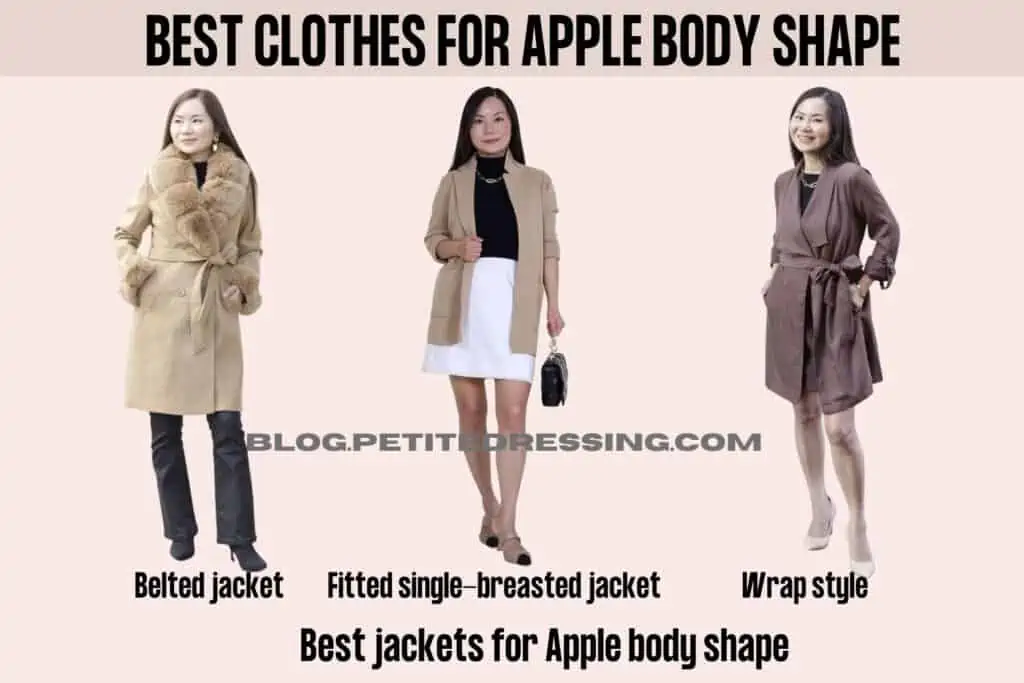 Belted jacket
This works very well in the all and winter.
For apple-shaped women who want to have a defined waistline while wrapped in layers, this is the best way. Once again, this photo of Eva Longoria in the black blazer explains this pretty well.
Fitted single-breasted jacket
Apple shapes should always accentuate their shoulders and bust because this area of their body is their best asset. This is why it's nice to find a jacket that slightly fits this area but angles out by the waist area.
It's also ideal to go for single-breasted jackets so it'll nicely flare out above your belly button and make your waist look smaller. The buttons on double-breasted jackets can look too overwhelming and bulky.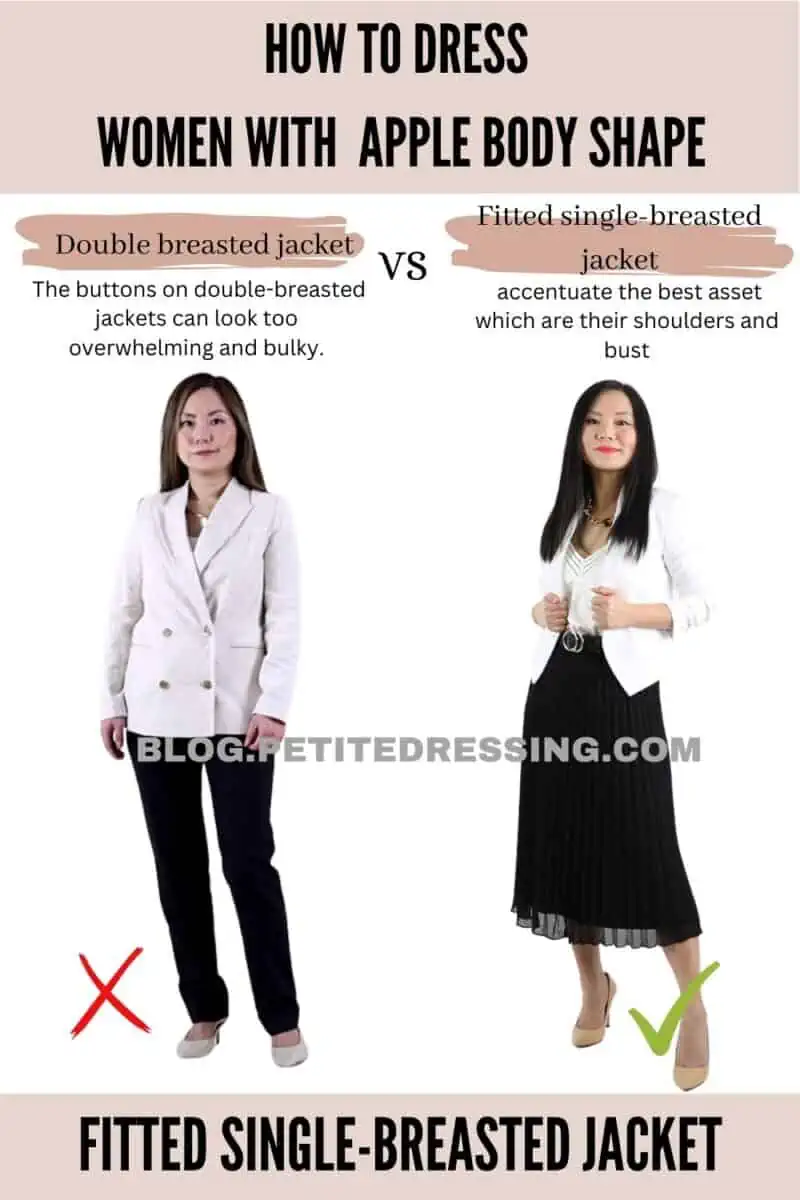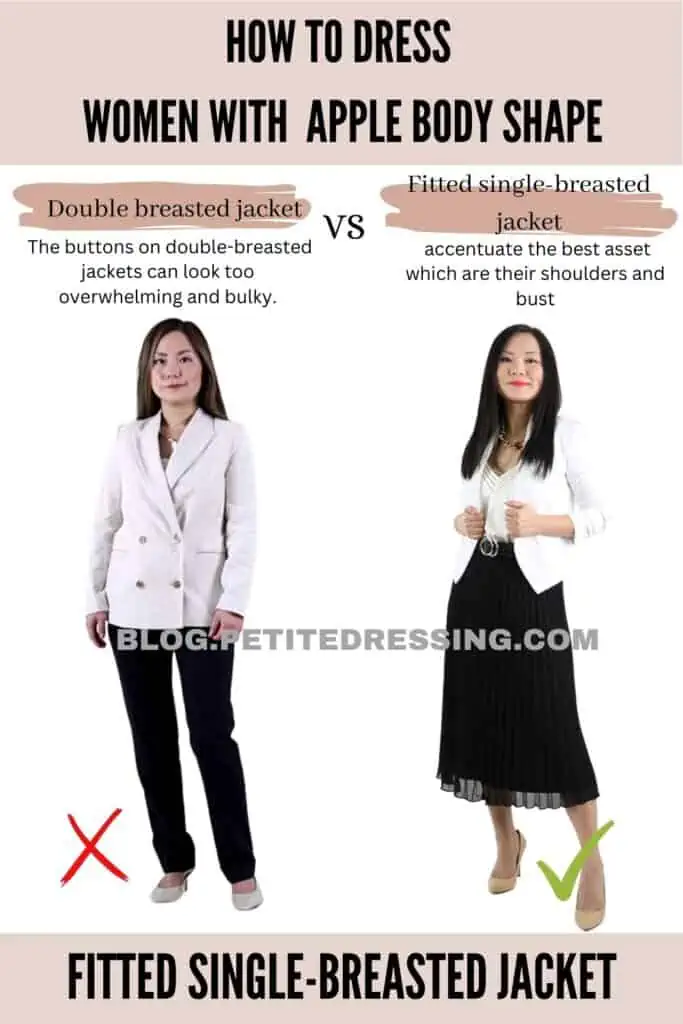 Wrap style
Wrap jackets give the waist more shape by clinging to it using a belt or the attached tie. As you tightly fasten your jacket, your waist will look smaller and the bottom part of the jacket will flare out.
This flare will hide your muffin top and will also give your lower body a more defined structure.
DRESSES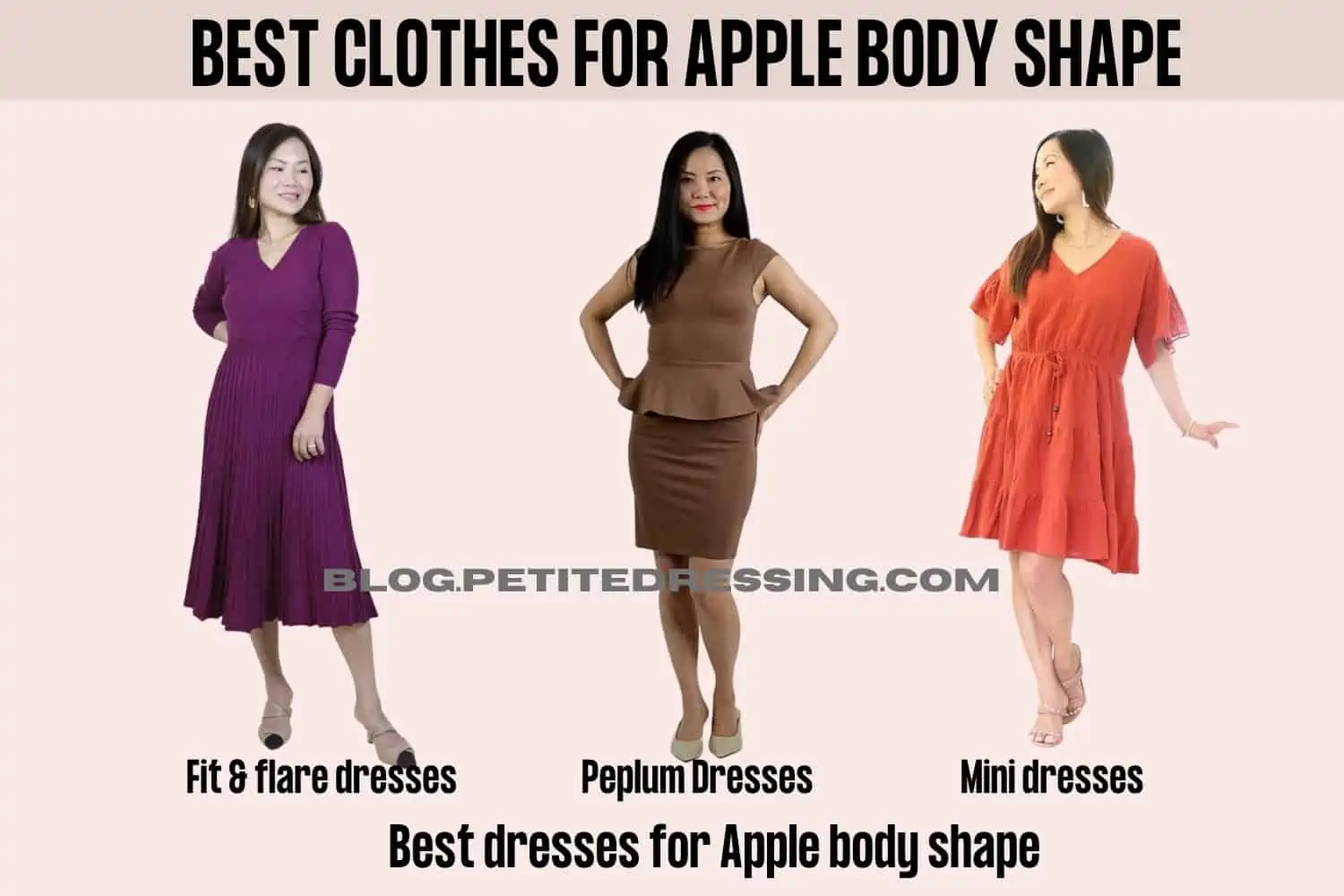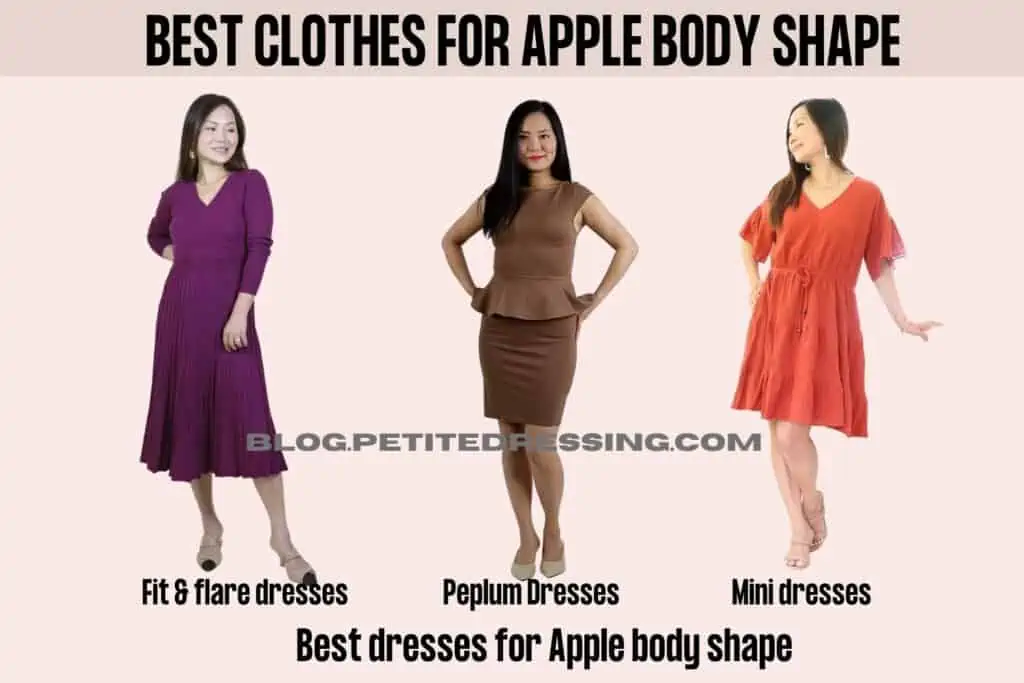 Fit & flare dresses
If you are not familiar with this term, fit-and-flare is exactly what it sounds like. The top bodice is fitted, and the skirt's bottom flares out. This is quite similar to the A-line dress. These two terms are sometimes used interchangeably.
This is the most versatile silhouette that flatters all body shapes universally because it creates an ideal shape with a narrowed waist and proportionately shaped hips.
The key is to make sure the area around your stomach should not be too tight! An apple-shaped body, in particular, effortlessly hides your stomach because the skirt naturally flares out under your stomach.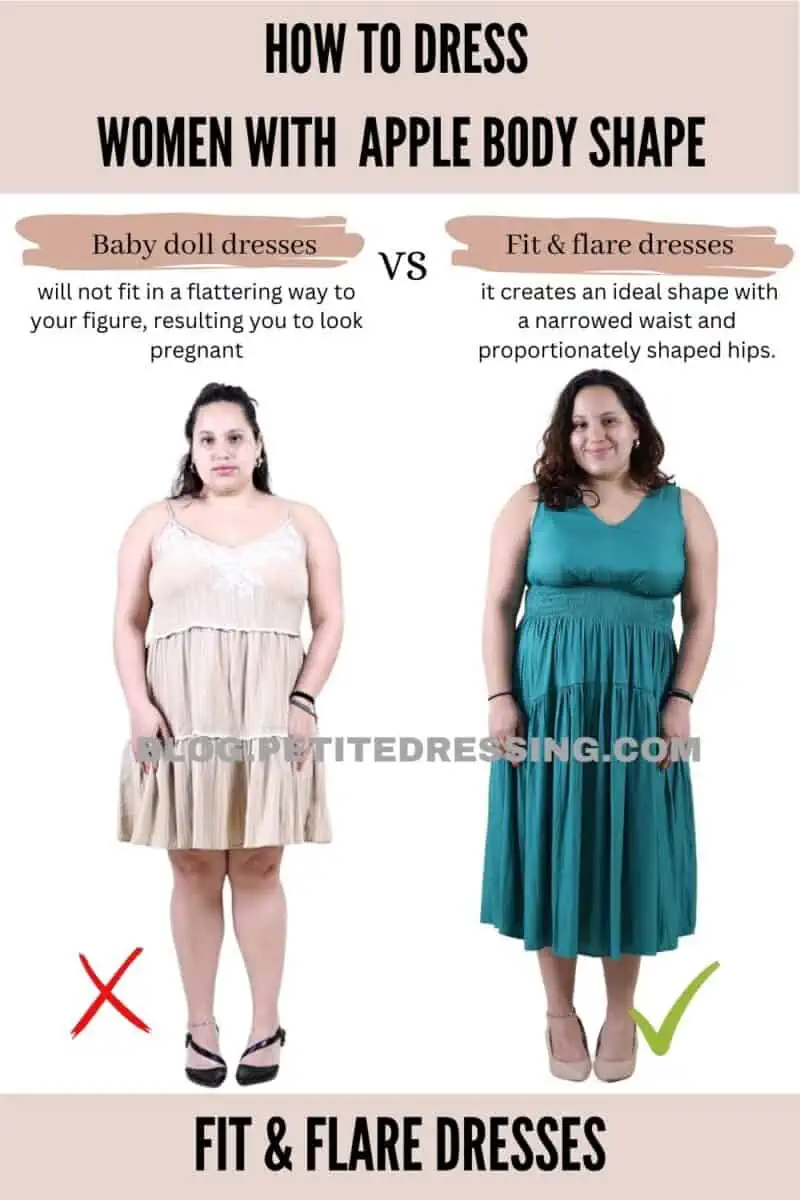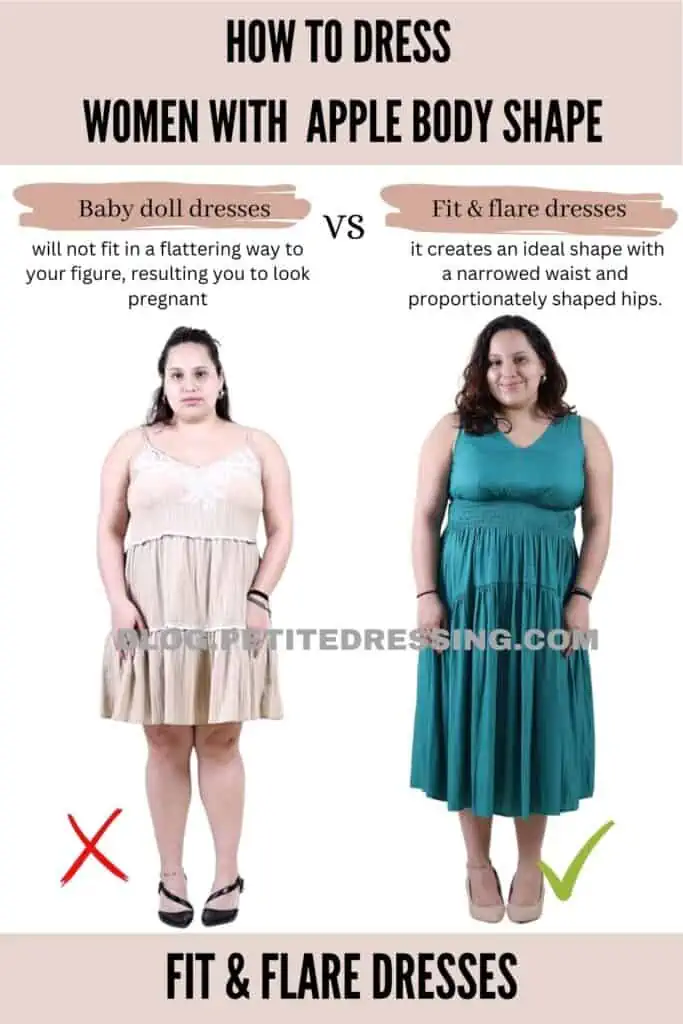 Peplum Dresses
Peplum style is heaven-sent for an apple-shaped body! The ruffles not only effortlessly camouflage your belly, but the flare makes your waist looks a lot smaller because of the contrast with the well-fitted top.
Mini dresses
The apple shape women are lucky enough to have strong arms and slender legs, so let's show them off! What shows off your legs better than shorter dresses and skirts?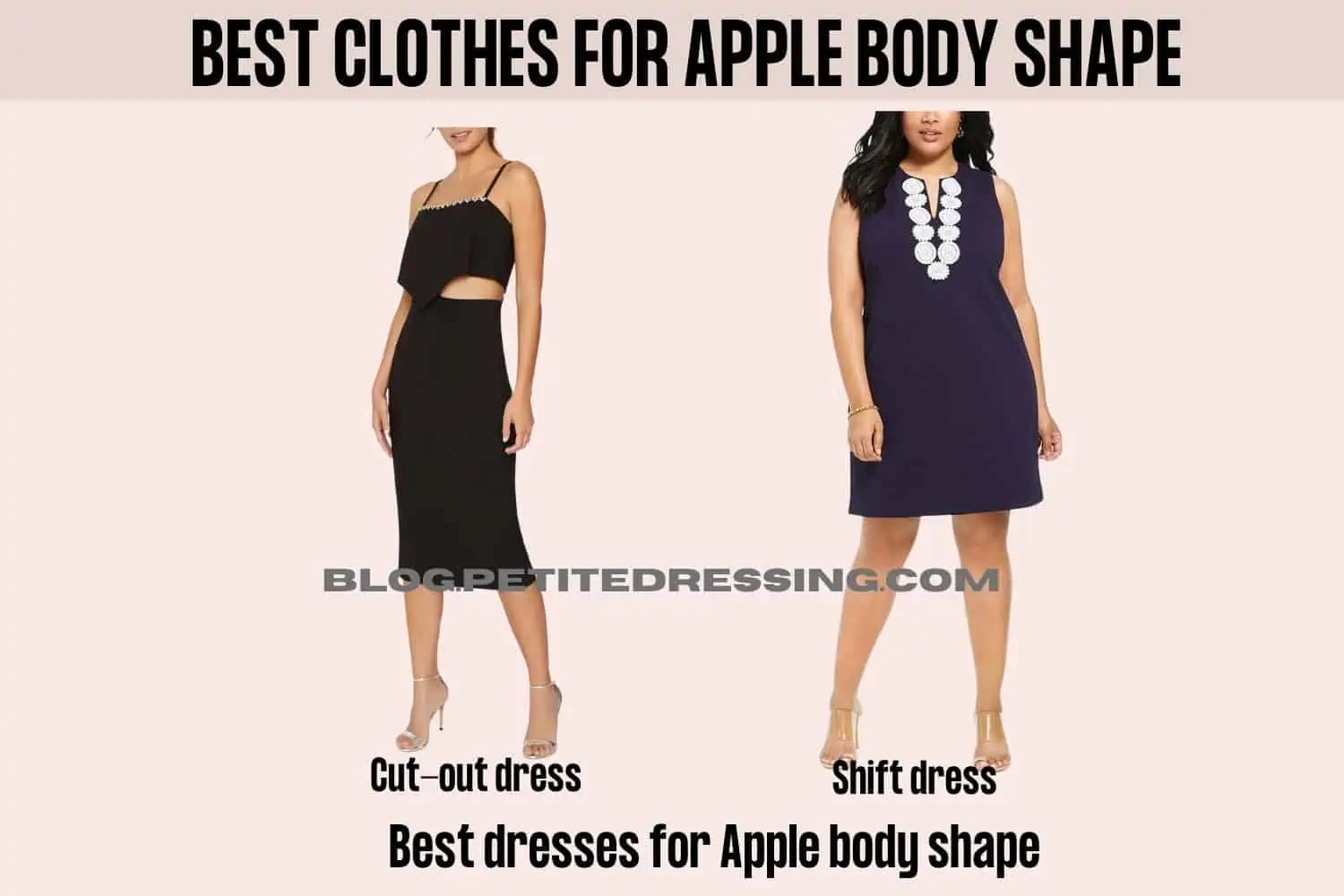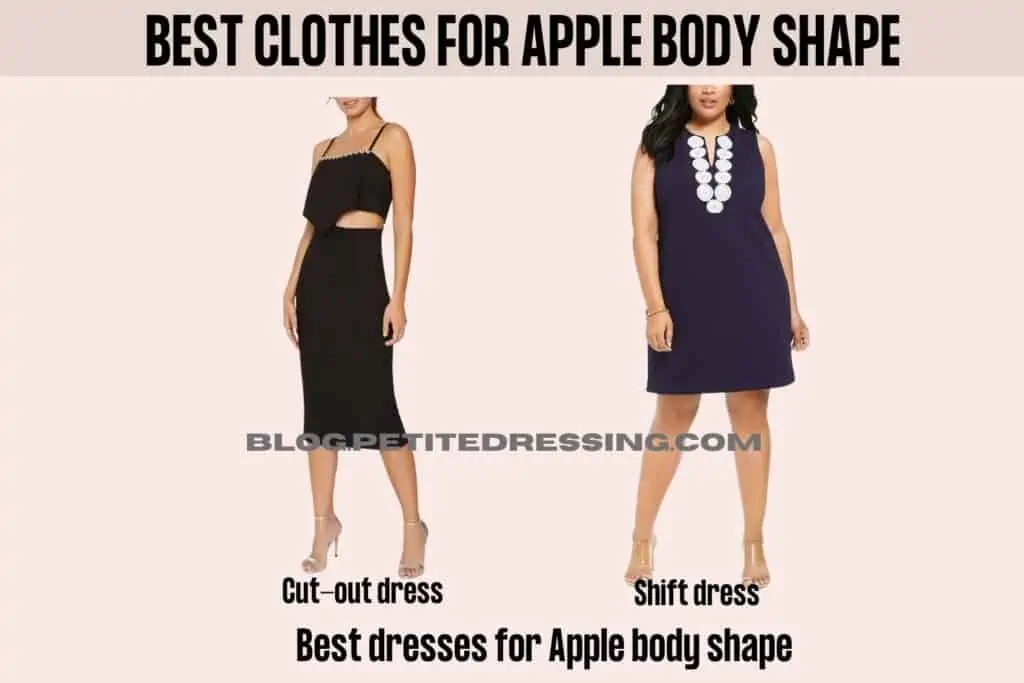 Cut-out dress
Dresses with a nice cutout design on the higher part of the waist create the illusion of a slimmer waist and a more defined bust and hips.
The beauty of cut-out designs is that you can go from subtle to daring cuts without compromising the balance of your figure! Fabrics that feature a slightly snug fit would match cut-out dresses perfectly.
One thing to be careful about when it comes to cut-out dresses would be the placement of the cuts. Make sure that they are not placed on the midsection area where there's more volume.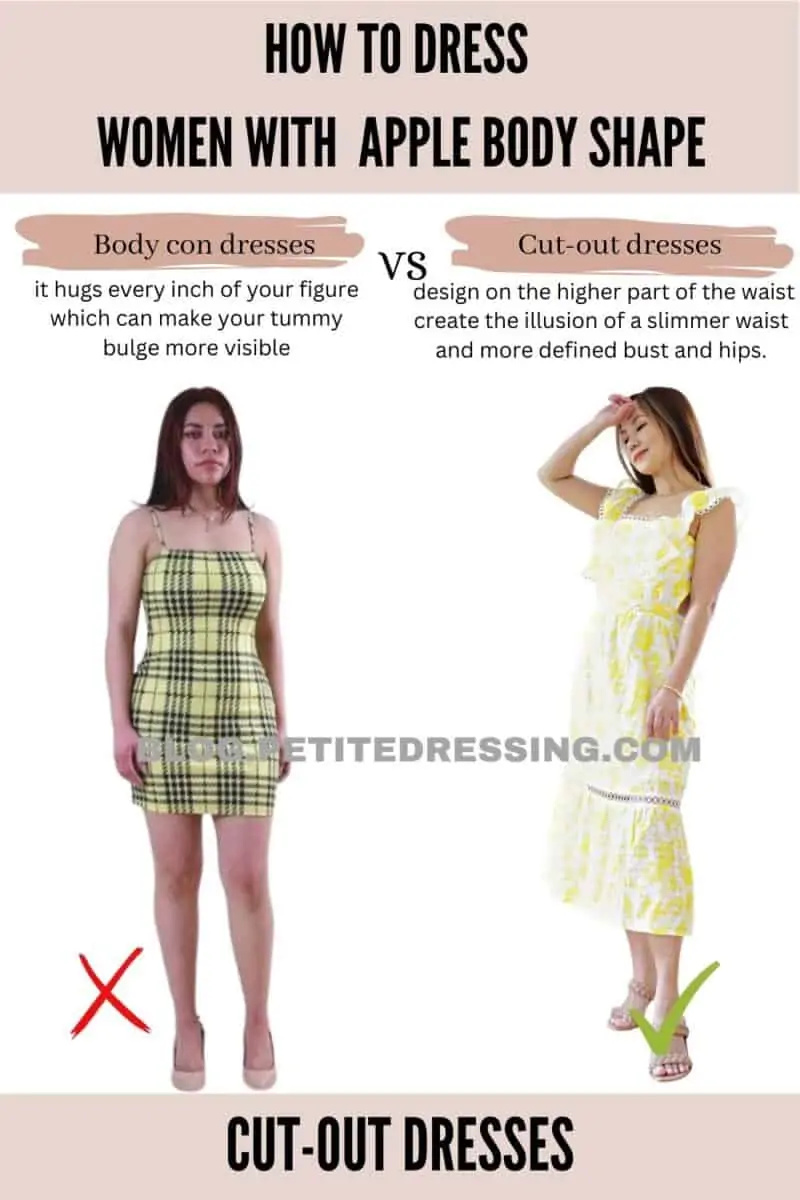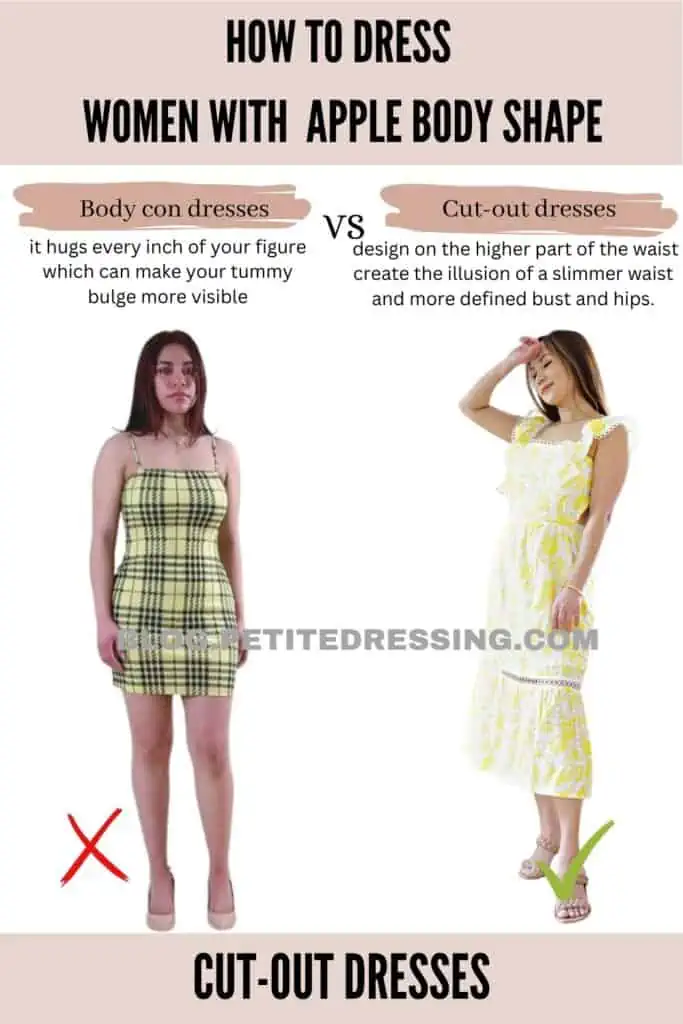 Shift dress
For the apple-shaped ladies out there who are fans of minimalist designs, a shift dress is an absolute must-have. It features simple seam lines that hang down from the shoulders.The key here is to choose a flowy, soft fabric that doesn't cling too much to the body. Most specifically around the tummy area.
Shift dresses usually have darts right beneath the bust which is also a nice detail to give your breasts more shape. It also flows seamlessly right across the midsection so it creates a comfortable silhouette.
SKIRTS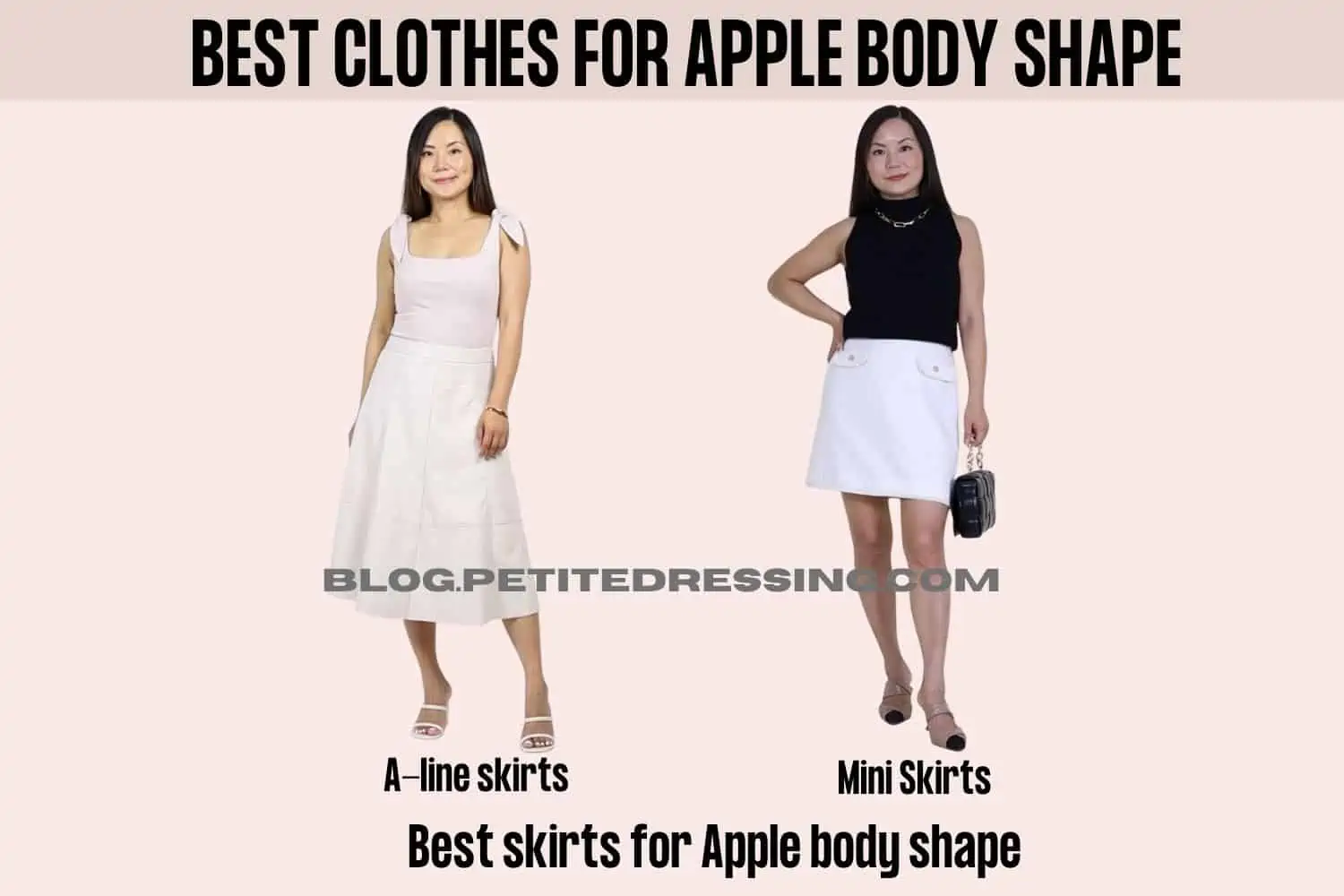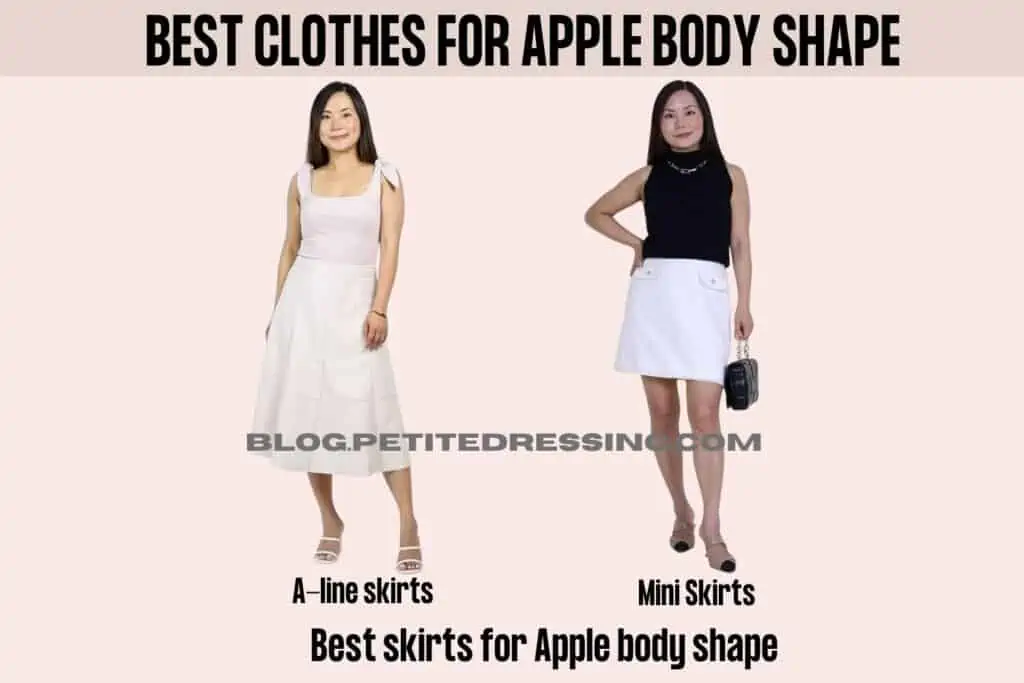 A-line skirts
The reason the A-line skirt works wonderfully for the apple body type is that it does not hug your belly as tight as the pencil skirt, so it will not make your midriffs look as noticeable.
Meanwhile, because the a-line skirt flares out, it creates the illusion of a defined waistline for the apple shape.
Mini Skirts
I think now you already know why mini skirts work well for the apple shape.
It is the same reason as the short dresses. Apple-shaped ladies normally always have slender legs, even if you might have gained weight on your waist. Since mini skirts show off your shapely legs, they are your best friend!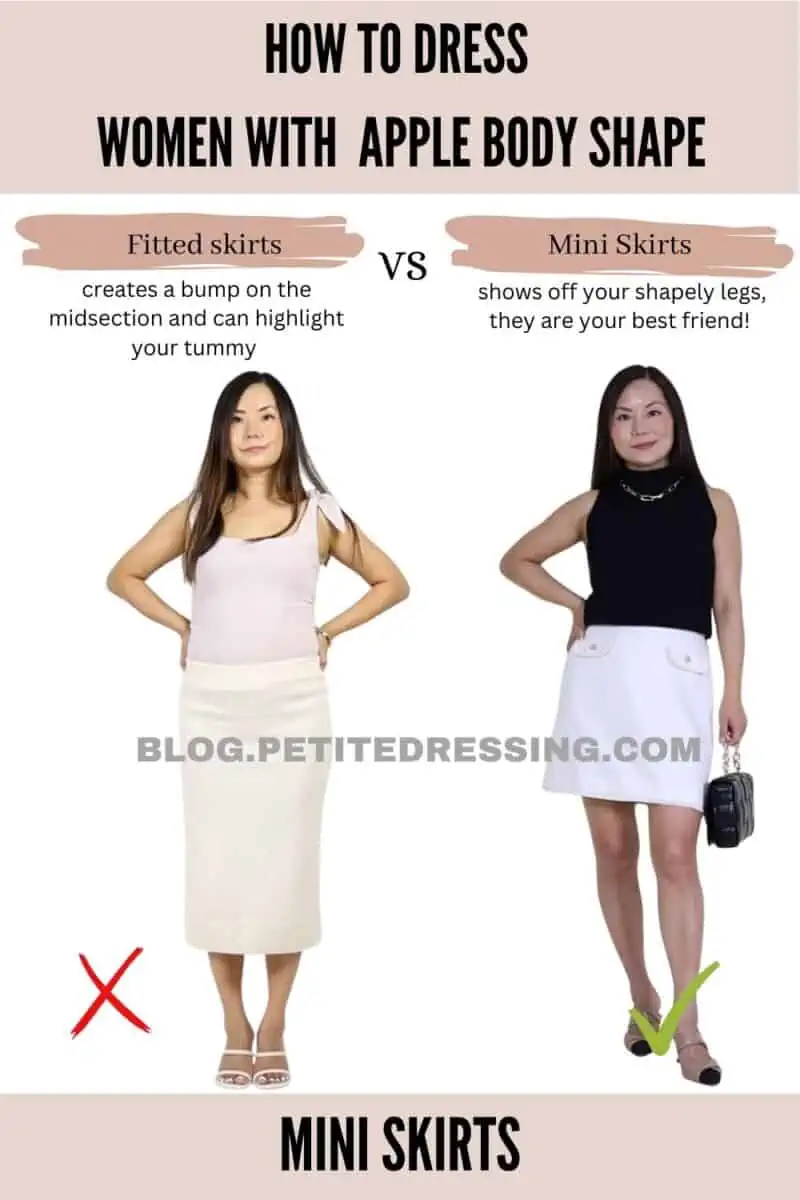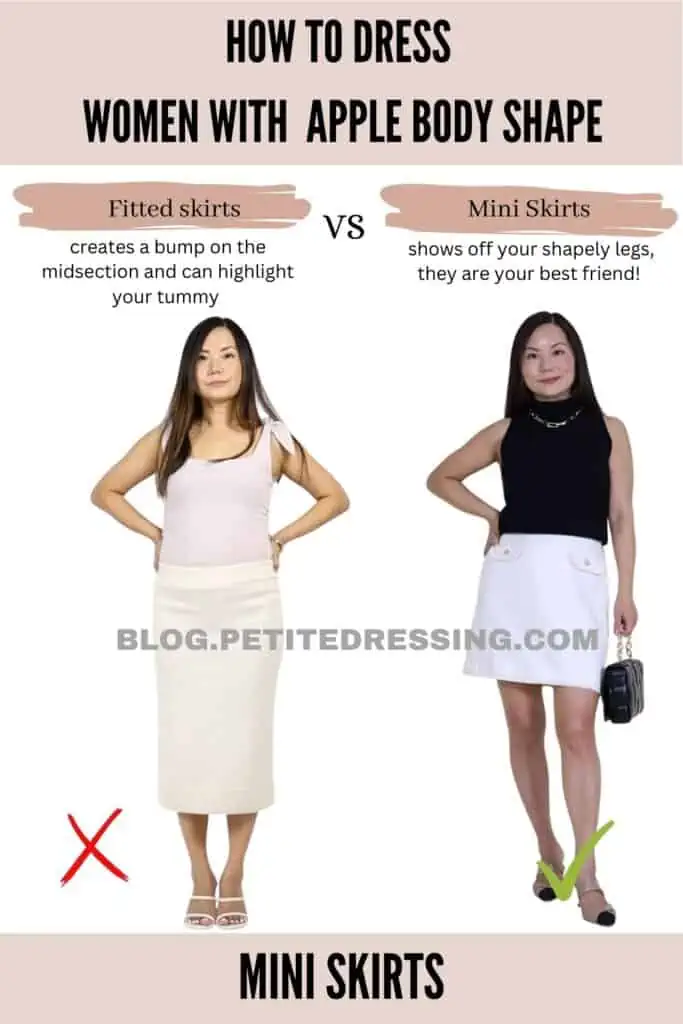 Now, here is a caveat.
I mentioned earlier low neckline flatters the apple body. However, you should limit it to showing one asset at a time.
For example, if you are wearing a deep U-neck top that shows your cleavage, then you probably want to go with a skirt with a relaxed fit or at least reach your knee. You always want to look tasteful and avoid any outfit that is too revealing.
SWIMSUITS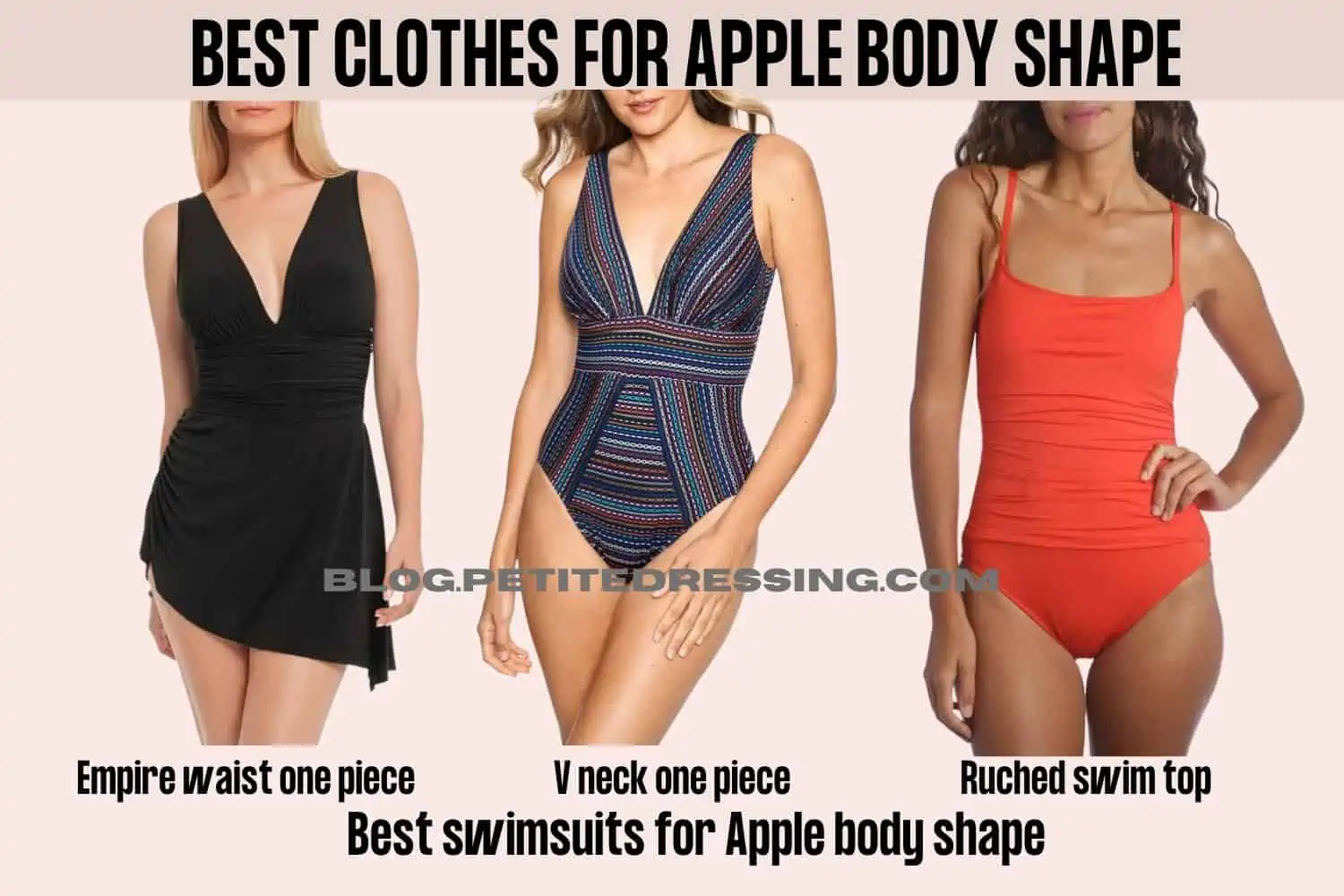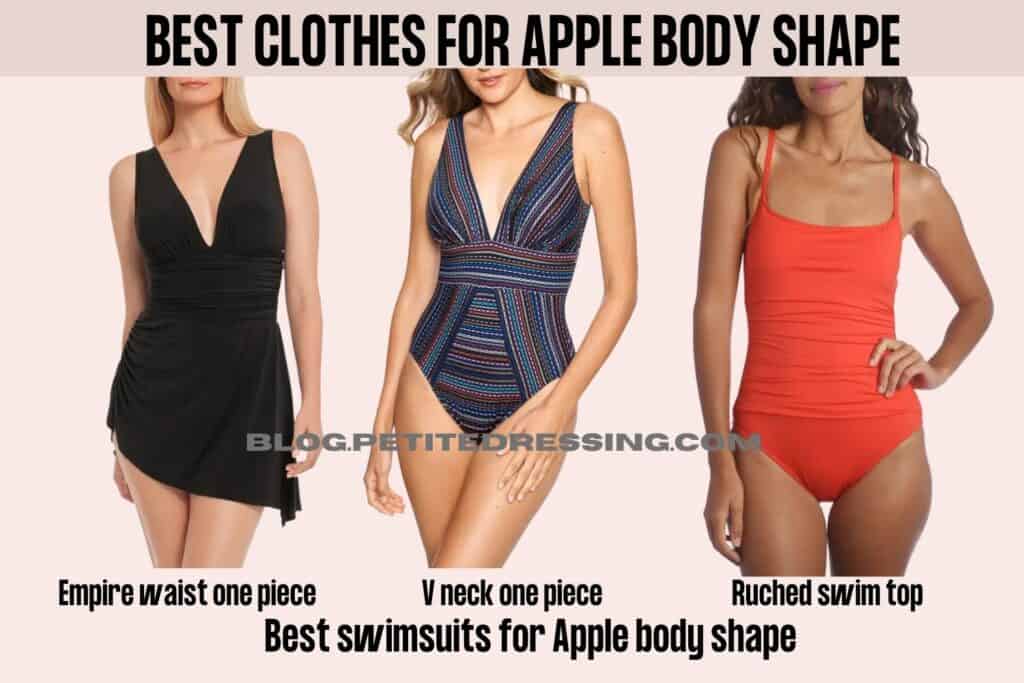 One of the main concerns of women with apple body shapes would be their muffin tops. But don't worry, this guide is one proof that you can definitely rock your body in a sexy swimsuit despite not having a very flat and defined waist!
Empire waist one piece
Having the waistline start right beneath the bust will accentuate the beautiful shape of your breasts which is one of the key strengths of an apple-shaped body. This also serves as a good way to distract the eyes from your midsection.
Ideally, one-piece empire waist swimsuits work best with plain colors. But if you'd like to give your summer wear a more vibrant touch, try color-blocking designs or large-scale prints.
You can also opt for a swimsuit that features a seam line or a contrasting solid color that goes on the sides of your waist and hips. This will give your body a curvier optical illusion.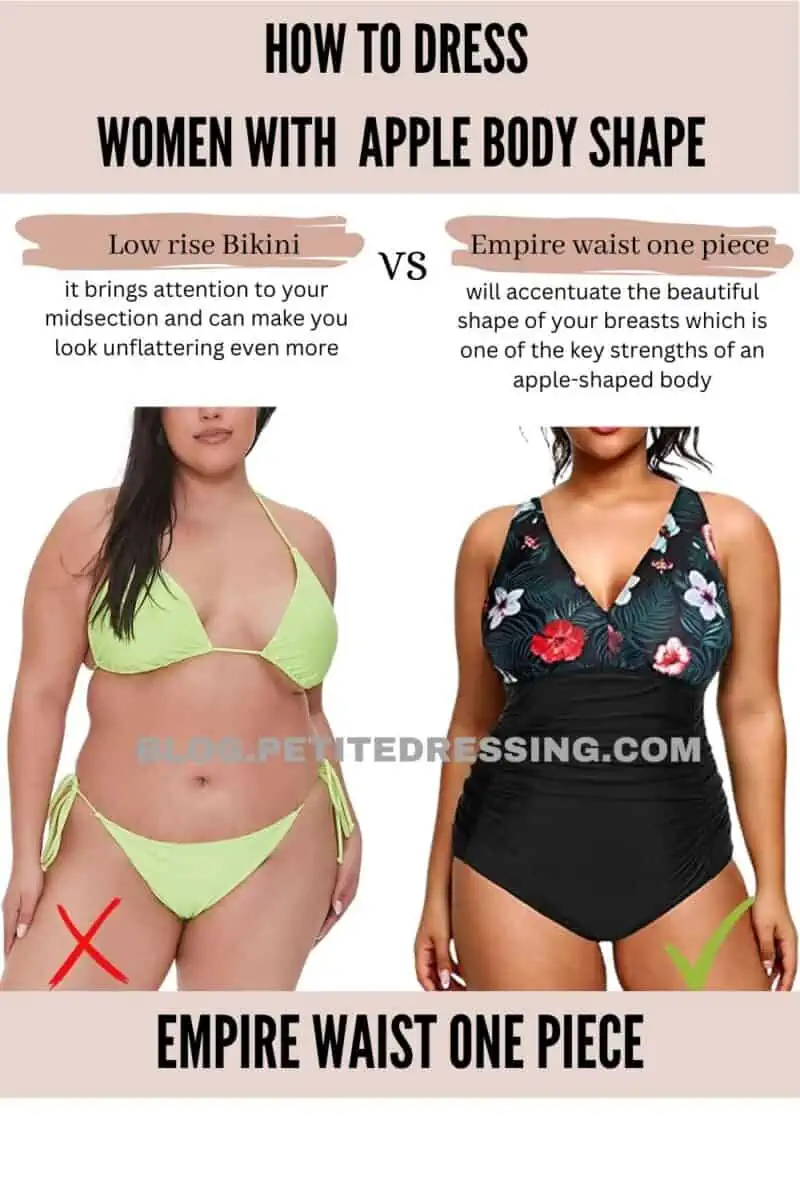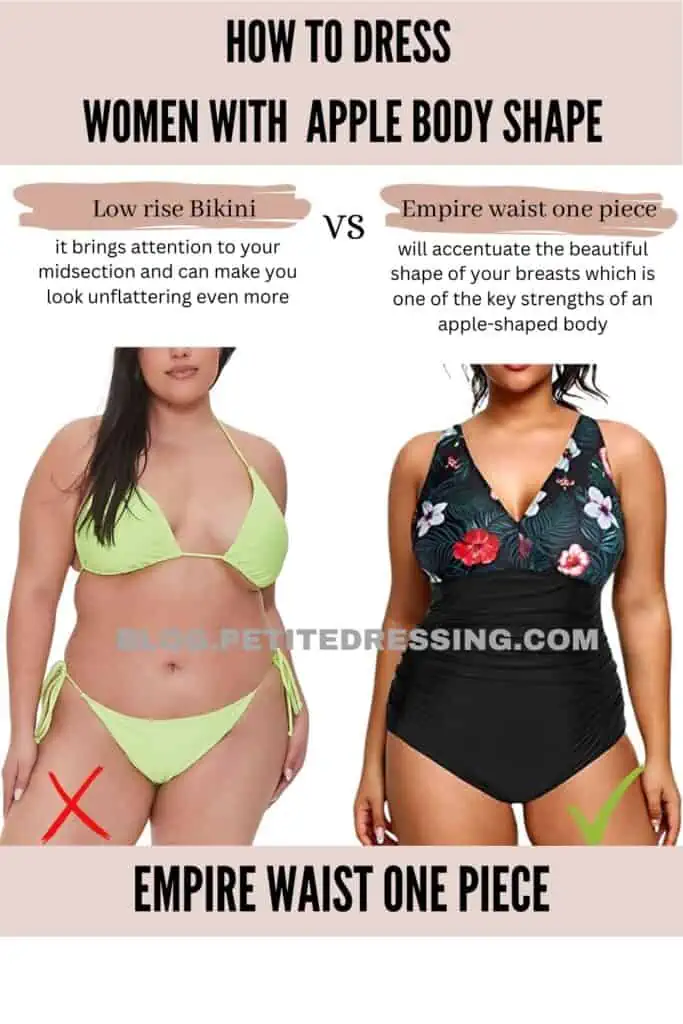 V neck one piece
The bust is one of the most beautiful features of apple-shaped bodies, so it's a given that showing it off creates an instant fashion statement. V-neck cuts draw attention to your bust and give you the illusion of a longer upper body by elongating your neck.
V-neck or plunging necklines will always be a winner for apple body shapes! Just like what we have mentioned a thousand times, your bust shape is your best asset!
To amplify your swimsuit style, you may also want to check swimsuits that have subtle embellishments right where the point of the V-neck is. A gold buckle or some beadwork would work as long as they are not too bulky.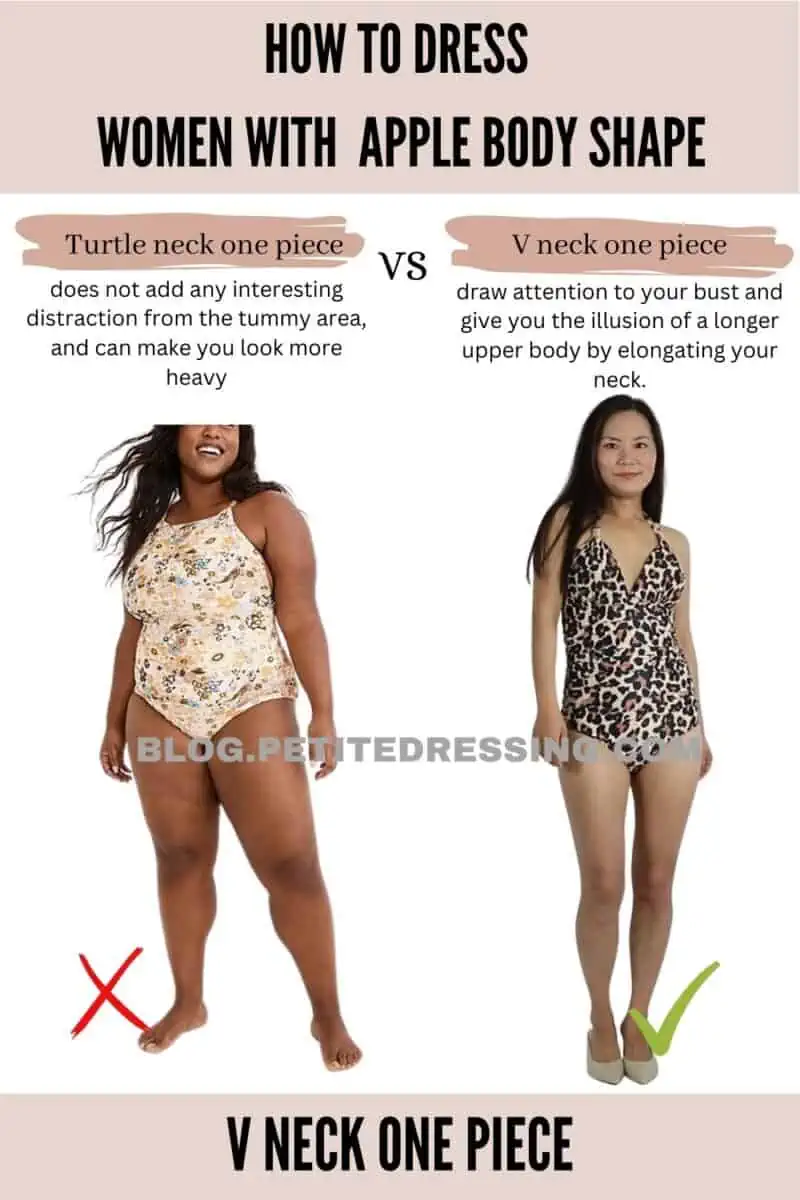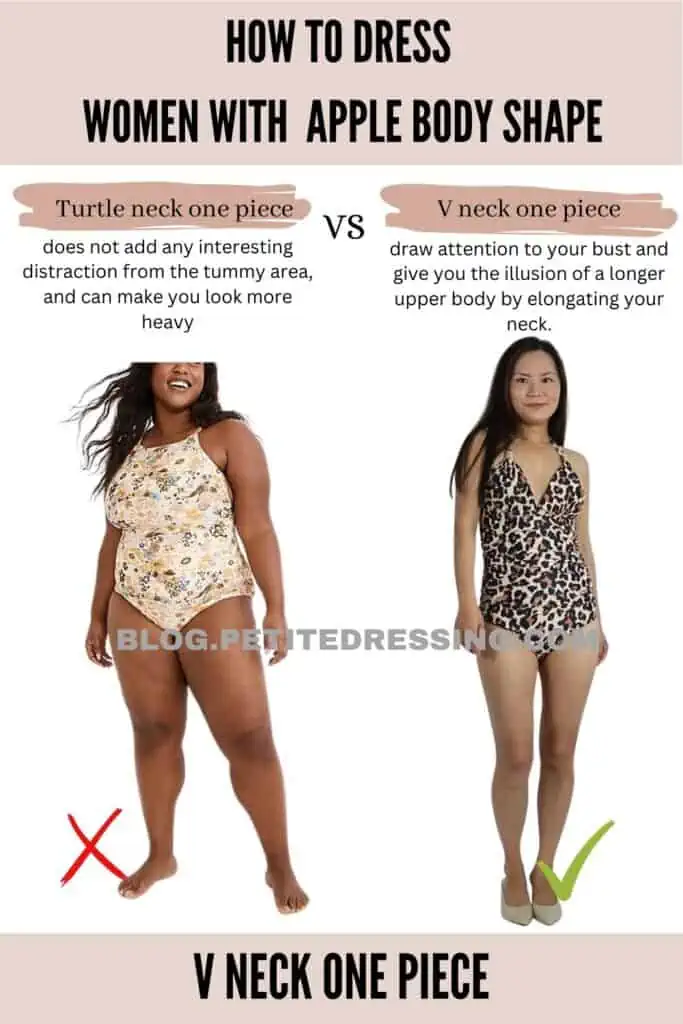 Ruched swim top
A protruding stomach or muffin top can be very tricky to work with especially when it comes to swimsuits. Since swimsuits are body-hugging, chances are your muffin top will, unfortunately, be compromised!
So what if this is the case? Well, thank goodness swimsuits that are ruched at the center do an amazing job concealing that stubborn bulge on your midsection.
The trick here is by confusing the vision by making your muffin top or stomach bulge look as if it's due to the gathered fabric on your midsection. In a way, this conceals your stomach by creating a more balanced silhouette.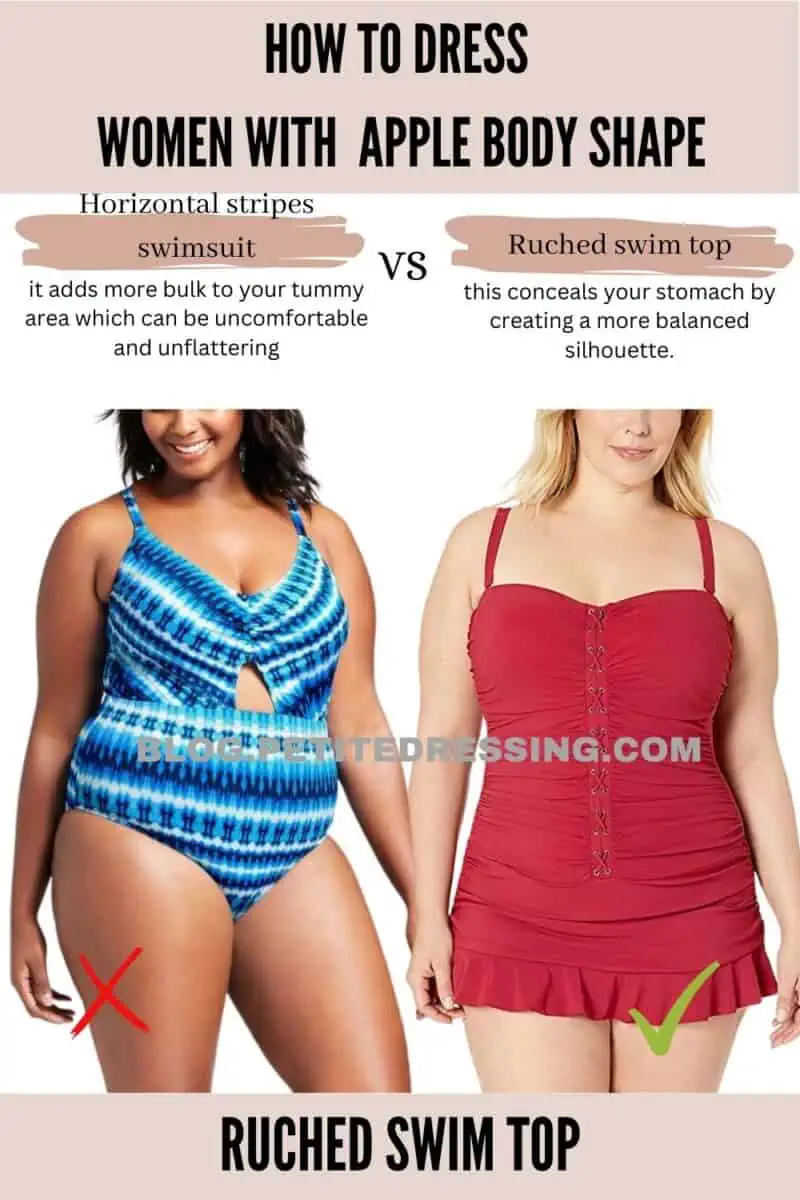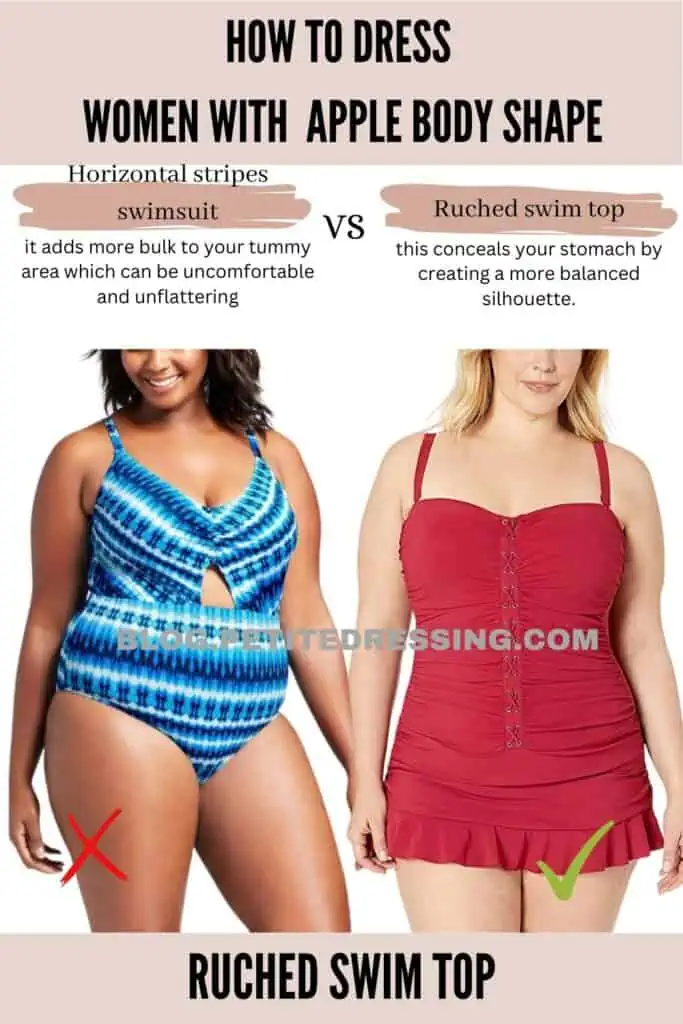 High-waisted bikini bottom
Do you feel sexier and comfier in two-piece swimwear? Then high-waisted bottoms should have a dedicated space in your summer wardrobe.
Just like what the empire waist swimsuit does, high-waisted bottoms focus on shaping your waist to give your body more prominent curves. Note that for it to look flattering on you, the waistband should go above your belly button.
High-waisted bottoms give you a wide variety of options when it comes to choosing a matching top. Dark-colored panels on the sides of the hips would make a significant difference in making your figure look more curvy and defined. For high-waisted bikini bottoms, you have to avoid those with large prints.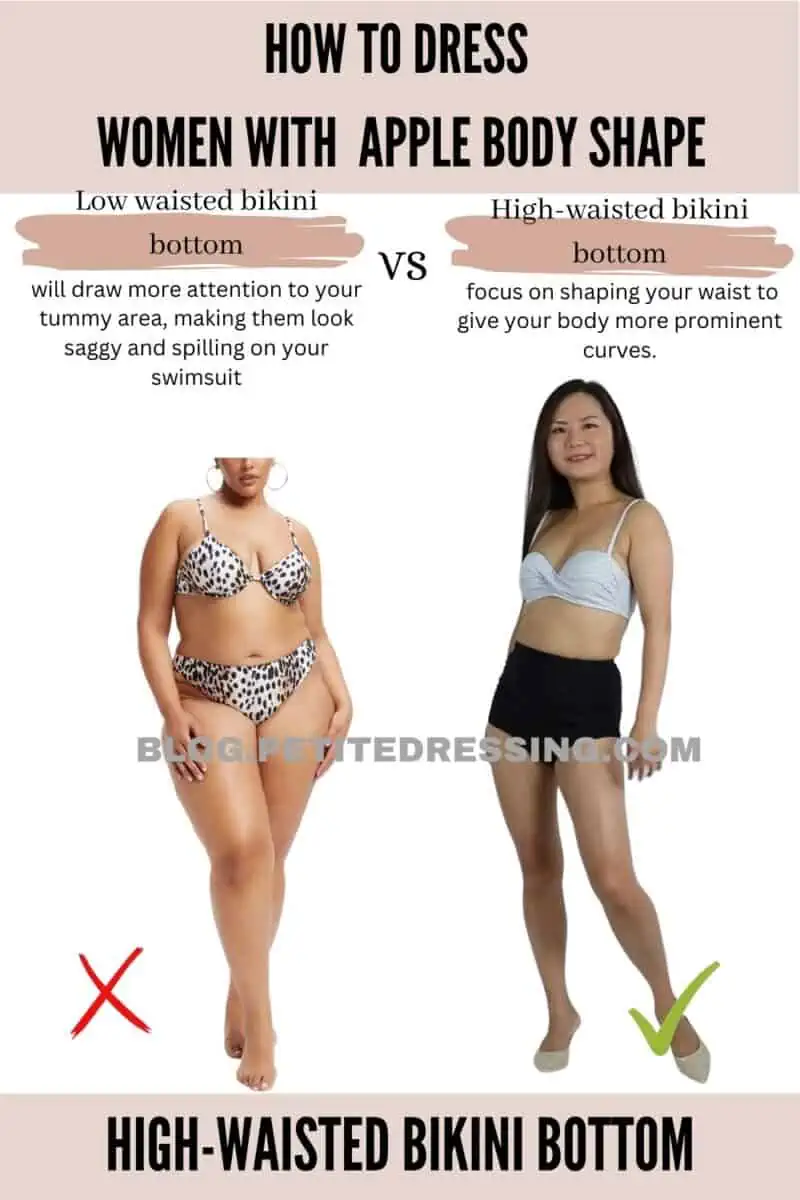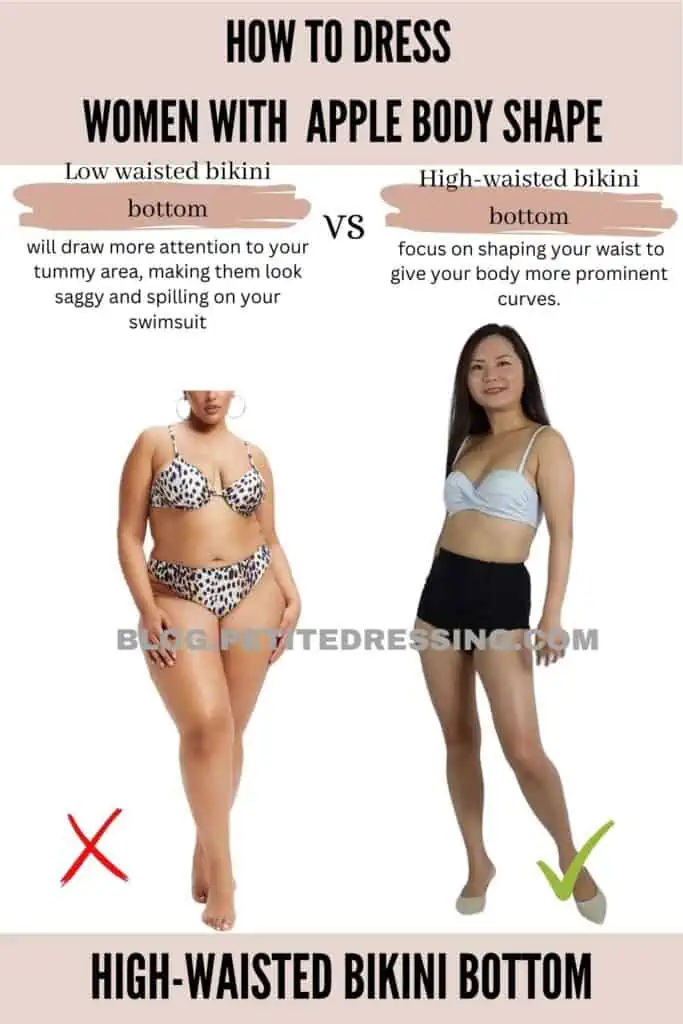 Vertical prints
Vertical stripes and empire lines instantly take some kilograms off your look! Women flaunting a petite apple-shaped body would find vertical prints in swimsuits absolutely flattering!
Preferably, vertical lines that range from 1 to 3 cm in width should give your figure more depth and dimension. Lines that are too thick or too narrow may look a bit off when it lays on the midsection.
Wide strap swim top
To give your gorgeous chest area a nicer and more pronounced shape, opt for bikini tops that offer enough support. These can be tops with underwired cups or non-wired skimpy bustiers.
The right level of bust support will not only give your upper body more definition but also provides immense comfort. Details like bust clasps, keyhole designs, or double-stitched bands will give you nicely-shaped cleavage.
One thing to be careful about when it comes to wired bikini tops is the right sizing. It's supposed to give your bust a snug fit but it shouldn't be extremely tight.
One-piece suit with waist detailing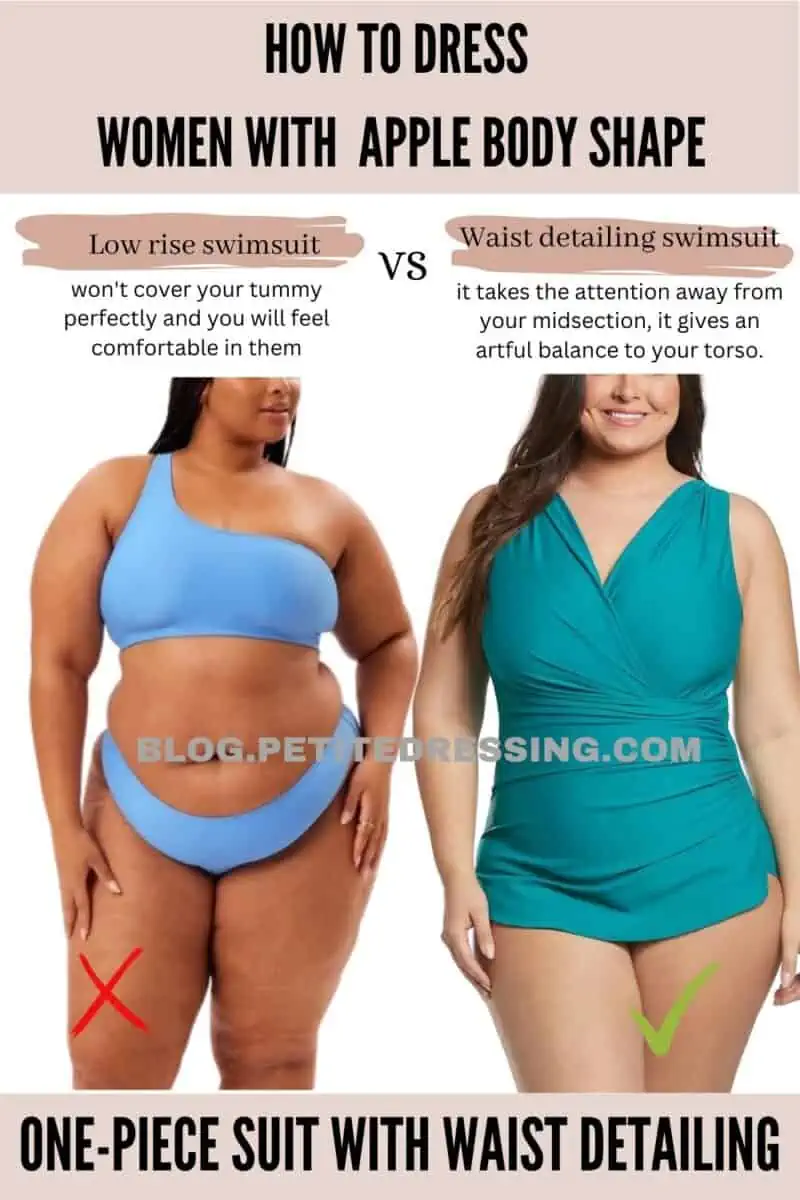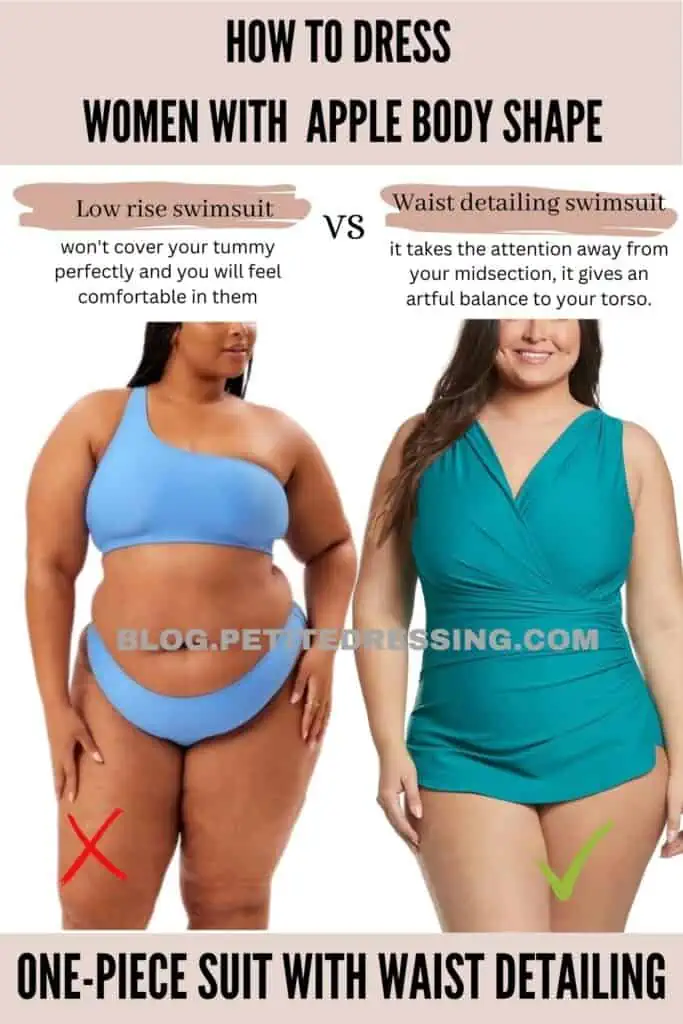 The goal of the waist details on your one-piece swimsuit is to be able to cinch the waist while also toning down the appearance of your heavier midsection.
Side cut-outs or waist ties are some examples of swimsuit waist detailing that would look great in shaping your apple-shaped figure. As it takes the attention away from your midsection, it gives an artful balance to your torso.
SHOES
A slight lift with a few centimeters of heels won't hurt for petite apple-shaped ladies! The right choice of shoes plays a significant role in creating balance in your overall look.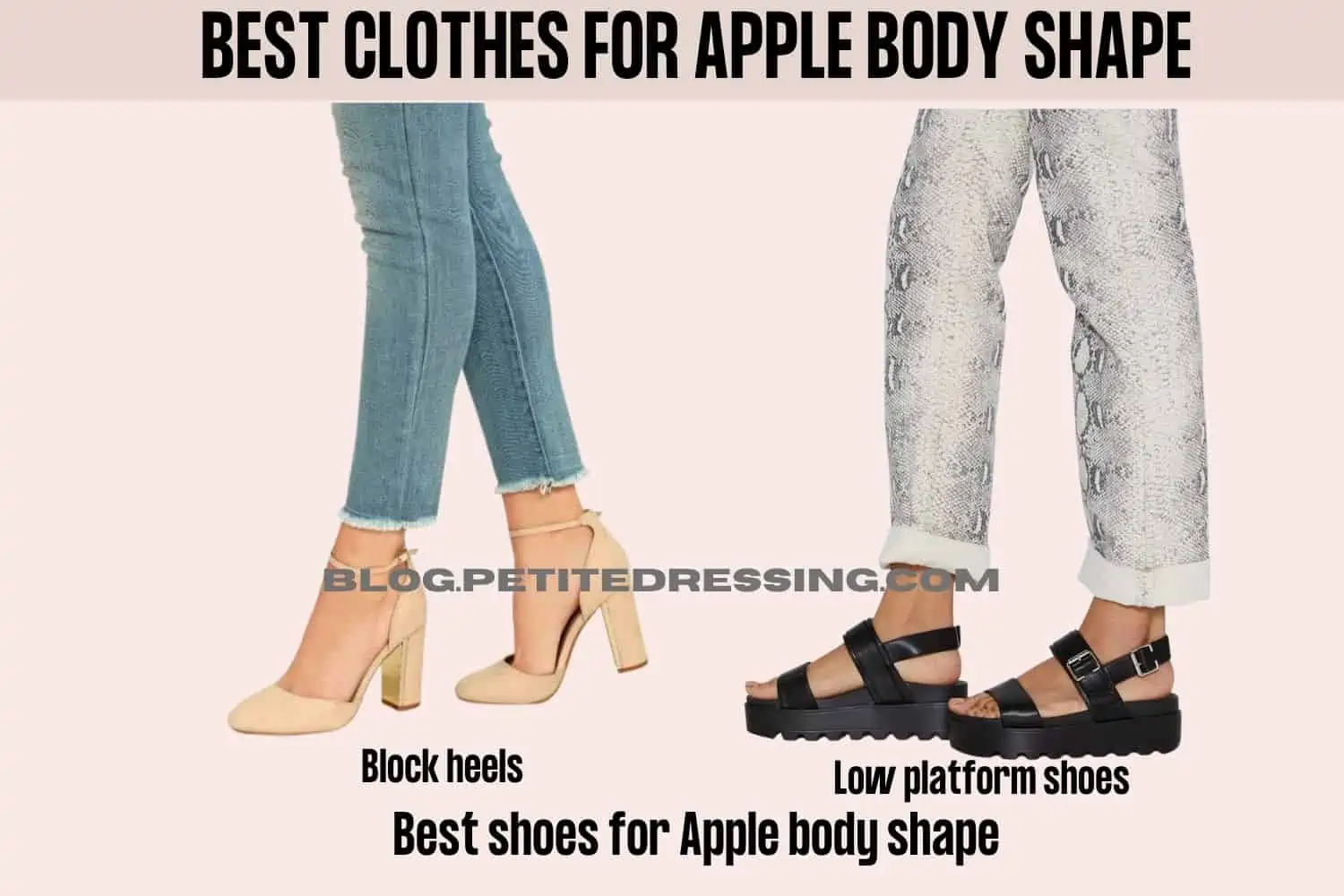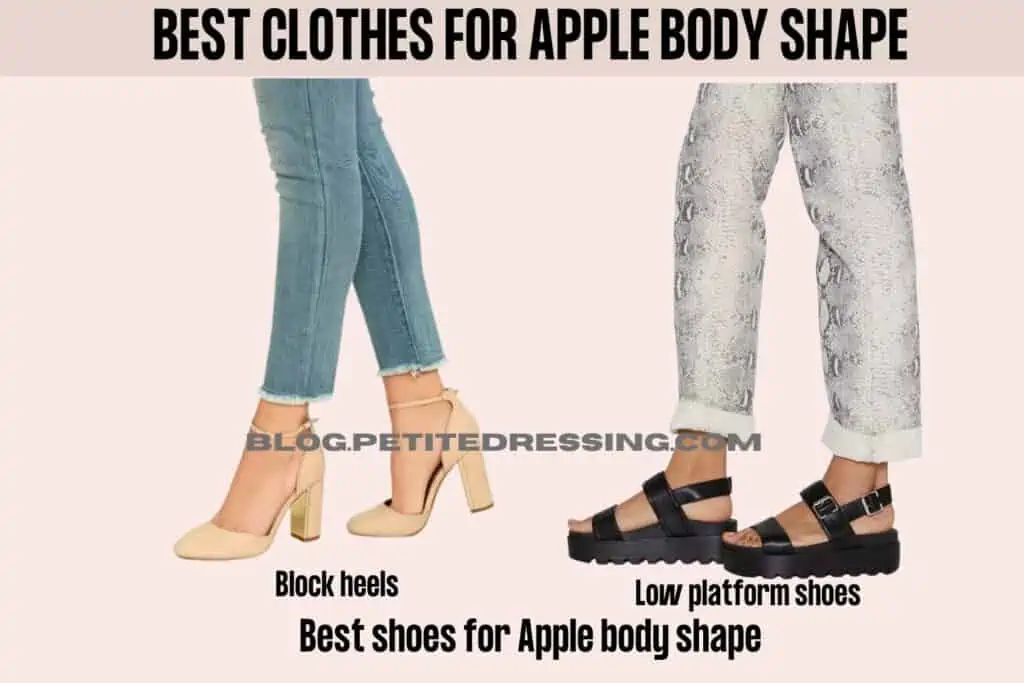 Block heels
The vintage retro vibe of block heels never ceases to enamour us! Not only does this shoe style look classy, but it also gives apple-shaped body types a better balance.
Block heels will give your height a nice lift without compromising comfort. Since the heels are quite thick, it won't be too difficult to walk in them.
The ideal heel height for apple body shapes would be at least 4 centimeters and above. And because your legs are one of your finest assets, drawing attention by elongating them is a smart styling hack!
Low platform shoes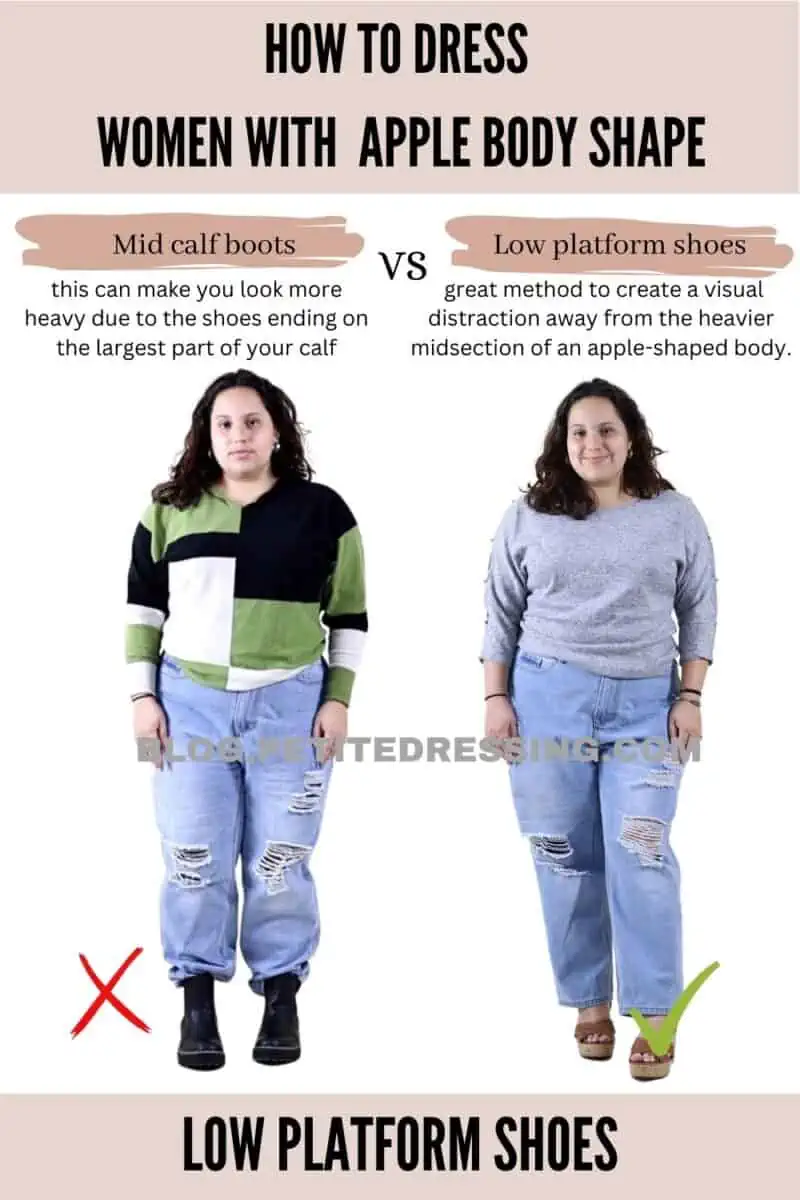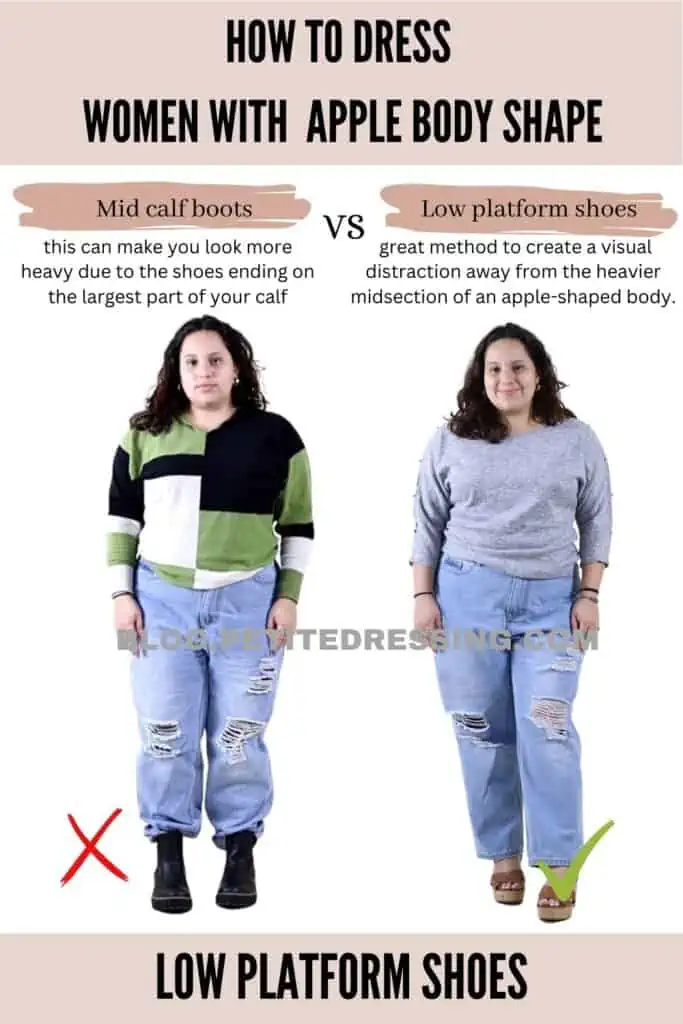 Not a fan of high heels but do you still want to add a lot of centimeters to your height? The elevated and thick soles of platform shoes should do the trick!
Platform shoes are quite eye-catching, too! This is also why it's a great method to create a visual distraction away from the heavier midsection of an apple-shaped body.
Wedges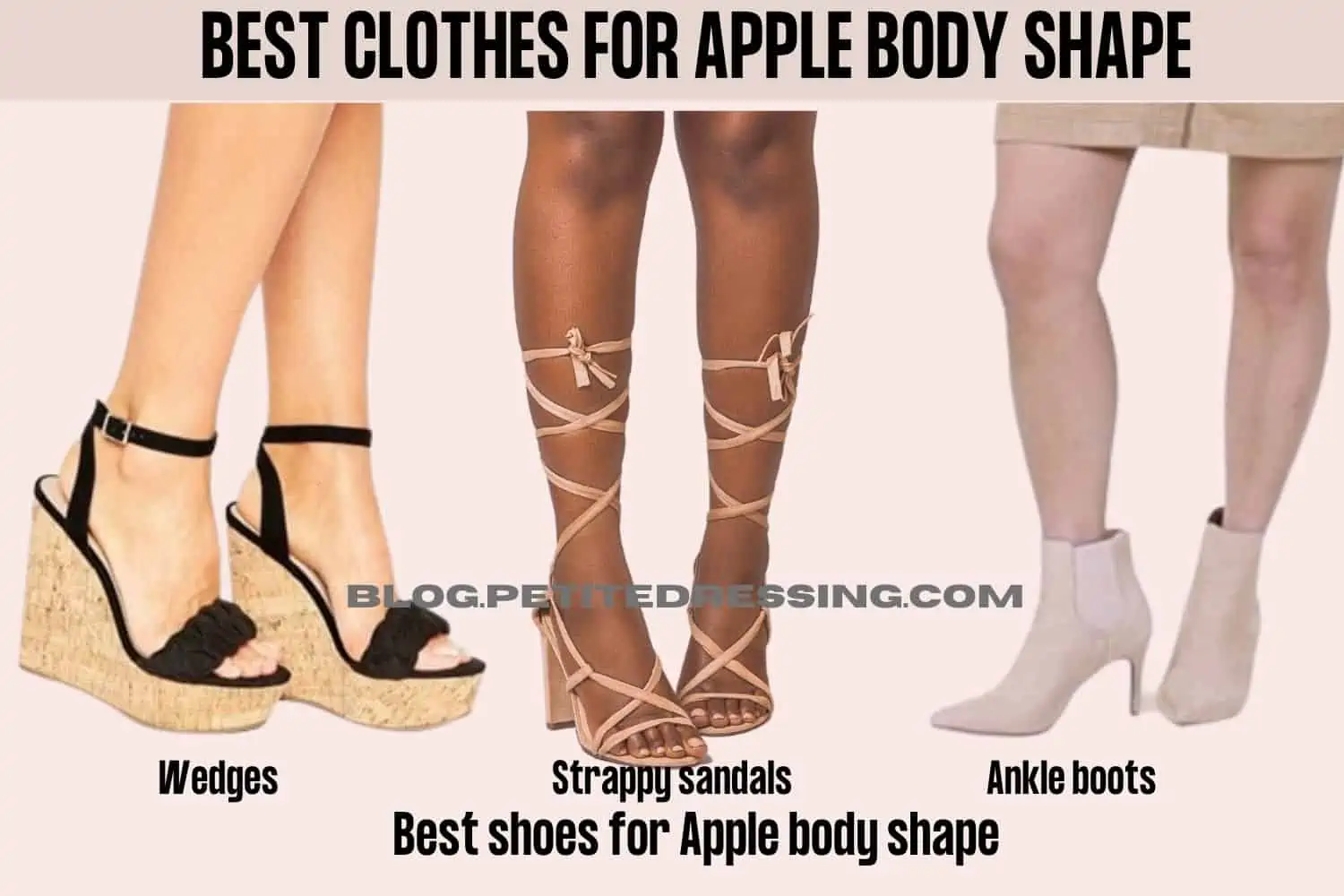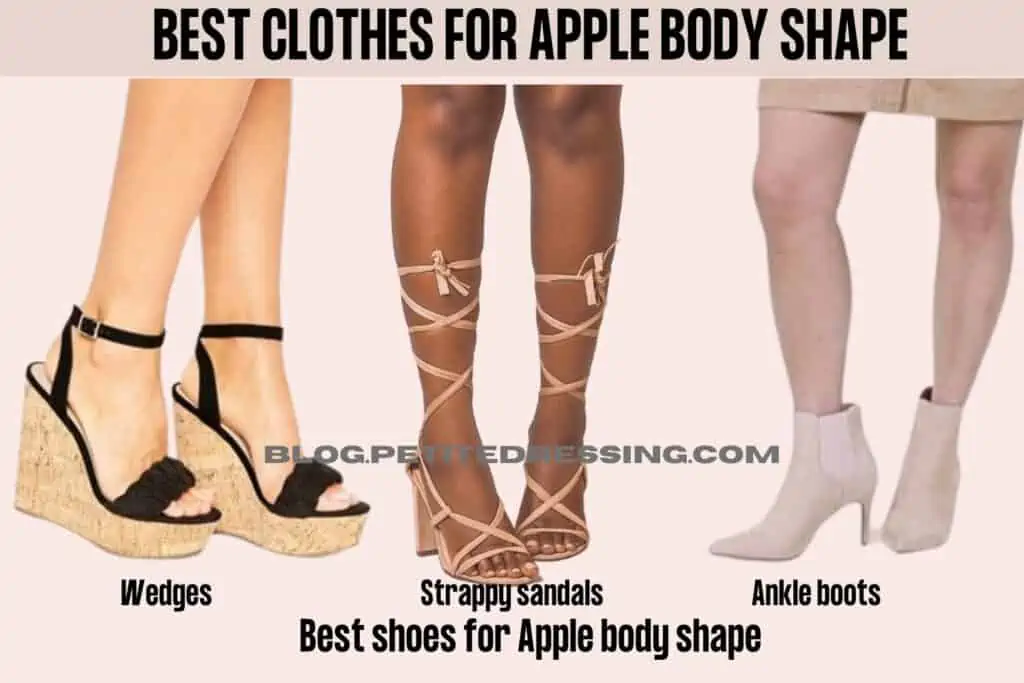 Another comfortable option that serves as an alternative to stilettos would be wedge sandals. Just like platforms, they are pretty elevated to make you look taller and slimmer.
Unlike platforms where the sole is more evenly thick all throughout, wedges are usually lower at the front and higher at the back. This makes it look more elegant and feminine.
Wedges are usually 6 to 10 centimeters in height which is pretty ideal for petite apple-shaped bodies. This will make the legs look longer and will also give you the illusion of a slimmer figure.
Strappy sandals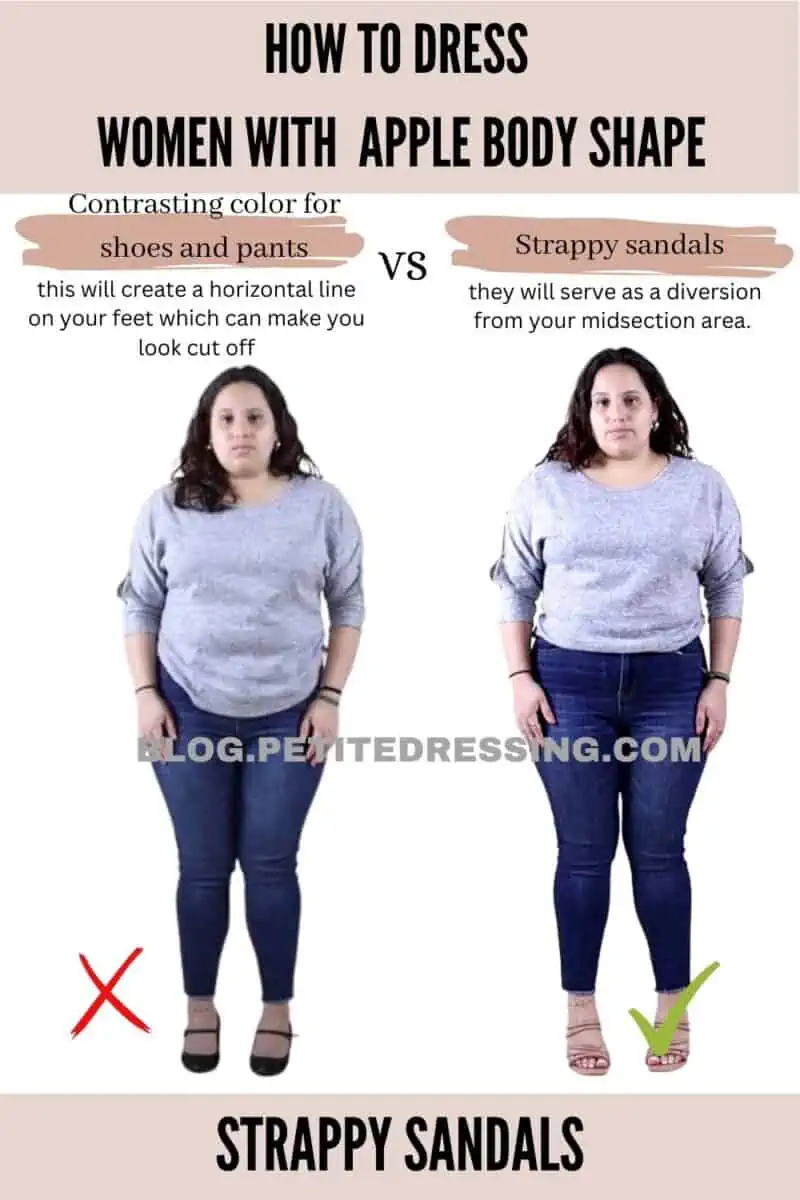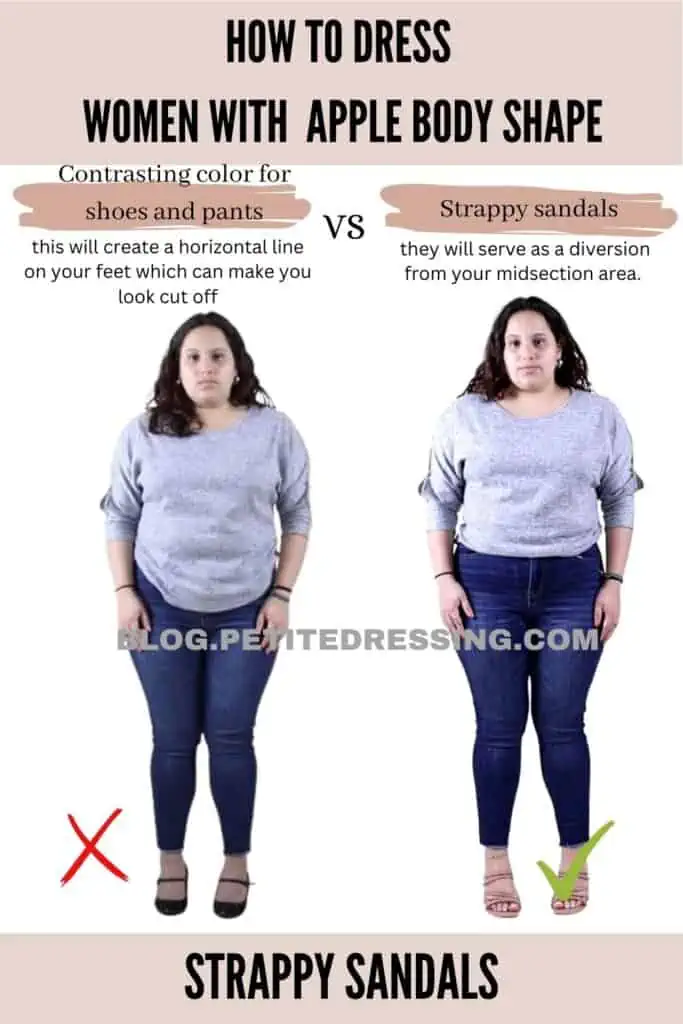 Whether you go for heels with this or not, strappy sandals will do their job of giving proper proportion to your body. The key point here is the straps.
The straps will draw more attention to your legs and feet, which means they will serve as a diversion from your midsection area.
Ankle boots
For colder seasons, boots would also make a great companion for apple-shaped bodies. Its ankle cut is perfect to give your lower body a flattering ratio.
Ankle boots would work well with coats, dresses, and crop jeans!
ACCESSORIES
Don't be afraid to explore a vast variety of accessories! The main goal here is to look for accessories that would help take the attention away from your midsection.
Drop earrings
Apple-shaped bodies have nicely proportioned shoulders and busts. If you're wearing a top that has a wide neckline, drop earrings would look fantastic!
You can opt for medium to long-length drop earrings depending on your preference. The right length will also give you the illusion of a longer and slimmer neck.
Statement necklace
If you're flaunting a plunging neckline, a statement necklace would accentuate your body's most beautiful asset – your bust area!
A statement necklace doesn't always have to be very bulky and shocking. Go for a design that's not too bulky but is eye-catching enough to turn heads!
Avoid skinny belt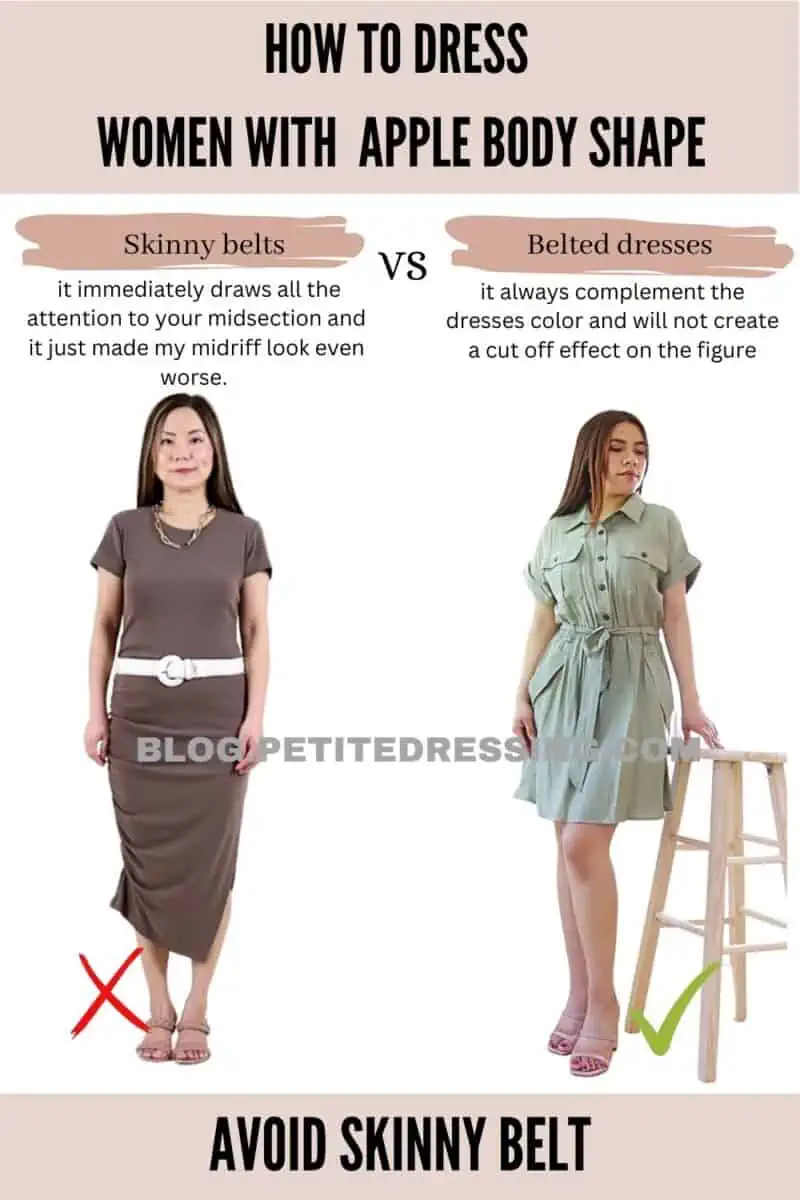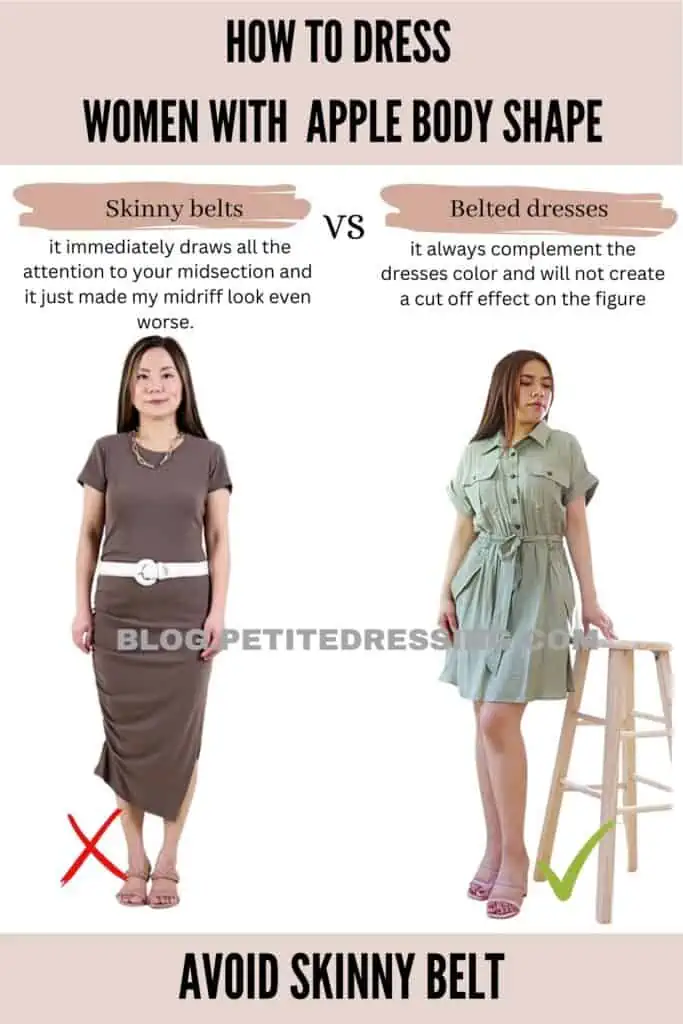 If you use a belt, it immediately draws all the attention to your midsection. That is exactly the OPPOSITE of what you want to do. Want to make things worse? Try a skinny belt or a belt with contrasting colors to what you are wearing.
The caveat I want to put out there is if/when you are a skinny apple, you could be the exception to this rule. If you are an XS or S, and your belly is much less noticeable, then wearing a belt to highlight the waist area may not be such a bad idea.
I have tried this and it worked ok if the belt is the SAME color as the garment (as you can see in the picture). However, as soon as I put on any weight, I had to stop wearing a belt because it just made my midriff look even worse.
FABRICS
Apple shape women overall look fleshy vs boney. The best advice for apple shaped body when it comes to fabric or print is go bold and big, as a little print especially on your top is going to make you look bigger than you are.
A good bold geometric shape is perfect winner for you! Try to stick to a heavier fabric and away from flimsy cheesecloth etc. as these fabrics tend to have a little more structure in the garment.
Celebrities with Apple Body Type
A great way of understanding what body type you are is by looking at real life examples. I have found it a great way to learn how to look better is by observing how celebrities dress and notice what works on them and what doesn't.
For instance, Eva Longoria (5'2″) is a great example of petite women with apple body shape.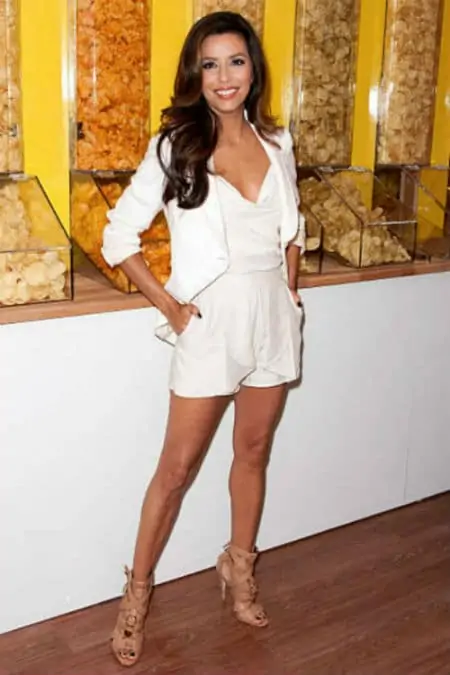 One thing I noticed is that when someone is skinny, it sometimes can be harder to identify her body type because she could fit into multiple types. However, when she gains weight, where exactly shows the weight as the first sign is often the best indicator of the body type. For apple shaped body, you would almost always notice your stomach is the first place to show the weight gain!
This is Jessica Simpson, 5'3″, and it is obvious her first sign of weight gain is always on her stomach.