Having the pear shaped body means you come with feminine curves on your hips and thighs. Below is a comprehensive guide on how to dress a pear shaped woman.
CHARACTERISTICS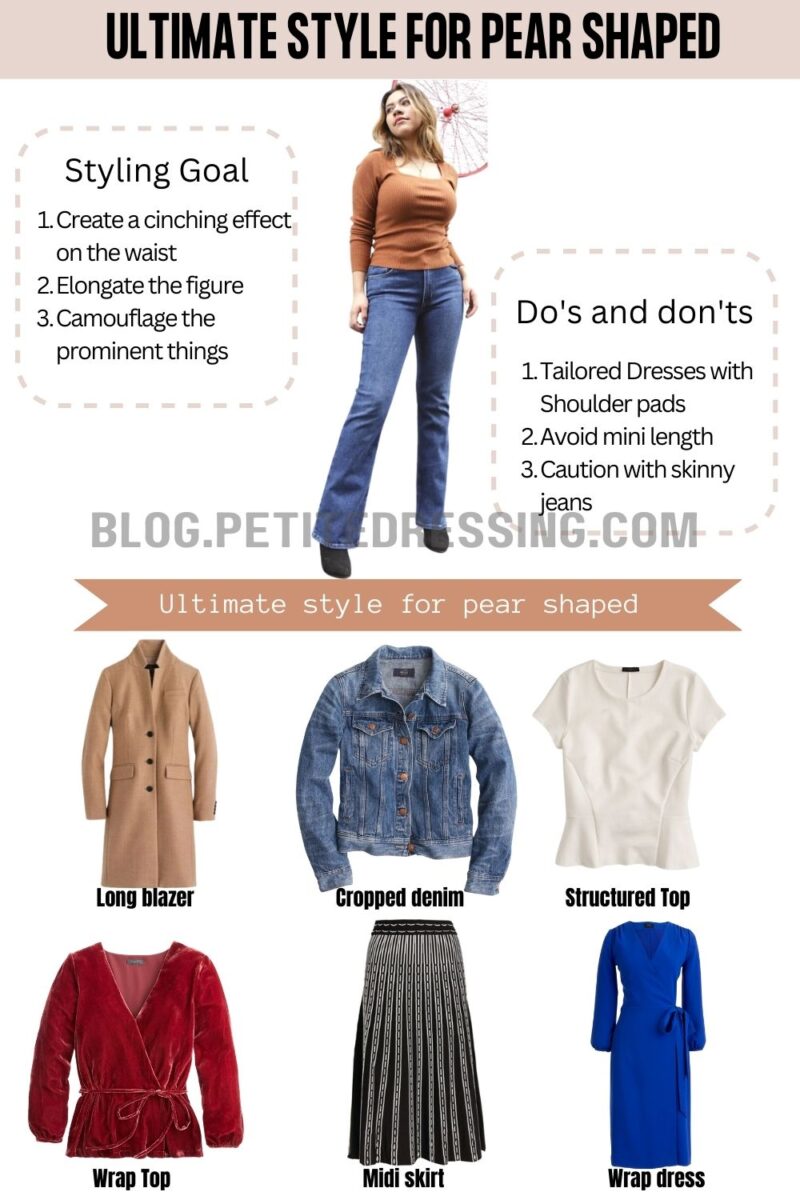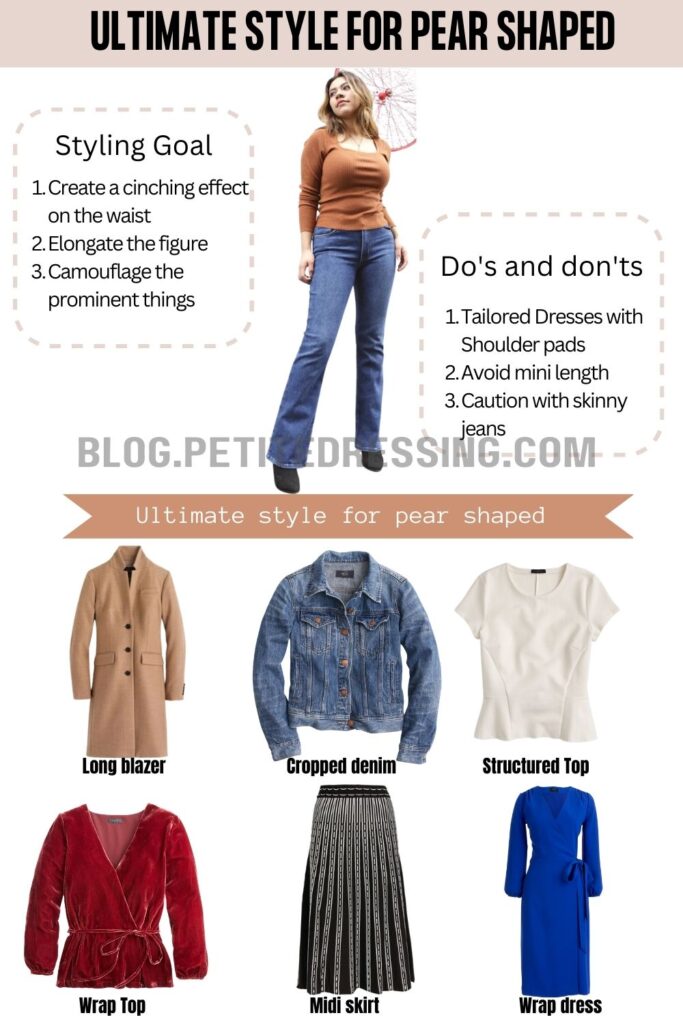 If you have a pear shape, your body generally have the following characteristics:
Your hips are larger than your bust, and your hips are wider than your shoulders. In many cases, your hips are the widest point of your body
You have a nicely defined waist
You have an elegant neck and proportionately slim arms and shoulders
You first gain weight in your bottom and legs flowed by your tummy and upper body
You have round, sloping shoulders.
Your buttocks and thighs are full and round.
You tend to have a long waist.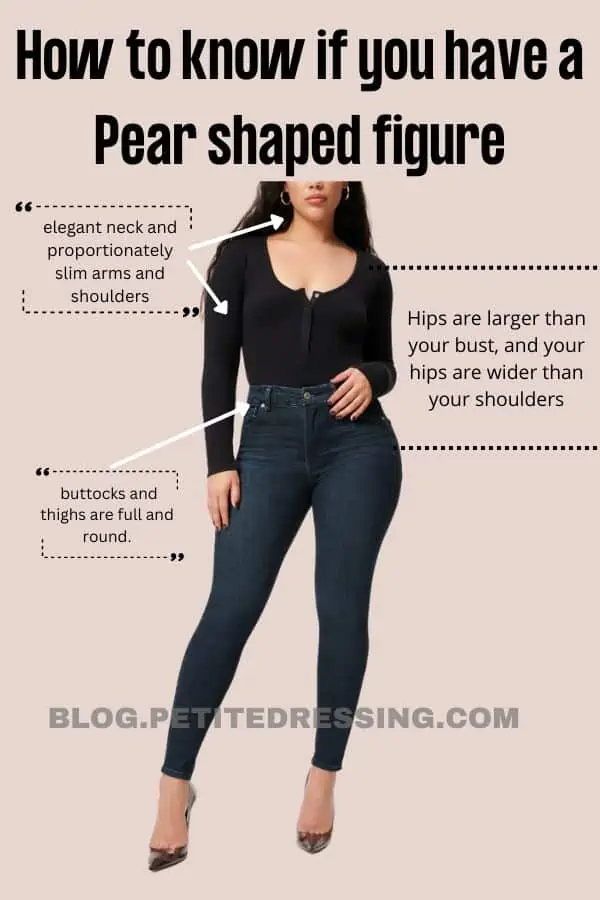 STYLING GOAL
When looking for the best pear-shaped body clothes, your goal should be to create an hourglass-like silhouette through:
Drawing attention to your narrow waistline
Showing off your firm abs (if you have them)
JACKETS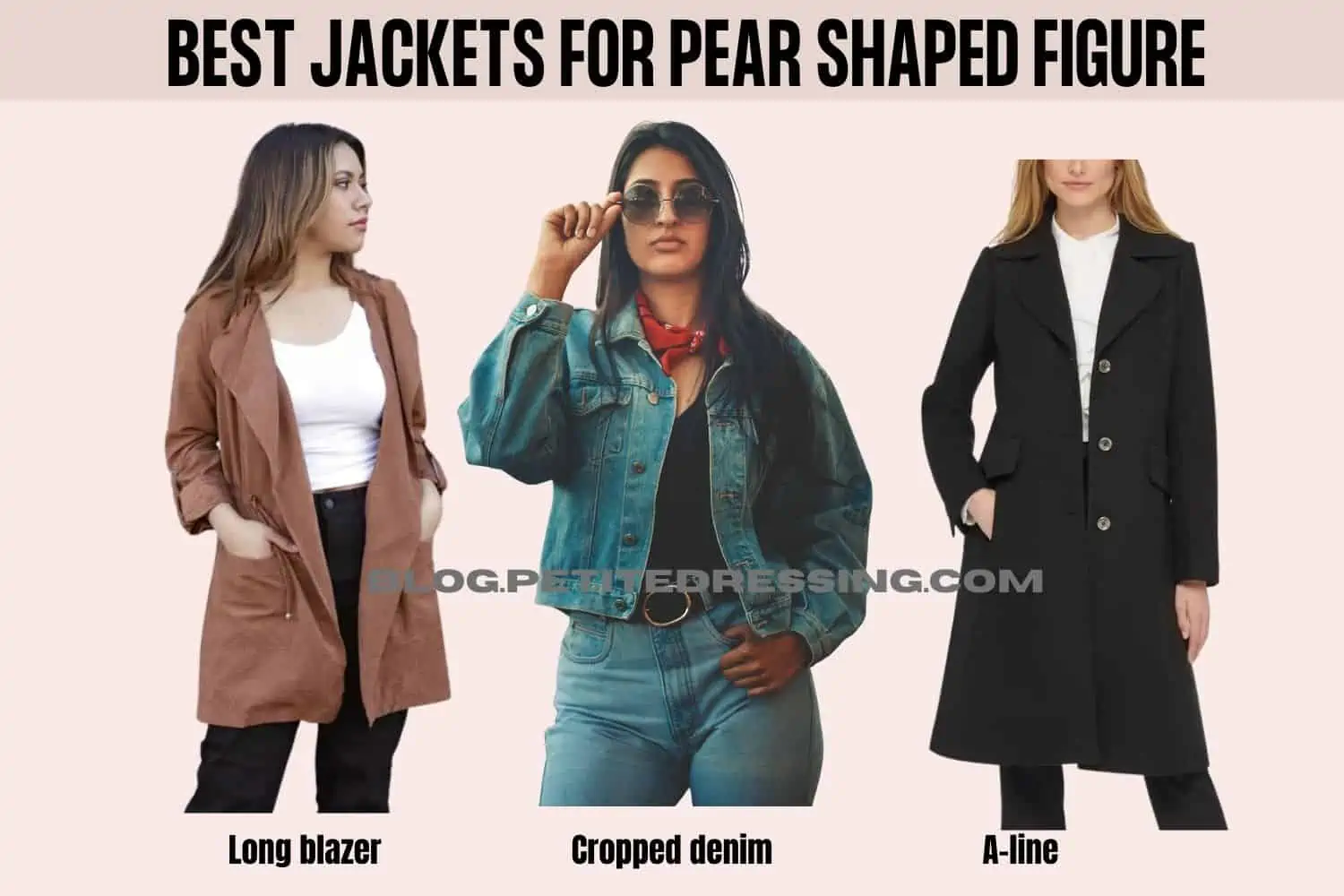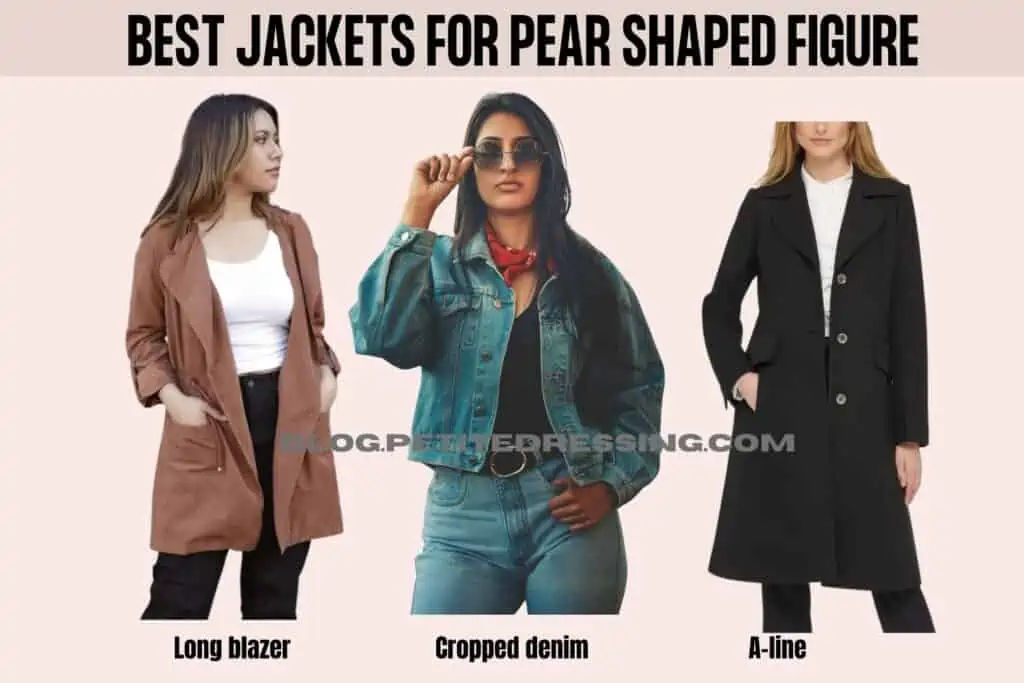 Long blazer
One great way for your pear-shaped body to rock a blazer would be to go for a length that goes past your hips. A mid-thigh blazer would elongate the body and give you an illusion of more balanced hips.
If you're going for a long blazer, remember that it'll still skim your hips and the upper half of your thighs. This means that any bulky details such as protruding side pockets can make your hips even wider and therefore draw too much attention.
Cropped denim
If you'd like something more rugged and street style, cropped denim jackets should give you such an edgy vibe! The key to making a cropped jacket flattering on your pear-shaped body is to keep it a length on the level of your waist.
The trick of having your cropped denim jacket at such a length will bare your slim, well-defined waist. Having the hemline finish at the level of your waist or midriff area will highlight the waist and add more volume to the upper half of your body.
A-line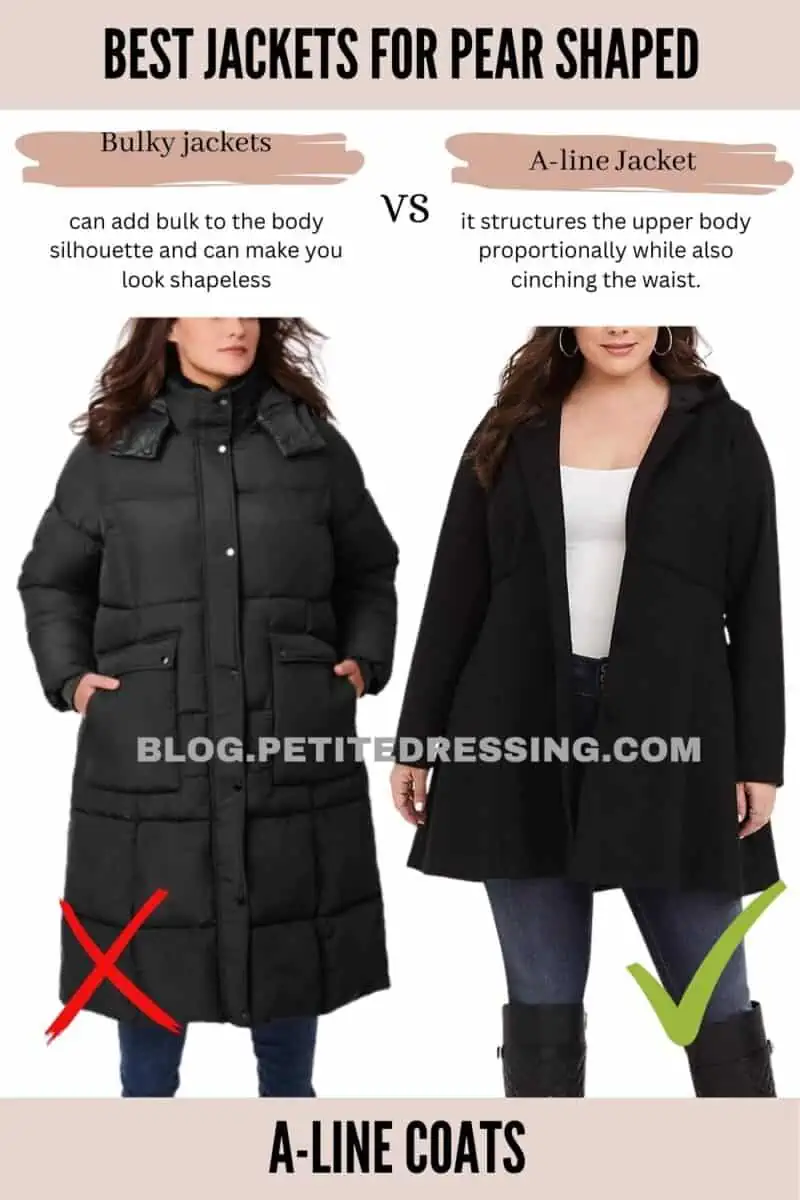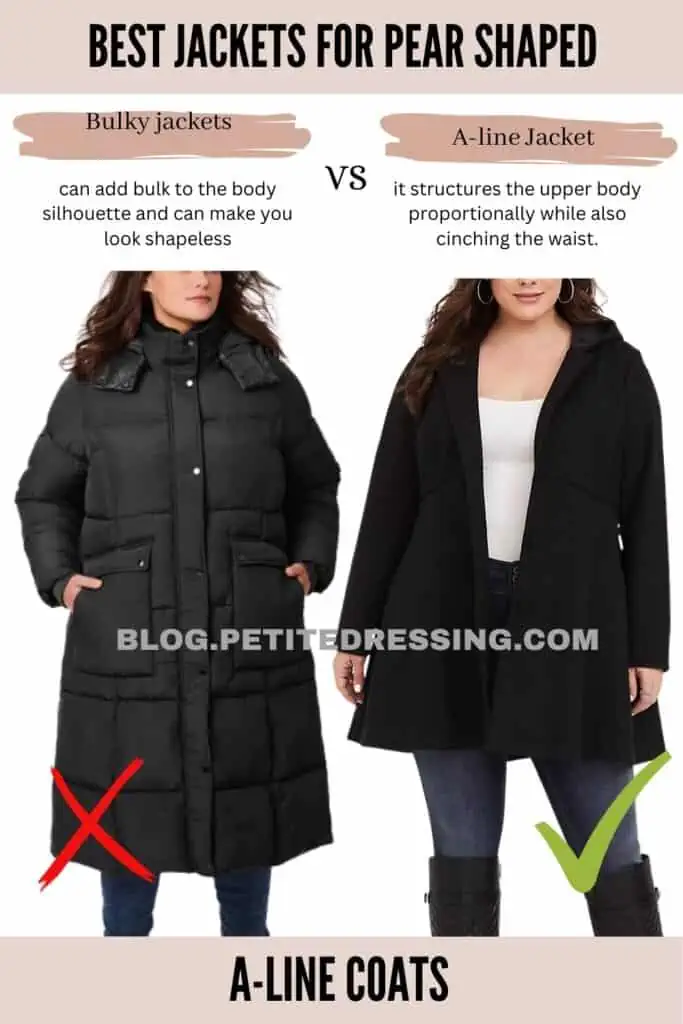 Fit and flare jackets are universally flattering for pear-shaped bodies because it structures the upper body proportionally while also cinching the waist. Its loose fit on the lower body also minimizes the appearance of your hips.
When choosing an A-line jacket, just be extra careful with the details it has on the sides. Avoid bulky side pockets or too many button details.
Hip length
For pear-shaped women, generally speaking, a longer jacket that bypasses the widest point of your hips is the best choice.
Shawls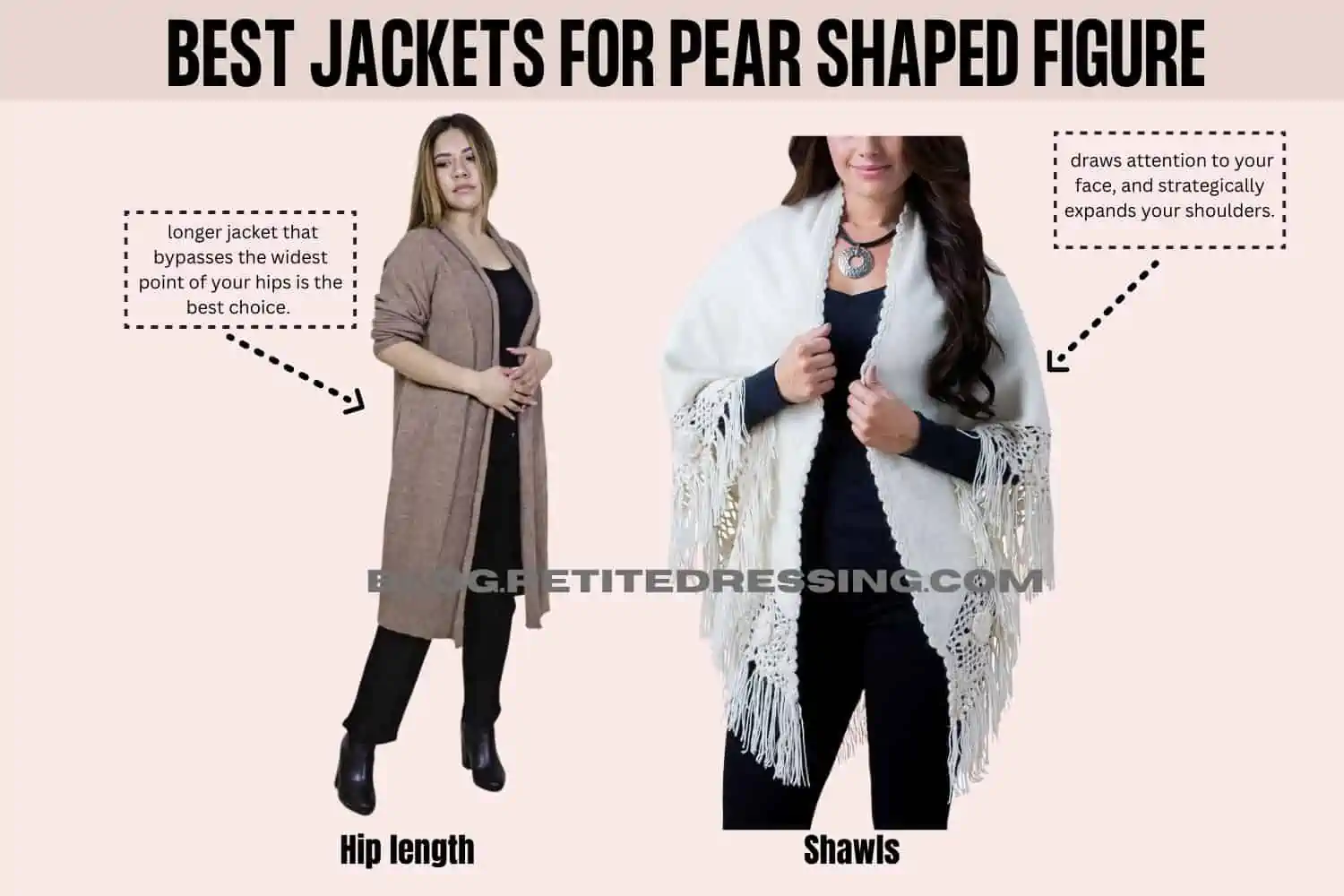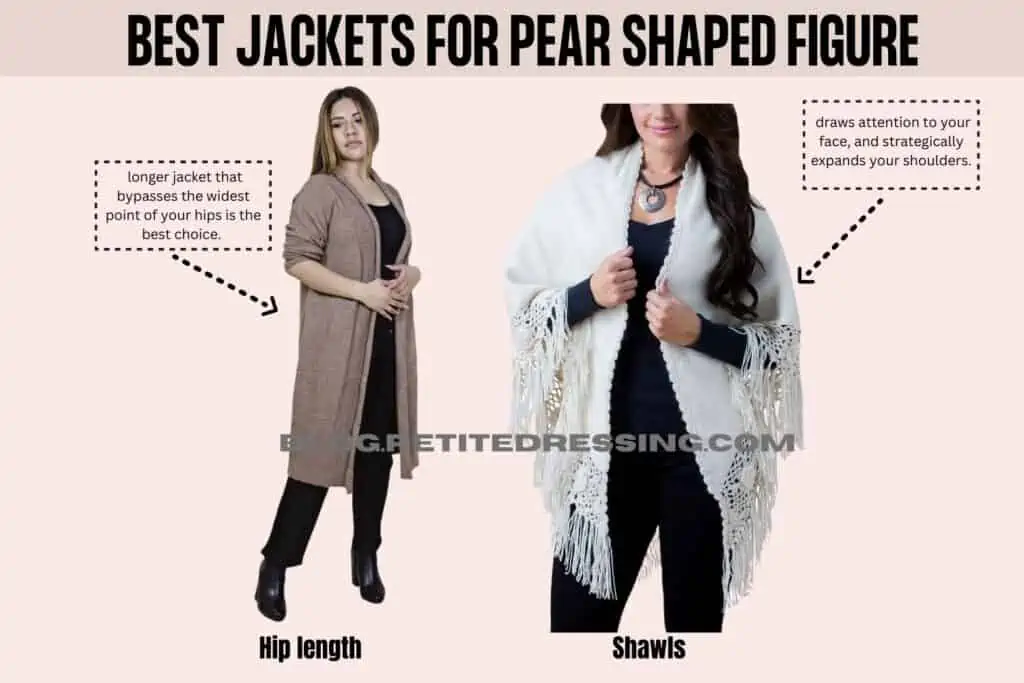 This is a well-kept secret that you probably have not heard about. The shawls are heaven-sent for pear-shaped figures, because for several reasons.
First, it draws attention to your face, and strategically expands your shoulders.
Additionally, they are chic and functional at the same time. They keep you warm when you need the extra layer, without adding any bulk to your body.
If you are going to a formal event, you can opt for an evening gown that comes with a shawl.
The details will not only make your shoulders look broader, but also draw attention above and away from your butt and thighs.
Caution with cropped jackets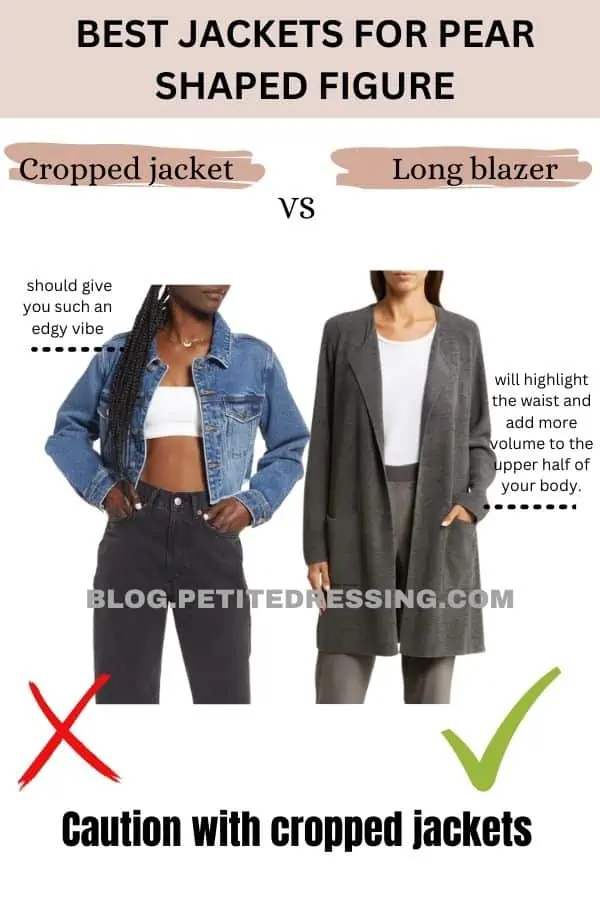 The cropped-length jacket normally draws attention to your hips, which is not the most flattering point of your body.
So, if you do want to wear a cropped jacket, you need to be very strategic. You probably want it really short, and also wear it with black skirts or pants to balance it out. The reason why a shorter length could work on a pear-shaped body is it could have the effect of a shawl, which I will talk about in greater detail in this post.
TOPS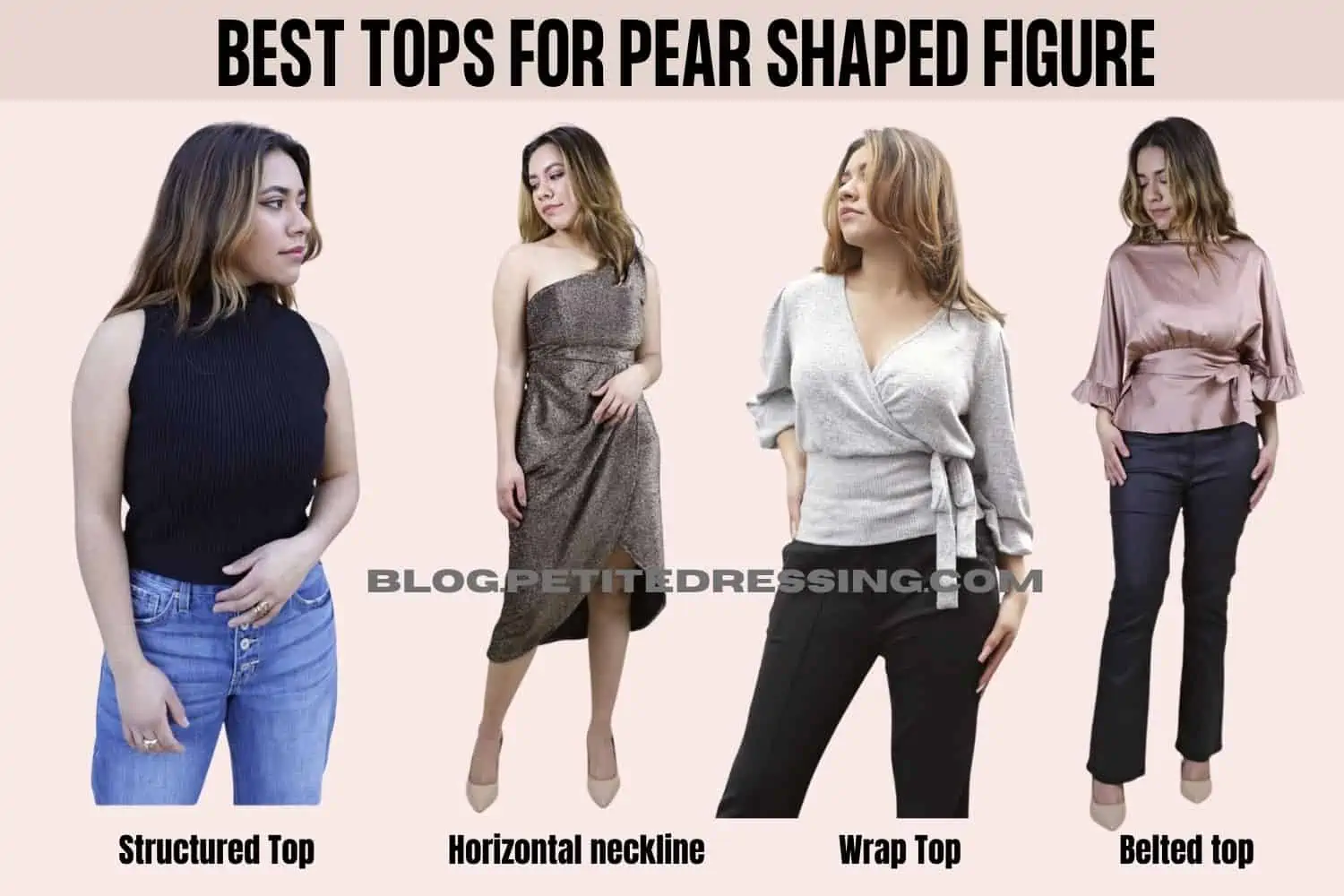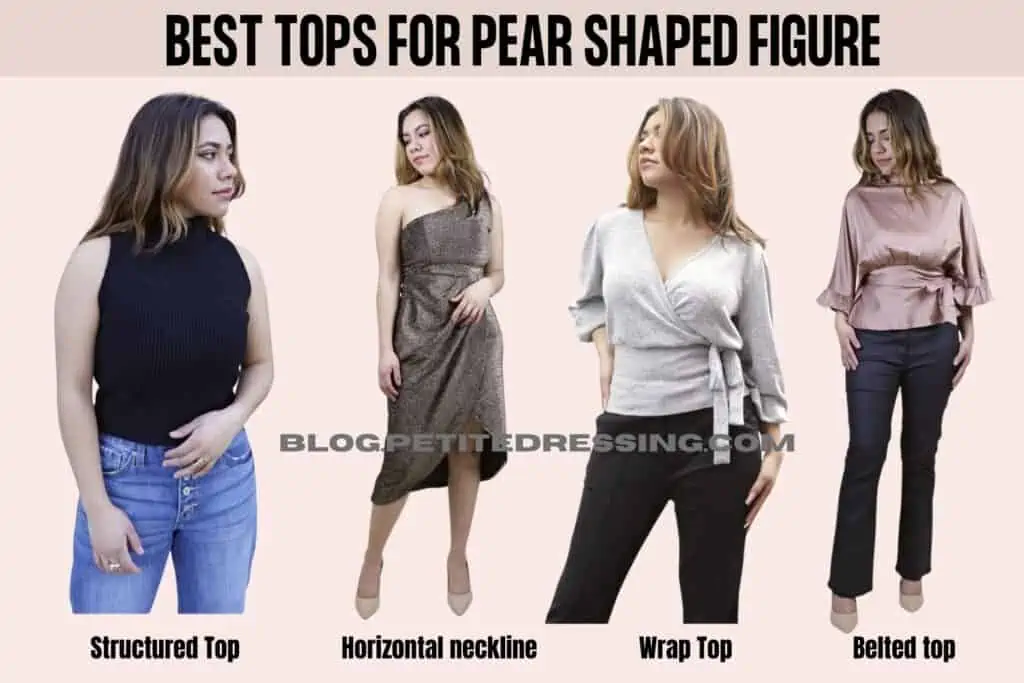 Structured Top
A fitted and structured top is a good choice to balance out the sloping shoulders of pear shape.
Fitted and structured tops look especially well in a pear shape because they create definition around your narrow shoulders and draw attention to your small waistline. A good example is jackets with full or structured shoulders and a nipped-in waist in hip-length. If you have a pear figure, light shoulder pads work the best to balance out your narrow top.
Horizontal neckline
Pear body shape should use a neckline to visually expand your shoulders and create the illusion of a wider top. The most flattering neckline designs for pear shapes are boat neck and off-the-shoulder
Both boat neck and off-the-shoulder create the horizontal line in shoulders, which serves to balance out your wide hips.
Wrap Top
The slender waist is a valuable asset of women with pear-shaped bodies. You should absolutely emphasize and make that the focal point of your outfit. Wrap tops are top choices to bring attention to your waistline.
Belted top
Alternatively, add a belt to any basic tops, tube tops, knit tops, sleeveless tops, etc.
Blouses with built-in waistbands also serve the same purpose of highlighting your slender waist.
Caution with tunics
If you have a pear shaped body, then you want to avoid the length that hits the widest part of your thighs. Because that is going to draw too much attention to your prominent thighs, the opposite of what you want!
This rule of thumb applies to all the tops I'm to tell you about.
SKIRTS
A line
A-line skirts that gently slim your body help to de-emphasize your bottom, and they are generally flattering to women of pear shape, like this
Look for lightly gathered skirts that skim your bottom without adding volume. Simple, dark-colored skirts with no (or minimal) pockets with a mid-rise or high-rise waist will look great on you. For casual looks, choose relaxed fits that fall straight down from the widest part of your hip.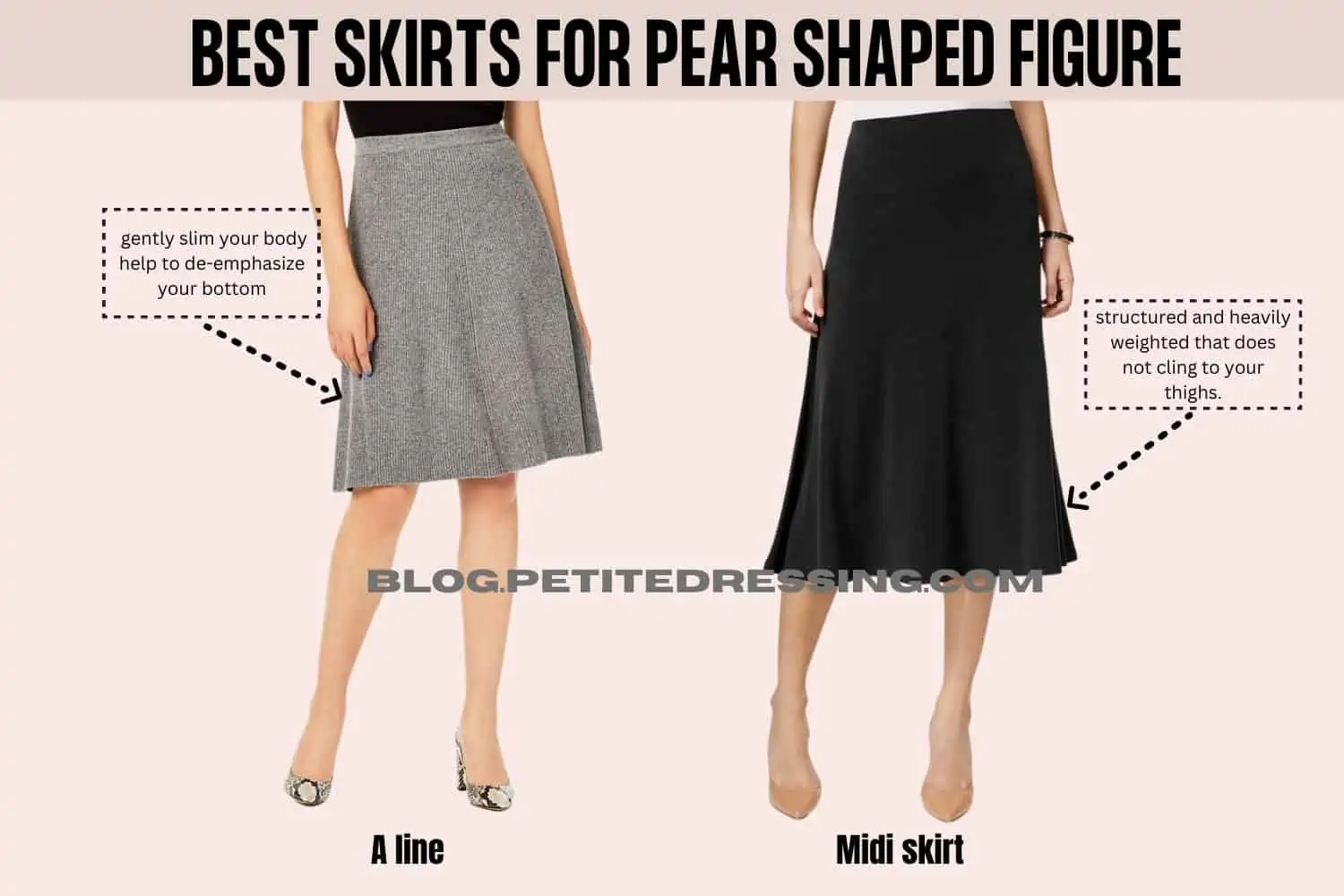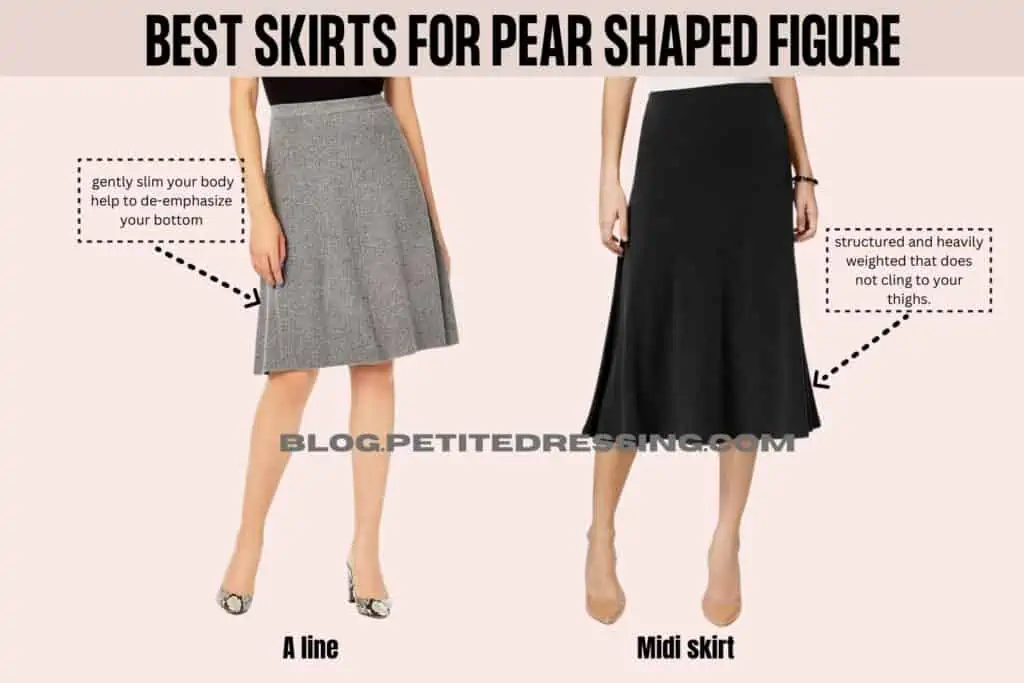 Midi skirt
In general, longer skirts are better for pear-shaped.
The reason is that mini-skirts will easily draw attention to your thighs, which is something you want to avoid. If you do want a shorter skirt, make sure it is structured and heavily weighted like this so that it does not cling to your thighs.
Caution with a pencil skirt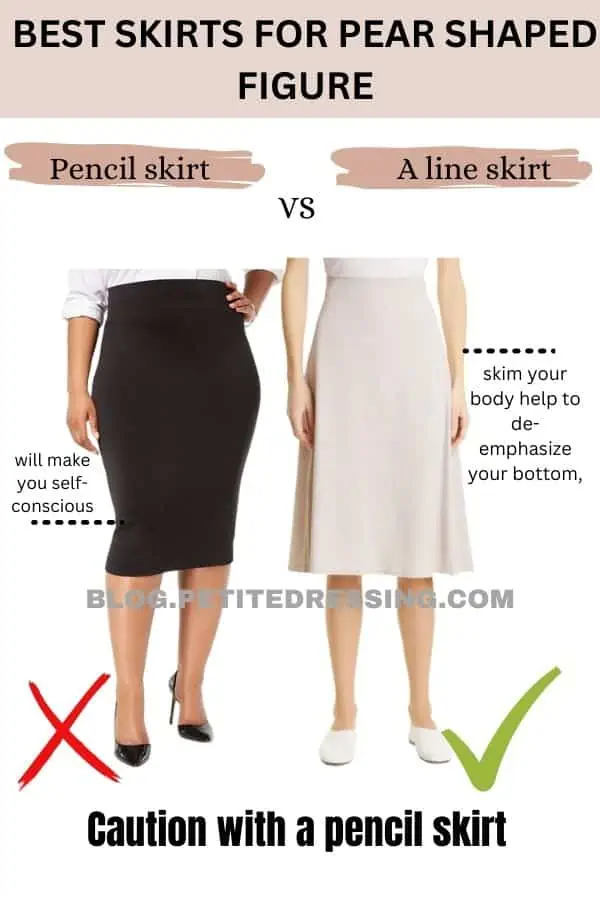 Whether you should wear a pencil skirt or not is totally up to you because it all depends on how you look at your body and what you view as the assets of your body shape.
Kim Kardashian has very prominent hips and thighs, and she never shies away from flouncing those curves. In fact, a cropped top with a high-waisted skirt is one of Kim's most famous signature looks.
On the other hand, some pear-shaped women are self-conscious about their prominent thigh area. That is totally fine and understandable.
DRESSES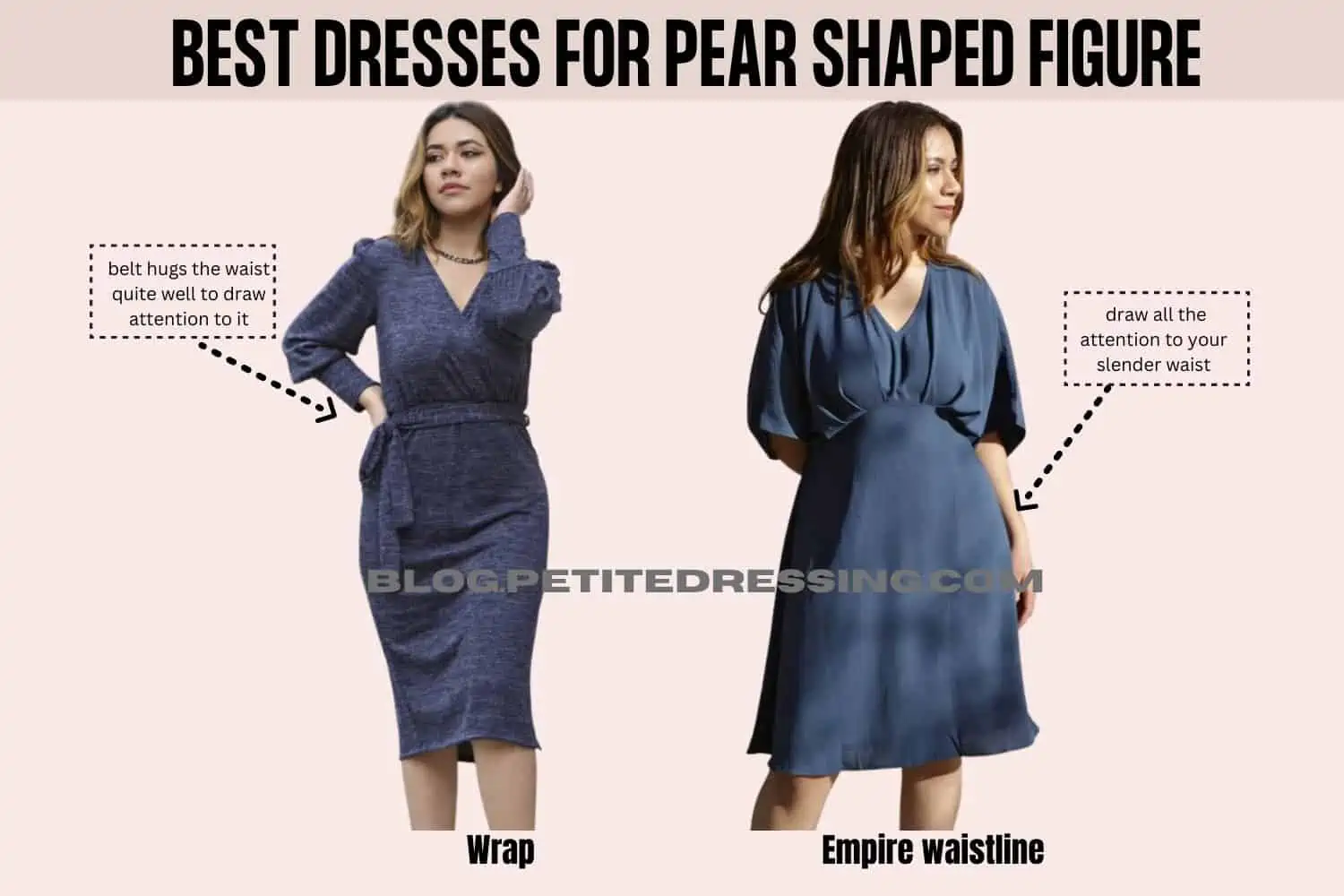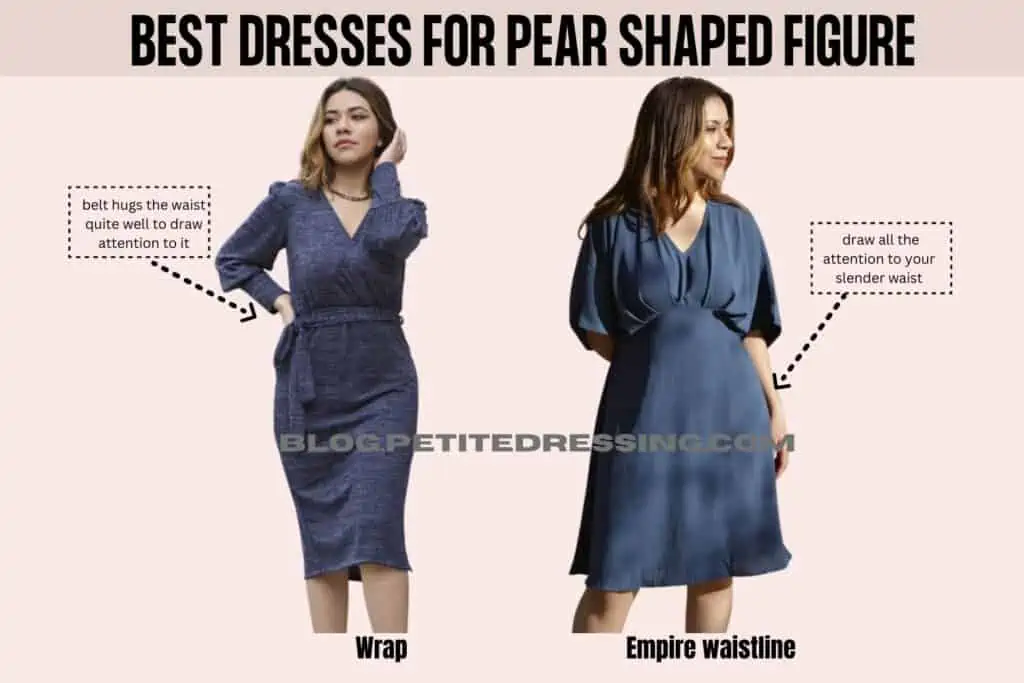 Wrap
Similar to the styling principle of wrap coats, wrap-style dresses are very flattering for pear-shaped bodies because the belt hugs the waist quite well to draw attention to it. They also flow seamlessly over the hips which slightly minimizes its size but does not completely drown the shape visually.
Tailored Dresses with Shoulder pads
Pear-shaped bodies have narrow shoulders and so they would need a bit of help from shoulder pads from time to time.
If you think about the shoulder-padded vintage dresses in the 80s, this is exactly what we're talking about! For a modernized touch, go for shoulder pads that aren't too big and overwhelming.
X-Line Dress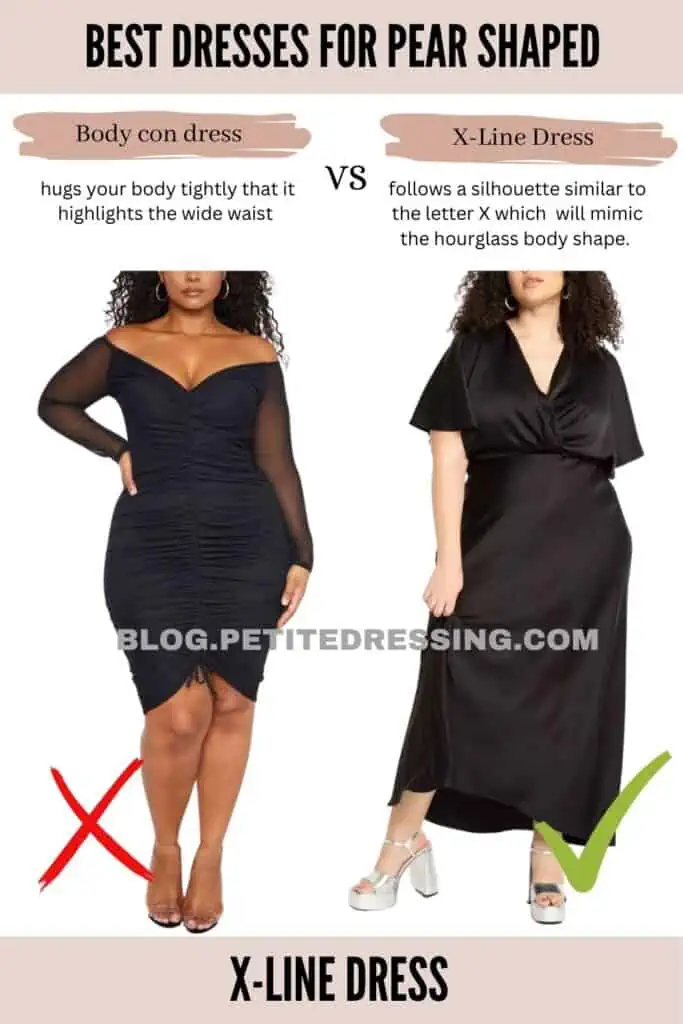 From the name itself, it follows a silhouette similar to the letter X which features broad, prominent shoulders, a tightly cinched waist, and a full A-line hem. Wearing an X-line style dress will mimic the hourglass body shape.
The shoulders may feature pads, pleats, or dramatic ruffles to give your shoulders more prominence. The neckline is usually plunging or in a deep V shape.
Empire waistline
Best dresses for a pear-shaped body? They should draw all the attention to your slender waist! The empire waistline dress is the most ideal for pear shaped women.
The empire waist is a dress where the waistline is high, which is normally placed just below the bust line.
Fit and Flare Dresses
A skater dress (also known as fit and flare dress, or A line dress) with a higher waistline is heaven-sent for our pear-shaped women. The A shape of the dress will perfectly camouflage the heavy bottom of a pear-shaped body.
Skater dresses do not hug the curve of your bottom, thus they will draw people's attention away from your butt and thighs.
Off-the-Shoulder Dresses
The rationale is the same as the off-the-shoulder tops. Because the neckline creates a horizontal line, it balances out the narrow shoulder of pear-shaped women.
Better yet, off-the-shoulder also draws attention to your upper body, distracting from your wider hips.
Avoid mini length
Dressing for pear-shaped should always keep the length of the hem in mind.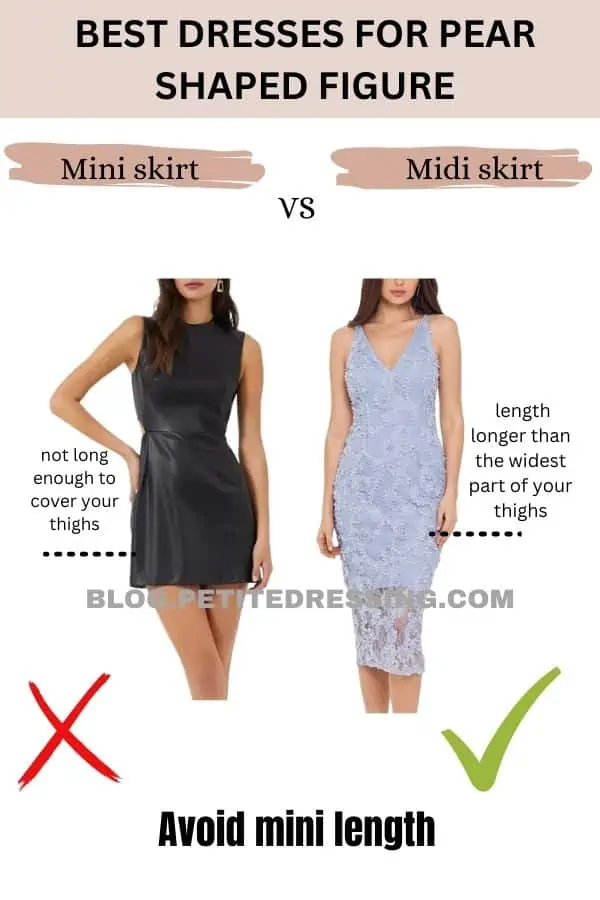 If you have a pear figure, you generally do not want the attention to be drawn to your thighs, especially not the widest part.
It is important to go with a length longer than the widest part of your thighs. That means, if a mini dress is not long enough to cover your thighs, then it is not the best option for you.
You could opt for a dress that is just above your knees or a midi dress that ends between your ankle and your knees.
JEANS
The goal is to highlight your natural curves but without giving your hips and thighs a very tight fit. Find a pair that has a contoured waistband to give your waist (your best asset) the spotlight.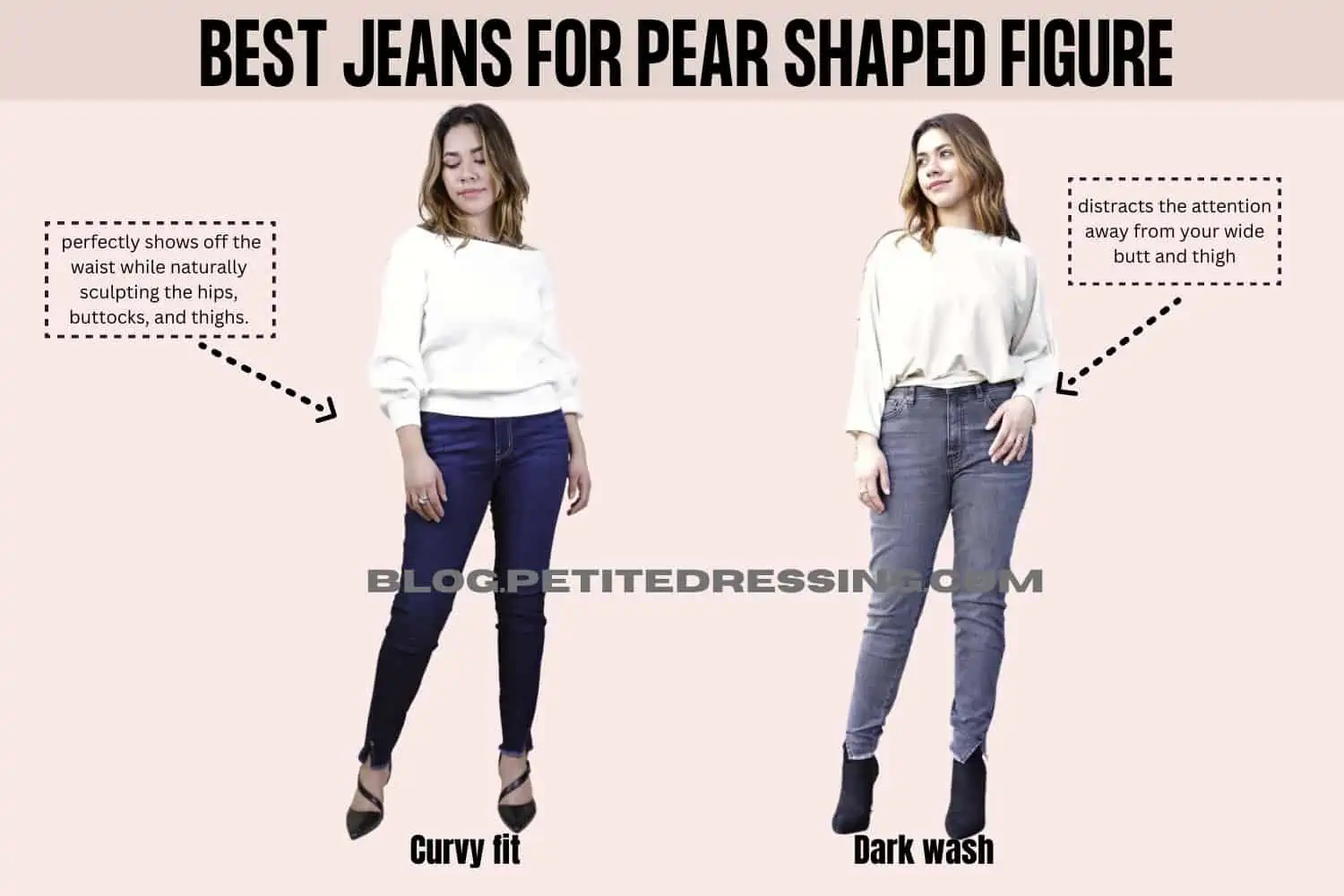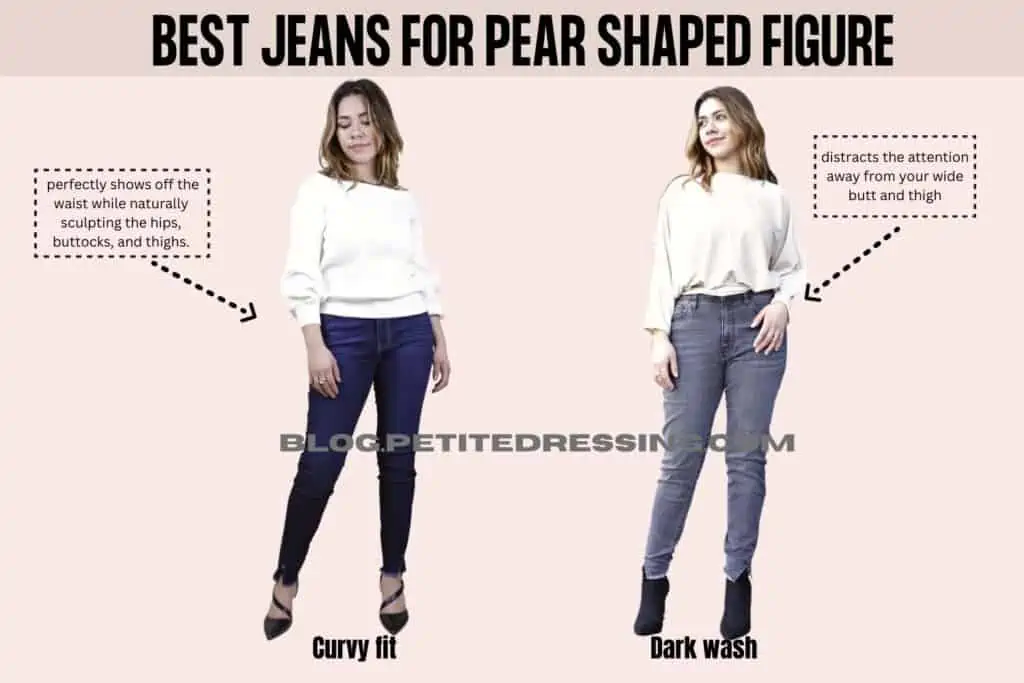 Curvy fit
Curvy fits should always be your quick go-to pair of jeans. They are one of the most flattering styles of jeans for pear-shaped ladies because it perfectly shows off the waist while naturally sculpting the hips, buttocks, and thighs.
Dark wash
As a pear-shaped woman, the important thing in choosing jeans is to keep in mind that you generally want them to be darker than your top.
Since the goal is to distract attention away from your wide butt and thigh, you can achieve that by wearing a brighter top with darker color pants or jeans.
Dark colors generally have the slimming effect, while light colors have an expanding effect. To make your thighs and butt look more slender, you can go with black or navy, or subtle prints.
Caution with skinny jeans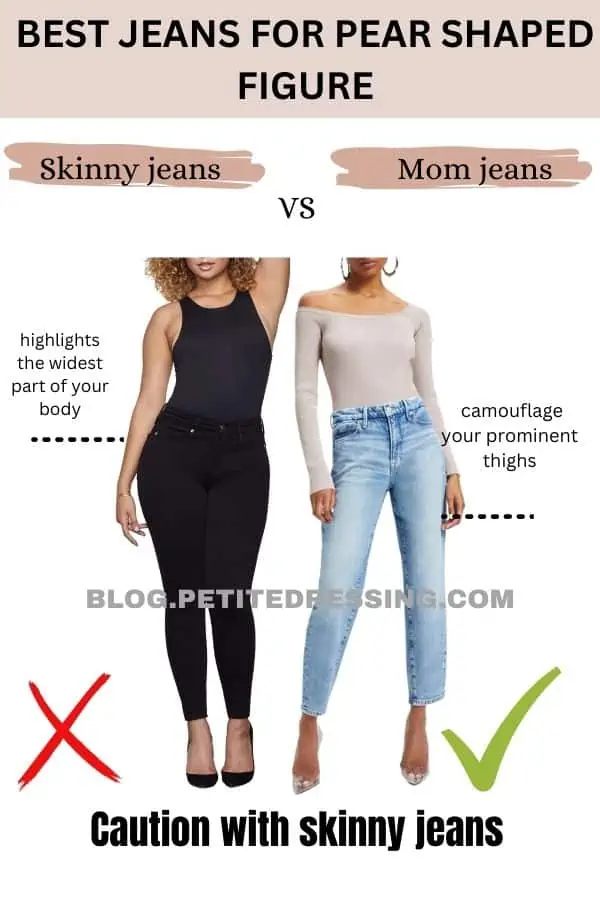 If your goal is to camouflage your prominent thighs, then you should stay away from skinny jeans. The reason is obvious. The skinny jeans hug your legs so tightly, they show your thighs and butt exactly the way they are.
What you have to be careful about is the right "skinny fit". It shouldn't be extremely skinny, otherwise, it will only highlight your wider hips and thick thighs.
A good example of a high-waisted skinny would be a nicely-fitted pair of mom jeans. It's not too tight but it visibly skims through the hips, thighs, and legs without looking too compressed.
If you decide to go for skinny jeans, make sure you go for high-waisted ones because such a waistband perfectly highlights the waist. A flattering type of skinny jeans for pear-shaped would greatly rely on the fabric so choose those that aren't stretchy.
PANTS
You don't want to draw too much attention to your hips but at the same time, you'd want your natural curves to be seen. Avoid pants that feature bulky details or pockets such as cargo pants.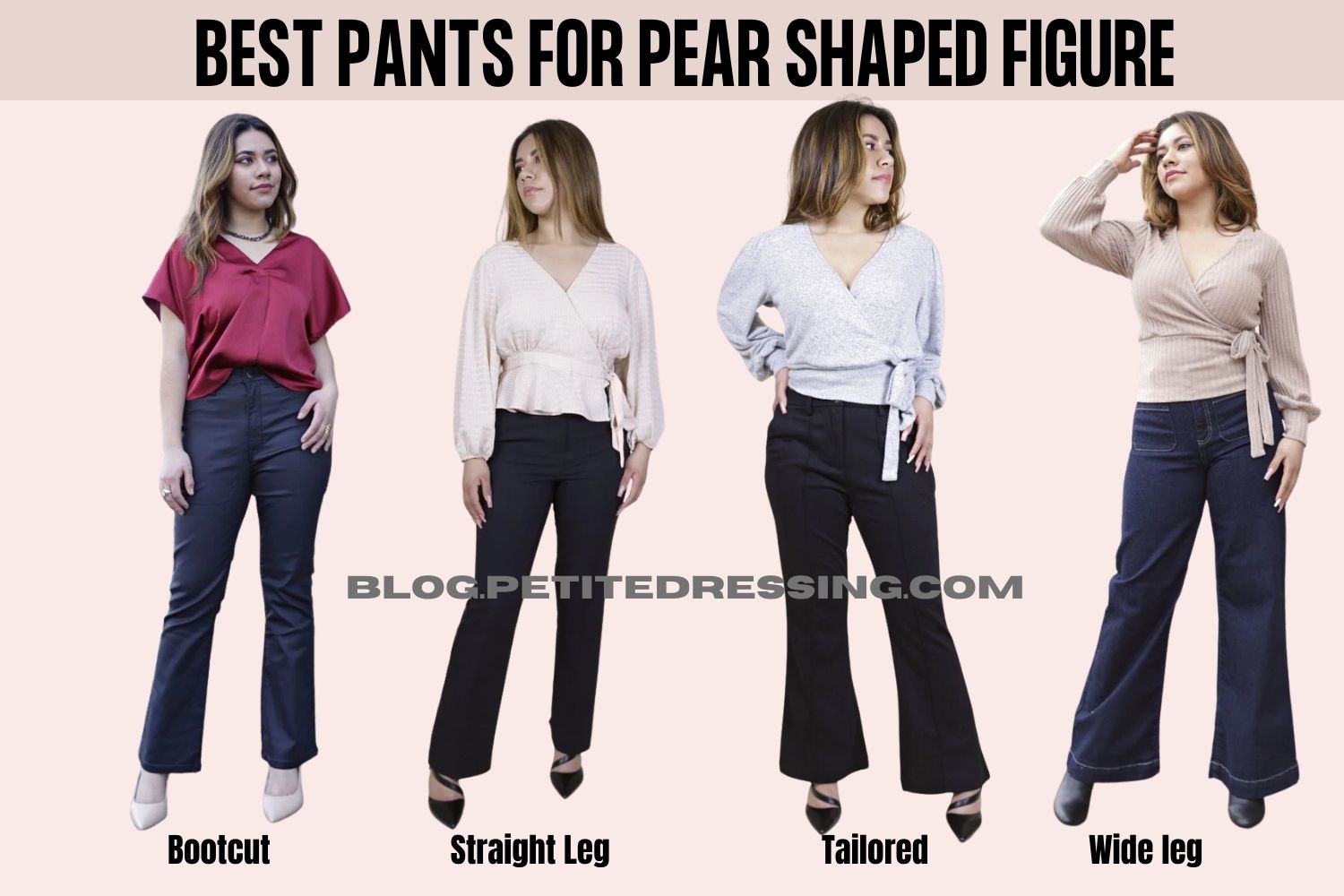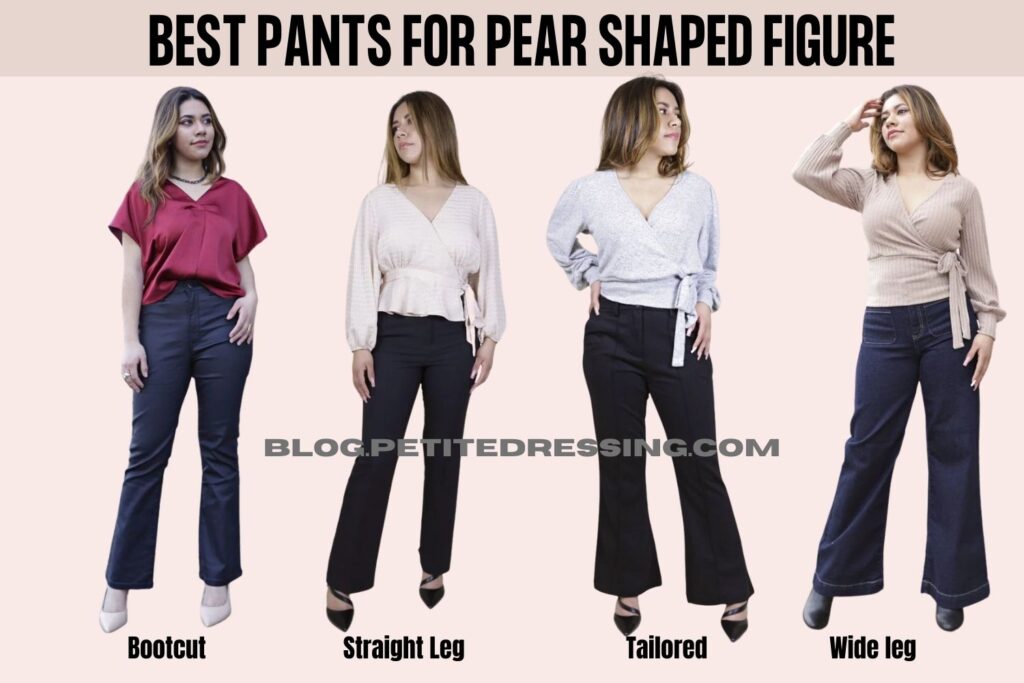 Bootcut
This type of pants features a nice fit around the hips and thighs and subtly flares out to the bottom. This effectively gives balance to your body by adding definition to your legs instead of focusing on your more prominent hips.
Choose a pair of bootcut pants that have a more relaxed fit and are not too tight on the hips and thighs. This way, you won't be drawing too much attention to the heavier area of your body.
Another thing to note is to opt for a pair of bootcut pants that don't flare too widely. While it can give a nice, retro vibe, you still need to be extra mindful for it can make your lower body too heavy compared to your slimmer upper body.
Straight Leg
If you're looking for a quick go-to pair of pants, a pair of straight-leg pants should be a great option for pear-shaped ladies. It features a straight up-and-down cut that creates a nice symmetry to the lower body.
Straight-leg pants are very easy to style! From basic plain-colored shirts to fancy ruffled tops – you don't even have to put too much thought in mix and matching.
Its straight cut from the waist to the hem also visually elongates the appearance of the legs for a slimmer, more balanced overall look. Look for a pair that features a high-rise waistband that gives a slightly snug fit to accentuate your waist.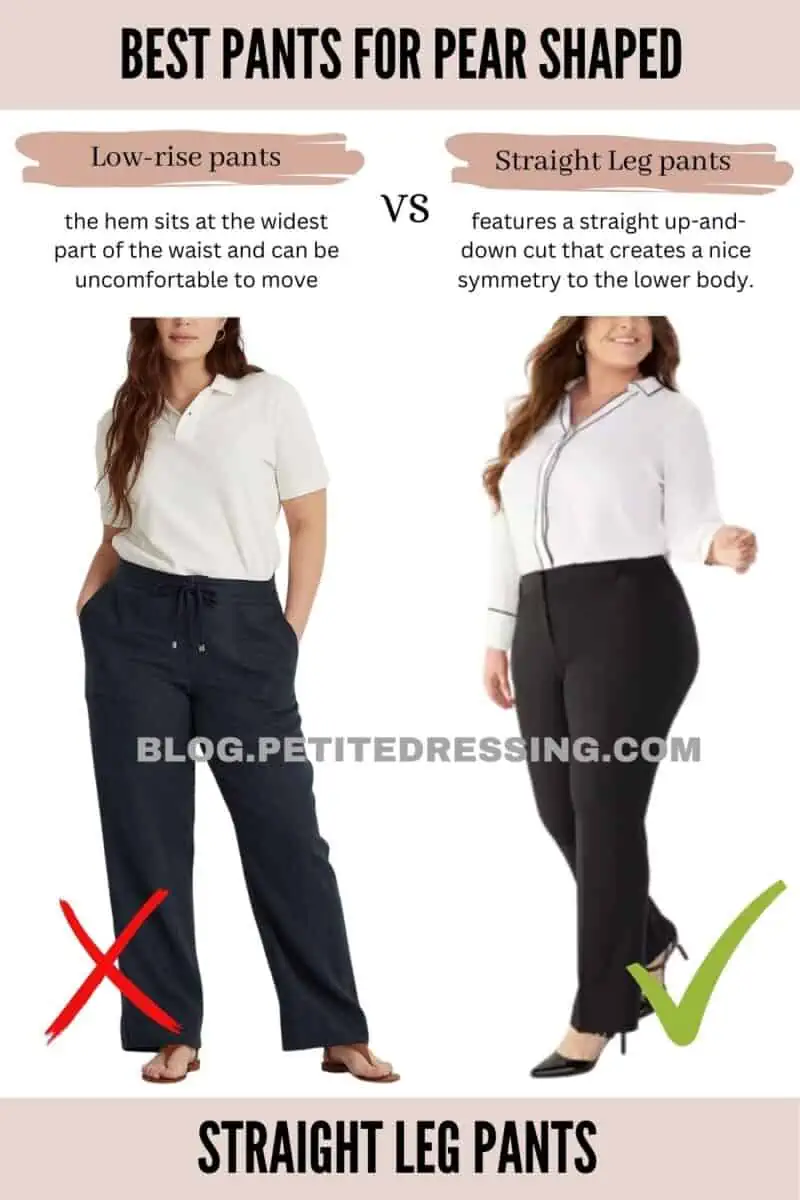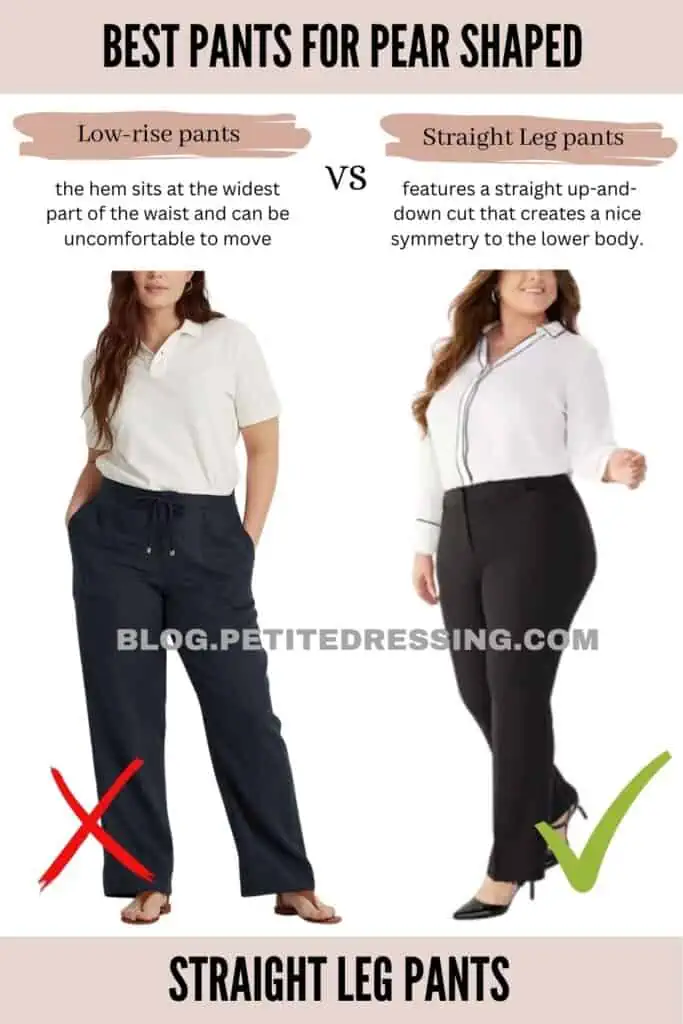 Tailored
Flat-fronted pants with a simple, tailored cut work well on giving a balanced appearance to pear-shaped ladies. It doesn't cling too tight on the hips and flows effortlessly to the bottom.
You should also opt for mid-rise to high-rise tailored trousers to give emphasis to your waist and cut some centimeters off your hips.
Choosing the right fabric is also an important key in choosing your pair of tailored pants. Some come in thick, heavy fabrics and those are the ones you should absolutely avoid.
Go for lightweight and flowy fabrics that would give your hips, thighs, and leg some space. Tailored pants work best with semi-formal blouses and button shirts.
Wide leg
For the pear-shaped body, the key is to balance out your wide butt and thighs with your choice of pants. Your best choice is a pair of dark color wide-leg pants that drape down from your hips.
Structured Fabrics
You need fabrics with enough structure and weight so that they won't be clinging to your thighs.
Avoid any Details on the Thigh
Since our goal is to camouflage your prominent thighs, it may sound obvious to you that we should avoid any pants details on the thigh.
For instance, utility pants are a big trend right now. They normally have big pockets on the thighs, which is a no-no for the pear-shaped figure.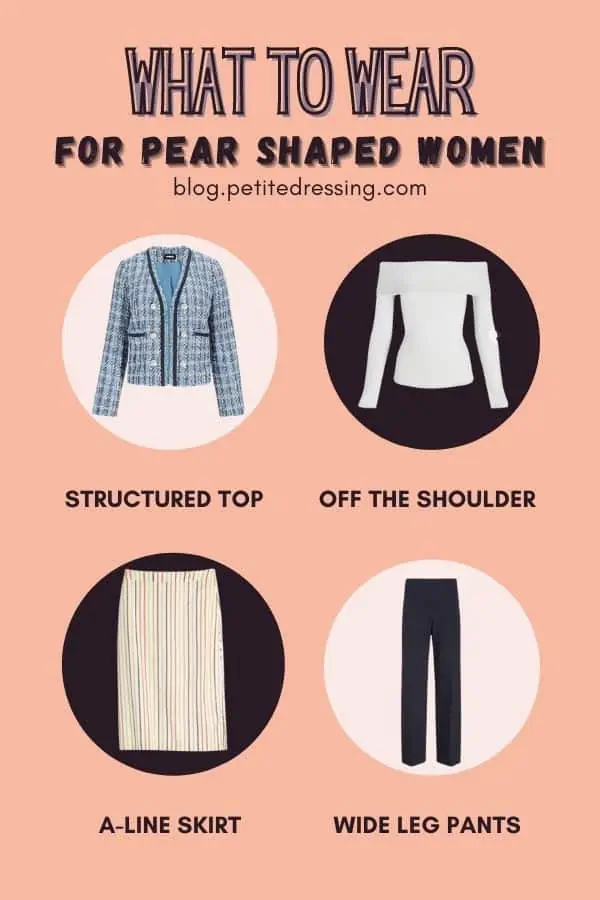 ACCESSORIES
The key to choose the right accessories is to create horizontal lines to balance out the pear shaped body.
Try a variety of long necklaces with vivid colors and collar styles in order to make your neck look longer and for you to look leaner.
Wear statement earrings to add volume and texture to your attire to make your face look slimmer.
Add a big pair of sunglasses to add more character to your look.
Circle a scarf around your neck and shoulders to add more symmetry and dimension to your outfit.
COATS
The proper length should be right after the level of your hips. The goal is not to completely hide your hips but to just not add more width to them by having your coat hang on the sides.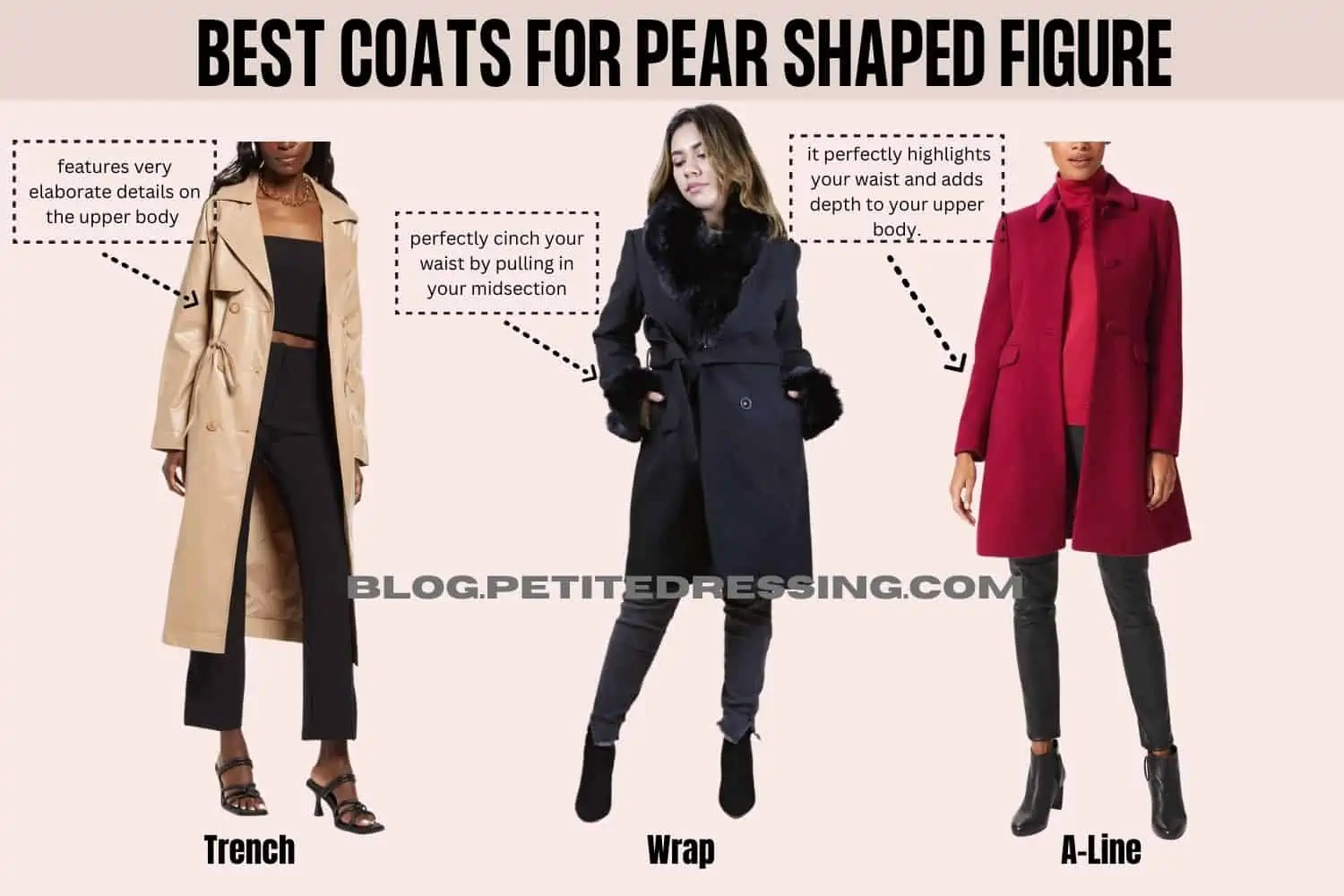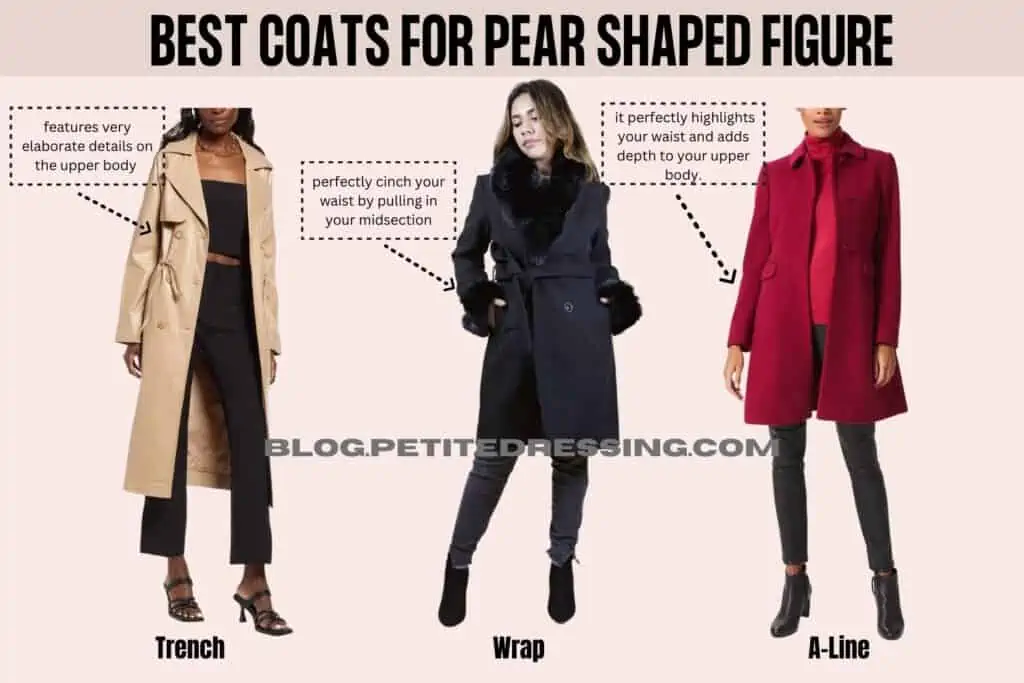 Trench
Among the other coat styles in this list, trench coats are the most flattering for pear-shaped women. Since it features very elaborate details on the upper body (where you would want a bit more volume), wearing one should give your body a golden ratio.
A trench coat features belts or straps on the shoulders which will broaden a pear-shaped woman's narrow shoulders. Apart from the shoulder details, it also has a big collar and lapel to enhance the upper body.
The prominence of the trench coat's lapel and its double-breasted structure beautifully defines the upper body and therefore gives balance to a pear-shaped woman's wide hips. The belt loop will also enhance the shape of your waist.
Wrap
Wrap-style coats that are three-quarters of the length also make a good match for pear-shaped girls. Since your main asset is your very defined waist that's almost similar to an hourglass figure, this coat style should look very flattering.
You have more freedom in choosing a design for your wrap-style coat since almost all designs can look good on pear shapes. You can either go for plain ones with not too much detail or something that has big collars.
The goal of the belt is to perfectly cinch your waist by pulling in your midsection. This should be the highlight of your look.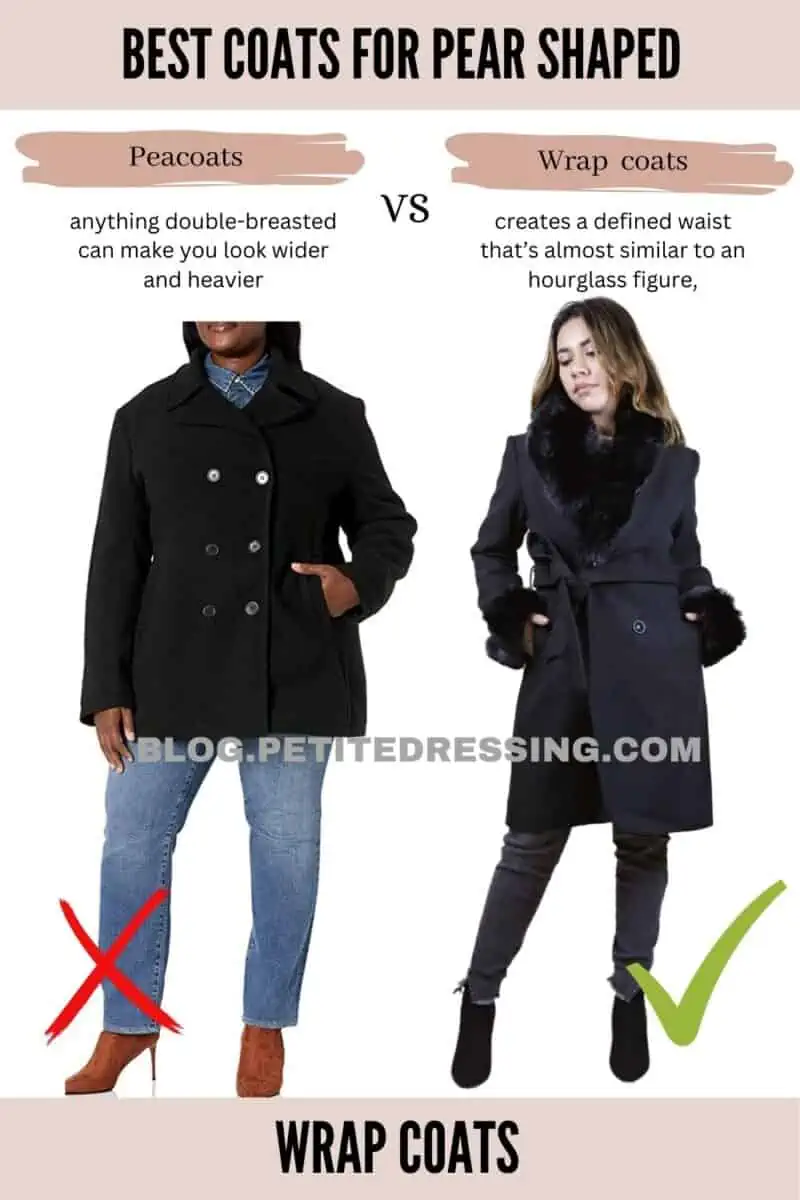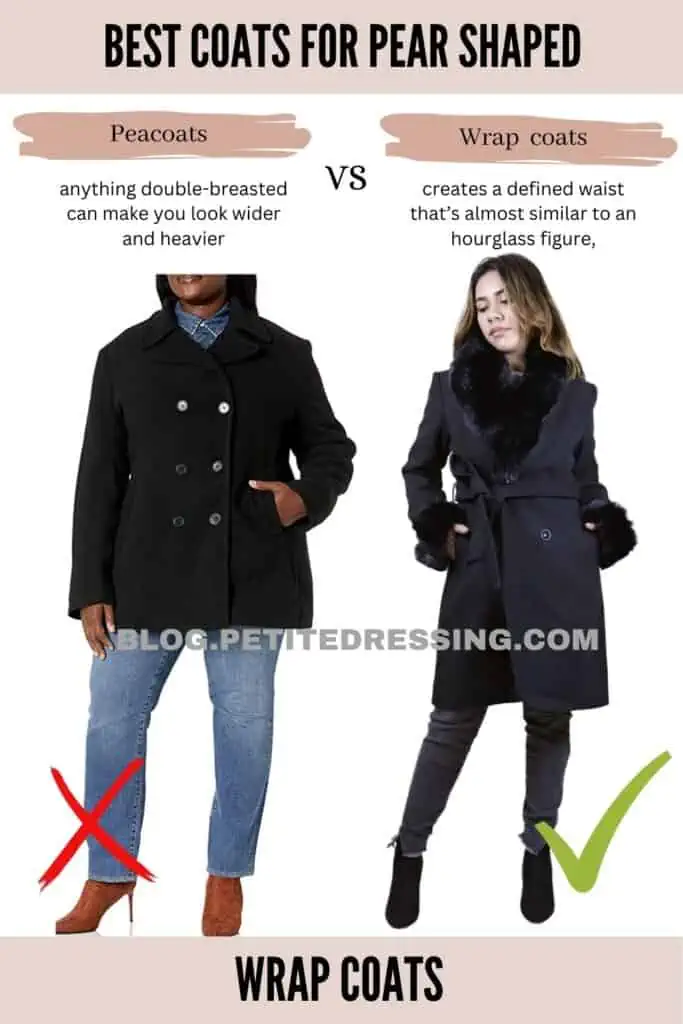 A-Line
A structured A-line coat is another easy go-to style staple for pear-shaped women. The silhouette an A-line coat gives is just universally flattering in a way that it perfectly highlights your waist and adds depth to your upper body.
When choosing an A-line coat, go for those with big lapels, wide collars, and double-breasted front buttons. Avoid those that have too many details on the hip area.
Make sure that the hip pockets aren't too bulky because this will definitely draw more attention to your hips. Consider the placement of the buttons too as it's ideal to only have them on the upper body and not all the way down to the hem.
Empire Line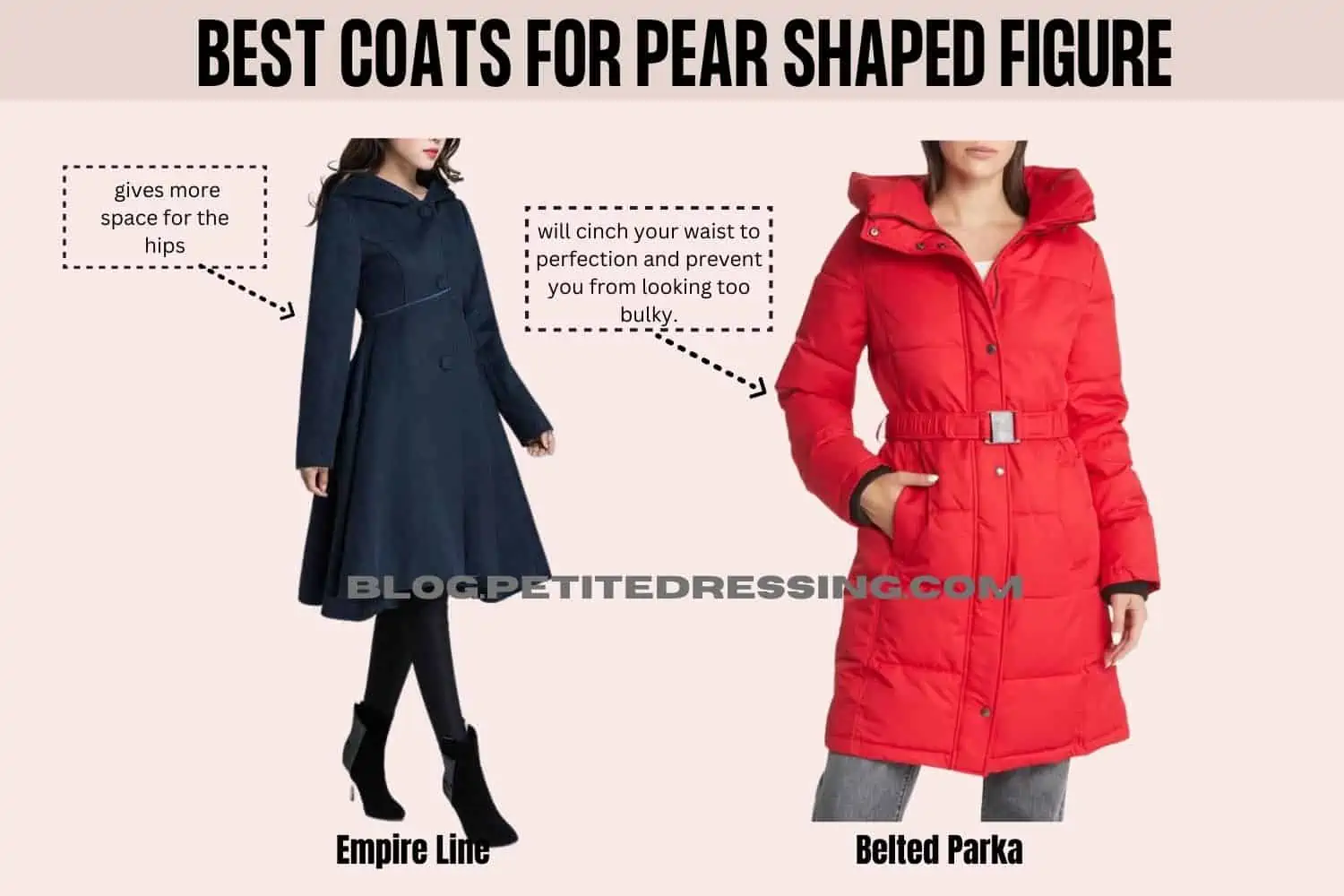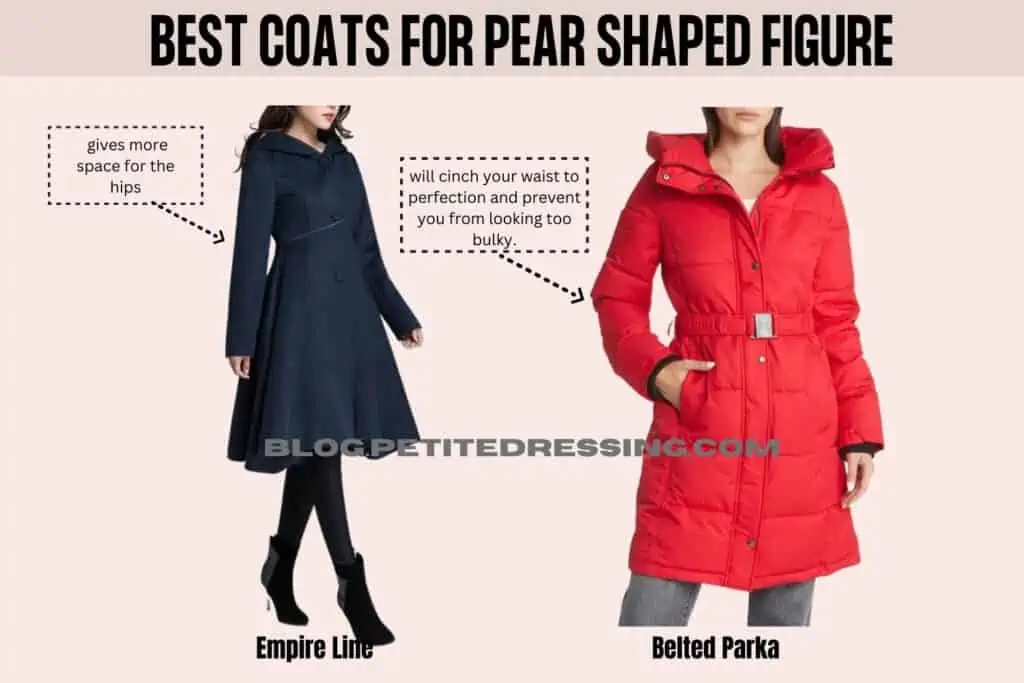 This is a little tricky because empire silhouettes tend to be a bit more snug around the shoulders and bust. However, with the right type of empire-style coat, you can give your pear-shaped body a very defined look.
When choosing an empire line style coat, double-breasted styles and big lapels are your best friends. These details will add volume to your bust area, balancing your upper body with your hips.
The lower part of an empire-style coat gives more space for the hips. This way, you will have a more structured silhouette.
Belted Parka
When the weather gets colder, you are left with no choice but to go for thicker clothing such as parka jackets. But how do you make it flattering for your pear-shaped body?
The key here is the belt! Look for parka jackets that have a belt that's around 5 centimeters thick. This will cinch your waist to perfection and prevent you from looking too bulky.
SWIMSUITS
The goal here is to add a bit more volume and detail to the upper body, most particularly the bust area. This is to try to draw even attention to your breasts and curvy waist and hips.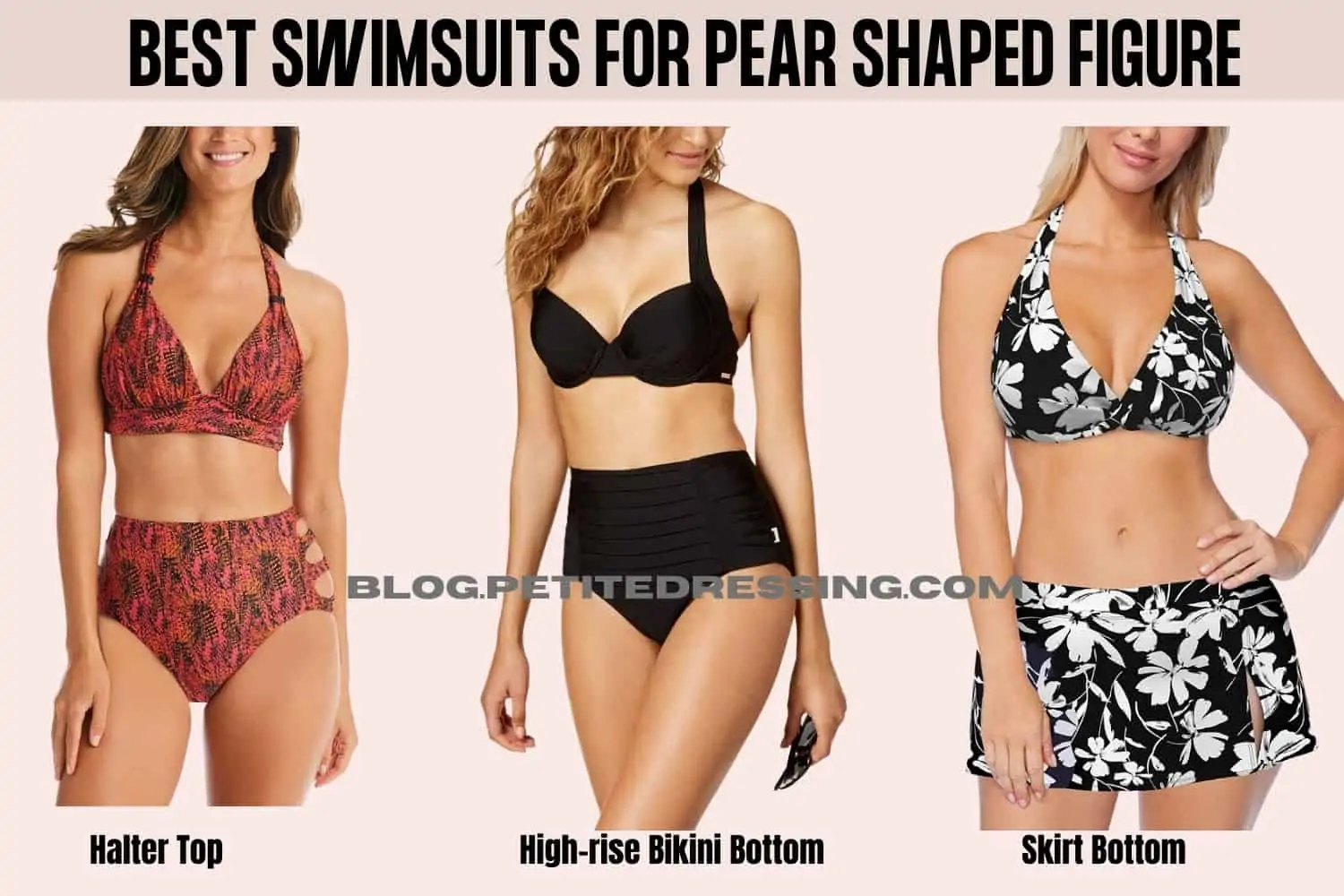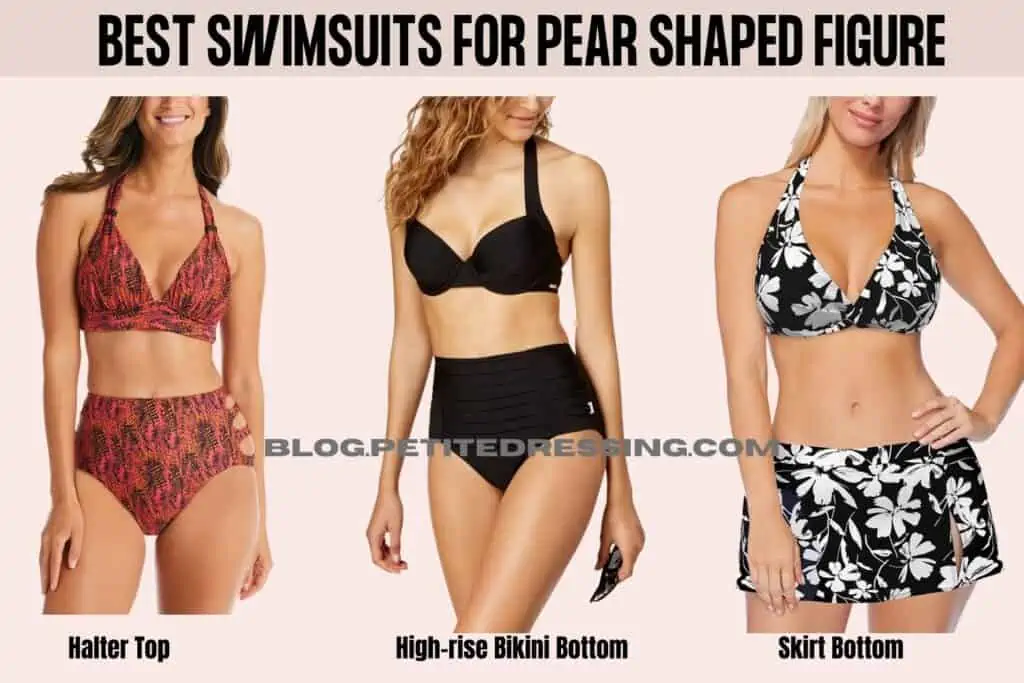 Halter Top
The sexy neckline of halter tops is an instant golden pass for pear-shaped ladies! The cut that skims over the collarbones down to the bust gives your shoulders an amazing highlight.
This gives the visual illusion of having broader shoulders. You can stick to plain colors but if you're feeling a bit more adventurous, don't hesitate to go for colorful prints and patterns!
High-rise Bikini Bottom
Your curves deserve the spotlight and high-rise bikini bottoms can definitely help do this for you. Not only does this enhance your curves, but also gives your legs a slimmer look.
It should have a high-waisted waistband and a high-rise cut that bares the hips. This will visually elongate your legs and draw too much attention to your wide hips.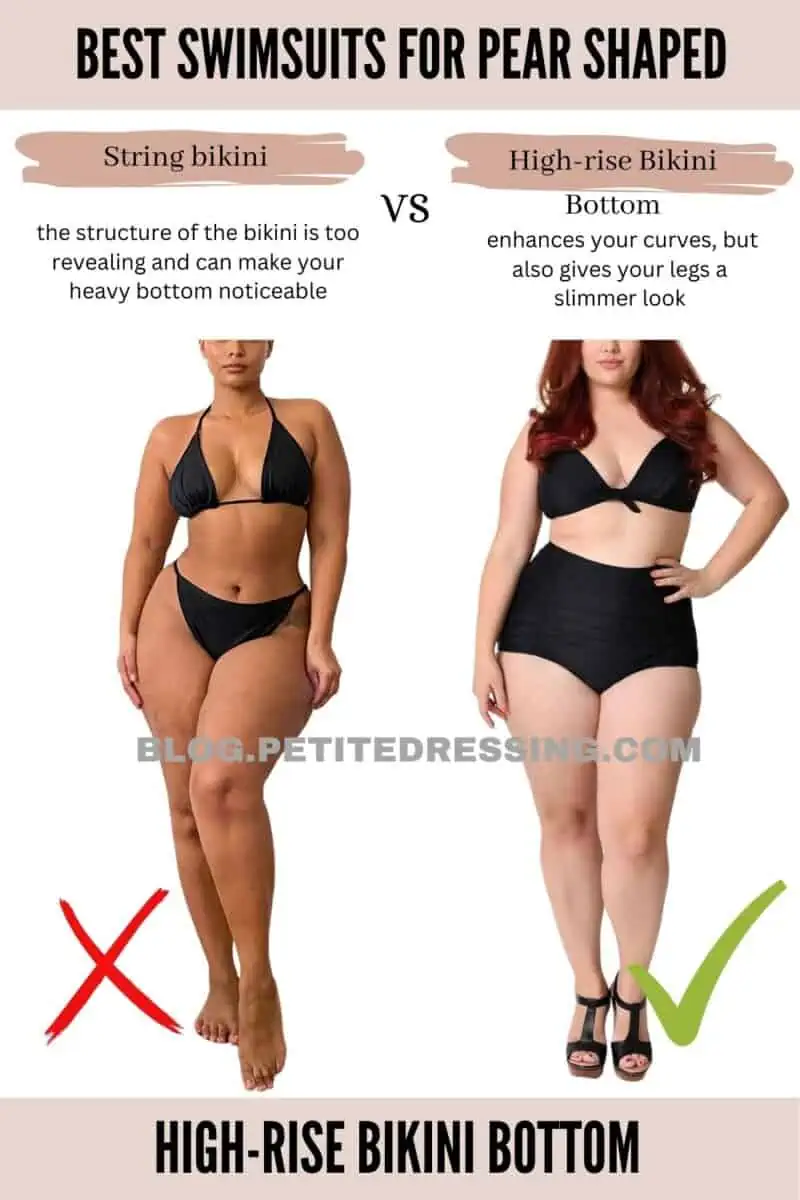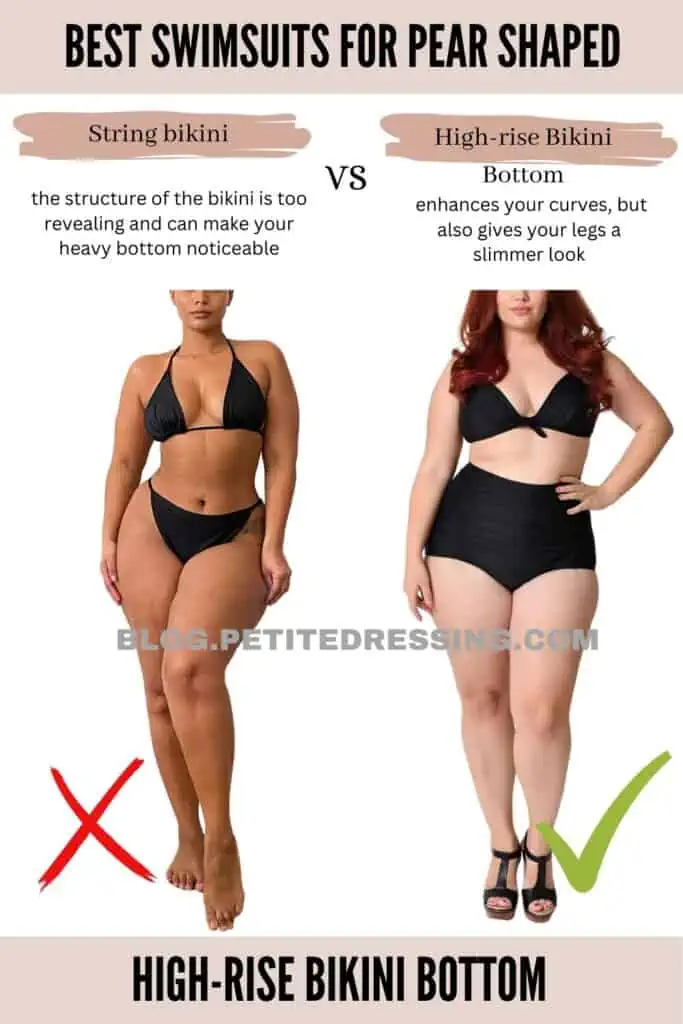 Skirt Bottom
For skirt bikini bottoms, the key is to find the right length and design. The skirt needs to offer more coverage to distract attention from the wide hips and thighs.
To achieve a nicely proportionate lower body, the skirt bottom should subtly glide over the hips and thighs and not cling too tightly around these areas. It's also nice to have them in darker colors with not too many complicated prints and patterns.
The flare of the skirt shouldn't be too overwhelming and the length should be slightly right past the thighs. This way, the hips, and thighs won't look too heavy.
Off-the-shoulder Bikini Top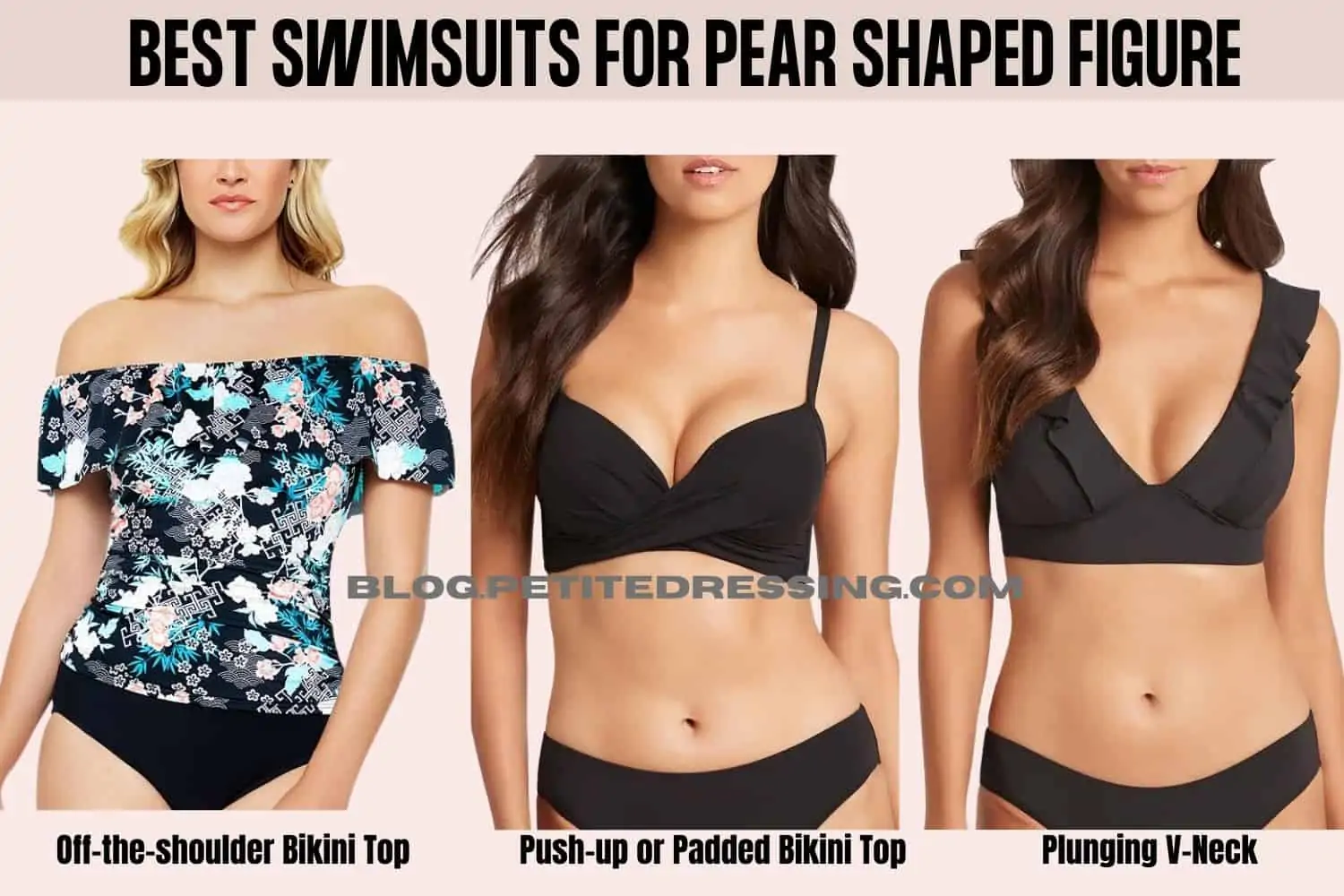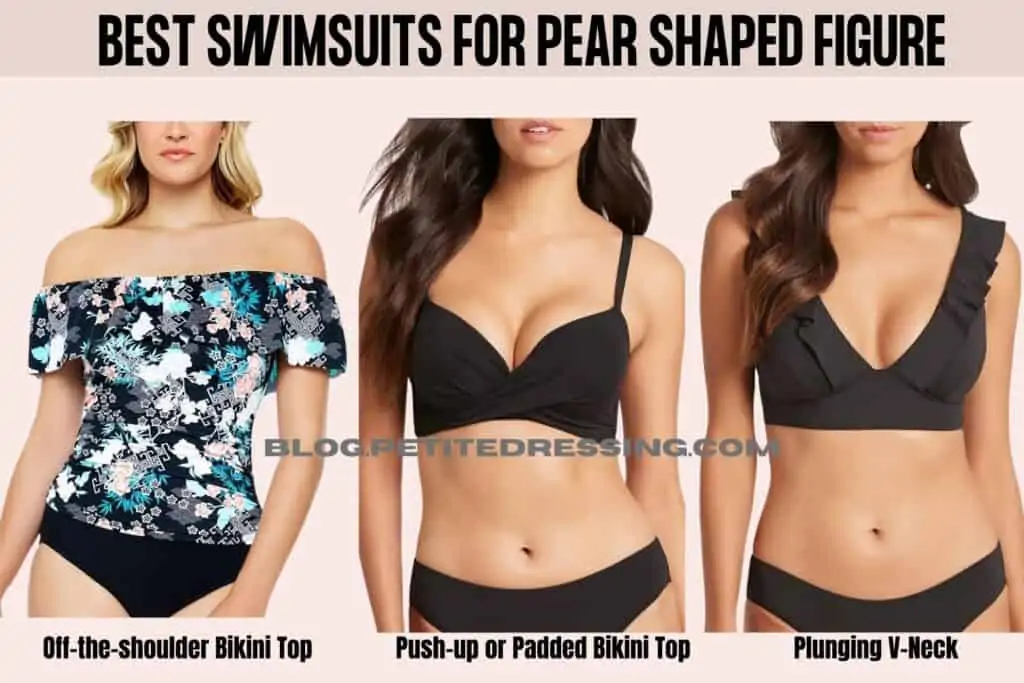 Pear-shaped bodies generally have smaller upper bodies, most particularly narrow shoulders. The horizontal neckline of off-the-shoulder bikini tops should give you the appearance of broader shoulders.
Off-the-shoulder bikini tops usually come with flouncy fabric details which also add volume to your upper body. This will visibly draw attention to your upper body while minimizing the attention on your wide hips and thick thighs.
Push-up or Padded Bikini Top
Smaller breasts are one of the features of a pear-shaped body so you'll need to go for bikini tops that will help enhance your bust.
To give your breasts a nice lift, push-up tops with underwires or padded ones are very ideal options. This will also give you a more prominent cleavage for that sexy look!
Plunging V-Neck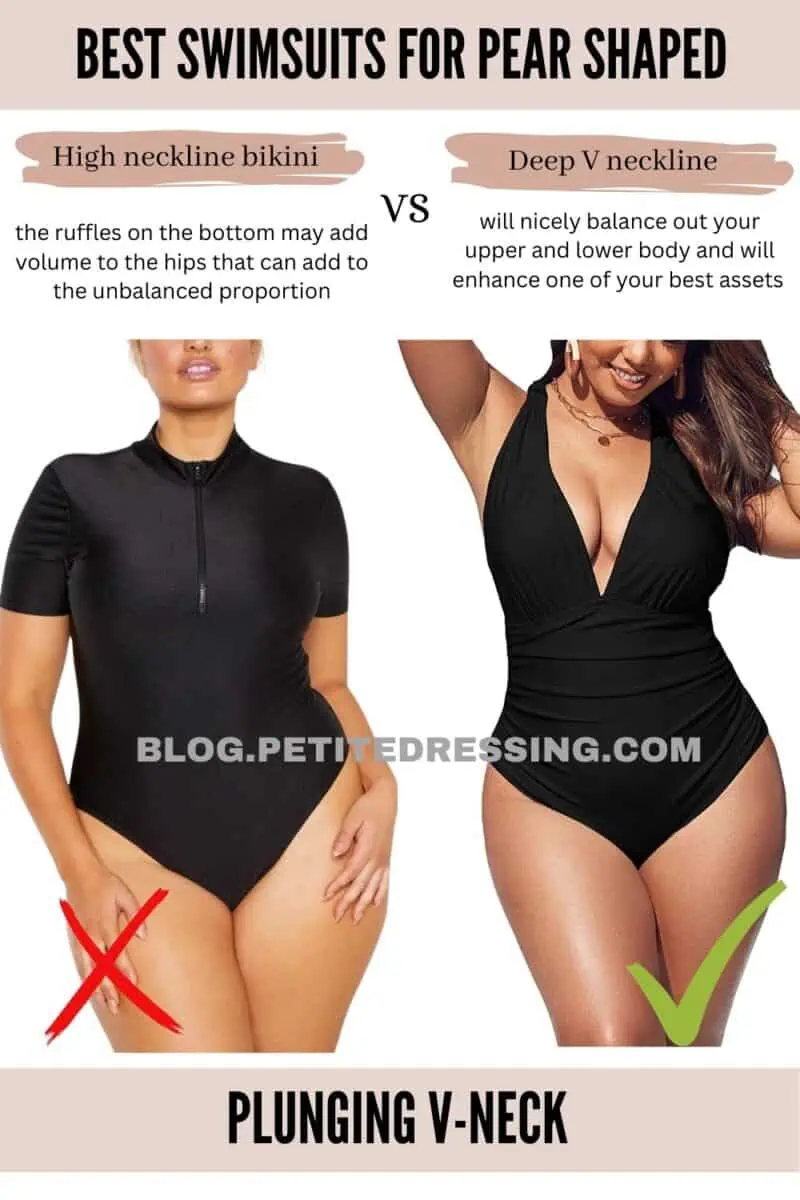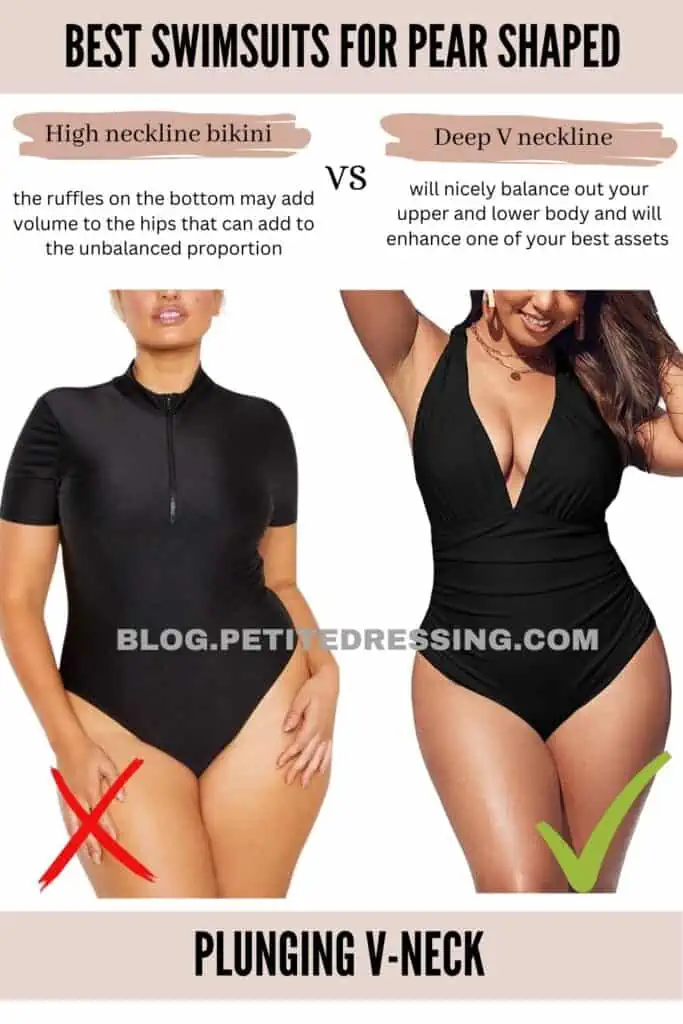 Again, the goal here is to draw emphasis to your upper body and make it look slimmer. Deep V-neck cuts for your one-piece swimwear will nicely balance out your upper and lower body.
Since plunging V-necks draw attention to your body's midsection, then this perfectly enhances one of your best assets – your small and defined waist. For this particular swimsuit design, you have more freedom in choosing the colors, prints, and patterns because the design itself is universally flattering anyway.
Ruffled Bikini Top
Ruffles are definitely a very girly and cute touch to any type of swimsuit! For pear-shaped beauties, ruffled bikini tops work best in creating a nice balance to boost the upper body's definition.
Intricate ruffle detailing or any other frilled fabric that skims over the bikini top will significantly add volume to your small bust.
Choose a design that has a flattering placement of these ruffles so it won't be too overwhelming as well.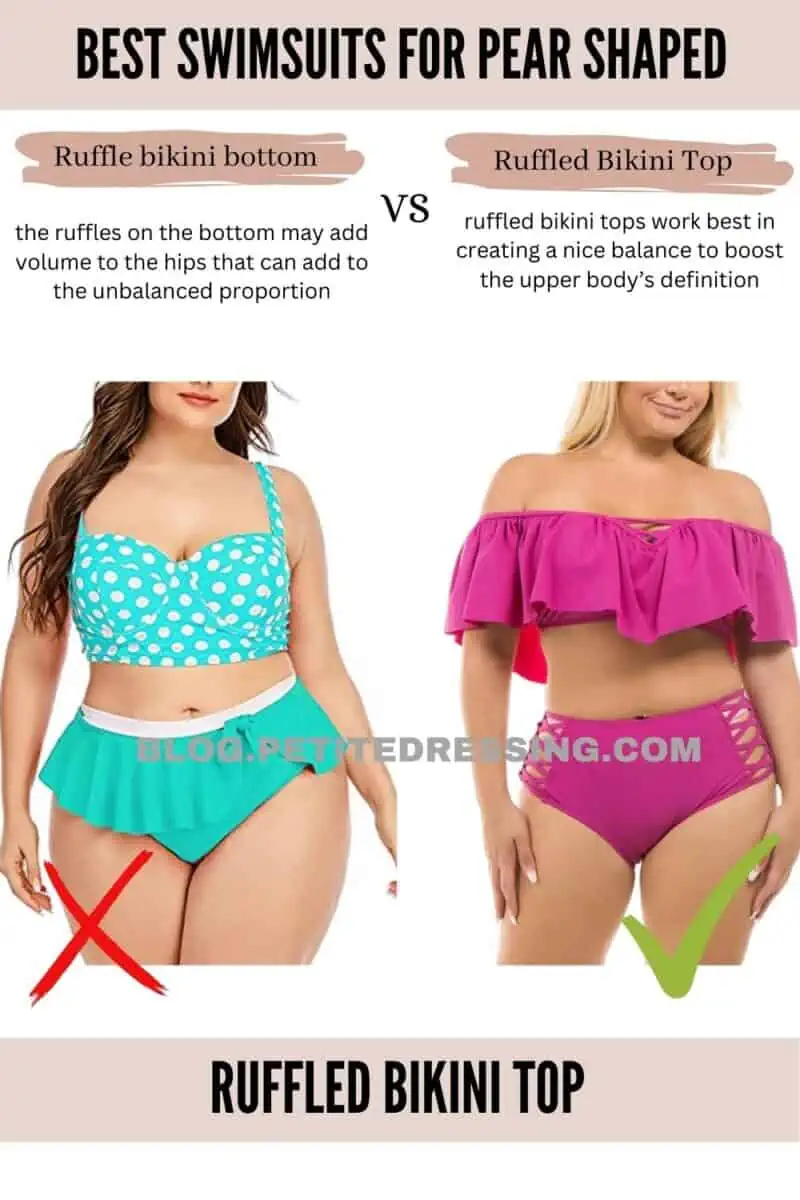 SHOES
The goal is to create the appearance of slimmer and longer legs by playing with the right colors and designs. Always avoid strappy sandals, lace-up shoes, and anything that has details around the calves because this will divide the length of your legs.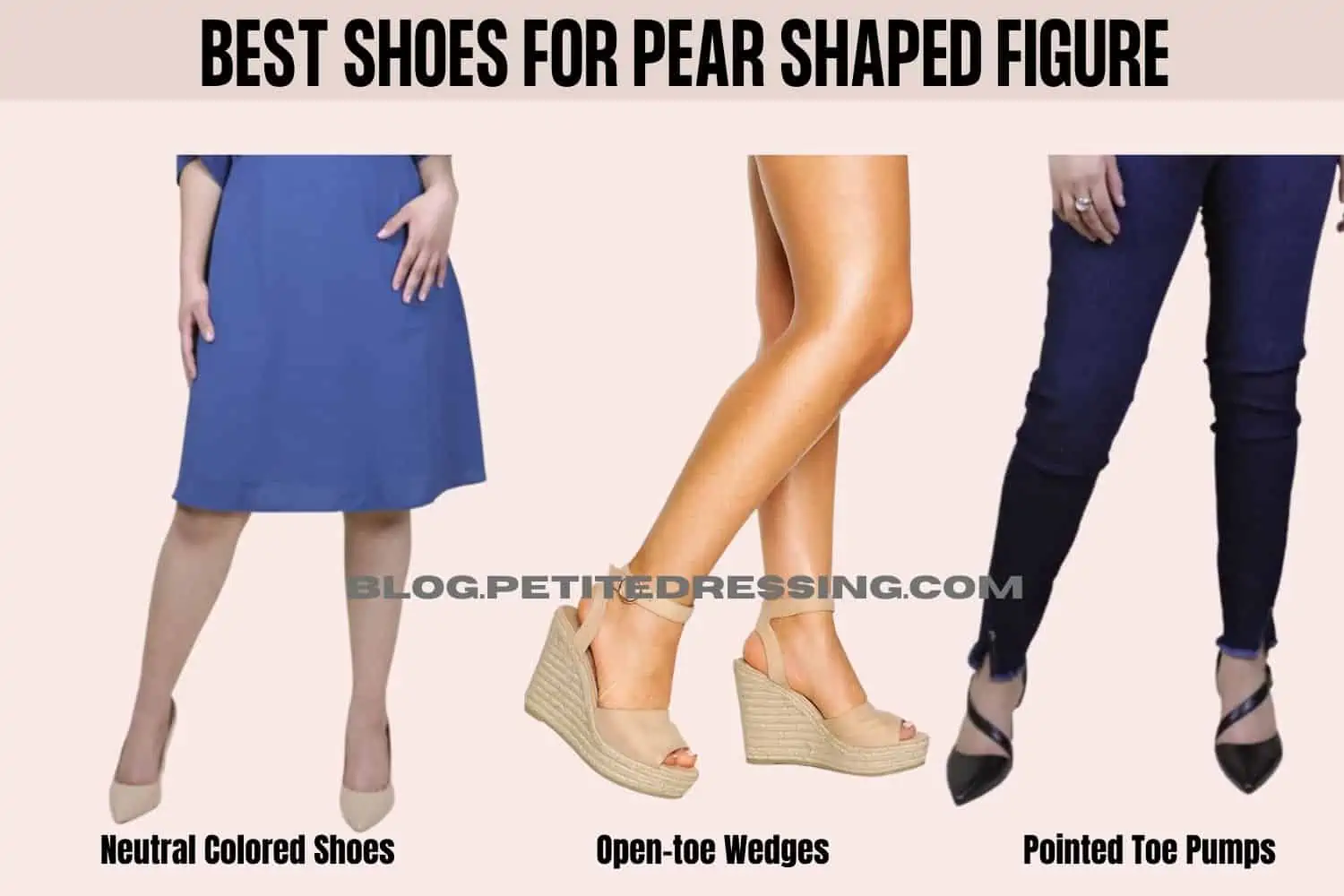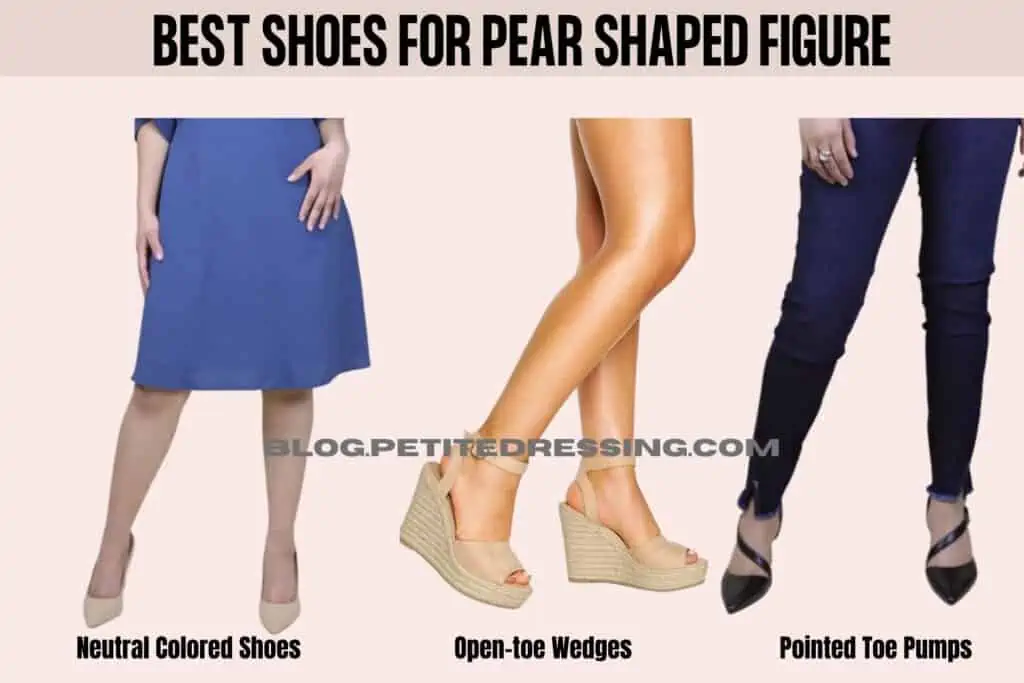 Neutral Colored Shoes
Shades like beige, brown, ivory, and blush nude would blend well with skin tones. Such a color trick will elongate your legs.
Additionally, shoes that come in neutral colors are very easy to mix and match. This is why you should have a variety of neutral-colored shoes as a wardrobe staple.
Open-toe Wedges
Pear-shaped women usually have thick ankles so open-toe shoes are ideal to bring balance to the look of the feet. Shoes that are fully closed and boxy may look too bulky for your body shape.
Also, wedge heels can give you that instant lift that makes your legs appear longer and slimmer. Open-toe wedges are great for dresses and flowy, wide-leg pants.
Pointed Toe Pumps
If you're looking for a chic pair of shoes to match your formal dresses or corporate wear, then you need at least a pair of pointed toe pumps. The pointed tip creates the visual illusion of slimmer feet and long legs.
Of course, you can go for the classic neutrals for this, but if you want to make a statement, you are free to go for bolder hues. Try red, black, or silver in glossy patent leather for that extra oomph!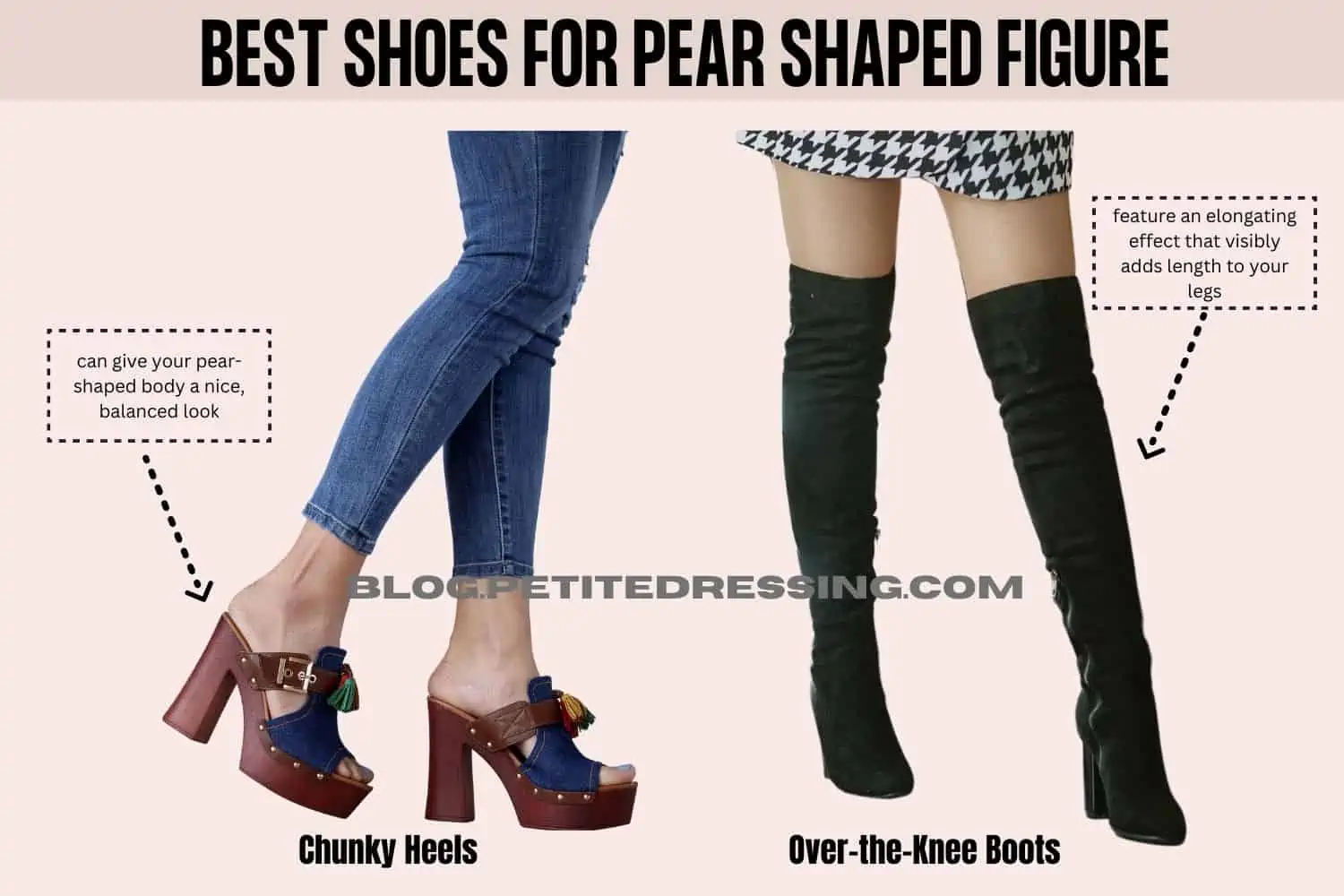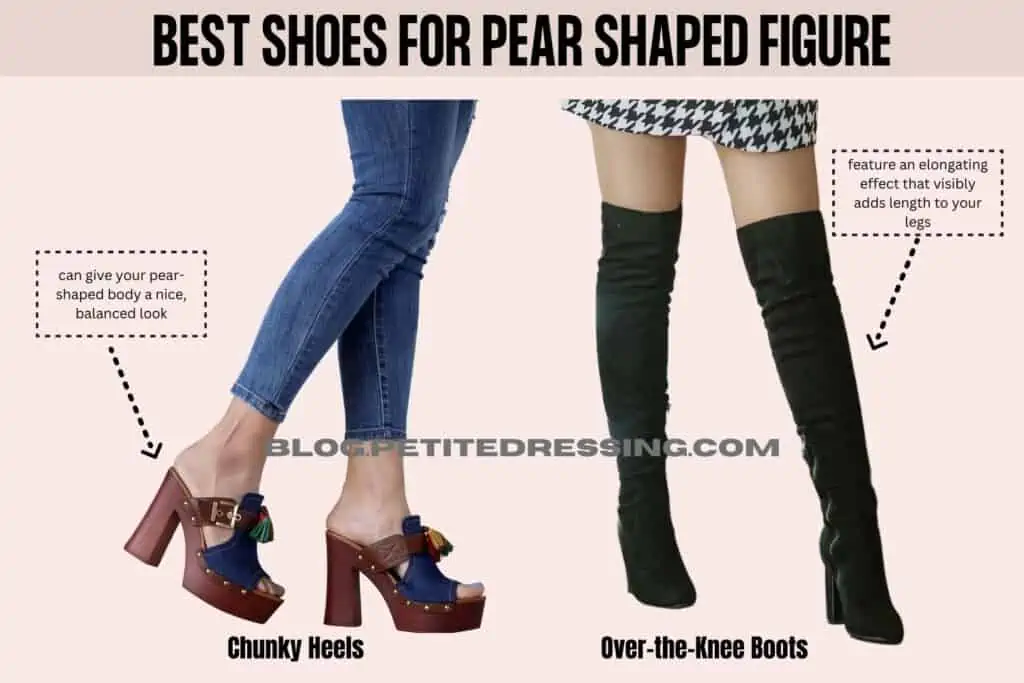 Chunky Heels
Another shoe option you can go for if you want extra elevation would be chunky heels. You can opt for low ones or high ones and both can give your pear-shaped body a nice, balanced look.
Since the heels are thicker, then it's not that difficult to walk in them compared to stilettos. This is a great option if you want to make your legs appear slender and longer without the struggle of discomfort that most high heels give.
Over-the-Knee Boots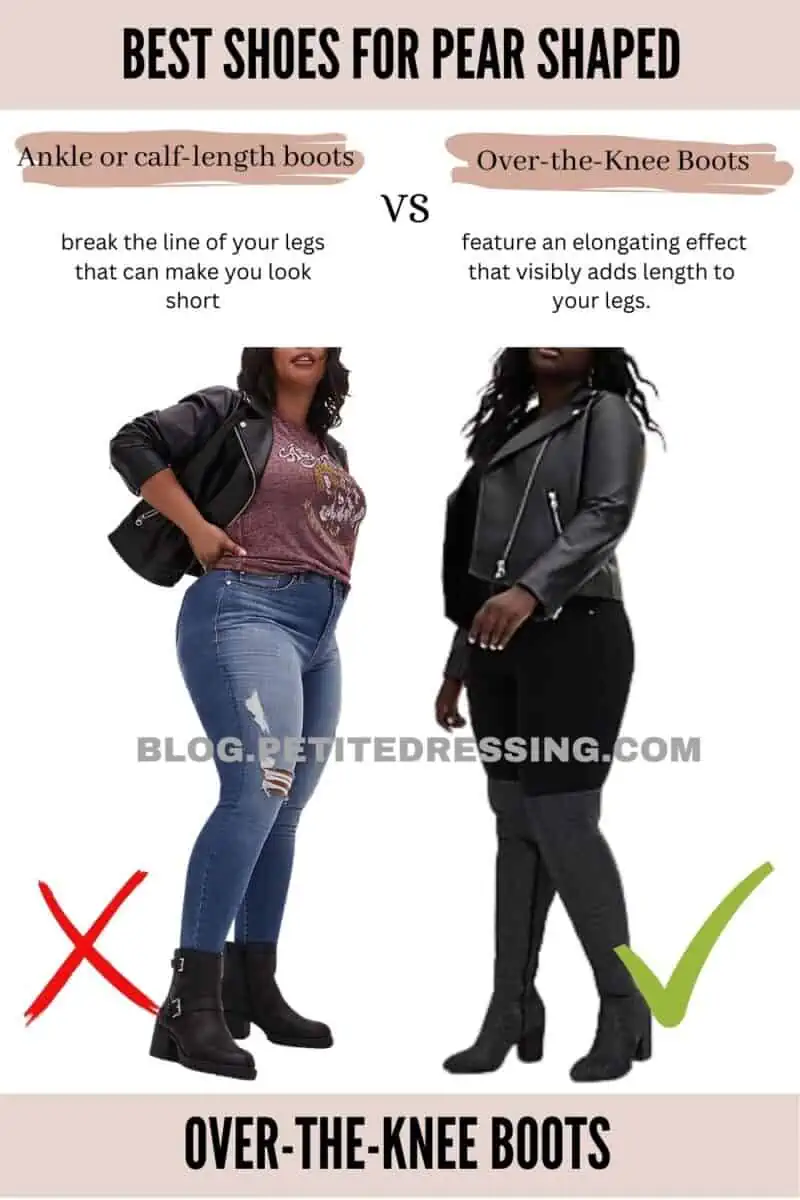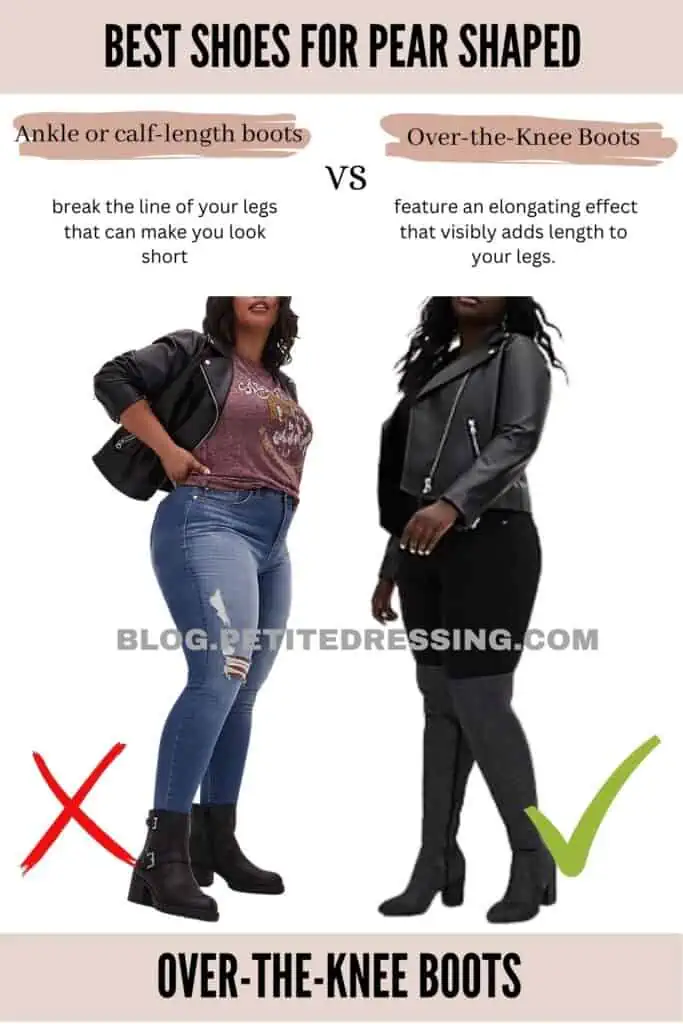 Remember how we mentioned earlier that you should avoid a length that's around your calf level? But this doesn't mean you have to skip long boots if you're pear-shaped!
In fact, you can actually wear very long boots! Unlike ankle or calf-length boots that break the line of your legs, over-the-knee boots feature an elongating effect that visibly adds length to your legs.
Pear Shaped Celebrities
The pear body type (sometimes called the spoon shape) is quite common, as I mentioned earlier. So, in today's Hollywood, you will notice a lot of popular celebs with pear shaped body. Pear shaped women could be skinny or curvy, so here I'm going to give you examples of both.
Skinny Pear
Hollywood actress Rachel Bilson (5'2″) has the most typical skinny pear shaped body.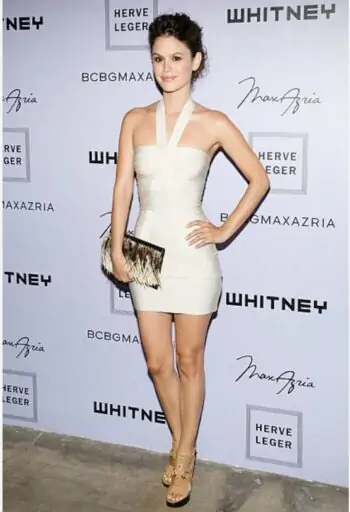 Curvy Pear
Kim Kardashian (5'3″) and Jennifer Lopez are the most typical pear shaped celebs with curves.
Although both of them are often been mentioned as hourglass figure by a lot of fashion magazines, they actually have pear shape figure. Both of them have the main characteristics of the pear shape, i.e. prominent hips and thighs. Also, when they gain weight, it is most noticeable on their hips and thighs.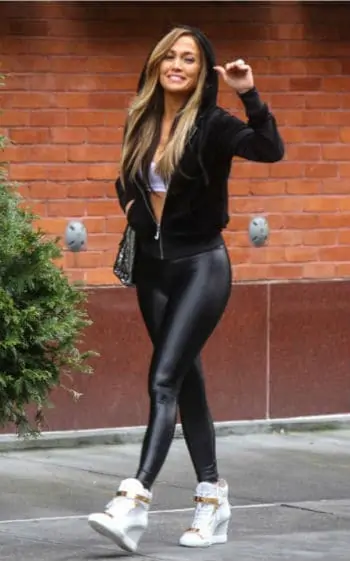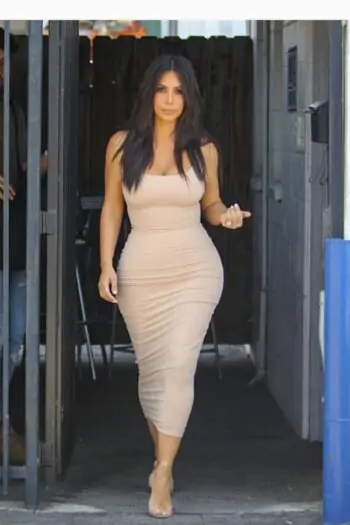 Both Kim and Jlo are expert of styling themselves well, so that their assets (full chest and small waist) grab all your attention, and then you won't be noticing their weaknesses (the prominent thighs and hips). That explains why both of them are commonly quoted as the hourglass figure by most media. That's exactly what I am about to share with you, i.e. some of their top styling secrets, later in this post, so that you know how to balance out your pear figure!
Another celebrity with pear shape is Kristin Davis (Charlotte in Sex and the City).