Palazzo pants are some of the most classic wardrobe staples. Their loose cut flatters women of all age, regardless of your body shape. The fact that they have wide legs allows the fabrics to swirl as you are walking around, making you look graceful. These pants are actually very conservative in terms of appearance.
When you get the right fit for your body, palazzo pants can give you a confidence boost. Of course it also makes a big difference how you choose to wear your palazzo pants.
Here are some of the best outfit ideas on what to wear with palazzo pants:
With a sleeveless top
Wearing palazzo pants with sleeveless top can balance out the volume of the wide leg shape.
A sleeveless top is always great to have on a warm day, but it also allows you to easily layer some outerwear over the look. They come in different cuts and fabrics. So, depending on the type of look you're going for on that day, the options are endless. They are easy to style with palazzo pants as all you have to do is tuck them in for a classy, clean look.
A lot of people believe that shorter women or curvier ones can't wear palazzo pants. This is not true, as anyone can wear them. If you are shorter or if you have curves, you just need to be more selective with the cut, the length, and the color.
If you want to look taller, the high waisted ones can give you an illusion of longer legs. You should also go with full length petite palazzo pants, in order to achieve the maximum leg elongating effect.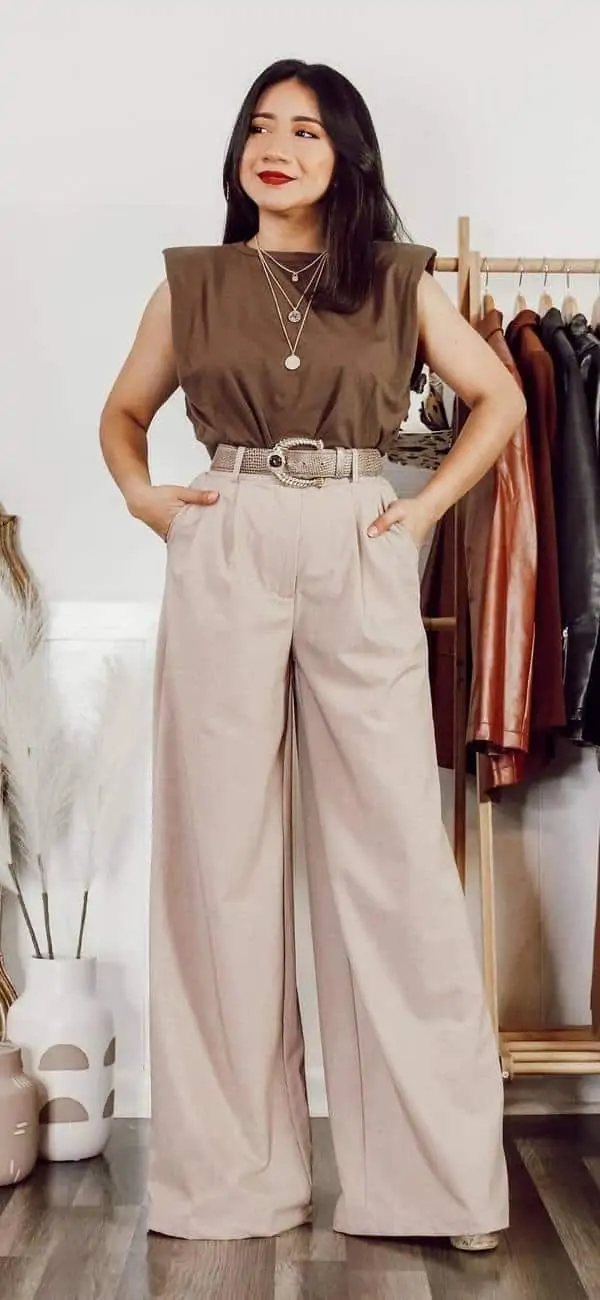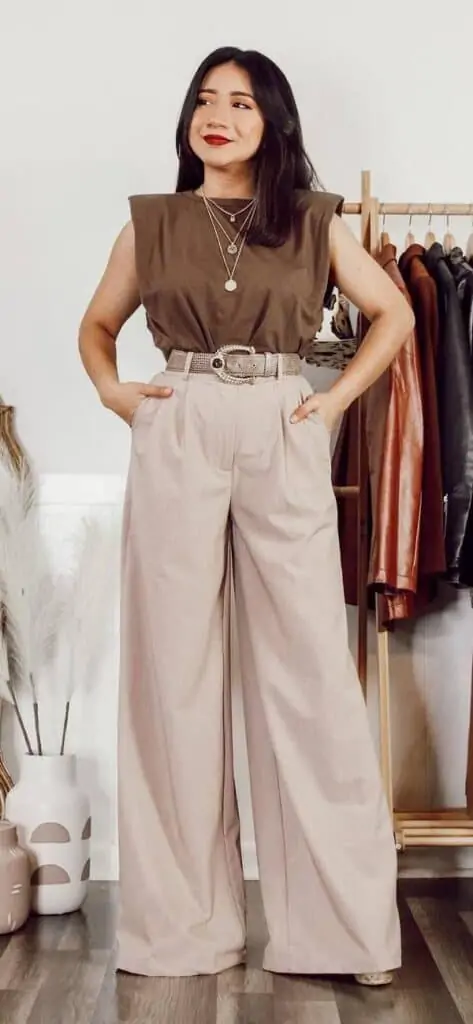 Jessica (above) styled her sleeveless top with a pair of high waisted full length palazzo pants and accessorized the look with some layered necklaces. Going for nude and neutral colors gives you a classier look when it comes to a palazzo pants outfit.
With a blazer
Wearing a blazer is a great way to add structure and a touch of power to your palazzo pants outfit.
Blazers are suitable for women of different ages and sizes. While they're mostly worn in corporate settings, they can also be styled casually. You can style your blazer with a pair of palazzo pants for a sophisticated look.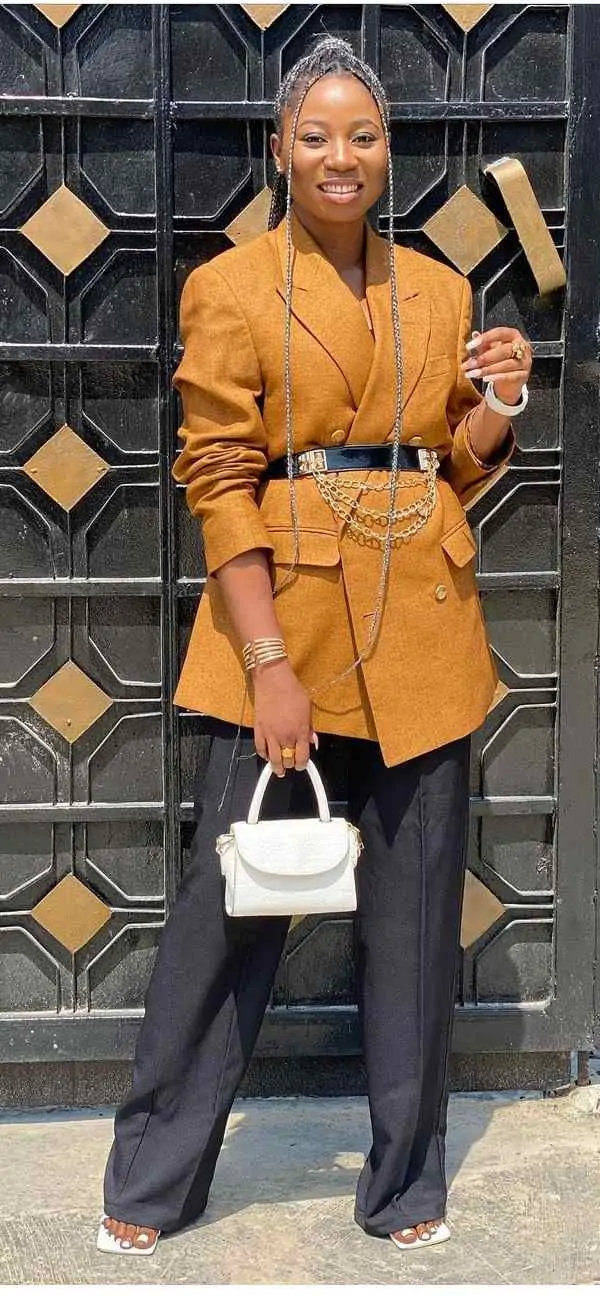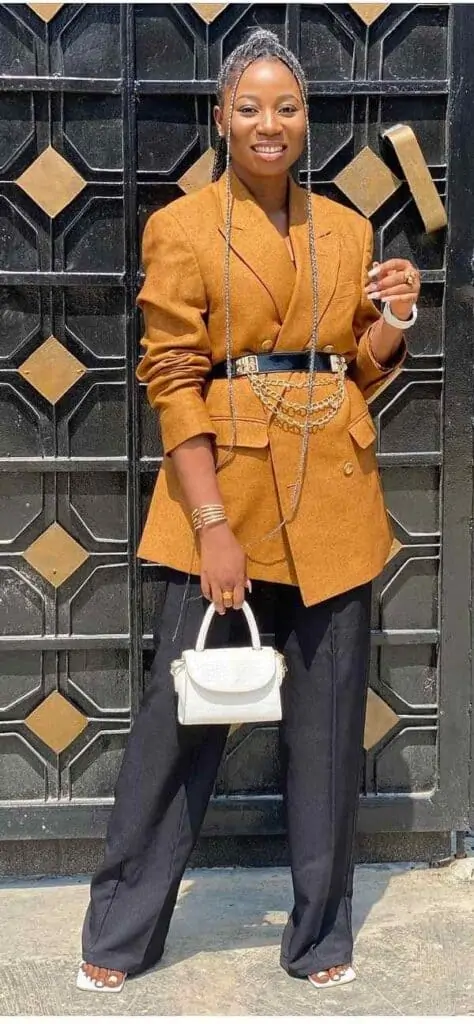 Uduak (above) styled her blazer with a pair of palazzo pants. She belted her blazer, which is a great way to keep your waist cinched.
If you have a mid section concern and do not wish to draw too much attention to your belly, you should skip the belt. You could leave it unbuttoned revealing a great top underneath.
With a cami top
You can wear a cami top with palazzo pants for a classy and feminine look.
Cami tops are some of the easiest tops to wear, because they are minimalist. Compared to tank tops, camis are more delicate. They come in different fabrics including silk, cotton or anywhere in between. When worn, they allow you to show off your shoulders and generally your collar bones.
Camis can be tucked into your palazzo pants for a great summer outfit. In the cooler months, you could wear them under some outerwear with your palazzos.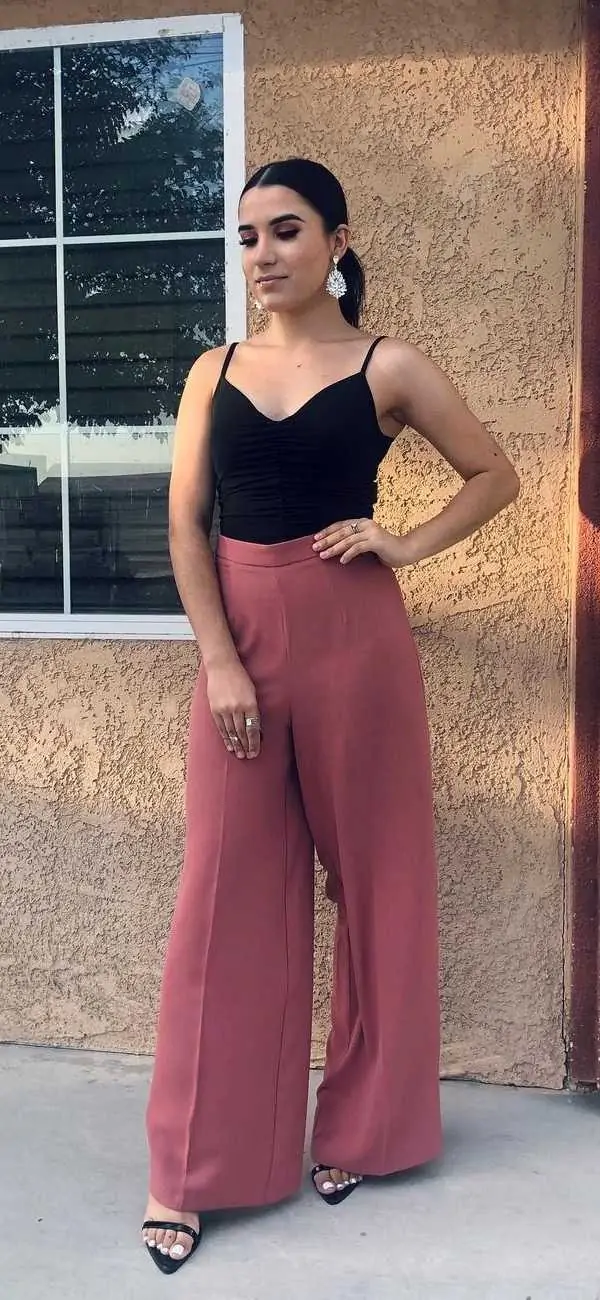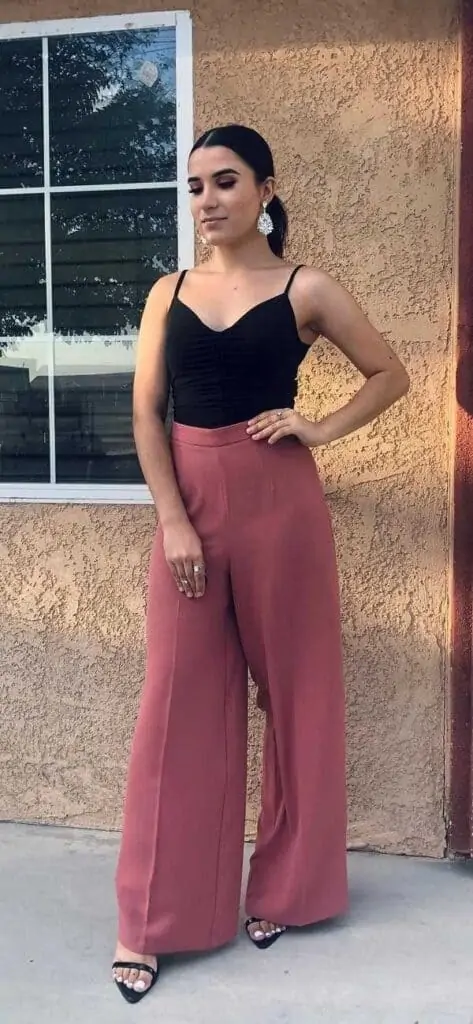 Isela (above) styled her black cami with a pair of palazzo pants. She finished her look off with some strappy shoes.
This combination will often give you a classy look, if you go for dark, nude or neutral palazzo pants. Heels are great but if you're looking to go casual chic, some sneakers or sandals will do.
An off-shoulder top
Off-the-shoulder neckline is one of the most flattering for women of all body shapes, in particular for women with the pear body type. They can also be worn with a pair of palazzo pants for a chic look.
The off-shoulder trend has been quite a favorite for many ladies for awhile. Compared with deep V necklines that reveal a lot of cleavage, off-the-shoulder show part of your upper body in a more subtle way.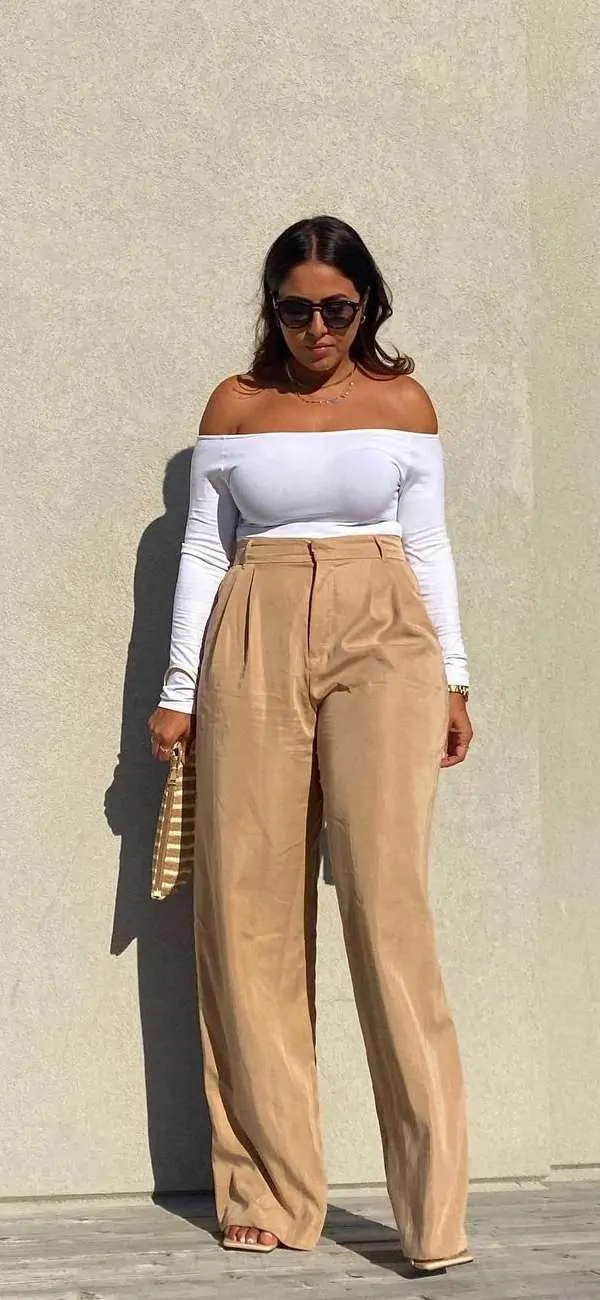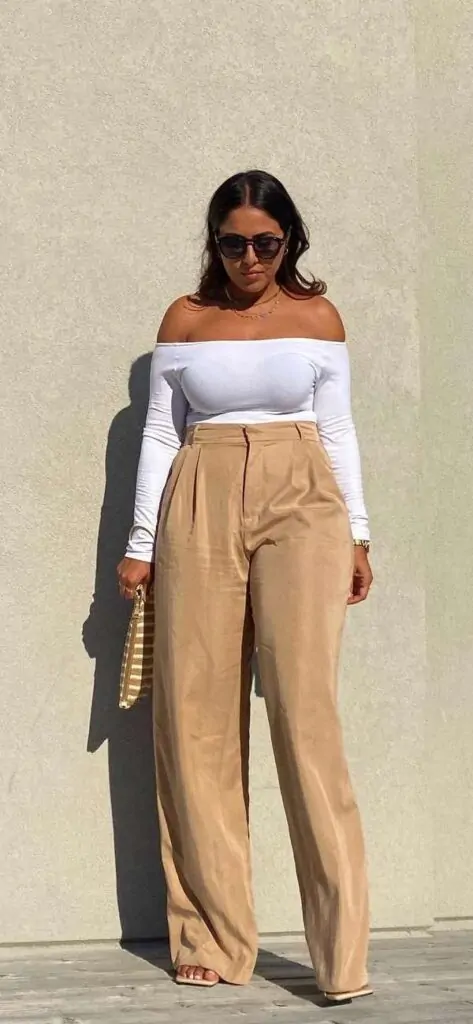 Kizhan (above) styled a white off-shoulder top with a pair of brown palazzo pants and some open brown shoes.
In case you love prints, a striped off-shoulder would be nice and you can also pick off-shoulder tops that are frilled.
With a denim jacket
Styling your denim jacket with a pair of palazzo pants will give you a great look, casual and easy to hang around in throughout the day.
Denim is comfortable and versatile, whether you go for a pair of jeans, a denim dress or a denim jacket. Denim jackets can be worn throughout the year, whether it's warm or cold and are flattering on any body type.
The thing with denim jackets is that they never run out of style and are very easy to maintain. So, aside from wearing one with your palazzo pants, you will be able to wear them with several pieces you have in your closet.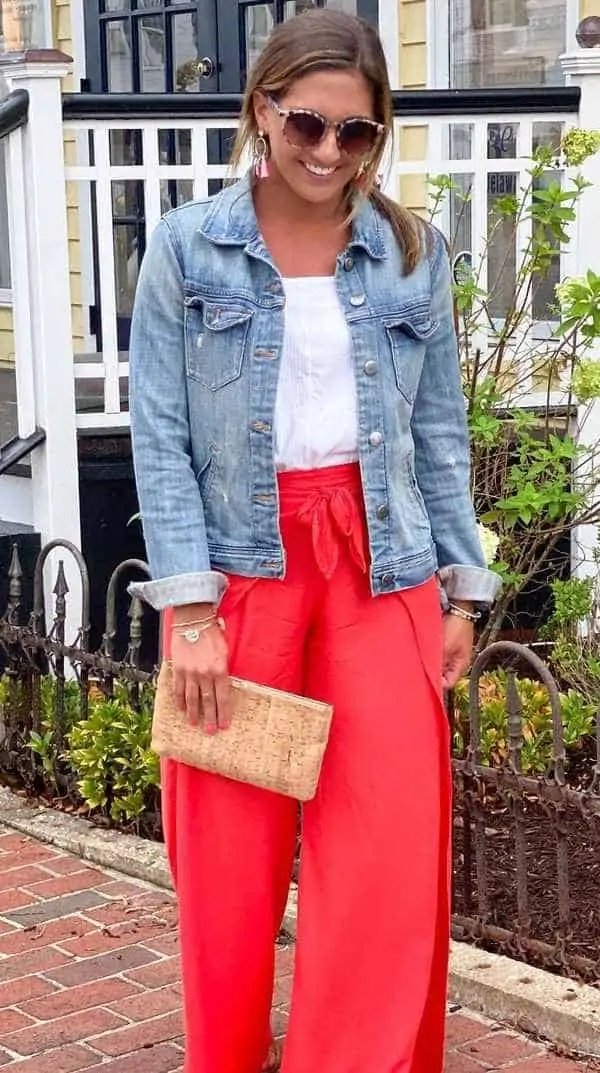 Francesca (above) styled her palazzo pants with a top and a denim jacket.
Hers is a self-tie palazzo pant that has slits which is great, if you like a more unique pair of palazzo pants.
With a duster
You can layer a duster over a top worn with a pair of palazzo pants for a chic look.
Dusters, whether you pick floor length ones or those that go right to your knees, are great pieces to elevate any outfit whether casual or a dressy one. They can be collarless or have collars, and are available in several other designs.
During warmer times, you can go for lighter dusters. When it's a bit colder, they are available in warmer and heavier materials. Darker colors such as navy and black will have you looking chic, as these dark colors are less muted. Dusters can also be longer and could go past the knee all the way to your ankles.
With a one-shoulder top
A great alternative to the fully off-shoulder top is the one-shoulder top. These are usually very classy, considering they cover your shoulder on one side then the other side is bare revealing your collar bone or shoulder. They can also be worn with a pair of palazzo pants for that fashion forward look.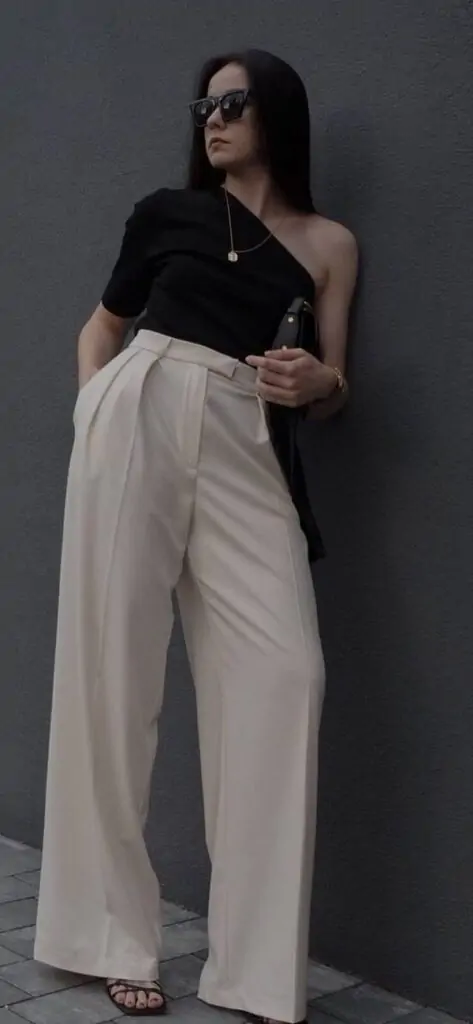 Solomiia (above) styled her black one-shoulder top with a pair of palazzo pants and open shoes. This is a combination that can easily have you event-ready, it could take you from a brunch with friends to a dinner date. The side that's not bare could be a sleeveless, short or long sleeve. It could be ruffled or the sleeve could be flared.
With a kimono
You can layer a kimono over different outfits including a palazzo pants look for a chic or a casual look.
Kimonos are nice and flowy, perfect for warm summery weather. They are very flattering as they actually cover any bulges that you do not like showing off, and also make your outfit more interesting.
Kimonos come in different fabrics and you can also get them in different prints such as florals and stripes, just to mention a few. In case you still want to wear your kimono during the fall, you can always layer it over a turtleneck top or over a pullover so that you stay warm since kimonos are generally light.
With a white t-shirt
A plain white one deserves a mention of its own as it's the ultimate wardrobe staple. A white t-shirt is a lifesaver and goes with everything you can think of wearing. This is why they look great even with palazzo pants.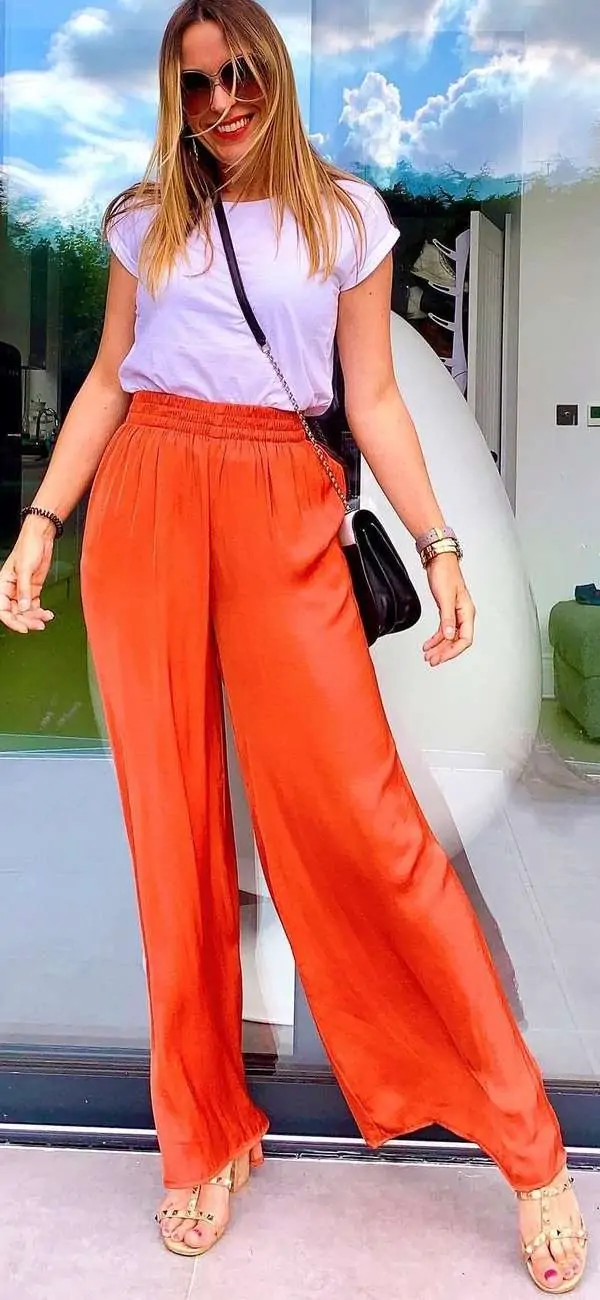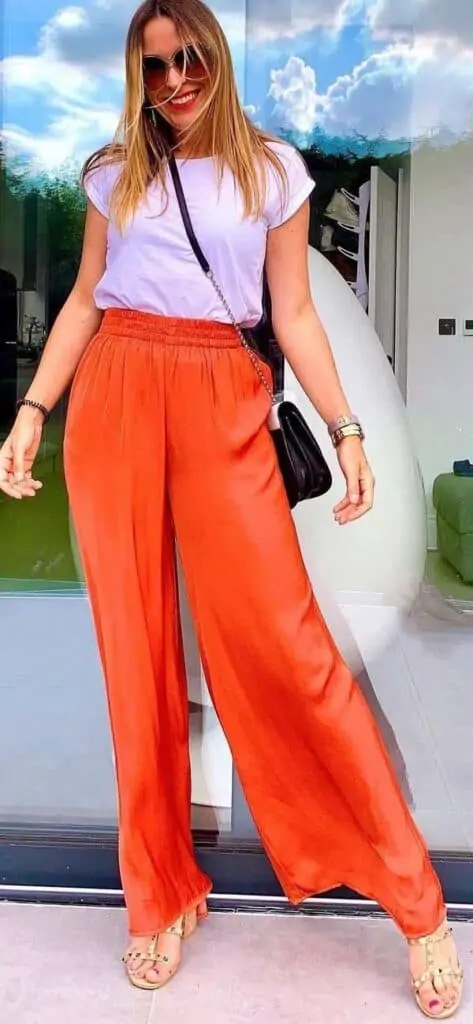 Lynds (above) styled her white t-shirt with a pair of palazzo pants and open sandals for a simple casual look. Dressing this combination up is as simple as wearing a pair of heels instead of flats. The best thing about a white t-shirt is that it doesn't really matter what color of palazzo pants you go for, you will still get the same great outfit.
With a matching shirt
A matching shirt is a great piece to wear with your palazzos. It forms a matching set, which is ever so easy to wear and style. A matching set is a quick way to look effortlessly stylish. When you wear a palazzo pants matching set, you only need to think of the footwear and the accessories so it's an easy look to pull together.
With a cropped jacket
A cropped jacket is another piece that can be styled with your palazzo pants. You could go for a heavy one during colder times or a lighter one if it's not so cold outdoors. When paired with some high waisted palazzo pants, it will give you the illusion of a smaller waist.
The cropped jacket in darker colors gives you a more sophisticated look, while brighter colors are fun for this combination.
With a pullover
Pullovers are snuggly and so comfortable. They are great stylish pieces that can give you a chic look or a great casual one. They can also be worn with your favorite palazzo pants among other bottoms.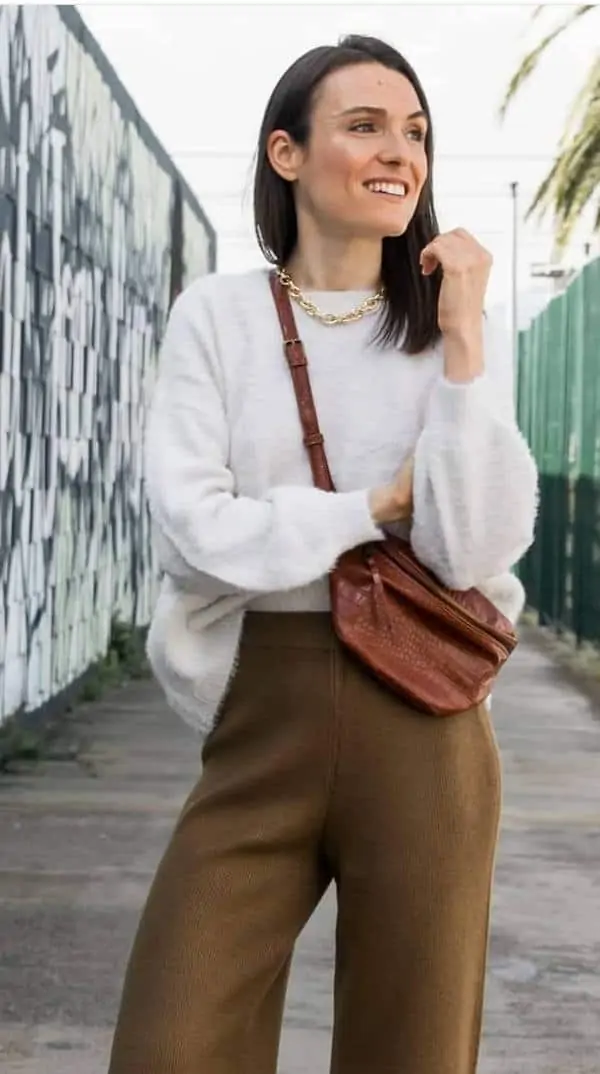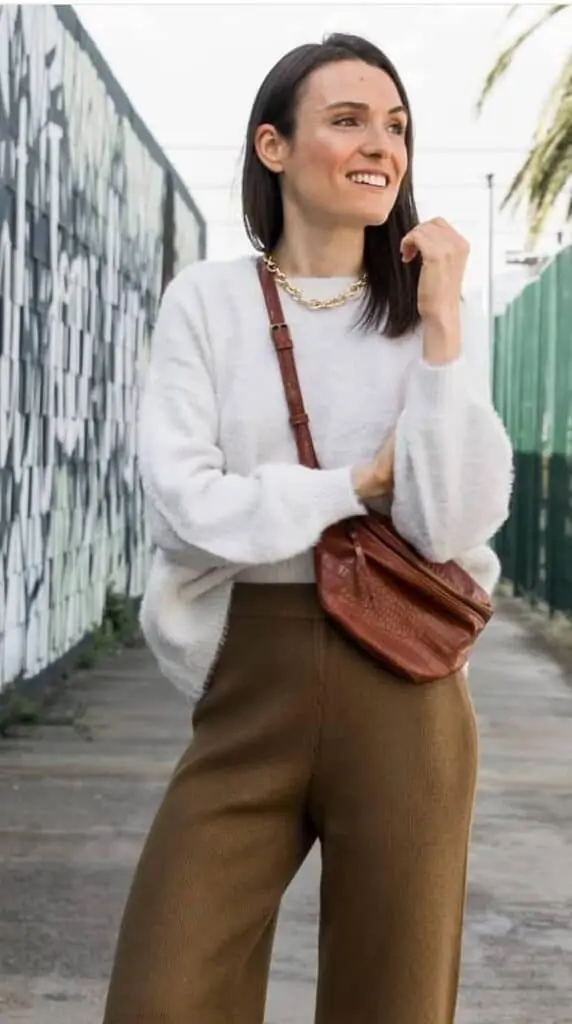 Marjorie (above) wore a white pullover with a pair of plain palazzo pants . In case your pullover is too chunky, you could always tuck in just the front and leave out the back. Alternatively, you could go for a lighter pullover.
With a turtleneck
Long-sleeved turtlenecks are great for cooler times, considering that they cover you all the way to your neck. However, you can get short-sleeved turtleneck tops or turtlenecks with cutouts. Any of these can be worn with a pair of palazzo pants.
With a utility shirt
A utility shirt is often heavier than your ordinary shirt. They are very masculine-looking but make for great outfits for women. You can elevate your utility shirt outfit by wearing it with your palazzo pants. It can give you either a dressy look or a casual one depending on the type of palazzos and the footwear you go for.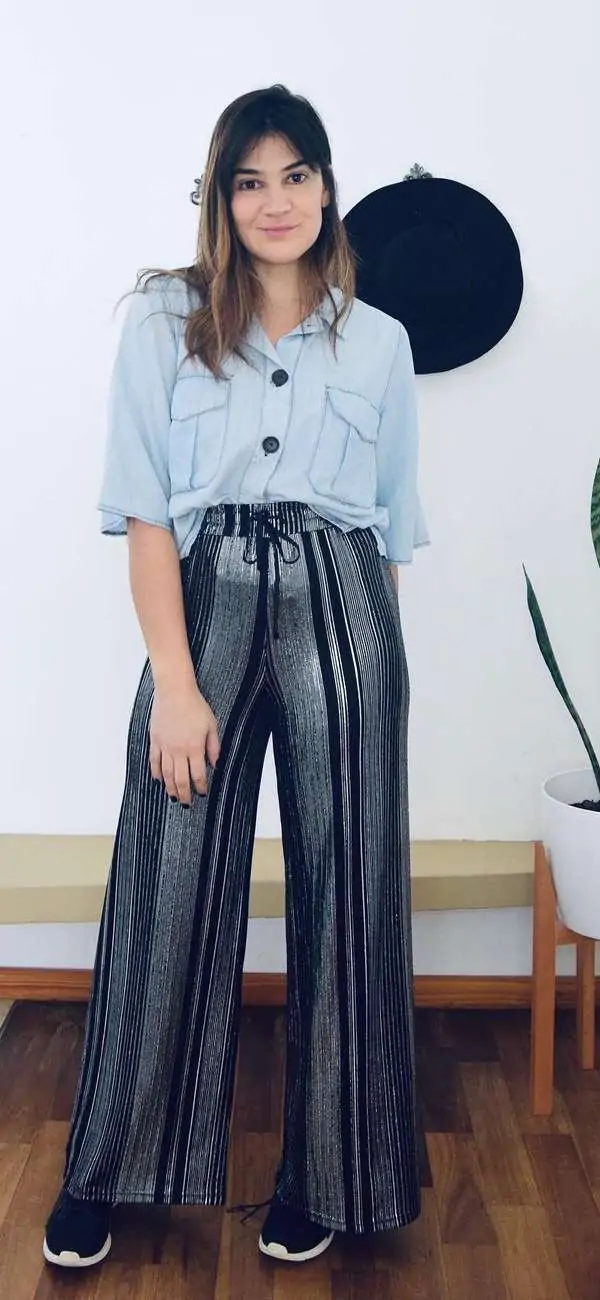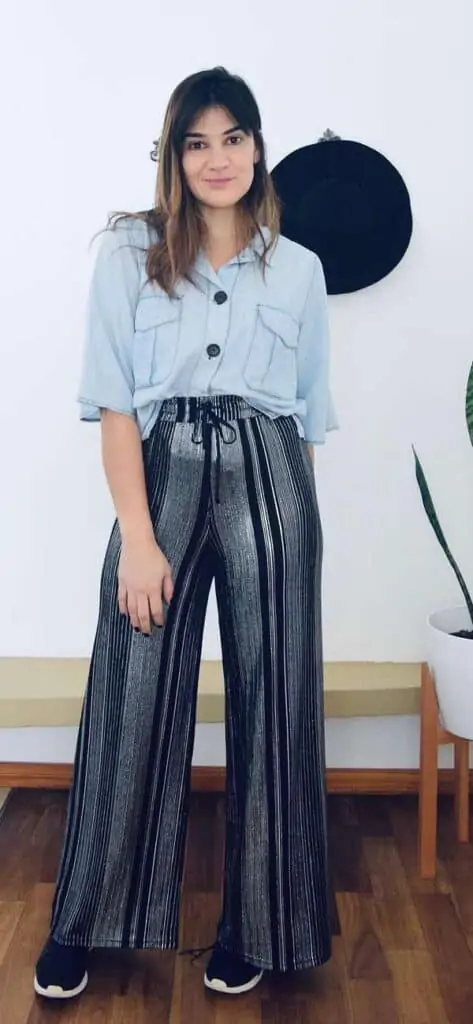 Elvestirdevir (above) shows how to wear a utility shirt with some drawstring casual palazzo pants. She finished off the casual outfit by going for a pair of sneakers. You can also switch up the sneakers with some chunky sandals.
With a denim shirt
Just like a denim jacket, a denim shirt is a great casual piece that's very flattering regardless of your age. It can be worn as outerwear in case it's too hot outside in place of a denim jacket. Of course you can wear it just like a normal casual shirt. One of the items you can wear a denim shirt with is palazzo pants.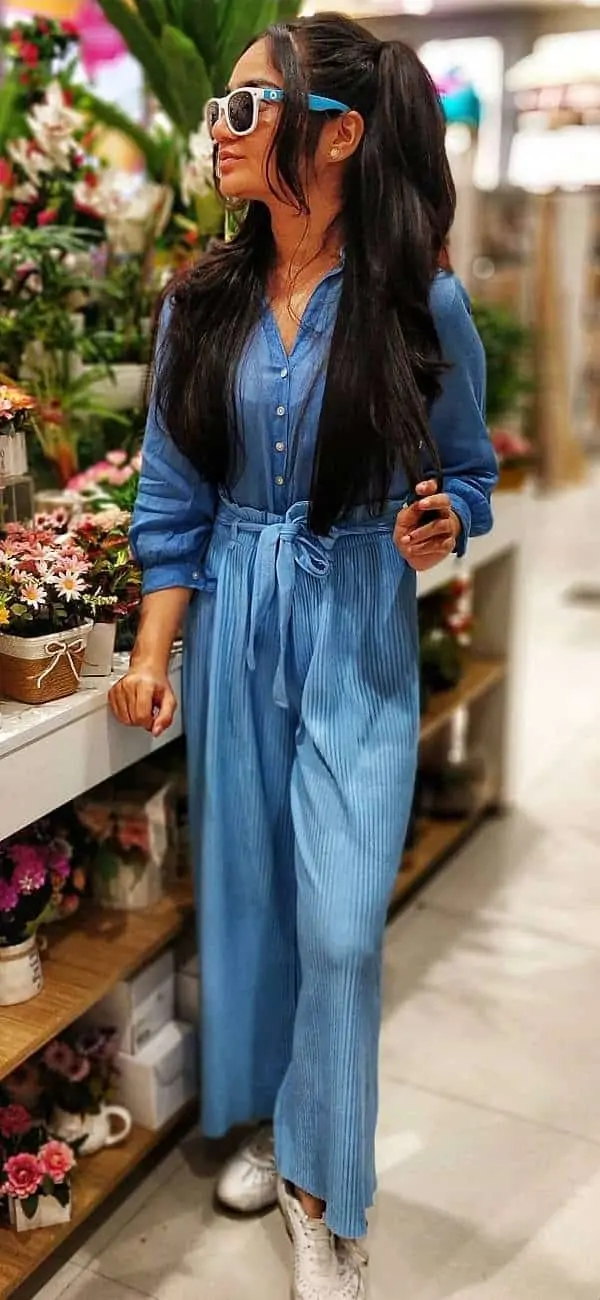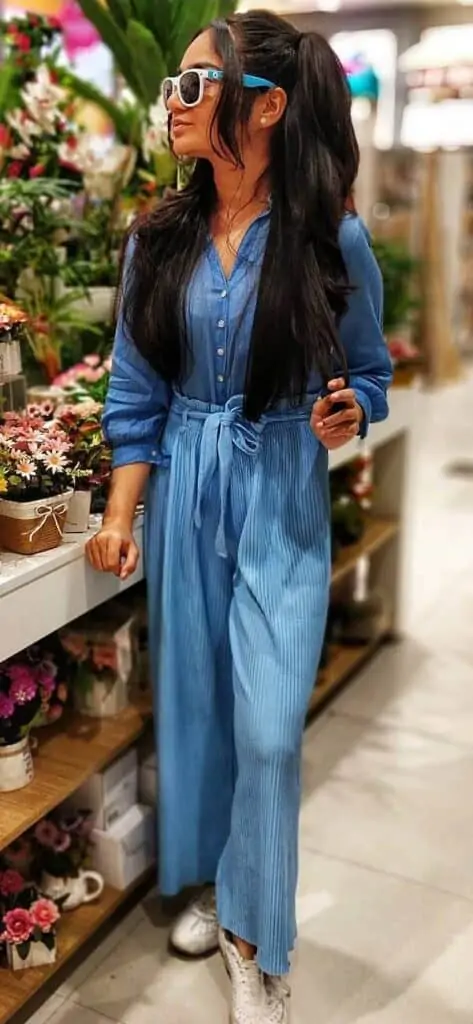 Denim, especially in a blue wash, is quite versatile, so it will work well with whatever color of palazzo pants you go for. You can wear this combination with casual shoes such as sneakers or go for heels to dress the look up.
With a cardigan
A cardigan is a great piece to wear when it's cold outside, as it keeps you warm, but it can also be a stylish piece. Cardigans can either be long or short, and can be worn over dresses, pants, or even skirts. You can wear them with your palazzo pants among the other different bottoms available.
Shumi.my(above) wore a pair of denim palazzo pants with a t-shirt and then layered a long cardigan over the look. You can opt for a shorter cardigan, and tuck it into your palazzo pants or just leave it open. You can also pick darker colors for your cardigan.
With a bell sleeves top
Bell sleeves tops are really great for women of different body shapes whether apple, pear, hourglass, you name it. Aside from adding a nice feminine touch to your look, bell sleeves make a statement whenever you walk into a room. Wearing a bell sleeve top with a pair of palazzo pants gives you a more balanced look.
A white bell sleeves top goes with palazzo pants of any color and so do other neutral colors like the blacks and nudes. Dark colored palazzo pants for this combination are great for a corporate look. If you love more color for your pants, you can also try them.
With a halter neck top
Halter neck tops are stylish and you can also style them with some palazzo pants as well.
As long as you wear one with the right undergarments, you will get to show off a nice section of your shoulders. A well fitted one gives you a great figure and is easy to wear with different pieces.
You can also wear some heels instead, if you want a dressed up outfit. For an evening out, it's better to go for a darker halter neck top.  You can also go for a short sleeve halter neck top or a long sleeve one for this combination.  
With a white button-down
A white button-down is a must-have, since it can be worn with just about everything. These are great especially if you're going to be wearing some statement bottoms. A great way to style these white button-down shirts is with a pair of palazzo pants.
If you're wearing this combination to a more formal place go for closed heels, stilettos, or open high heels. For this, you should also consider picking the pants in a darker color since their cut already makes a statement. However, you can make the look casual by picking a pair of white sneakers or brighter pants.
With a crop top
Crop tops are one of the most flattering designs for petite women. These look especially great with high waisted palazzo pants.
You can get one that just shows a peek of skin, or you could just go with a pair of palazzo pants with high enough waist so that you are not showing any skin.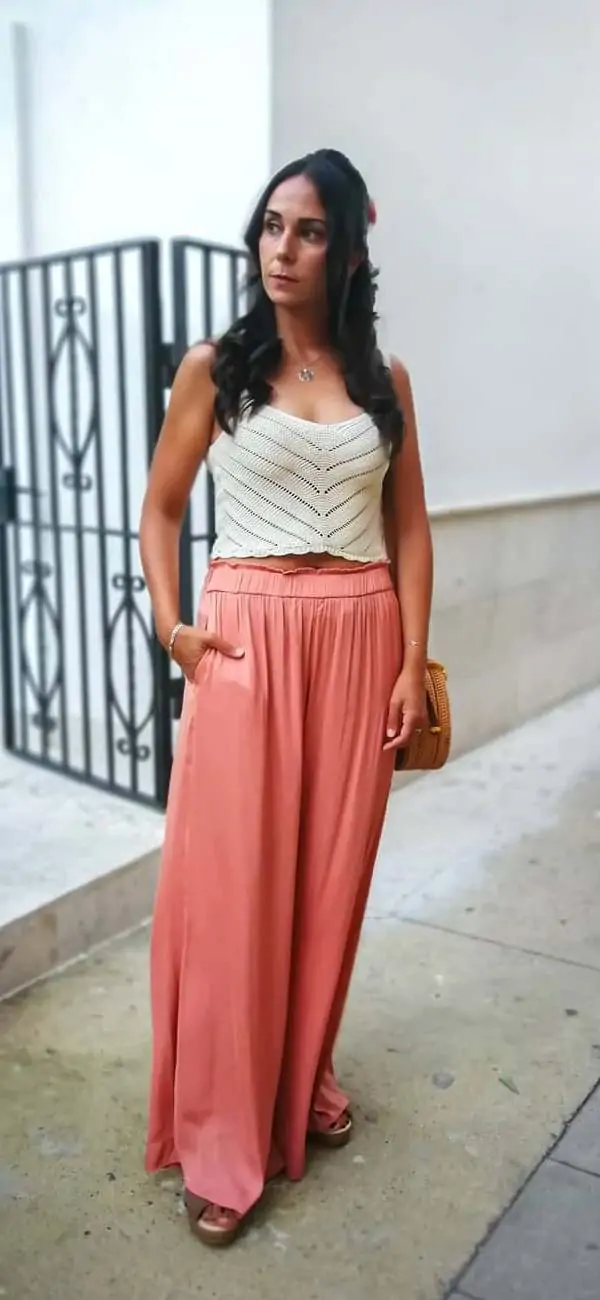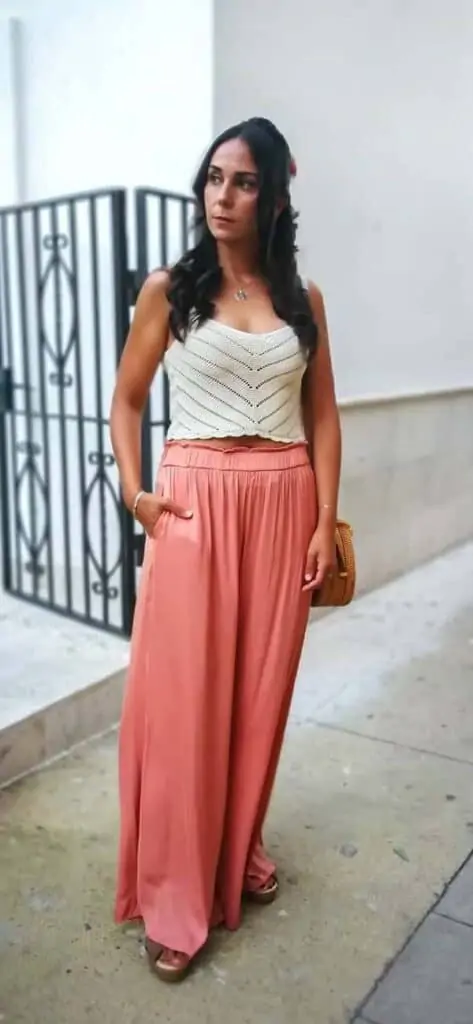 Julia (above) wore her off-white crop top with a pair of palazzo pants and finished the look off with some open shoes.
Depending on the type of crop top you go for, you could end up with a dressier, classier palazzo pants outfit or a casual one. A lace crop top, for example, is more elegant and feminine. When worn with some palazzo pants and heels, that would be great for a date or event.
With a simple plain t-shirt
A simple plain t-shirt can actually look all dressed up when worn with some palazzo pants.
A simple plain t-shirt in any color is a go-to when you just want a simple outfit. These go well with just about anything you choose to wear at the bottom, just as long as you coordinate your plain t-shirt color with the color of your pants, skirt, or shorts.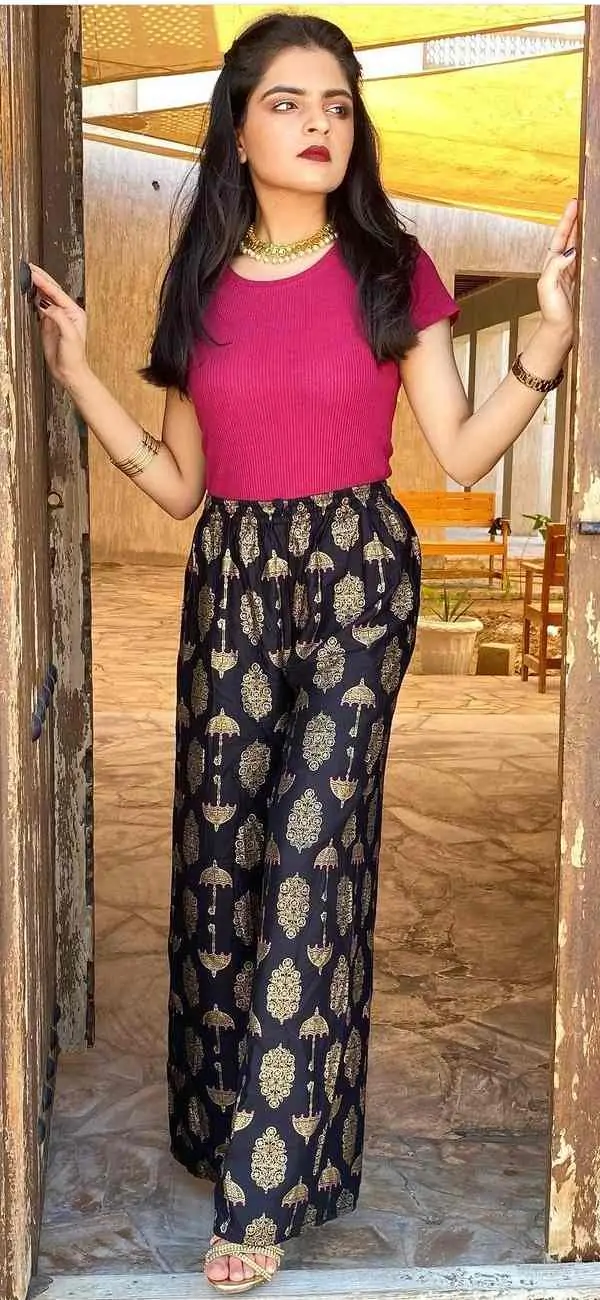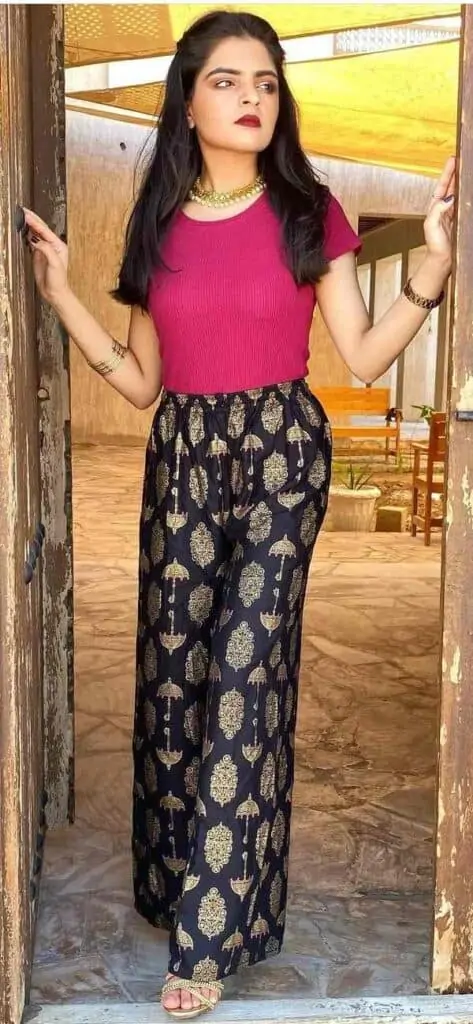 Mavina (above) wore her pink simple t-shirt with a printed pair of palazzo pants. Tucking in such a plain t-shirt does not only look clean, but it also allows the palazzo pants to stand out. Since the t-shirt is basically plain, you can accessorize it a bit.
With a graphics t-shirt
Wearing palazzo pants with a graphic T-shirt adds a casual vibe to a chic outfit.
One of the best ways to go about expressing your personality through clothes is by wearing a graphic t-shirt. It's one piece of clothing that will surely allow you to stand out in a crowd. While it's common to wear one with casual pieces, you can dress up your graphics t-shirt as well. One way to do so is by wearing it with your palazzo pants.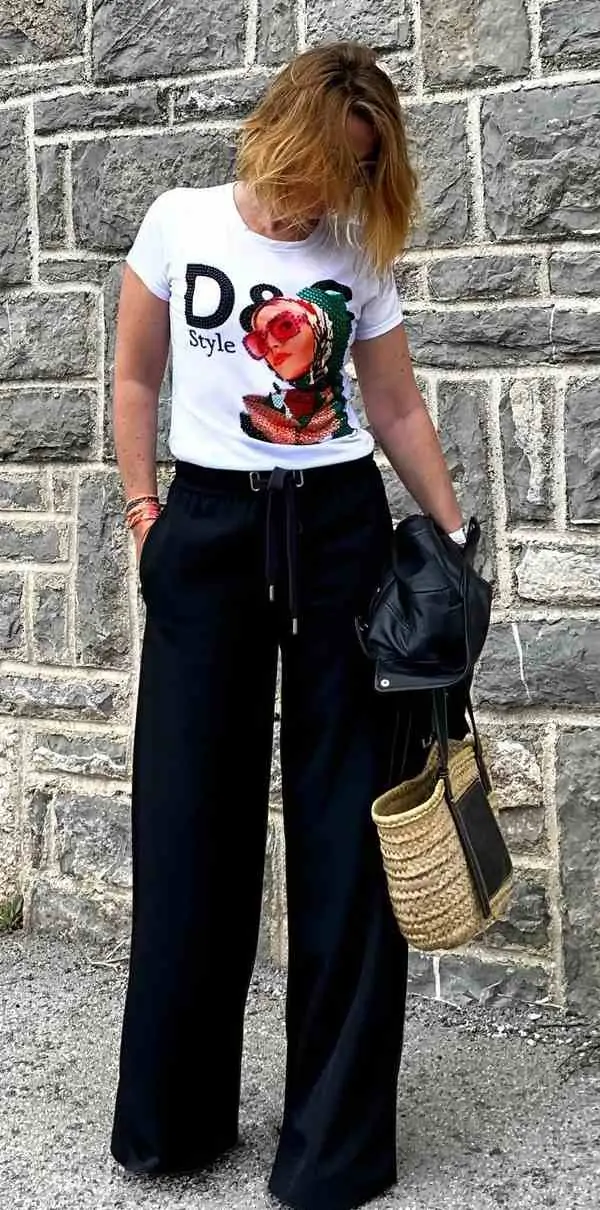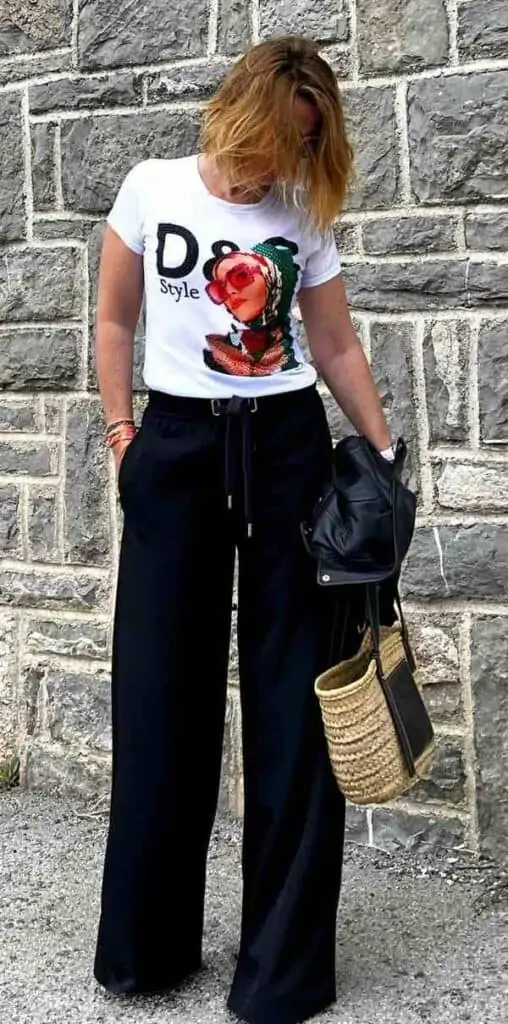 Oihana (above) styled her white graphics t-shirt with a pair of palazzo pants.
These pants can come in different design details, some have drawstring waists while others come with zippers. Some have slits while most of them are in a simple design.
The drawstrings on the palazzo pants give it a more casual feel, but you can choose a different style of palazzo pants for this combination. Plain ones are most preferred because both the t-shirt and palazzos already make a statement.
With a tank top
A pair of palazzo pants in particular will make you look so stylish in your tank top.
A tank top is one of the easiest tops to pull off, since it's minimalist. Just as long as you get the size right, you can literally wear your tank top with anything.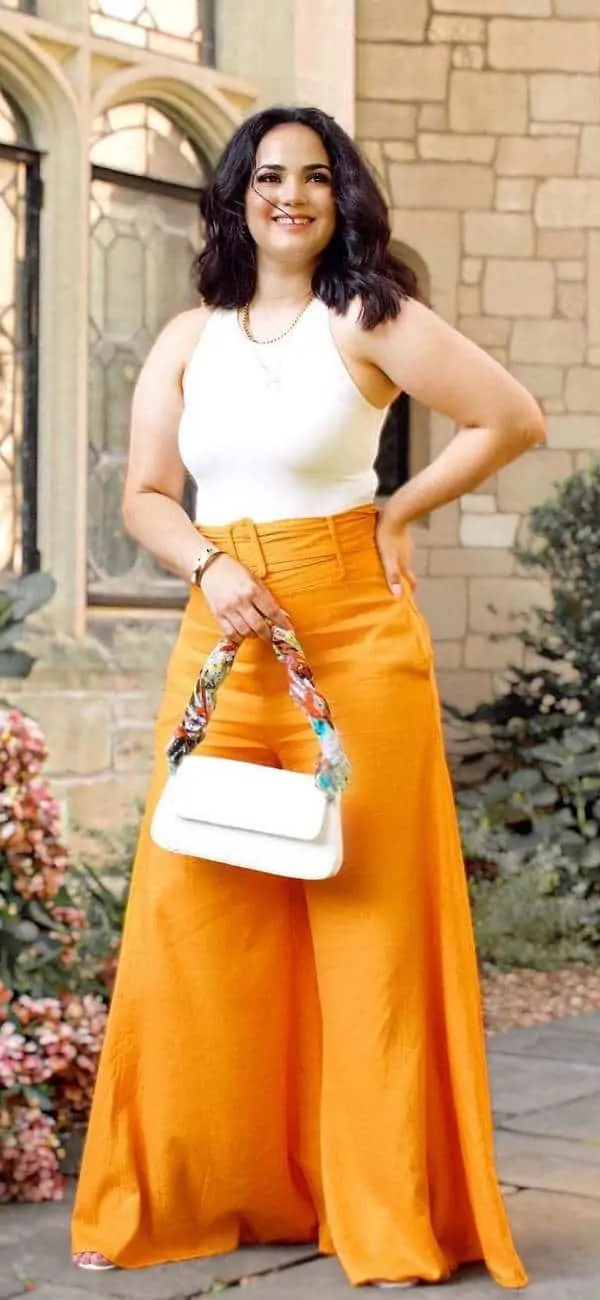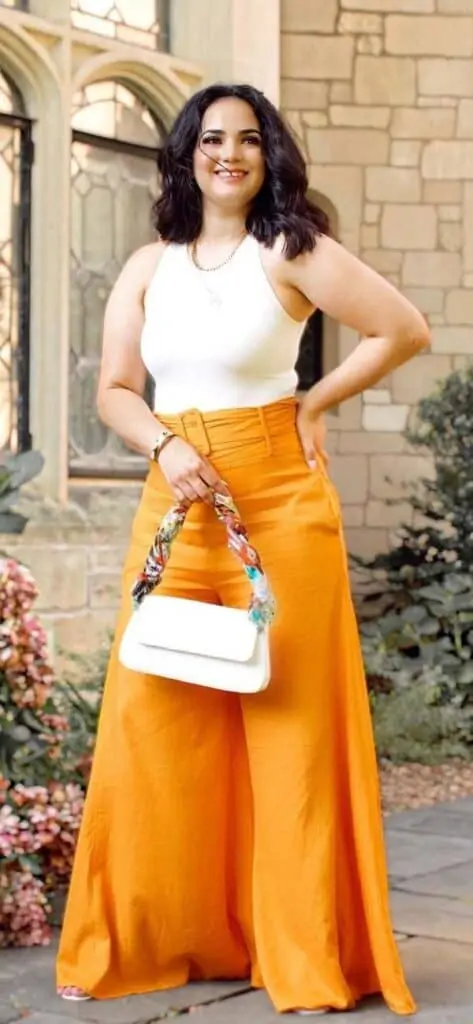 Yary (above) styled her white tank top with a pair of palazzo pants. The simplicity of the top brings out your palazzo pants. It's always great to find a good balance when it comes to your pairings, so that you don't end up with an outfit that's all over the place. Remember, a good outfit is all about balance.
With a puff sleeve top
One of the most trendy items in current season is the puff sleeve top, and they can make a great outfit when worn with palazzo pants.
A short sleeve top is a good alternative to a cami, but is also simple and suitable for a simple look. With simple short sleeve tops, you can layer some outerwear such as denim jackets or leather ones when it's colder. You can also wear them with bottoms such as palazzo pants.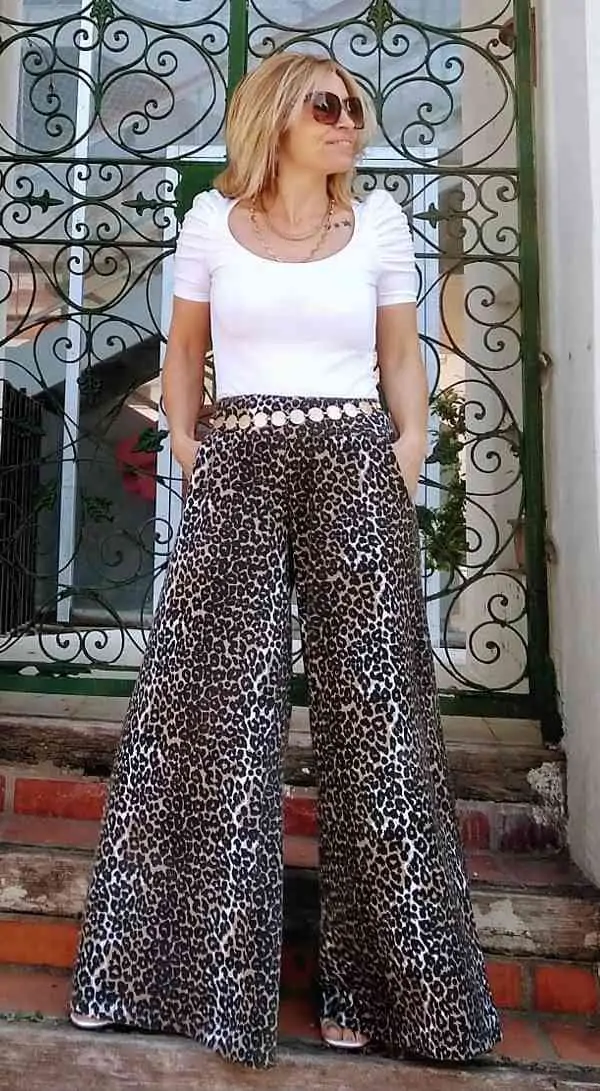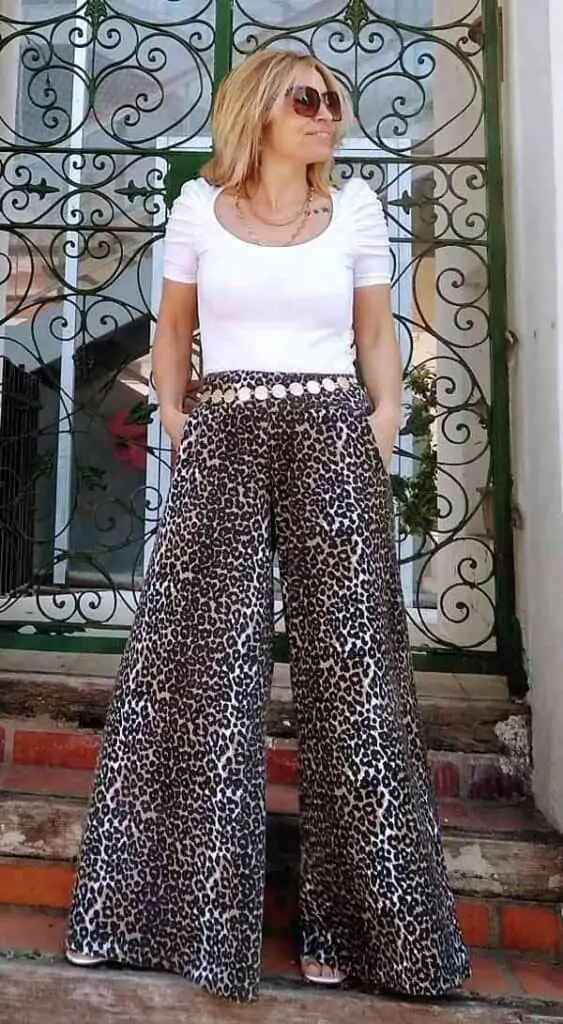 Abi (above) wore a pair of animal print palazzo pants with a simple white short sleeve top and some white open shoes. If your palazzo pants are printed, it's best to go for a plain short sleeve top. You can also just choose a plain pair of palazzo pants altogether.
With a waistcoat
Waistcoats are great to add to your outfit if you're looking for different ways to elevate it further. They are mostly meant for official looks but can also be worn casually. You can wear your waistcoat with jeans, shorts, and skirts to mention a few pieces. They can also be worn with a pair of palazzo pants. It gives you an unexpected combination that works so well especially for work.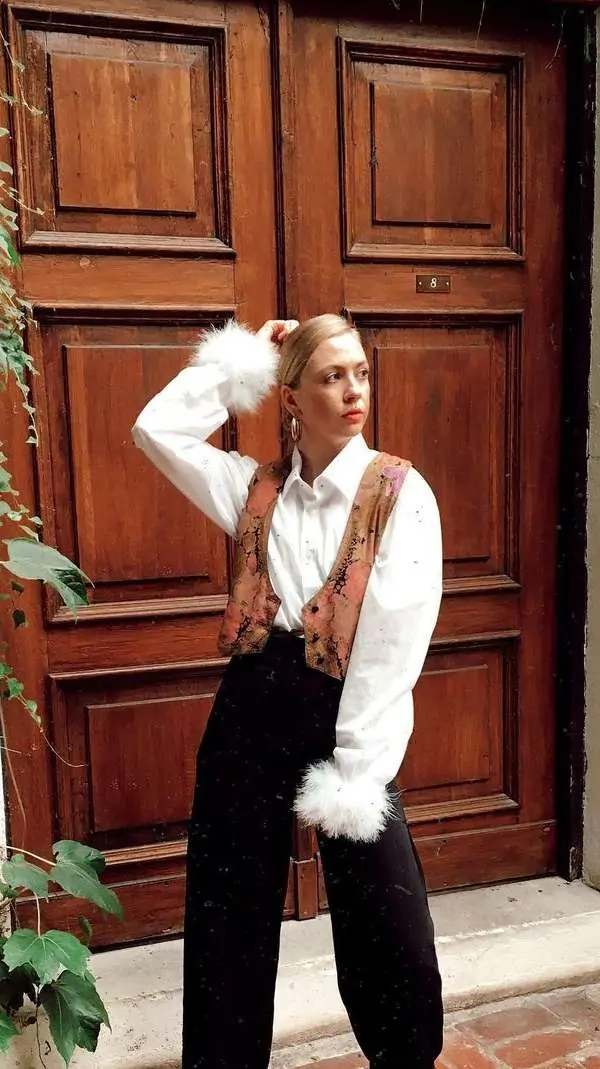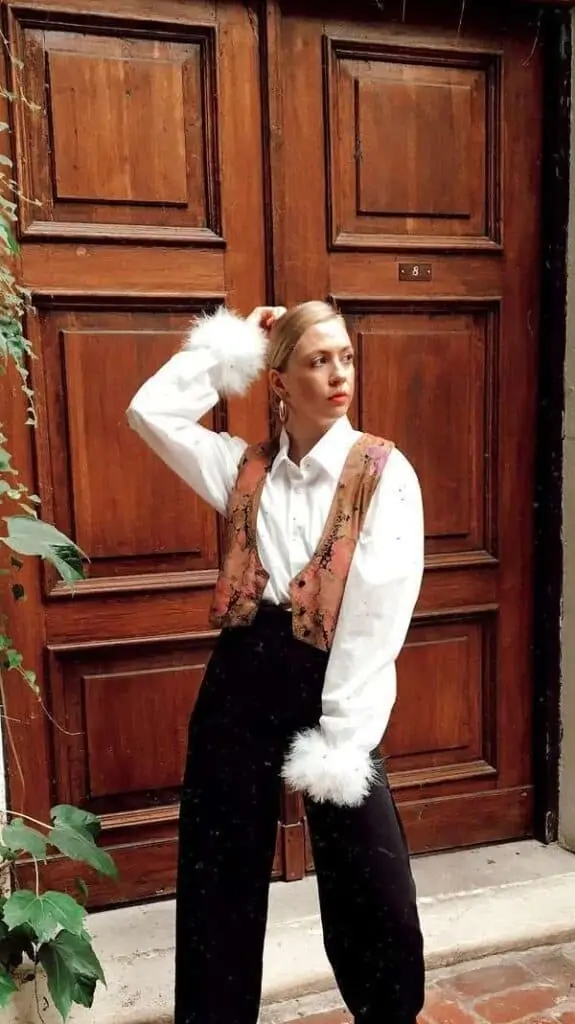 Alicja(above) styled some black palazzo pants with a white shirt and brown waistcoat. Wearing the waistcoat over a shirt makes your outfit look more formal and choosing a matching waistcoat is also a great way to go about it. That said, you can still choose a different color of palazzos just as long as they coordinate.
As you can see from this post, when it comes to palazzo pants, there is a wealth of styling options. It all just depends on the kind of look you're going for. As long as you're sure about the environment and occasion, you should be able to get it right. You can get a cute palazzo pant outfit by going for girly colors such as pastels or palazzo pants with prints such as polka dots. With this, you could also go for feminine tops for some cute elegance.
You can also get a sophisticated palazzo pants outfit by wearing your palazzos with a classy top or jacket as can be seen in the post and then finishing the look off with some heels. Remember, for a sophisticated look, less is more. Neutrals and monochromatic colors work best for this.
If a comfortable casual palazzo pant outfit appeals more to you then you can easily achieve it. First, the fact that these pants are already a loose fit generally makes these pants comfortable. Vibrant colors offer you a more casual look although if you prefer darker colored palazzo pants, choose a fun, laid back top or jacket for the look. The simple and classy t-shirts will do for this and you can also go for crop tops, spaghetti straps or plaid shirts. You can also finish off the casual look with casual footwear such as sneakers, simple sandals and the likes.
In conclusion, palazzo pants generally look great with just about all the shoes you can think of therefore the footwear shouldn't give you too much trouble. So, in case you have been uncertain about whether or not it's worth buying palazzo pants, it's definitely worth it. That said, if you own a few pairs, these ideas should have you in different looks every other time.