Outdoor drinks are one of our favorite ways to socialize, especially when the weather is warm. Depending on the season, time of the day and the setting, there are many ways to dress for the occasion. The key is to look both put together and practical, i.e. wearing outfits that are chic and also suitable for staying outside for a while. There are no specific rules that dictate what you should and should not wear for outdoor drinks, but in general looking classy and feminine works in any kind of social occasions.
Long Sleeve Dress
Dresses are always a winning style choice, not only are they flattering but they require minimal styling thanks to the one-piece factor. When you're getting dressed for outdoor drinks, it's important to consider that you may get a bit cold. That's why a long sleeved dress is a great style choice. This way you can look flirty and feminine, but won't have to worry about getting really cold. Pair your long sleeve dress with ankle booties, strappy heels, or even sneakers – depending upon the venue and your personal style preference.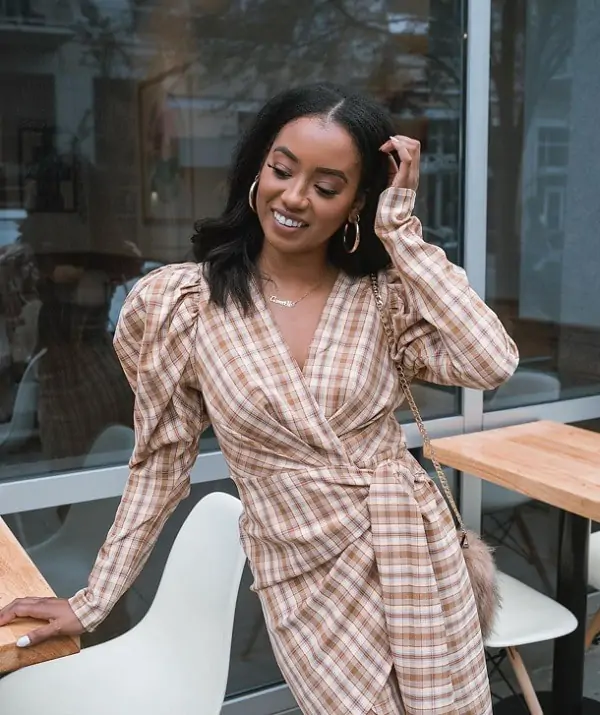 Above, Cam is wearing an adorable love sleeve dress that is perfect for grabbing drinks in.
Denim Shorts Dressed Up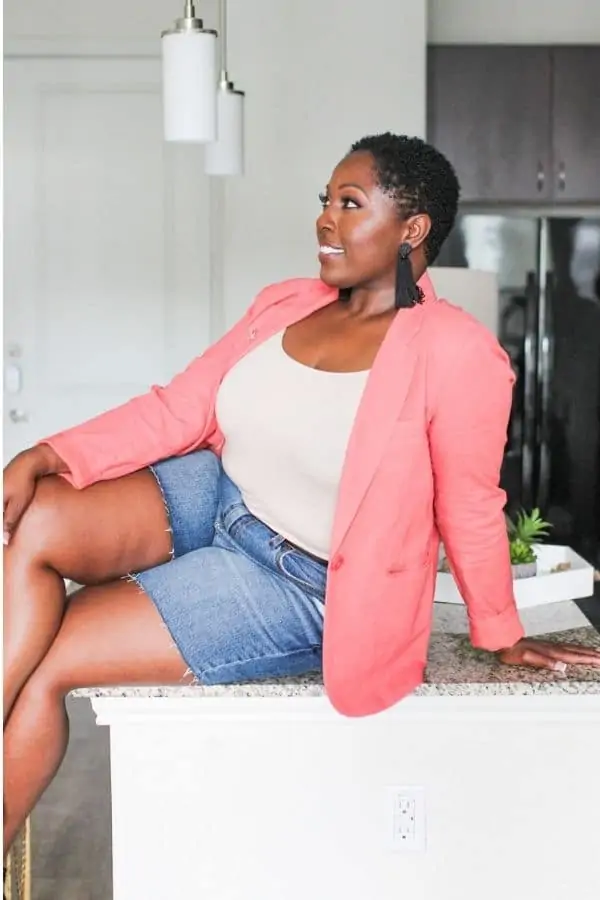 Keeping things casual with denim, of course denim shorts are another easy and fun choice for this type of situation. Particularly when the location is on the casual side and it's hot outside. The key here, to make denim shorts feel 'out to drinks ready' is to dress them up a bit.
There are a few ways you can do this, too.
First, swap out your sneakers or flat sandals for a cute wedge sandal or ankle bootie.
Next, skip the basic t-shirt and style your denim shorts with a pretty top – think something with a feminine print or interesting detail that feels more elevated than your typical t-shirt.
Finally, accessorize! It's a common theme because accessorizing has a way of instantly transforming even the most casual of outfits. Don't be afraid to add some statement making accessories to your outfit before heading out to get drinks.
Dress Layered with a Shacket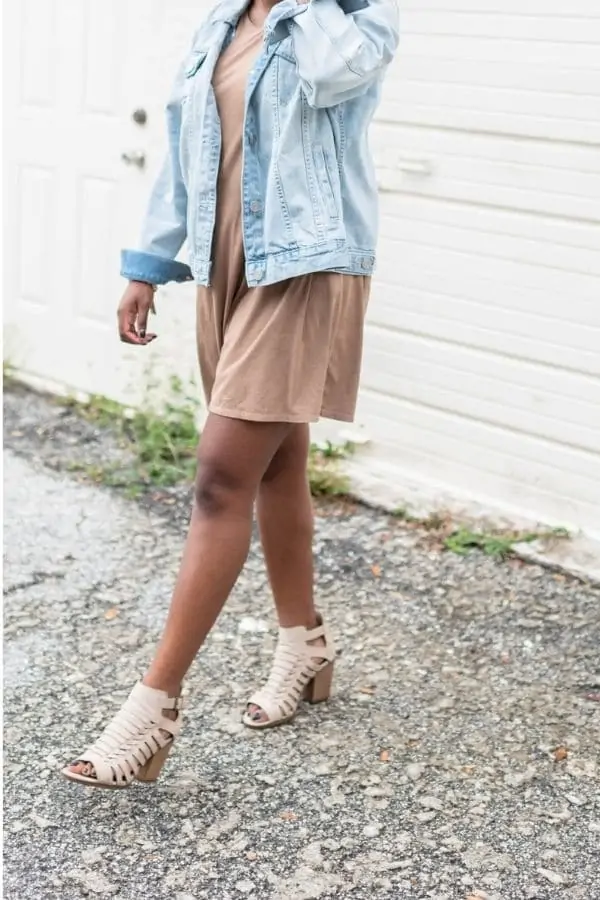 Over the past year you may have noticed the growth of the 'shacket.' If you haven't, a shacket is essentially a garment that looks like a button down shirt but is worn open like a jacket. Get it? Regardless of the term and its meaning, the shacket trend happens to be a really fun and stylish one to utilize for outdoor dining/drinks. Again it gives you that additional warmth so you don't have to freeze as temperatures decrease.
In addition to that, a shacket can give you a bit more coverage if you're wearing a form fitting dress and want to feel a little more casual. Wear a shacket over a simple dress with some combat boots or sneakers for a really fun and edgy outfit.
Sweater Set and Denim
Getting drinks outdoors may mean it's still a little chilly outside, until the temperatures really ramp up anyways. One of the prettiest trends this season has to be sweater sets. Who would have thought knitwear sets would become a thing again? Well fortunately, they're cute, trendy and make for the perfect outfit choice when getting drinks outdoors. The knitwear element adds a bit of extra warmth without a lot of bulk. Pair the sweater set with a pair of distressed denim, cute heels and you will be the trendiest person at the patio.
Jeans and a Cute Top
The outfit combination to lean on regardless of trends and the season = jeans and a cute top. It doesn't get more dependable than this outfit formula. Heading out for drinks with friends, you probably want to feel cute but casual and comfortable. Enter: this classic combo. The great thing about jeans and a cute top is its an outfit idea you can really make with regardless of your personal style aesthetic. All you need is a pair of great fitting jeans, a cute top (obviously), and shoes to compliment the look. Dress up the outfit with heels or keep it casual with flats.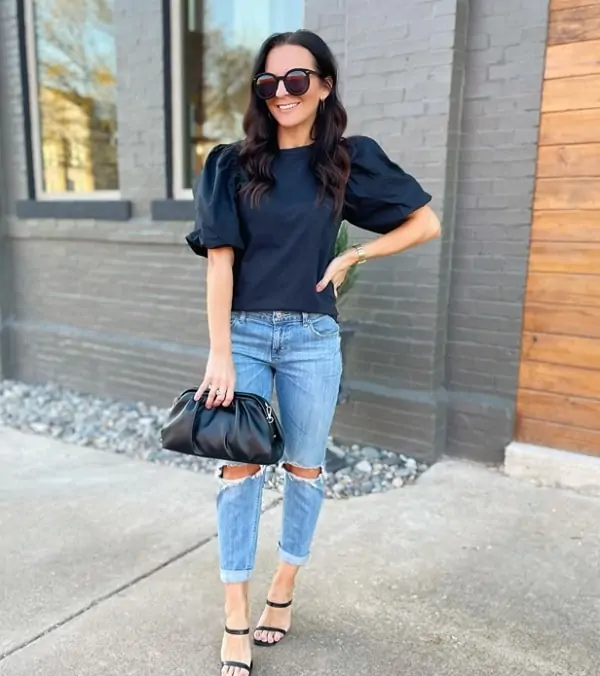 Amy's cute top and jeans are perfect for getting drinks outdoors.
Midi Skirt and a T-Shirt
Feeling a little flirty? Skirts are an excellent style selection when getting dressed for drinks outdoors. Right now it's all about the midi skirt which is great because you don't have to worry about the wind or anything causing a wardrobe dilemma. Not to mention, the longer length a midi provides gives more coverage overall so you're free to move around and enjoy yourself while outdoors. Many midi skirts this season are in different prints and patterns, making them a statement all on their own. This means you're able to keep the rest of the outfit fairly simple and know you look appropriate and stylish for the occasion. All you really need to style the midi skirt with a simple t-shirt and boots or sneakers. These shoe choices tend to be really functional for outdoor gatherings because it's likely you'll be standing for a longer period of time and they keep your feet warmer.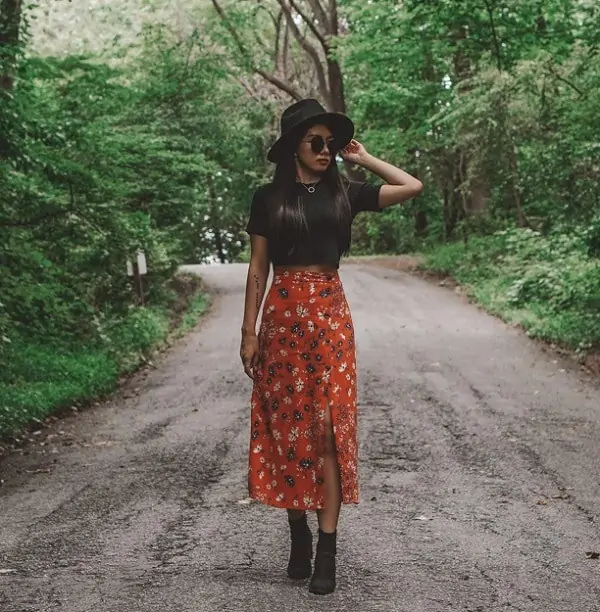 Sunshine's midi skirt is styled just right for an outdoor social gathering.
Don't worry, if you're petite you can still rock a midi skirt with confidence. Just be sure the length lays above or below the thickest part of your calf. For an added figure flattery element, opt for a midi skirt that offers a slit – this exposes a bit more of your leg and can help you to appear longer.
Summer Dress Accessorized
It isn't any secret that summer dresses are perfect for, well…the summertime. Anytime you spend time outside in the summer heat, summer dresses make for easy dressing. The good news? You can wear your favorite summer dresses when getting drinks in an outdoor space. This is a great option for those super hot and humid days when minimal layering is a necessity.
Make sure to style your summer dress to give yourself a completed look with shoes and some dainty accessories. Layered necklaces, oversized sunglasses and cute shoes are going to achieve that. This year there are so many shoe options that can look and feel appropriate, too.
Thanks to sneakers becoming the go-to shoe choice for so many occasions, you can certainly style a cute pair of sneakers with a summer dress for a casual venue. Need to dress it up a bit more? Opt for a neutral pair of sandals or heels.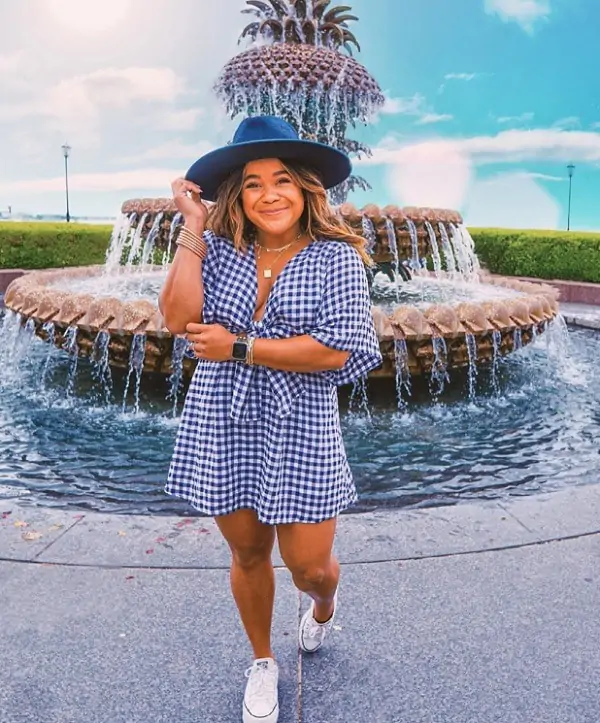 Can't go wrong with a summer dress and Jordyn styled it effortlessly.
Oversized Cardigan and Denim
It's all about easy, cute and functional when getting dressed to get drinks outdoors. Styling simple, stylish layers into an outfit is a really great way to hit all these points. When you're looking for a casual outfit combination to get drinks in consider styling a simple bodysuit with your favorite pair of jeans and topping it off with an oversized cardigan. Obviously, the cardigan is going to give you a little more coverage when needed but it also helps to tie the look in together. Try opting for a cardigan that provides some interesting detail whether it's an oversized fit, has large buttons, or an interesting neckline. This helps to step up the style factor and make your jeans and bodysuit combination feel anything but basic.
T-shirt and Jeans, Stylized
Getting drinks outdoors doesn't always mean needing to get dressed up, in fact it's probably an occasion you can air on the casual side for. Of course, you'll still want to get 'dressed' and feel confident in what you're wearing. Jeans and a t-shirt are another ever classic combination that won't ever become old. The key, when dressing for outdoor drinks is to make the combination feel like a true styled outfit and not just something you threw on last minute (even if you did). There are a couple of key factors to help you to achieve this. First, add accessories! Necklaces, earrings, a hat and/or belt are some great accessories to make jeans and a t-shirt feel more styled. Second, the shoes! You've heard the saying many times 'shoes can make or break the outfit' and it's no different with jeans and a t-shirt. Resist the urge to wear your beat up gym shoes and throw on a pair of cute gladiator sandals or pointed to flats.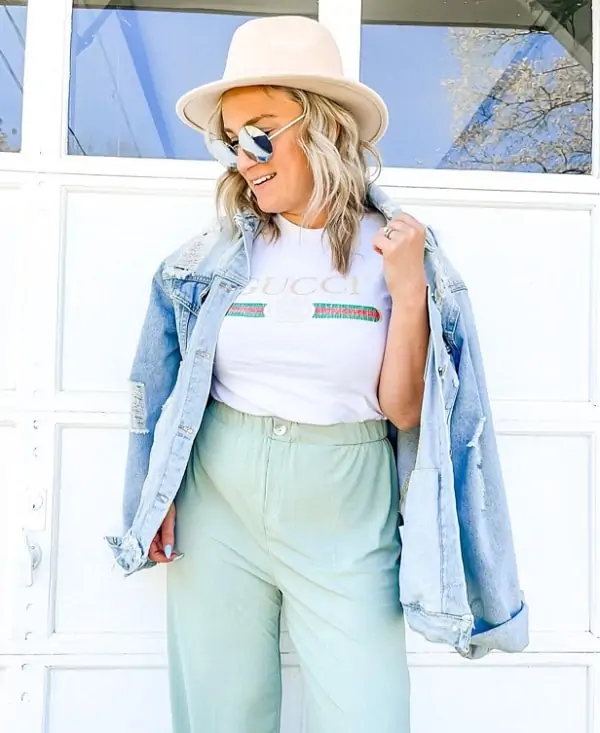 Amanda is showing us how to wear a denim 'shacket' over a t-shirt and pants.