Outdoor dinning is one of our favorite things to do, especially when the weather is warmer in the spring and the summer. Nothing is more pleasant than to sit outside and enjoy good conversations over a nice meal! The best way to dress for outdoor dinning is to wear something that is comfortable and also suits the ambiance of the restaurant you are going to. These are the 10 best outfits that can make you feel relaxed and confident in the outdoor dinning settings!
Romper with Sneakers
Because we have all become accustomed to wearing flat shoes, chances are many of us are going to be choosing comfort as we head for outdoor dining experiences. The good news? You can still look cute and appropriate…even in sneakers!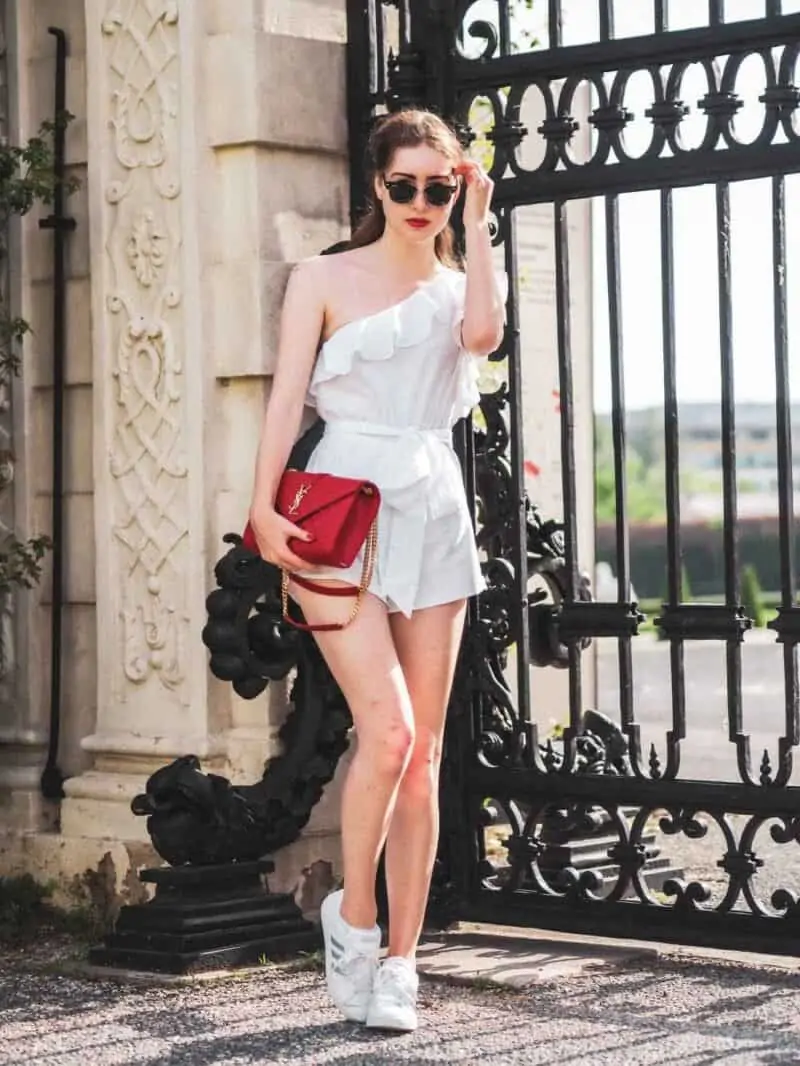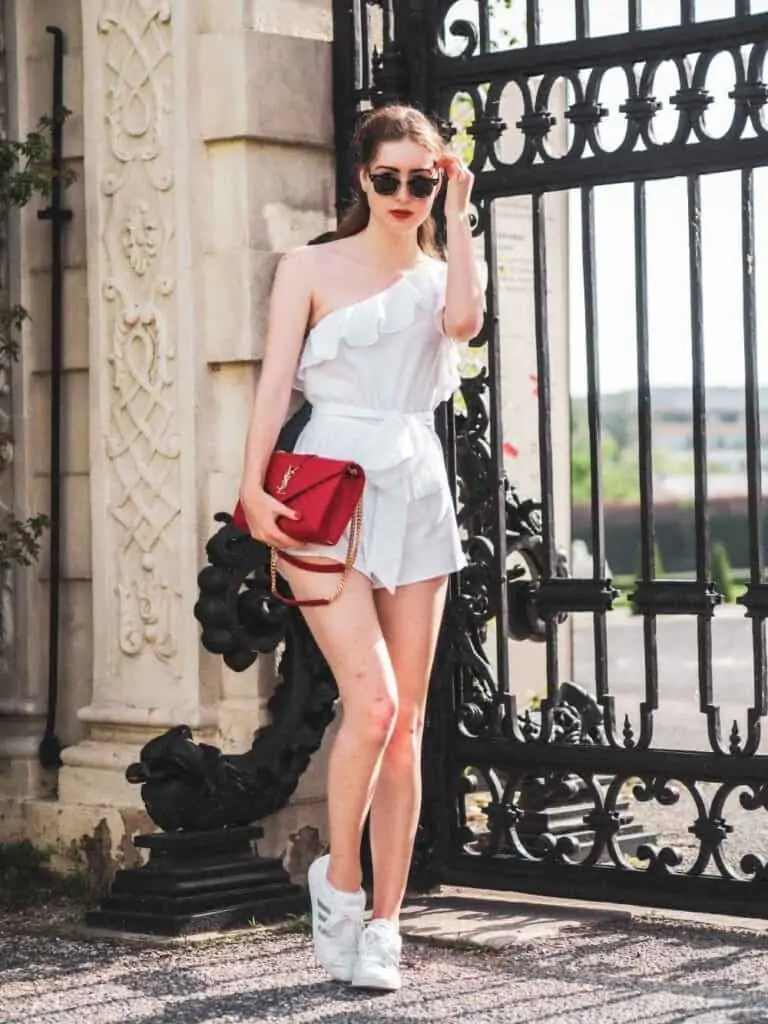 Seriously. Throw on a romper with sneakers for the perfect outdoor dining outfit. Add a hat, neutral color handbag and don't forget a layering piece. Rompers are an easy choice as the weather begins to warm up and you eat outdoors. Not only are they easy because they're one piece, they're really comfortable to wear while sitting and eating. Comfort meets style with this outfit selection.
Denim and Oversized Cardigan
Outdoor dining can often come with unexpected (or expected) weather changes, which is why dressing in layers can be a really strategic way to get dressed for the occasion. If you are heading out for a more casual outdoor dining experience, denim is an easy choice.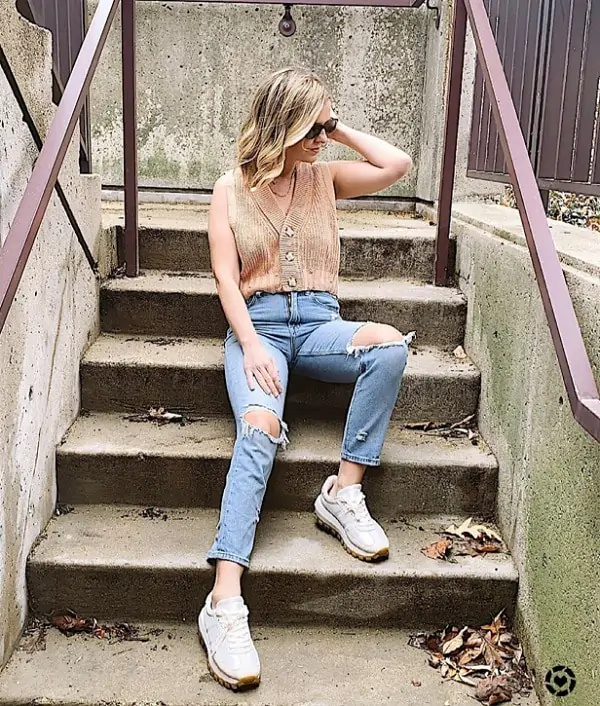 Natalie (above) styled an oversized (vest) cardigan for this super trendy look.
This season, it's all about the oversized cardigan so throw that on with some fun accessories and you will have a trendy, functional outfit for your outdoor dining. Wear the cardigan as a true layering piece over a simple tank top or t-shirt, or wear it like a sweater by buttoning it up.
Flowy Dress, Boots and Jacket
As mentioned above, outdoor dining is all about layering – you never know if you're going to get a little chilly when eating outside. Anytime you want to dress up your outdoor dining look a bit, consider styling a dress. It seems like it's the year of the boots right now, add an edgy twist to your favorite dress with a pair of combat boots. Not only does this look trendy, but boots tend to keep you warmer without the need to wear pants. Again, with the layering, make sure you bring along a jacket to complete the look.
Jordyn's outfit is such a fun twist for outdoor dining.
Styled Up Distressed Denim
The past year has led many of us to dressing on the more casual side of things. Anytime you want an outfit choice that's casual yet cut for outdoor dining, throw on a pair of distressed denim and dress them up. The great thing about distressed denim is it's easy to dress up, without a whole lot of effort. For example, you can style a cute flowy top with your denim.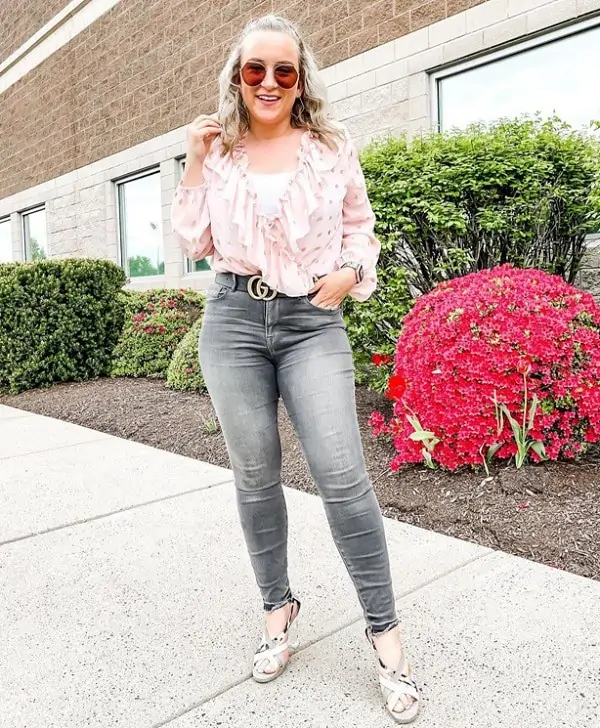 Here Amanda definitely styled up her denim for outdoor dining.
Another route is to wear a simple solid color shirt, and add the dressed up element to the outfit with accessories like a wide brim hat, cute shoes and some fun accessories. Don't overthink it – just make sure you're dressing in a way where you will be comfortable sitting outside for an extended period of time.
Blazer and Denim
Heading out to a fancier dinner or lunch? Add a blazer to your denim! Not only is denim easy to wear and style, it tends to be fairly warm which is great for eating outside. When wearing a blazer and denim, because it's such a classic, easy outfit combination you can add your personal style twist to the look easily with different shoes and accessories. If you want to keep it simple, style a pair of classic pumps. Want to make it a bit edgy or trendy? Throw on some strappy heels and a statement necklace. The options are limitless with this outfit formula.
Ashley opted for white denim and a blazer, the perfect summer outfit to dine outdoors wearing.
Floral top and Denim Shorts
The trick with dressing for outdoor dining in the summer is staying cool, but also comfortable. Dining means you're eating and nothing is worse than feeling constricted while trying to enjoy a meal. One really great outfit combination to cater to this situation is a blousey, or flowy, top with denim shorts.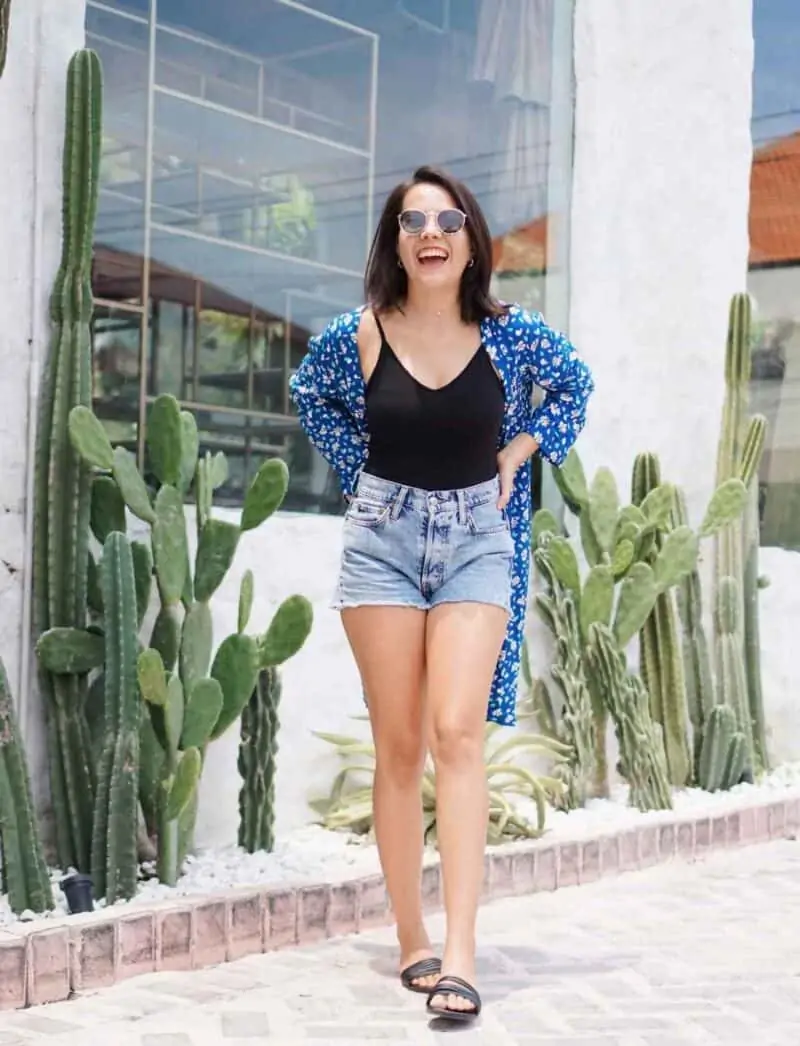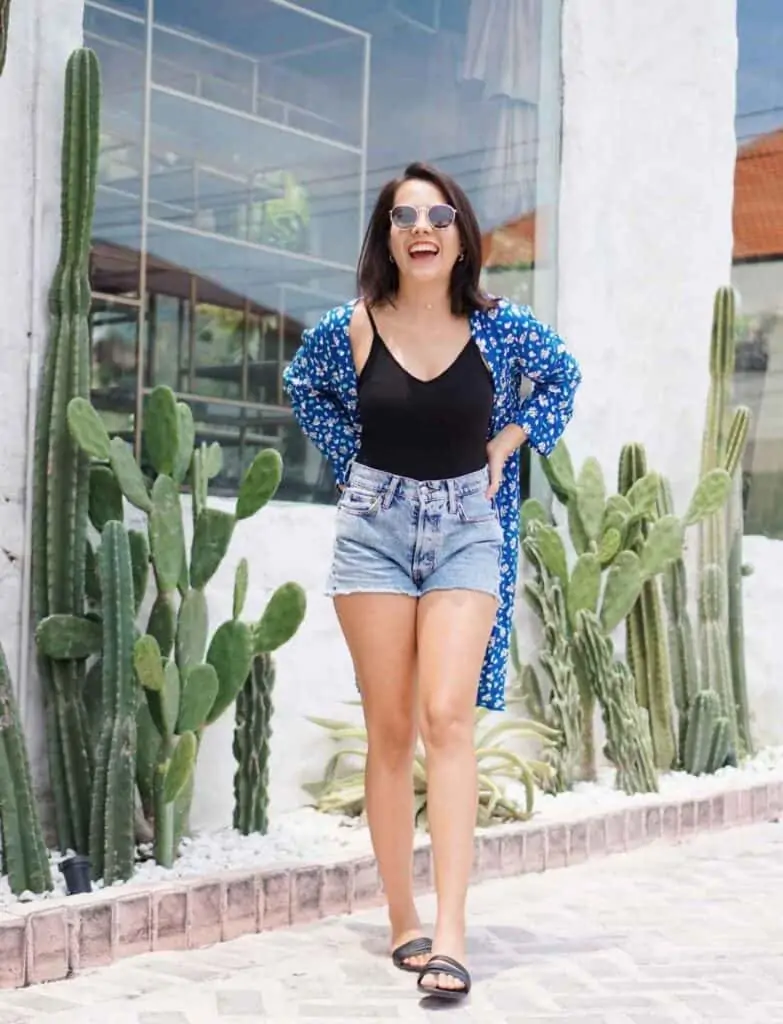 Obviously, shorts are going to keep you cool in the hot summer heat. The key component of this outfit is the flowy top, this also will help you to be comfortable when it's hot outside but in addition to that you'll have a little extra room as you enjoy your meal. The restaurant you head out to will influence your shoe and accessory choice here.
If you're going to somewhere that requires you to be a bit more dressed up, add some high heels. On the other side, if it's really casual flat sandals or even sneakers will look great.
Long Skirt and Blouse
It's hard to miss the popularity of long skirts lately – they are everywhere. The good news? They're really flattering, even for petite women! Even better news? They make for the perfect go-to style choice for outdoor dining.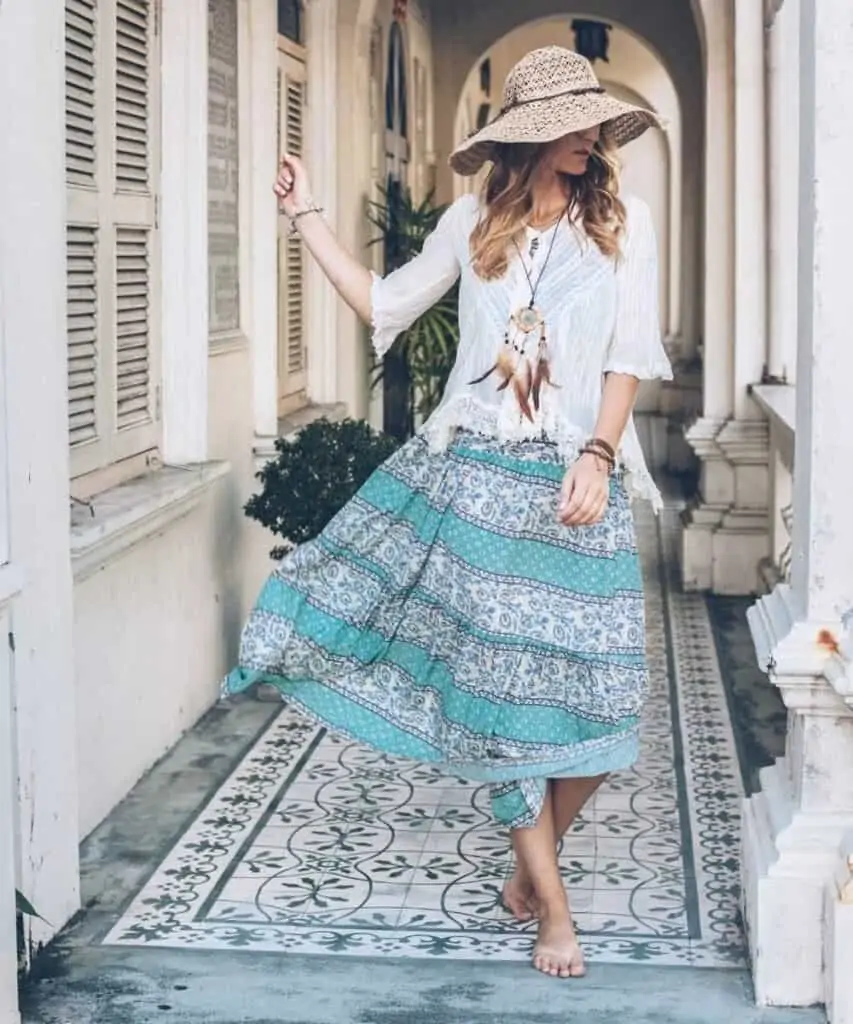 Long skirts are a stylish statement on their own which means the rest of your outfit can be really simple and classic. Pair your long skirt with a solid color shirt, denim jacket and sneakers for the most chic look. The longer length skirt will keep you warm if the temps drop as you're out dining, and the denim jacket is a layer you can take off or keep on as needed for function throughout your meal. Not only is this chic and trendy, it's super comfortable! Clearly, comfort and style go hand in hand for outdoor dining.
Effortless Jumpsuit
This is a highly underrated style option for outdoor dining that you will probably begin to frequently wear! Jumpsuits aren't just fun for style, they're incredible when you want something that provides extra function for outdoor dining.
The reason they're so functional for eating outside is because 1) they're really comfortable and easy to wear and 2) they tend to be a bit warmer than wearing a dress. This means, if you know you might get a bit cold outside eating a jumpsuit may be a better option for you as opposed to a dress. Style your jumpsuit with simple sandals or heels, a cute jacket and voila.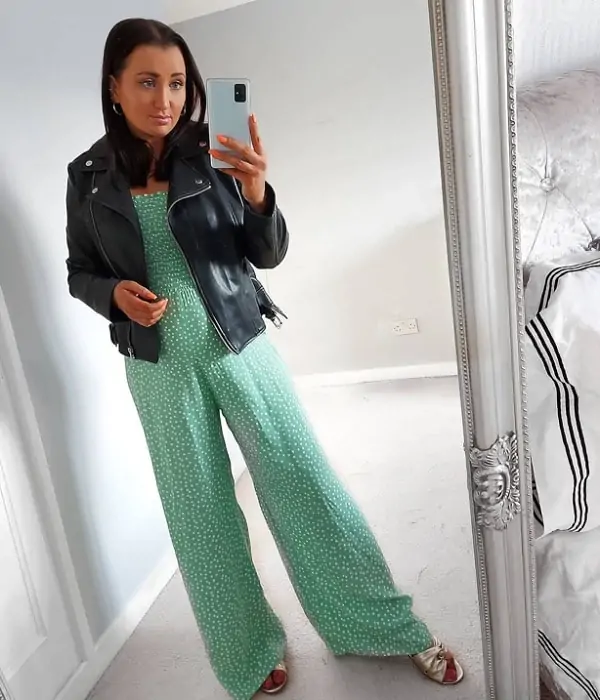 This jumpsuit is the epitome of effortless chic on Hannah.
Sweater and Denim Skirt
As you have likely noticed by now, when it comes to styling an outfit for outdoor dining it's really about wearing pieces that will keep you comfortable for changes in temperature. When it's really warm out, you don't necessarily need to bring along a layering piece but may need a little added warmth for the look. In that situation, a lightweight sweater paired with a denim skirt.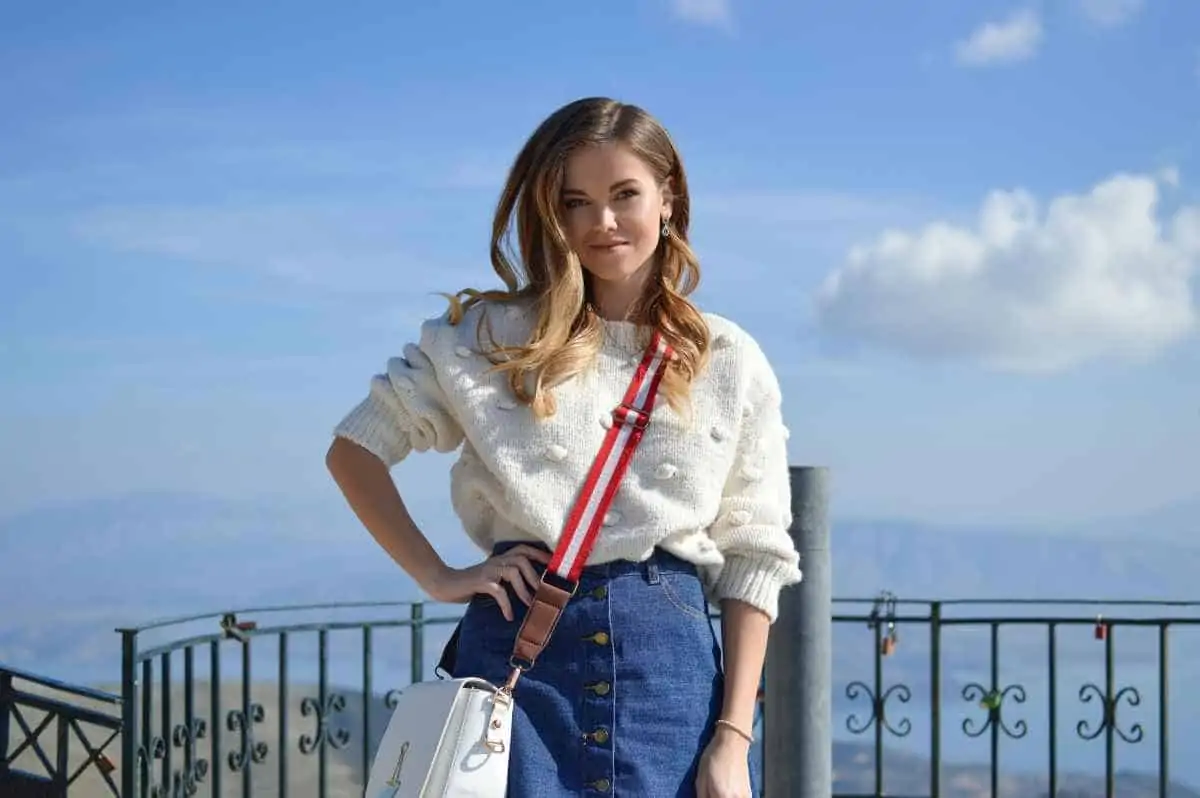 The denim skirt gives you that cute, feminine vibe instead of traditional jeans or shorts. Styling a lightweight sweater gives you that extra bit of warmth without a lot of bulk. Complete the outfit with ankle booties, combat boots, sneakers, sandals…the options can go on and on here.
Elevated T-Shirt and Jeans (or shorts)
Going back to the old classic outfit combination of t-shirt and jeans. The reason this is such a classic is because it's timeless, easy to wear and always looks great. Even more reason to keep this outfit idea in the back of your mind for outdoor dining.
To make it feel a bit more 'dining' appropriate, play around with different accessories and shoes. Pointed toe flats, an oversized clutch and fun hat are a cute look for a casual outdoor dining evening. T-shirt and jeans (even if they're jean shorts) are a foundation outfit that allows you to build upon.