As a petite woman with a large bust, you know how difficult it can be to find office wear attire that properly fits both your height and your curves.  
I am petite myself (5'2″), so I know how hard it can be if you are short. Besides, I also have a petite clothing line for women 5'4″ and under, and one of our models is Wendy (5'2 with 36D cup).
Based on my first-hand experience of styling Wendy on a weekly basis for our fitting and photo shoot, as well as feedback from thousands of my petite customers, I've put together this guide to help you how to show up to work in the most fashionable and aesthetically pleasing clothing all the way from your petite frame to your large bust.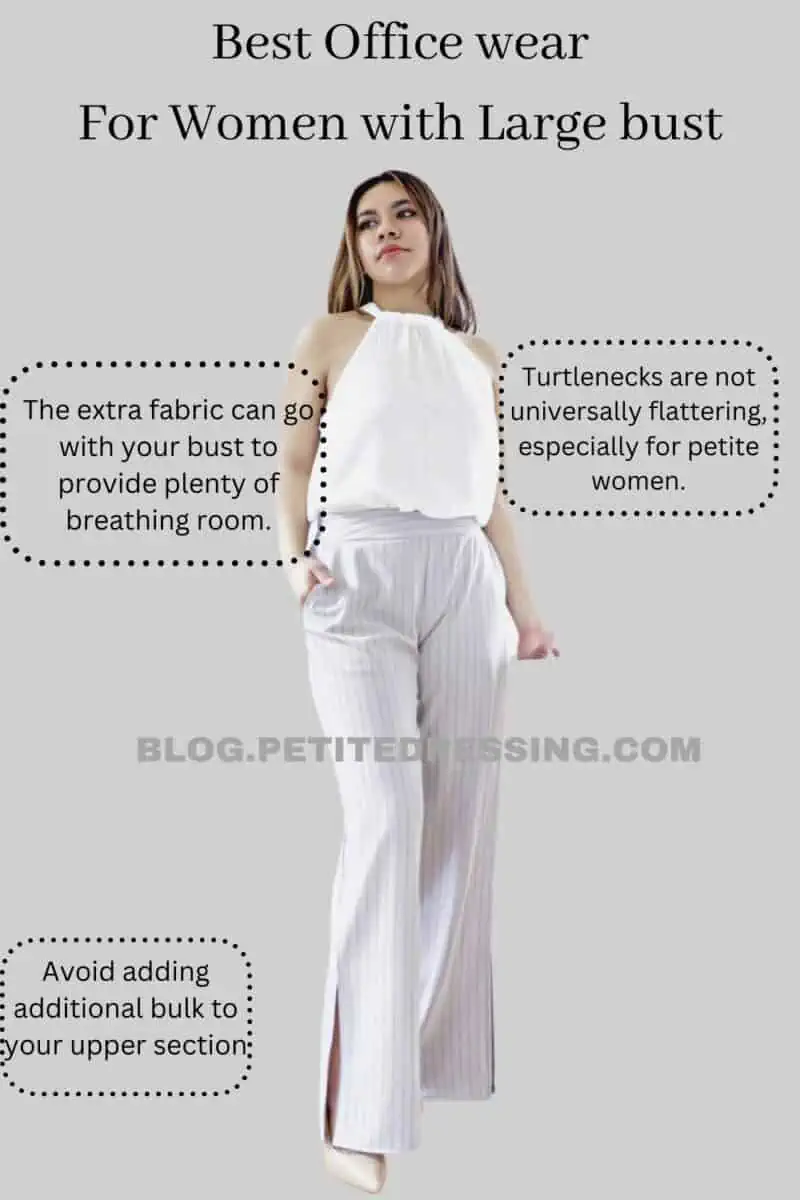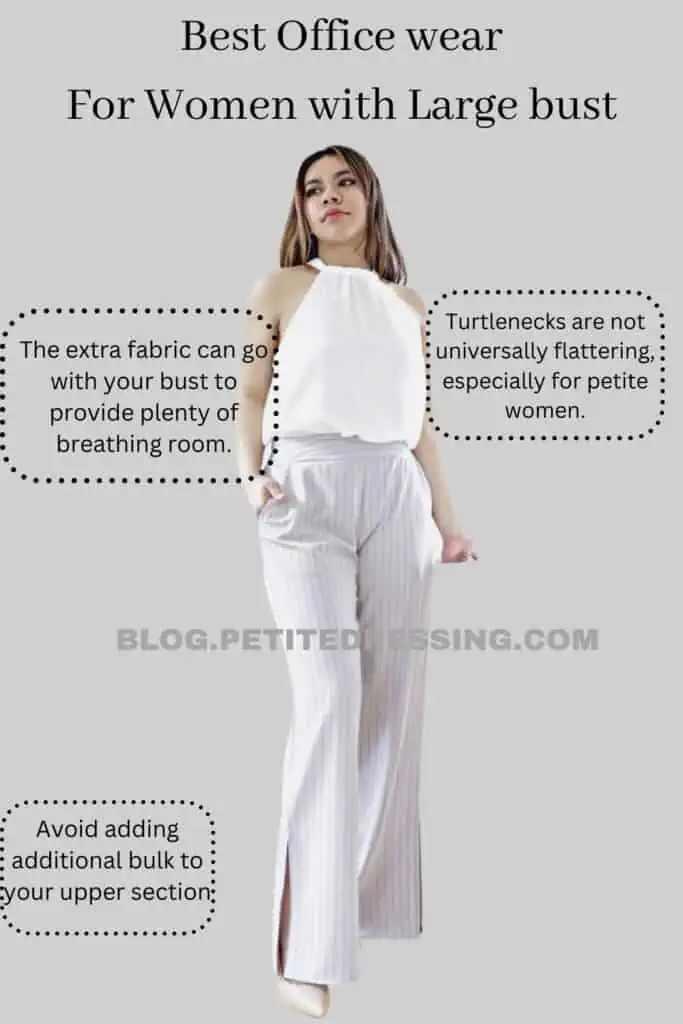 Underwear
When you begin to imagine a perfect office wear outfit, you may end up forgetting that what is underneath can completely alter the way an article of clothing looks on you. A bra that will fit you properly can become the most important piece of your look. This is incredibly essential for women with large busts.
Whether you are plus-sized or wear a double zero, the size of your bust will always have an impact on the way your body looks. If you want to fully embrace your bust and add some cleavage, your choice of bra may differ from a woman who wants to keep things more compressed.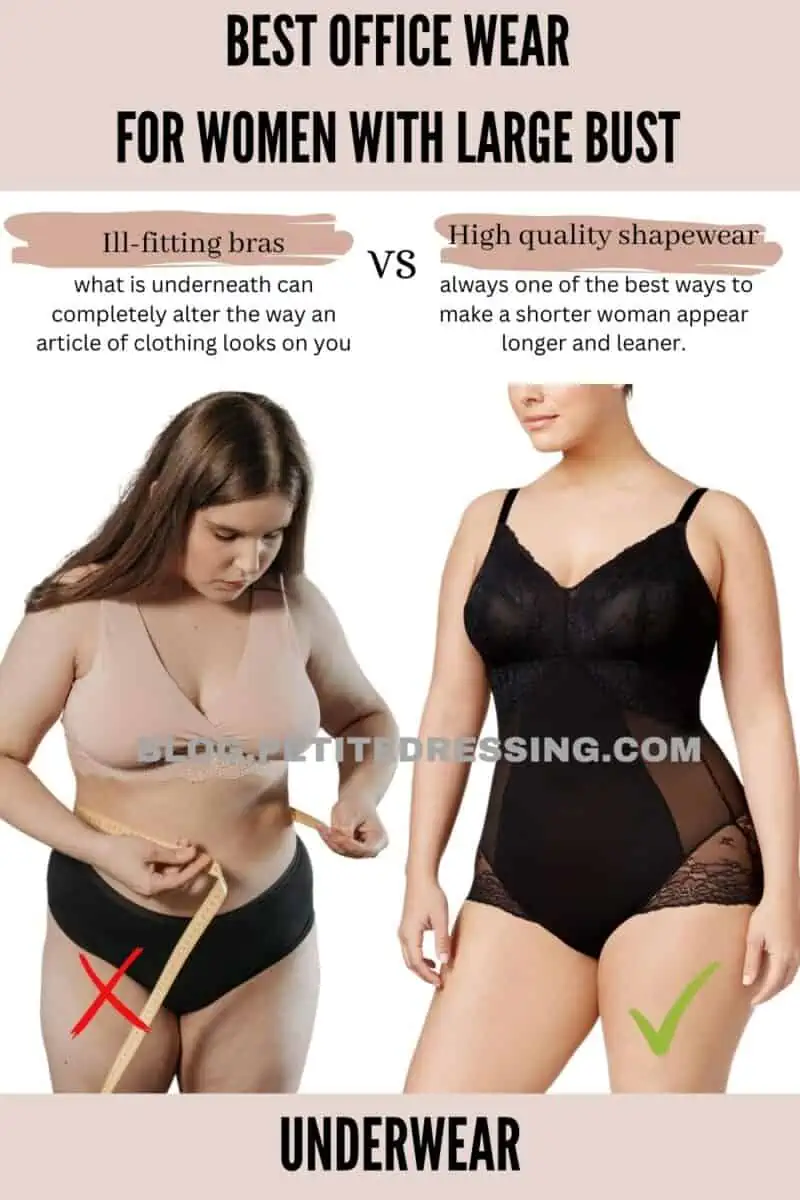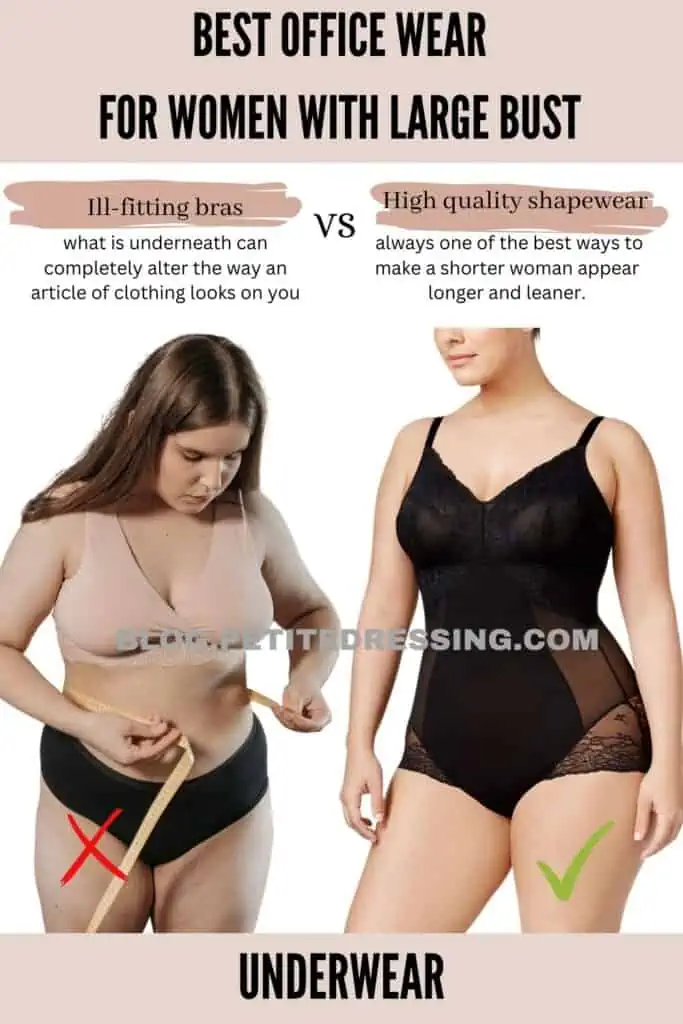 Once you sit down and take the measurements for your bra size (measure band, measure around bust, subtract the two, and compare on a chart), you can then begin the search to find a bra that works best for your size and needs.
The classic v-neck
Working in an office does not always require an outfit that is extremely fancy and sophisticated. You can pull off a casual and elevated look with a simple v-neck. Whether you opt for short or long sleeves is up to you, since the flattering effect comes straight from the unique neckline.
V-necks may draw attention to your chest area, but they also help to associate the image of vertical lines throughout the top half of your body. This helps to elongate your torso and add the illusion of height to your petite frame.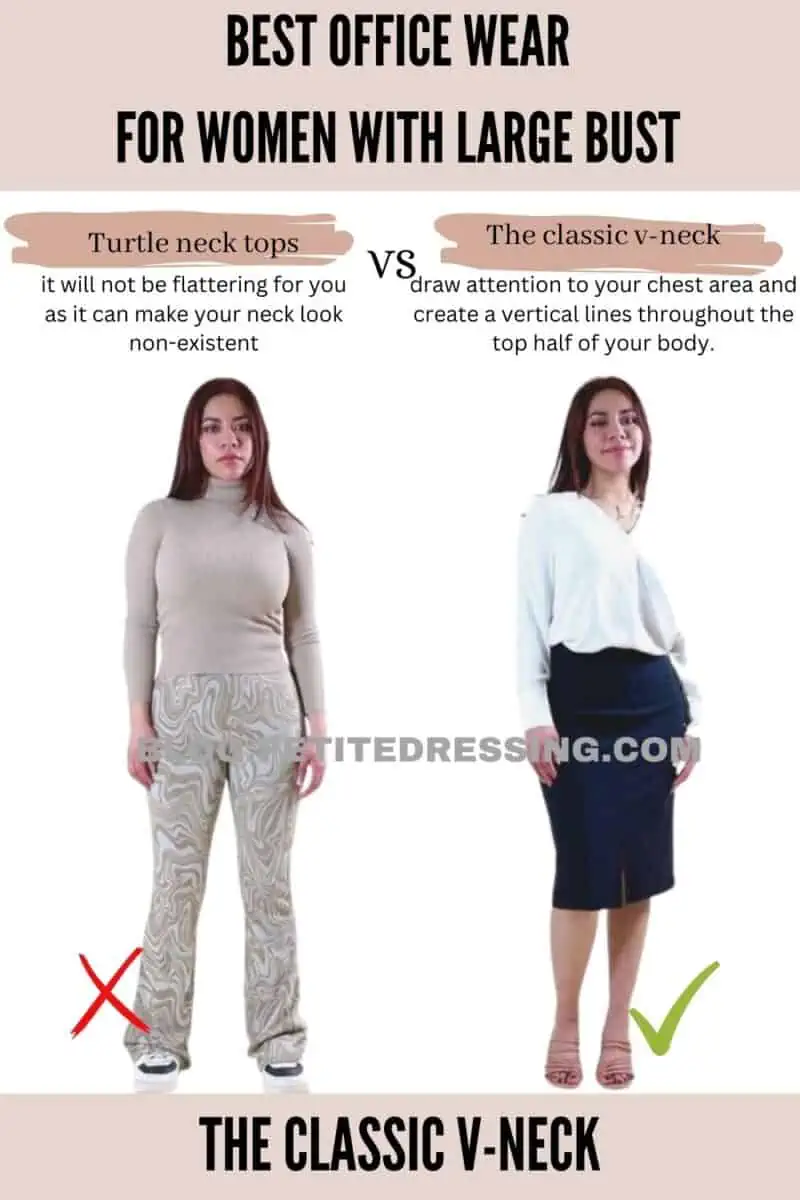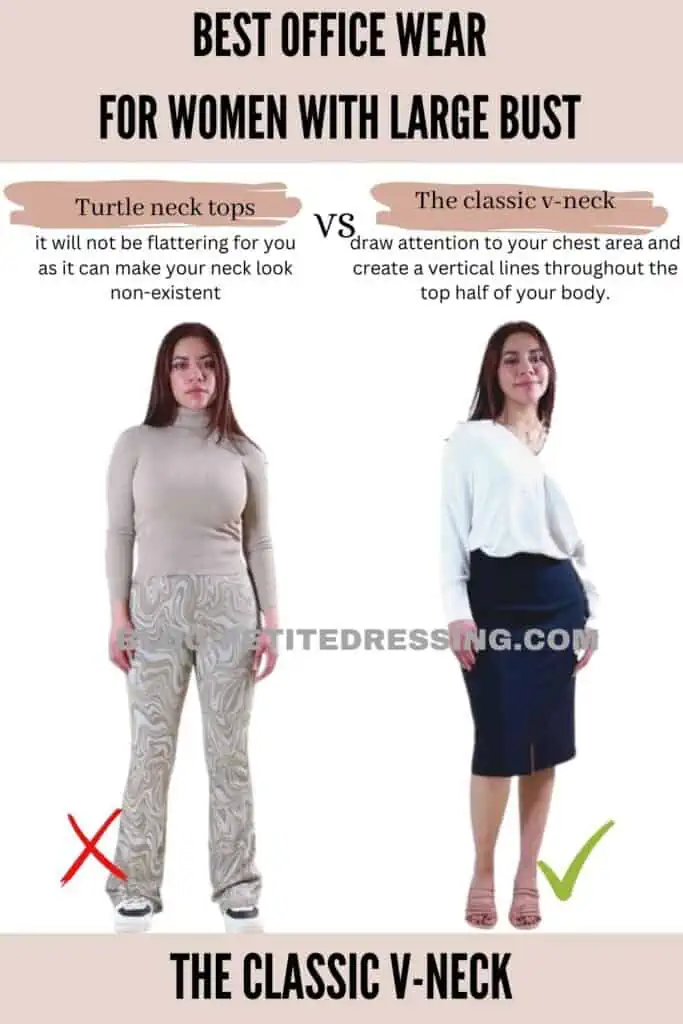 It is up to you whether or not you want to wear a slightly lower v-neck in order to show some cleavage. Either way, v-necks look amazing on women with large busts. You can also use this opportunity to accessorize and draw attention to your collarbone or neck.
Wrap dresses
Finding dresses and tops that fit around your chest can be a struggle, especially when it comes to clothing that does not always stretch. A wrap dress allows you to choose how much fabric you want to go to your torso by creating your own waistline.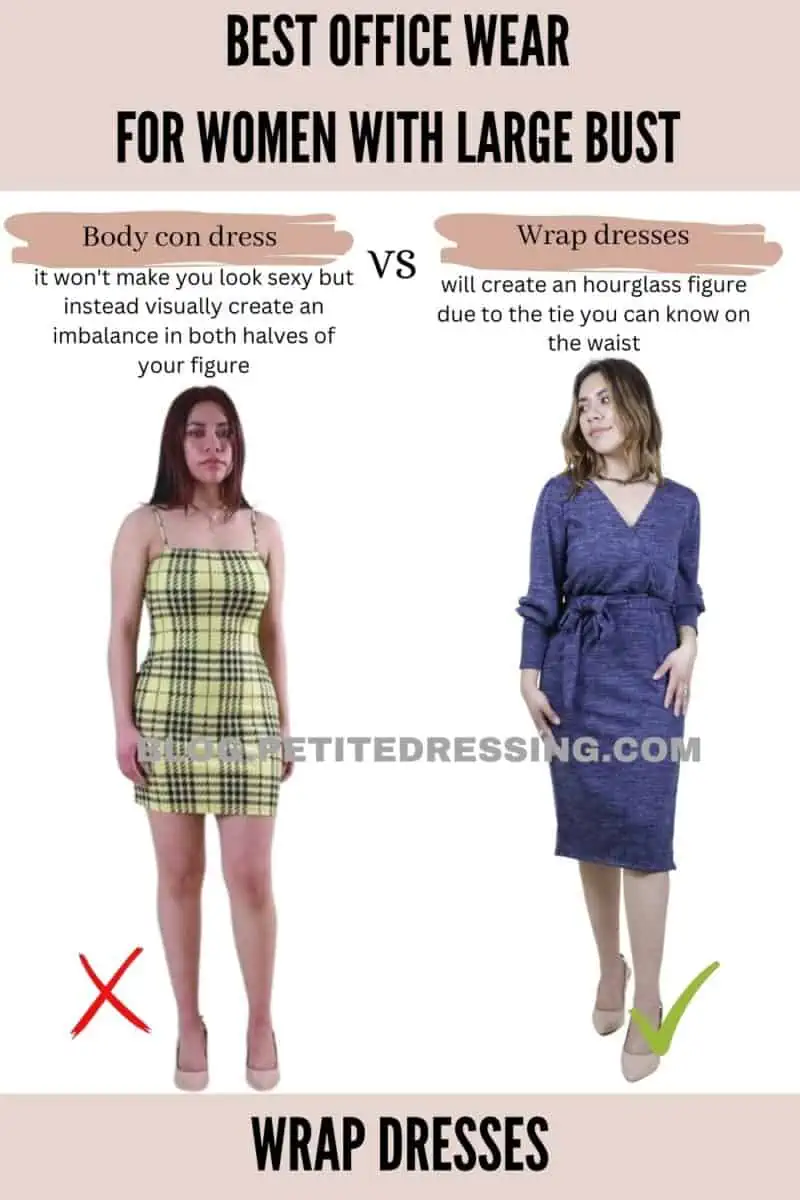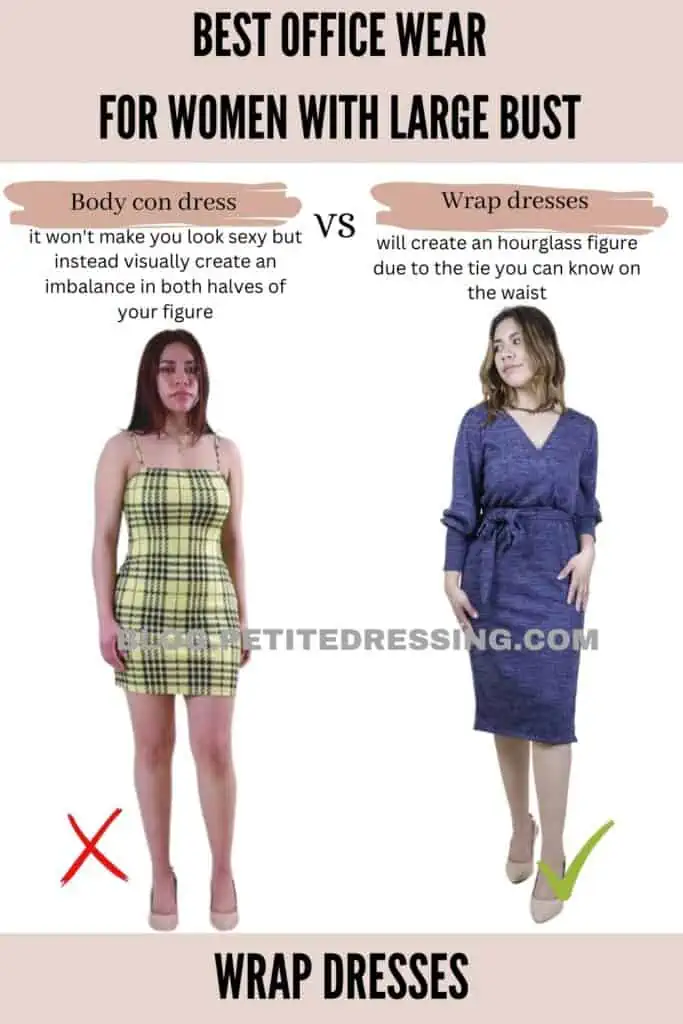 The goal with wrap dresses is to tie the knot at the smallest part of your waist. As a petite woman, this will work out perfectly since the dress might already be a little bit longer than you'd prefer. This means that the extra fabric can go with your bust to provide plenty of breathing room.
Caution with turtleneck
Turtlenecks, especially bodysuits, have become a staple office wear piece for many women who tend to work the typical 9-5 shift. The bodysuit portion ensures a seamless tuck while the neckline adds a touch of sophistication to the look.
But turtlenecks are not universally flattering, especially for petite women. If you have a shorter neck than most, the type of turtleneck you choose may end up covering your neck entirely and creating the illusion that it is even shorter than it is.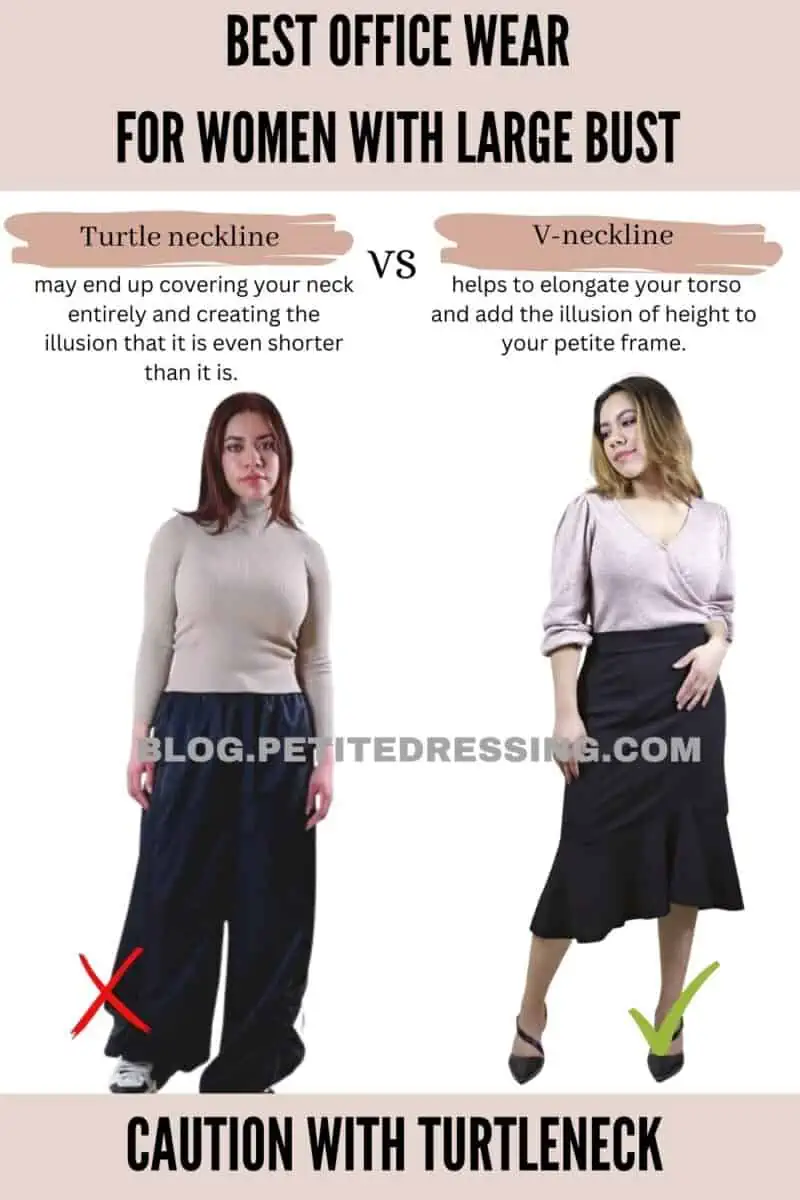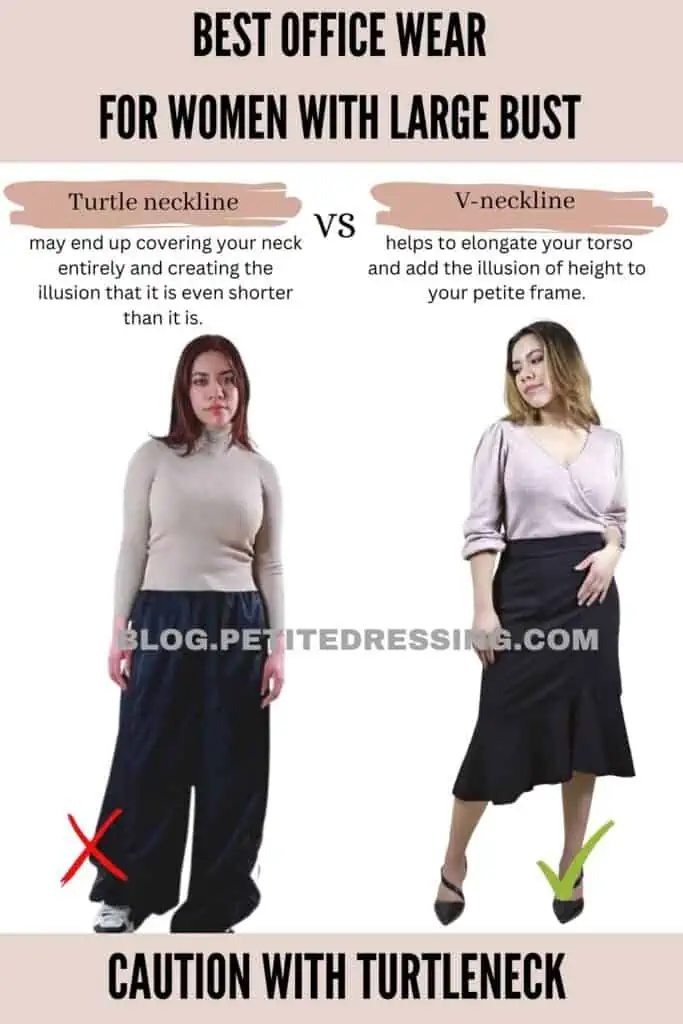 If you have a large bust, you may have to size up due to the bodysuit portion. The part where it clips or attaches may not be long enough since more fabric is pulled toward the upper half of your body. If you take the time to find a turtleneck bodysuit that fits you ideally (a longer bodysuit and a shorter turtleneck), then these two concerns will not be an issue for you.
Caution with button-ups
When you imagine a typical office wear outfit, a button-up blouse is almost always in the mix. For women with large busts, this can become an issue. Even if the button-up fits you perfectly everywhere else on your body, it is likely that you may have difficulty buttoning the area around your chest. And when you do get it buttoned, the stress on the buttons and fabric may create gaps or holes where the shirt's buttons.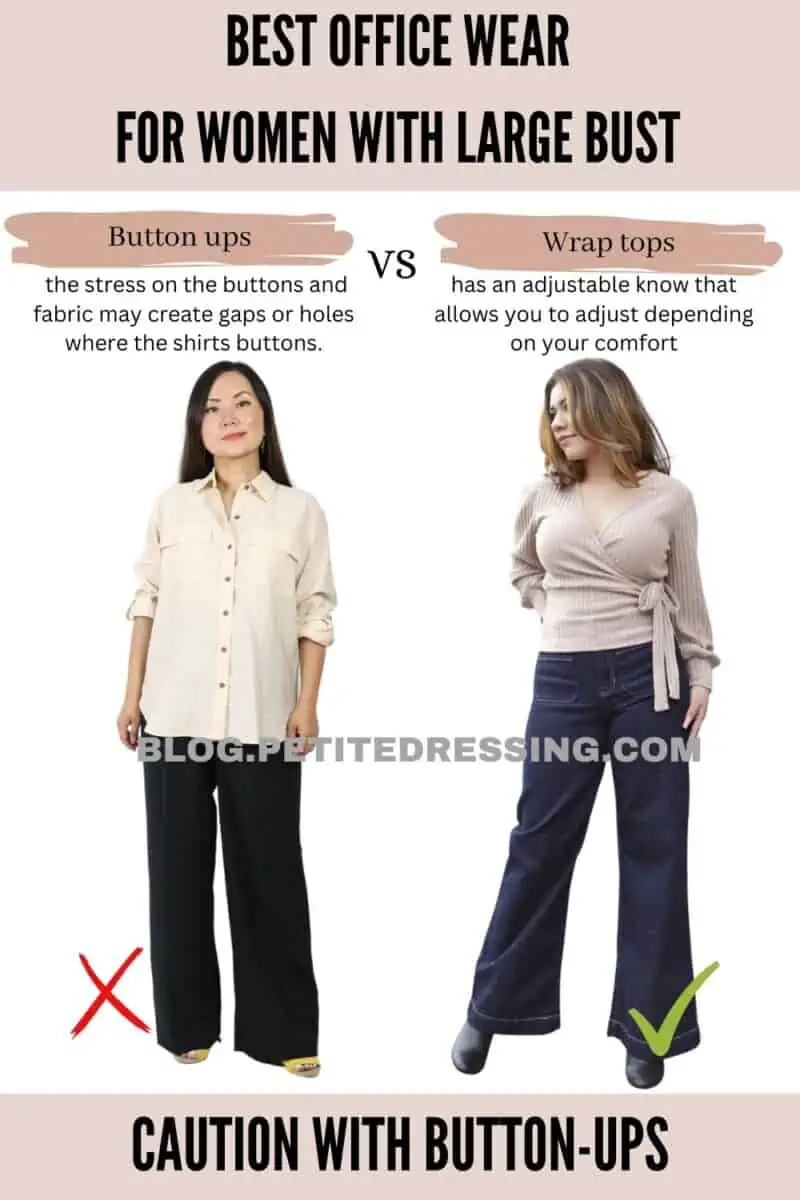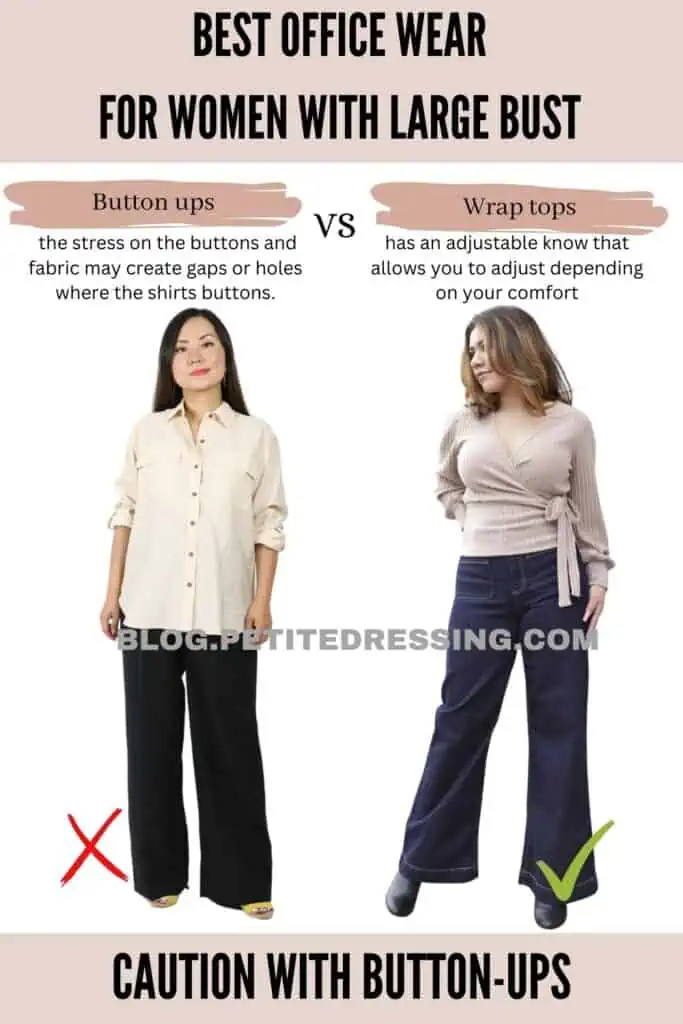 You don't always have to wear clothing that clings tightly to your body. An oversized blouse could be ideal for you. All you have to do is tuck it in to create a more professional look and then combine it with a skirt or slacks and a nice pair of shoes. As long as you aren't wearing all oversized clothing in your outfit, this extra fabric will not become a problem.
Avoid oversized blazers
Although oversized blazers are very on trend for the last several seasons, they are not your best friend if you are petite with a big bust.
BTW, oversized does not necessarily mean that you got your blazer from a section of the store that is four sizes larger than you. It can simply mean that the blazer fits boxier and bulkier on your frame than a normal one would.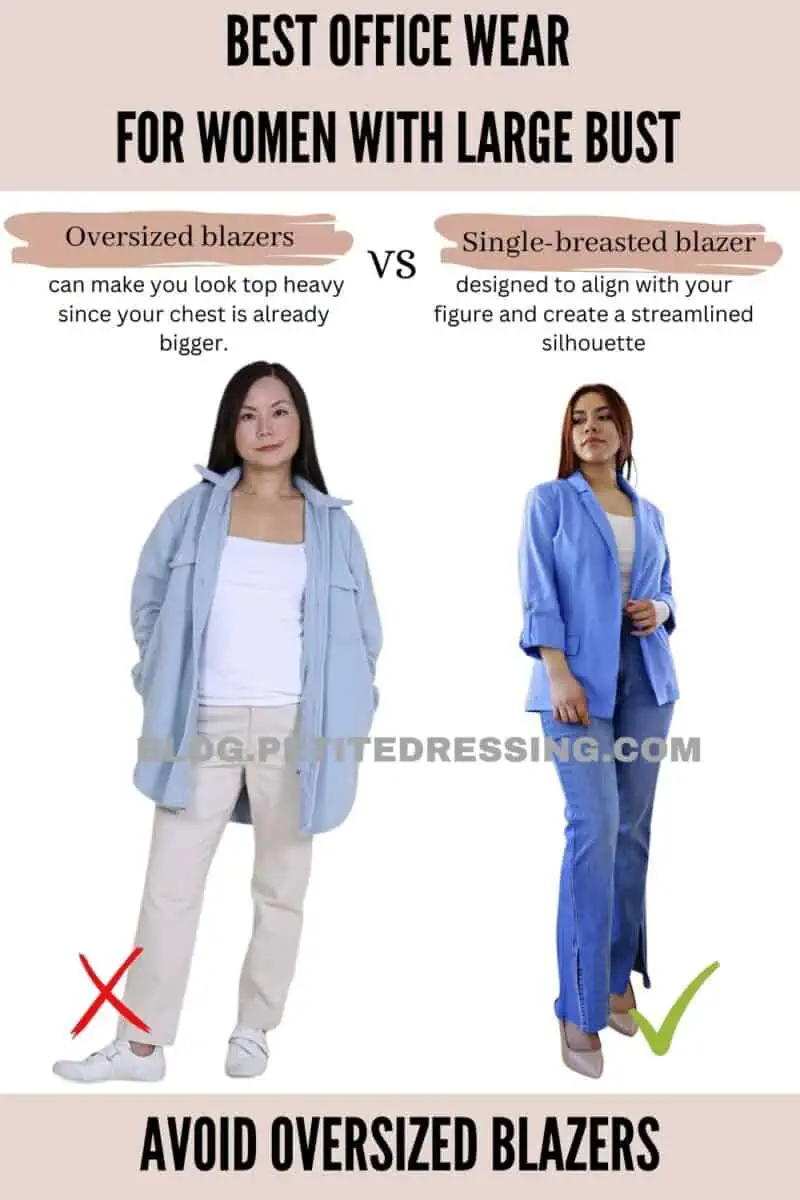 In other words, this style of blazer is designed to fit loose on you, and many are designed with exaggerated shoulder pads.
The boxy effect may seem to give you room to breathe, but it also adds bulk to your shoulders and make you appear bigger and wider on your upper body, which can make you look top heavy since your chest is already bigger.
Selective with empire waist
Empire waist dresses are typically seen as a very flattering dress on women of many shapes and sizes. But if your chest is bigger, you want to selective with the specific design, as all empire waist dresses are not created equally.
There are 2 types of empire waist, one with a waist definition and one without.
The one with a waist definition typically has a broad waistband (thus the name empire waist), and this is the kind that can look flattering on petites with bigger chest.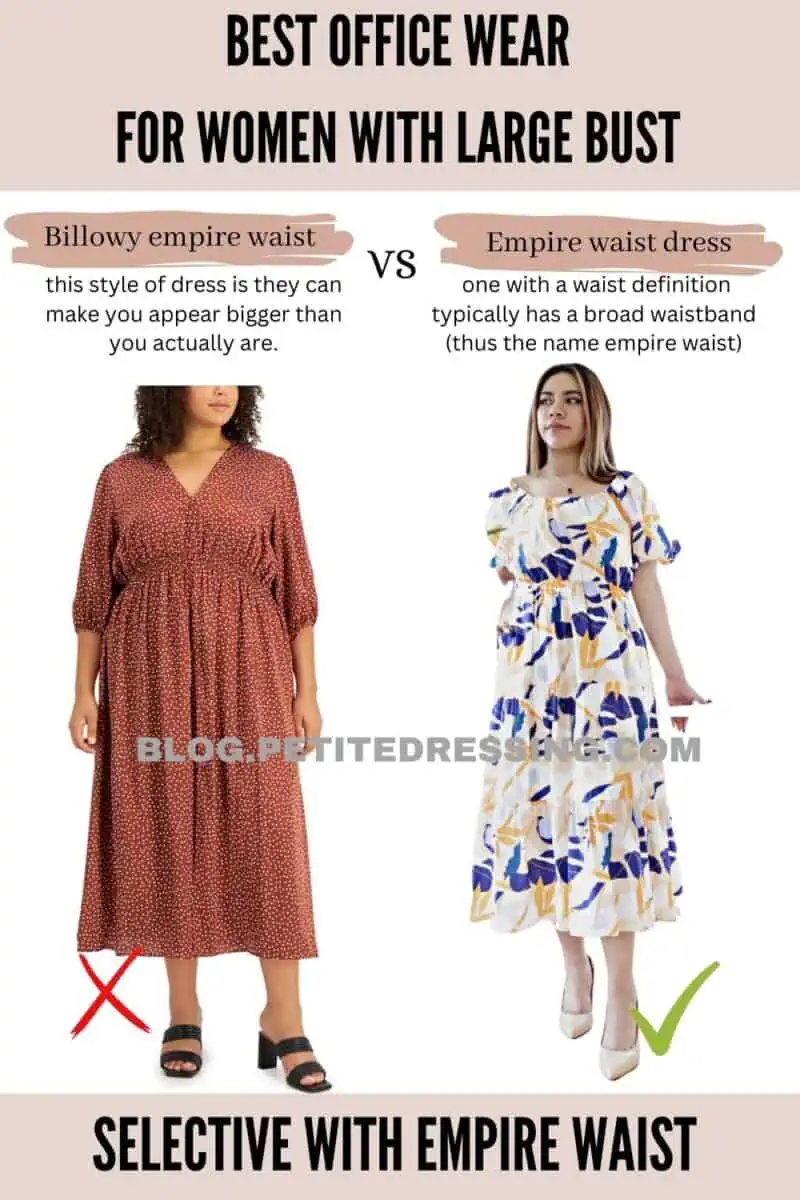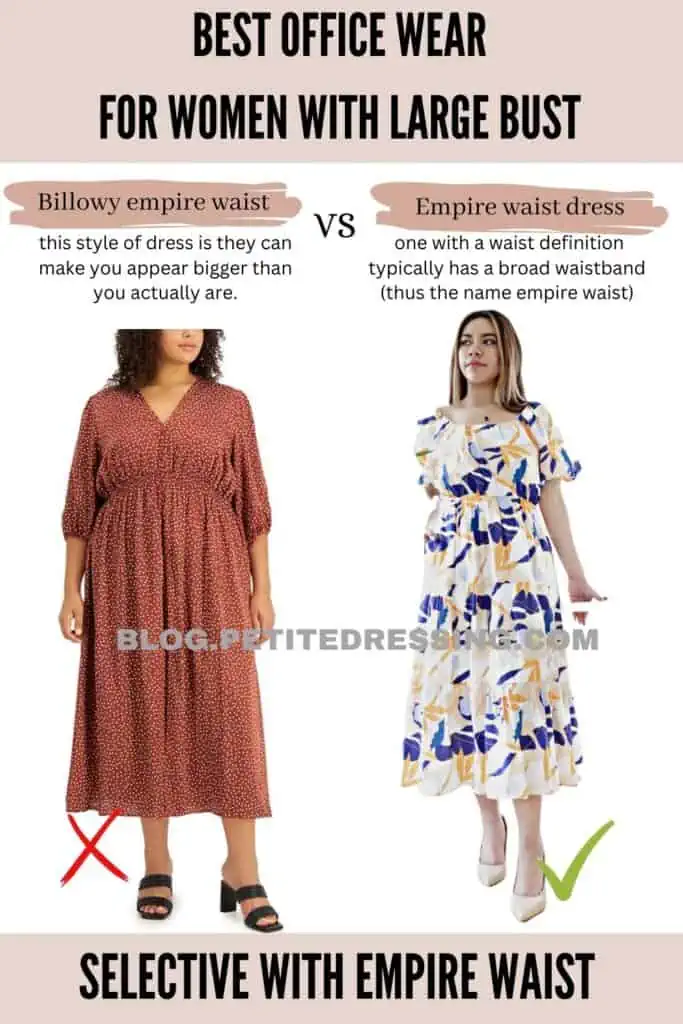 The other type which does not have a defined waist, however, may not be the most flattering on your shape. The main issue that arises with this style of dress is they can make you appear bigger than you actually are.
Therefore, make sure you are picking out the RIGHT kind of empire waist dress if you have a full bust!
High-waisted slacks
Sometimes the effort that goes into wearing a dress or skirt is not worth it, especially when cold early mornings come. If you want to focus on comfort and grab a nice pair of pants, you should always feel confident in your choice.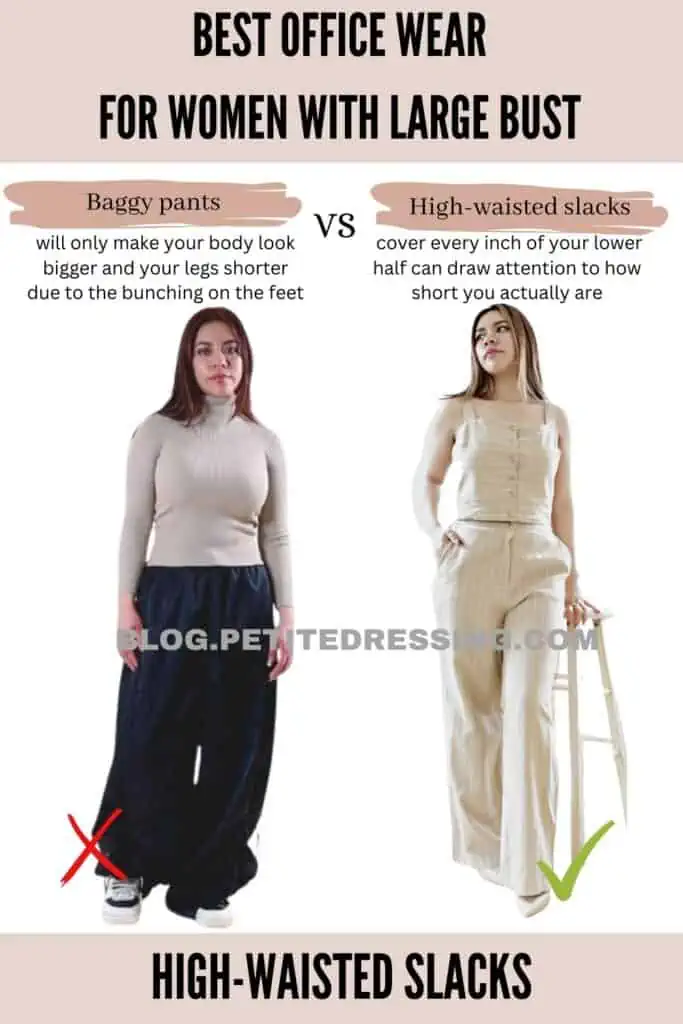 As a petite woman, slacks that cover every inch of your lower half can draw attention to how short you actually are. In order to combat this and elevate your look, try to find a pair of formal slacks that are high-waisted. This higher waistline will end up making your legs look longer and adding height to your frame.
Moderate block heel
One of the best ways to balance out a large bust is to add some bulk to the opposite end of your body. Block heels provide balance, comfort, and that extra bulk that could add more balance to your shape.
Heels are never a bad thing for petite women, since they add height and help to elongate your legs. As long as the block heel is a moderate height, people may not even notice that the heels are the only height advantage you have equipped.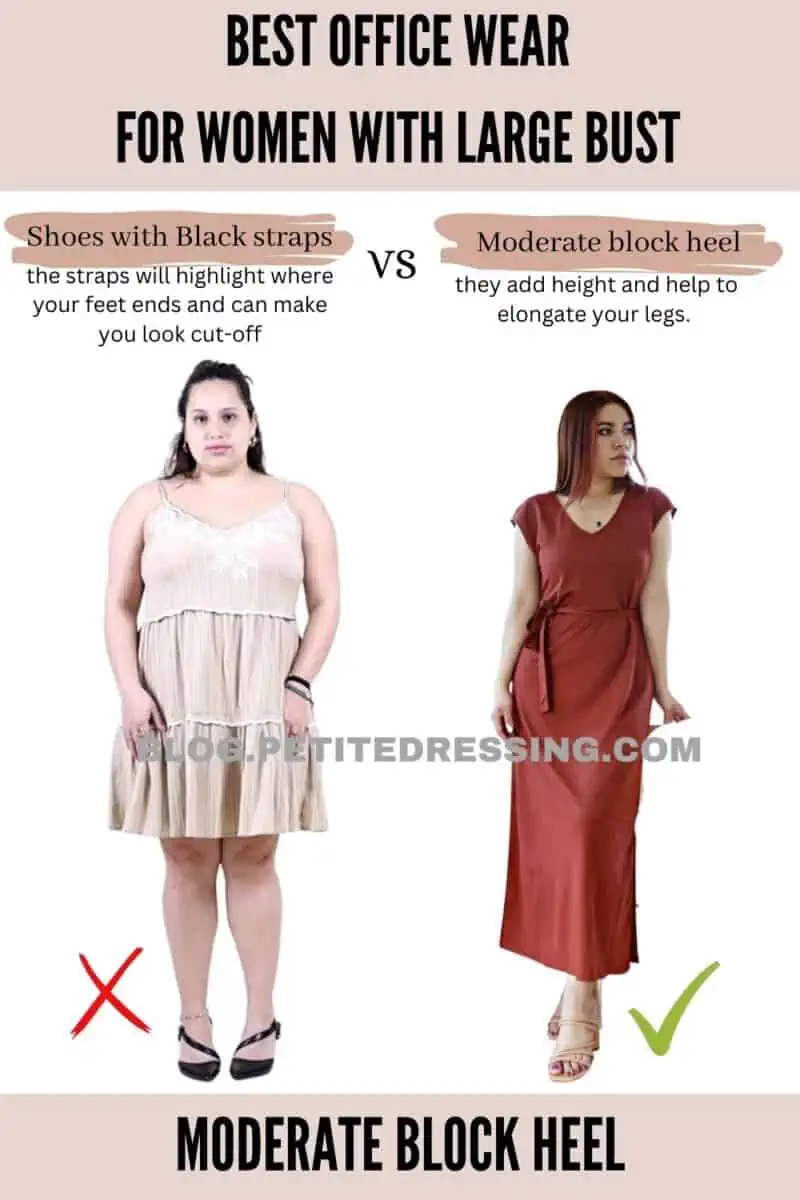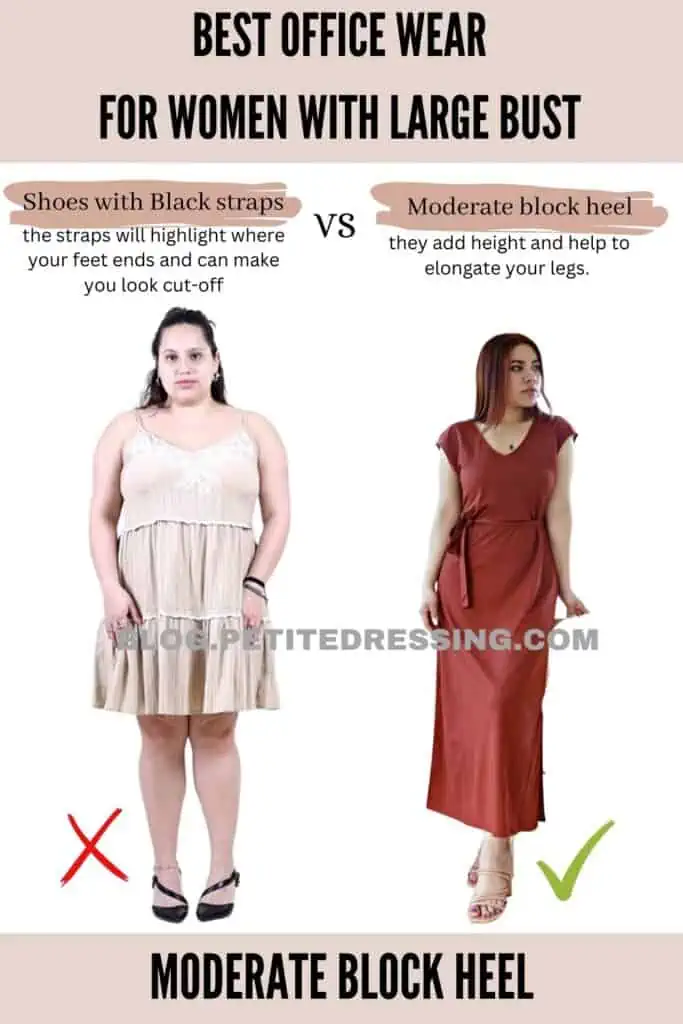 Chunky loafers
If big and bold heels are not your style, you should opt for a pair of chunky loafers instead. They will not provide as much height, but still have a slight heel. They also fit the office aesthetic perfectly, and will be able to provide both comfort and support for your feet.