If you have an inverted triangle shape, your broad shoulders stand out, especially compared with your narrower hips. Since you top half come across as wider than your bottom, you can appear as "top heavy". In the meantime, if you also have shorter legs, this can look more obvious because of your shorter frame.
I am 5'2″ and have a clothing line for petite women, which is why I know the ins and outs of flattering women with shorter legs, based on not only my personal experience but also the feedback I receive on a daily basis from thousands of my customers. I've put together this guide to help you find your best style and feel more confident.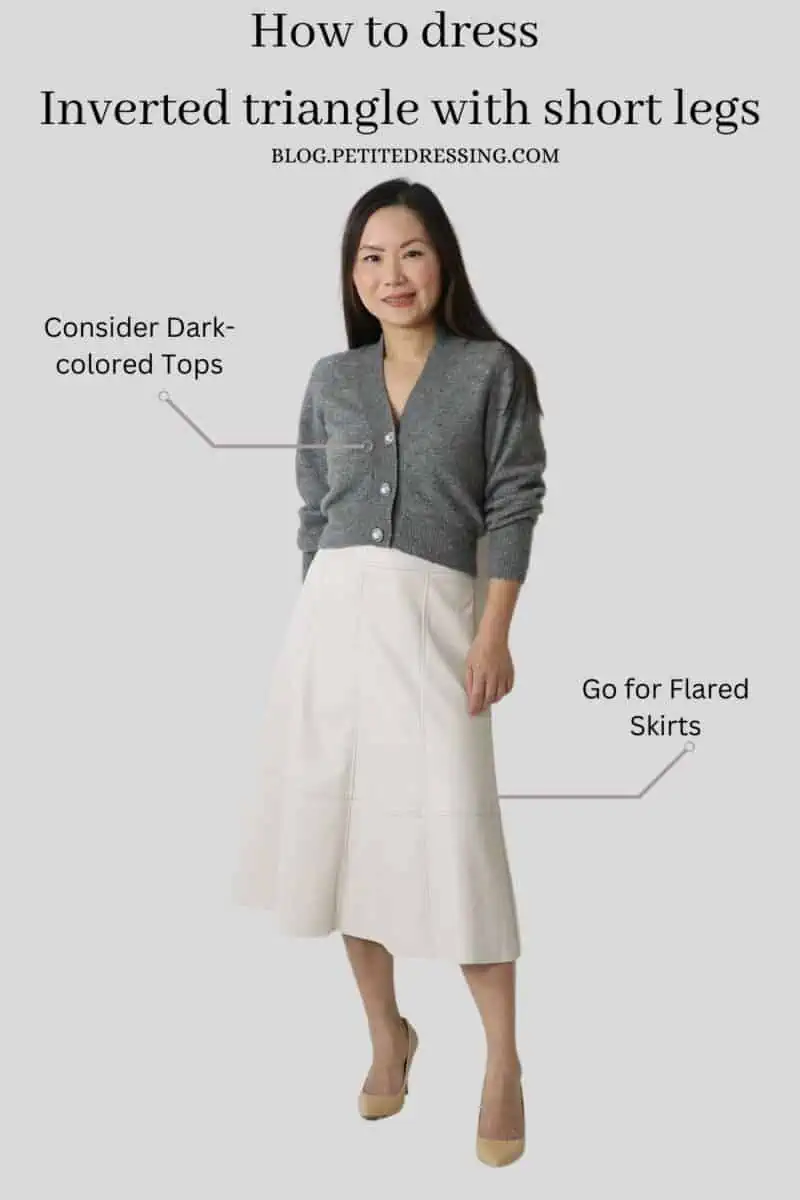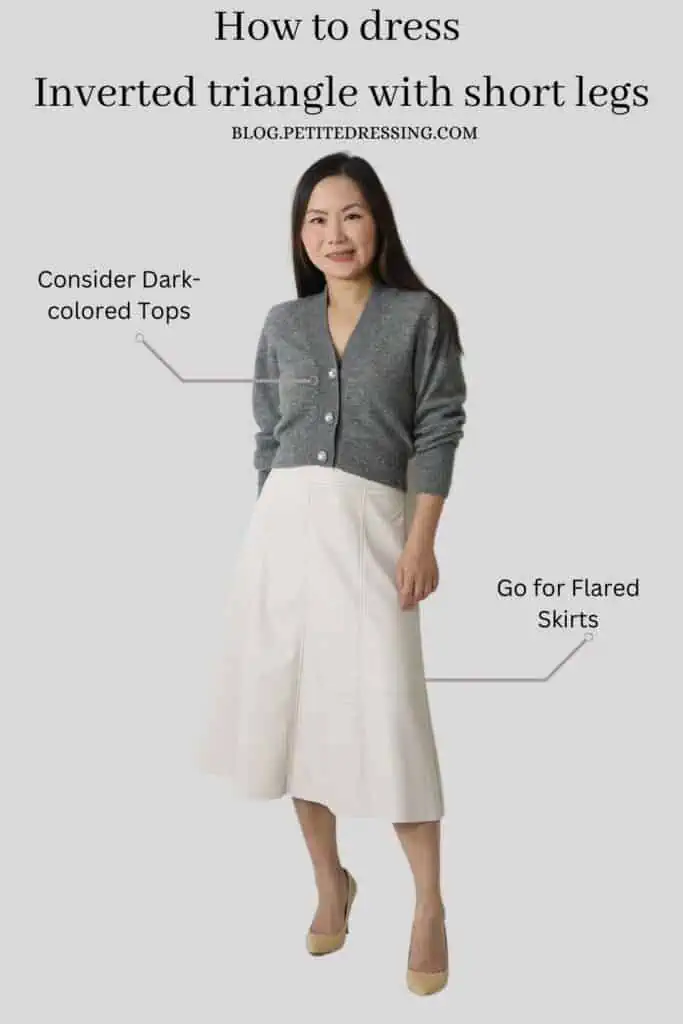 Go for Flared Skirts
Inverted triangles would need some extra help in bringing more shape to their less prominent hips. As your lower half is relatively less pronounced compared to your strong upper half features, it'll be quite helpful to go for skirts that add a bit more volume.
The flared silhouette of these skirts visually balances your features by adding volume and draping movement to the lower body. The flare that begins from the waist and then gradually widens towards the hem creates the illusion of wider hips and a more proportionate figure.
Flared skirts often come in higher waistbands as well, so this is another style benefit that can give you more shape and make you appear taller. Cinching your waist is an efficient way to instantly elongate the appearance of your legs.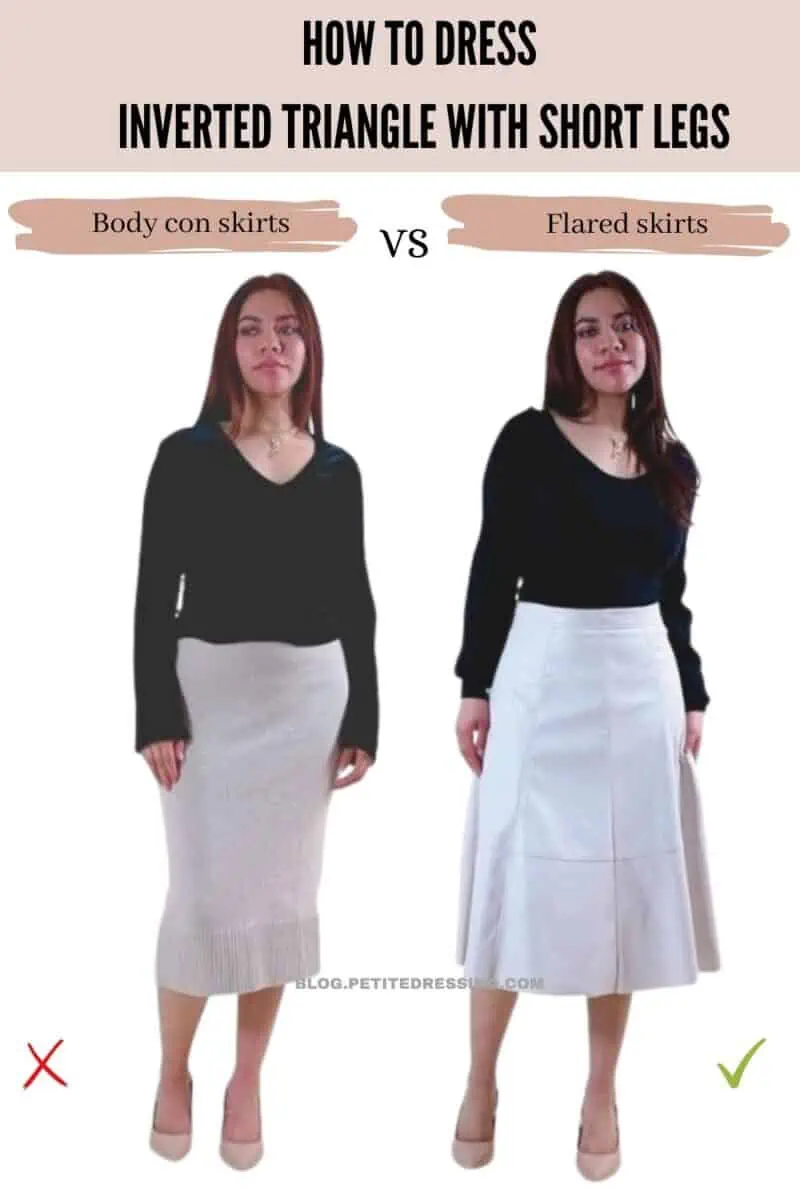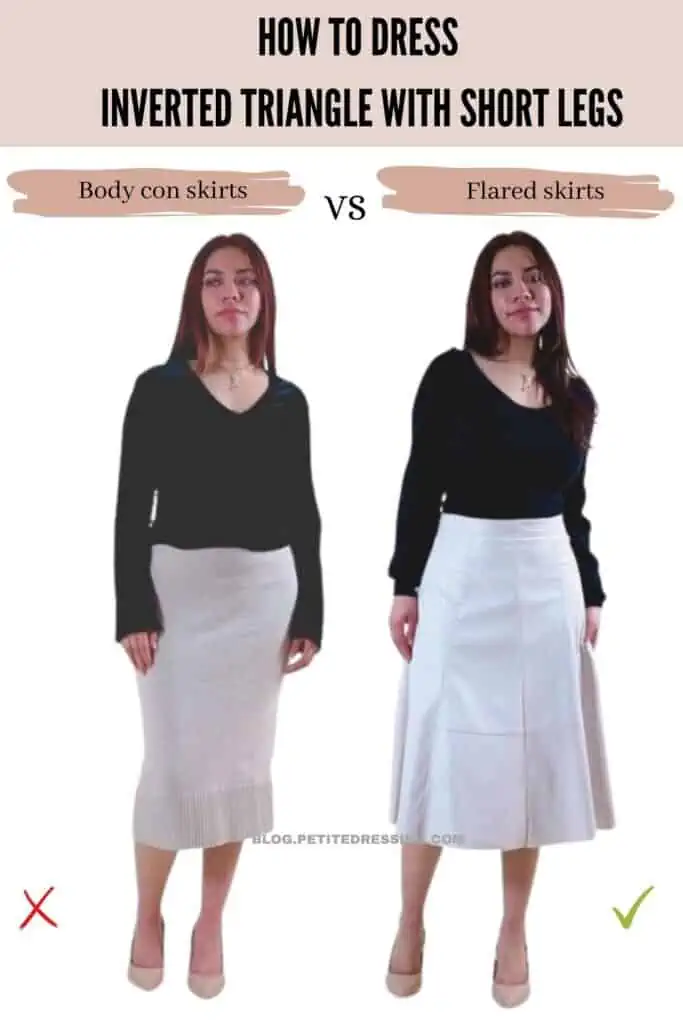 Wear Tops with Vertical Details
Vertical lines placed on your upper body are incredibly helpful style-wise for your inverted triangle shape. These vertical lines create a sense of continuity and additional height which makes the upper body appear more streamlined and slender.
They visually break up the horizontal width of the shoulders to reduce the emphasis on the broader upper body and tone your proportions. Vertical lines also help detract attention from the broader shoulders and create a more proportionate and flattering overall appearance in line with your less pronounced hips.
You may opt for tops with vertical stripes, vertical seam lines, or even vertical patterns, as these details can enhance the overall aesthetic appeal of your frame and create a more dynamic and flattering look. These create a distinct focal point that draws the eyes up and down for a taller and leaner appearance.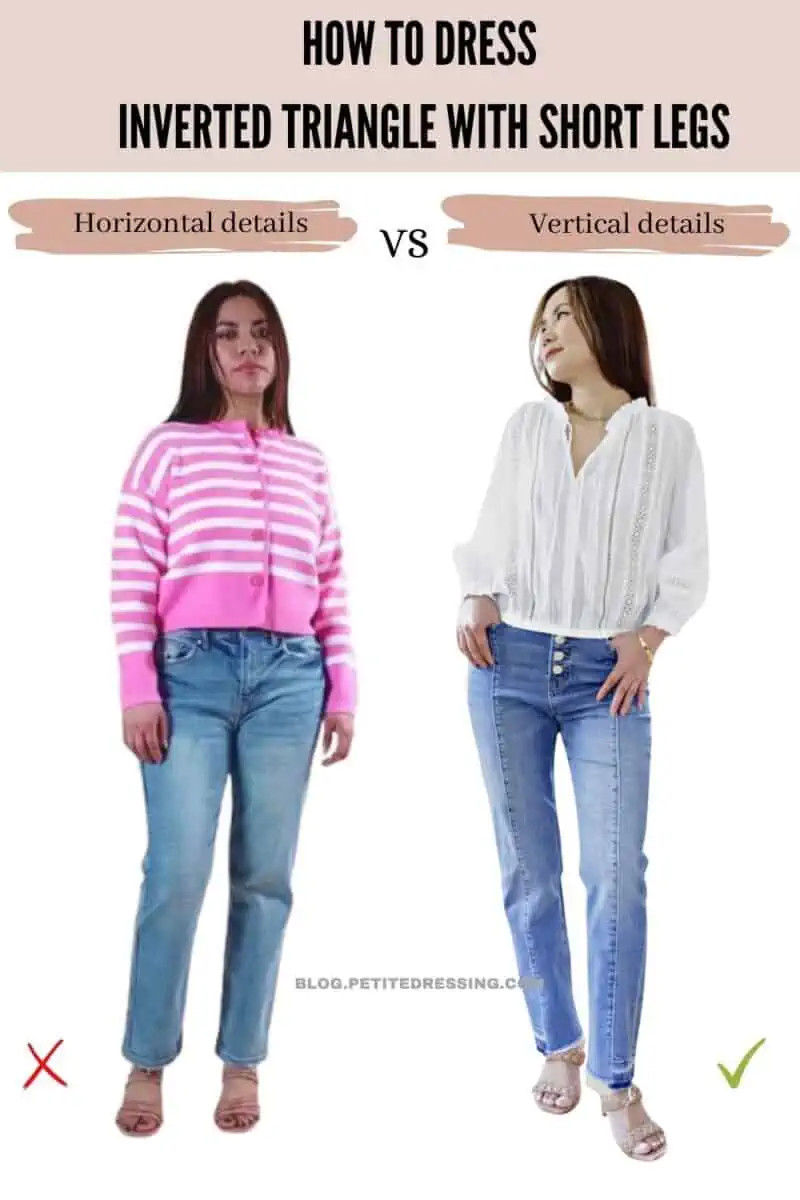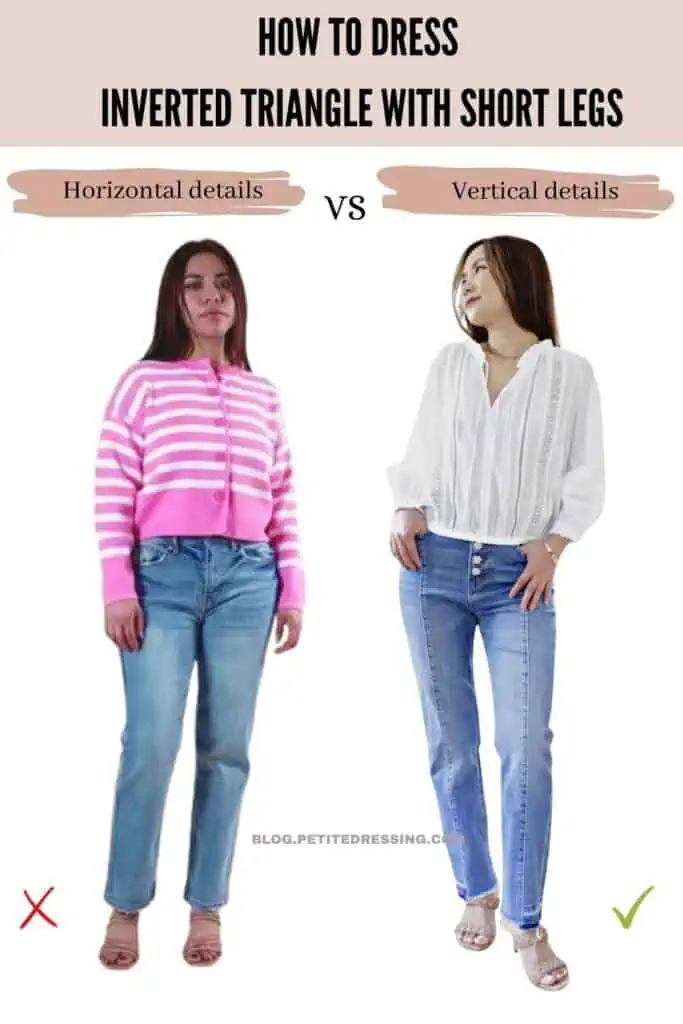 Wear Peplum Tops
The overskirt attachment of peplum tops has enough flare to give you the illusion of more pronounced hips. This fabric panel attached at the waist adds volume and shape to the hips, which visually defines your waistline to mimic an hourglass body shape.
Peplum tops can give you those instant curves and balance to the lower body for a better frame ratio! Since the overskirt attachment features a seam that's placed at the narrowest point of your body, this also makes you look taller and slimmer.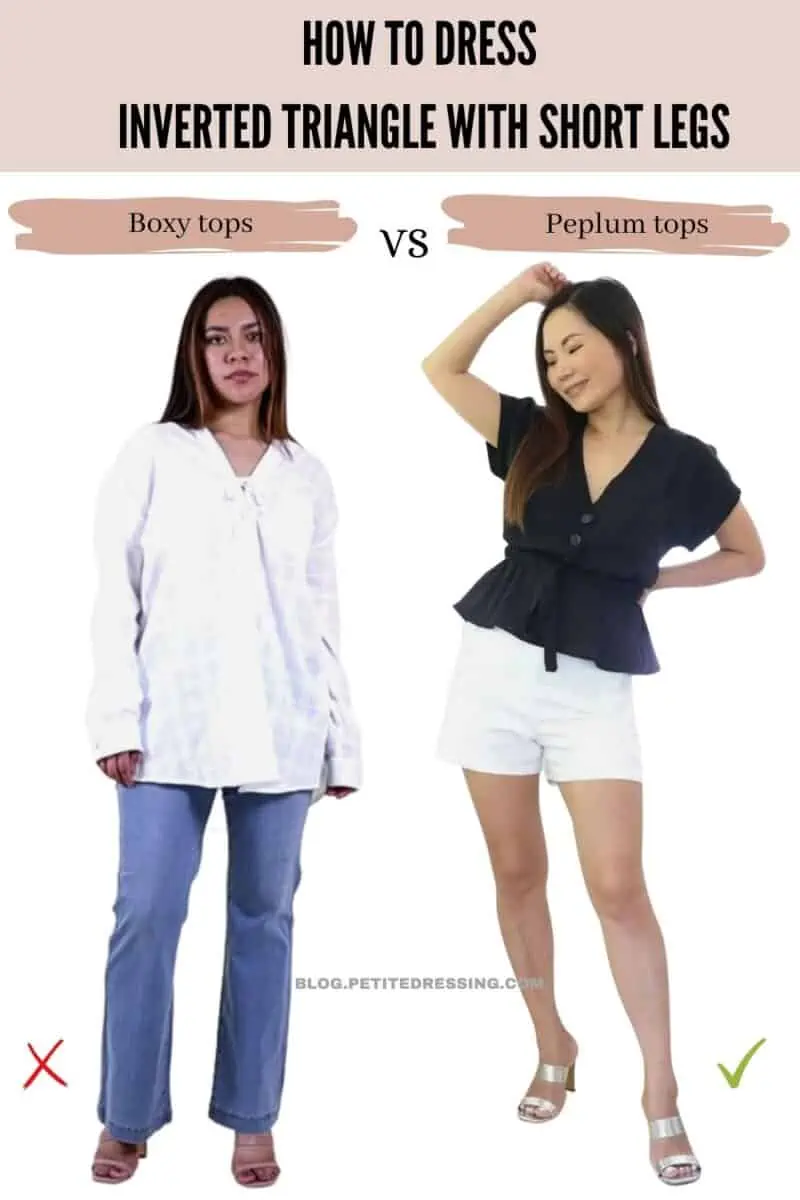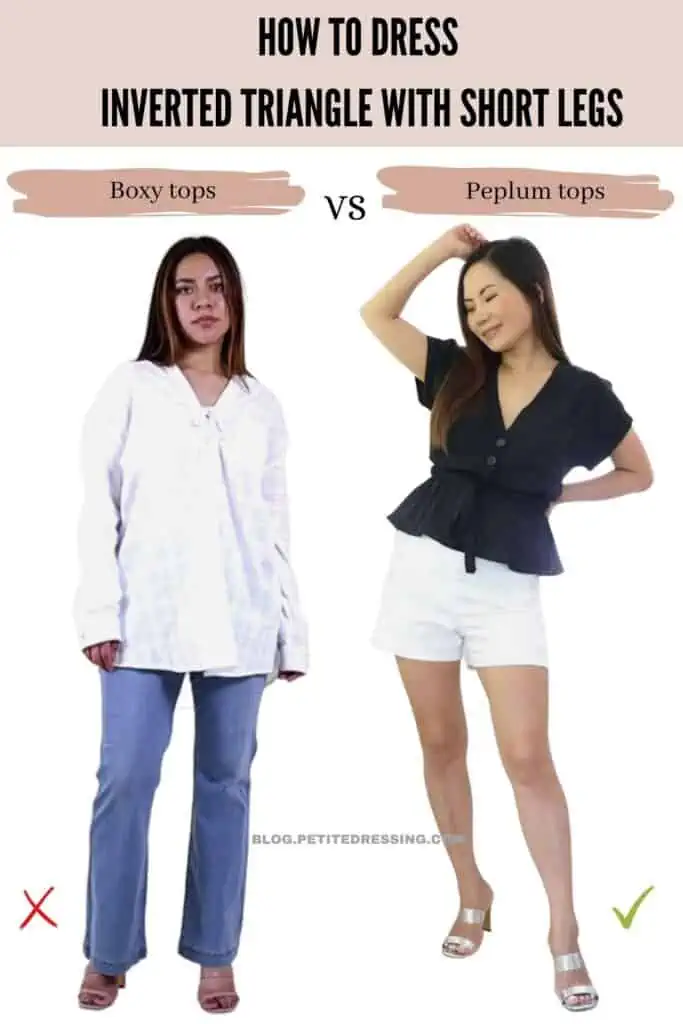 Opt for Pocket Details
Adding pocket details to pants or jeans can be a stylish and effective way to address the flatness often associated with the bottom half of your inverted triangle body shape. Pocket details, such as flap pockets, embellishments, or stitching serve to visually enhance your hips and buttocks, which results in the illusion of curves and volume in the lower body.
The strategic placement of these pockets plays a key role in defining your curves and bringing more shape to your figure. Placing pockets slightly lower on the hips or buttocks will create the appearance of a fuller and rounder bottom, hindering the straight lines that are typically present in your inverted triangle shape.
As you boost the volume and shape of your hips, you are creating a better balance between your broad and prominent shoulders and your smaller lower half. Just try not to overdo your pocket details or else they might end up completely overshadowing your features.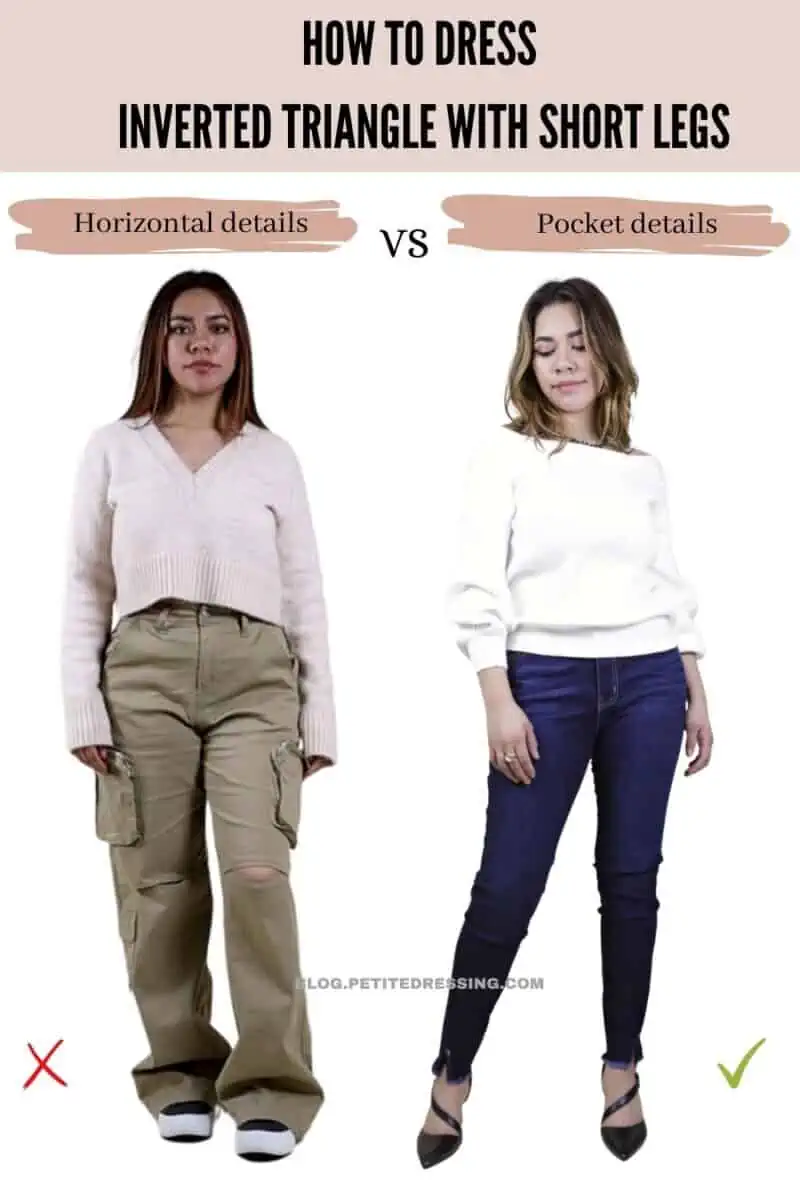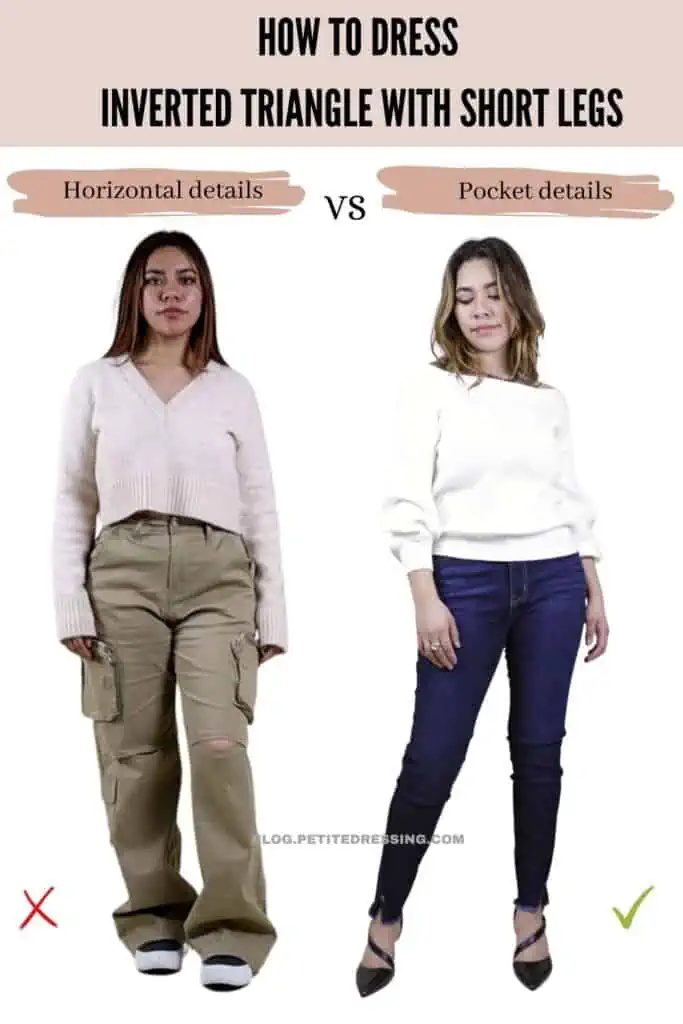 Wear Belted Coats
Wearing belted coats is an excellent way to bring definition to your figure without overwhelming your best features. It defines the waist and enhances your silhouette which helps create the illusion of a more balanced figure by drawing attention away from the broader shoulders.
Its ability to enhance your curves provides a visual contrast between the waist and the upper body to give the impression of a more proportional figure. Since you tend to have a straighter or less curvy body shape, adding a belt to nip your waist in will give you more dimension.
Additionally, your well-defined shoulders and upper body can be complemented by belted coats as they provide more structure and definition to the overall outfit. The belt creates a focal point and draws attention to the waist, which tweaks your figure into looking like an hourglass shape.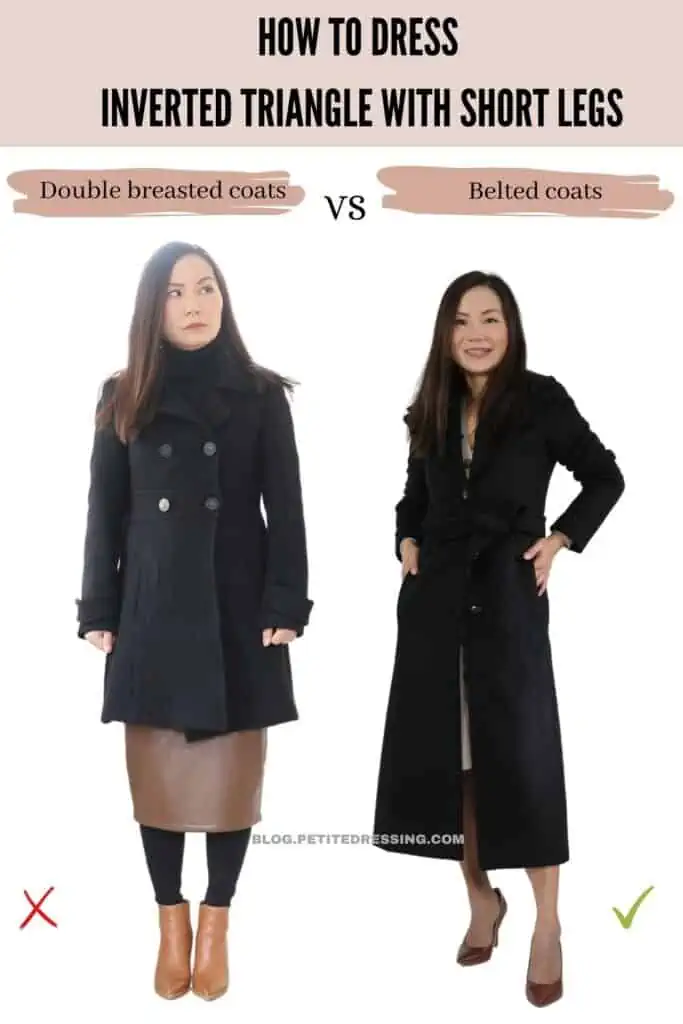 Favor Longer Blazers
One of the key benefits of wearing longer blazers and jackets is that they create the illusion of added length to the body. Inverted triangles with short legs will find this very flattering as the length and structure can help balance out your proportions.
Since you tend to have broader shoulders and a wider upper body, longer blazers draw the eye in a vertical motion to divert the attention away from the imbalance between your shoulders and hips. This shift in focus will help neutralize the gaze by not letting the eyes look at just one region.
Here's a quick tip when selecting long blazers: it's important to pay attention to the details. Avoid blazers with shoulder pads or excessive embellishments around the shoulders, as they can accentuate the width of the upper body and undermine the desired effect.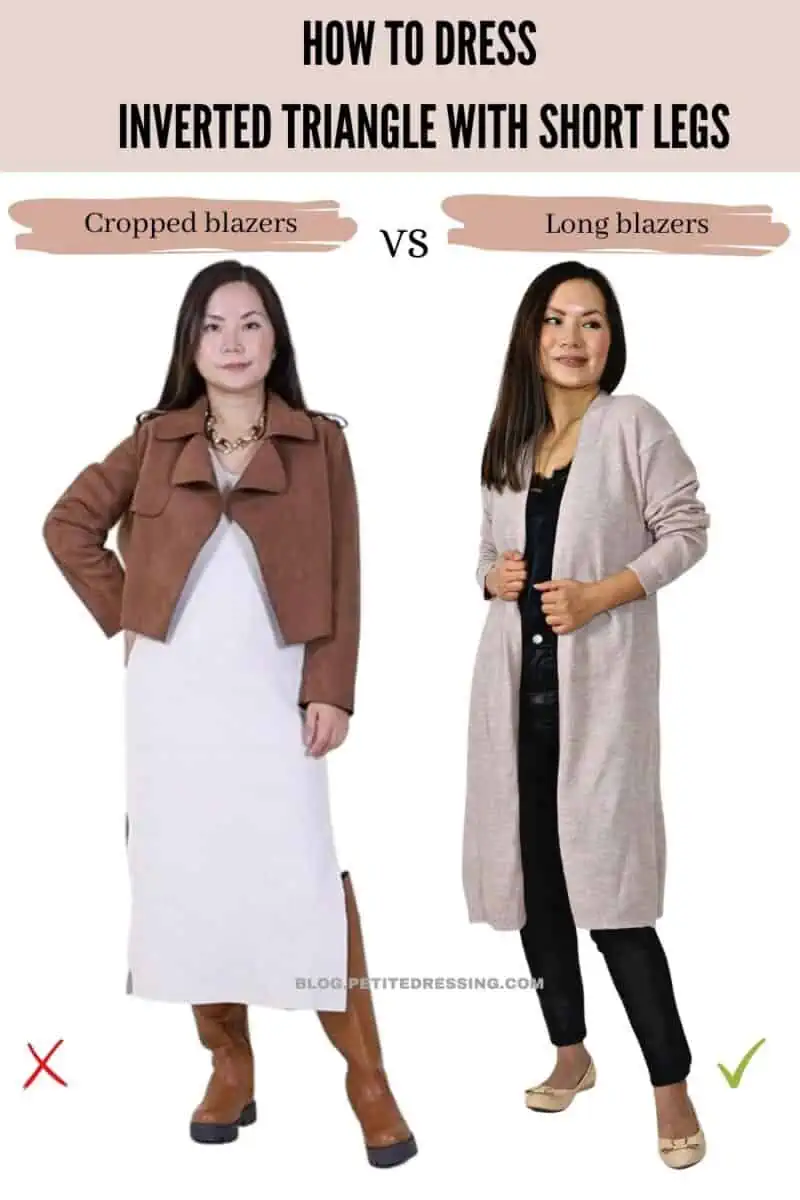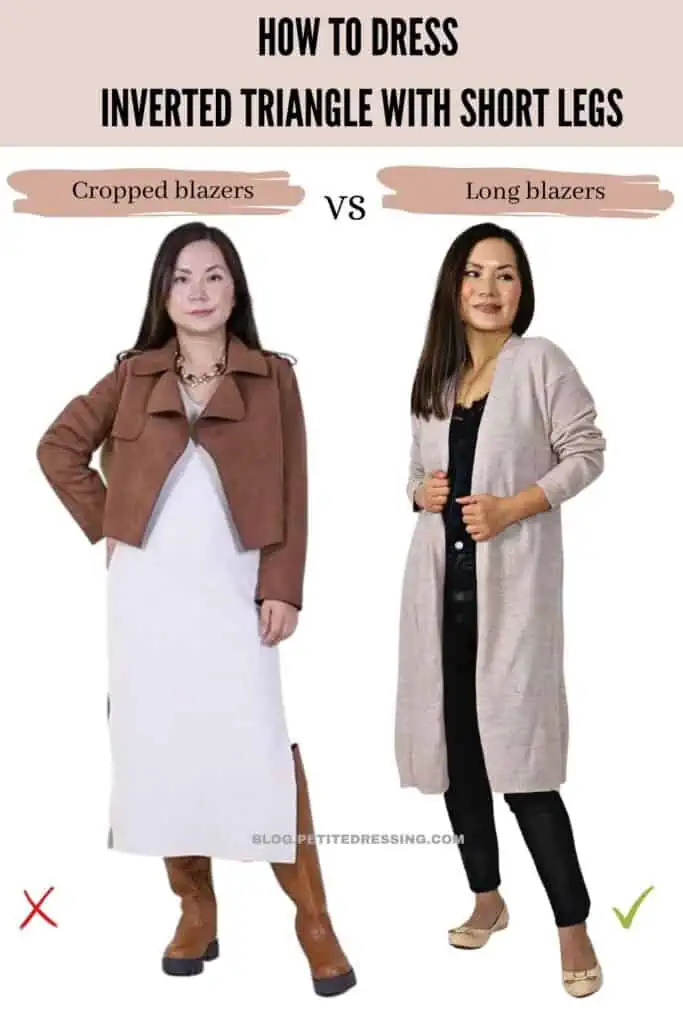 Wear Palazzo Pants
Palazzo pants feature a very wide leg structure that significantly adds volume to your lower body, most particularly to your hips. As your hips and buttocks are less prominent compared to your upper half, wearing pants that feature a nice, flattering volume can help bring balance to your look.
Apart from the fact that it adds volume to your lower body, palazzo pants are also very effective in making your legs look longer. With its flowy fabric that drapes down from waistband to hem, it gives a visual flow to your look to give a sense of continuity that elongates and balances your figure.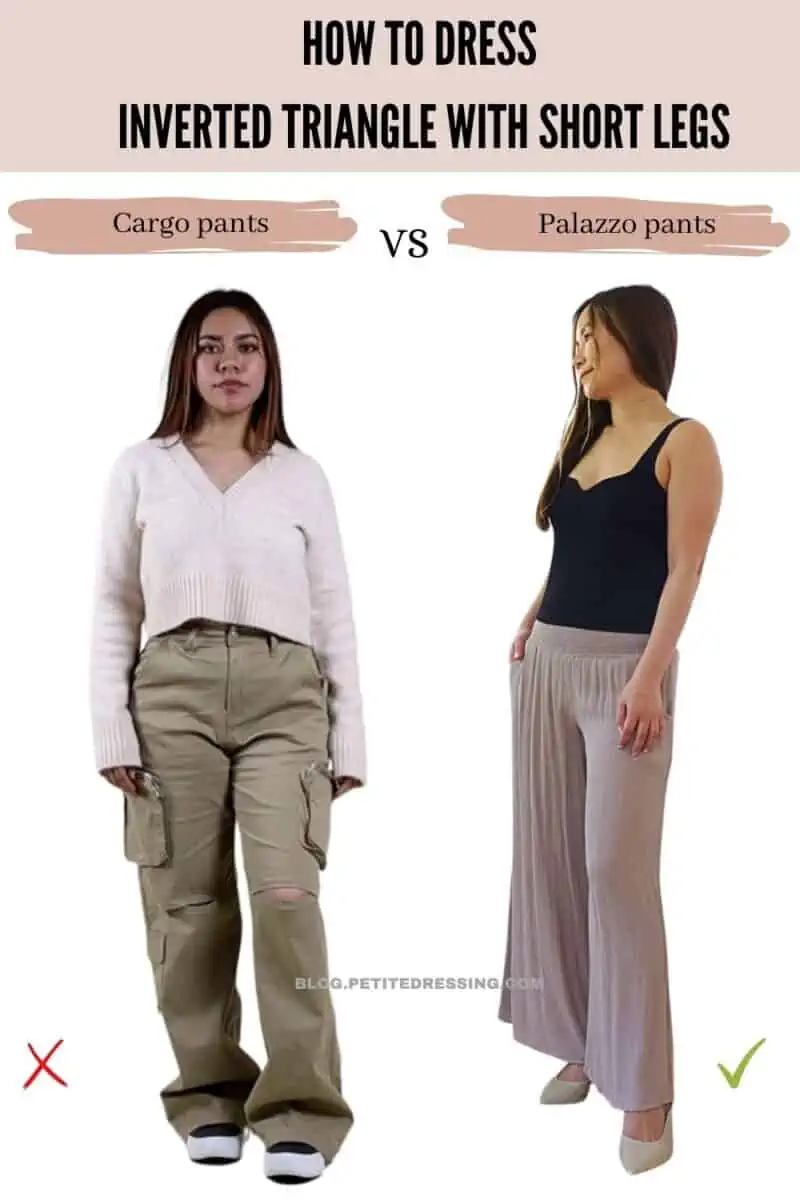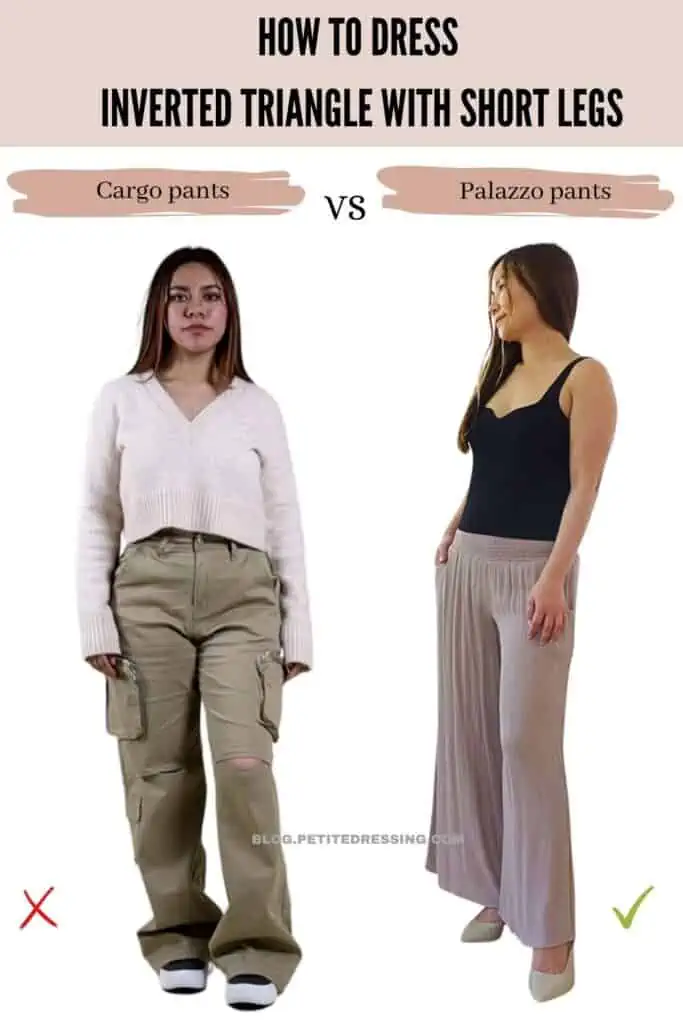 Consider Dark-colored Tops
We all know how dark colors have the exquisite ability to slim your figure down so dark-colored tops can be very helpful in toning down the broadness of your prominent upper half. Not to mention how dark colors like black, dark brown, or navy blue are quite versatile and therefore very easy to mix and match!
They give your figure the illusion of a streamlined silhouette by minimizing the visibility of any bulges or harsh straight lines around your areas of concern. By opting for a dark-colored top, you can shift the focus of attention to other elements of your outfit such as bright-colored or voluminous bottoms.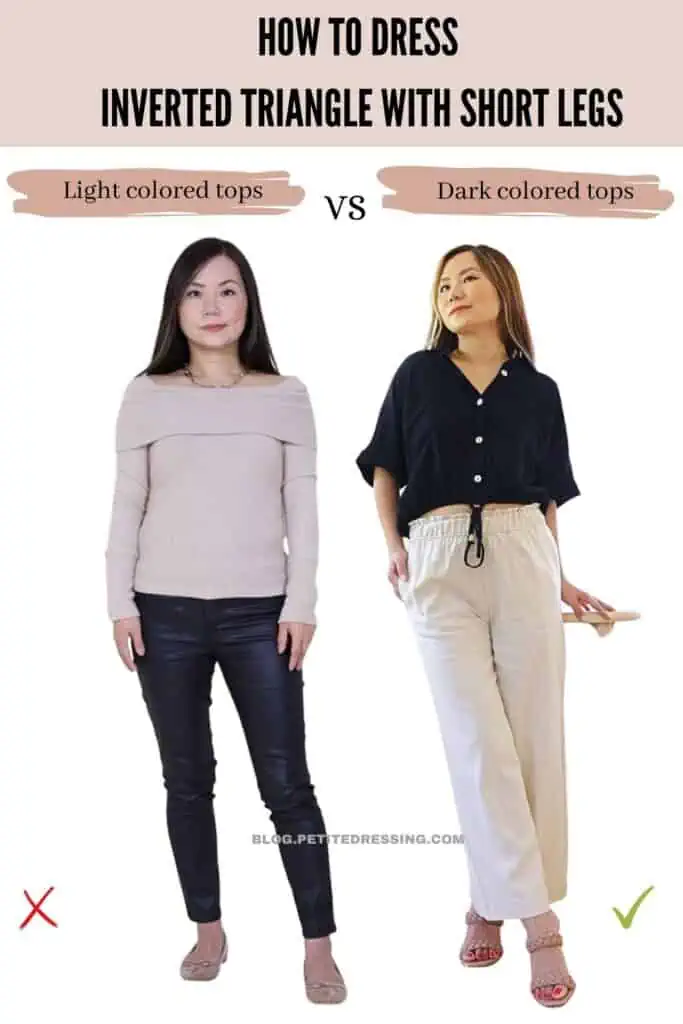 Wear Color-Blocking Dresses
You also have to be strategic when it comes to choosing the right color-blocking dress to suit your height and body shape. To not disrupt your continuous visual line, you have to be mindful of the color contrast and color placement on your dress.
Go for darker colors or color-blocking panels for the upper portion of the dress because they can minimize the visual width of the shoulders and upper body. On the other hand, opt for lighter or brighter colors in the color-blocking design for the lower part of the dress because they can visually highlight the lower body, including the legs.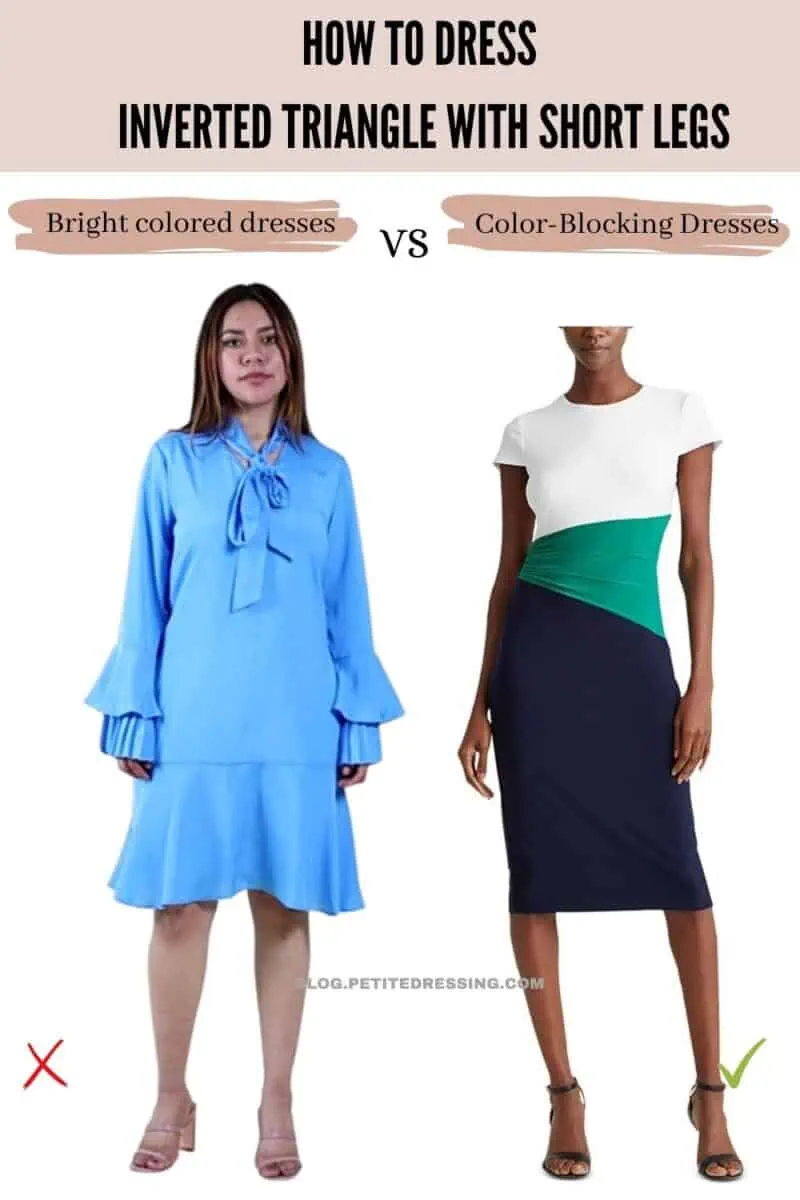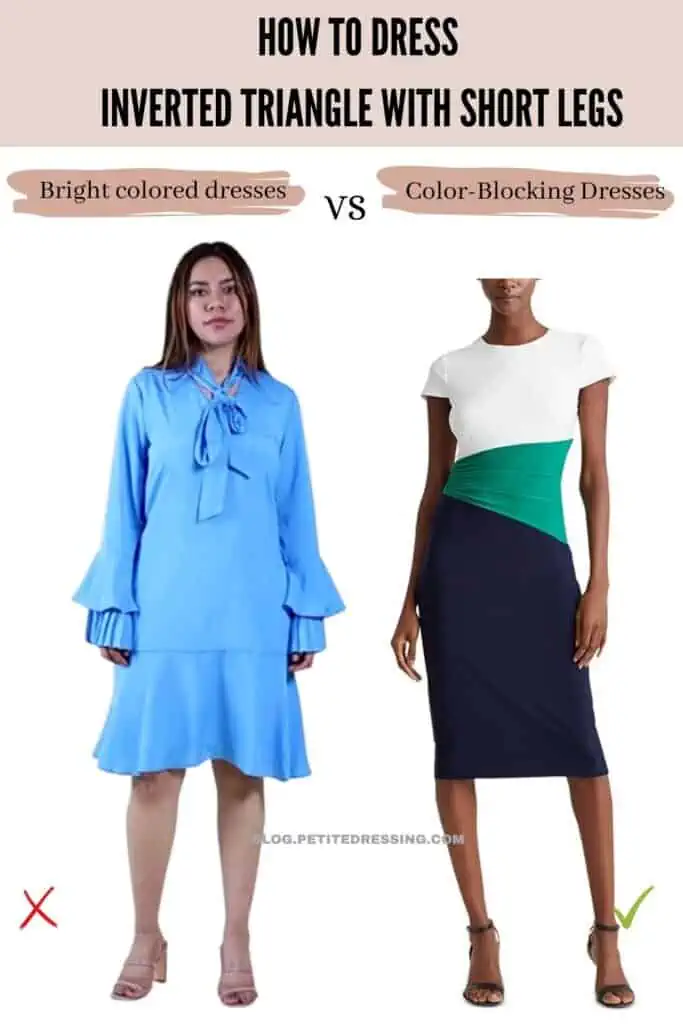 Avoid Exaggerated Shoulder Details
Having broad shoulders is not exactly a flaw, because, in fact, it's actually a sophisticated body attribute that many girls want to have. So since your figure already features very prominent broad shoulders, there's no need for further exaggeration as this can lead to overwhelming the natural beauty of your body shape.
Shoulder pads, puff sleeves, or jacket epaulets are just some examples of shoulder details that your body shape may find unflattering. Exaggerated shoulder details can draw excessive attention to the upper body and therefore divert the gaze away from other areas of the outfit or body that could be more flattering or desired focal points.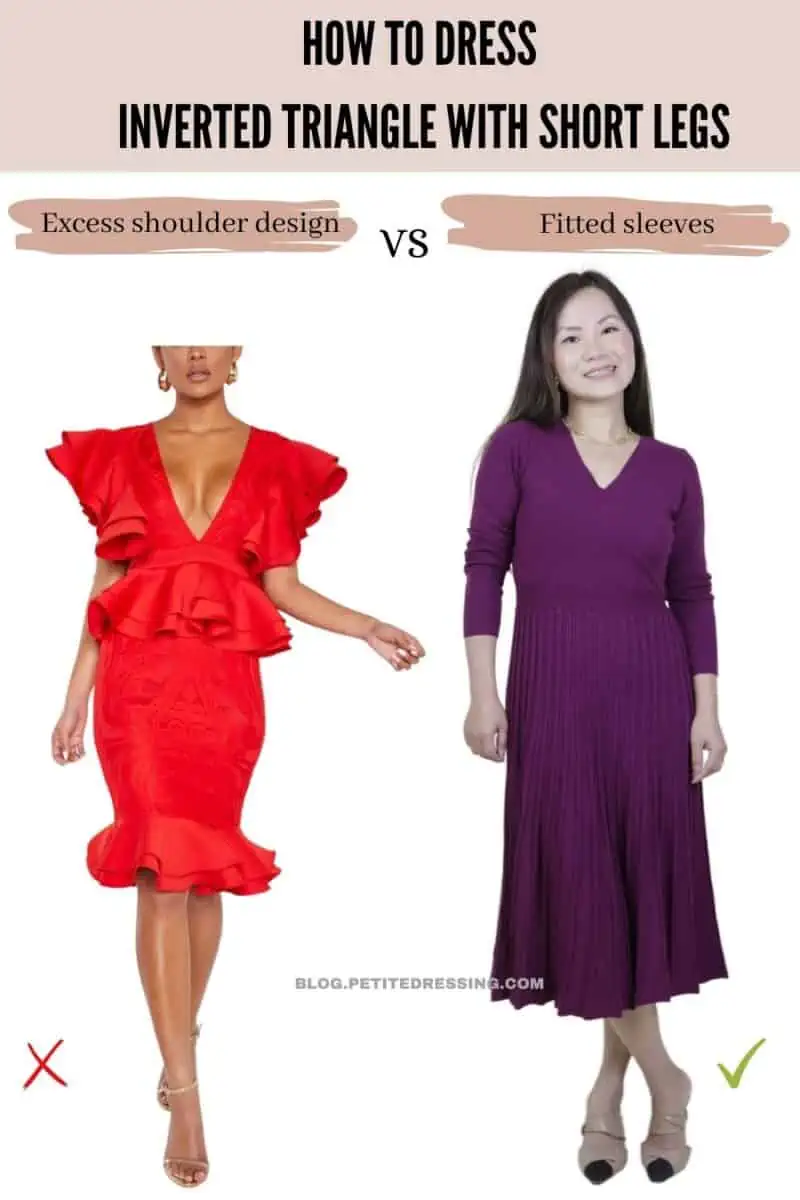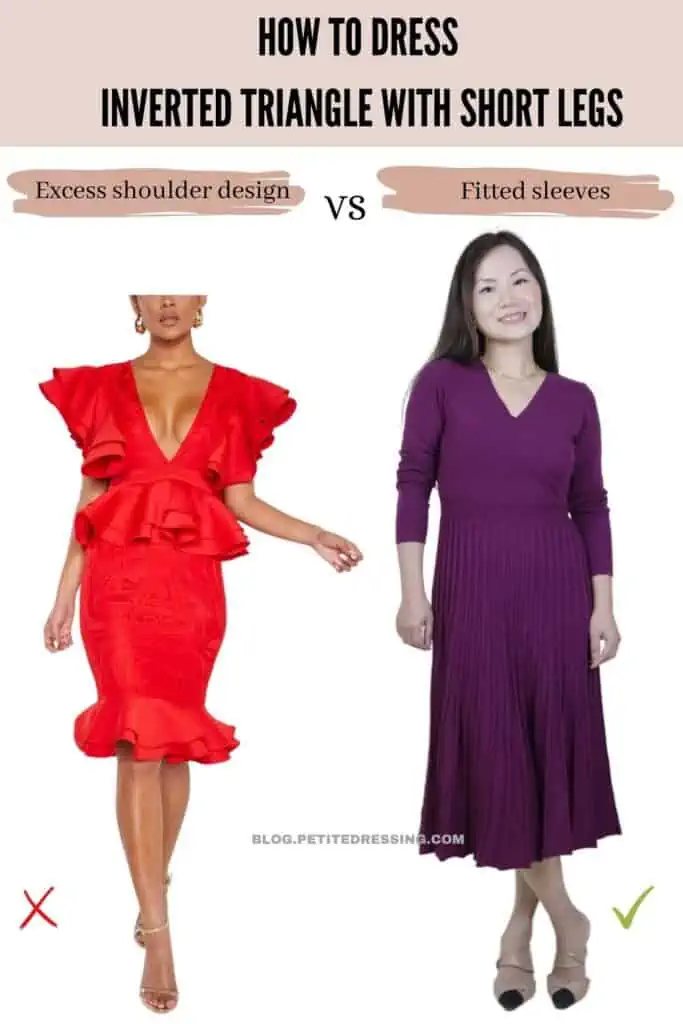 Caution from Skinny Jeans
Skinny jeans and other skin-fitting bottoms like leggings and jeggings tend to be an unflattering choice for inverted triangles. While it's true that skinny jeans can be quite elongating at times, they don't have the right structure to add shape and volume to your narrow hips and flat buttocks.
As a result, your lower body becomes way smaller compared to your broad shoulders and causes an obvious imbalance in your look. If you're not a fan of wide-leg pants styles, then you may opt for straight-leg jeans or tailored pants.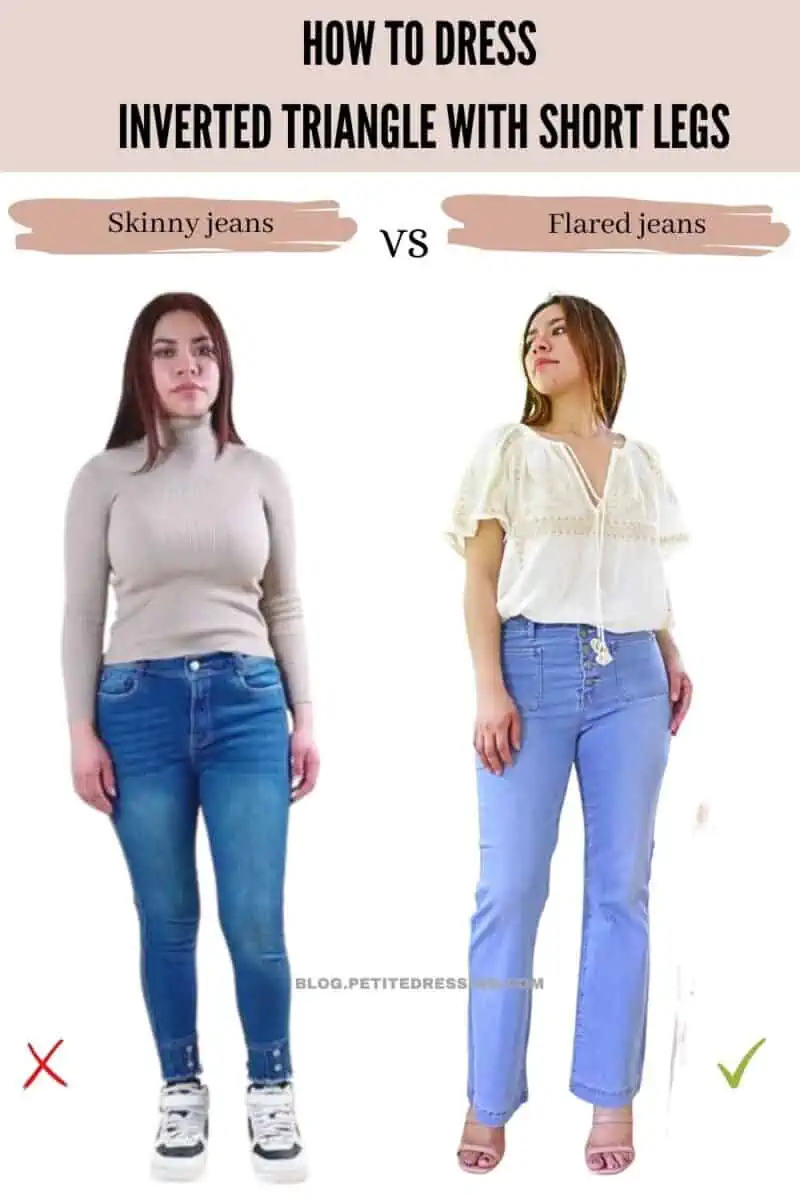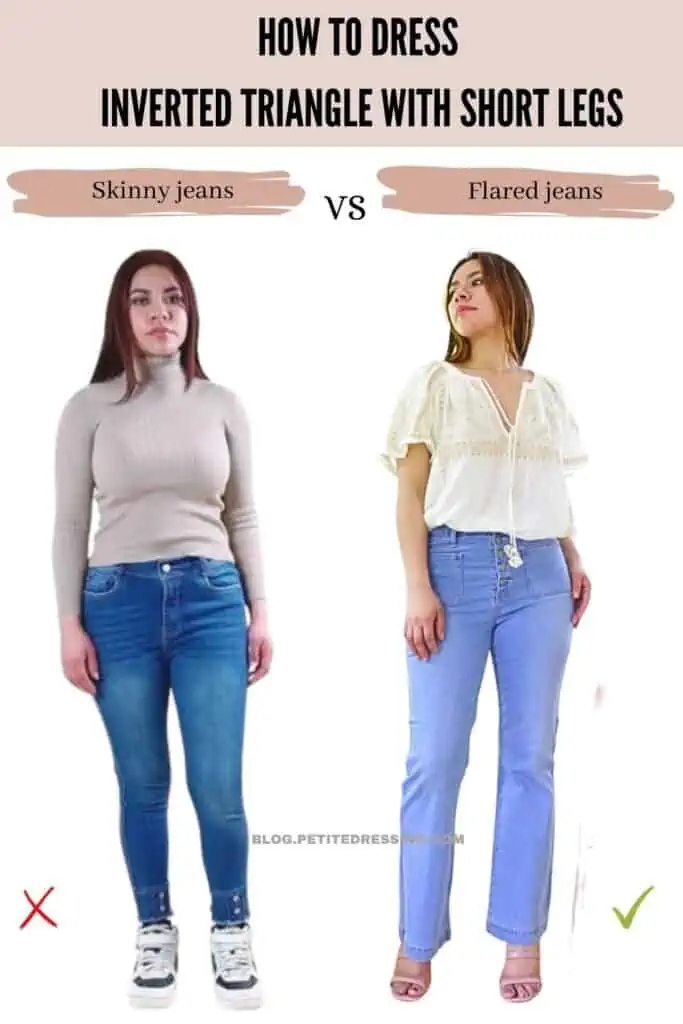 Avoid Bodycon Dresses
Bodycon dresses are specifically designed to cling tightly to the body which can be unflattering for inverted triangle body shapes due to the fact that your shoulder line is not proportionate with your hips. Wearing dresses that are too tight can further emphasize your broader shoulders and more prominent upper body, creating an unbalanced and top-heavy appearance.
The tightness of bodycon dresses also leaves very little room for camouflage or distraction, which creates attention to areas that you may want to tone down. Their straight or narrow silhouette from top to bottom makes the lack of curves in the lower body and your short legs look more apparent.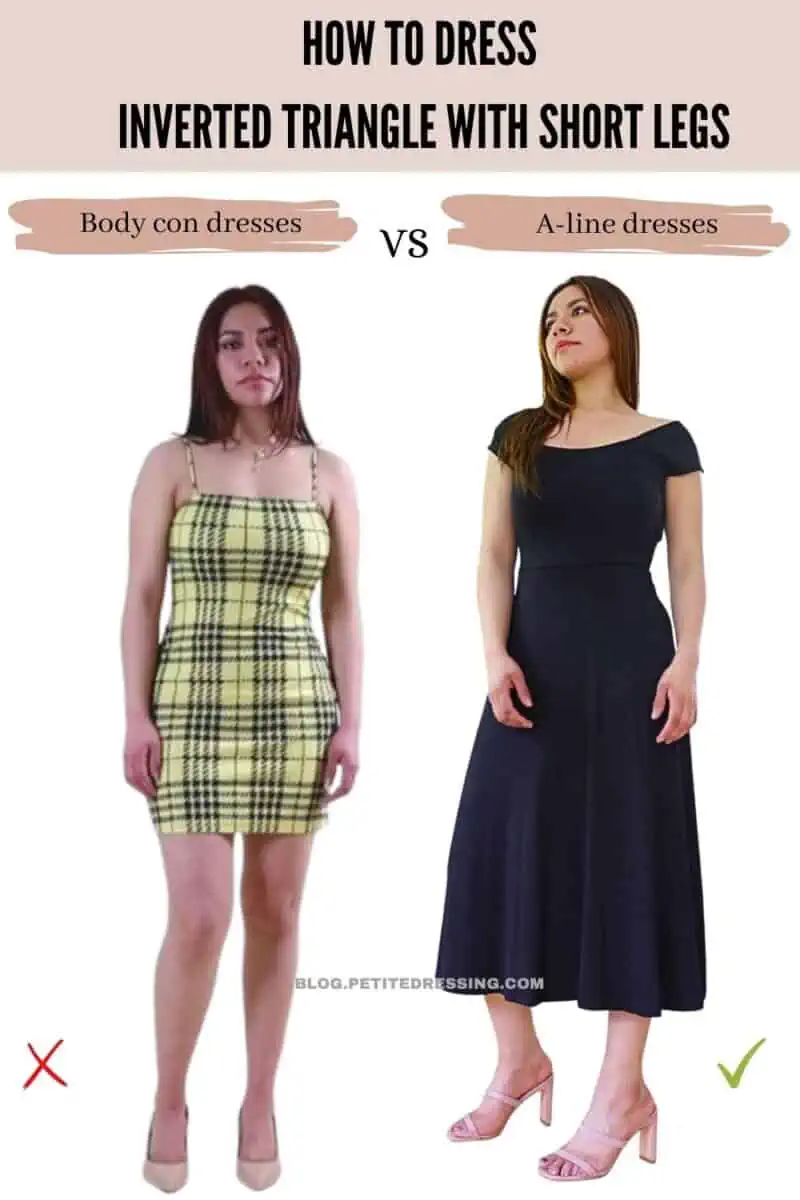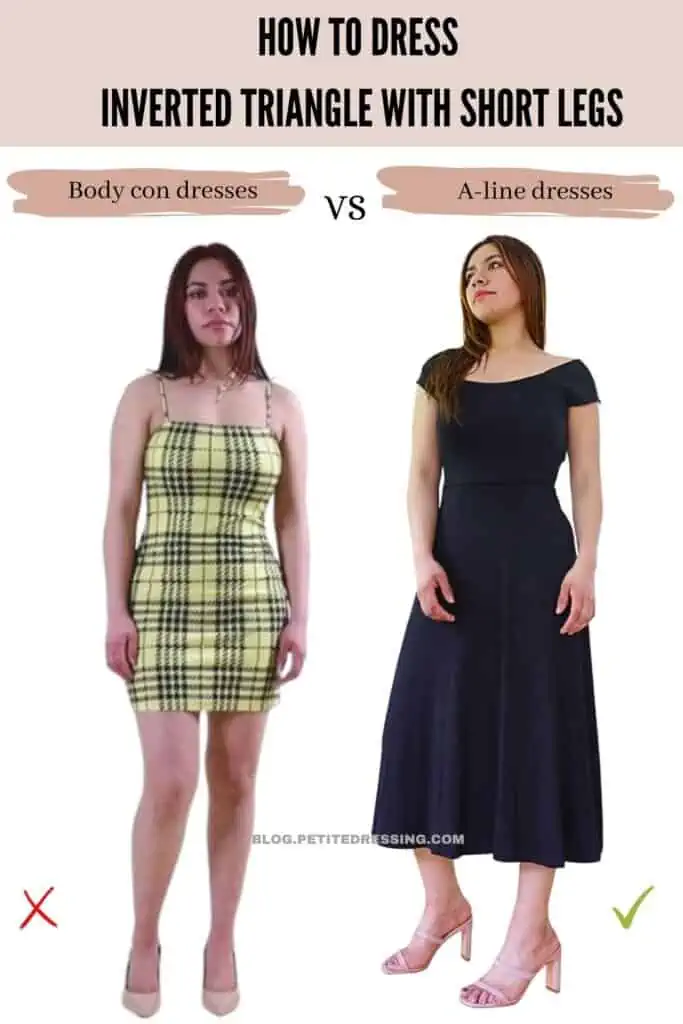 The Key Takeaway
Styling your inverted triangle body shape and short legs definitely requires careful attention to proportion and balance due to the significant size difference between your shoulder line and hips. But with the right fashion strategies, it's possible to create a more harmonious and flattering silhouette for you to be able to flaunt the best version of your figure!
With the clothing styles I've included in this guide, you can create a more proportional and visually appealing silhouette that highlights your best features and boosts your confidence. So embrace your individual fashion taste and don't be afraid to explore different styles that bring out the beauty of your unique body shape!