Other girls may not understand the frustration of petites like you with large busts, but if you are short and busty, it's quite a challenge to dress your shape.
I'm 5'2″, and I have a clothing line dedicated for women 5'4″ and under. I have numerous customers who are short with a full busts, so I know firsthand how hard it is to dress a short girl with your shape.
Below is one of my models Wendy, who is 5'2″ with 36D cup.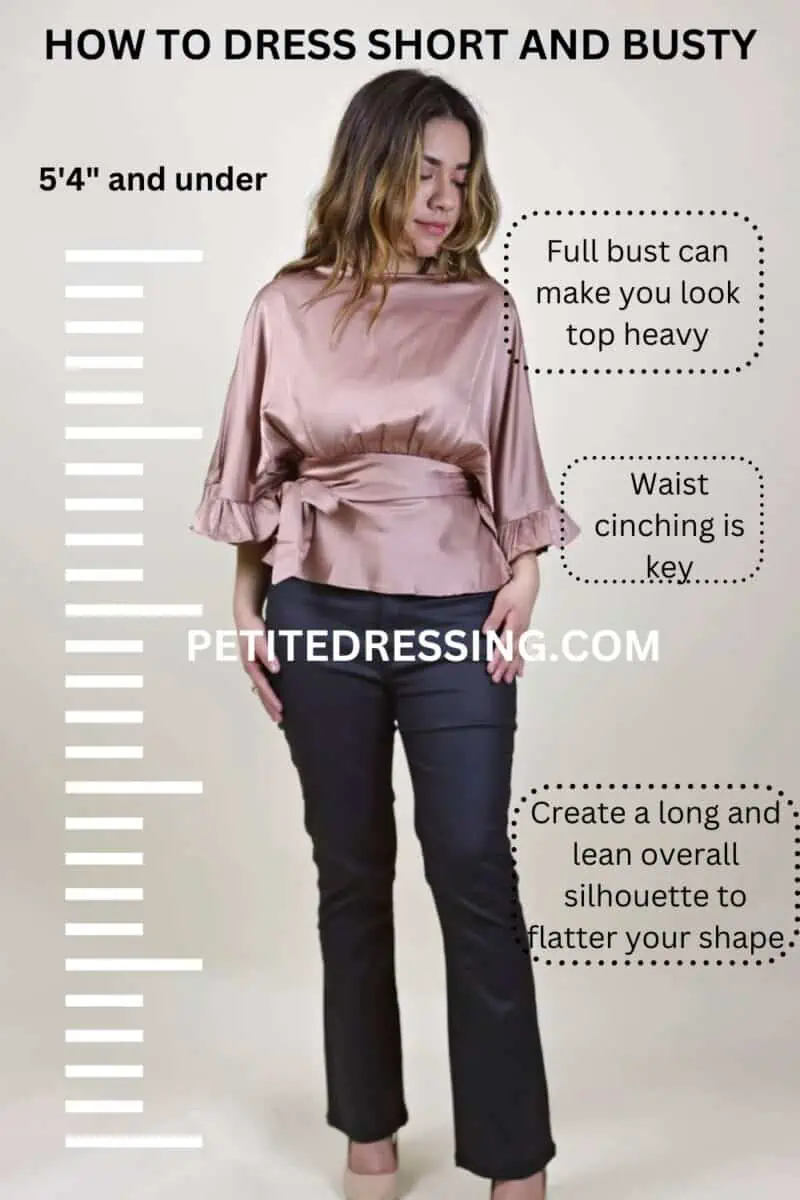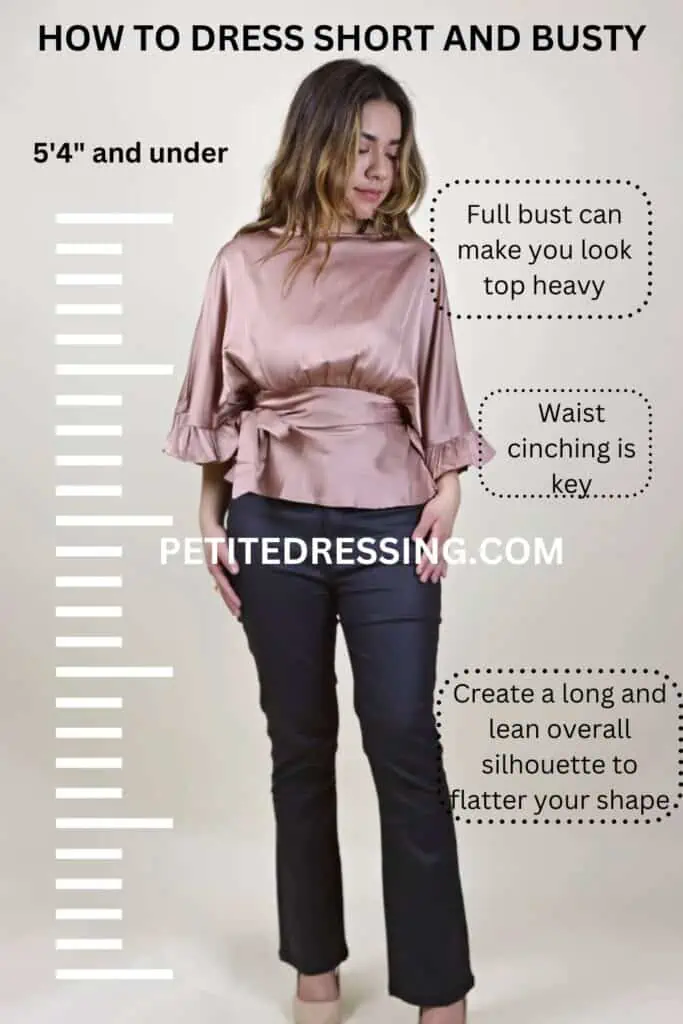 First of all, it is important to understand petite women generally have a shorter torso and many have short waist. That combined with big boobs can easily create the impression of being top-heavy.
To balance out your shape, here are the most useful styling hacks to dress if you are short and busty!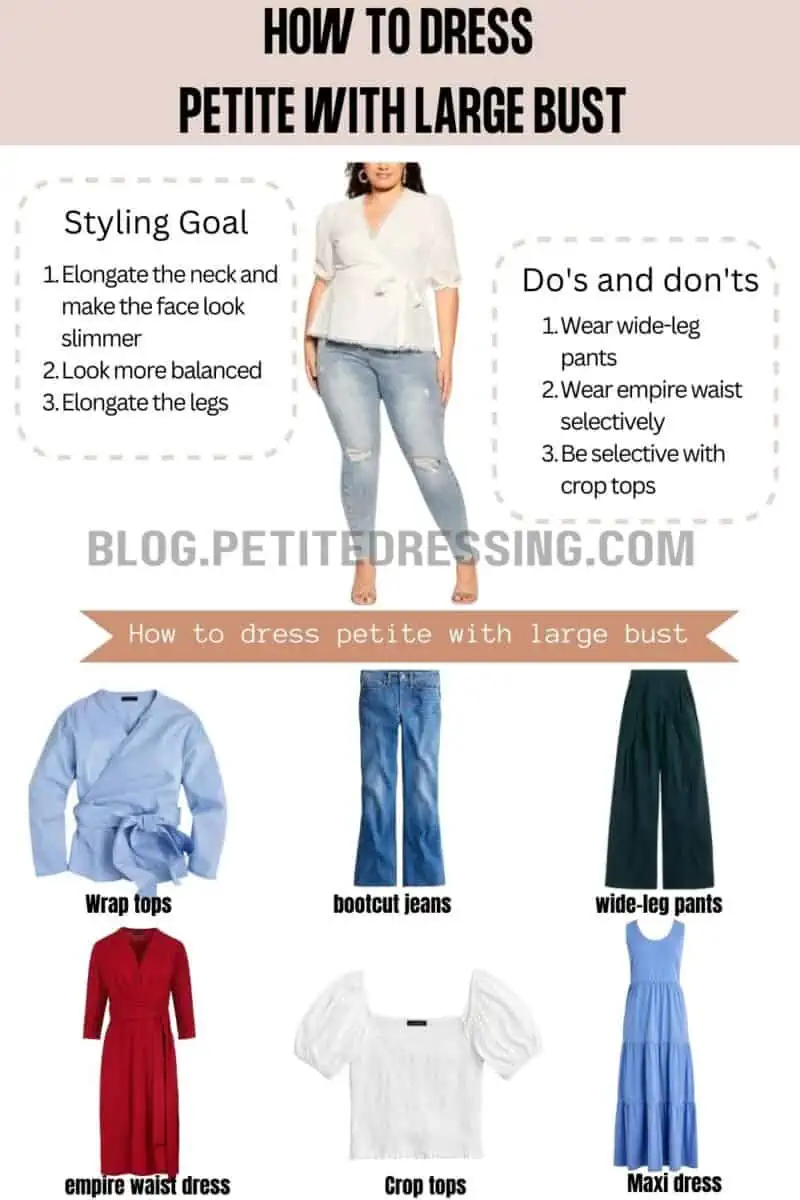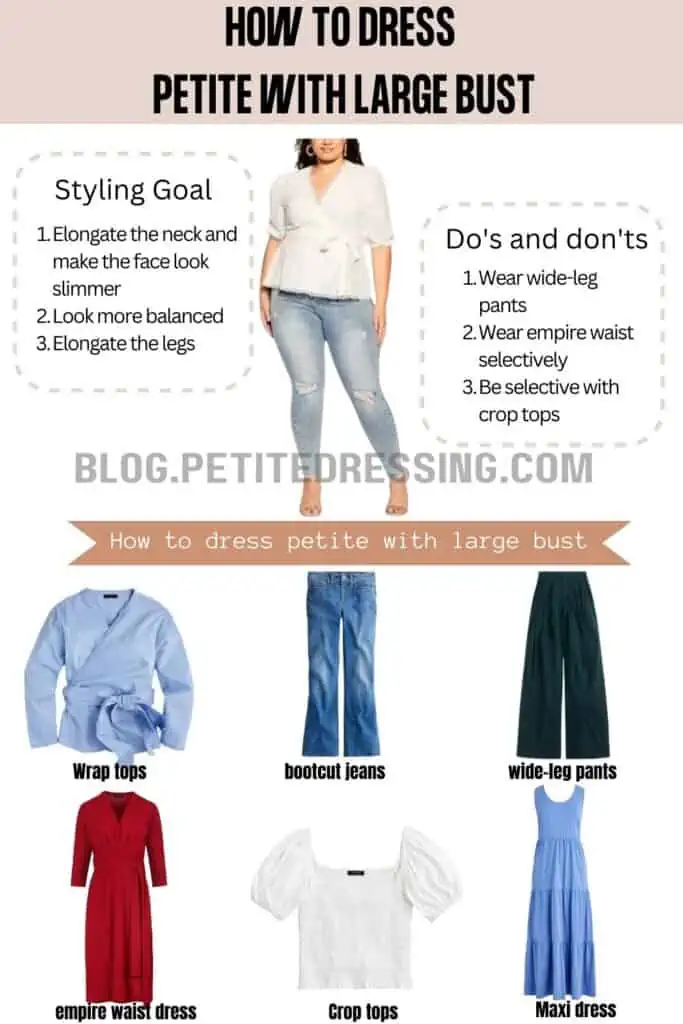 Wear V neck
Necklines play a big role in how we look. One thing I noticed, in our bi-weekly product fitting and photography session, is that a deep V-neck ALWAYS looks better on Wendy.
The truth is V neck is universally flattering, and it looks good, especially on girls with big chests.
Regardless of your body shape, everybody can look great in a V-neck, because they elongate your neck and make your face look slimmer.
The key to wearing this classic, versatile neckline is to choose the depth of the V that best fits your bust size.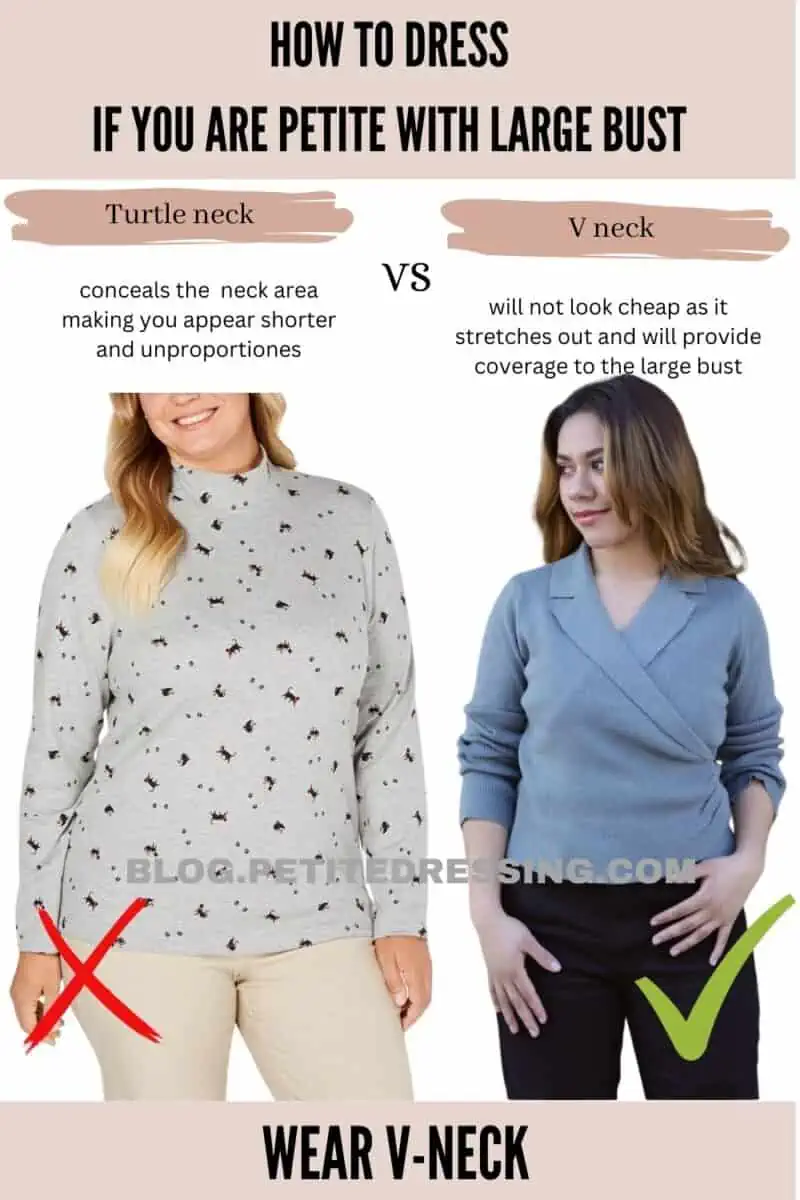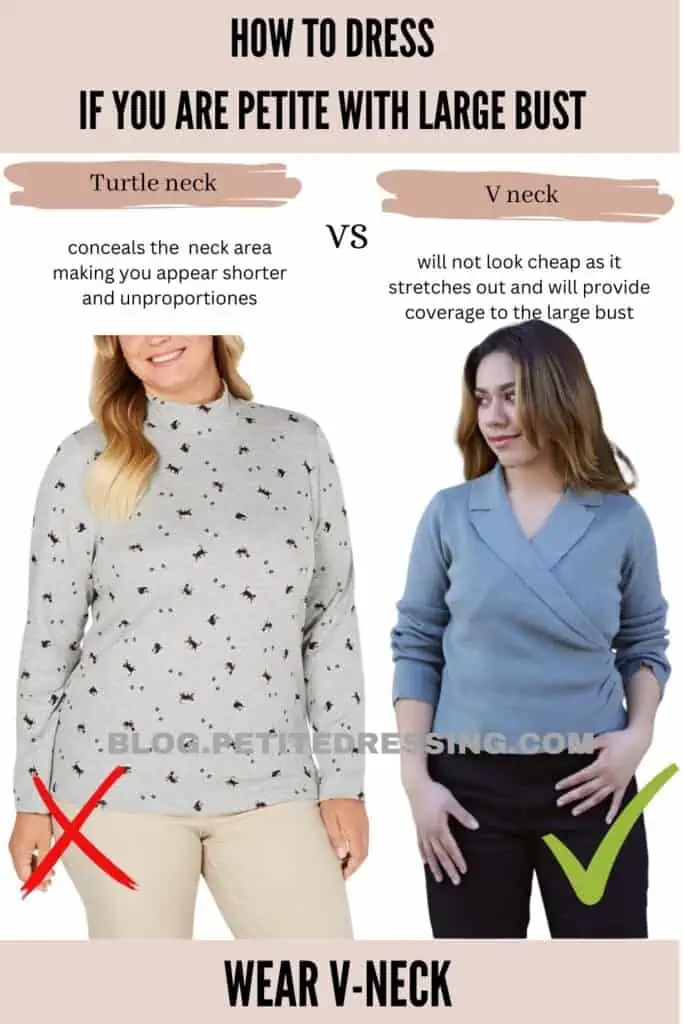 Wear 3/4 sleeves
Did you know that a 3/4 sleeve can make a petite woman's legs look longer?
If you are short, this is the best sleeve length for petite women.  They can effectively make your legs look longer.
Surprised? I know, and I haven't found a scientific explanation for that yet. But, if you stand in front of the mirror in three quarter sleeve shirt or dress, you will know what I'm talking about.
If you are short with bigger chests, it draws attention to your waist and makes you look more balanced.
Intrigued? Try it yourself today!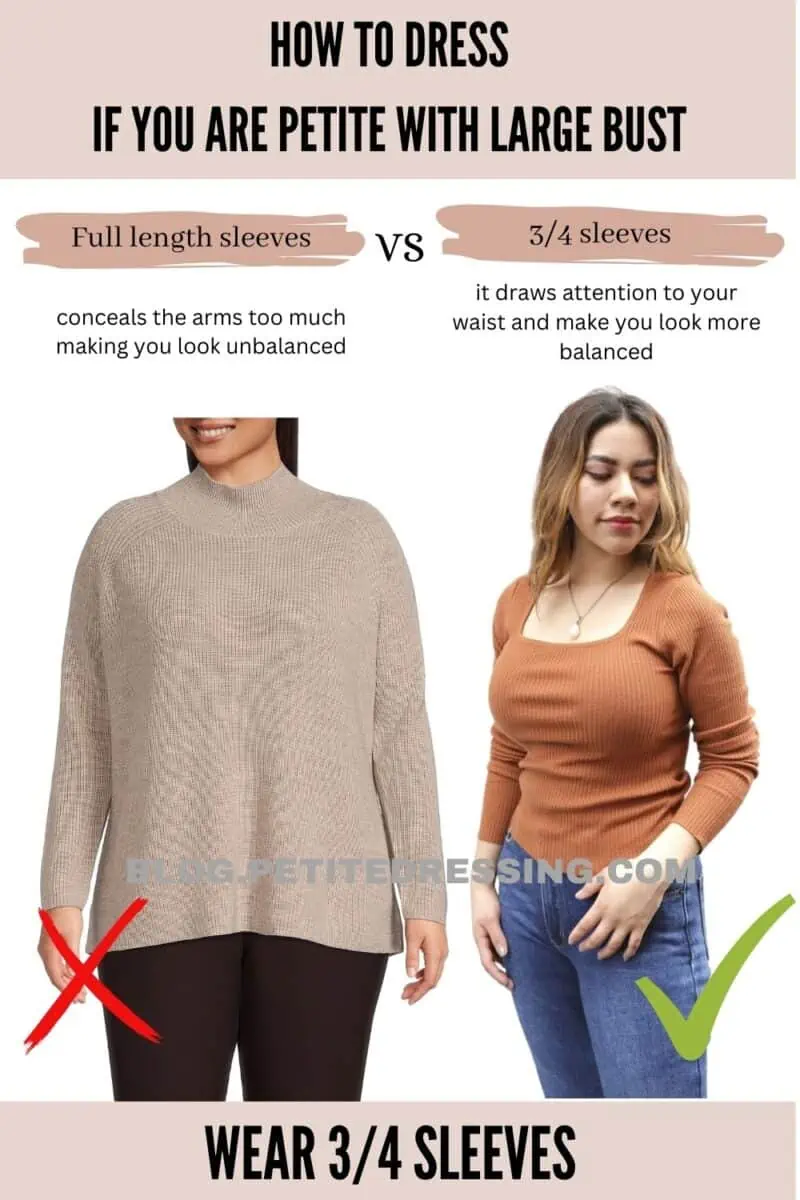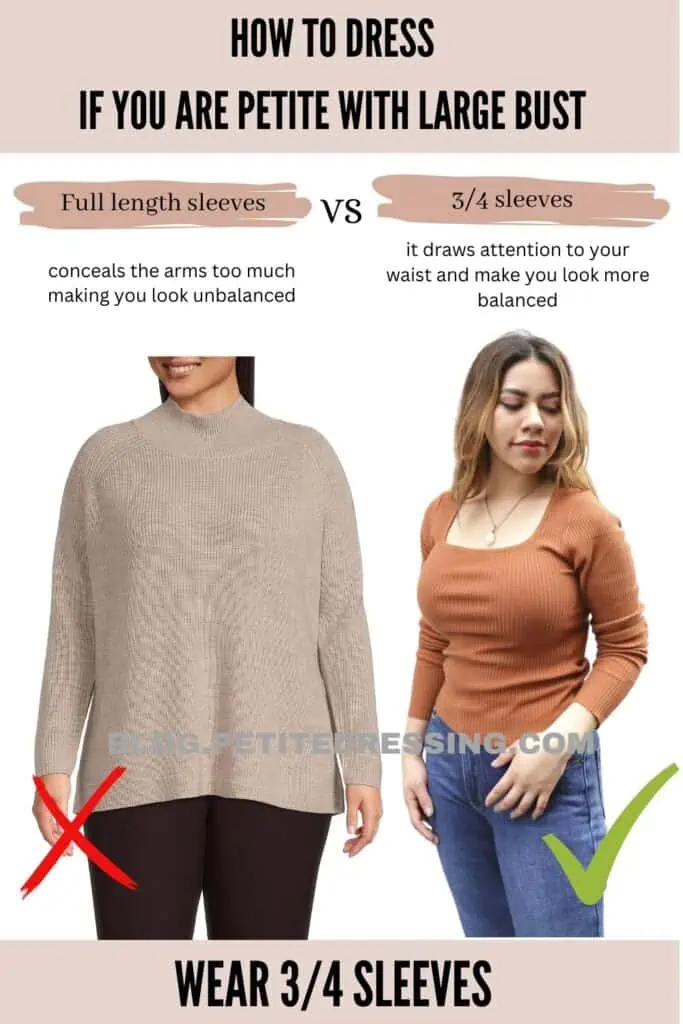 Wear wrap dresses
I can't think of a more flattering dress design than the wrap. This is also proven by my clothing line, i.e. wrap style dresses are always the first to be sold out of our dress collection!
It is a universally flattering design, and it is especially a heaven sent girls who have a curve, because it hugs your body at just the right places and brings attention to where you want it.
I myself am an official "addict" of the wrap dresses.
I wear size 0 or P, depending on the style. I own more than 30 pieces in my closet, which I bought in the last decade. They fit me like a glove, without having to make any alteration.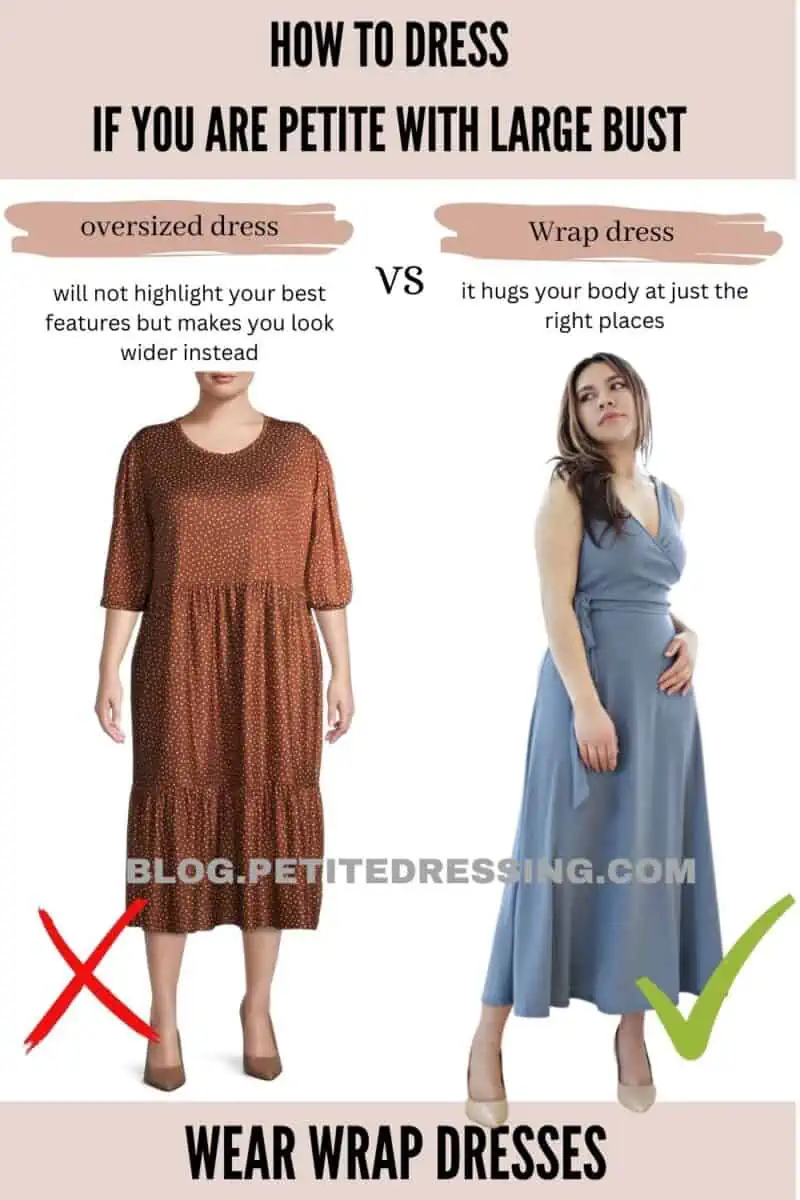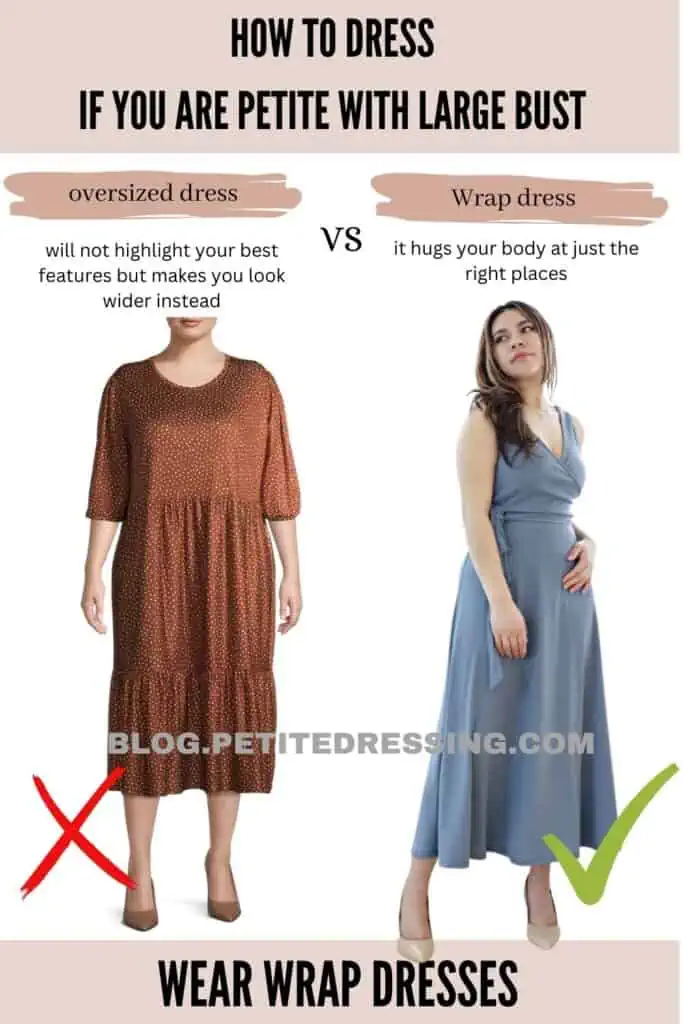 Wear boat neck
If you are a petite girl with a larger bust, the boat neckline also helps balance your silhouette.
On the other hand, a high neck will make your chest look even bigger. 
The reason is it puts your bust at the front and center, so it is almost impossible to notice them- not that it's bad for them to be noticed, but your goal is to balance it out and avoid looking disproportionate.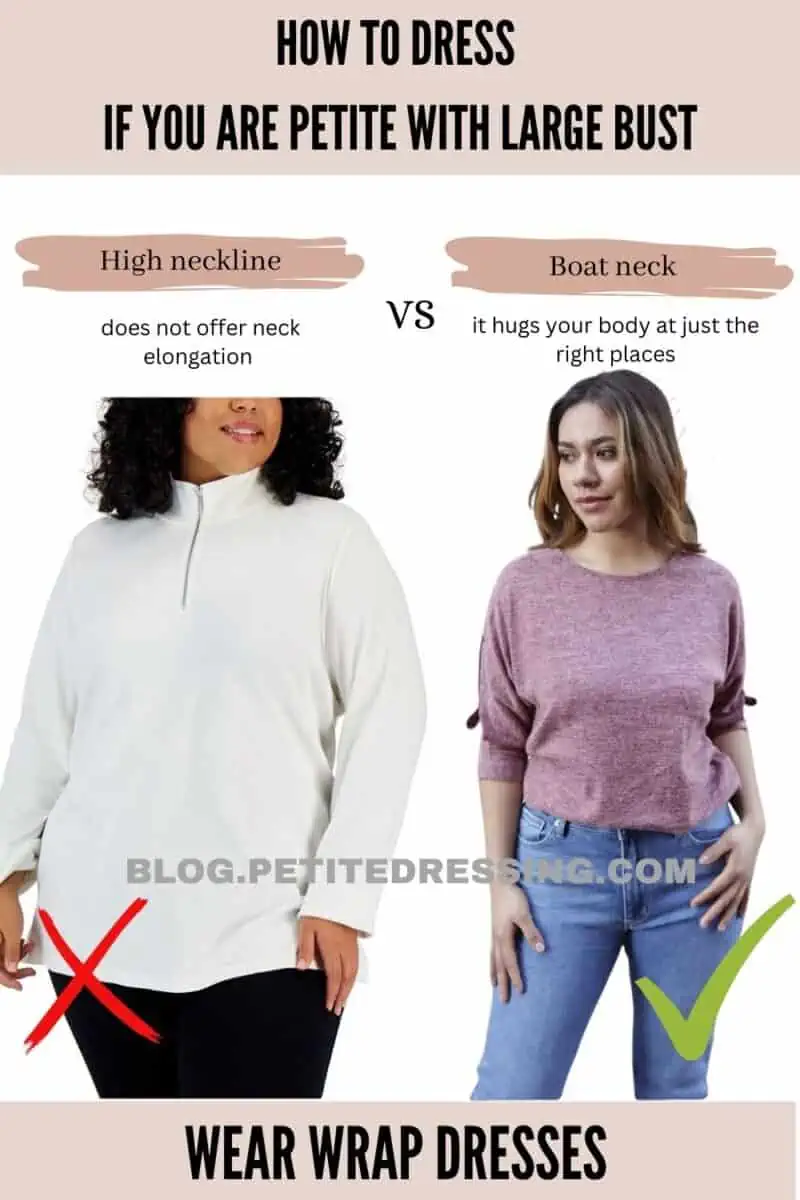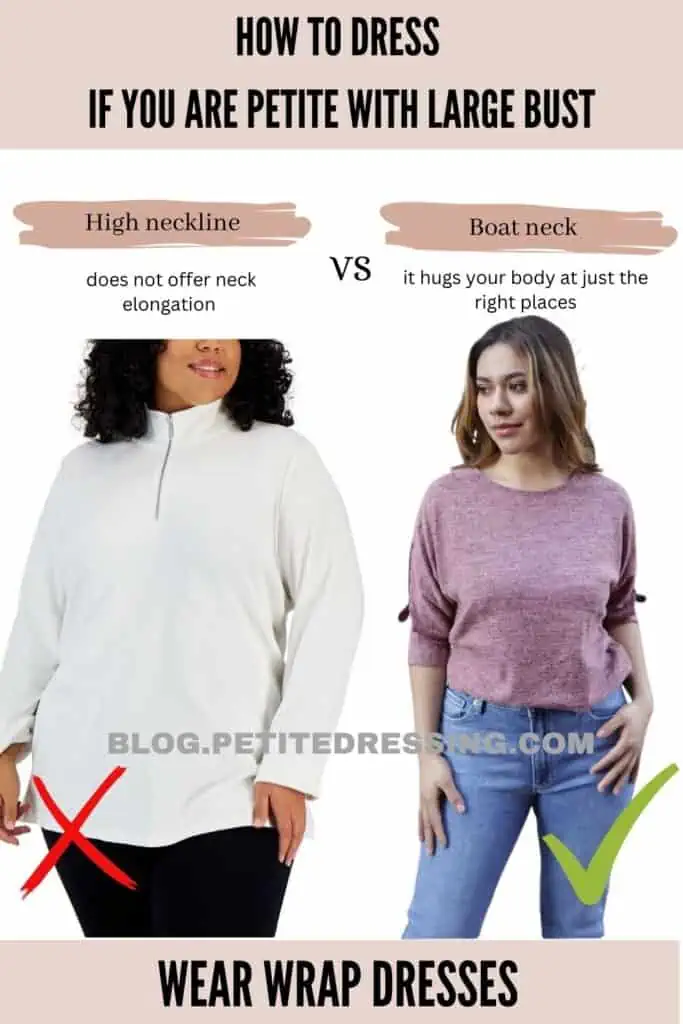 Wear wrap tops
This is the same concept as the wrap dresses.
If you are petite with a bigger chest, wrap tops pull the fabric in at the skinniest part of your waist, drawing the focus to your waist without adding any extra volume to your bust.
If should go with fabrics with a good amount of stretch, so that it can adjust itself to your smaller waist and won't look like it's about to bust at your chests.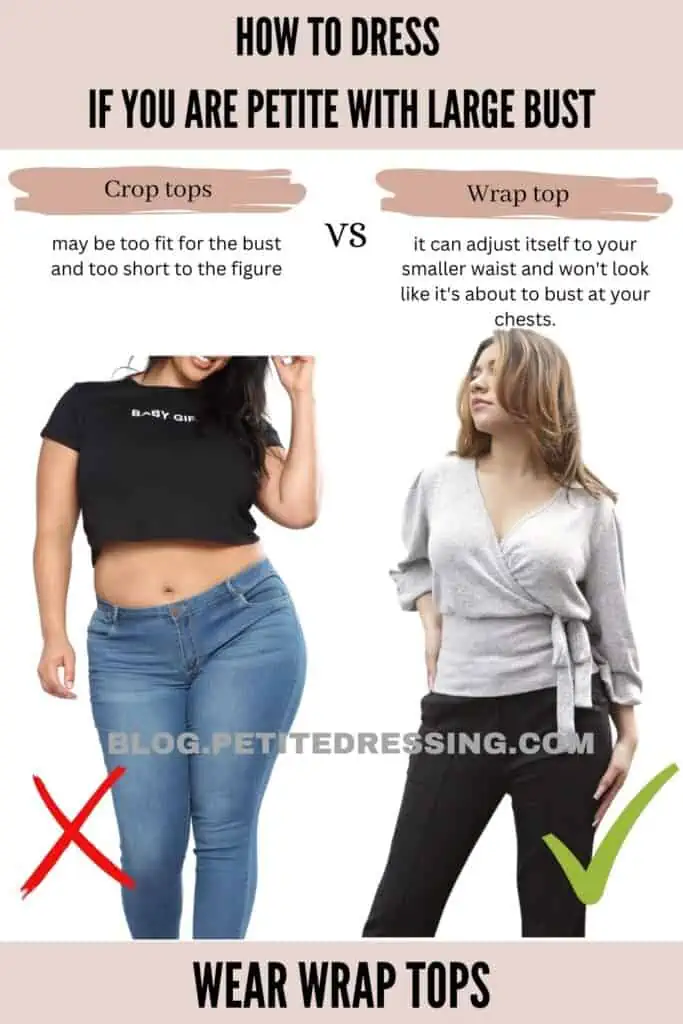 Wear boot-cut jeans
Instead of going for tighter or skinny-fit jeans, opt for something that's fitted but with the right amount of volume like boot-cut jeans.
These are also the most flattering pants for petite girls in general because they visually elongate your legs.
For short girls with a bigger chest, the flare keeps the bottom portion of your leg in balance with your wide hips. This also creates a longer, slimmer appearance for your legs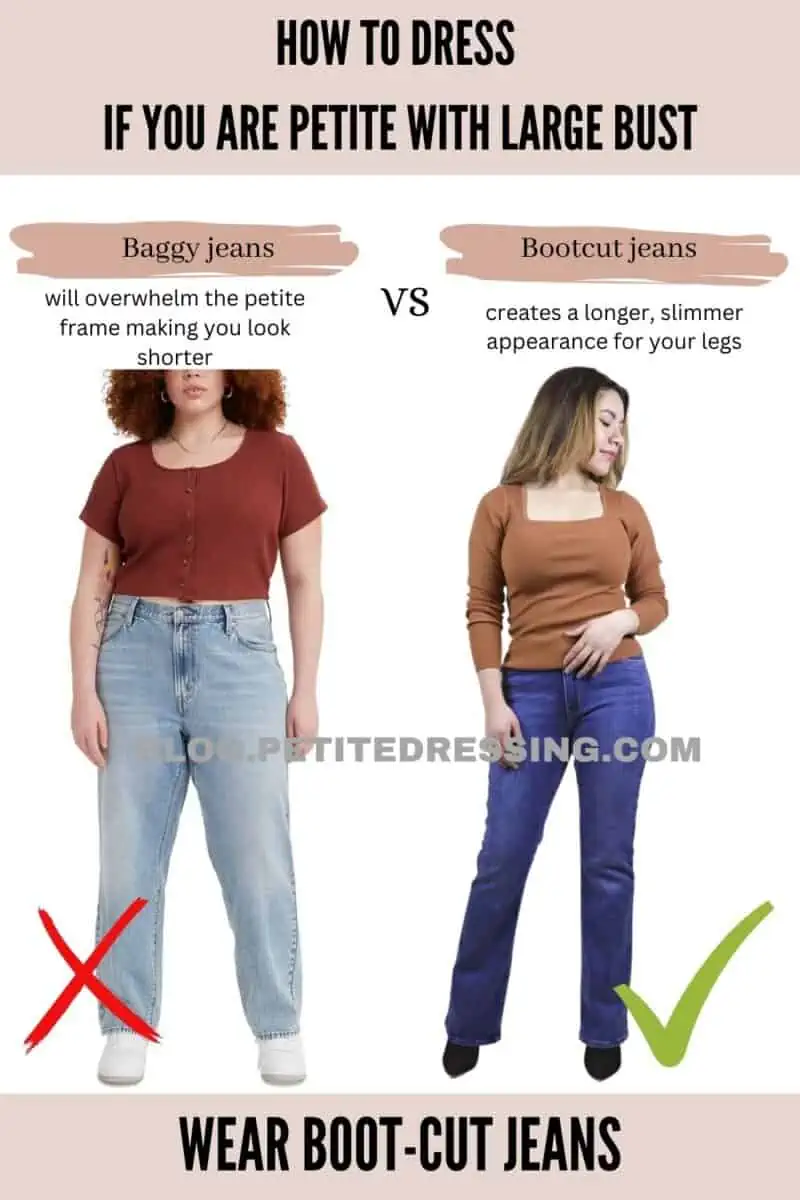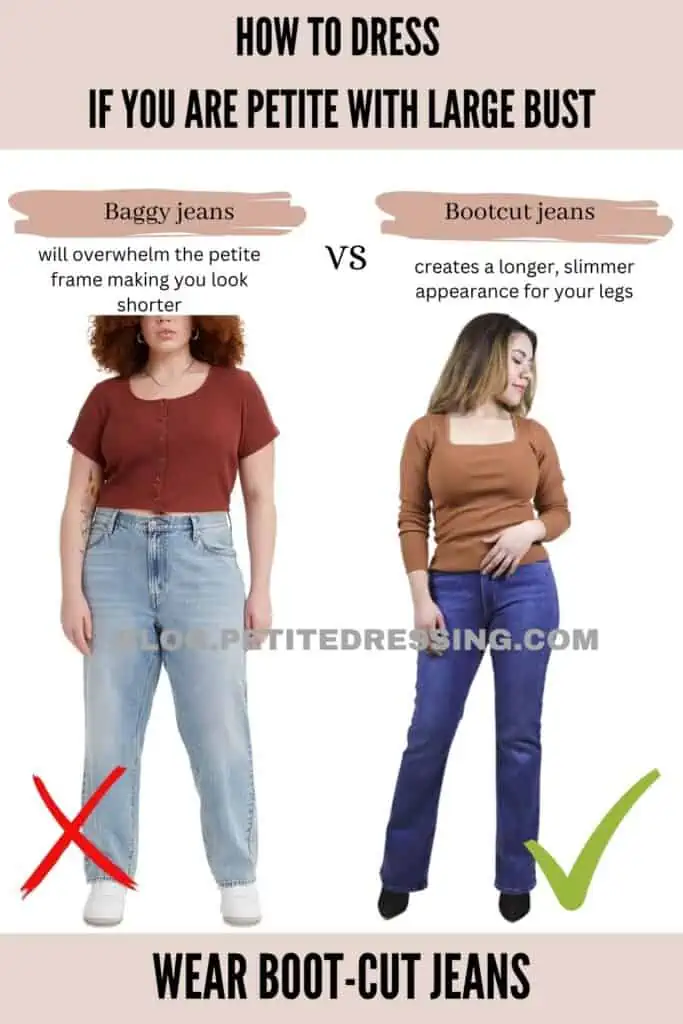 Wear wide-leg pants
Okay, hear me out here. wide leg pants are not easy for Petites to pull off, but, if you know how to properly style them, they can be one of the most flattering things for shorter women with a large chest.
Because you tend to come across as top-heavy, wide-leg pants are one of the best options to balance out the volume of your top.
Unlike the skinny fit, these do not cling to your legs and they skim over your curves instead.
If you have short legs, it is critical that you wear wide-leg pants with heels to elongate your frame and counterbalance the volume in the wide-leg shape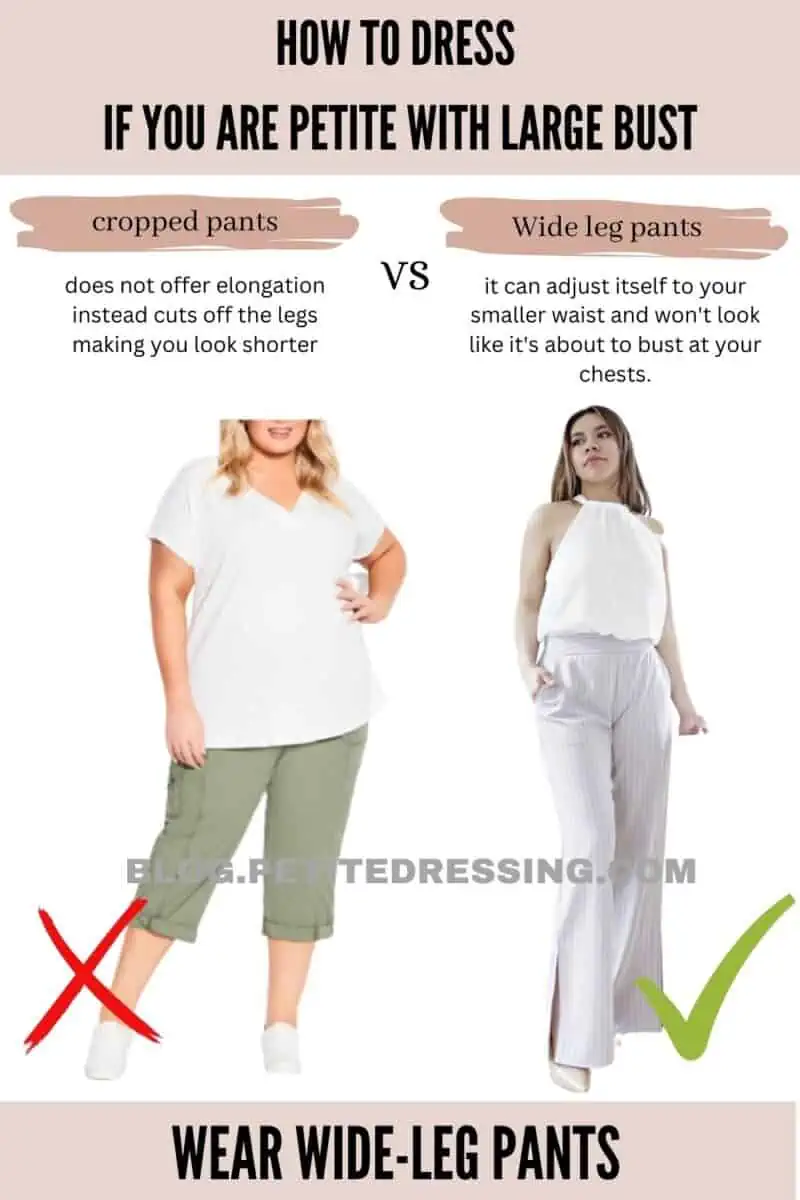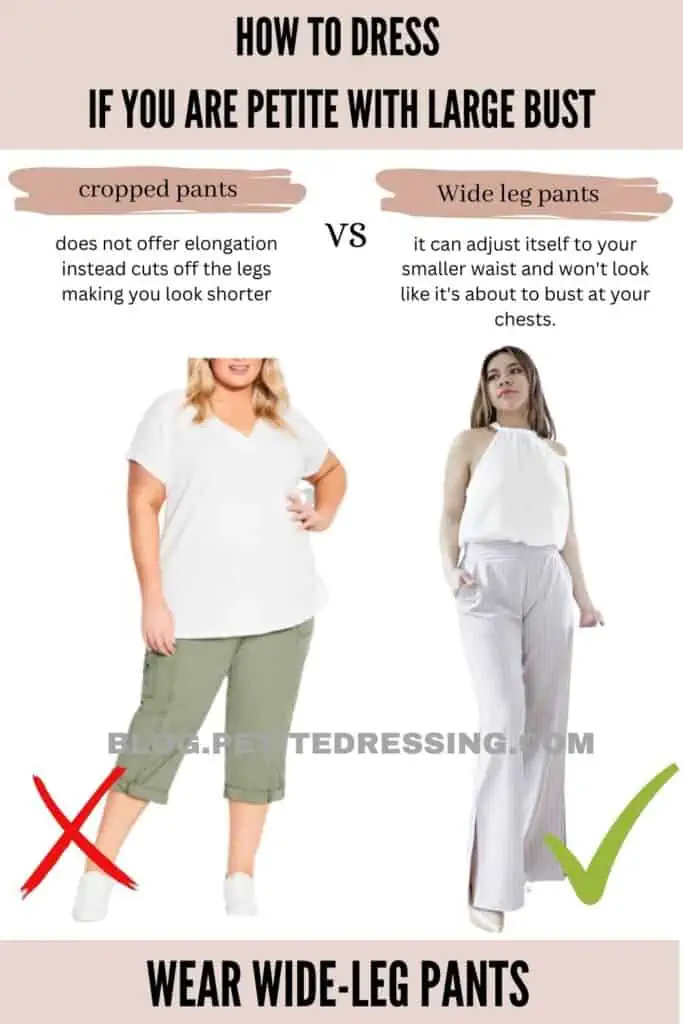 Simple chest design
If you are petite with big chests, you already are drawing people's attention to your chest area.
I don't think you need to hide anything, but simple designs in front of your bust probably serve you better and balance it out.
Here is petite blogger Allison Berger (5'2″) in our bustier design navy dress. The simple and clean-cut dress outlines her curves without drawing too much attention to the chest area.
Stay away from ruffles, bows, and other dimensional details that add volume to your breast area. If placed at the bust, these details may make you look top-heavy.
Also avoid accessories like brooches or statement necklaces that reach your chest, because they bring attention to wherever you wear them, which means your chests will become the center of focus.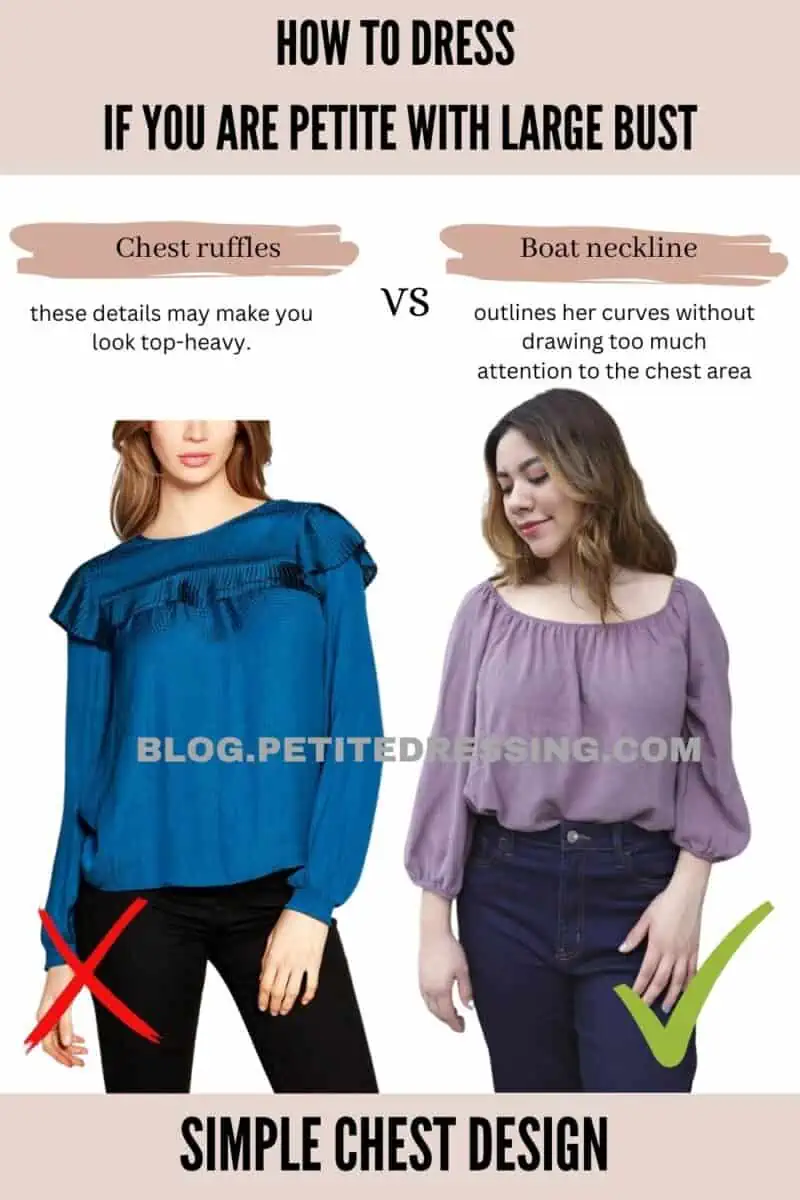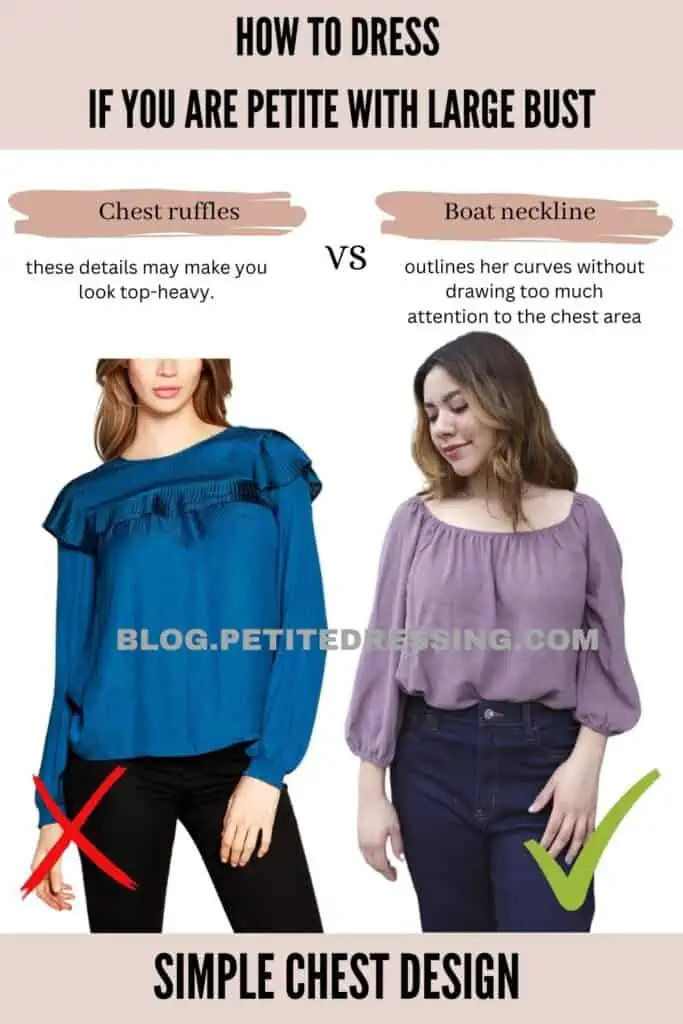 Wear empire waist selectively
A lot of women with big chests ask if Empire waist looks good on them.  The answer is it depends.
An empire waist dress is one with waistline placed above the natural waist, sometimes right below the bust.  For petites it sounds ideal because it raises the waistline up, so raises the eye higher on the body, which means your torso and legs suddenly seem much longer and you look taller.
However, this design also raises the focus to the bust level. if you do not want your chests to become the center of attention, then you want to be selective with empire waist dresses.
If the fabrics are billowy, it could make you look like you are trying to hide something under the dress. Or, it could make you look like a pregnant woman.
Look for an A-line shape with empire waist ,  ideally with a wider waistband to define your shapely curves and emphasize your waist.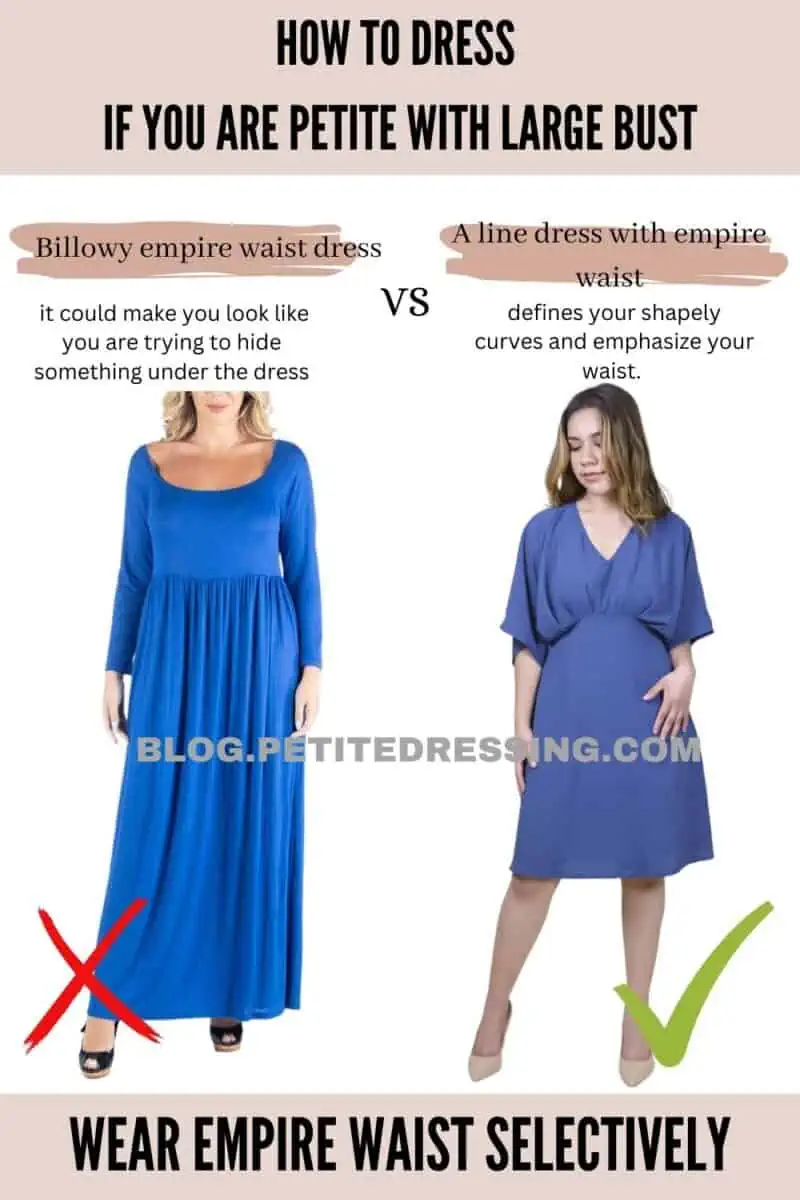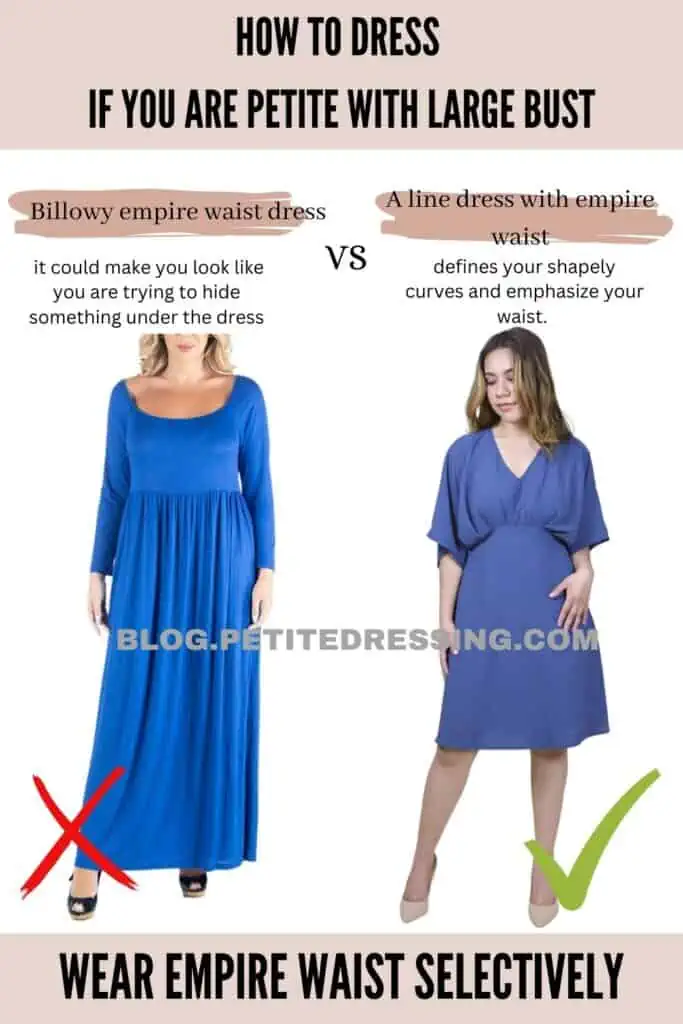 Be selective with crop tops
Generally speaking, crop-length tops can be one of the best options if you are petite.
But, if you have a larger bust, one thing you should realize is they are going to come up shorter on you.
So, keep that in mind when you are looking for cropped tops or jackets. You want to make sure you get the right length that is short enough to elongate your legs but still look tasteful and elegant.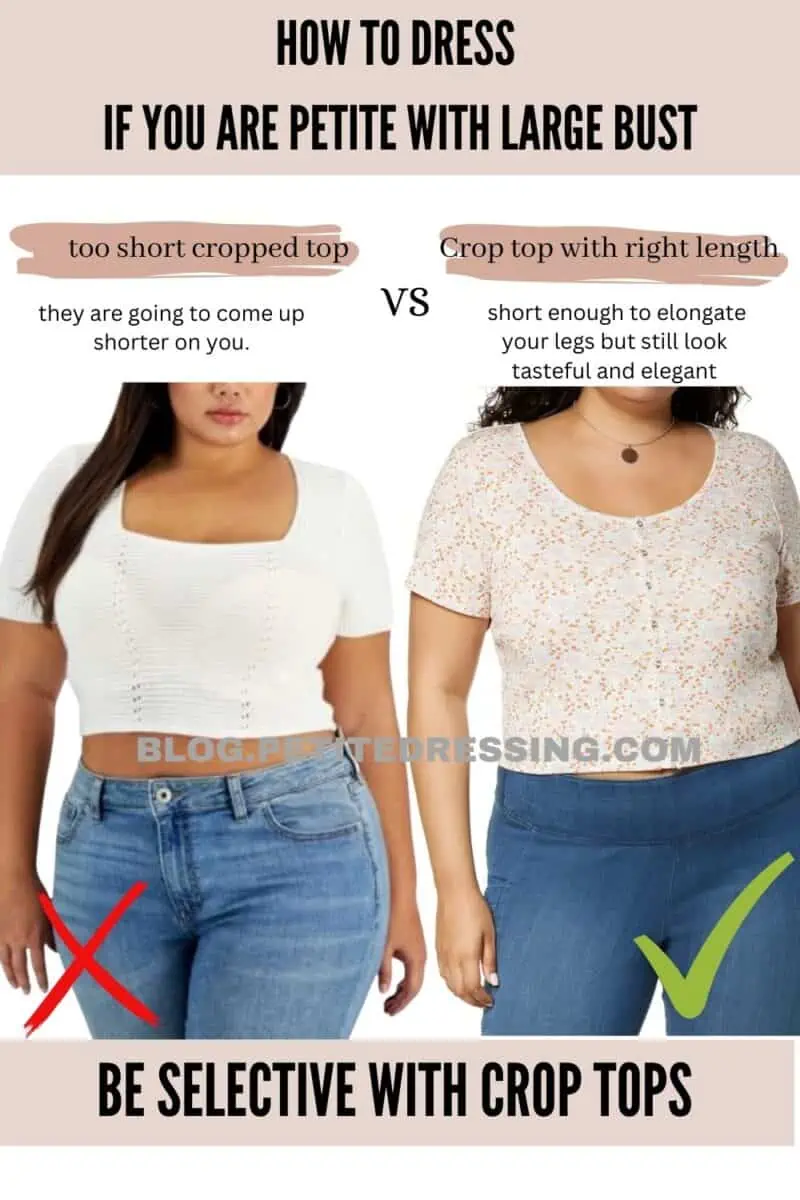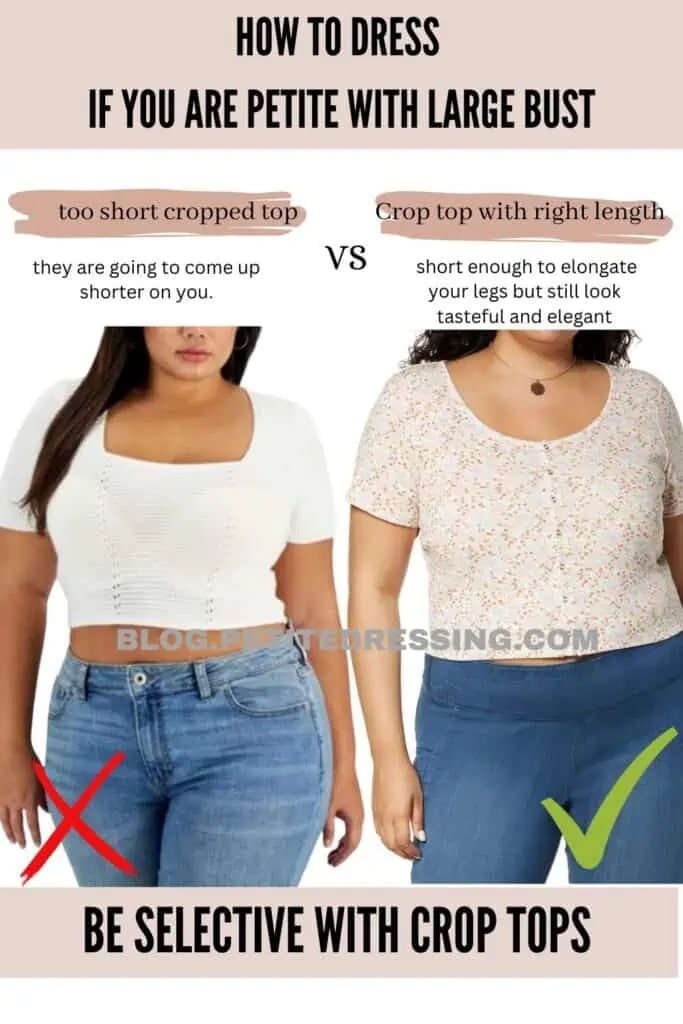 Dress monochromatically
Wearing monochromatic colors from head to toe creates a vertical column of colors. 
That doesn't necessarily mean you have to wear the same color top and bottom, but they should be from the same color scheme but different hues.
For instance, blue and navy, beige and yellow.
The key concept here is to create a column of colors vertically. That will draw eyes up and down and create the illusion of height.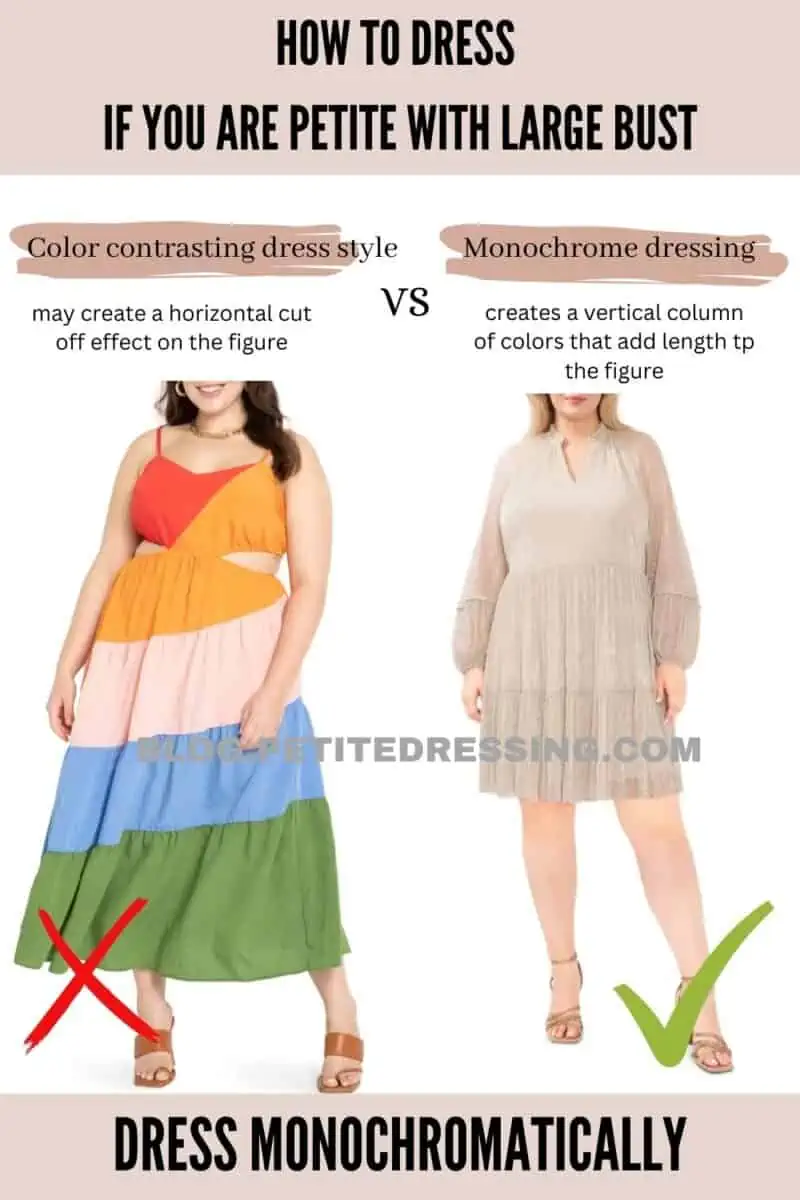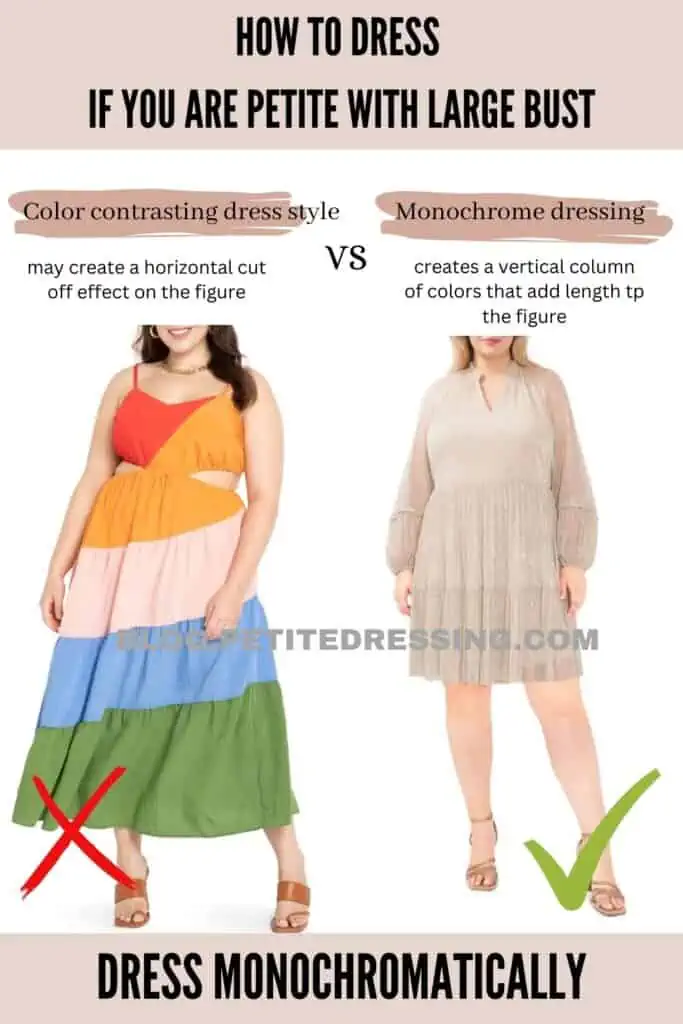 Wear maxi dresses
Don't be intimidated by maxi dresses just because they seem designed for tall girls. 
In fact, wearing maxi dresses can also make you look longer and taller. They are actually one of the best designs for petite girls with large bust because of the lengthening effect.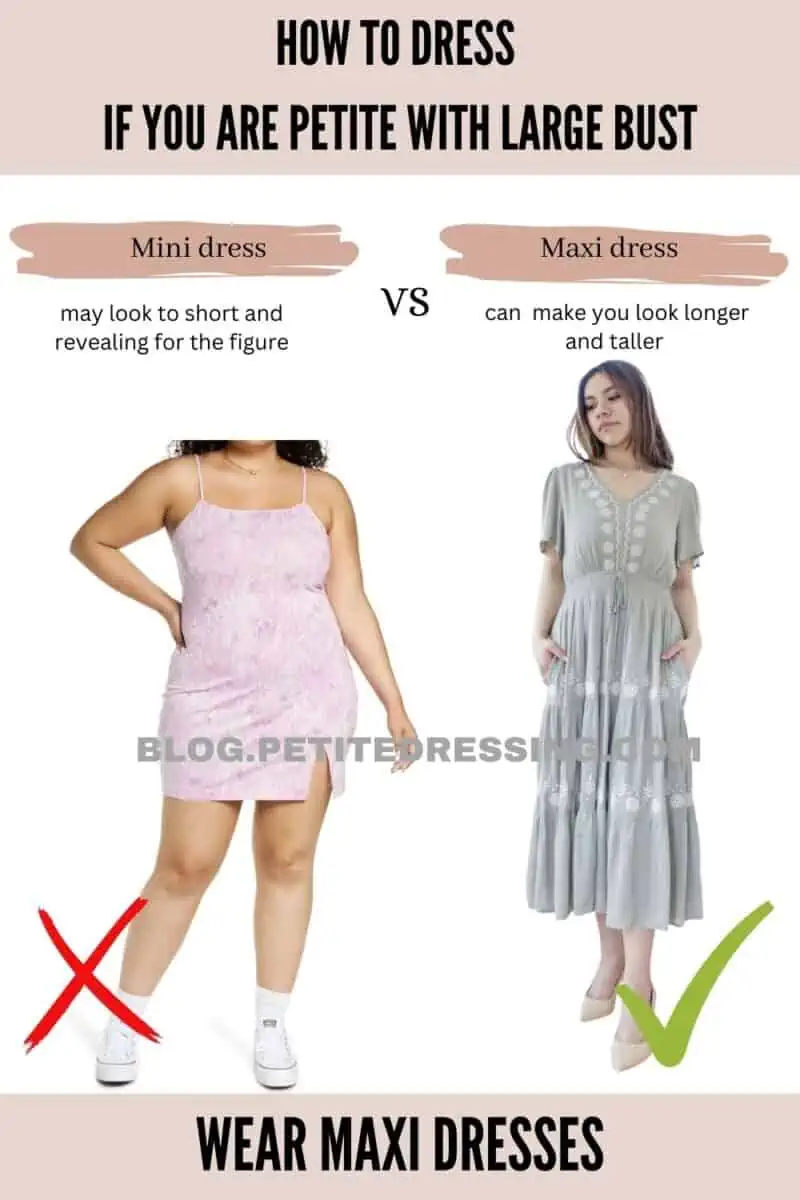 Heels are a must for petite girls, big chest or not. 
Match color your pants with shoes
This is one of my favorite styling tricks for petite women, whether or not you have a big bust.
When dressing a shorter girl with a bigger chest, a primary goal is to make you appear longer. Matching the colors of your shoes with your pants is one of the most important tips to elongate your legs.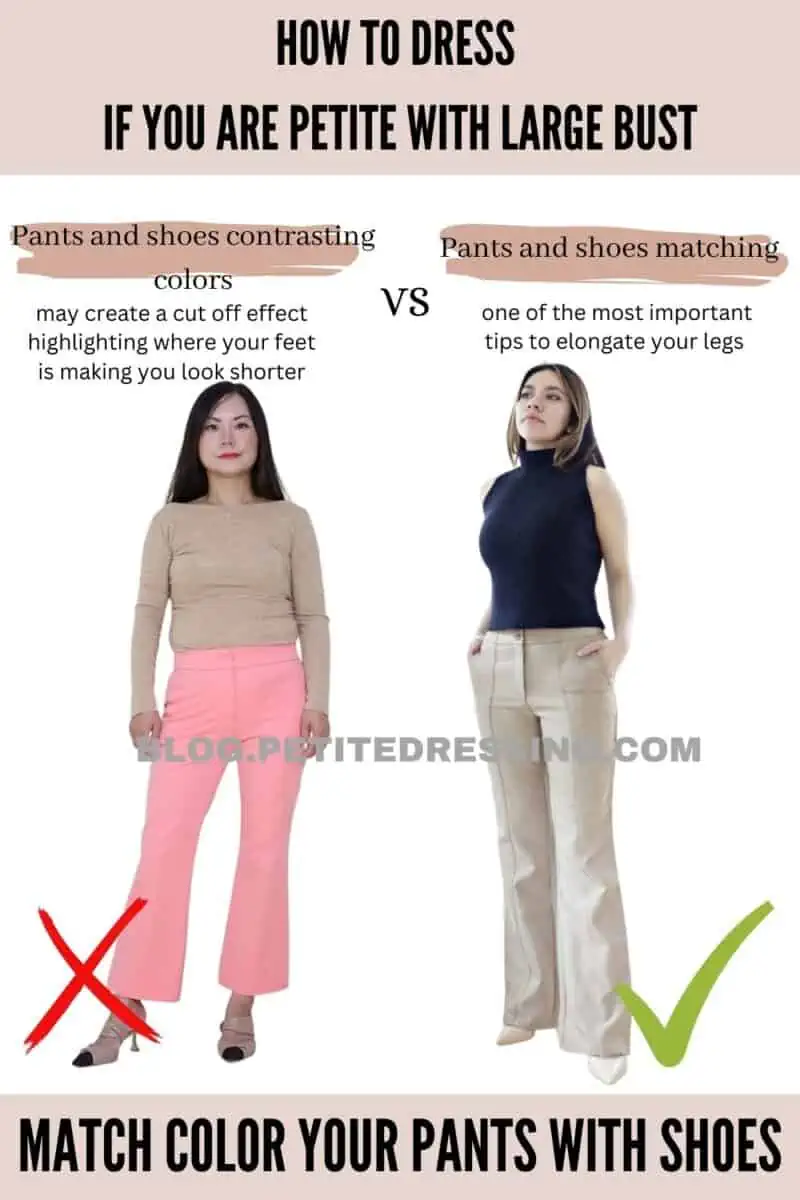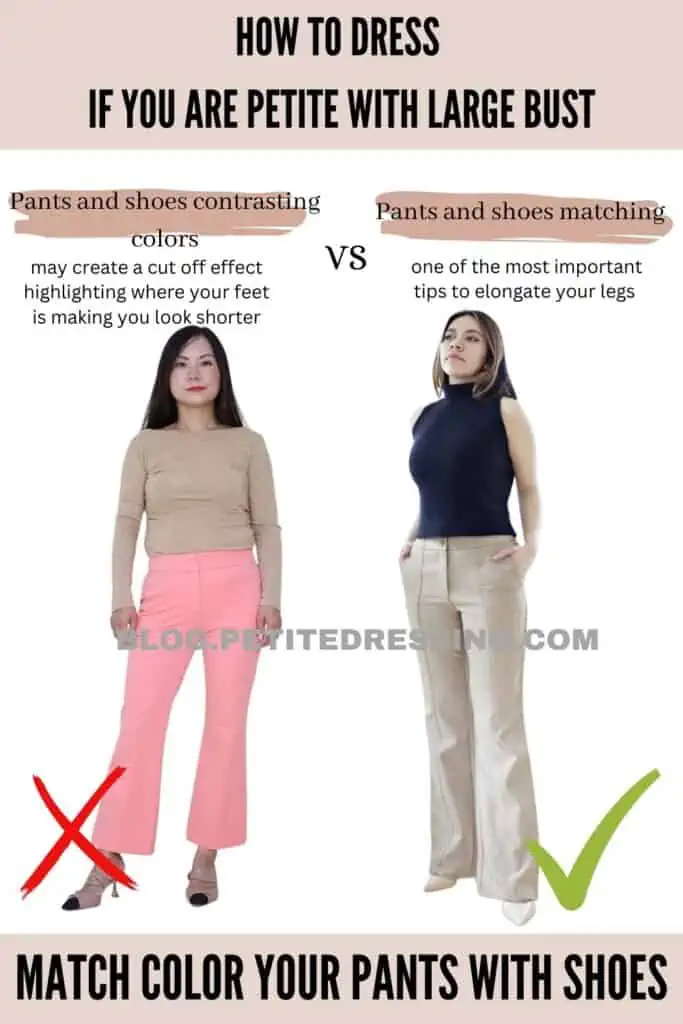 Wear nude shoes
If you wear a dress in spring or summer, pair it with nude-colored shoes to make your legs look longer.
This doesn't just apply to heels.
Any nude color shoes, including flats, can achieve the purpose of elongating your legs because they blend with the color of your skin, provided you wear them bare-legged.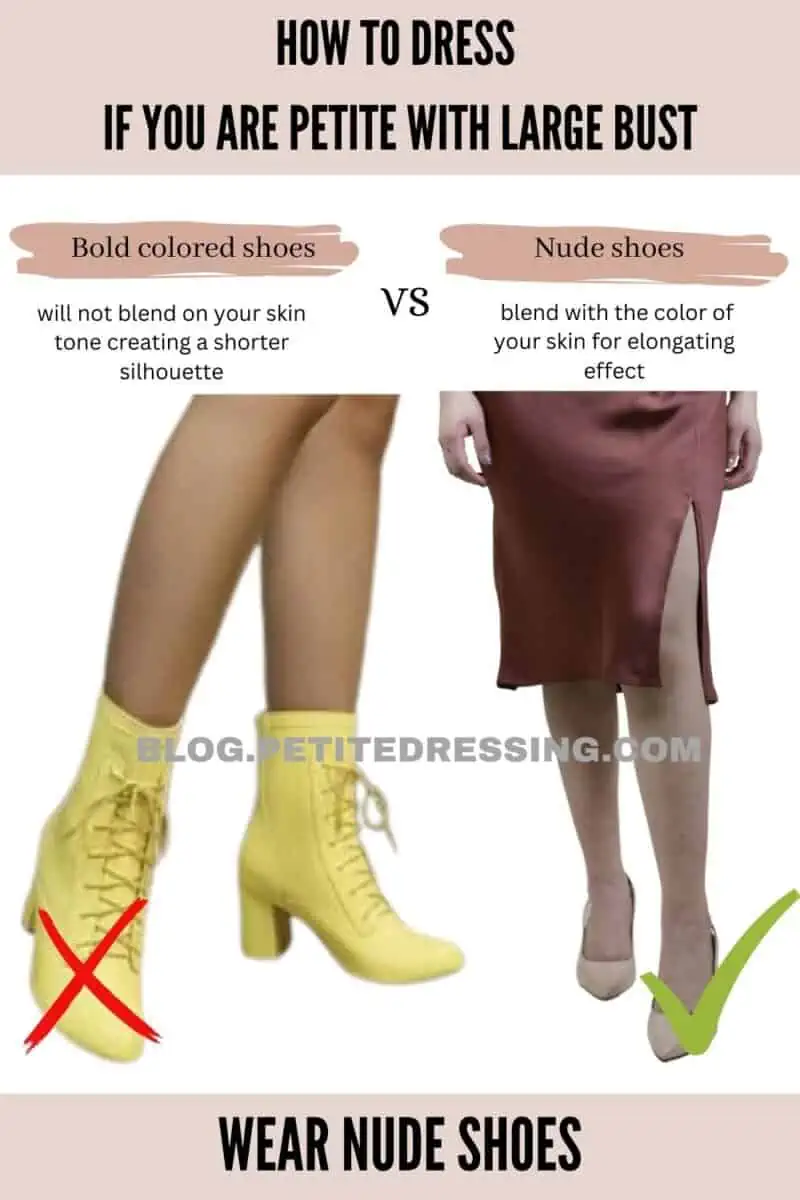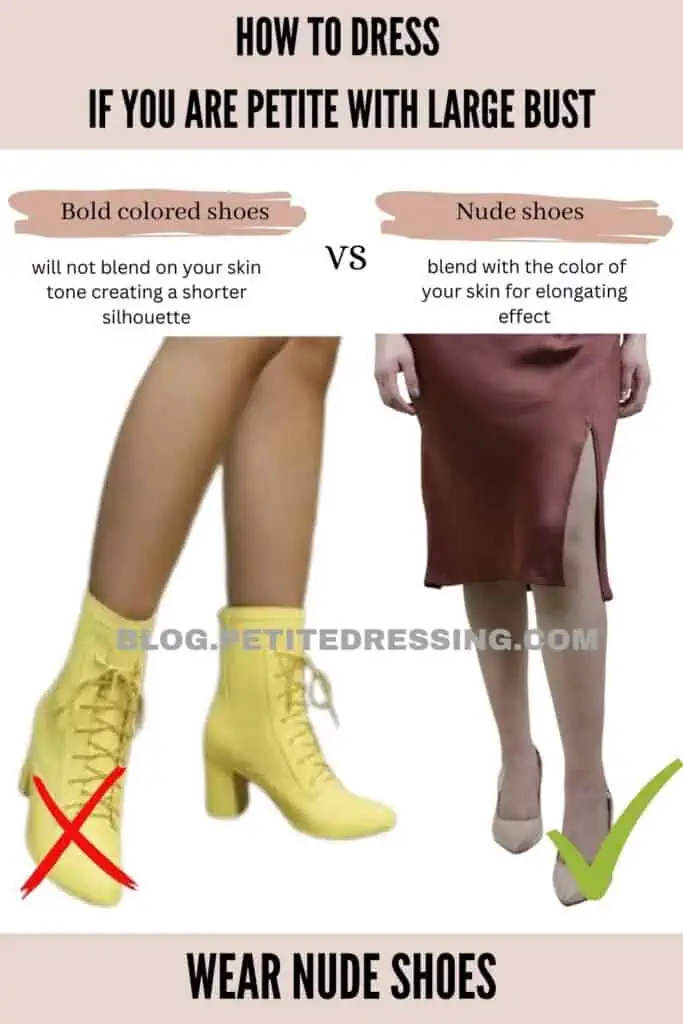 Wear black boots with black leggings
If you are wearing a dress in fall or winter,  wear black leggings or stockings with black boots will make you look taller.
Wear supportive bra
A supportive bra is a must have for you, before you consider that you should wear on top.
It goes without saying wearing a decent bra is critical for petite girls with larger chests.
Obviously, it will help you lift your bust, besides, iIt will give your upper half the right proportions.
The right bra can even make you look slimmer by pulling in the "side boobs" and push them forward.
These are my top picks of minimizer bra, because they are designed for women with big chest.
Tuck in your top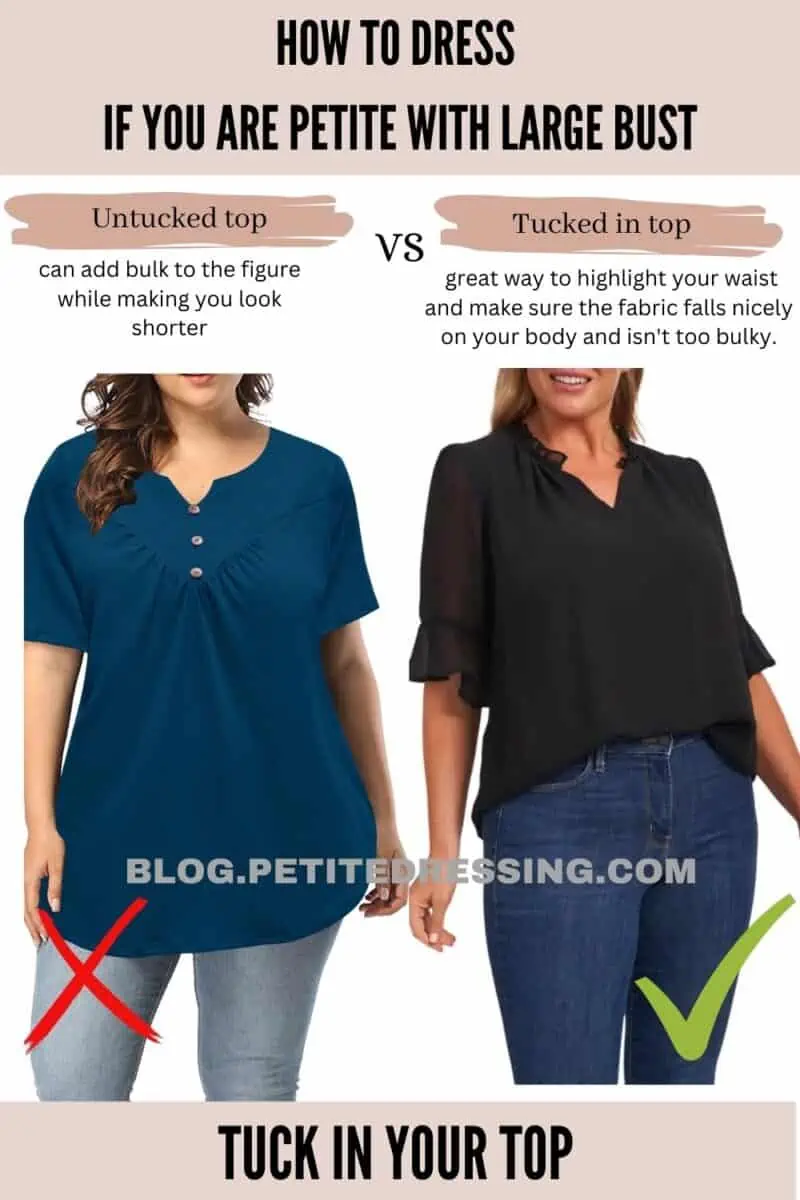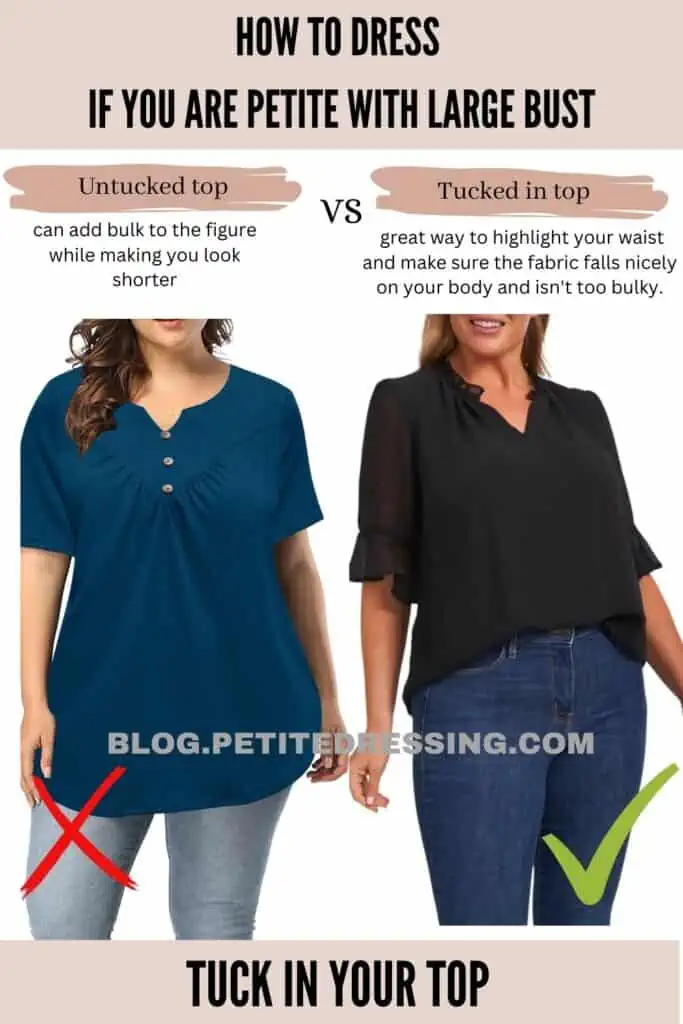 One of the most common complaints of girls with big breast is that shirts are not spacious enough in the front.  Therefore, many busty girls tend to purchase shirts one size bigger than the normal size, in order not to feel restricted in the chest area.
That sounds natural to me. I mean, who wants to feel restrained in the chest and can't move their arms around freely? But, going with a bigger size shirt could cause another common issue because of your height- if you are petite, the shirts tend to be too long for you.
Both can be resolved beautifully by learning the art of tucking in your shirts.
Petite girls typically have a shorter torso than taller girls, so you don't really want anything to do with bulkiness. Tucking in baggy shirts is a great way to highlight your waist and make sure the fabric falls nicely on your body and isn't too bulky.
Another plus of tucking in your shirt is it will section your body beautifully, creating the illusion of longer legs. On Petite Dressing blog, I have talked many times about how important proportion is for us short girls – it really is all that is for girls who want to look taller.
If you are wearing pants or jeans, the rule of thumb is to not hide your zipper.  By tucking in your shirt, you can create a beautiful balance of your top and bottom.
Avoid tube tops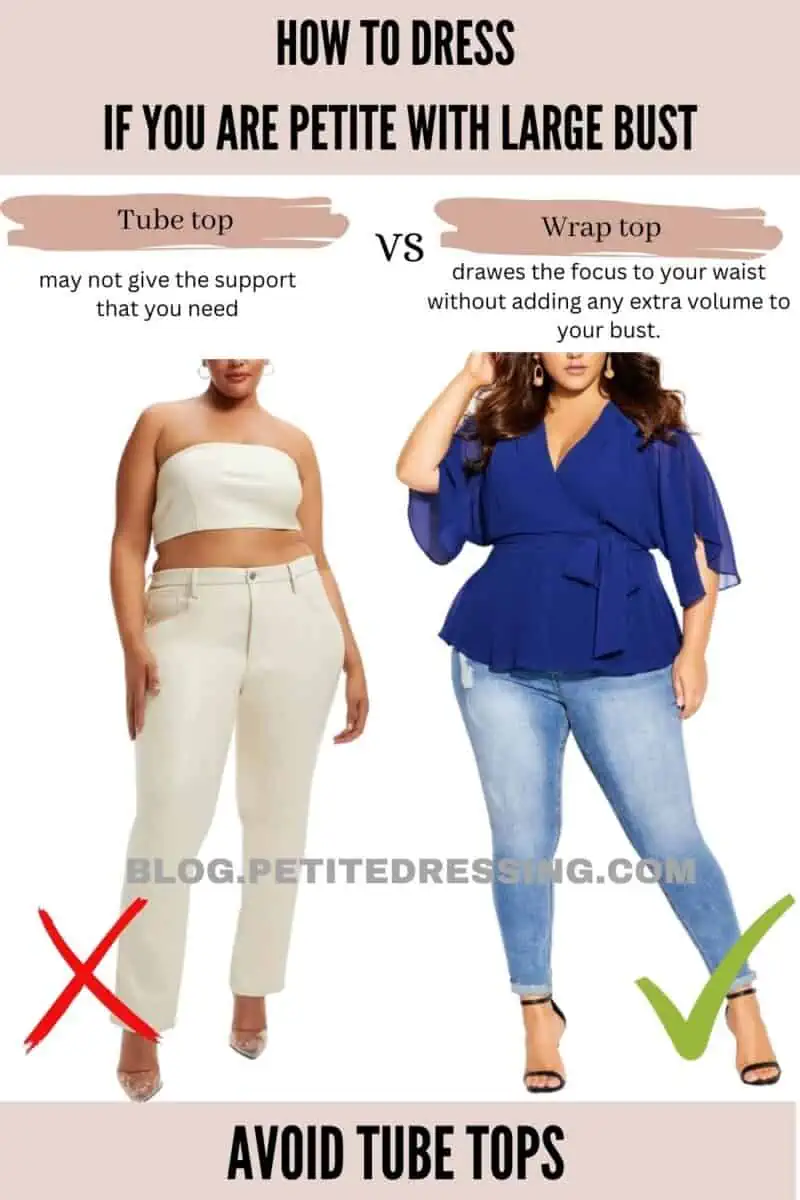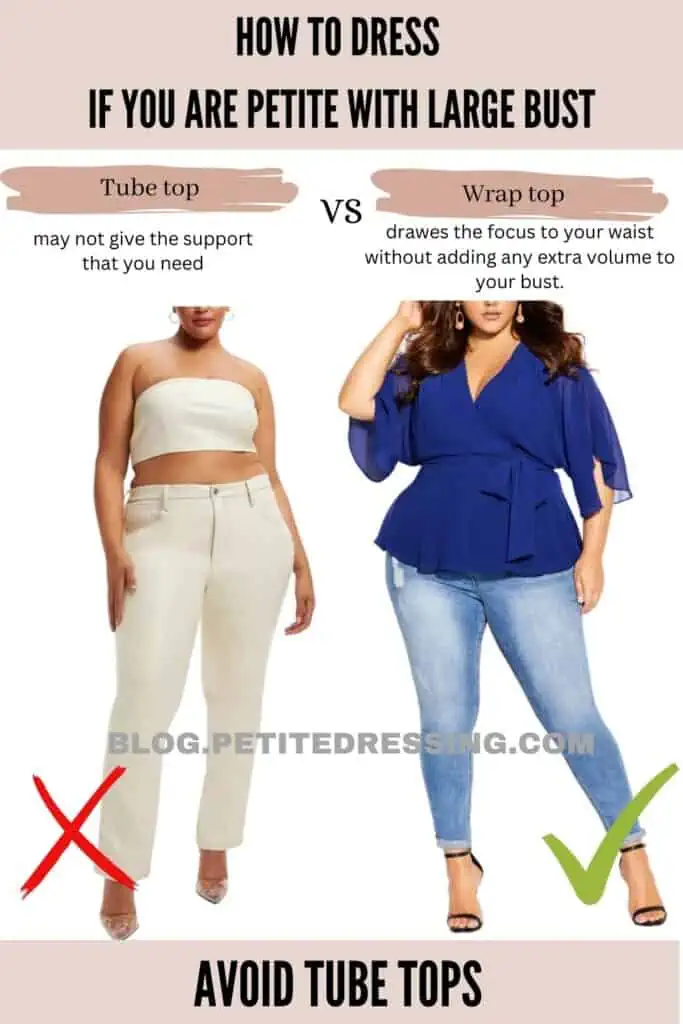 Girls without boobs an wear a tube top and look totally chic, but if you are a petite girl with large chest- the same outfit can look slutty on you.
So, skip the trend of those itsy-bitsy tiny tops and opt for something that looks classy and elegant on you.
Avoid high rise if you have a short torso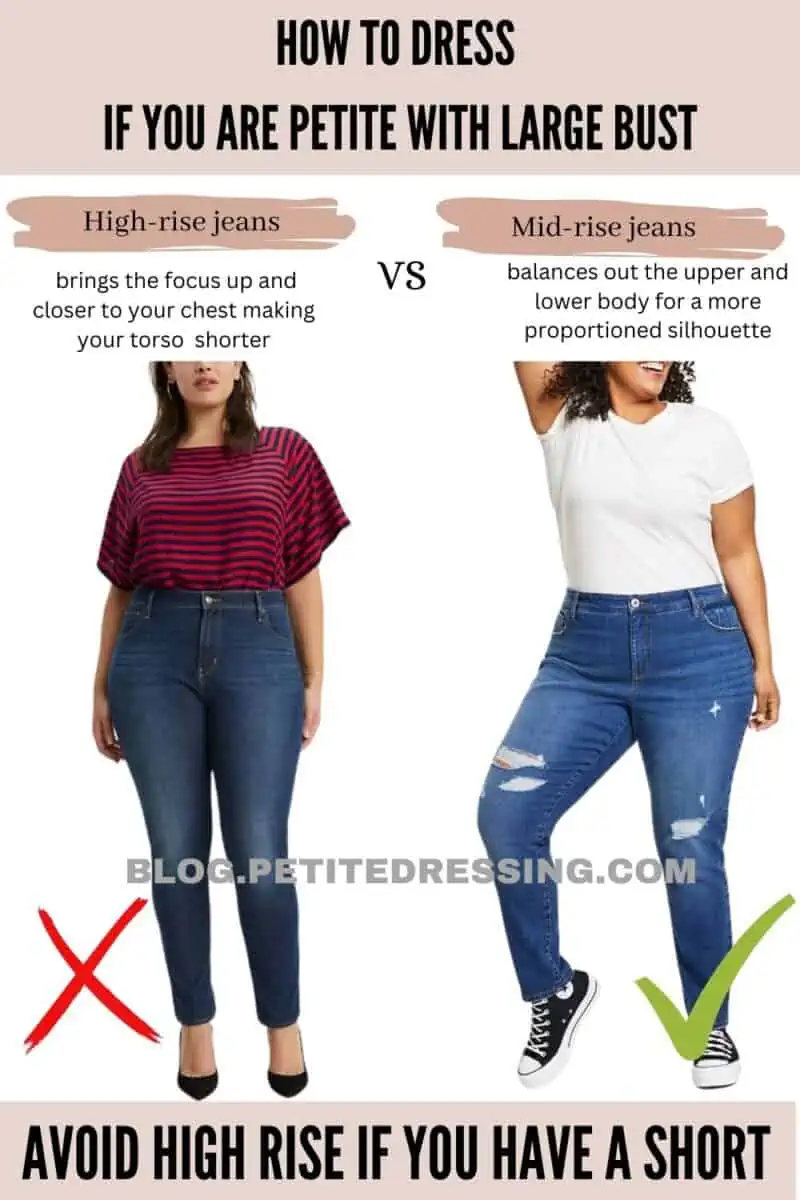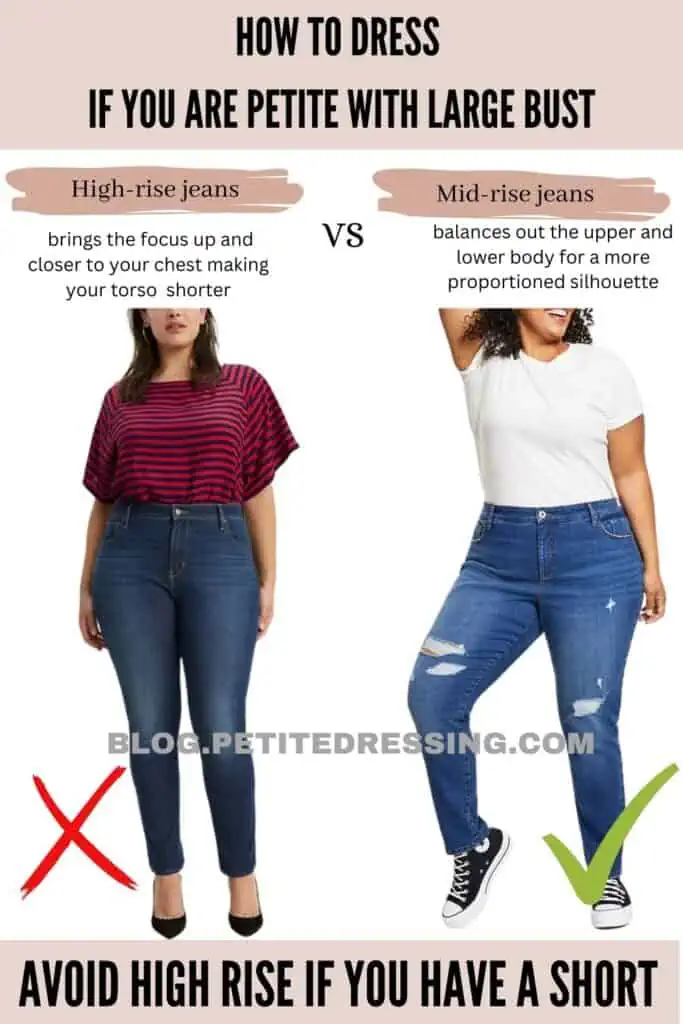 In general, we advise short girls to go with high rise pants or high-waisted jeans. 
The reason is they extend above your natural waistline and make your legs appear longer.
However, high rise also brings the focus up and closer to your chest.  So, if you are short and have big bust, high waisted pants could look like a disaster.
Avoid cheap fabrics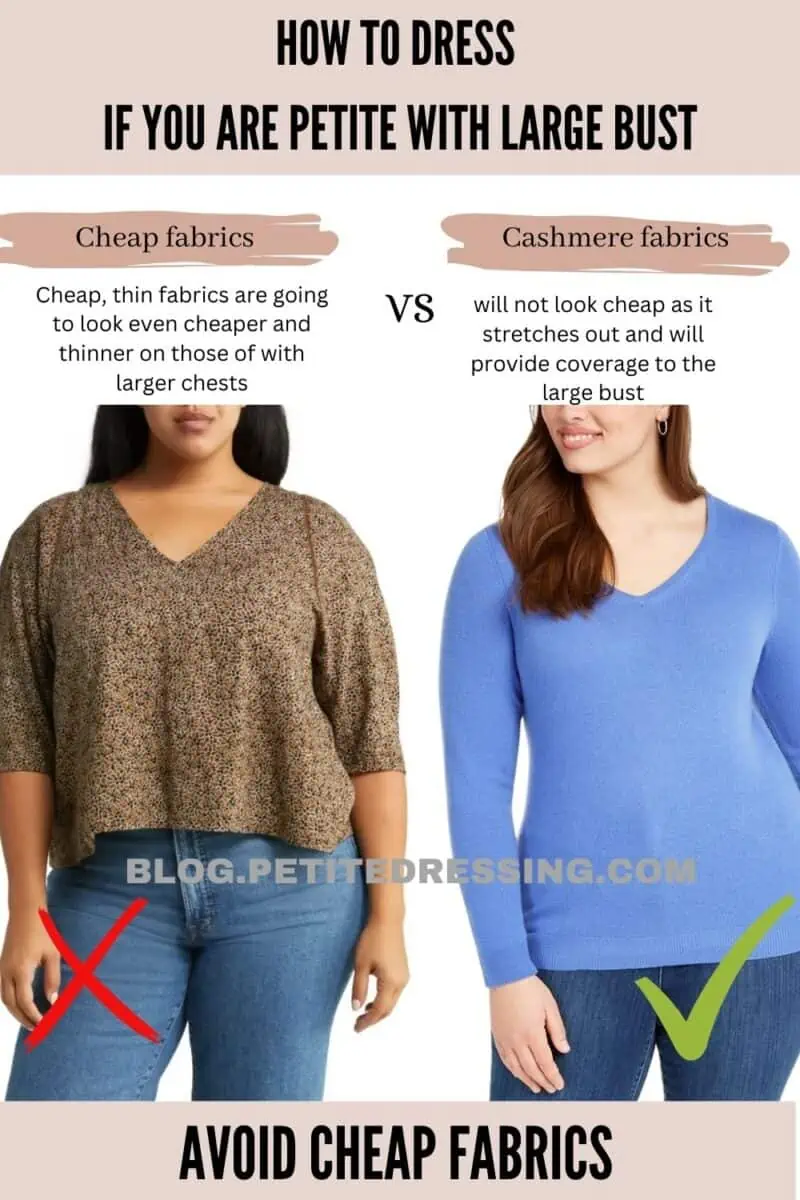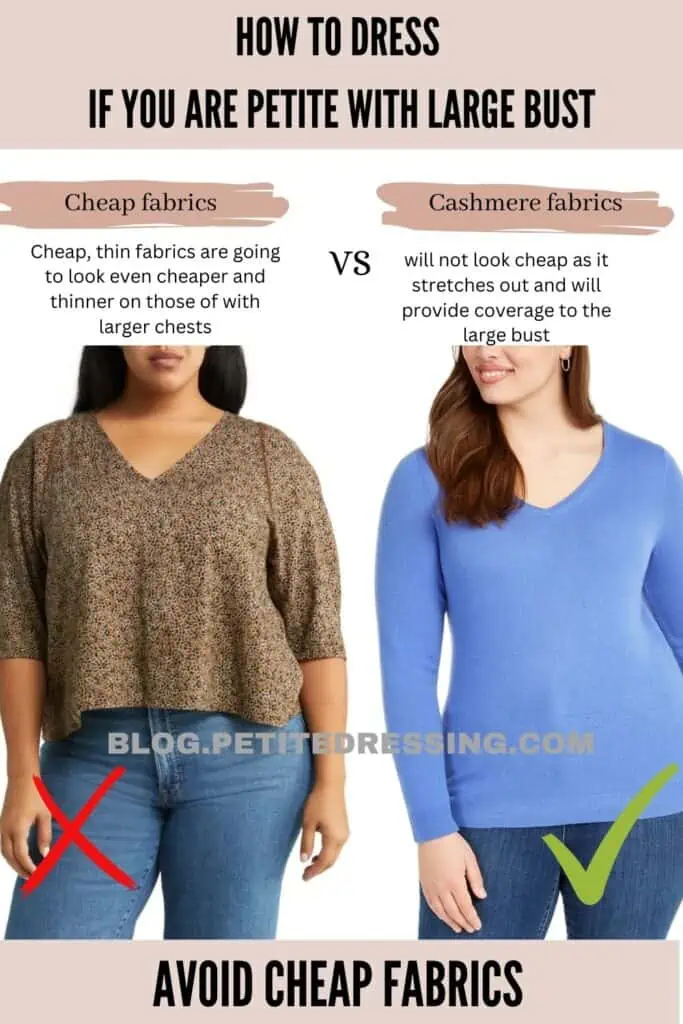 Skinny girls can get away with cheap clothes much better than curvy girls. What that means you might have to envy your best friend who just got a ton of bargains from H&M but there's nothing you can get from there.
I mentioned this earlier, and I know it sounds a bit unfair to girls with bigger chest.
Cheap, thin fabrics are going to look even cheaper and thinner on those of with larger chests since they stretch out over your breasts in a way that's less than flattering.
If you can, try and go for higher quality, especially when it comes to thin T-shirts or knits.