What is Kibbe Flamboyant Natural Body Type
Flamboyant natural is one of the original 13 Kibbe body types. Take the Kibbe test to find out your body type. The Kibbe types have three natural body types, soft natural, natural and flamboyant natural type.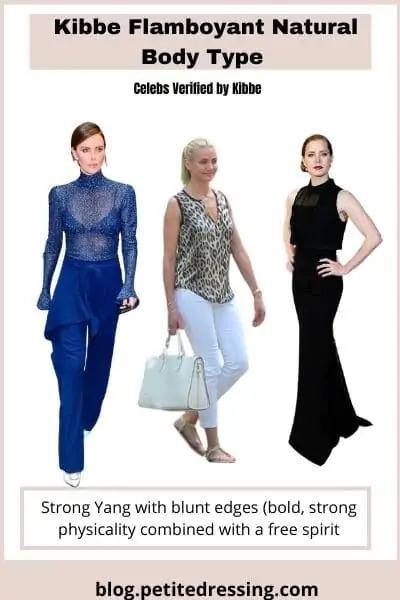 Height:
Moderate to very tall, usually 5 feet 5 inches and over.
Bone structure:
Large and angular with blunt edges. Broad and square bones. Wide shoulders. Long arms and legs. Large hands and feet (usually somewhat wide, but they may also be narrow, with long fingers and toes). Broad or prominent facial contours (nose, cheeks, jaw – blunt, not sharp).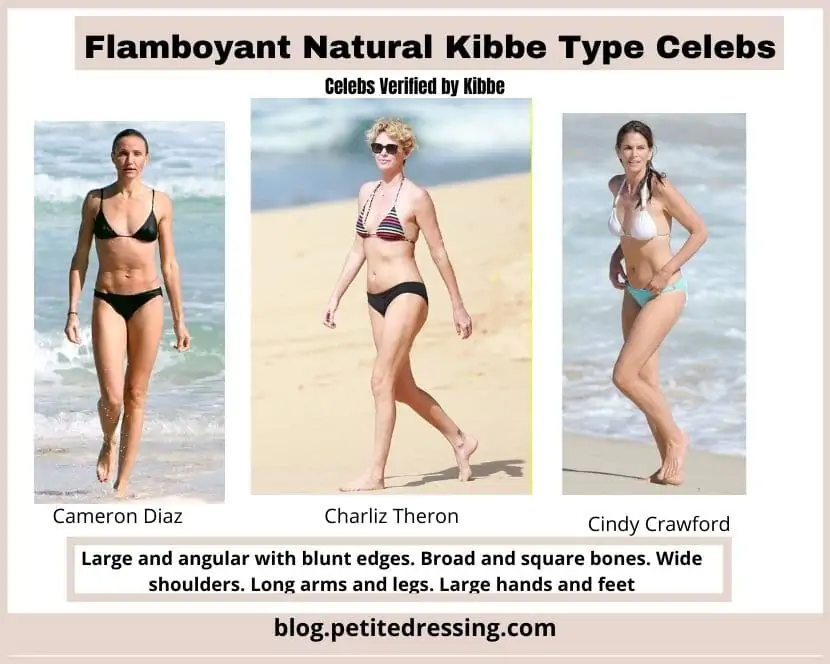 Body type:
Straight and angular (broad, not sharp). Arms and legs tend toward musculature. Bust and hips tend to be flat or straight (unless very overweight).
Facial features:
Broad, blunt and open. Eyes may be very large and open or very straight and small. Lips will be straight and slightly thin. Cheeks will usually be taut, unless overweight.
Hair:
Tends toward extreme textures: either very straight and fine, or very thick and coarsely wavy/curly.
Coloring:
Any coloring is possible (warm or cool, high-contrast or blended), although Flamboyant Naturals tend to have skin that either freckles or suntans quite easily.
If overweight:
Body tends to become square and stocky, and the face becomes fleshy and puffy. Extreme excess weight will collect primarily from the waist down.
A Flamboyant Natural will not
Have a voluptuous body type with a curvy bust and hip-line
Have an hourglass figure
Have delicate facial features with small or sharp bones
Have exotic facial features
Be extremely petite
Be symmetrical in boy type, bone structure or facial features
Have a sharp or extremely narrow bone structure
Character of the Kibbe Natural
Strong, straight bone structure that is elongated, wide, or broad; body type tends to muscular width or sinewy length; facial bones are strong and prominent but widely blunt or asymmetrical (not narrow and sharp); facial features are strong but narrow (not round and lush).
IMPORTANT: this post is primarily based on the original book of "David Kibbe's Metamorphosis" published in 1987. Visit David's website here.
You can also take this body type test and find out if your body shape is hourglass, pear, apple, rectangle, or inverted triangle.
Kibbe Flamboyant Natural Body Type Celebrities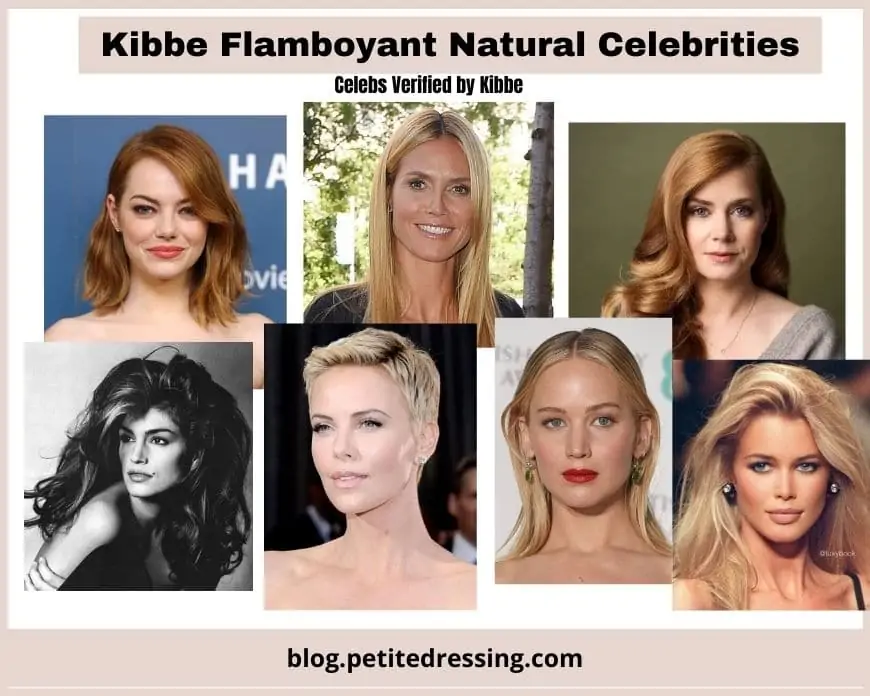 Kibbe's prime Natural celebrity-Shirley MacLaine
These are the celebrities with Natural Kibbe body type either mentioned in the Kibbe body type book or verified by Kibbe himself later on.
Shirley MacLaine
Lynn Redgrave
Colleen Dewhurst
Eve Arden
Carly Simon
Lucie Arnaz
Linda Evans
Princess Diana
Farrah Fawcett
How to Dress Flamboyant Kibbe Natural Type
Best clothing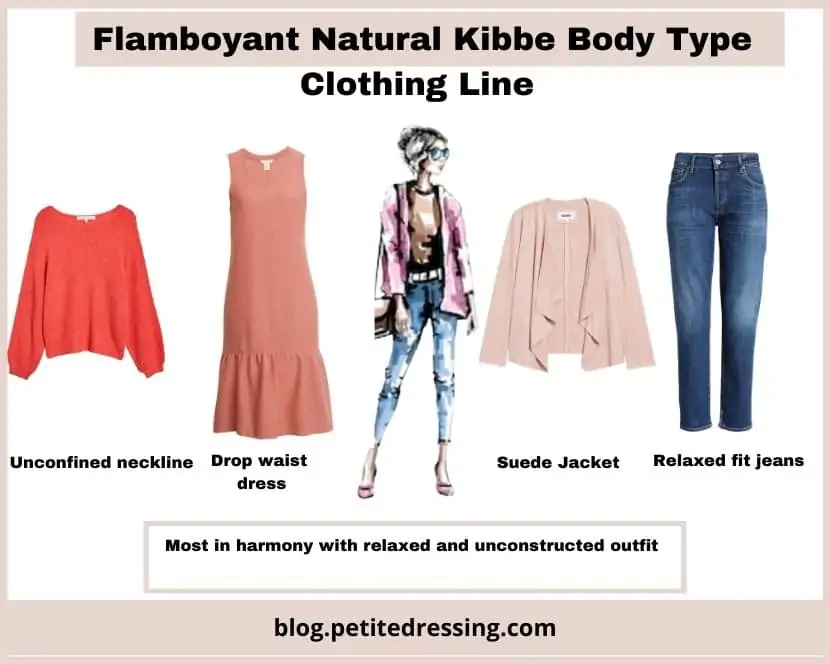 Your position on the Yin/Yang scale is: strong Yang with blunt edges (not sharp). Physically, you are broad or long, and angular. Your features are prominent and strong, without being sharp or severe. Innately, you are bold, charismatic, innovative, creative, and impulsive, totally devoted to action. You are also open, warm, friendly, and not at all reserved– very approachable.
You will definitely want to read both the Natural and Dramatic sections, and you will find yourself identifying at times with elements of each. However, please remember, you are not an equal combination of the two categories.
Always bear in mind that you are a Natural first and foremost! Your Dramatic undercurrent should always be used as an afterthought to further spice-up and add bold strokes to your appearance. It is not a substitution. It is an addition to express that extra bit of Yang present in your being.
To express your strong Yang with blunt edges total essence, we want to develop an appearance that could best be described as : Free Spirit Chic.
Your silhouette is boldly unconstructed, composed of oversized or irregular geometric shapes with soft edges (not sharp). Lines are relaxed and sweeping, always executed in bold strokes, with an emphasis on the strongly vertical and strongly horizontal. Stiff tailoring and severe lines should be left by the wayside, for they will be extremely cold and stark on you, totally out of keeping with your warmth and openness. They will also make you appear awkward and gawky, for you have too much broadness to be successfully encompassed by sleek and narrow clothing.
Shoes and bags, coming from the Yang side, should generally be angular. However, once again we want to avoid sharp edges and keep the detail minimal. Any unstructured shapes will always work best for you.
This is the best way for the world to see you at your charismatic best. We always want to know that you are a risk-taker and an adventurer, someone who will always have an original approach to anything you encounter in life.
Your stark quality becomes evident when you clearly express your bold and daring nature as well as your warm and open personality in your appearance. When you dare to express the full range of your strength and flexibility, you are utterly approachable and perfectly sophisticated at the same time!
Your passion excites us, your openness attracts us, and your powerful charisma inspires us. Become comfortable with these qualities to the point where they effortlessly flow from you. Express them in your appearance with delight!
Then, we are the most captive audience you could possibly receive. We are absolutely dying to know "which mountain you'll be moving next"– and believe me, once your free spirit is clearly visible, we'll be lining up to help you move it!
Shape
Bold geometrics with rounded edges. Oversized asymmetrics with rounded edges. Rectangles, oblongs, and irregular shapes.
Avoid: Sharp-edged geometrics. Ornate and intricate shapes. Symmetrical shapes.

Line and Silhouette
Unconstructed silhouettes. Bold, sweeping lines –elongated and straight. Relaxed, unstructured outlines. Strong vertical and horizontal lines (T-shaped).
Avoid: Sharp, severe, or still silhouettes. Hourglass silhouettes. Symmetrical silhouettes. Sharply straight lines. Intricate, delicate lines.
Fabrics
Texture in all weights, from very light to very heavy, is the most exciting way to express yourself through fabric. A rough surface is always preferable to a flat surface. Very shiny fabrics are excellent for evening, if the weight is kept to the heavy side (stiff satins, brocades, metallics, etc). Daytime sheen should be in texture only (raw silk, shantung). All leathers, suedes, and plush fabrics are excellent. Draped fabrics must be ultrathick and heavy. Knits should be thick, rough, bulky, heavy, or ultraplush. Skinny and ribbed knits are possible in oversized garments. Loosely woven fabrics.
Avoid: Ultrasheer, flimsy or clingy fabrics. Stiff, flat fabrics. Tightly woven fabrics. Delicate, shiny fabrics.
Detail
Detail should be plain and simple. Nothing fussy or overdone would be in keeping with your Natural sensibilities. Loose and uncluttered necklines (boat necks, large cowls, deep V's, etc.) and simple lapels, cuffs, and hemlines are the foundation of your look. Shoulders will always be broad, although here again they should not be sharp.

Detail should be bold, oversized, irregular, asymmetric, and relaxed. Shoulders should always be broad and extended, but not particularly sharp. Necklines should be loose and open, always unconfined (boatnecks, camisoles, simple slashes, oversized cowls, open notched collars, etc.).
Waist should be elongated. A dropped waist does this best, although a "bloused-over" effect at the waist is also possible. Be very careful with waist emphasis. It is rarely helpful to you, even if your waist is small, because it destroys the strong, vertical line that is the core of your silhouette. Gathers, folds, sashes, etc., should be ultra deep and long–asymmetrical in shape, and low on the body–preferably from the hips down.
Sleeves should be simple and straight, or very full and sweeping. They should always be unrestrictive to movement. Pleats should be soft, low, and deep (inverted or kick-style, or stitched down through the midsection). Trim should be bold, oversized, and asymmetrical or clean and minimal.
Avoid: Sharp, tailored detail. Severe, geometric detail. Small, symmetrical detail. Ornate, intricate detail. Animated, "cute" detail (perky and crisp).
Separates
are extremely exciting on you and should make up the bulk of your wardrobe. A mix-and-match effect is excellent, but be careful always to maintain an elongated vertical line with strong shoulders as the basis of your ensemble. Artfully mixing textures is especially effective.
Jackets
should be long, unconstructed and loose. Relaxed cuts with broad padded shoulders are best. Length should be from top of the thigh down (never shorter). Simple oversized detail is best: large lapels or no lapels, big roomy pockets, easy double-breasted styles (worn open).
Avoid: Severely tailored jackets. Symmetrically tailored jackets. Flouncy jackets. Cropped, fitted jackets.
Skirts
Skirts should be long and straight but not severe. Oversized and full skirts with deep folds are possible, as long as they are extreme, wide in shape, and worn with big tops. Short straight skirts are fun and funky – again, worn with oversized tops. Slits, pockets, kick pleats, buttons, plackets, etc, are good, but any draping or shirring should be kept low and loose (from the hips down) and no detail should ever inhibit mobility. Hemlines are longish on straight skirts (except for funky minis, etc), and should fall at the top of the calf or longer. Hemslines on full skirts are uneven and should be very long (bottom of the calf is the minimum length).

Avoid: Long, pencil-slim styles. Short symmetrical styles. Flouncy styles. Smooth, flared styles.
Pants
Pants should be roomy and full. Man-tailored styles that are slightly wide and relaxed in construction. Deep pleats, full pockets, and wide, soft cuffs are excellent detail, as are pocket-flaps and plackets. Satiny evening pants that are wide and full are also excellent.

Avoid: Sharply tailored and fitted pants. Overly draped pants with tapered legs.
Blouses
Blouses should be roomy and full with simple detail and relaxed construction. Wide and horizontal cuts with clean necklines that are unrestricted are best. Camisoles are very useful under jackets.

Avoid: Severely tailored blouses. Overly fitted blouses. Overly ornate blouses with intricate or fussy detail. Blouses with high, stiff or constricted necklines.
Sweaters
Sweaters should be long, roomy, and boldly cut. Thick, heavy, rough, or ultraplush knits are best. Longhaired or shaggy knits are also good. Patterns should be bold and oversized. Skinny knits should be extremely oversized. All sweaters should have shoulder pads.

Avoid: Lightweight, clingy knits. Fluffy knits. Cropped sweaters. Symmetrical, fitted styles such as crew-necked shetlands.
Dresses
Dresses should be bold and sweeping. Broad shoulders and an elongated waist (usually dropped) are best. They are relaxed in outline and shape, and may be either very narrow and slinky or wide and full cut. Shirring, draping, applique, etc., should be kept low and executed in bold, abstract patterns.
Avoid: Flouncy dresses with excess detail and ornate, fussy trim. Severely tailored dresses. Overly fitted dresses with crisp or animated detail.
Color
our use of color should be bold and vivid, with rich, vibrant tones the most exciting intensities for you. Wild and unusual color combinations express your free spirit most effectively, although rich neutrals in those lush textures you wear so well are also nice, particularly if you use vivid accents.
Monochromatic schemes tend to be a little dull on you, although you may want to go with one major color that is accentuated by another bright shade. Avoid: Multicolored splashes (too perky for you). Monochromatic schemes without vivid accessories. Dull colors unless they are executed in rich textures.
PRINTS should be bold and vivid, expressed in abstract geometrics, irregular shapes, or soft-edge asymmetrics. They should also have a blended edge as opposed to a sharp edge. Color combinations should be dramatically vivid, but the colors should fade into each other instead of being crisply defined. Wild animal prints, tropical prints, and any highly original motif that is both sophisticated and earthy, with a touch of wit, may all be used with ease.

Avoid: Sharp geometrics. Small symmetrical prints. Watercolor florals. Small, animated prints. Intricate or ornate prints.
Accessories
Your accessories, however, should be extremely bold. Here is where your Dramatic undercurrent gets to have free reign! Oversized and exotic necklaces, earrings, wrist cuffs, and the like, are stunning on you. Your wild passion is especially well expressed by striking ethnic pieces, which are considered works of art. The only rule is that the shapes are always chunky– geometrics that have soft edges or are irregularly shaped. Extremely large costume jewelry that is offbeat and funky is also a nice way of expressing your raucous sense of humor.
Shoes
SHOES: Shoes tailored and angular, but have soft edges instead of sharp ones. Flats can be clean and simple or man-tailored and slightly funky. Evening sandals should be very bare.
Avoid: Overly delicate, strappy, and intricate shoes with trim. Plain pumps.
BAGS: Should be large and unconstructed or large and cleanly tailored. Metallic box-shaped bags are excellent for evening. briefcases should be moderate width to elegantly narrow, and have firm construction.
BELTS: Should be original and unique: sashes, ties, metallics, ropes, etc. Wide belts with extremely bold buckles (hand carved, asymmetric, etc) are possible.
Avoid: Small symmetrical belts. Antique, intricate belts.
HATS: Should be Oversized, bold, and unconstructed. Fur hats should be large and shaggy.
Avoid: Severe, man tailored styles. Small ornate styles. Crisp, perky hats.
HOSIERY: A flesh toned stocking is your best bet for daytime, suited looks. Colored stockings are funky on you and give a wild, free, casual effect. Ribbed stockings , all textures, and vivid opaque colors are all excellent for fun. To retain your strong vertical silhouette, be sure to pick up the stocking color elsewhere in your outfit and accesories when you use the "bright leg" look. Dark, sheer stockings aer sexy in the evening on you, but they can seem overpowering during the day. Likewise, a light leg where the stocking and shoe are one or two shades lighter than the skirt can be elegant in a very special outfit (very "garden party") but it can be too fussy for everyday wear, as it will be too matronly on you!

Jewelry
JEWELRY: Your jewelry is one of the most important elements of your entire look. It shows your sophistication as well as giving you the chance to express your creativity. Bold, heavy pieces are essential to you. Chunky shapes that are thick, rough, or asymmetric are always necessary. "Wearable art" that looks as if you picked it up at an expensive gallery, or on a journey overseases, is excellent. (Anthing that seems as though it was designed by an artists, or creatively crafted, falls into this category as well.)
Your version of convervative jewelry is thick and chunky metal in irregular shapes or shoft-edged geometrics. Your version of glamourous jewelry is wildly executed "faux jewel" pieces–very sophiticated works of art! Funky costume jewelry is fun for you, but it's for your casual look. Just remember to keep it big and bold.
Avoid: Delicate, antique jewelry. Ornate, intricate jewelry. sharp-edged geometrics. Small, symmetrical pieces. "No jewelry" of minimal looks.
Evening Wear
Shoulder emphasis. Easy necklines. Bold prints. Glitzy fabric. Smooth fabric. Slightly plush fabric. Ultradrapable fabric (matte jersey, etc.) Either minimal detail or bold, broad detail. Broad-shoulder gowns with dropped waists. Widely cut, unconstructed gowns of draped fabric (matte jersey, silk, etc.) Evening pants ensembles (long, bed jackets with wide-legged satin pajama pants, etc.) Bare gowns with bold jewelry. Evening sarongs. Evening caftans. Evening sweater dresses with glitz.
Makeup for Kibbe Natural Type
Makeup should be strongly contoured in shape, emphasizing strong eyes, strong lips, strong cheekbones, but not overly colorful. An exotic eye makeup is a nice touch, but avoid colors that are too artificial-looking and excess glitz. On the other hand, makeup that is too minimal in effect is very unsophisticated on you. Your head-to-toe look– bold and sweeping, uncluttered with exotic accessories– requires the extra effort here to be completed in the most polished and sophisticated manner.
Your makeup is the finishing touch for your look, providing the final bit of sophistication and the slightly exotic air for which you are famous. Emphasize your strong bone structure and features with strongly accented cheekbones and a deep or bright lipstick. Exotic eyes with a touch of color (even a little sheer frost) will bring in the hint of drama that spells elegance on you. In the evening, you can go much more heavily into opaque frosts if you wish. Also, always keep your lips sheer and glossy, even though you are using a strong color for the base. Blot, then coat with heavy gloss.

Avoid: Overly ornate makeup (too unsophisticated on you). Overly pastel makeup–especially a too-light lipcolor (too matronly on you). Overly smoky makeup (too stark on you). Neutrals, without a hint of colorful makeup (too dull and cold on you). No makeup or minimal effect (too tiring and aging on you).
Hair for Kibbe Natural Type
Hair Style
HAIR should be loose, relaxed and free. A tousled effect is best, so layering is always called for. If your hair is ultrafine, thin, and wispy, you look best with a shortish cut that is layered around the face to create the illusion of volume. The outline is geometric, but the edges are softened by the layering. If your hair is thick, you can opt for a wilder, "lion's mane" effect if you wish, but layering is still important.
Avoid: All severe geometrics. Blunt-edged symmetrical cuts. Boyishly cropped cuts. Overly ornate, teased or coiffed hair. Smooth sleek styles.
Your hairstyle should combine high-style sophistication with tousled freedom. Layering is always necessary, which provides the freshness and avoids a sharp outline. The overall shape of the cut is geometric, but it must never be hard-edged or severe! Asymmetry is possible, but an overly stylized approach will seem very artificial and phony on you– stuffy is another way of putting it! Depending on the texture of your hair, it can be either long or short.
If your hair is very fine and wispy (which may have come from the extra yang you inherited), a short cut that is layered off the face is best. If your hair is thick and full, by all means go for the "lion's mane" look if you have the courage!
One word of caution: If your hair is of the ultrathin variety, don't try to make it appear thicker with perms and waves. They'll only give you a scraggly look. Far better to layer it around the face in the shorter cut, which gives more of an illusion of volume.
Hair Color
Your haircolor should be rich and vibrant, in keeping with your free-spirited freshness! If you choose artificial coloring, keep the base of your hair very close to your original shade. Streaks and highlights are generally best, for they give you more of that outdoorsy glow. Be careful with lightening the hair. Anything designed to "soften" the color is going to be very dull and aging on you. If you are extremely bold, you could opt for bold, dramatic streaks, giving you a lynx cat look. This is very extreme, however, don't do it unless you are prepared to carry off the flamboyant theatricality in your everyday life!
Avoid: Extremely artificial shades (blue-black, platinum, or brassy yellow-blonde, fiery red, etc). Excess lightening of the hair. Softening of your natural color.