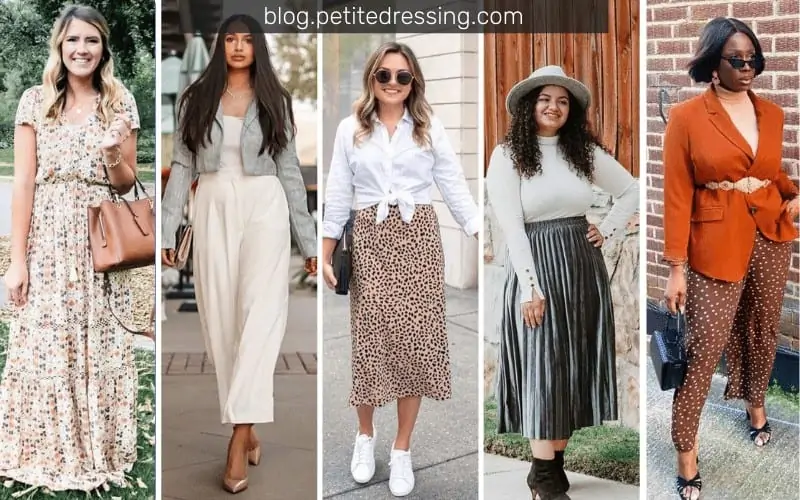 Dressing up for church is something many of us want to know. Depending on the church you attend, you could opt for a more formal look, or go for smart casual style. Either way, the church is an environment that definitely requires modesty, but you can (and should) still look classy, elegant and chic in a well put-together outfit.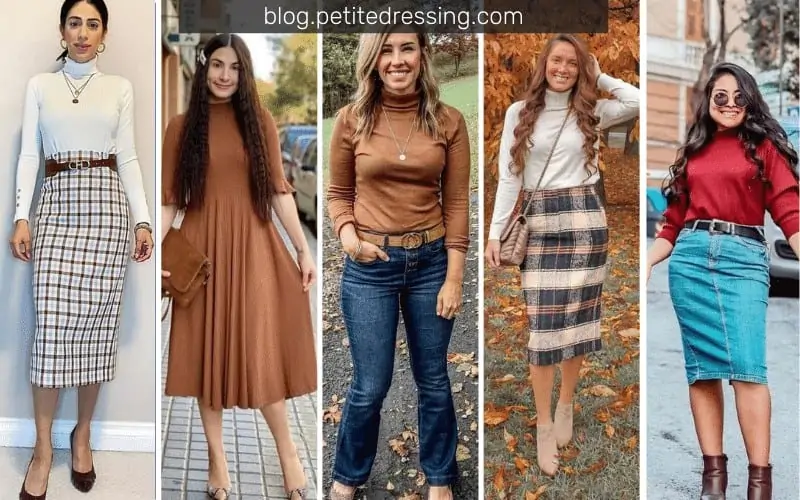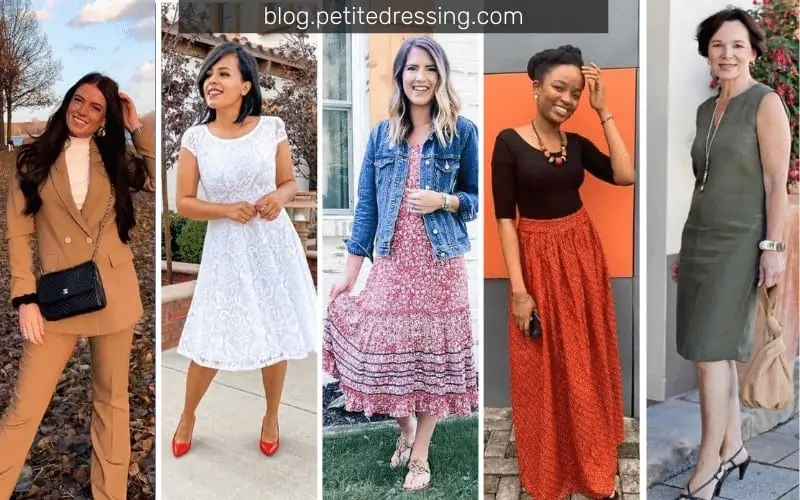 Here are some of the best outfit ideas for church: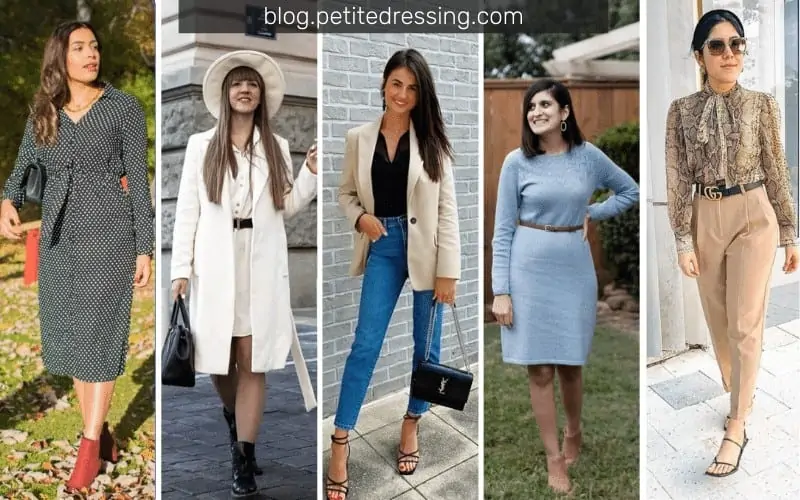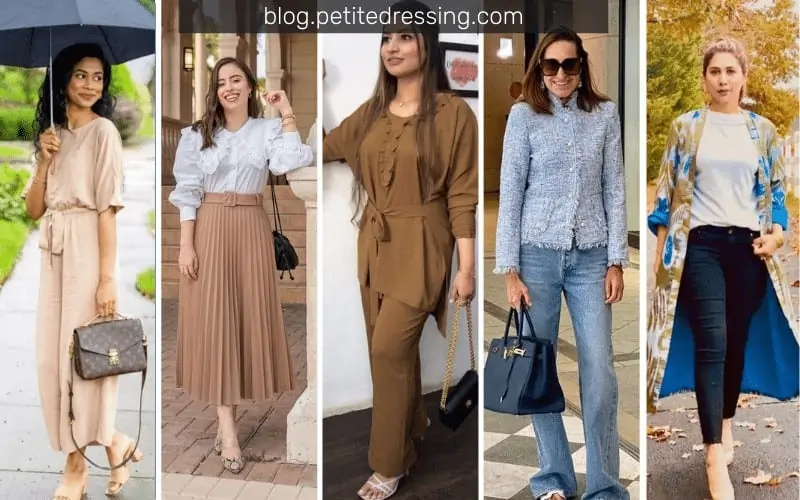 A maxi dress outfit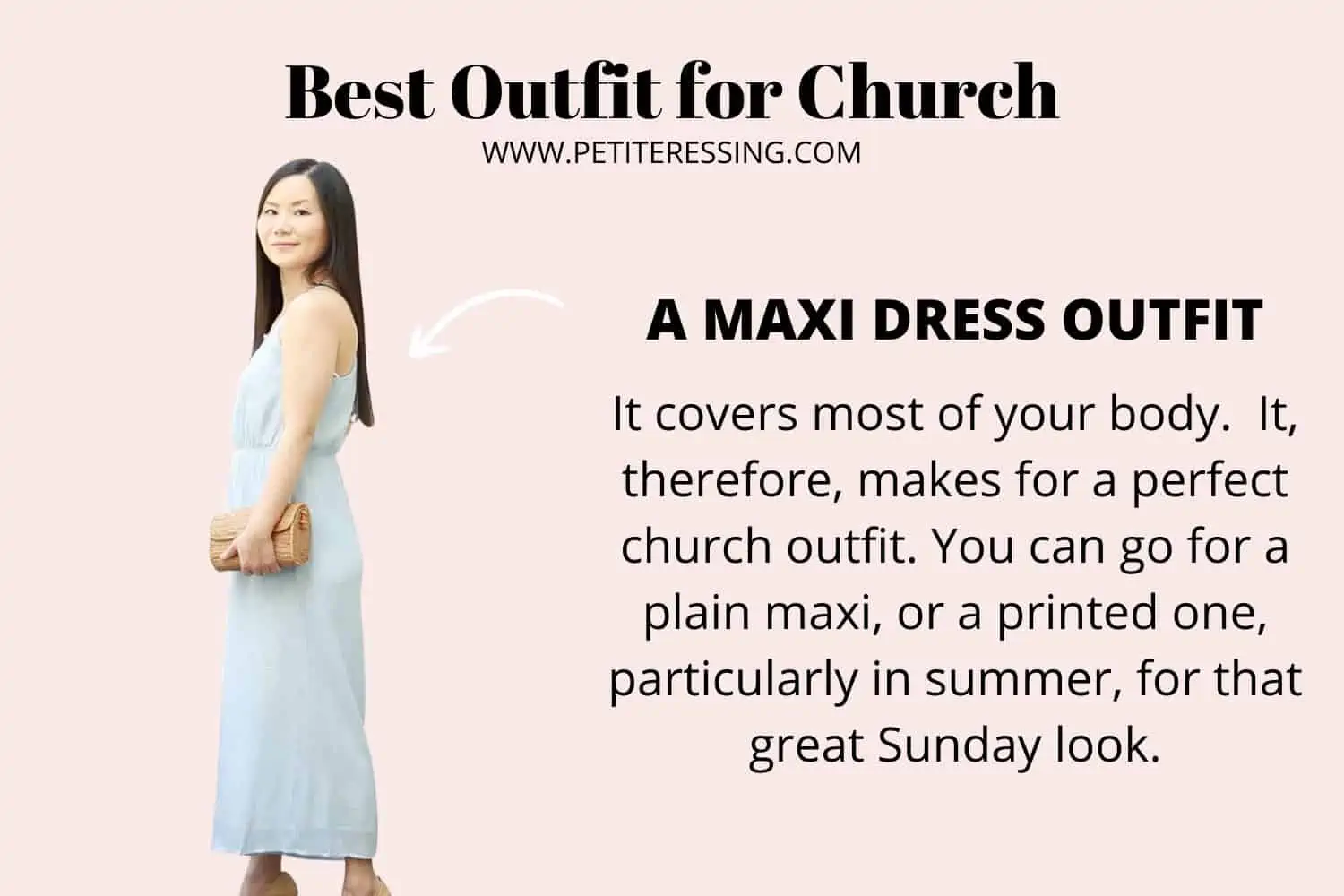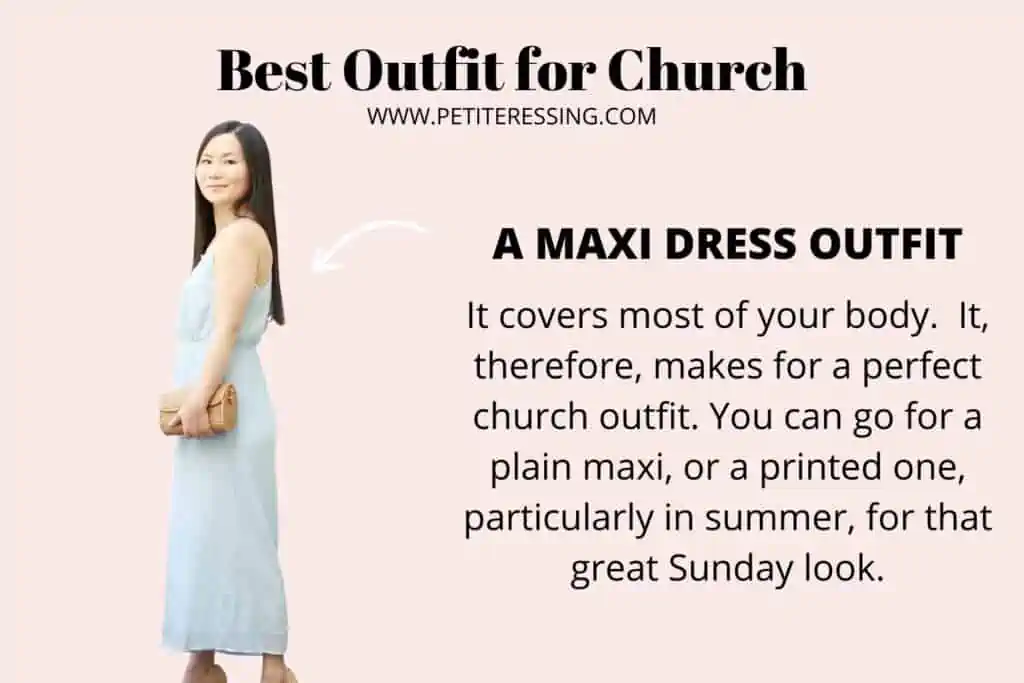 There's no better way to look modest than wearing a maxi dress, considering it covers most of your body. It therefore makes for a perfect church outfit. You can go for a plain maxi, or a printed one, particularly in summer, for that great Sunday look.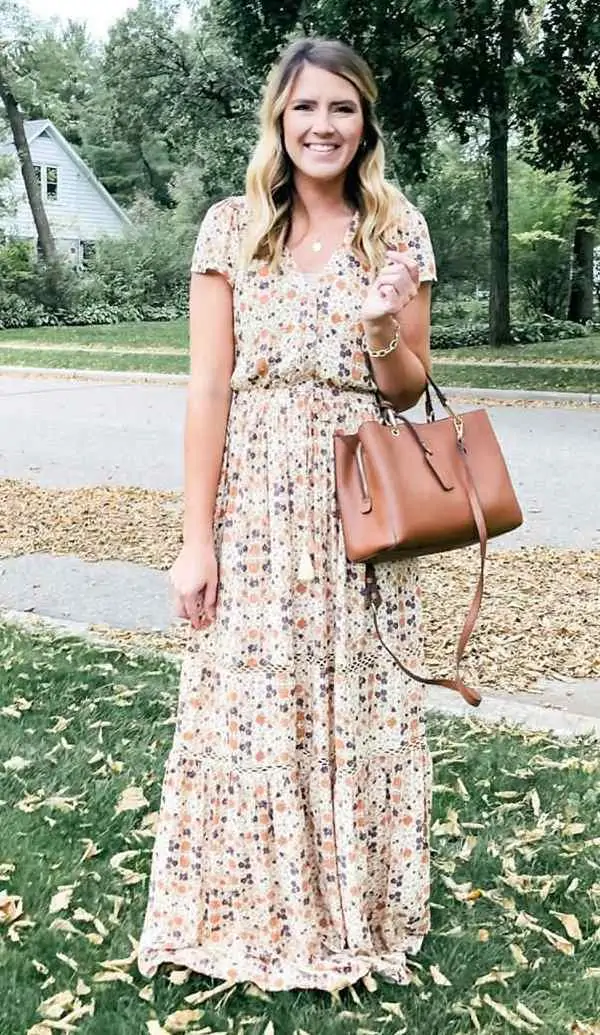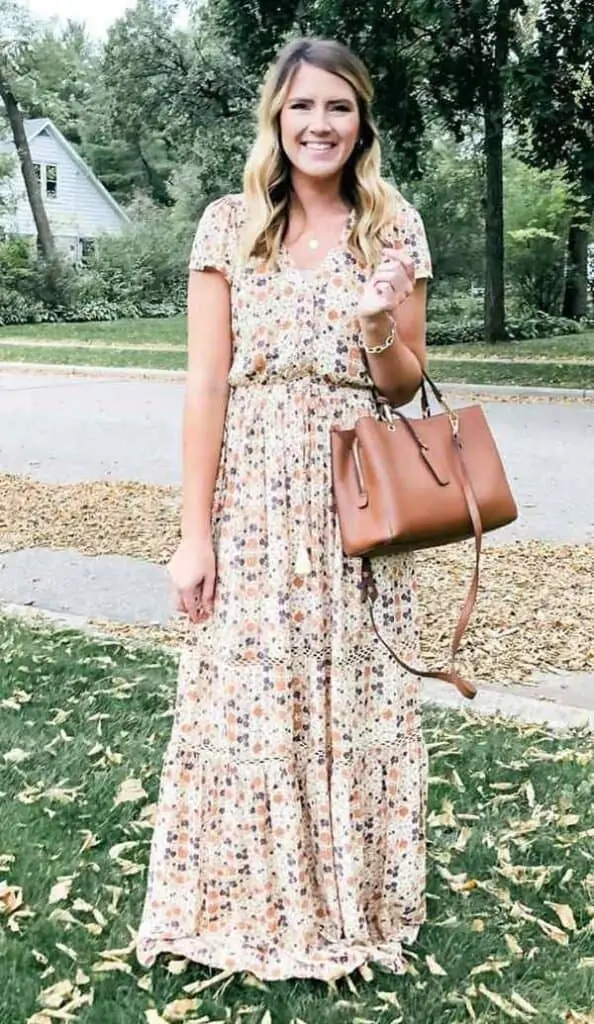 Becca (above) styled her maxi dress with a simple bag for that great Sunday look that will take you from church to a nice little Sunday family gathering, brunch or any other Sunday afternoon event.
Wide leg pants outfit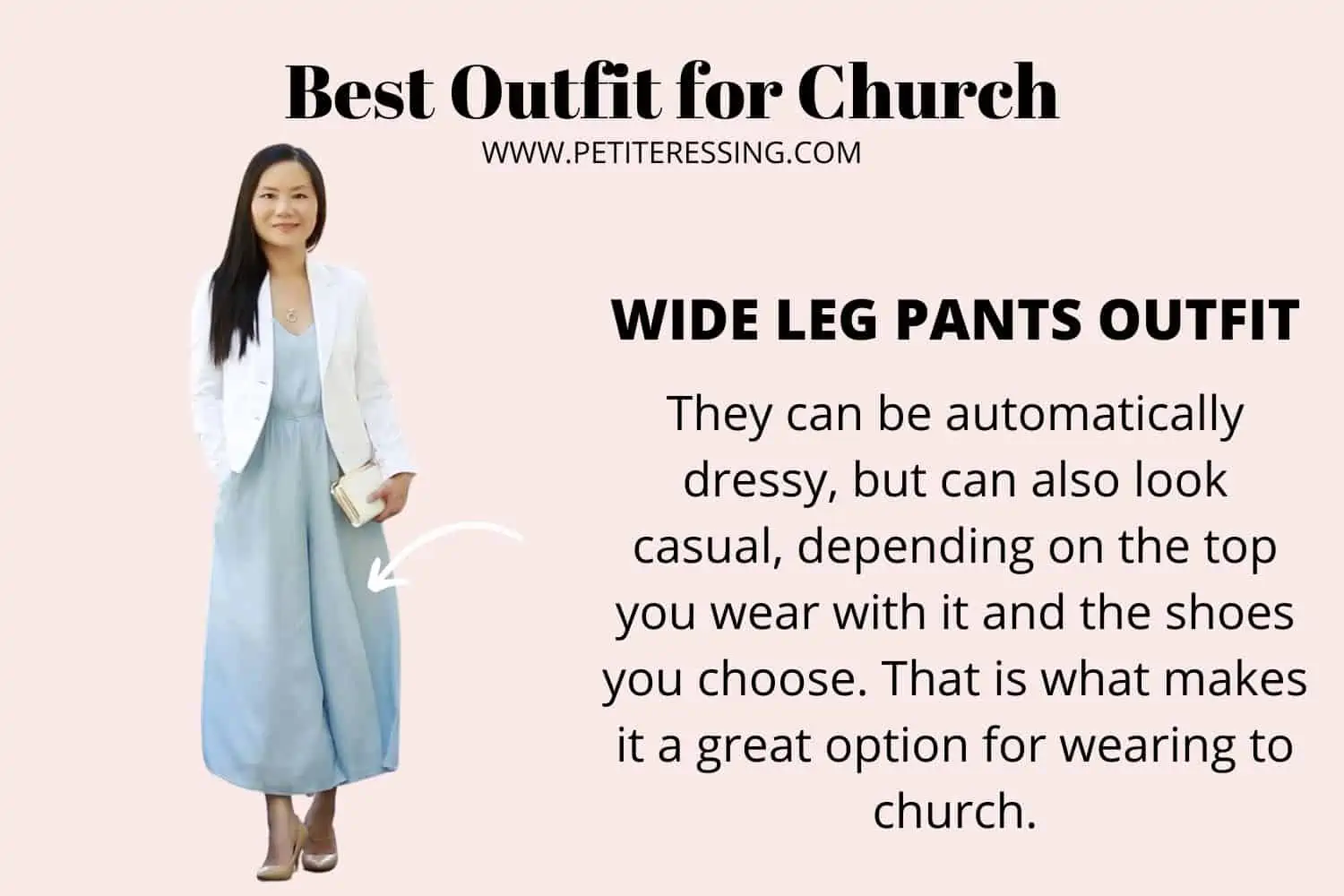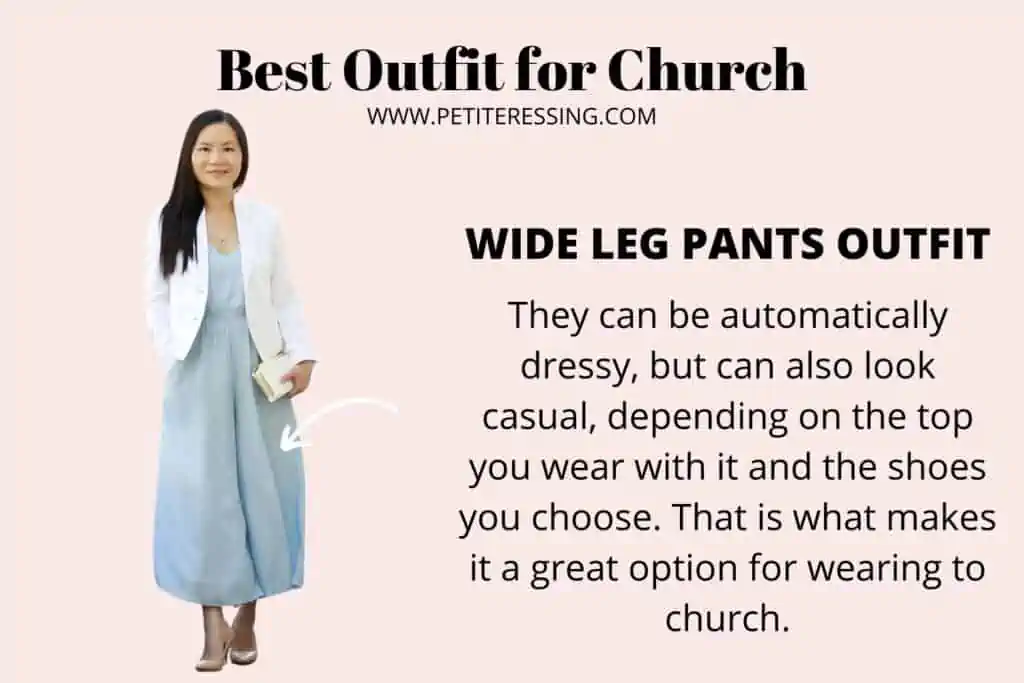 Wearing wide leg pants outfit to church is probably one of the easiest way to look well dressed without having to spend too much effort.
Wide leg tailored pants is a versatile piece every woman should have at least a couple in her closet. They can be automatically dressy, but can also look casual, depending on the top you wear with it and the shoes you choose. That is what makes it a great option for wearing to church.
Given the volume from the leg shape, you should balance out the outfit by wearing something well fitted on top. The best wide pants are the ones that hugs in the hips and fall straight down from there. They are long and classy in most cases, and will have you looking elegant in church.
If you happen to be a pear shape, the wide leg pants outfits are probably one of the most flattering for you, regardless in the summer or in the winter when you go to the church.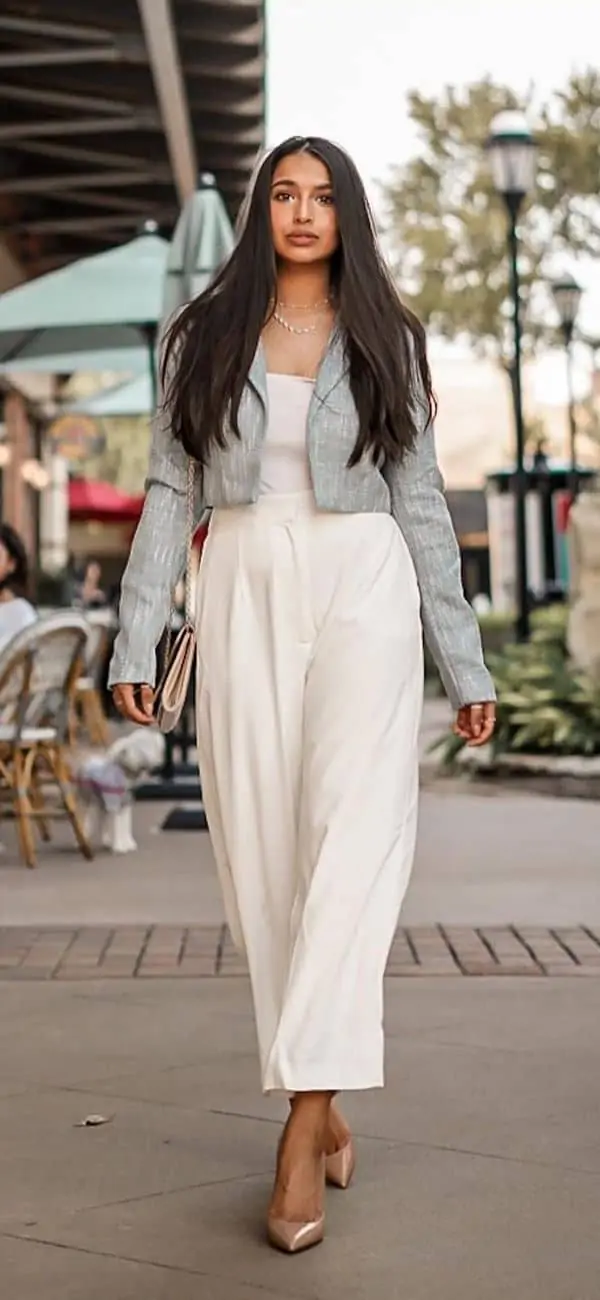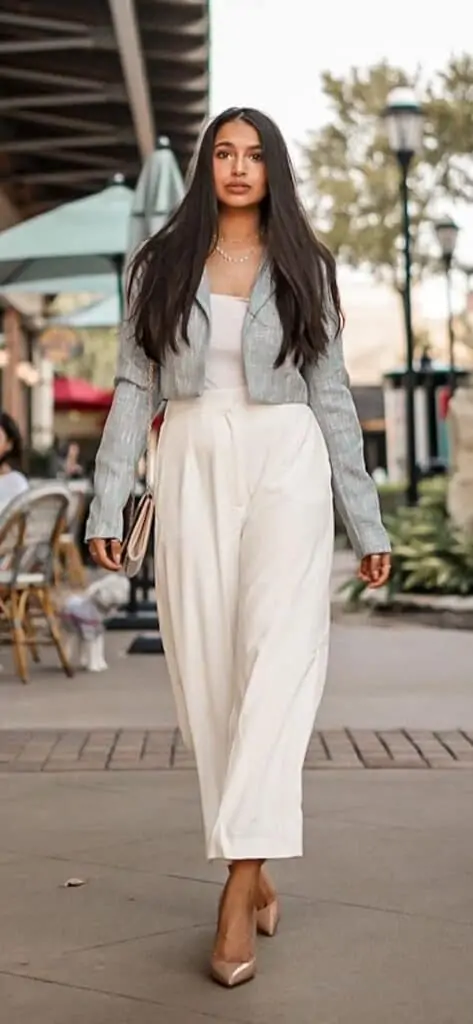 Famita (above) styled her wide leg pants with a cropped length blazer. It's a elegant and polished look, and the individual pieces perfectly balances out the volume.
Midi skirt outfit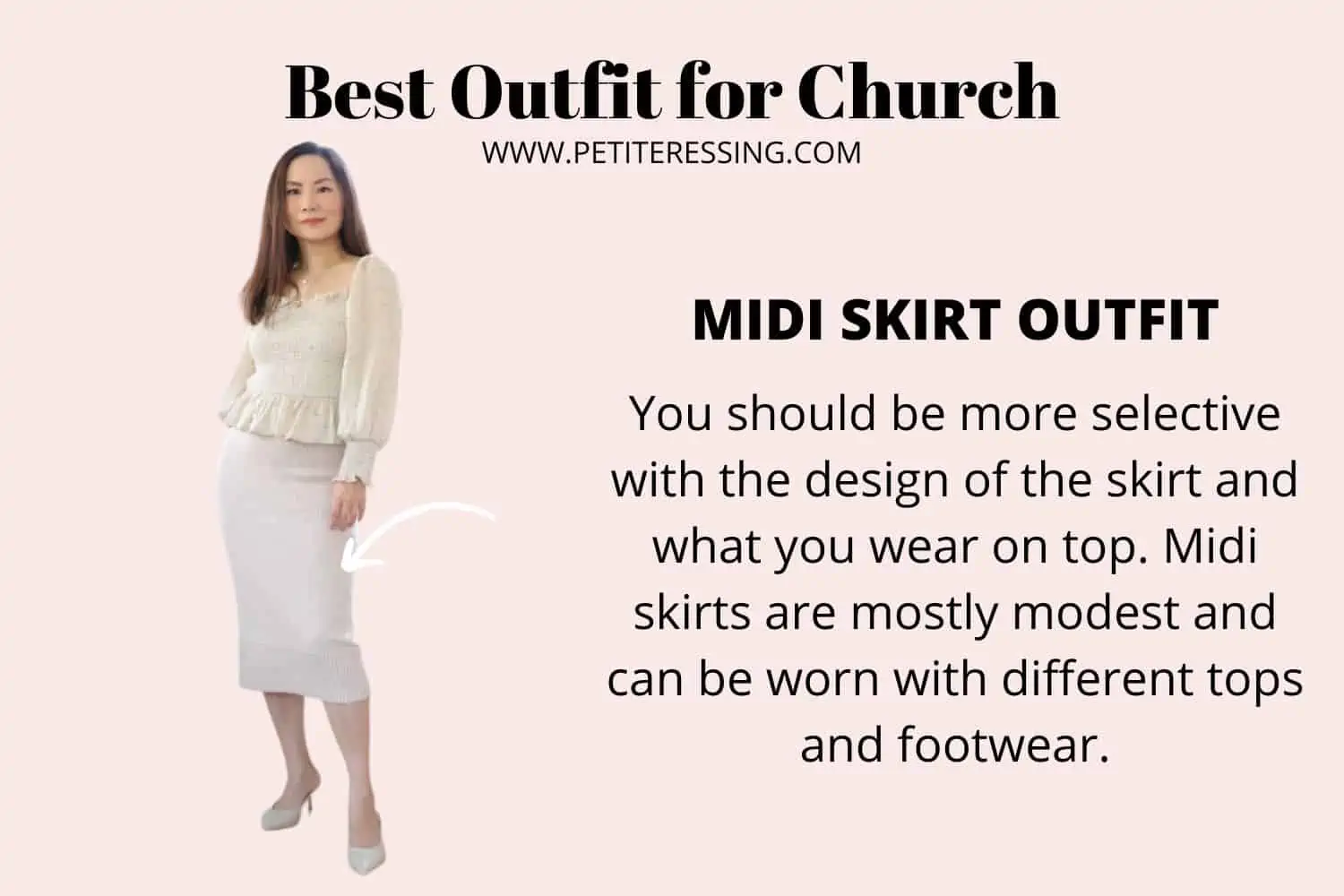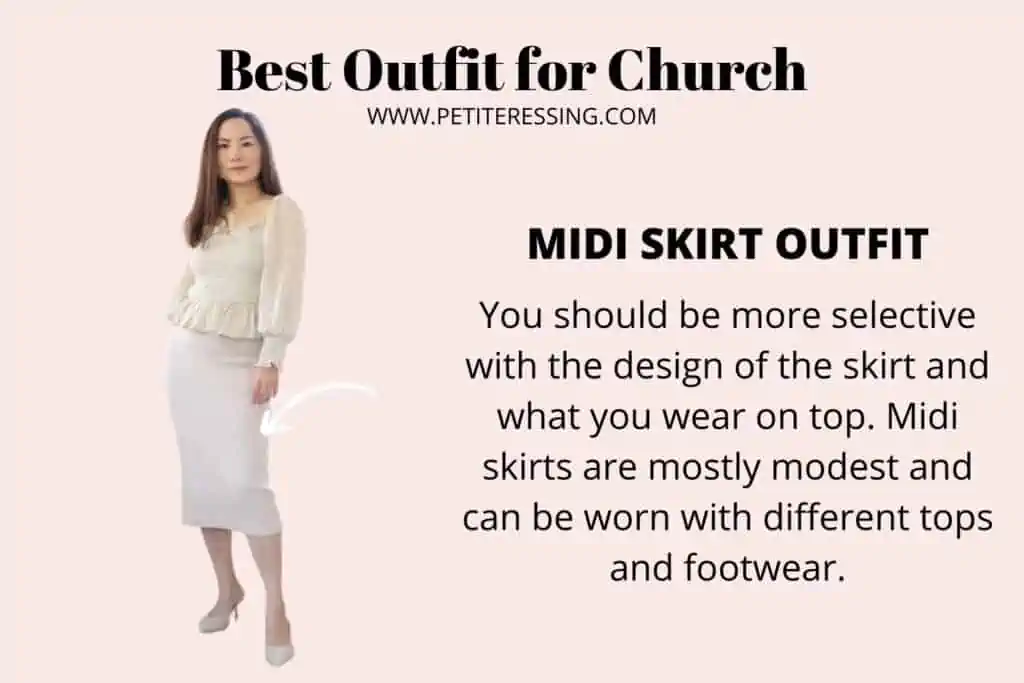 Midi skirt outfits, just like midi dresses, are great for church.
The length of the midi skirts can make them a bit more challenging to style, but that just means you should be more selective with the design of the skirt and what you wear on top. Midi skirts are mostly modest and can be worn with different tops and footwear.
Just remember, you can always go for a printed skirt for church but make sure your top is plain or vice versa.
Pleated skirt outfit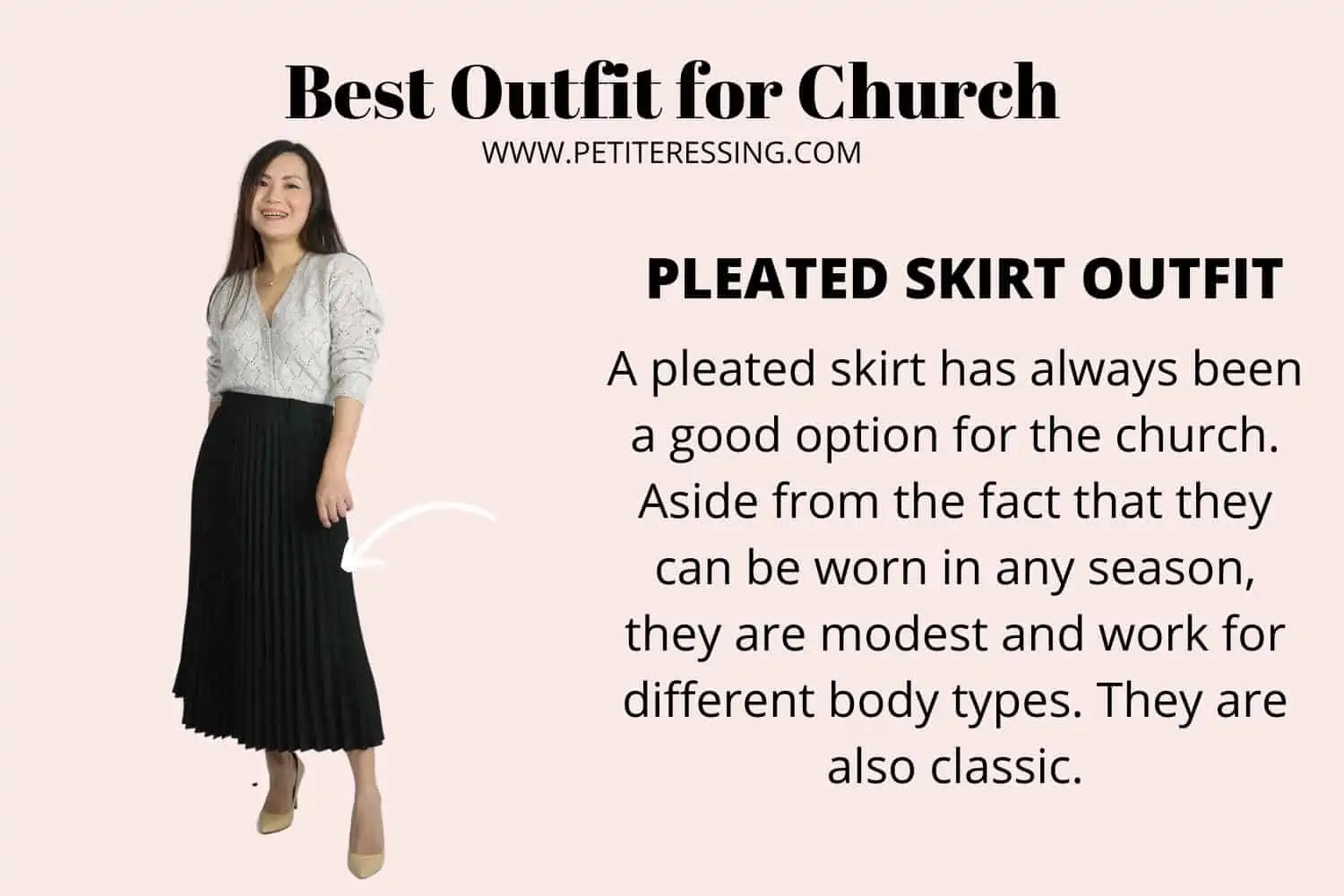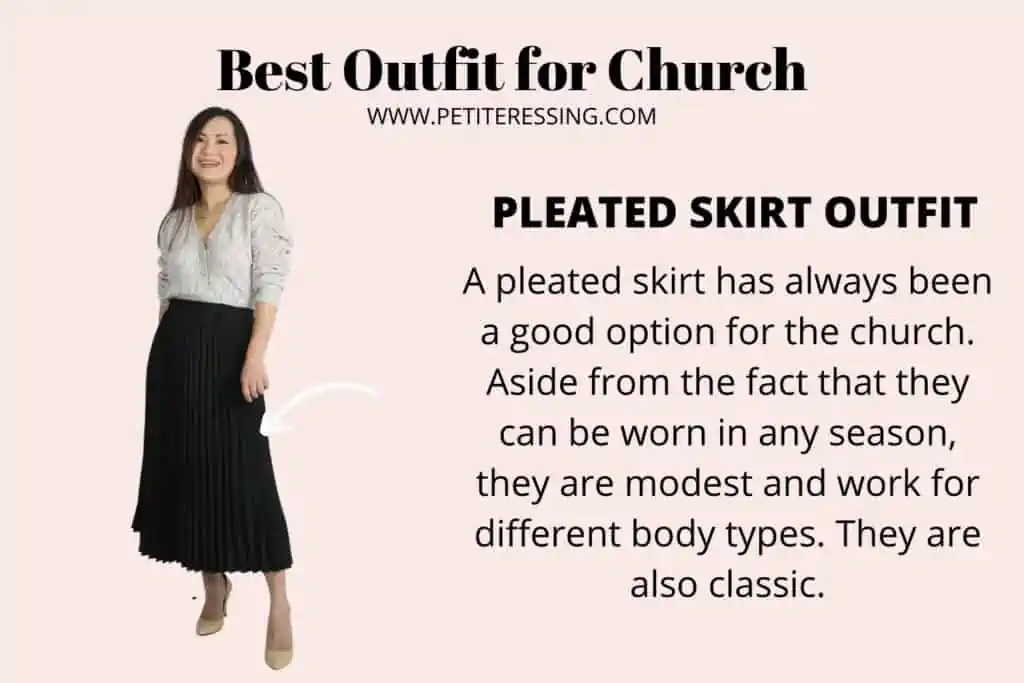 A pleated skirt has always been a good option for church, whether you go for a knee-length midi skirt, a midi pleated skirt or even a maxi pleated skirt. Aside from the fact that they can be worn in any season, they are modest and work for different body types. They are also classic.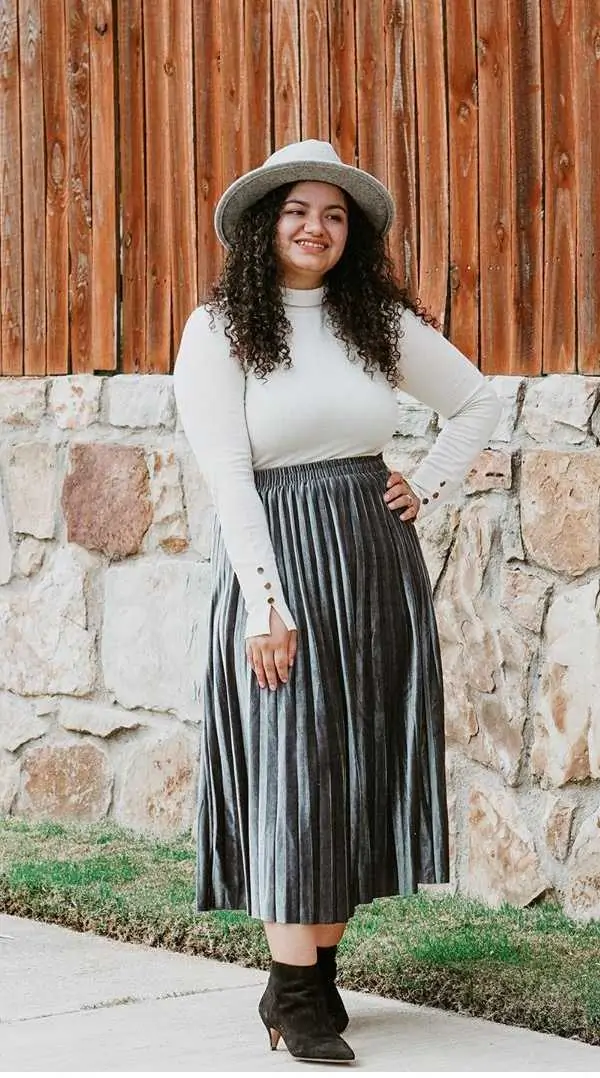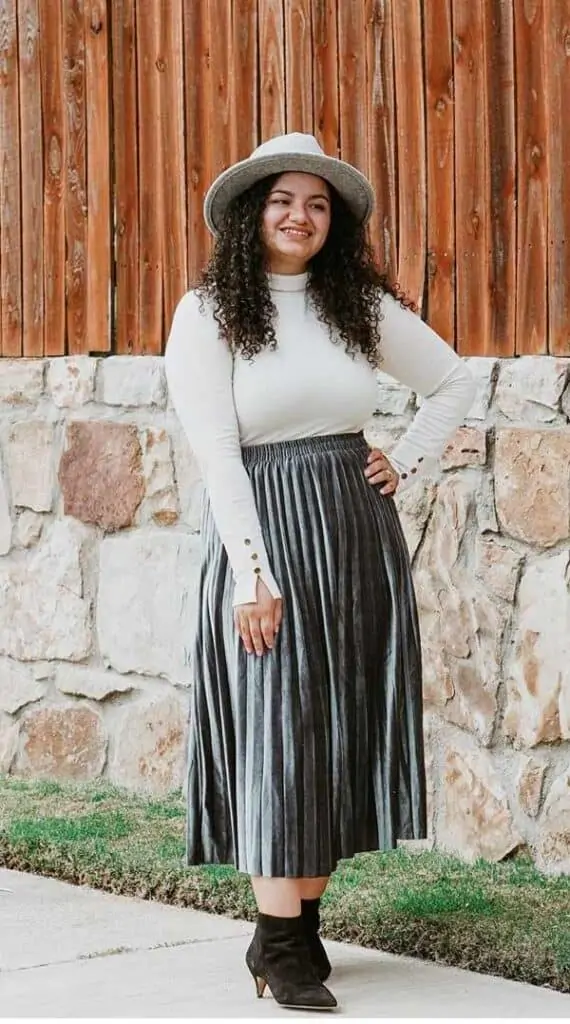 Cristela (above) styled her pleated skirt with a turtleneck and some ankle boots. It's a simple look that stands out for all the right reasons. Her skirt is in velvet but you can go for a different fabric in case it's not cold outside.
A blazer outfit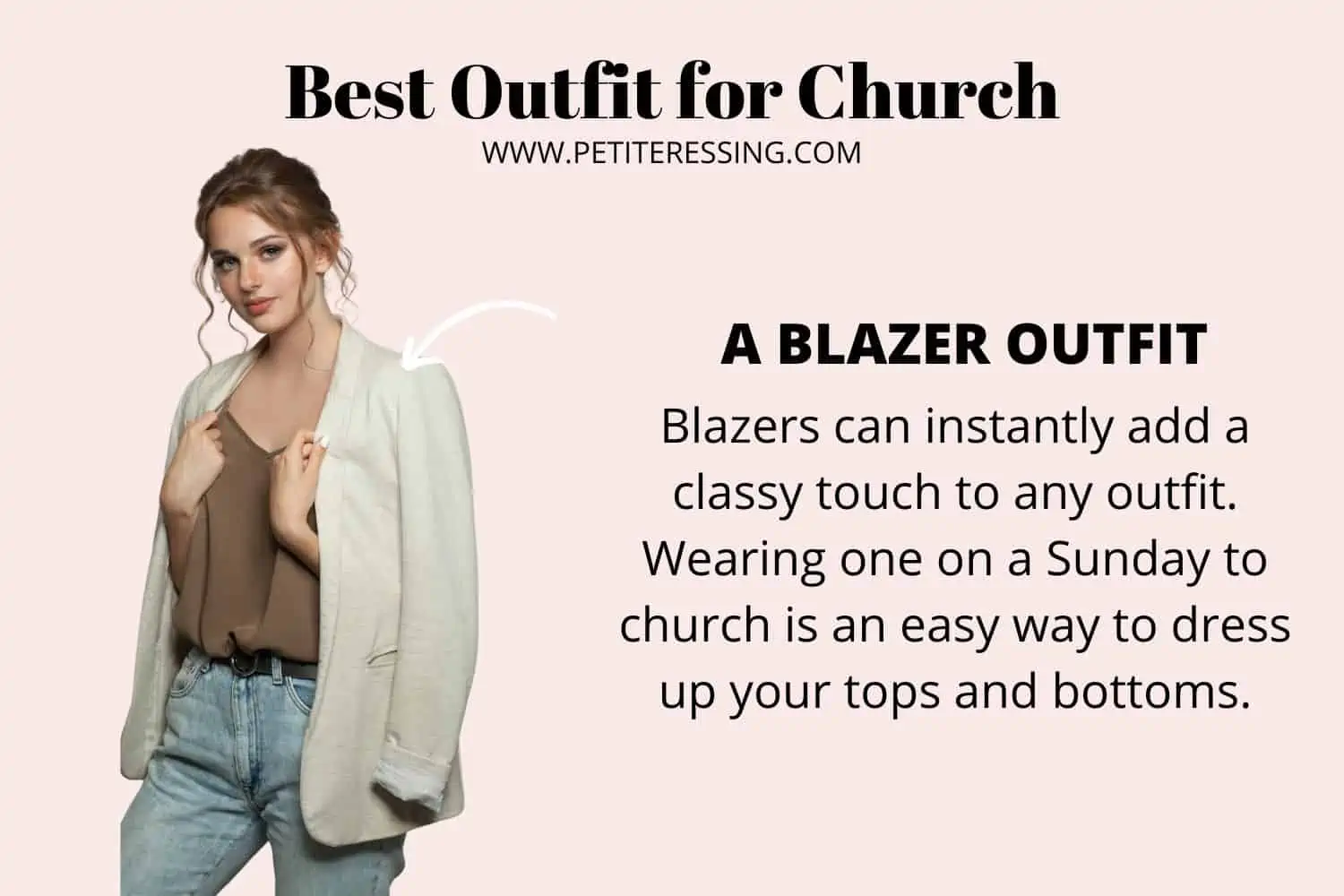 Blazers can instantly add a classy touch to any outfit. Wearing one on a Sunday to church is an easy way to dress up your tops and bottoms.
They are available in different styles and can work for any season. You can choose a lighter blazer, or a heavier one, depending on the weather. Whichever you go for, you will certainly get a great outfit out of it.
Depending on your body type, you can always wear it without the belt and leave it unbuttoned. Always pick colors that are well coordinated for the blazer and pants or any other bottoms.
A turtleneck outfit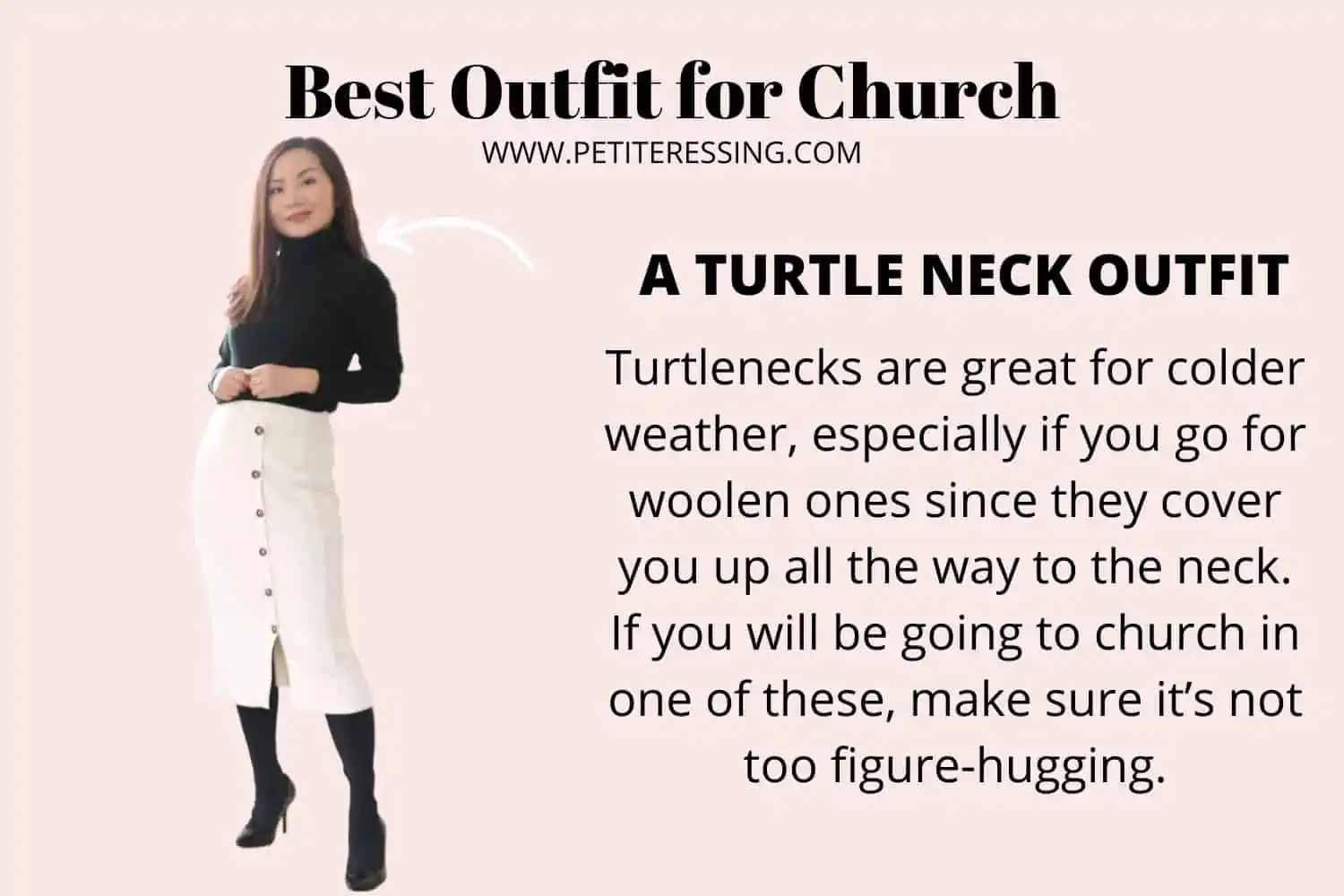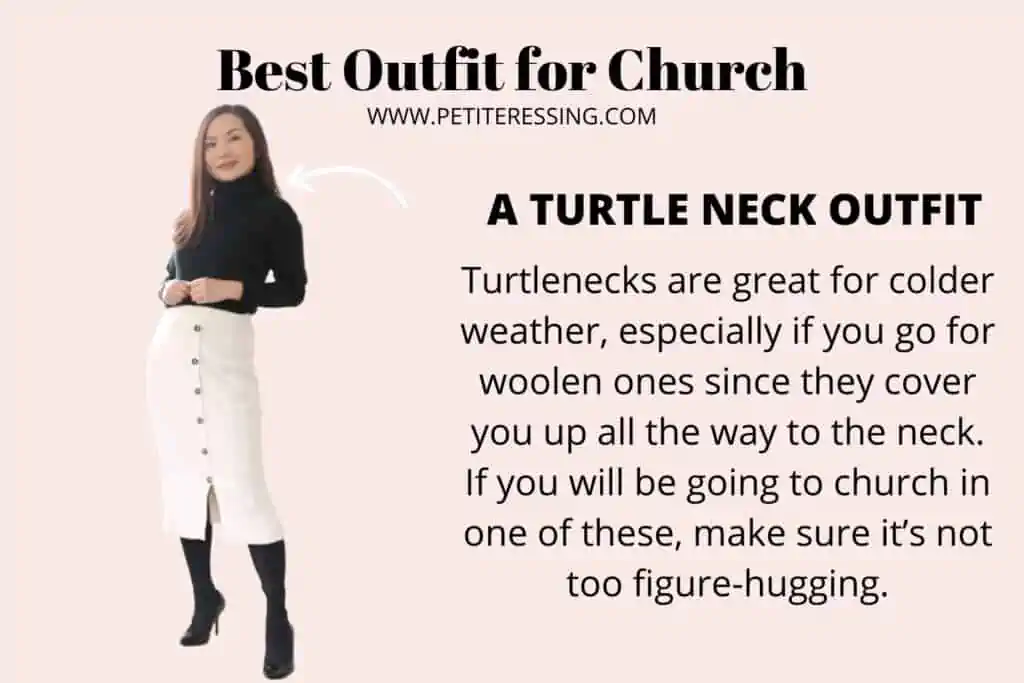 Turtlenecks are great for colder weather, especially if you go for woolen ones since they cover you up all the way to the neck. They can work with different bottoms for the best church outfit. If you will be going to church in one of these, make sure it's not too figure-hugging.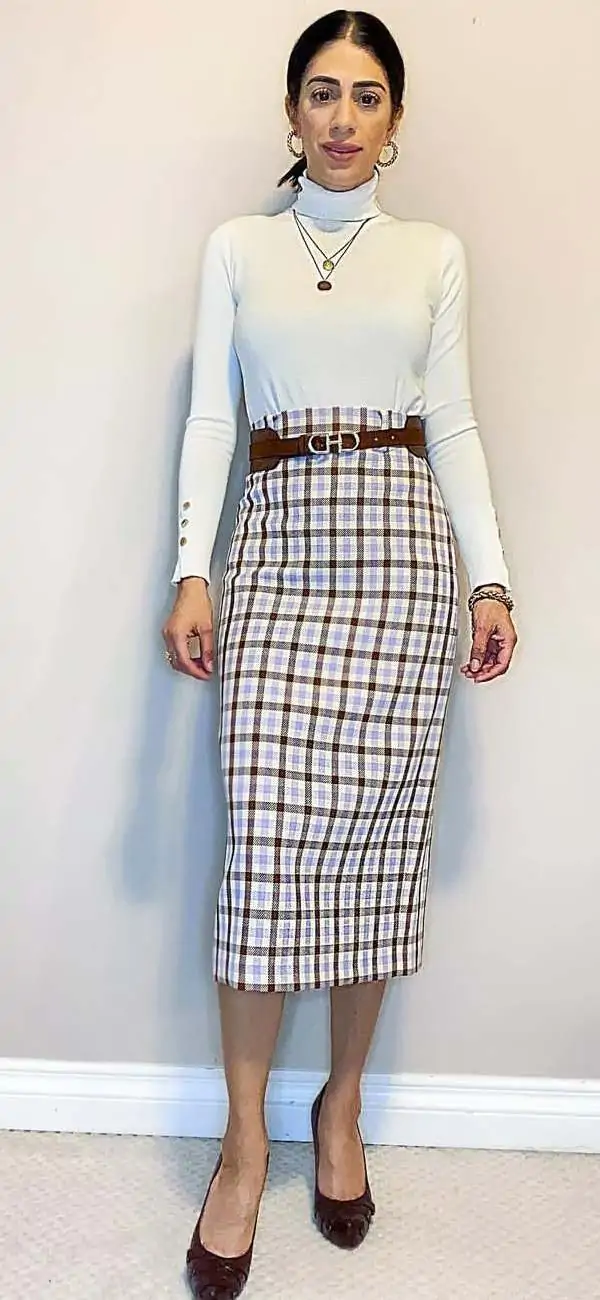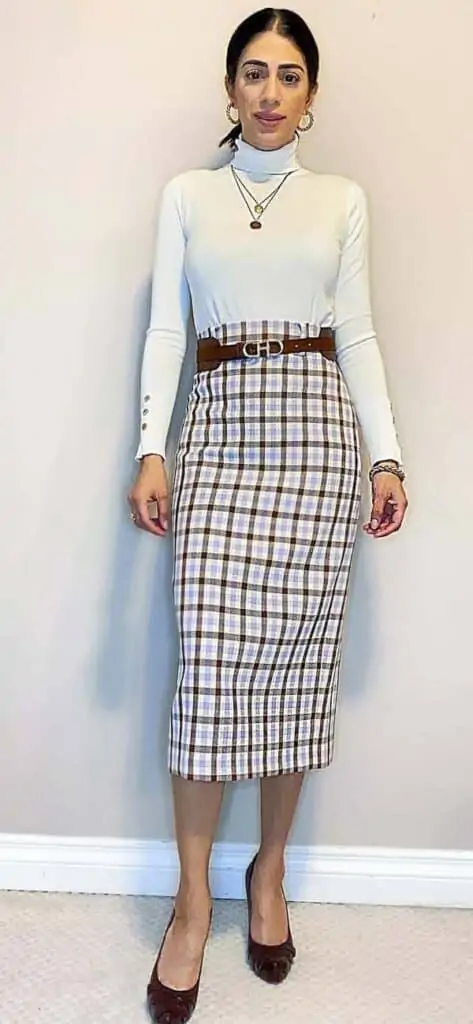 Yalda (above) styled her turtleneck with a plaid pencil skirt for a great church look.
Her turtleneck is long sleeved, but you can always go for a short sleeved one. Just avoid those with cut outs and go for modest looking ones.
Midi dress outfit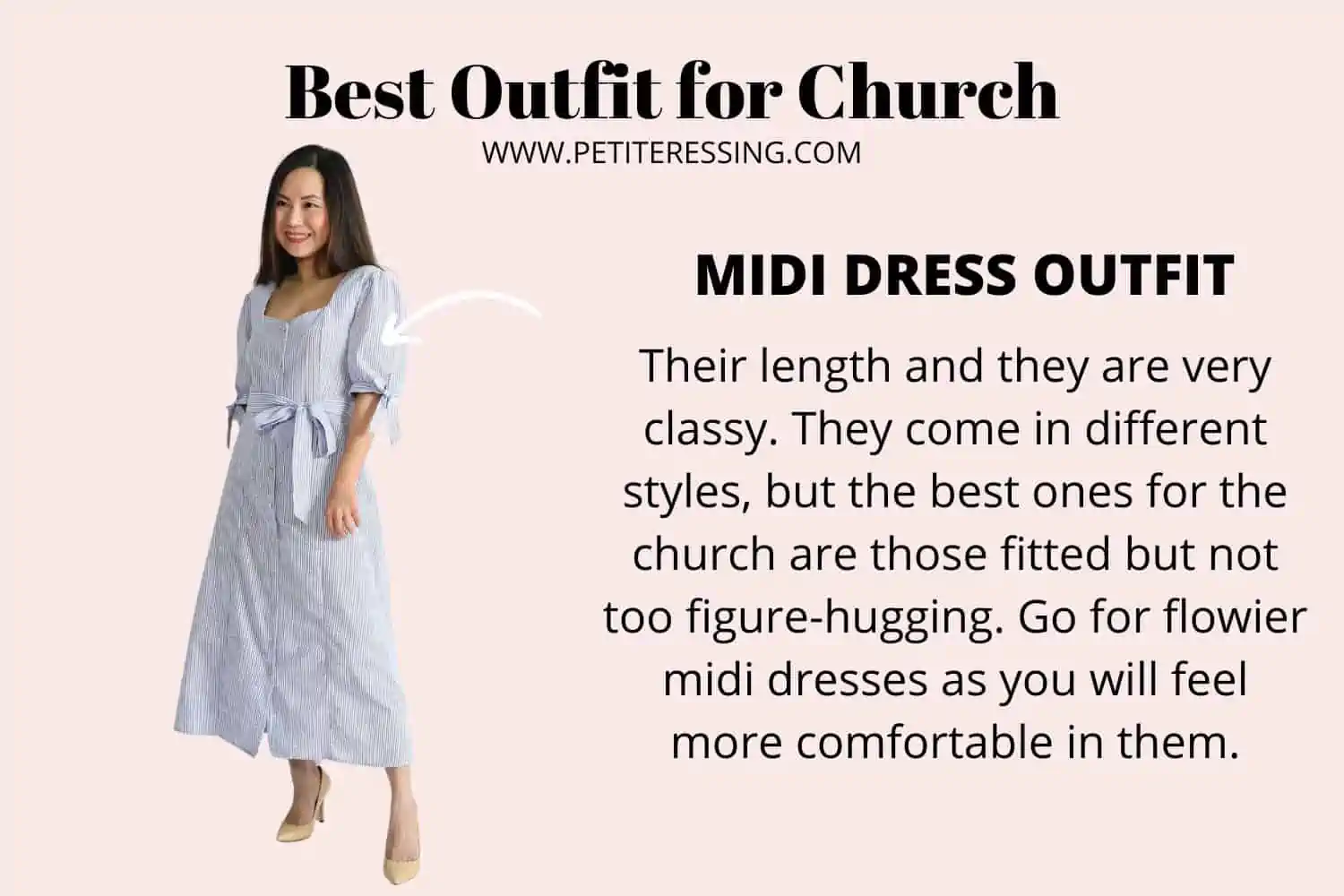 Midi dresses easily make it to the list of best outfits for church, because of their length and the fact that they are very classy.
They come in different styles, but the best ones for the church are those fitted but not too figure-hugging. Go for flowier midi dresses as you will feel more comfortable in them.
While these midi dresses are available in different prints and patterns, it's best to go for plain ones and then accessorize in a more subtle way when going to church.
Flared jeans outfit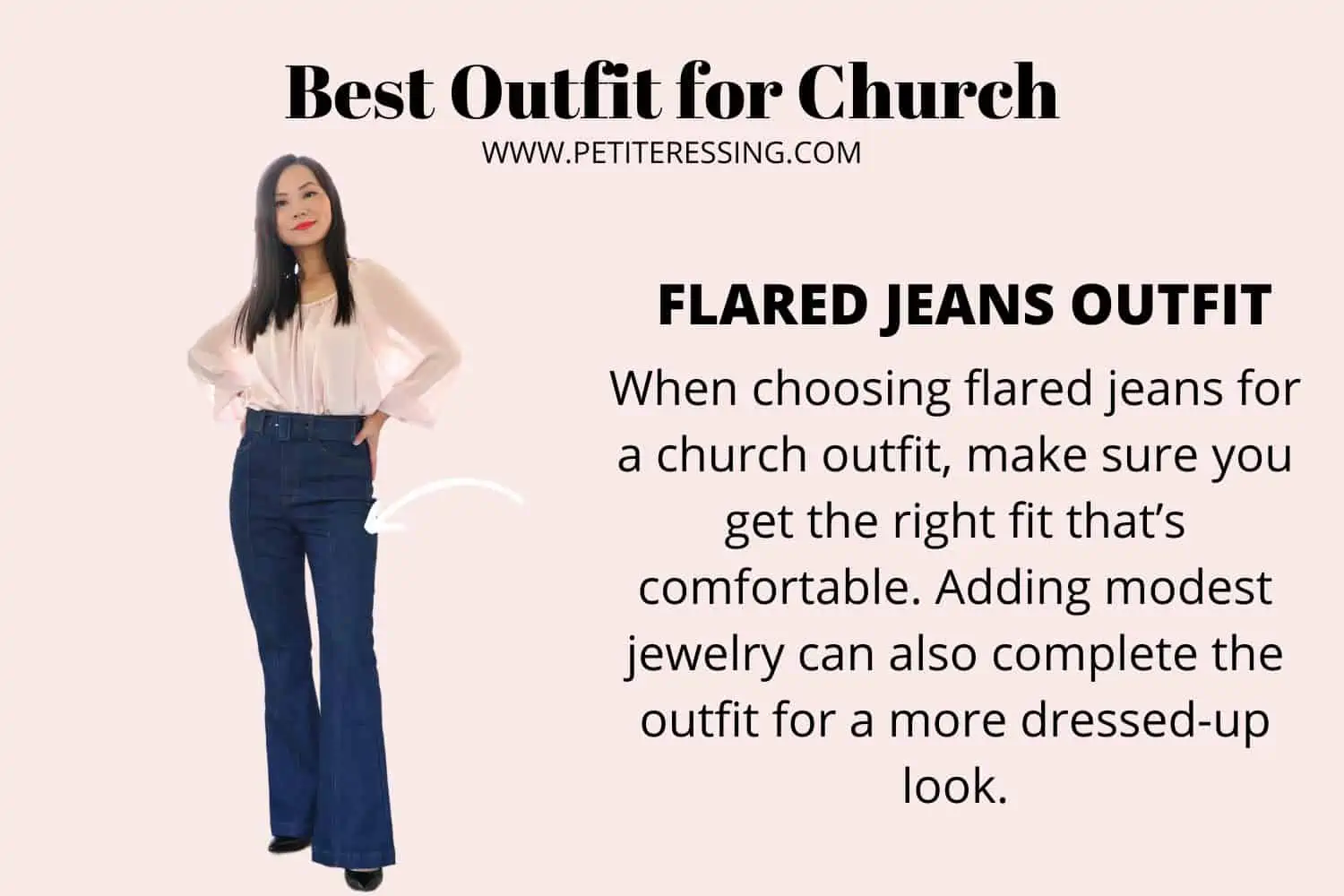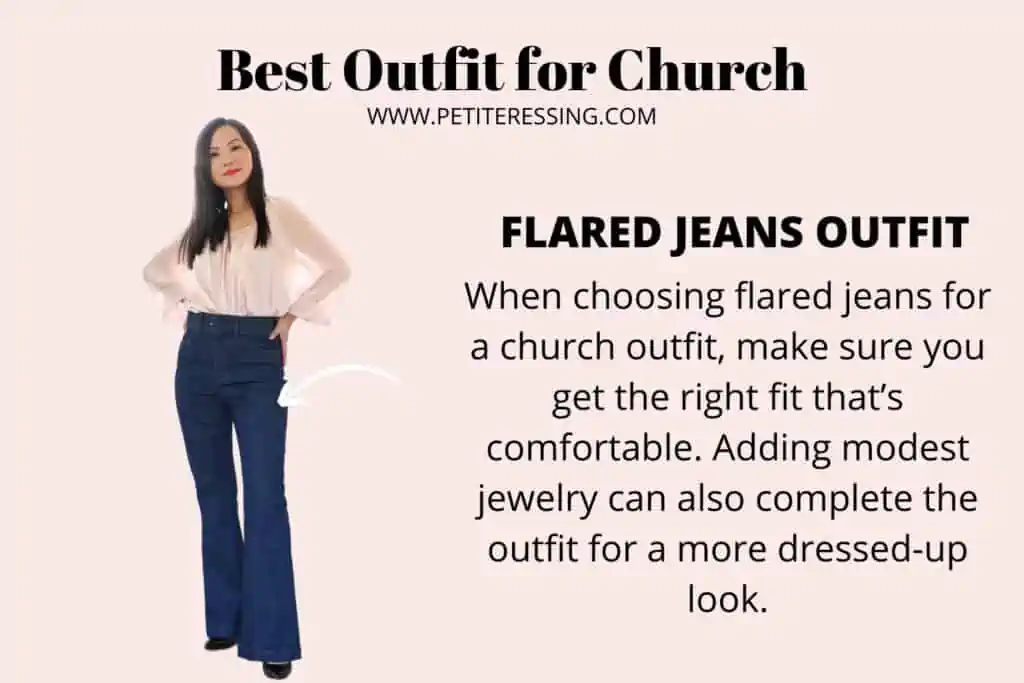 If you're the jeans-wearing kind of girl, then you probably are wondering if you can wear jeans to attend church service.
Some of the churches have a more casual dress code than others. In that case, wearing jeans is appropriate, as long as the entire outfit still looks polished and not overly casual.
The flared leg is one of the most universally flattering type of jeans. Since it's well fitted from hip to thighs, it's a great silhouette that's automatically more polished than some of the other denim styles such as the boyfriend jeans, mom jeans or ripped jeans.
You can style the jeans with a button-down, a regular top and any other top that's flattering but modest.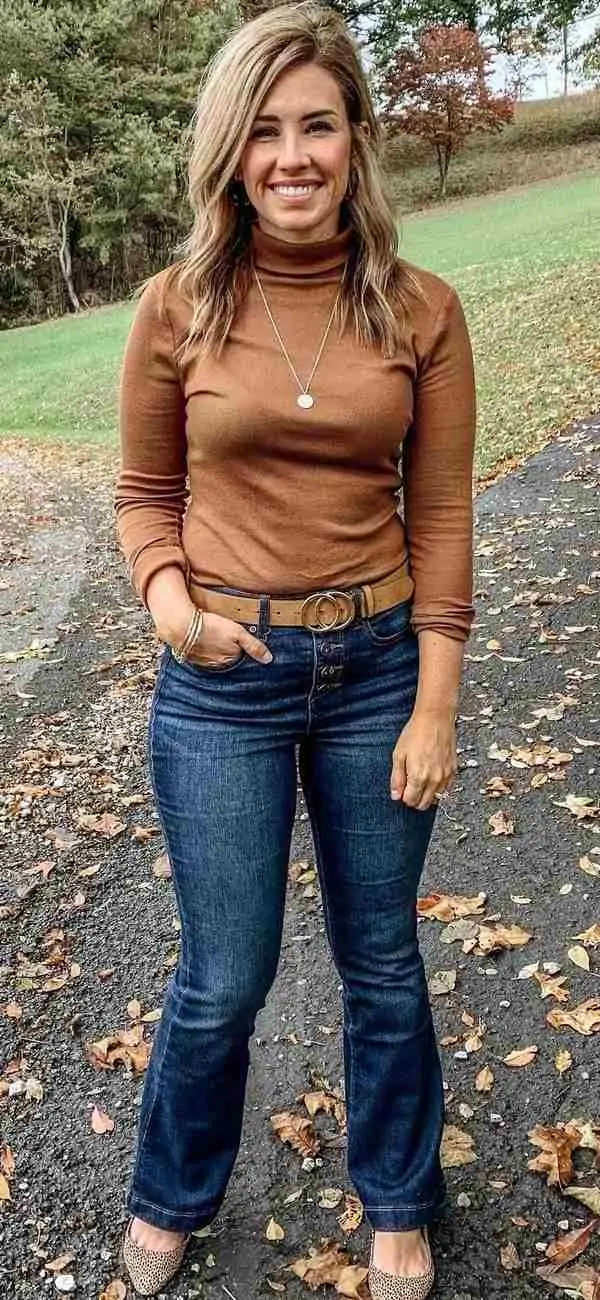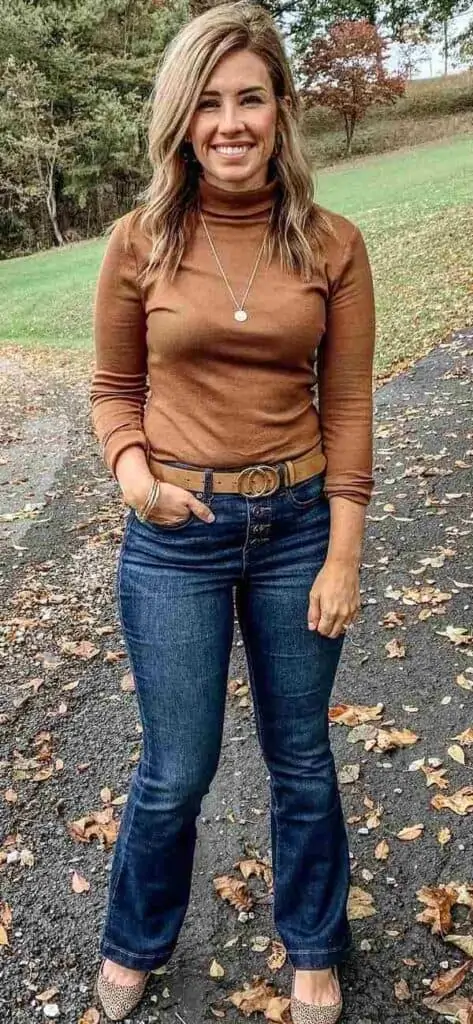 Brittany (above) wore her flared jeans with a turtleneck top and a pair of simple brown heels. She also went for a brown belt for the look.
When choosing flared jeans for a church outfit, make sure you get the right fit that's comfortable. Adding modest jewelry can also complete the outfit for a more dressed-up look.
Pencil skirt outfit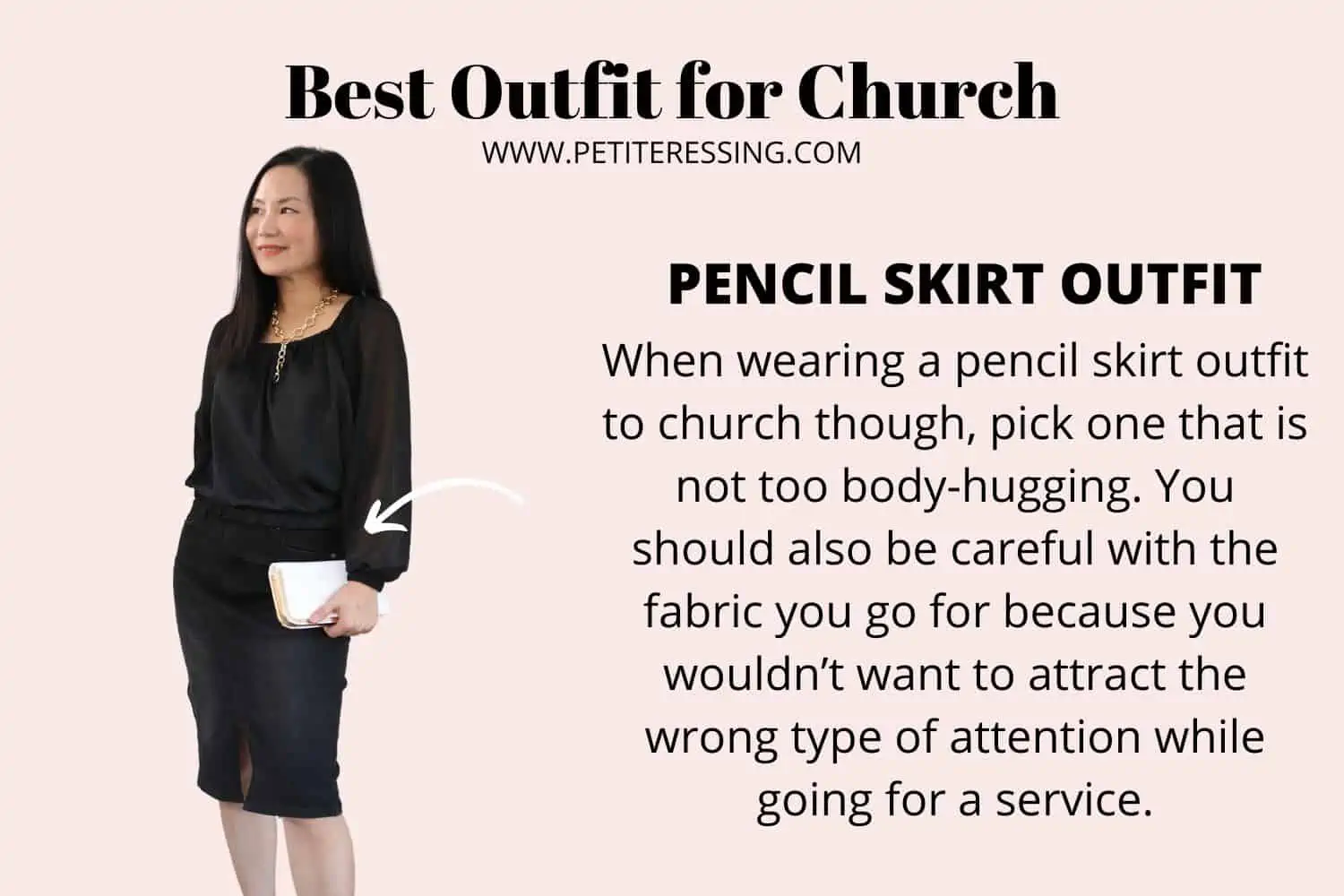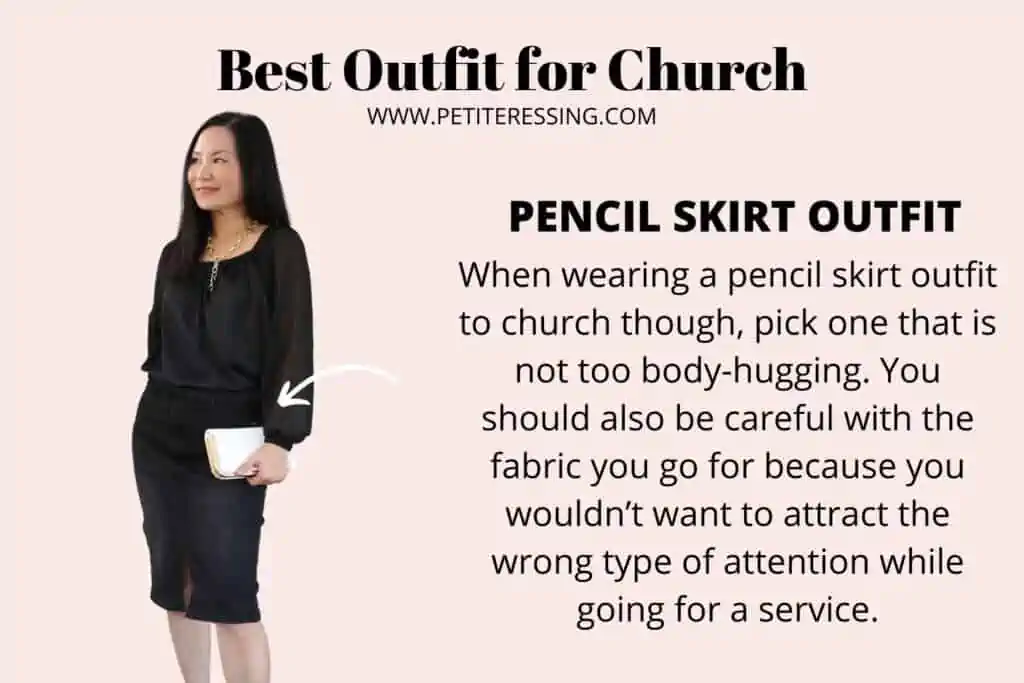 A pencil skirt is classy and suits every type of woman, regardless of their body shape and size. It also works regardless of their age and can be worn to church too.
When wearing a pencil skirt outfit to church though, pick one that is not too body-hugging. You should also be careful with the fabric you go for because you wouldn't want to attract the wrong type of attention while going for a service.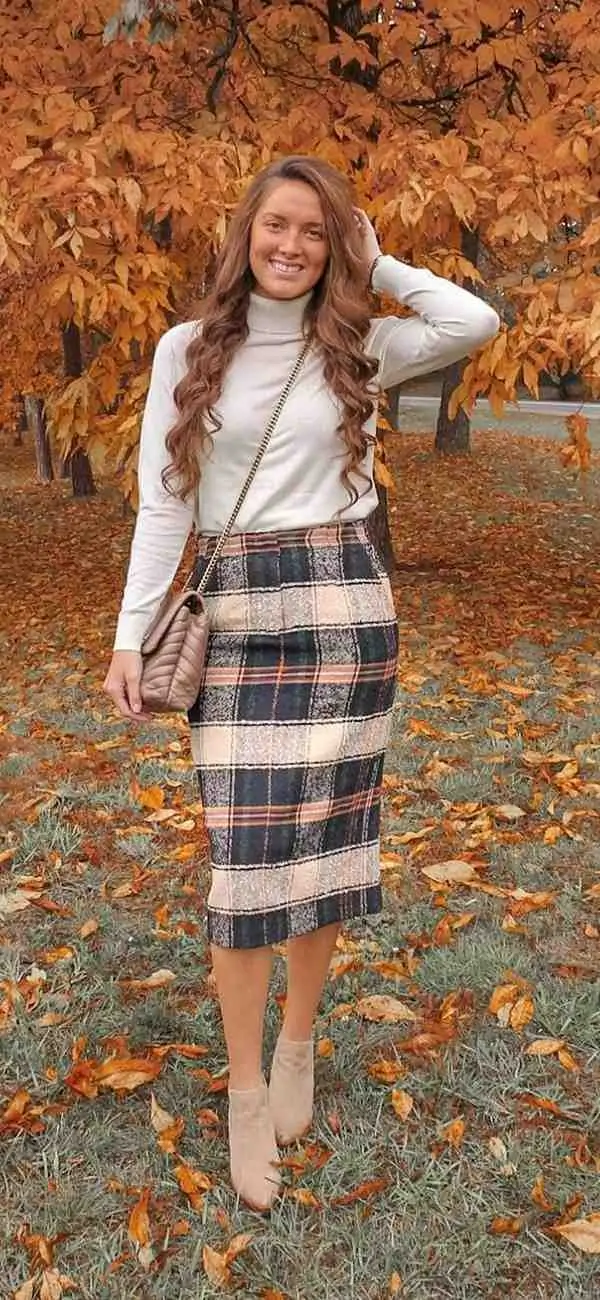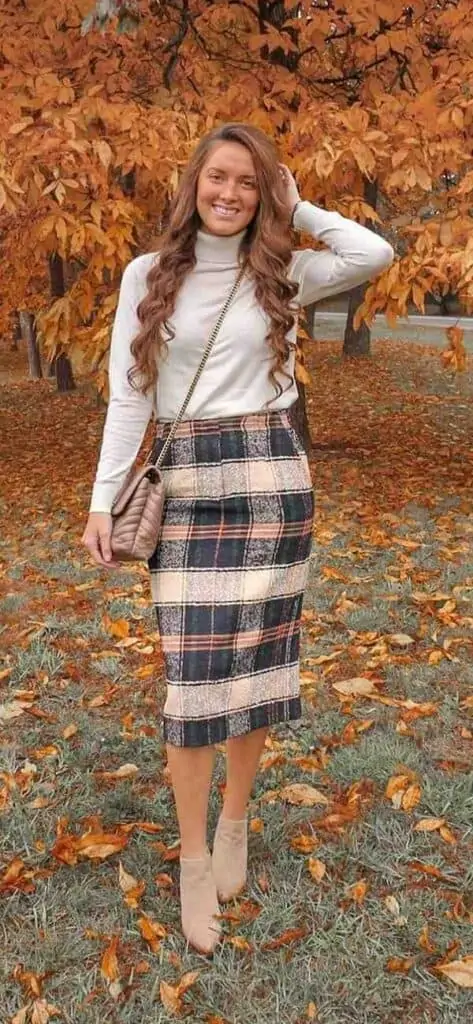 Hannah (above) is wearing her pencil skirt outfit with a turtleneck top and some ankle boots, an outfit that would work great for the church environment.
Also, when picking a pencil skirt for church, go for a knee-length one or a slightly longer one.
A denim skirt outfit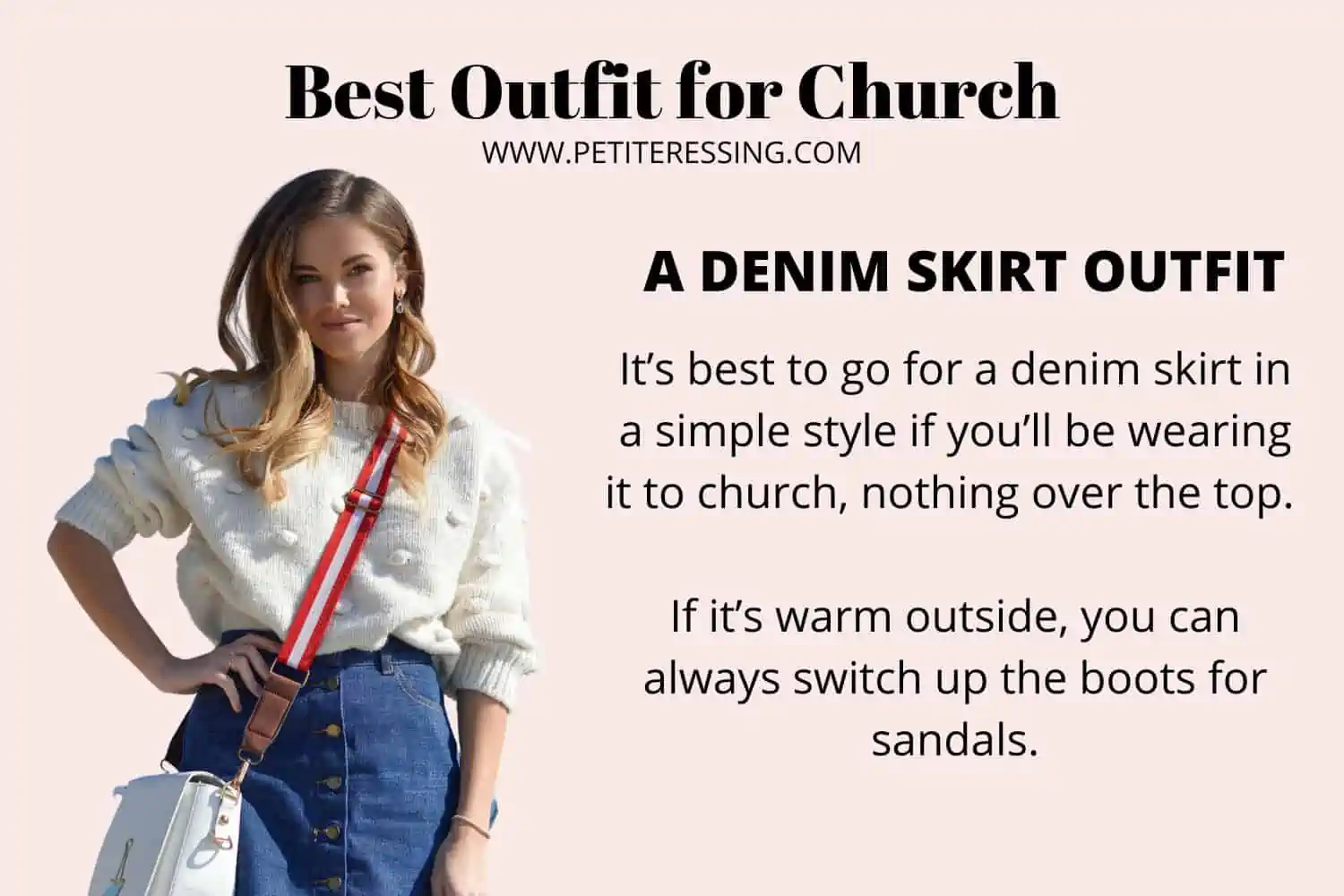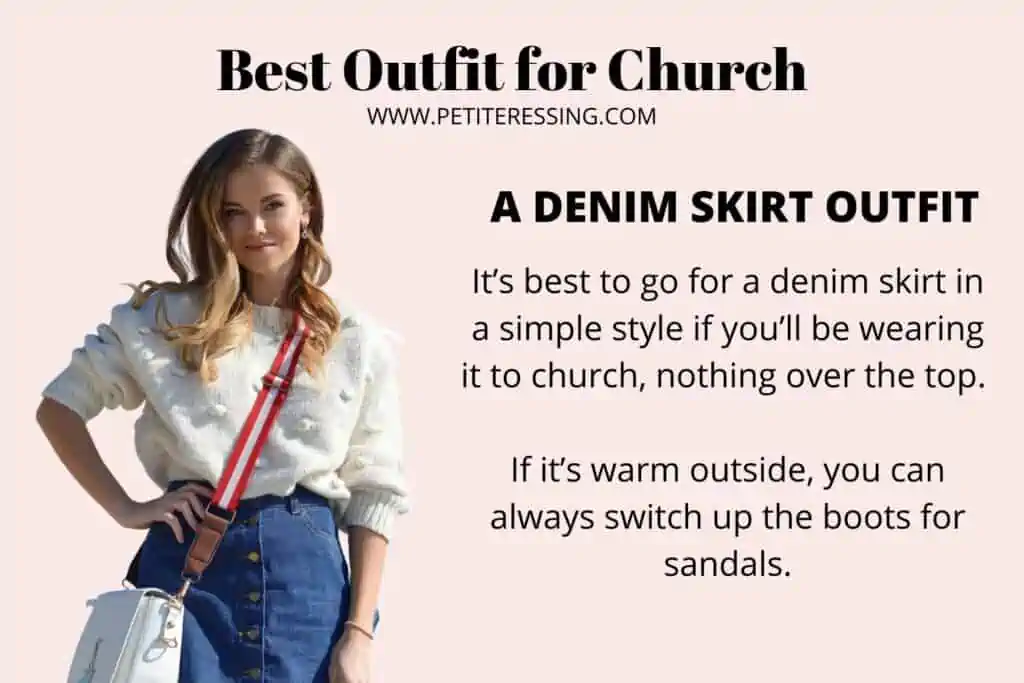 Just like the flared leg jeans, denim skirt can also be worn to a Sunday service, if your church has a more relaxed dress code.
A denim skirt is easy to wear whether in pencil style or A-line. It is meant for every woman just as long as you pick one in your size. They are easy to wear and are great for church because they can look quite dressed up, with the right top and shoes.
Wearing a denim skirt outfit to church of course requires more thought. You don't have to wear a loosely fitted skirt if that is not your style. When you do wear one that hugs your body, then balance it out with a longer skirt length, and wear a top that is not too revealing.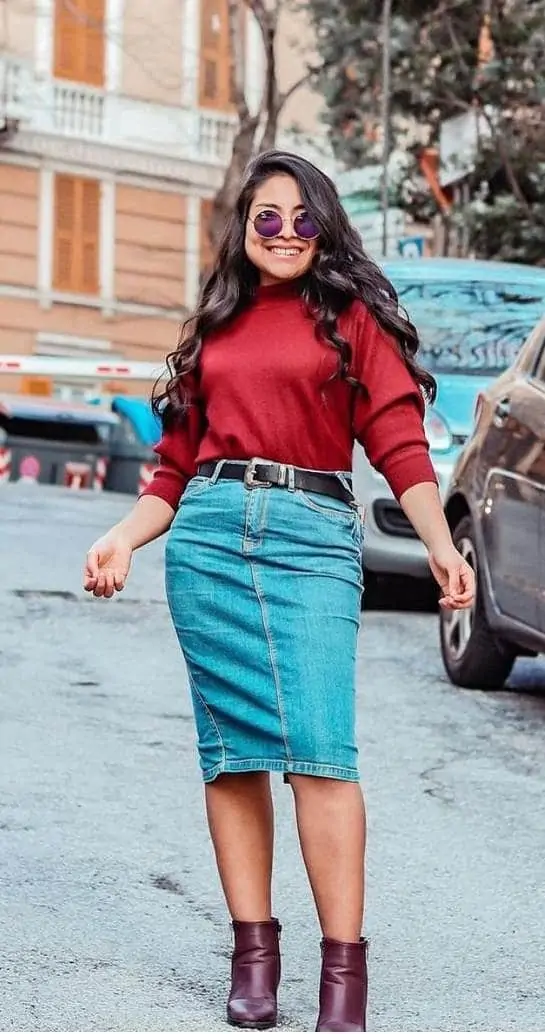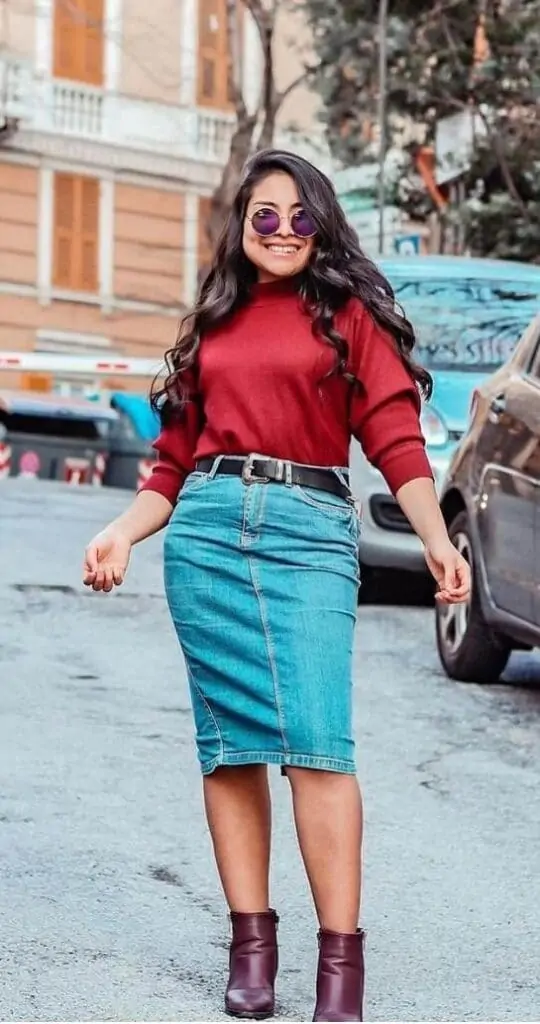 Genesis (above) styled her denim skirt with a burgundy top and a pair of ankle boots.
's best to go for a denim skirt in a simple style if you'll be wearing it to church, nothing over the top. If it's warm outside, you can always switch up the boots for sandals
It's best to go for a denim skirt in a simple style if you'll be wearing it to church, nothing over the top. If it's warm outside, you can always switch up the boots for sandals.
A suit outfit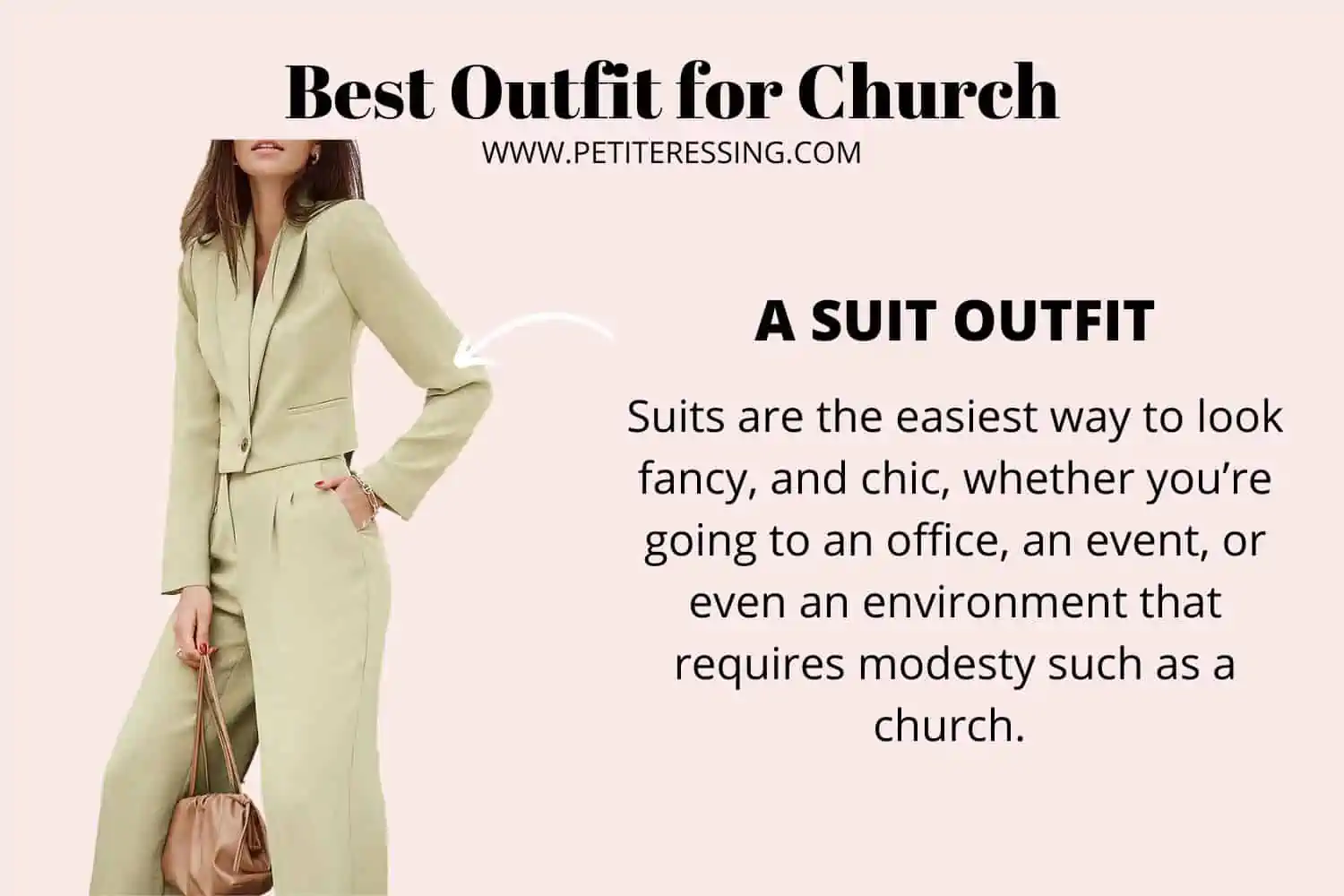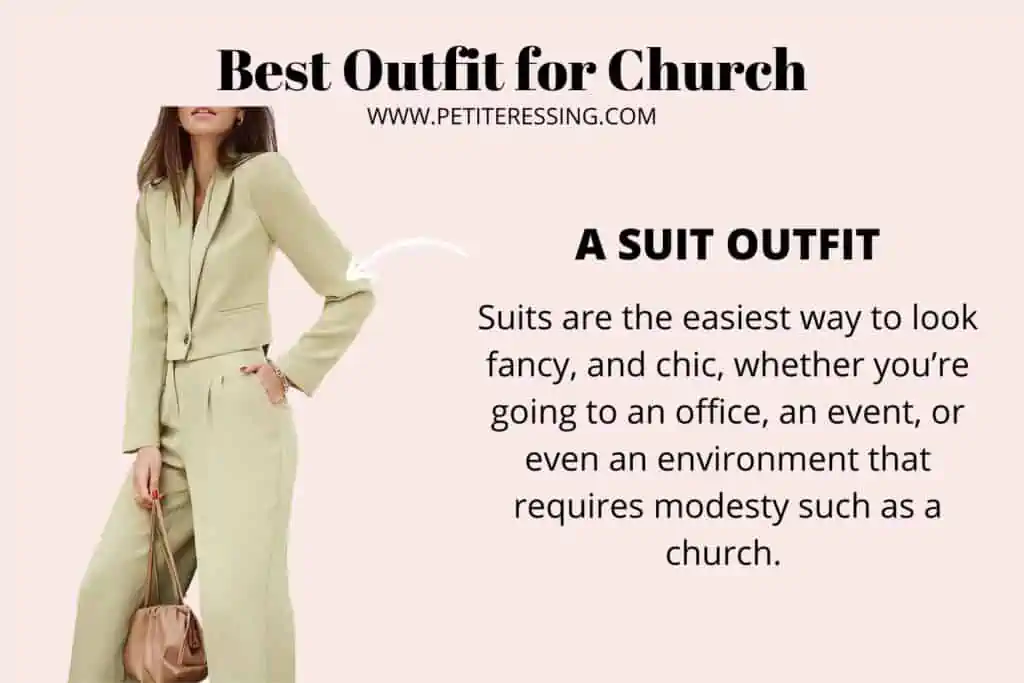 Suits are the easiest way to look fancy, and chic, whether you're going to an office, an event, or even an environment that requires modesty such as a church. This is the one outfit that doesn't fail.
The best part is that a suit is available in different styles as well as prints and colors, which means you have endless options. It's literally up to you to pick a design that best matches your preferences.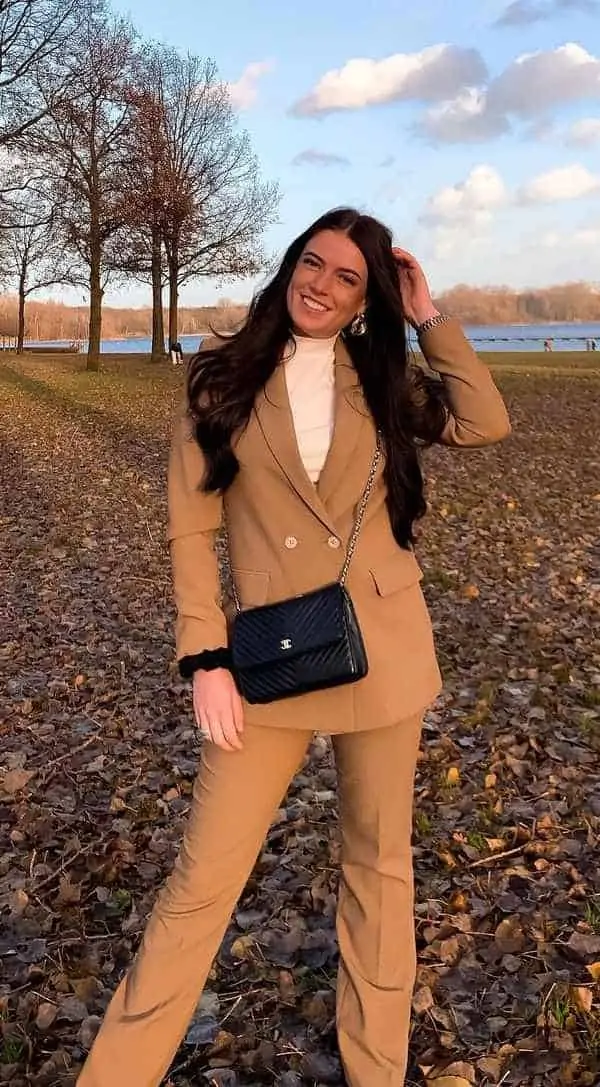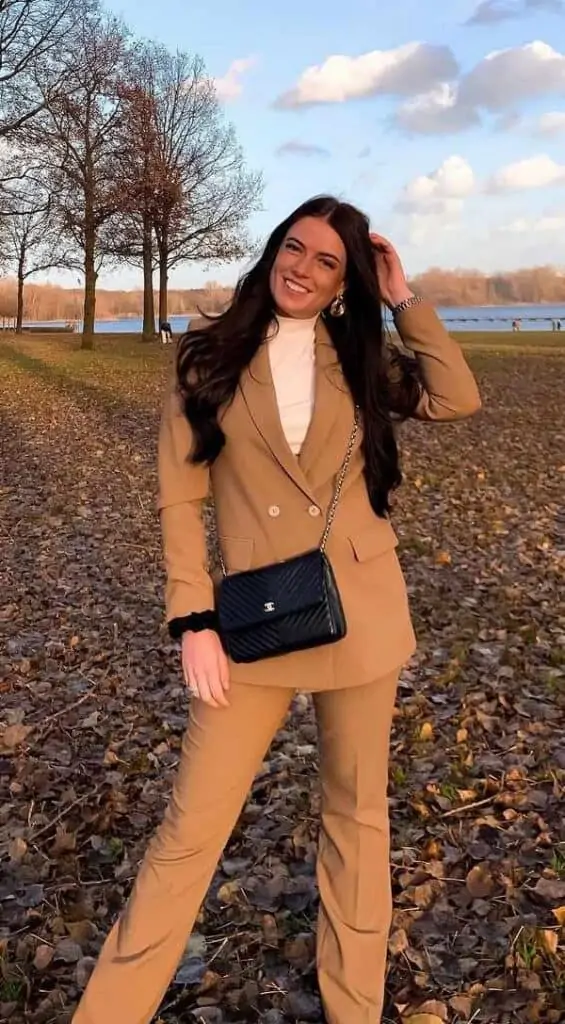 Jasmijn (above) styled her suit with a simple top and a black bag.
With a suit, you don't have to think too hard about what else to wear. Darker and neutral shades are classier though.
A lace dress outfit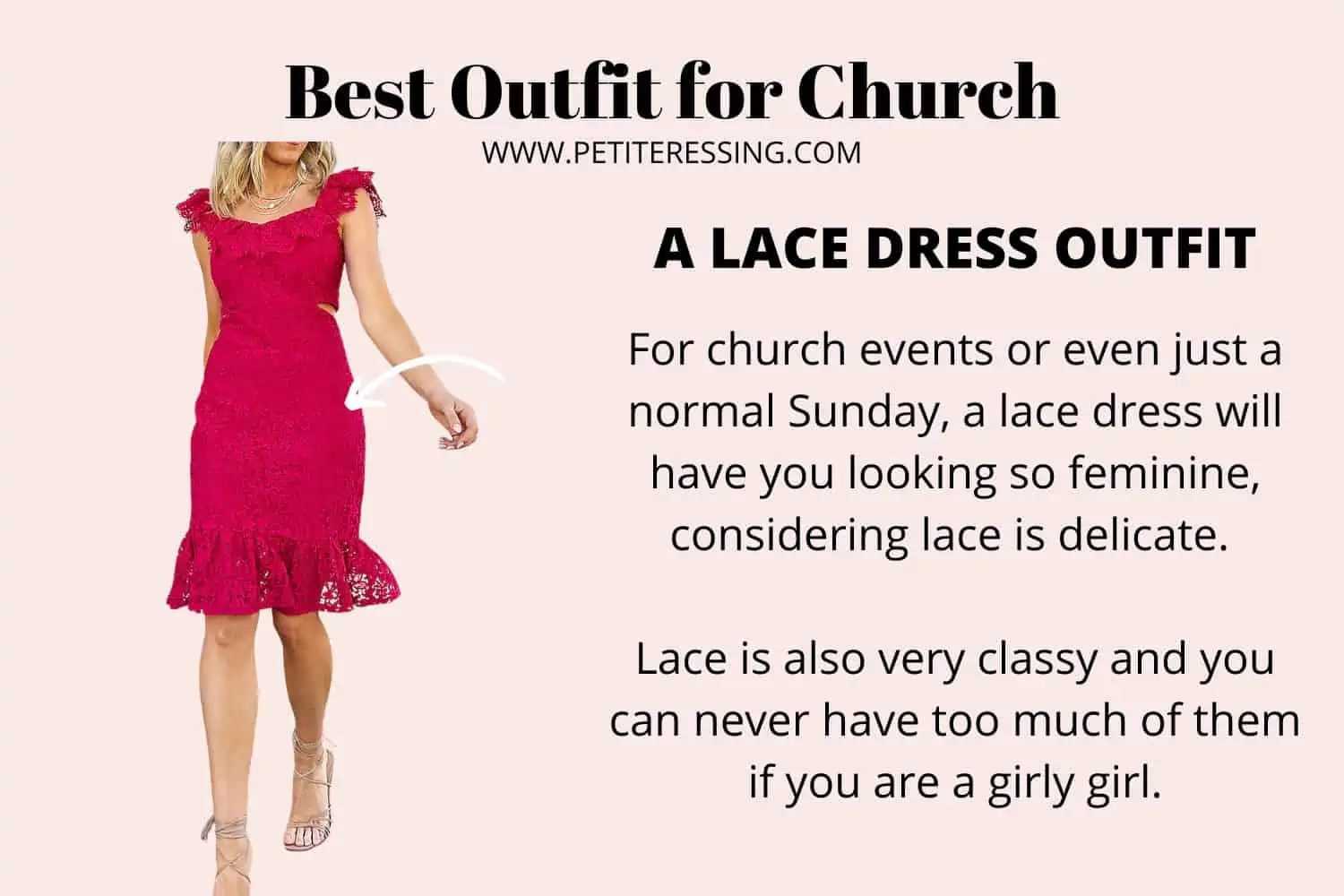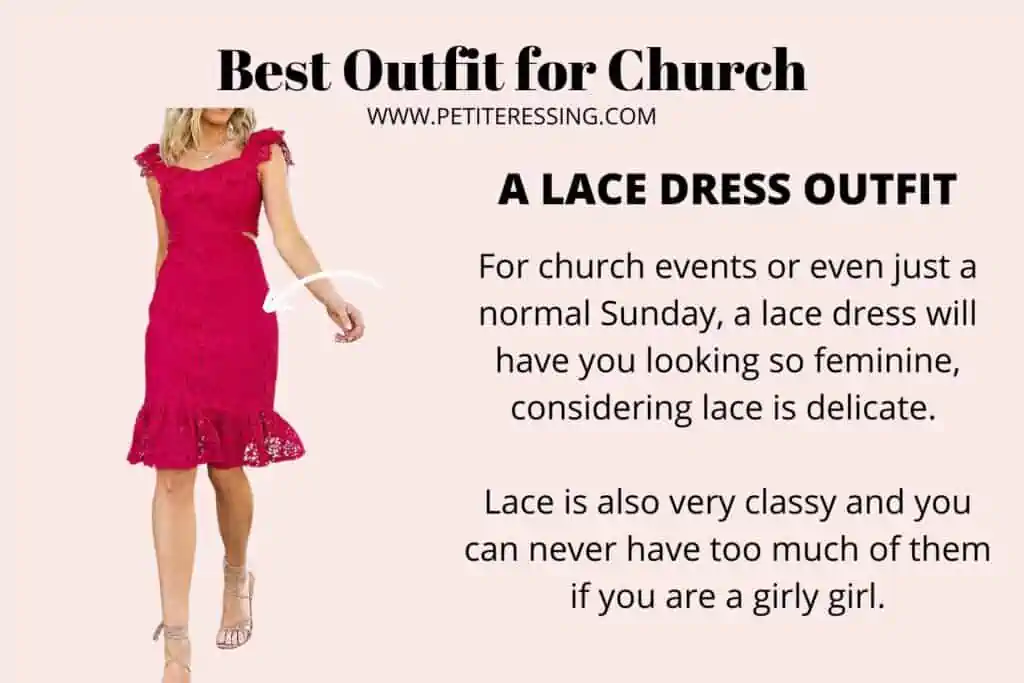 For church events or even just a normal Sunday, a lace dress will have you looking so feminine, considering lace is delicate. Lace is also very classy and you can never have too much of them if you are a girly girl.
Colors like white look fantastic, especially for church events like baptisms, although you can pick other colors too.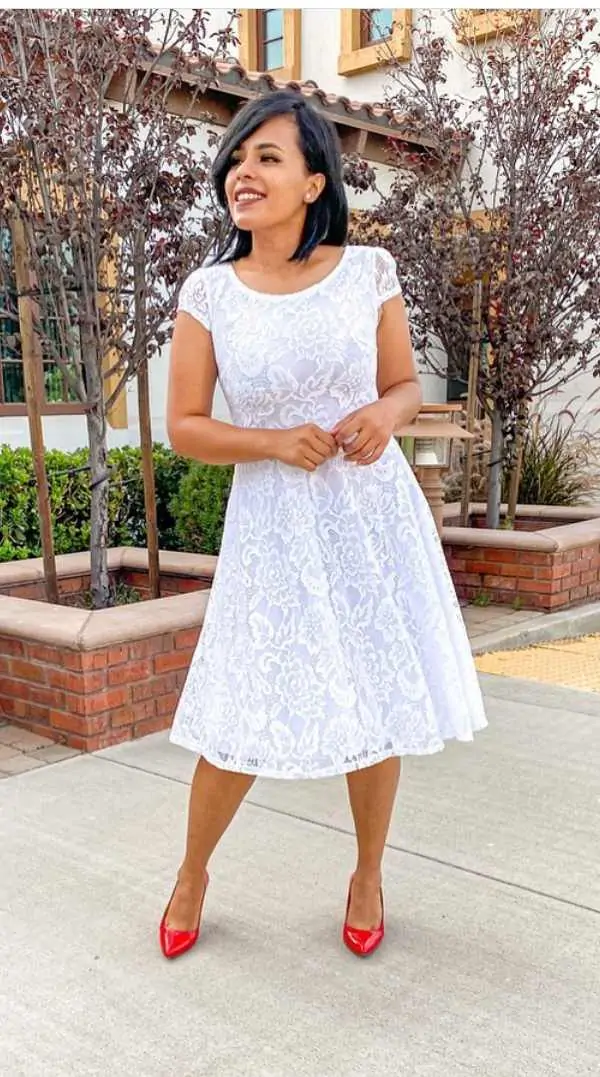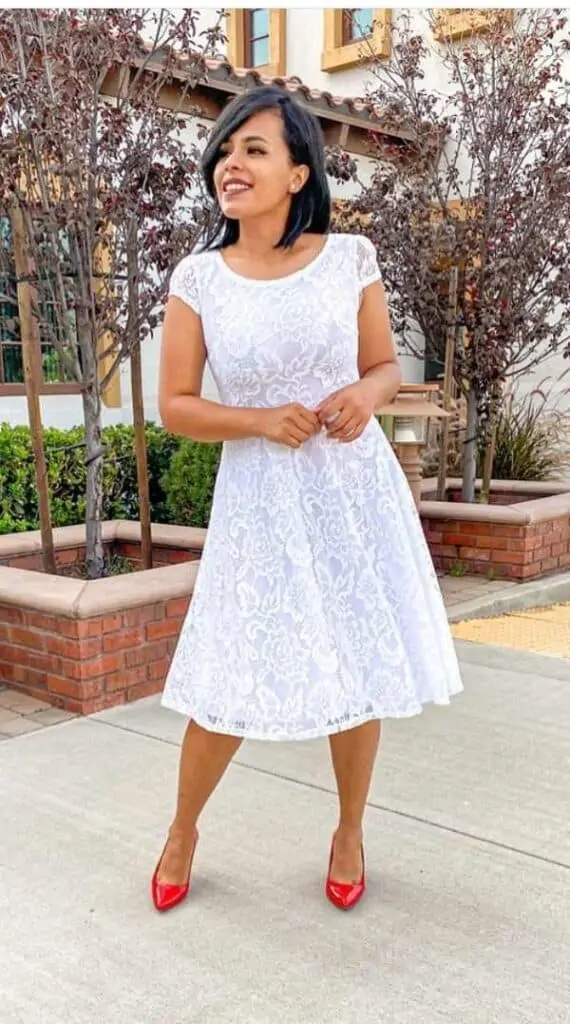 Pao (above) wore her lace dress with a pair of red shoes. It's a simple yet chic look. You can always add a few accessories such as skinny belts or some statement earrings with this look to make it even better.
Denim jacket outfit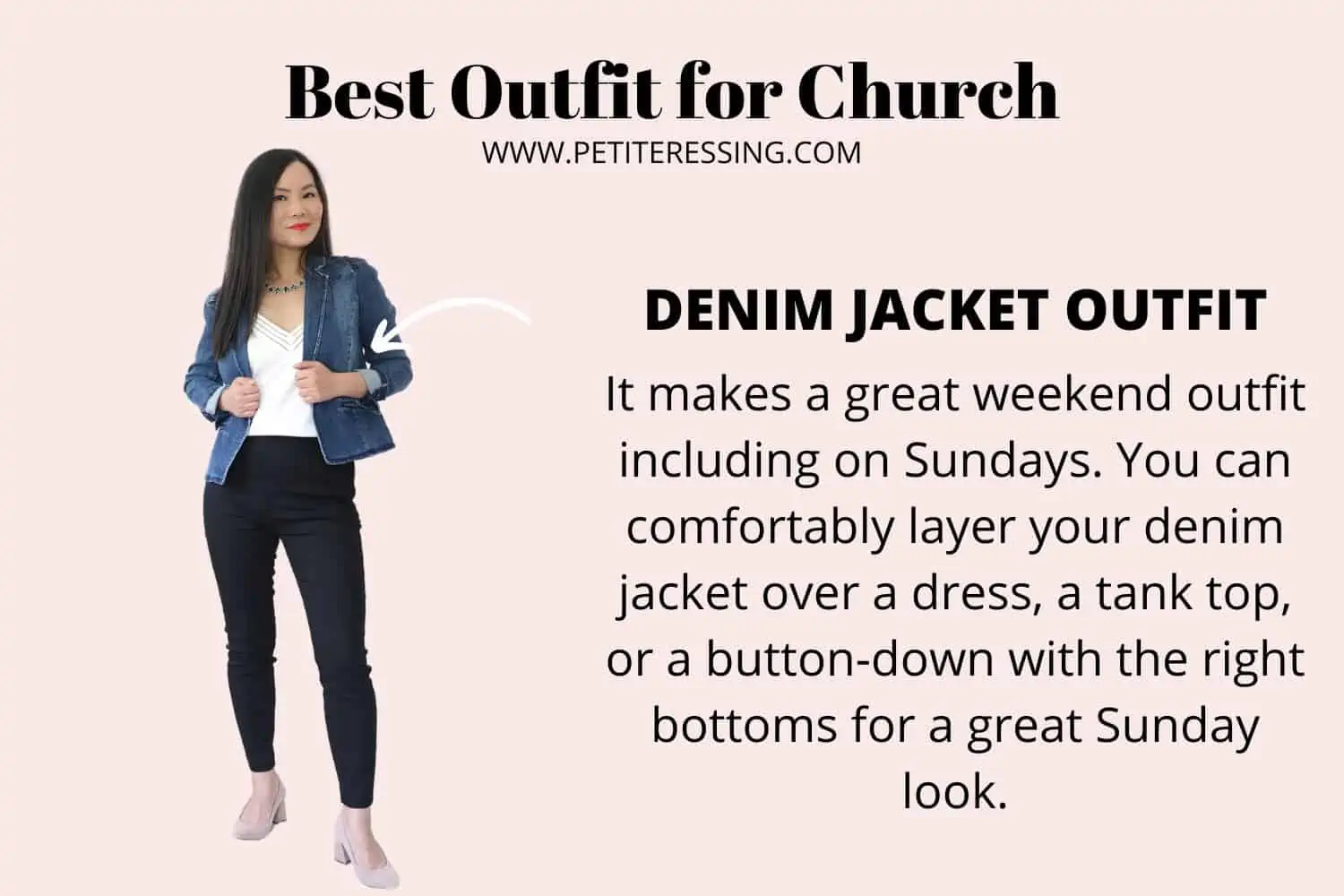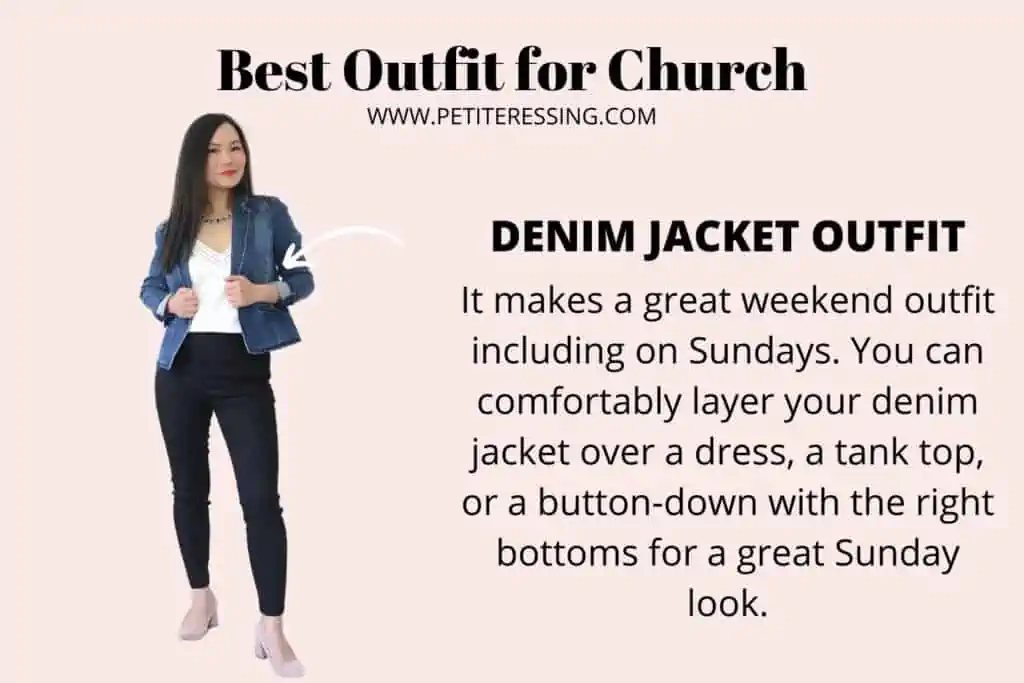 As has already been mentioned, denim is comfortable and it does make for a great weekend outfit including on Sundays. You can comfortably layer your denim jacket over a dress, a tank top, or a button-down, of course with the right bottoms for a great Sunday look.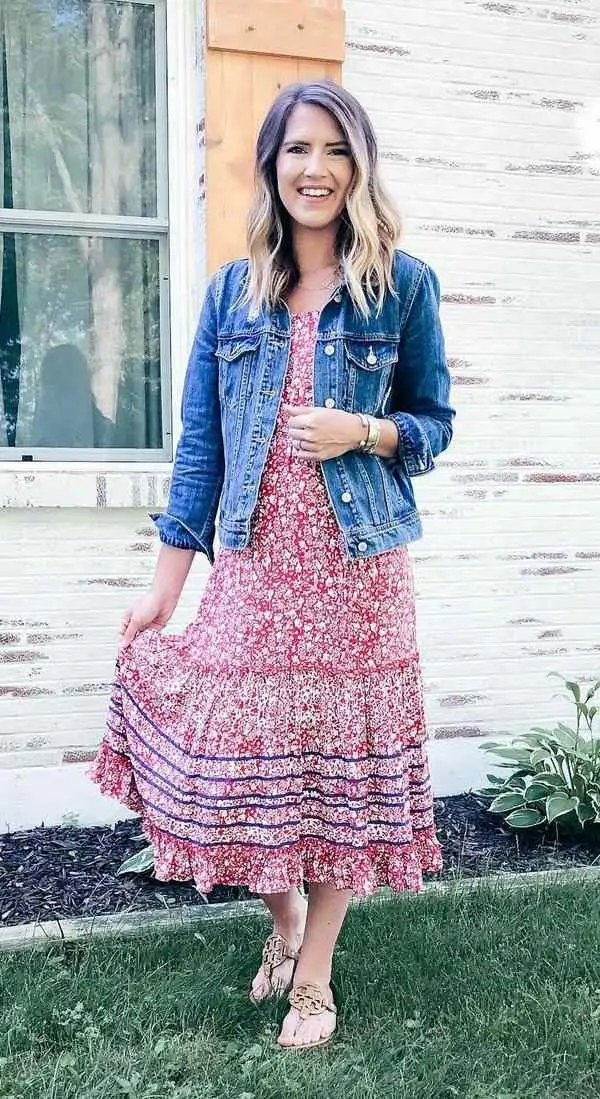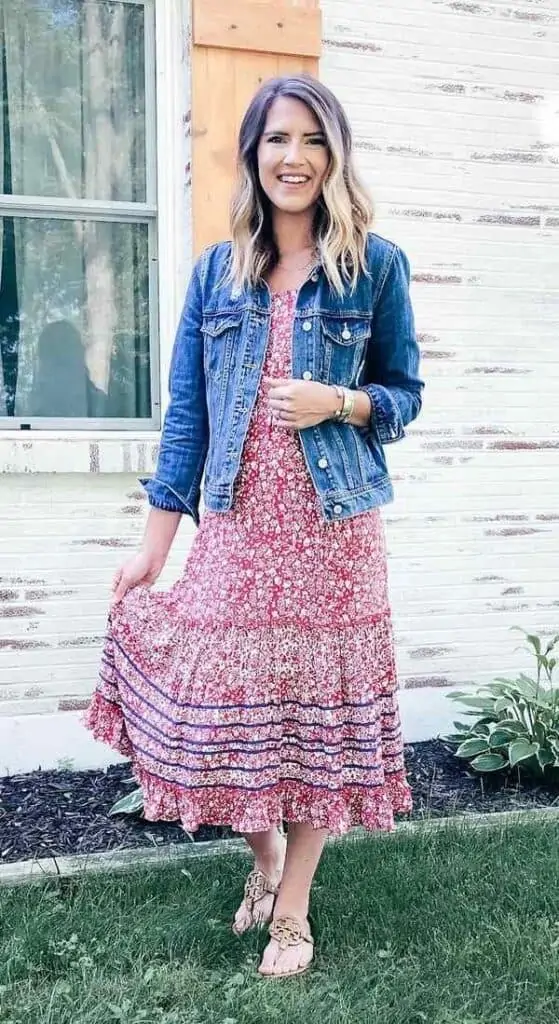 Becca (above) wore a denim jacket over a printed midi dress for a cute Sunday look. She wore a pair of sandals with the look.
If you want to dress up more, strappy heels would also look great with this outfit. Maxi dress is a great option to wear to the church with this outfit, but you can also pick a different length for this look such as a knee-length or midi.
Maxi skirt outfit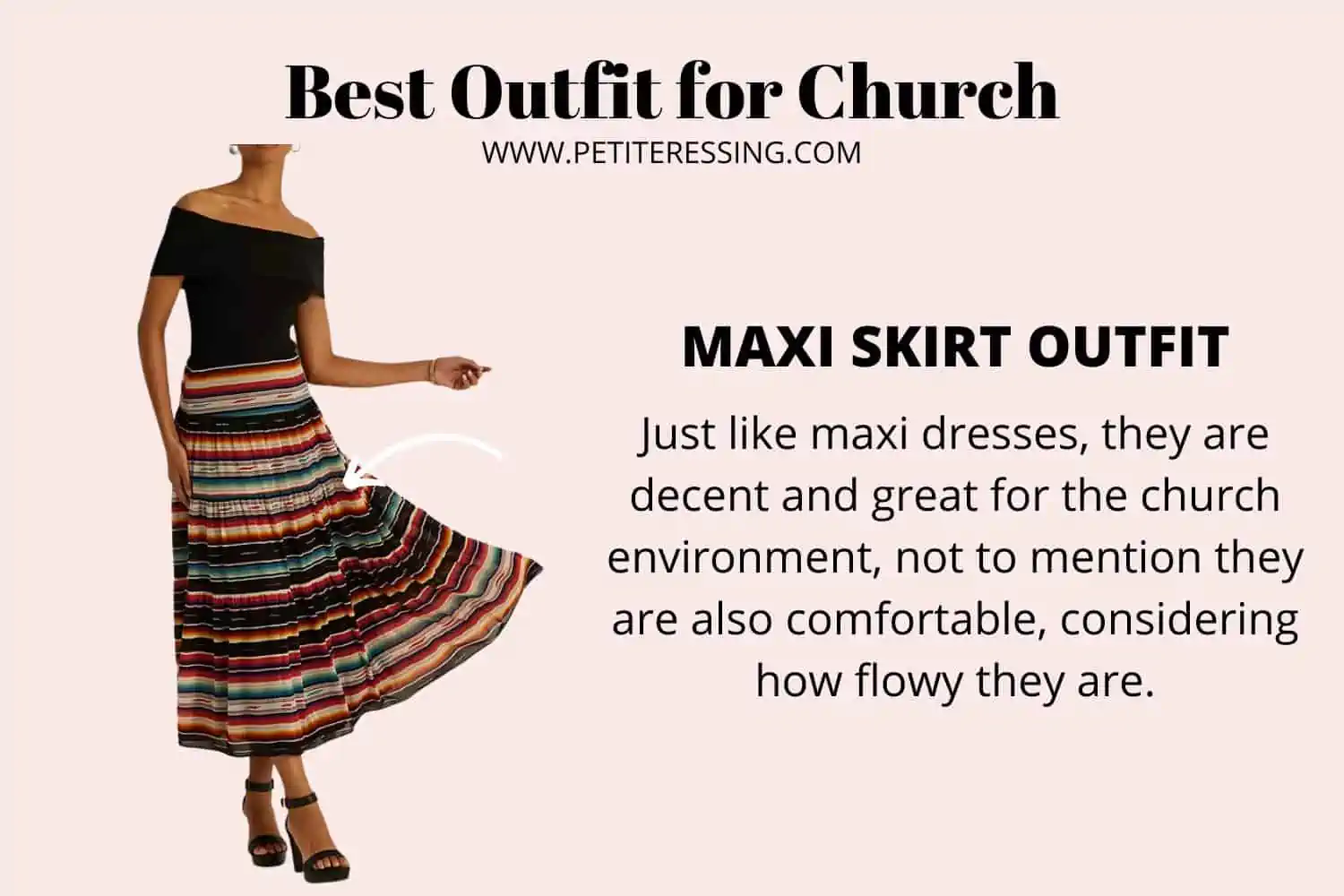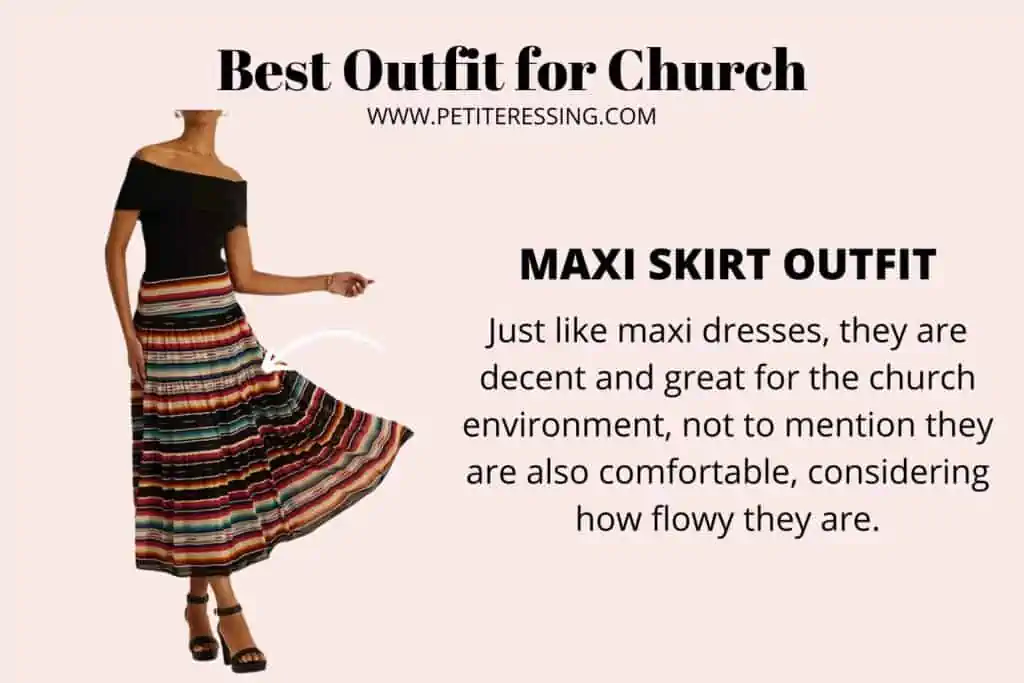 A maxi skirt is a great alternative to the maxi dress, especially if you love a good maxi length, but prefer to have different options with the top. Just like maxi dresses, they are decent and great for the church environment, not to mention they are also comfortable, considering how flowy they are.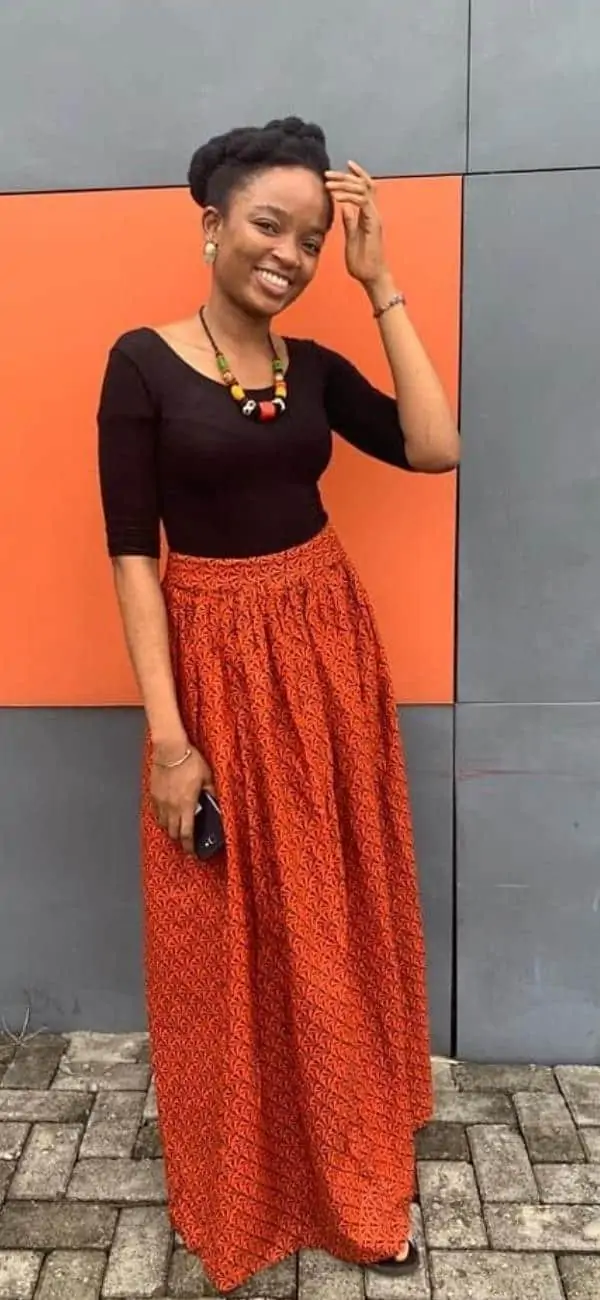 Boluwatife (above) wore her printed maxi skirt with a black top and accessorized with a necklace.
It's a great look that works for church, and you can always layer a cropped jacket over the top if you want it to work.
A shift dress outfit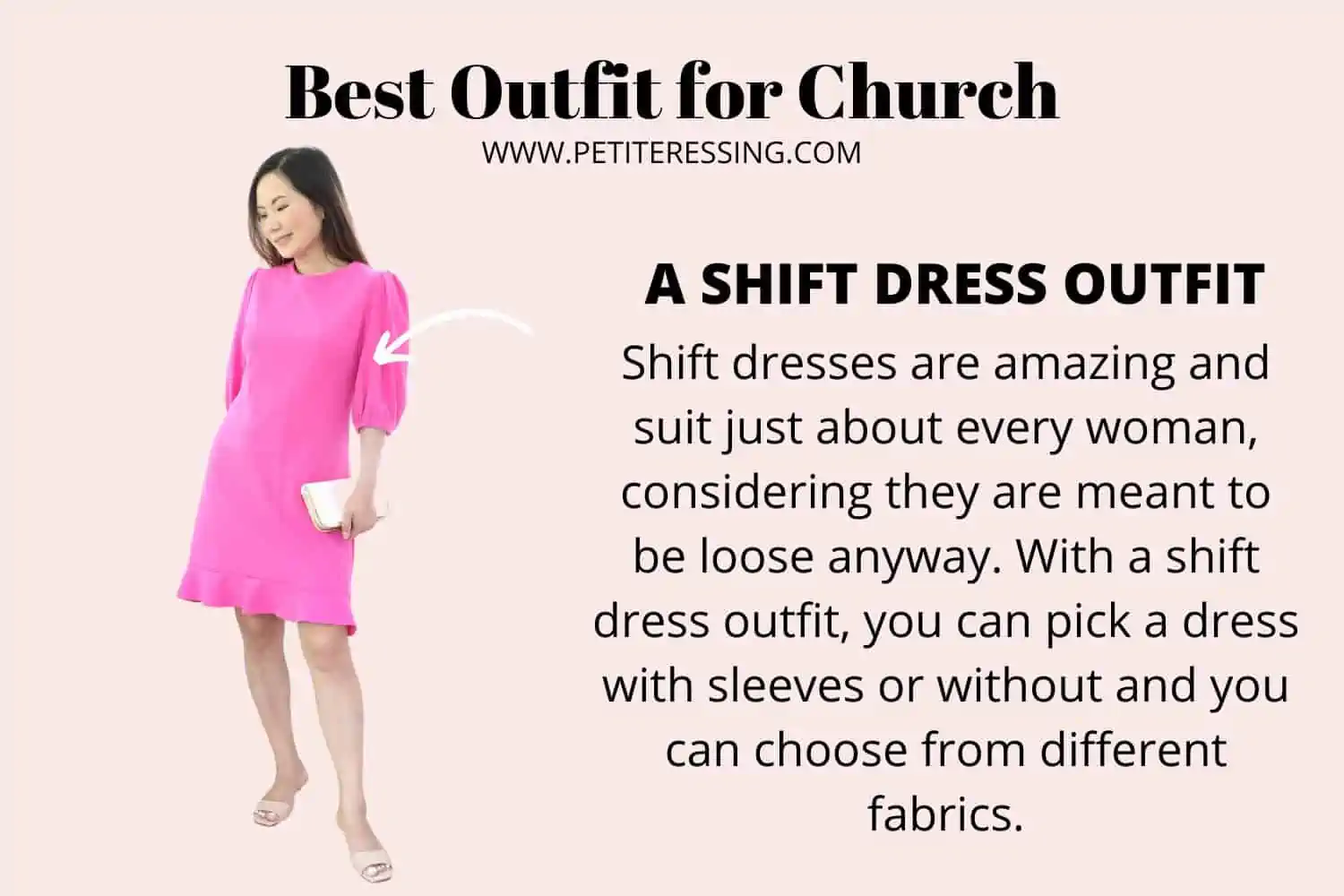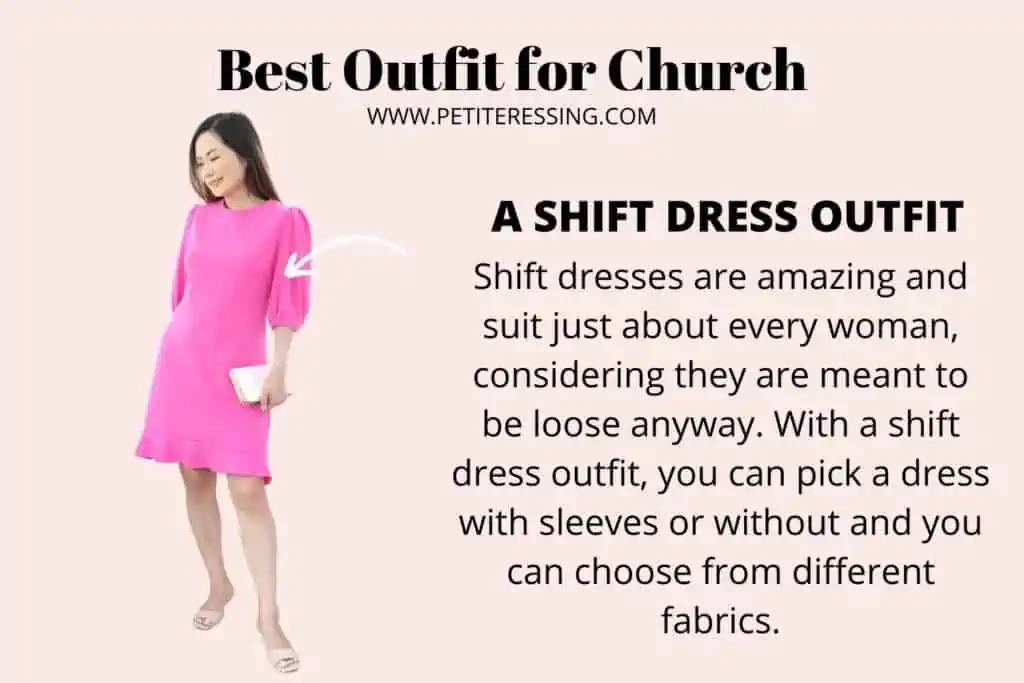 Shift dresses are amazing and suit just about every woman, considering they are meant to be loose anyway. Knee-length ones make for a great Sunday look, especially when worn with heels or even sandals.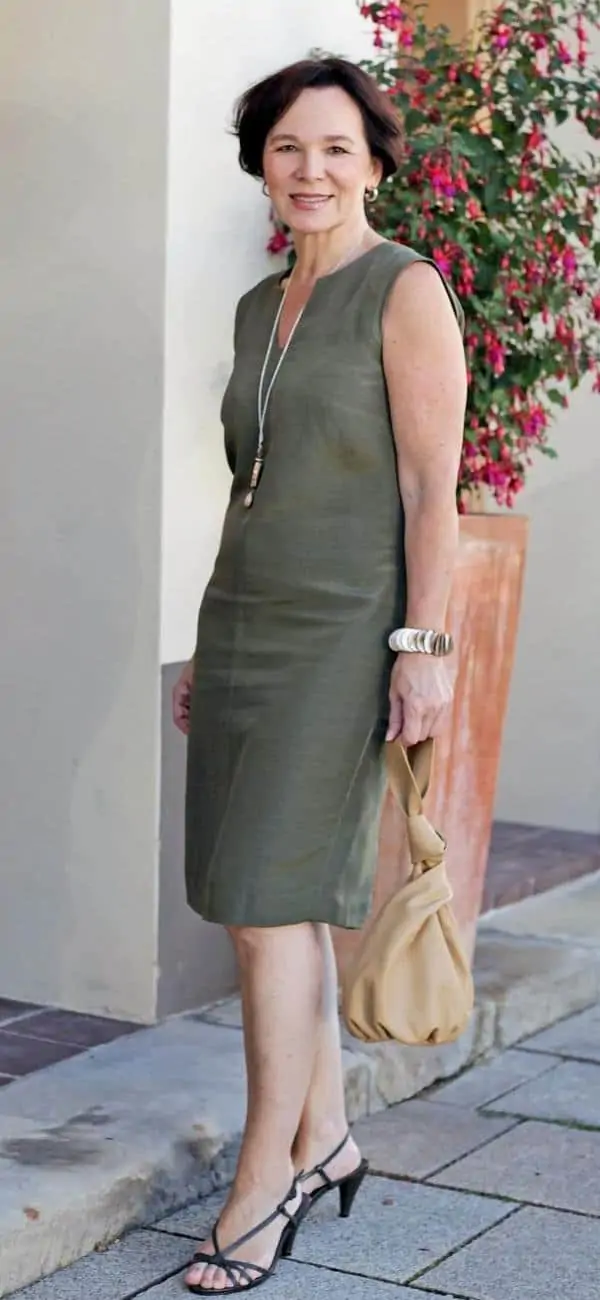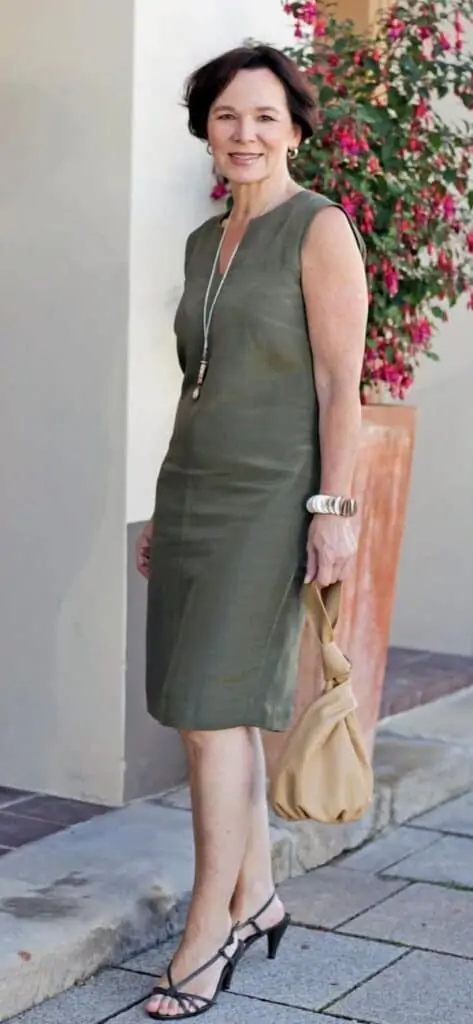 Ladyofstyle (above) wore her green shift dress with some black open shoes for that laid back look. She also went for a brown bag to complete the outfit.
With a shift dress outfit, you can pick a dress with sleeves or without and you can choose from different fabrics.
A shirtdress outfit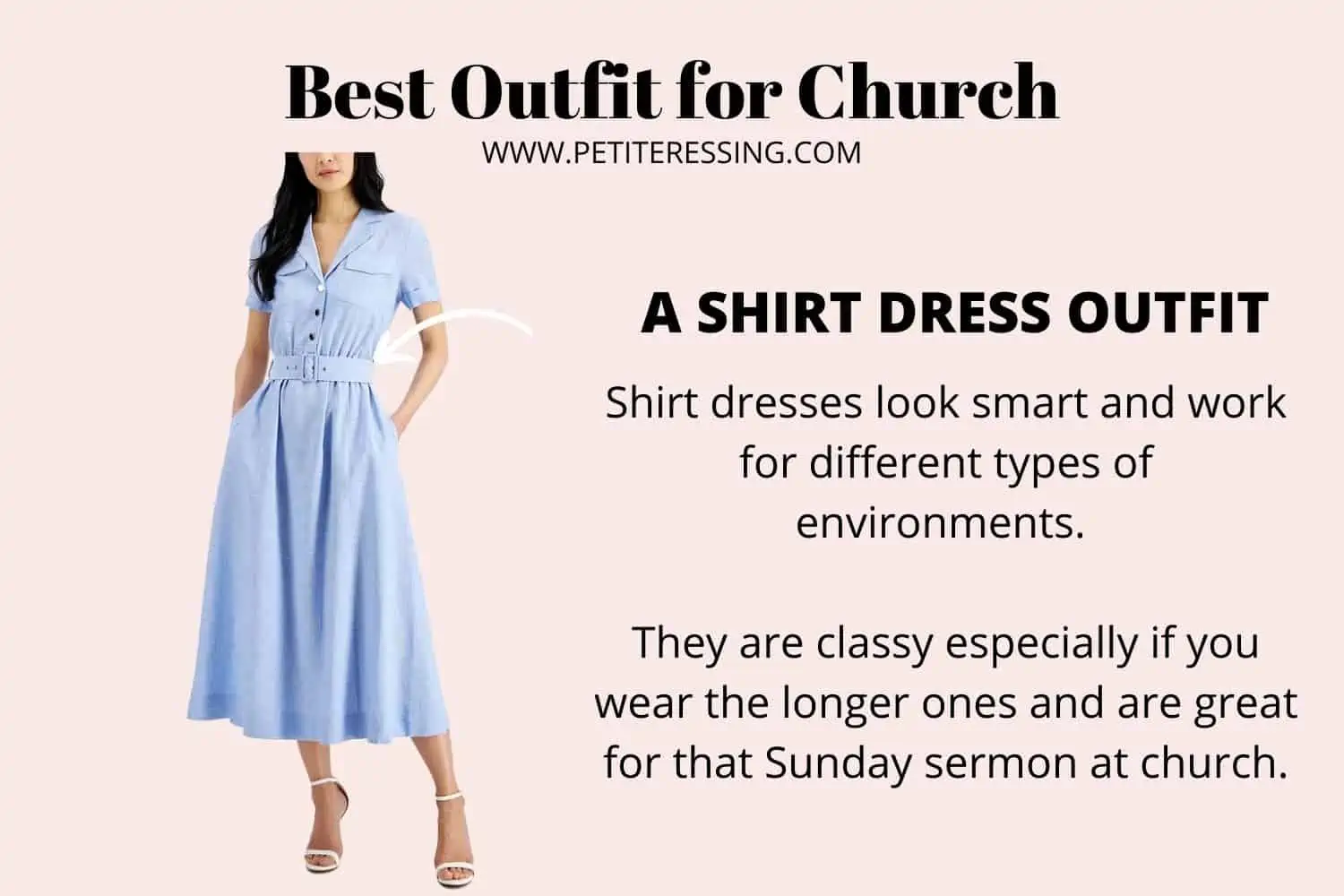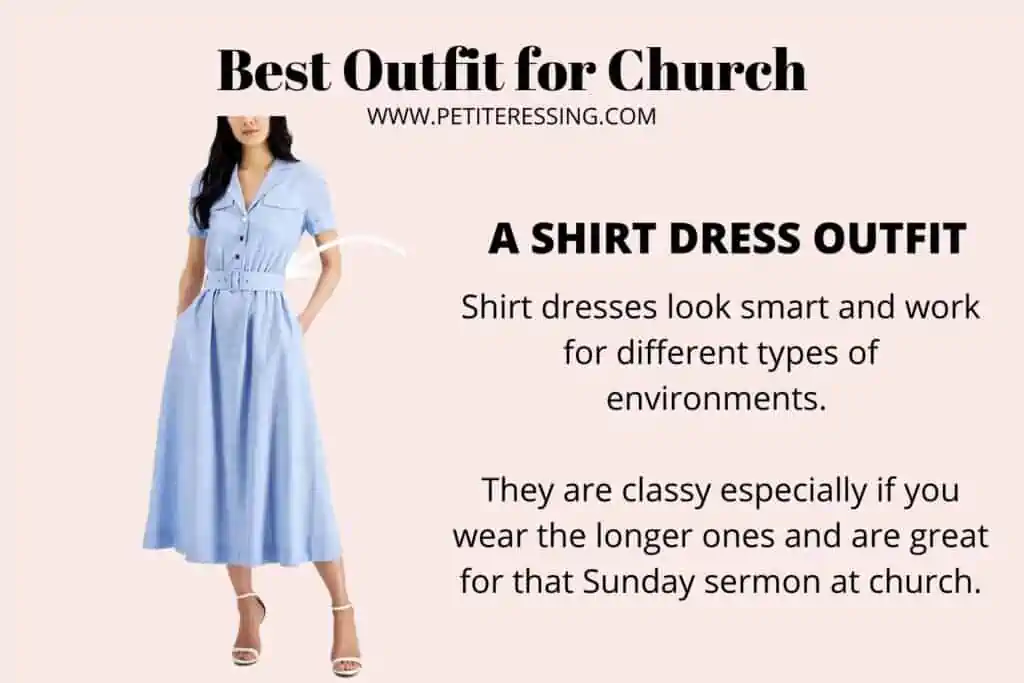 Shirt dresses look smart and work for different types of environments. They are classy especially if you wear the longer ones and are great for that Sunday sermon at church.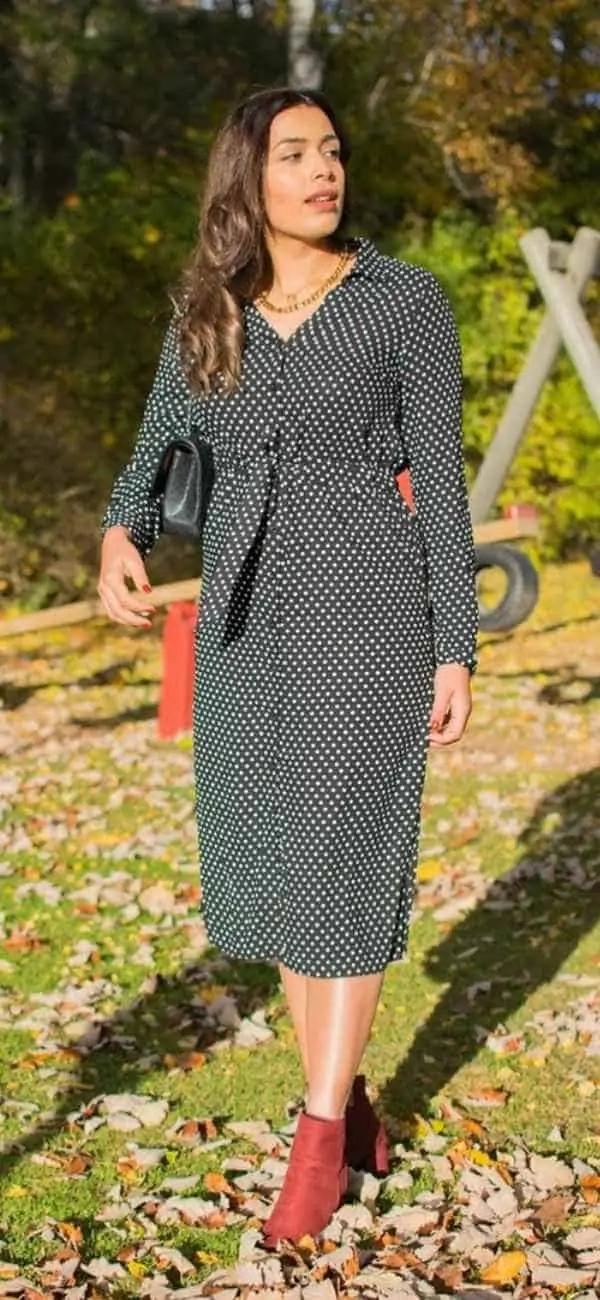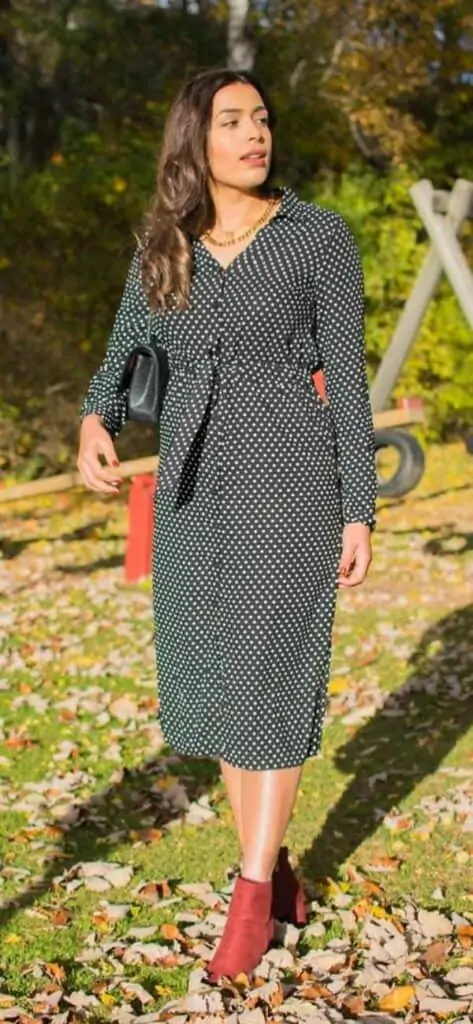 Anjali (above) styled a simple black shirtdress with some polka dot print on it with a pair of red ankle boots. It's a look that would flatter anyone considering the color of the dress is a simple black and white.
A coat outfit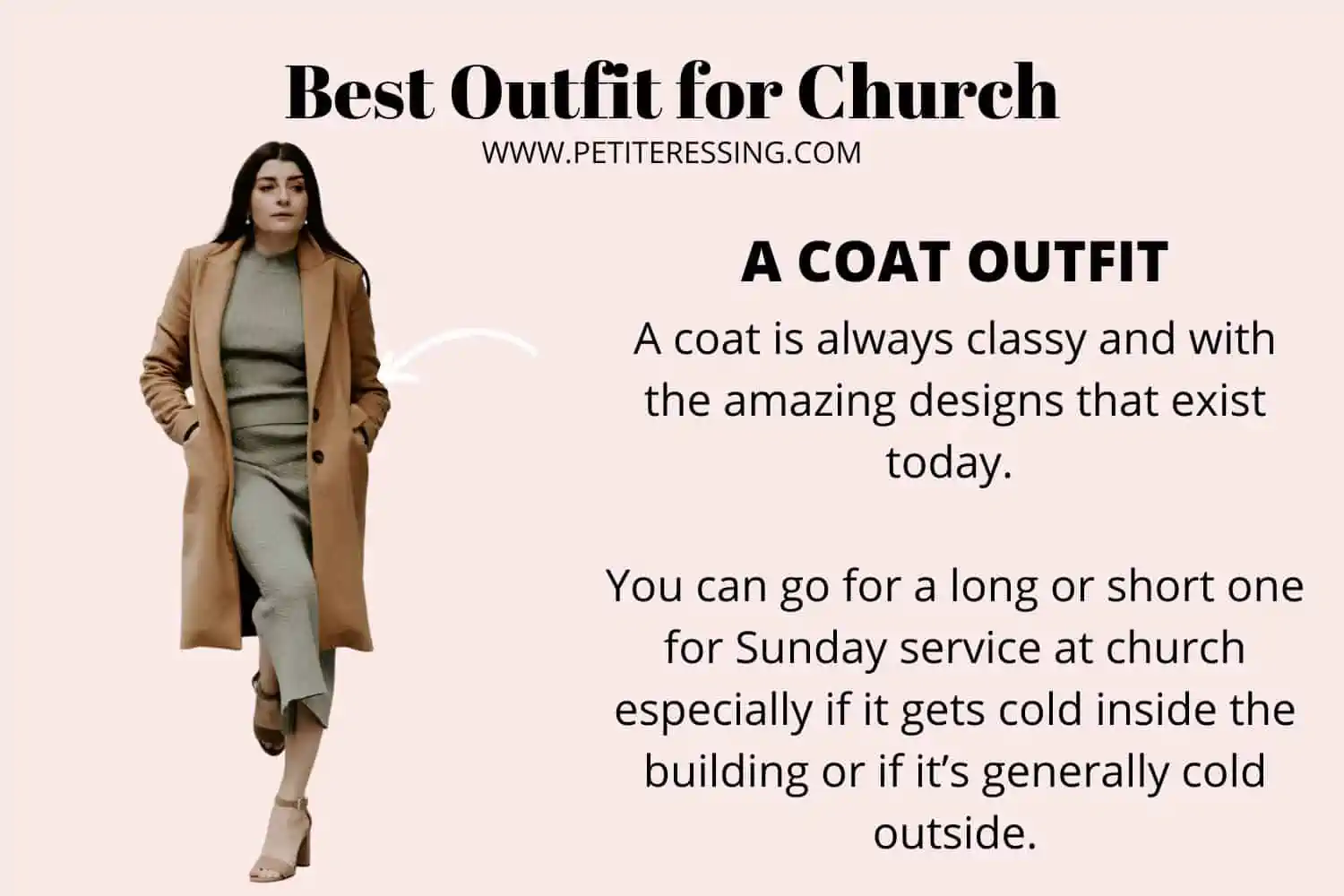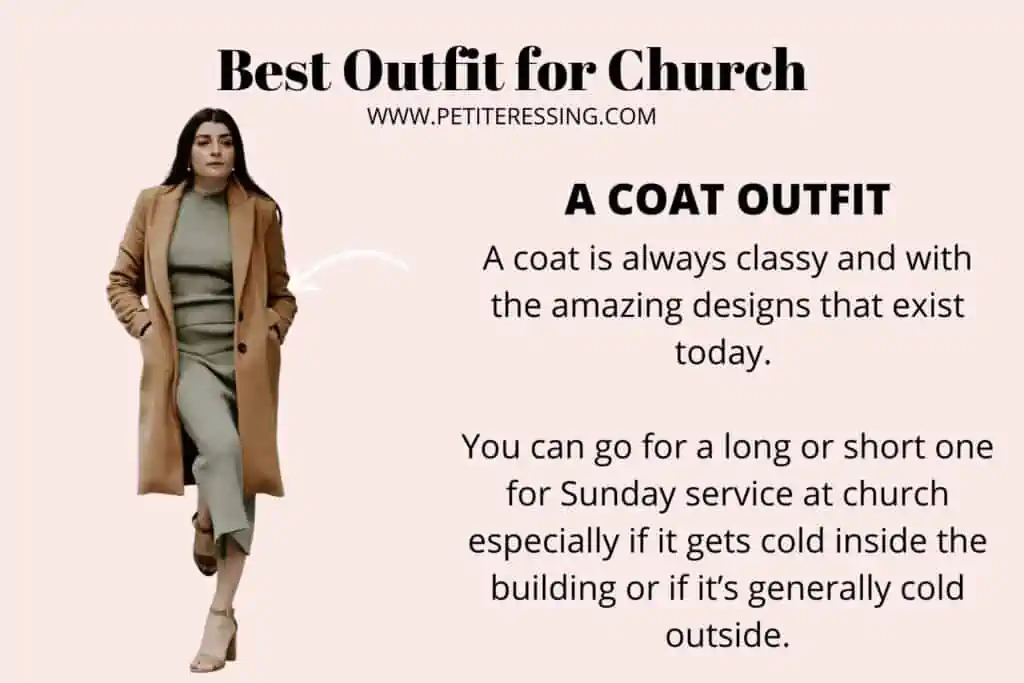 A coat is always classy and with the amazing designs that exist today, you don't even have to worry about them covering up a good outfit. You can go for a long or short one for Sunday service at church especially if it gets cold inside the building or if it's generally cold outside.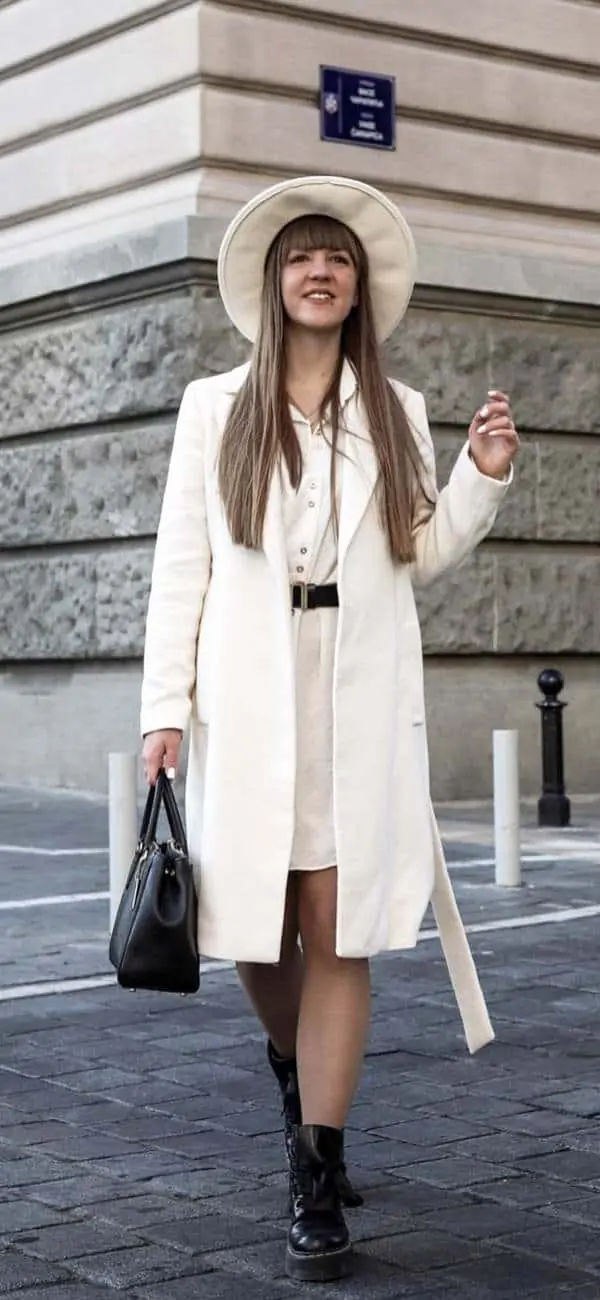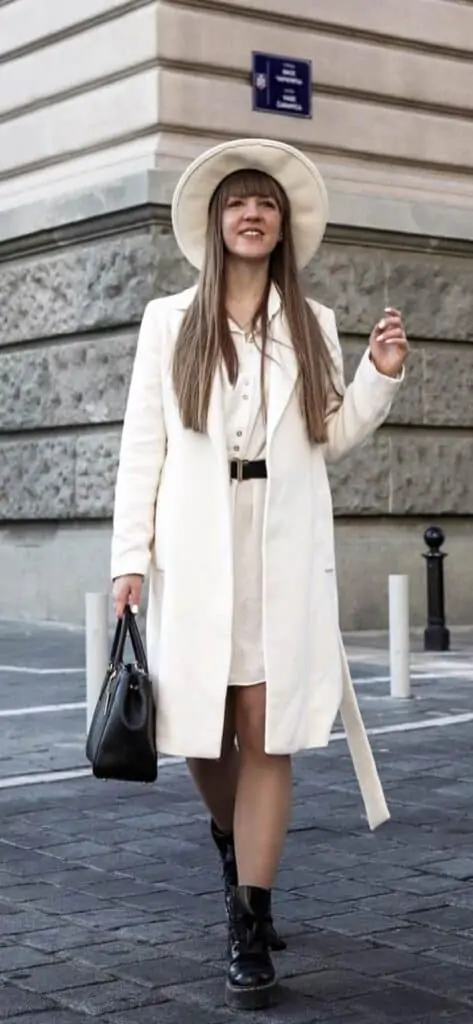 Danijela (above) styled a white dress with a white coat and some boots. Neutral tones are great when it comes to coats for church but in case you like some color, you could always go for something brighter.
A skinny jeans outfit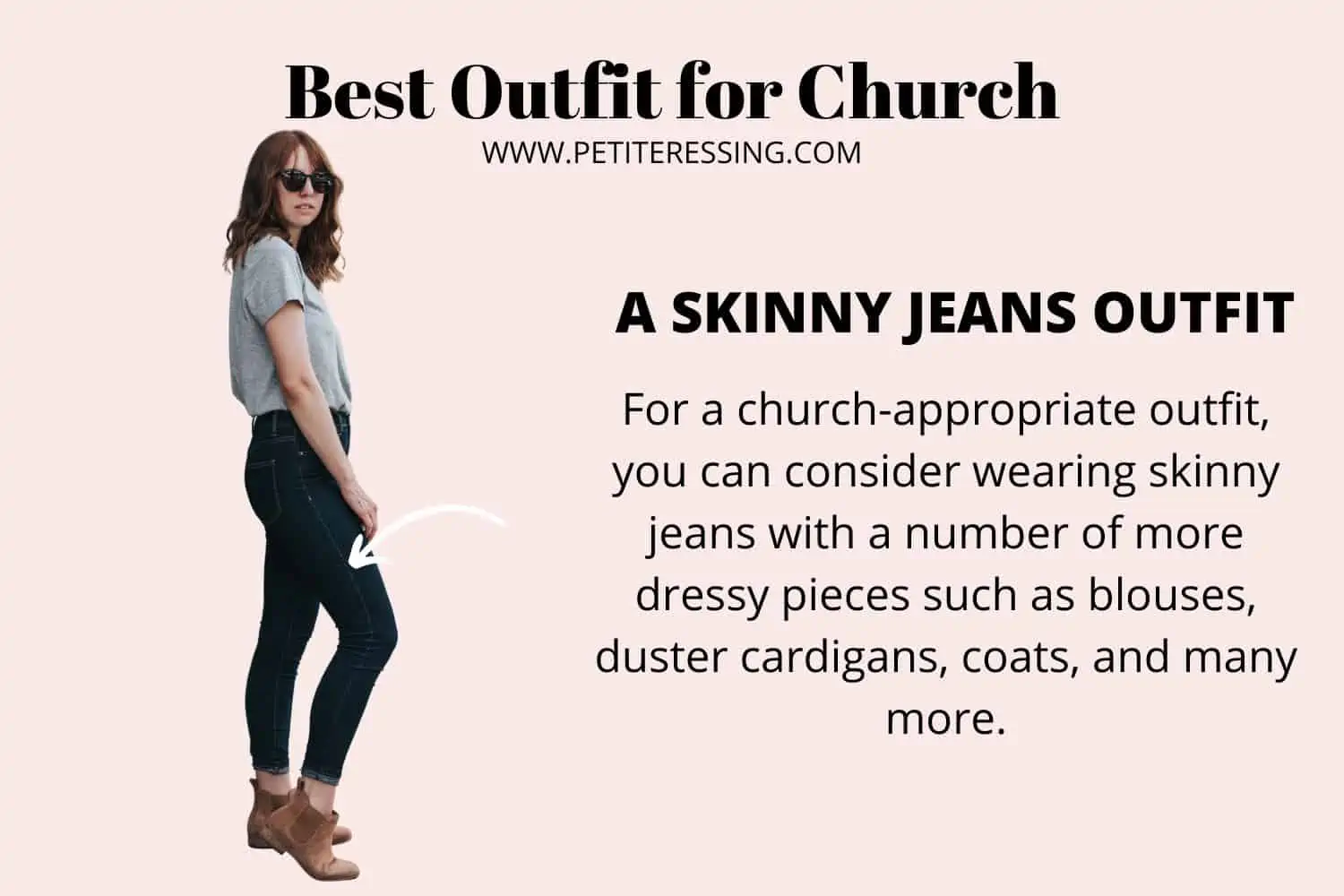 Skinny jeans are the favorite of many women, because of how easy they are to wear. Lots of women have them in different colors and types, and they can also work for church when styled right.
For a church-appropriate outfit, you can consider wearing skinny jeans with a number of more dressy pieces such as blouses, duster cardigans, coats, and many more. Just make sure you get the best fit for your body in order to achieve the best look for a church with them.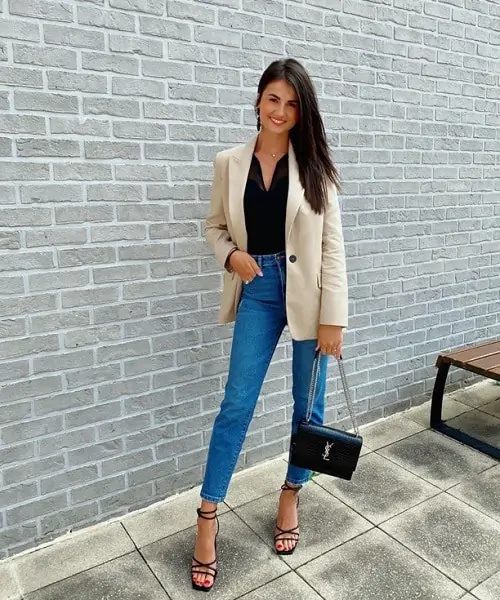 Jessica (above) styled her skinny jeans with a blouse and a pair of closed heels. Such a look is modest and will have you looking stunning even for church despite the jeans being a casual piece.
A sweater dress outfit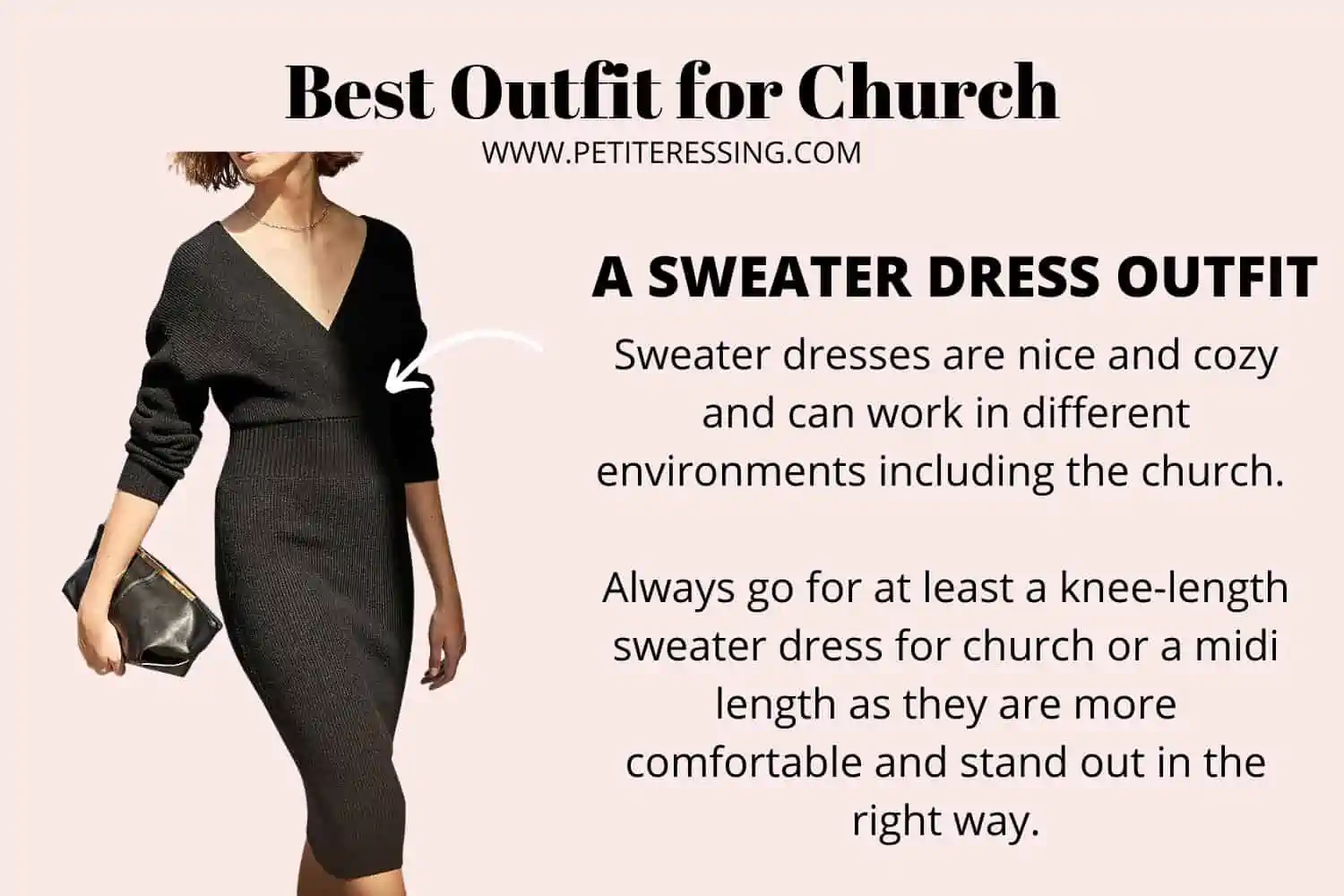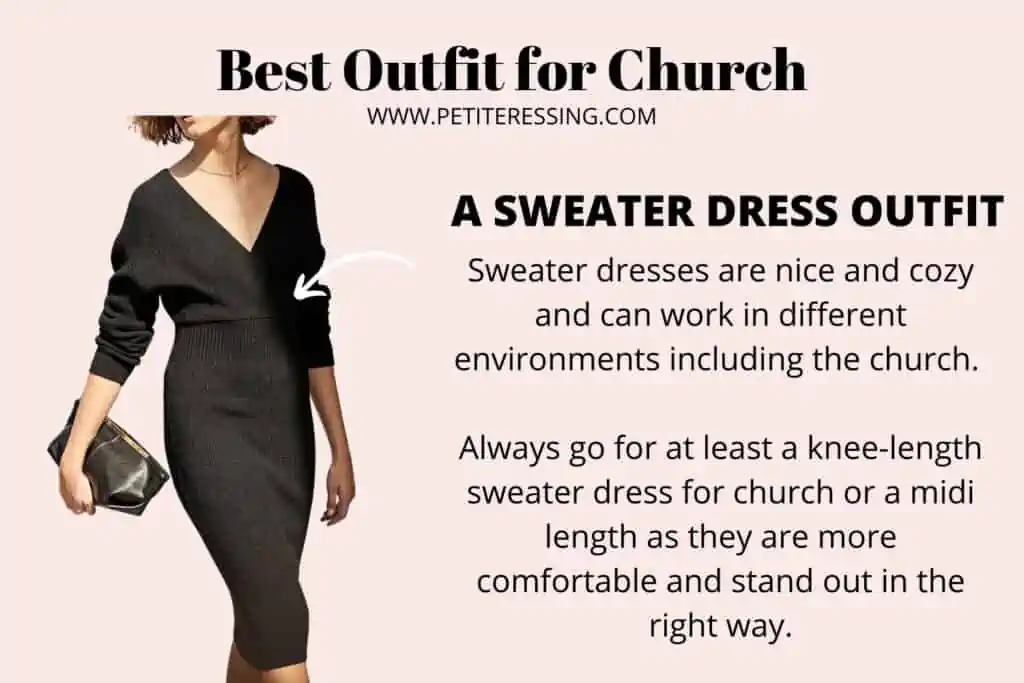 Sweater dresses are nice and cozy and can work in different environments including the church.
They are perfect for a fall look when the weather starts to drop. They are warm and very flattering, especially when you go for a wool blend or cashmere sweater dress. They also come in different colors.
Always go for at least a knee-length sweater dress for church or a midi length as they are more comfortable and stand out in the right way.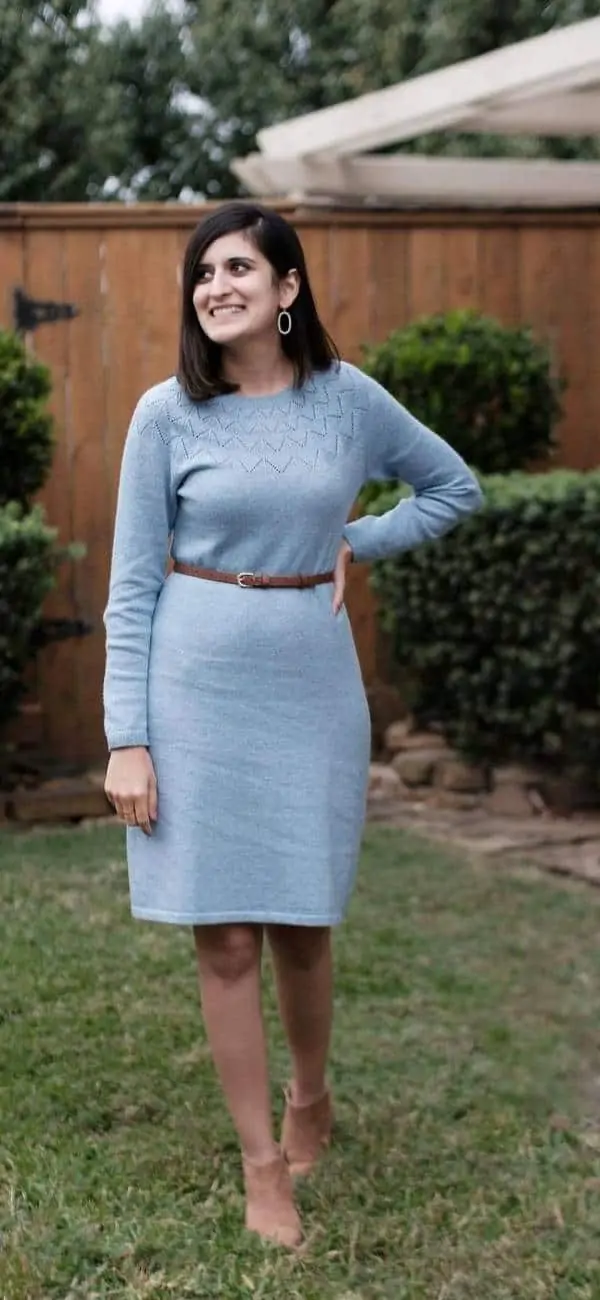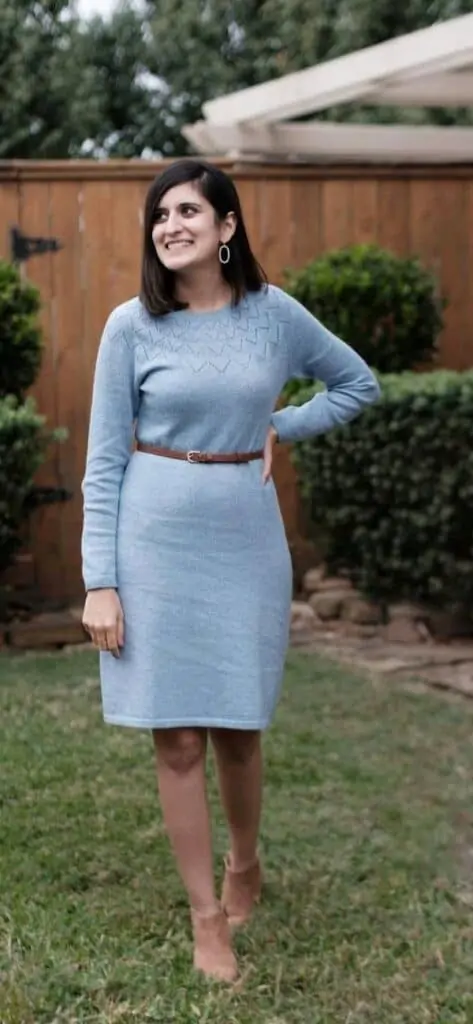 Shivani (above) styled her sweater dress with a pair of ankle boots for a simple look.
A khaki pants outfit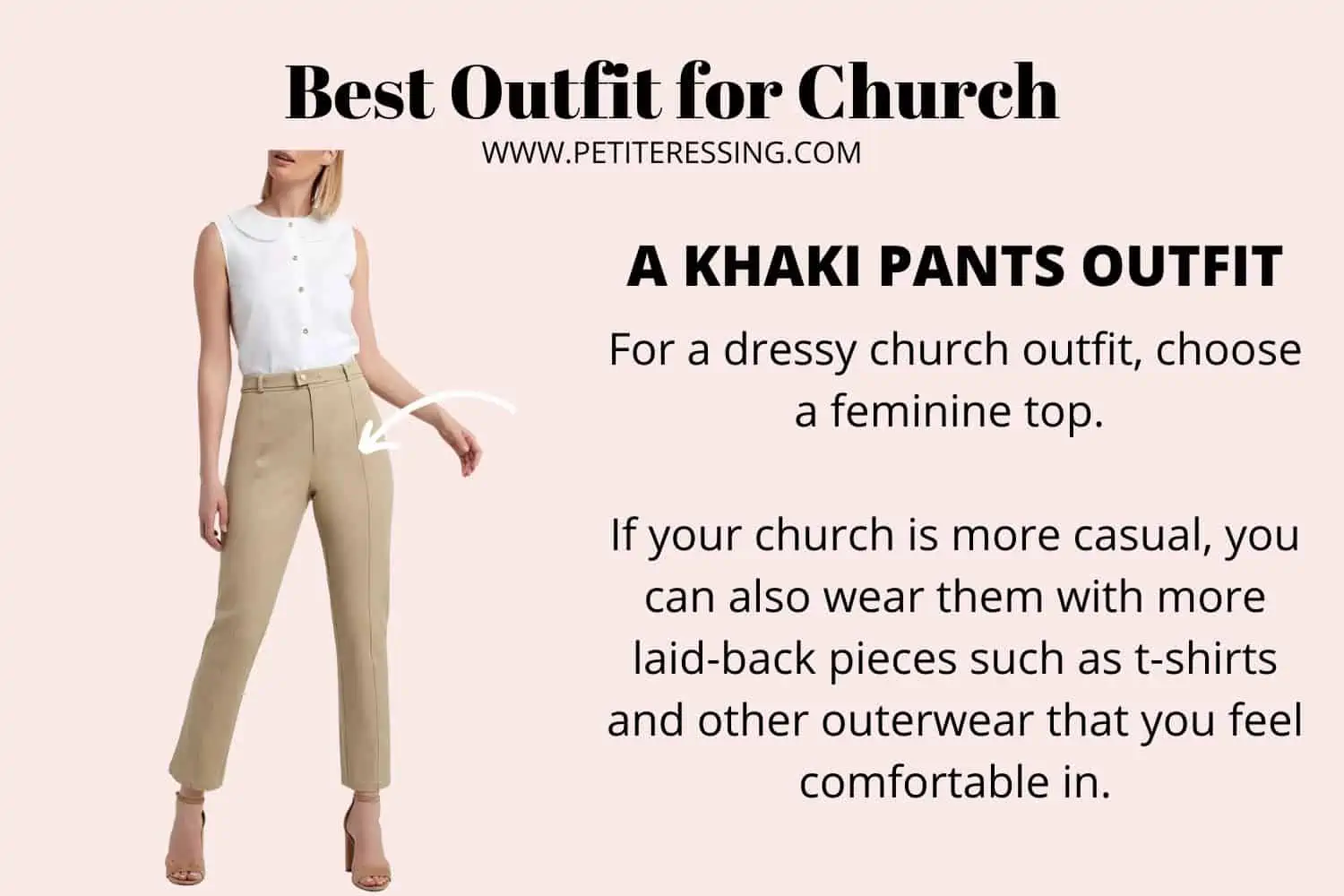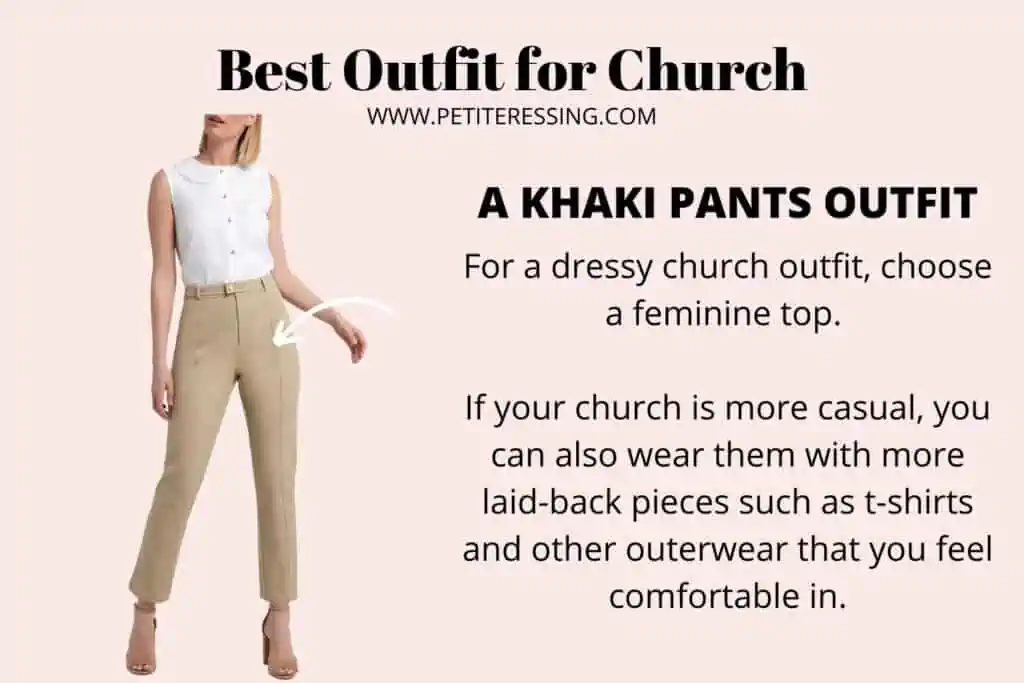 Khaki pants are a great alternative to jeans, especially over the weekend. That said, if jeans are alright for church, then best believe khaki pants are too.
For a dressy church outfit, choose a feminine top. If your church is more casual, you can also wear them with more laid-back pieces such as t-shirts and other outerwear that you feel comfortable in.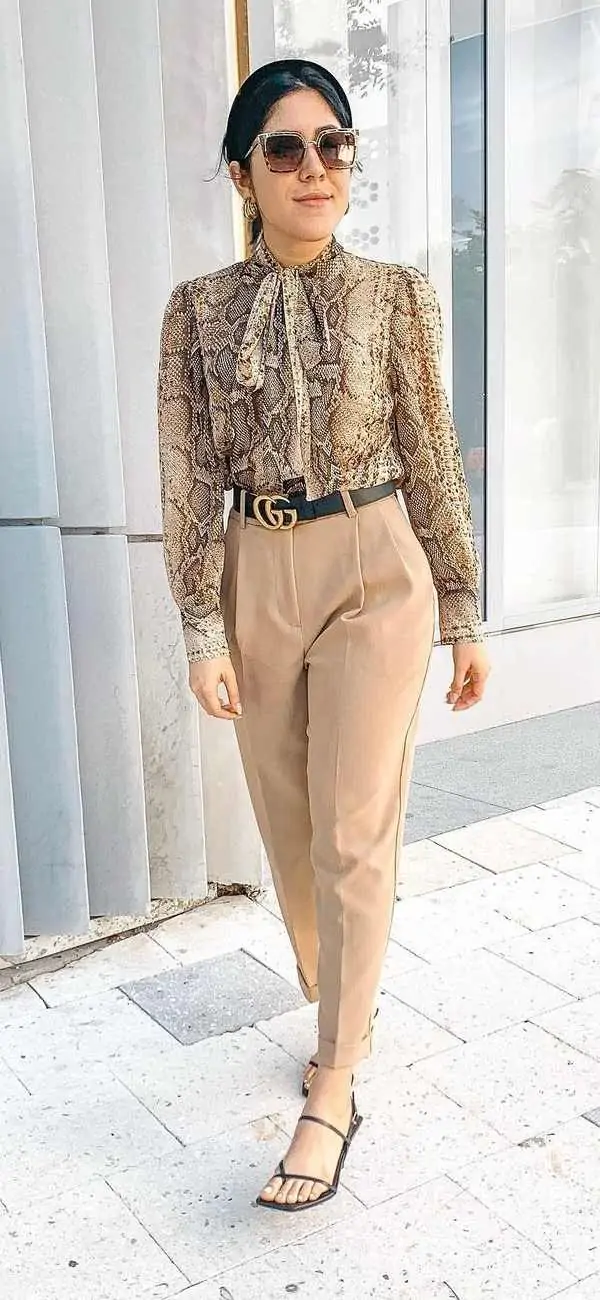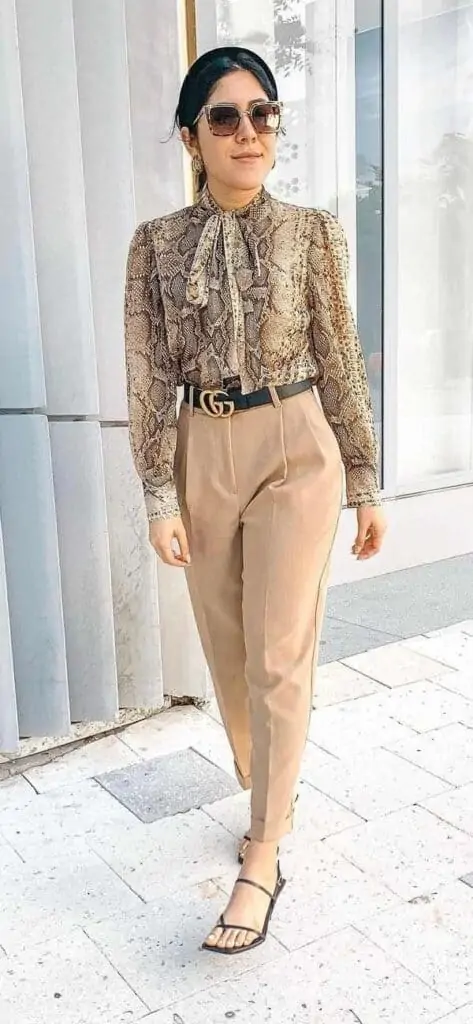 Sandikari (above) styled her khaki pants with a blouse and some flats. It's a great look for church and works for different women. It also helps that the pants are not tight as this makes them more modest.
A jumpsuit outfit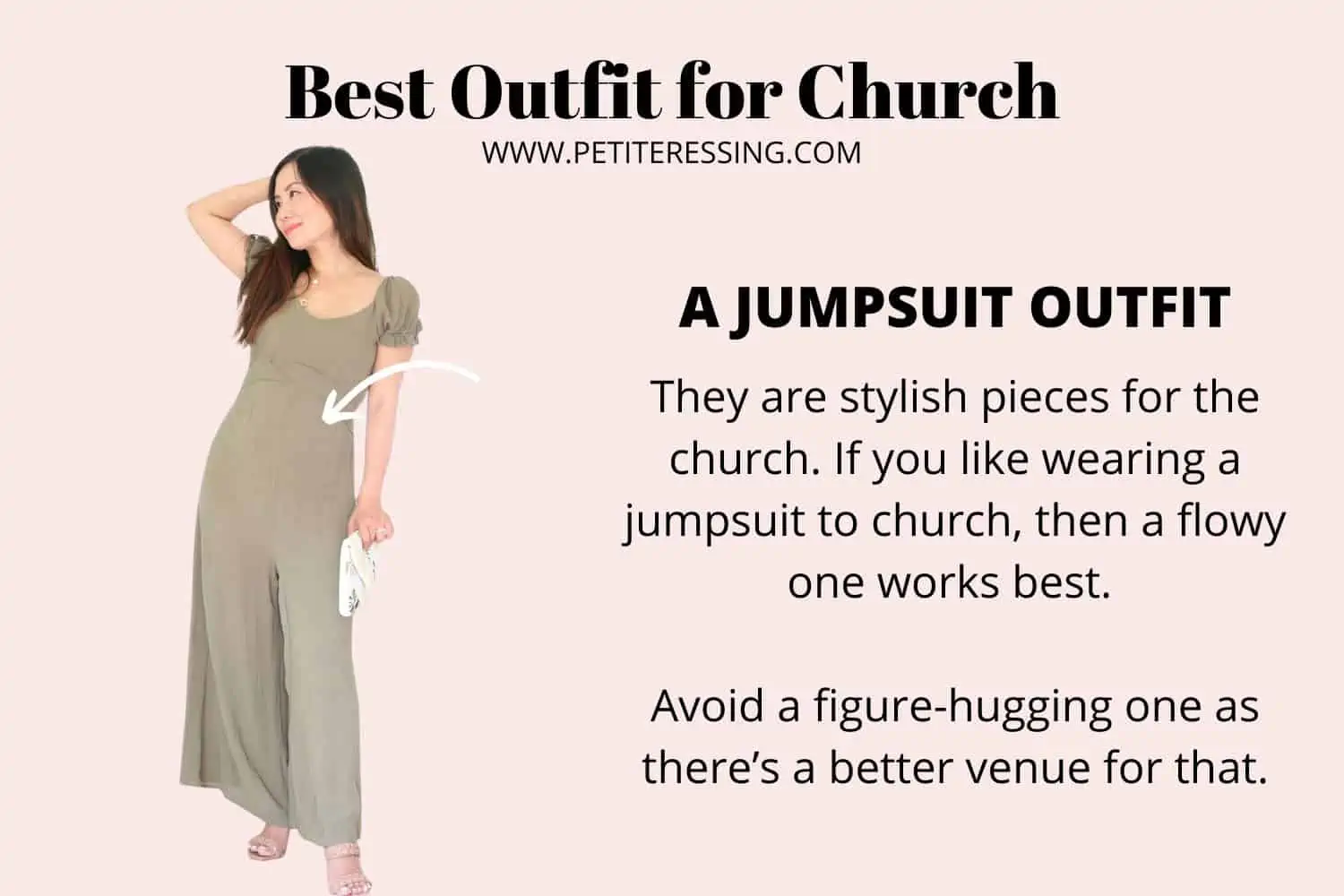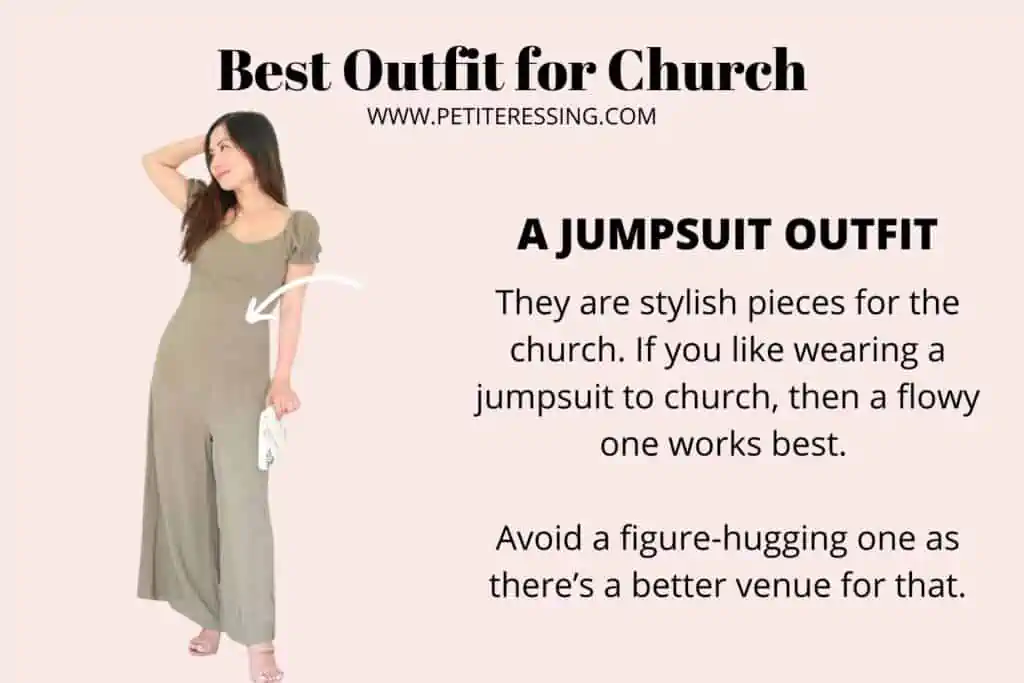 Jumpsuits are very flattering, especially if you pick a cut that's right for your body. They are also easy to wear and you can pick lighter ones for summertime, and heavier ones, when it's a bit cold. They are also stylish pieces for the church.
If you like the idea of wearing a jumpsuit to church, then a flowy one works best. Avoid a figure-hugging one as there's a better venue for that.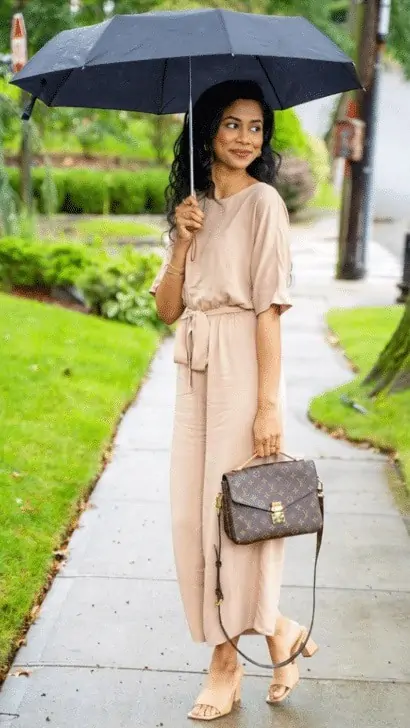 Fariya (above) styled her wide leg jumpsuit with a pair of nude sandals.
A blouse outfit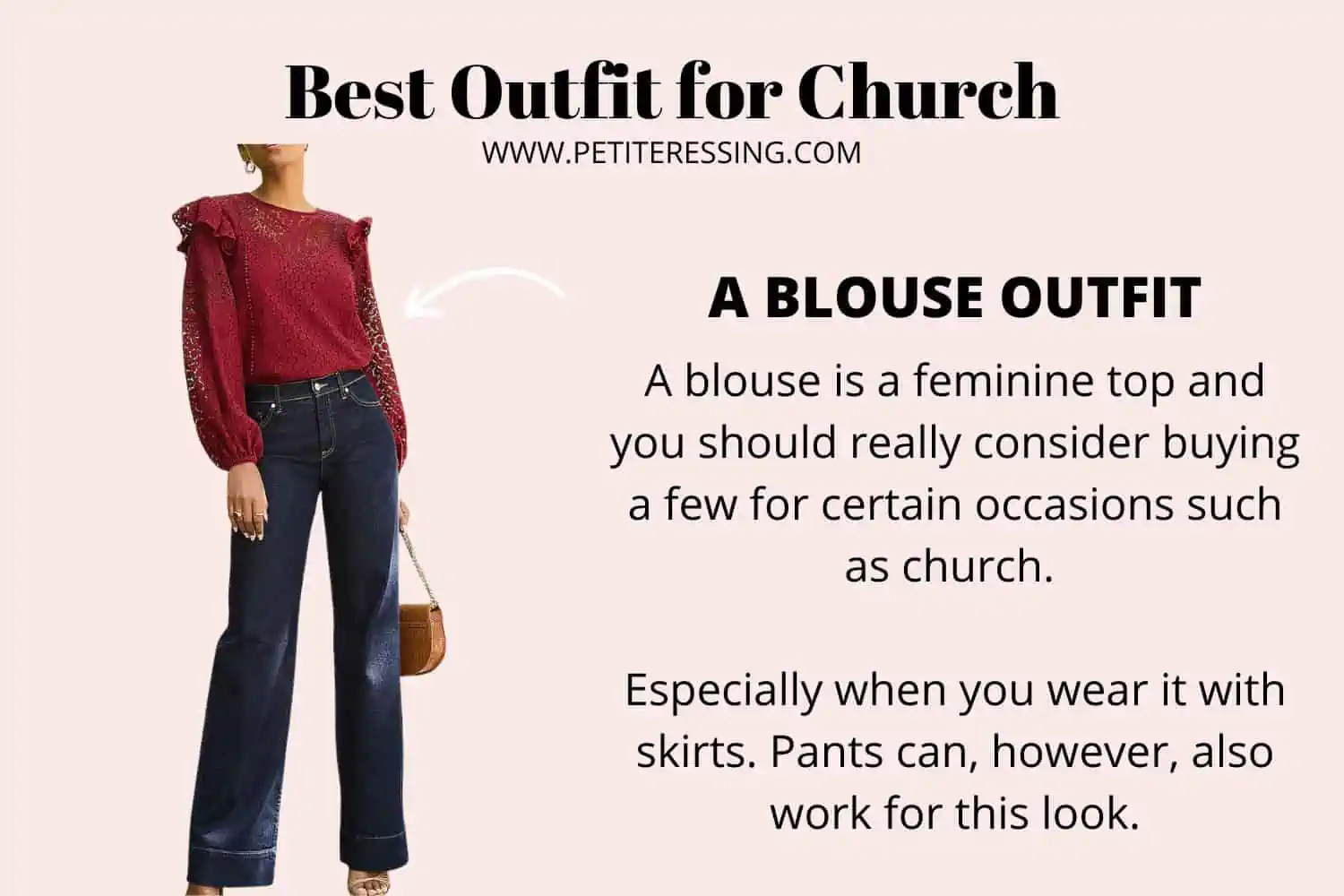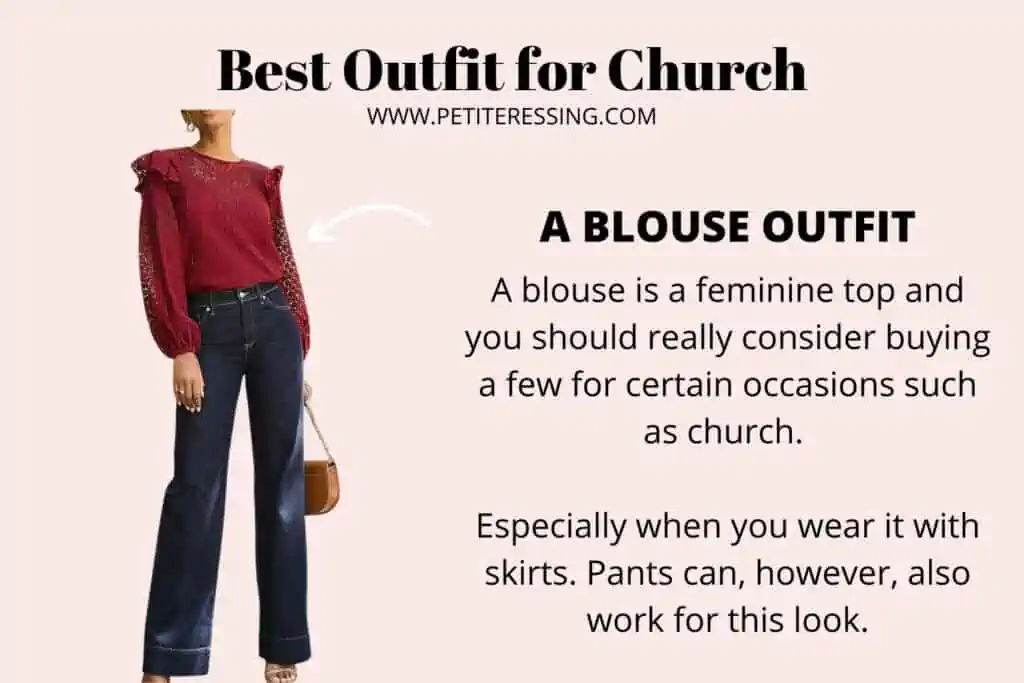 A blouse is a feminine top and you should really consider buying a few for certain occasions such as church and well,. They come in different designs so you really have a variety to choose from.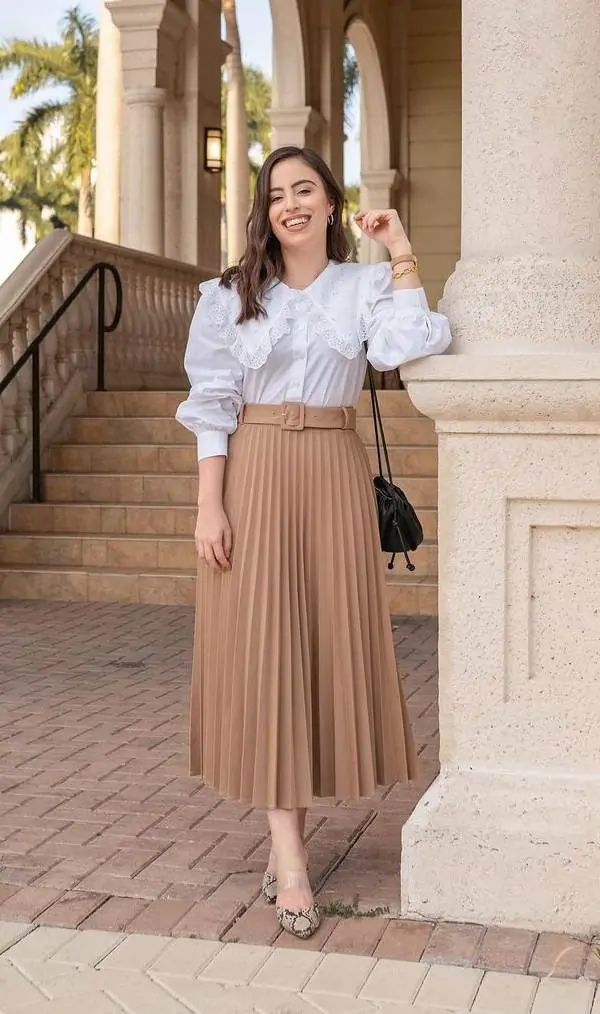 Carol (above) styled this white blouse with a brown pleated skirt and a simple black bag.
It makes for a great church look that's very girly especially when you pick skirts. Pants can, however, also work for this look.
A matching set outfit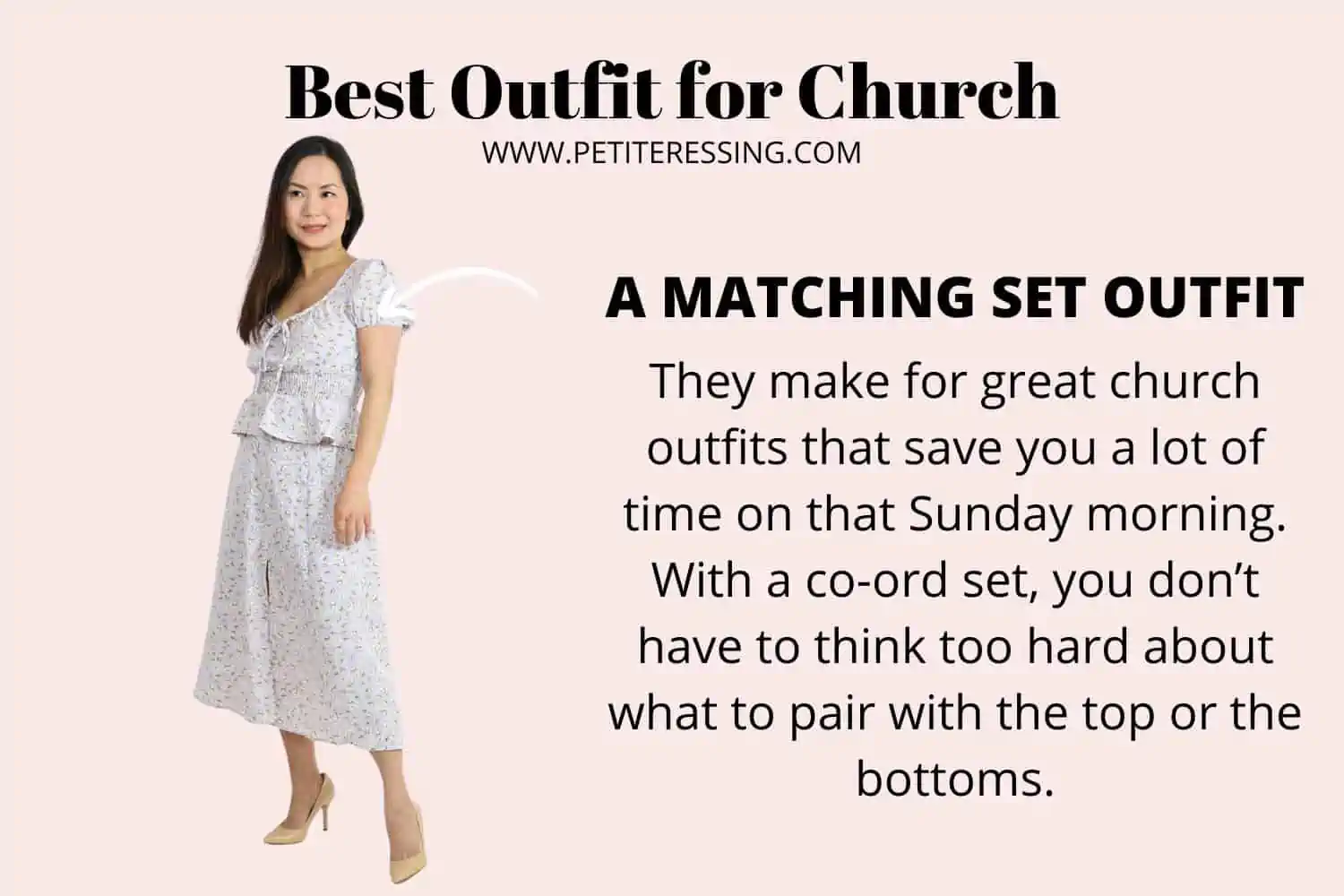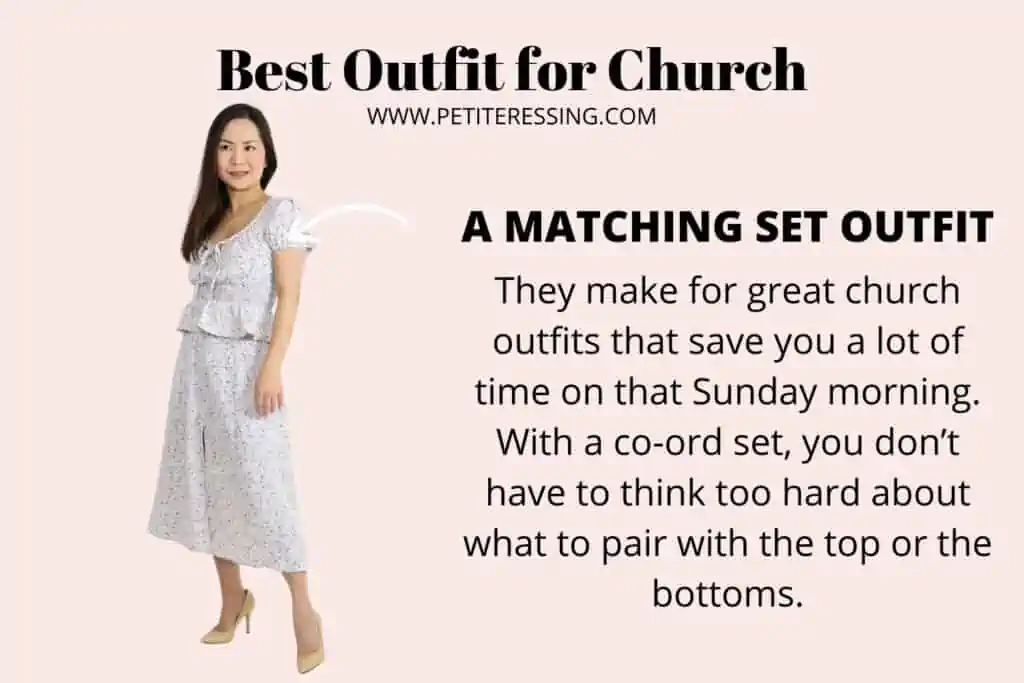 If you feel like a suit is a bit too much for you, especially on a Sunday, then you might want to go for a co-ord set instead. It's still two pieces that are easy to wear since they are an exact match. They also make for great church outfits that save you a lot of time on that Sunday morning.
With a co-ord set, you don't have to think too hard about what to pair with the top or the bottoms.
A tweed jacket outfit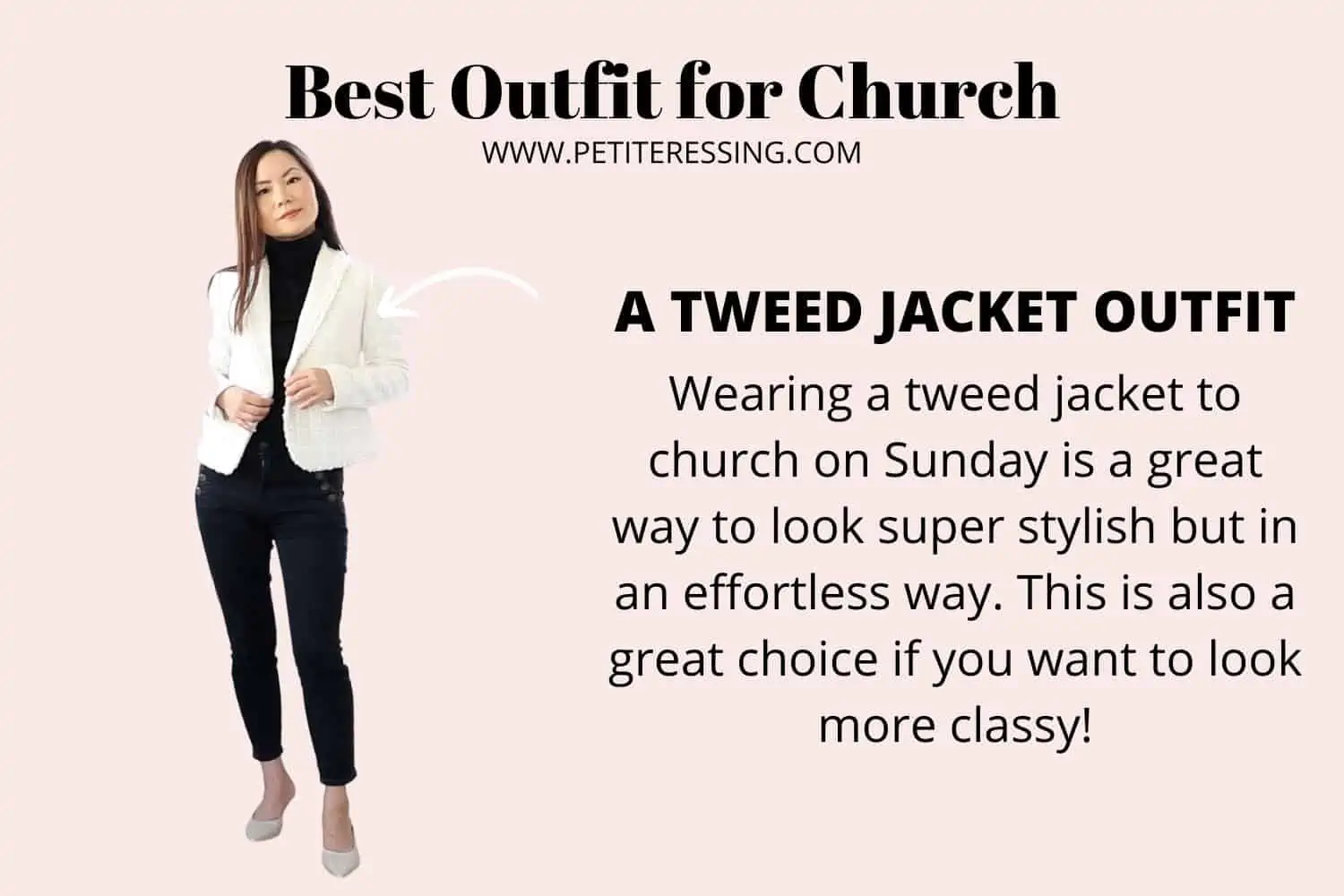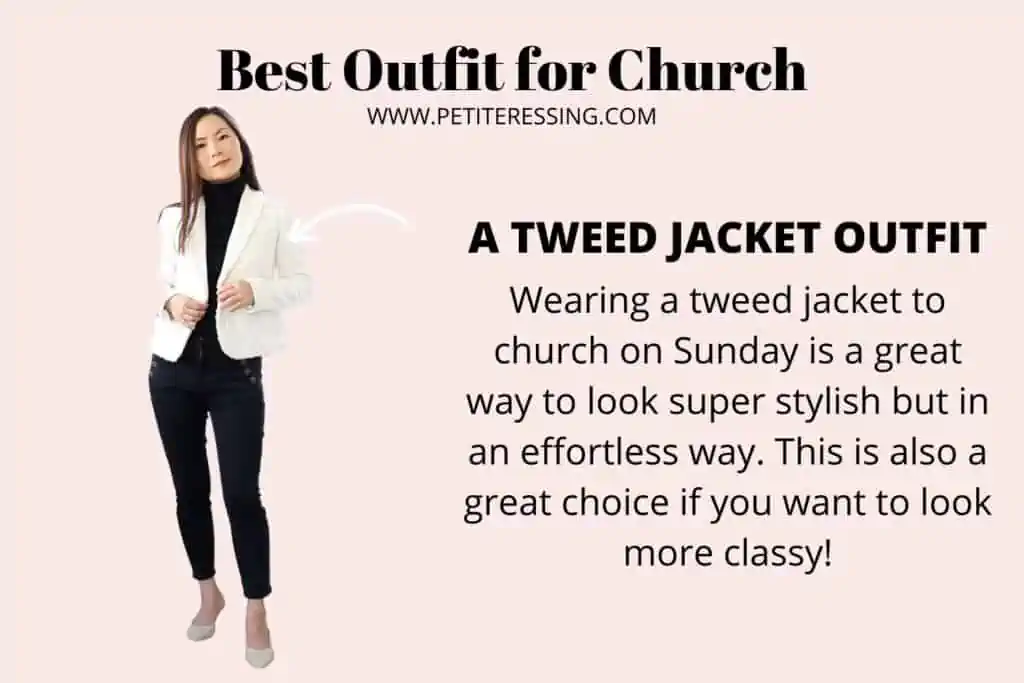 There's something about tweed jackets that screams Channel, or in other words, classy. As such, wearing a tweed jacket to church on Sunday is a great way to look super stylish but in an effortless way.
Kimono outfit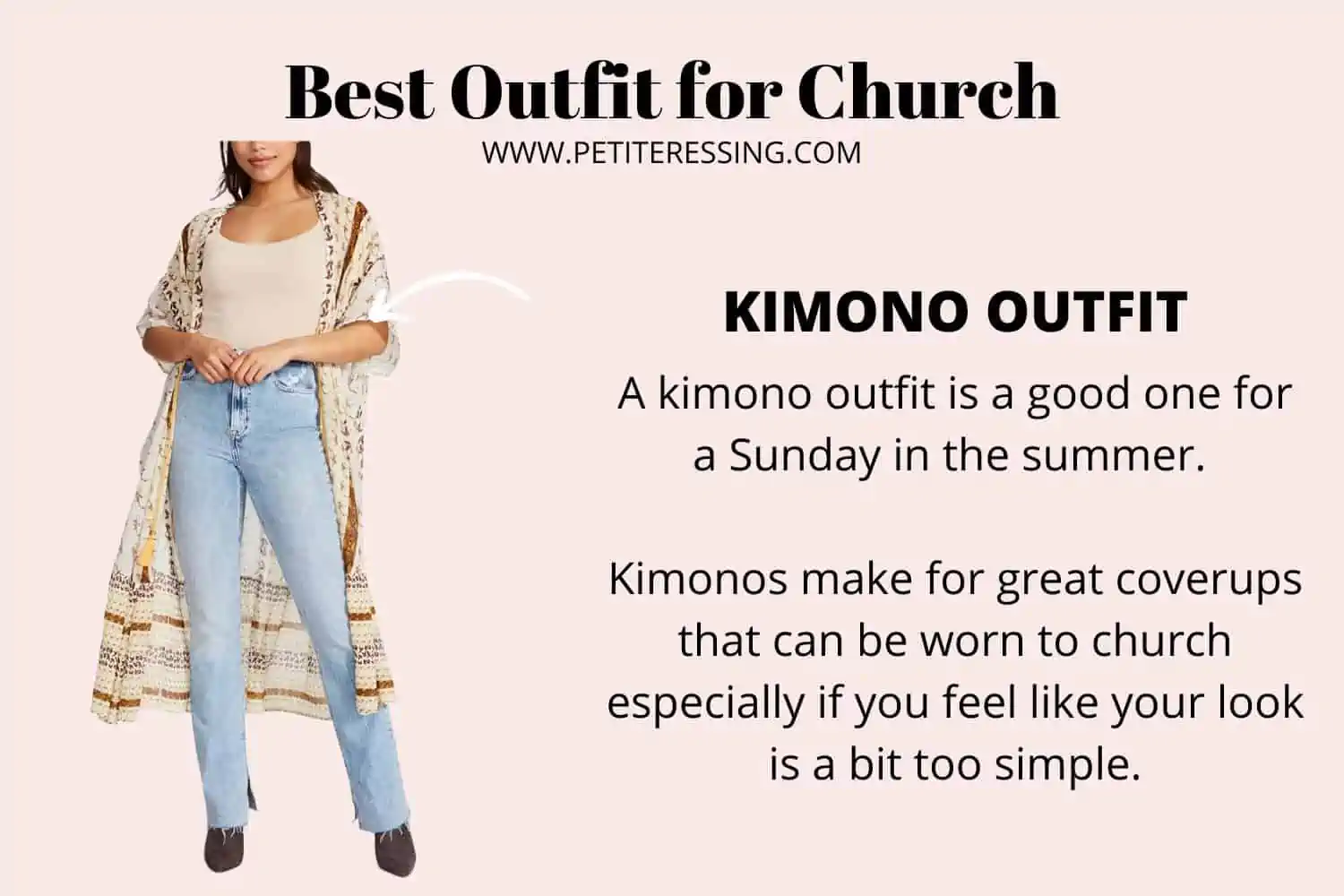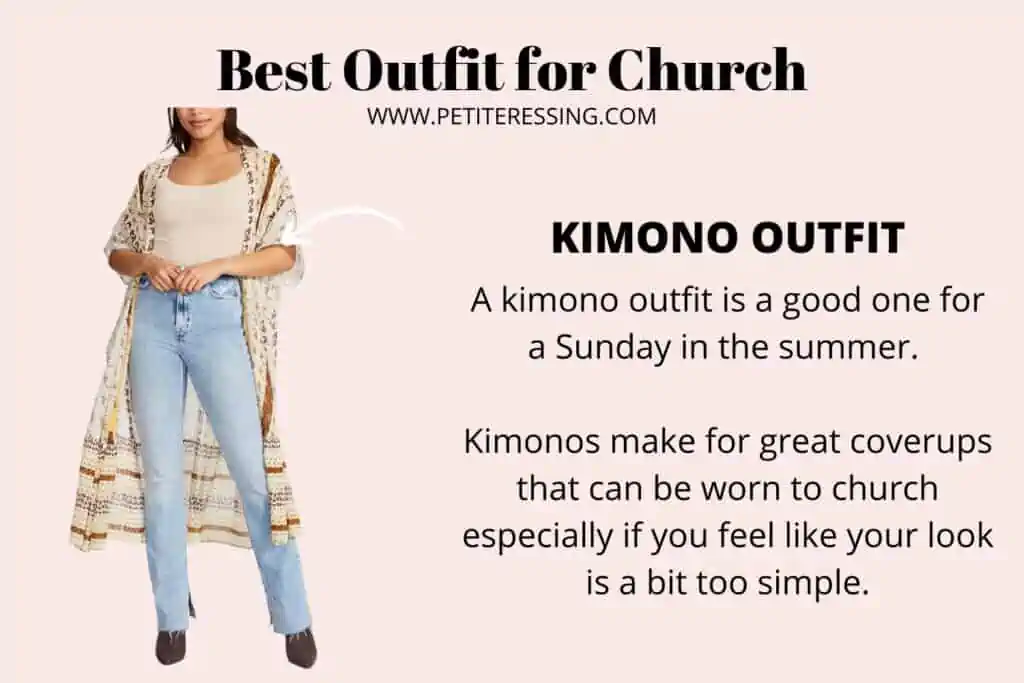 A kimono outfit is a good one for a Sunday in the summer. Kimonos make for great coverups that can be worn to church especially if you feel like your look is a bit too simple.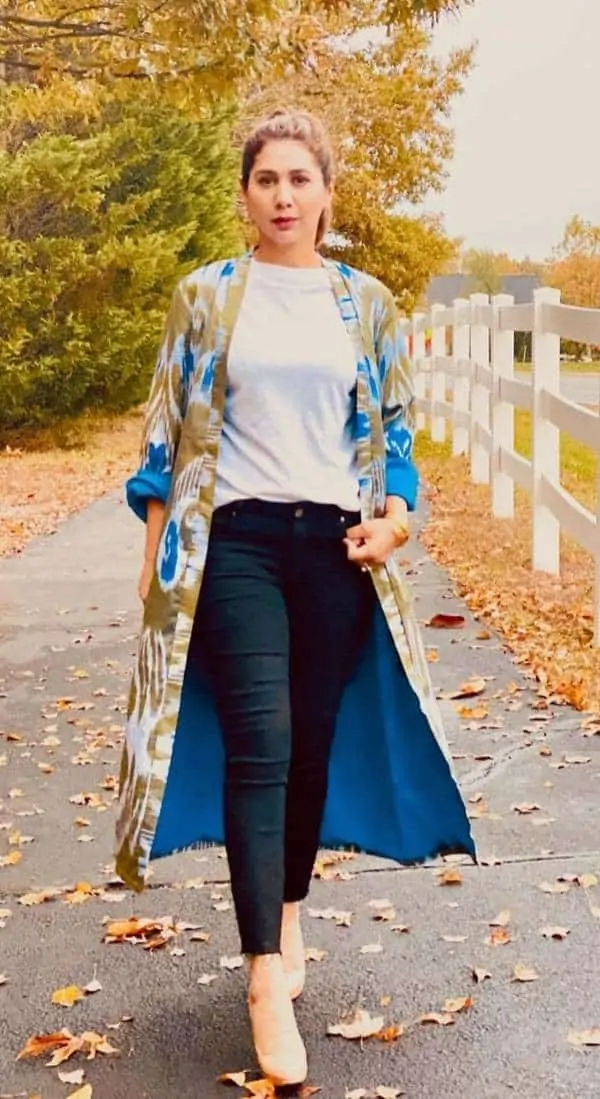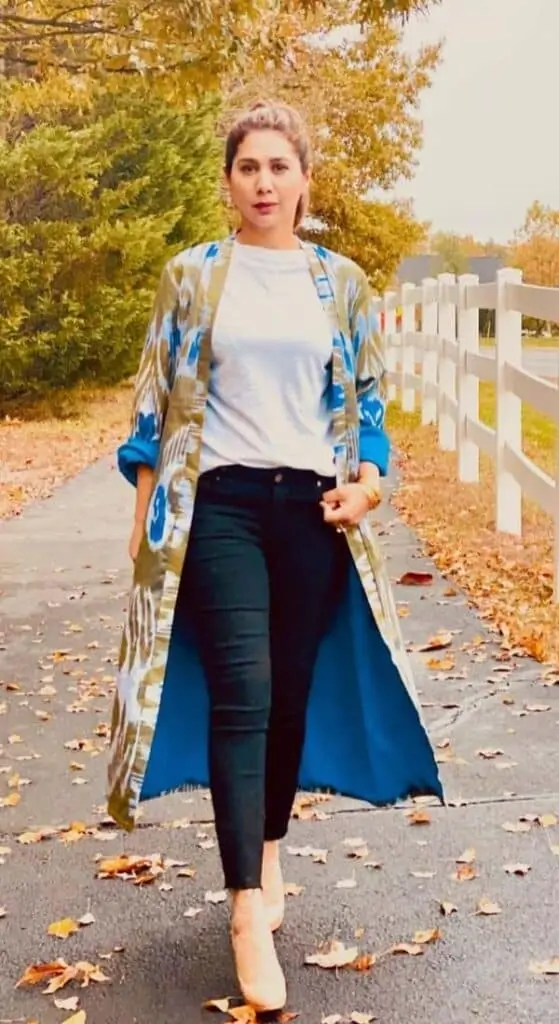 Rabia (above) wore a kimono over a simple t-shirt and skinny jeans outfit and finished the look off with some nude heels. If your kimono is printed, make sure everything else is muted.
As you can see, just because you have to go to church on Sunday does not mean you have to throw your sense of style away. It's an environment that requires modesty but modesty can still be stylish. With these 25 ideas, your Sunday looks should be stunning.