As one of the most important days draws closer, you will have to begin your wedding dress search. This journey can be exhausting and stressful, especially if you have any parts of your body that you are insecure or worried about.
Women with large busts often run into many obstacles when it comes to finding the most flattering and elegant wedding dress. Finding a gown with the right amount of support is essential. This guide will show you what to look for in a wedding dress if you are a woman with a large bust.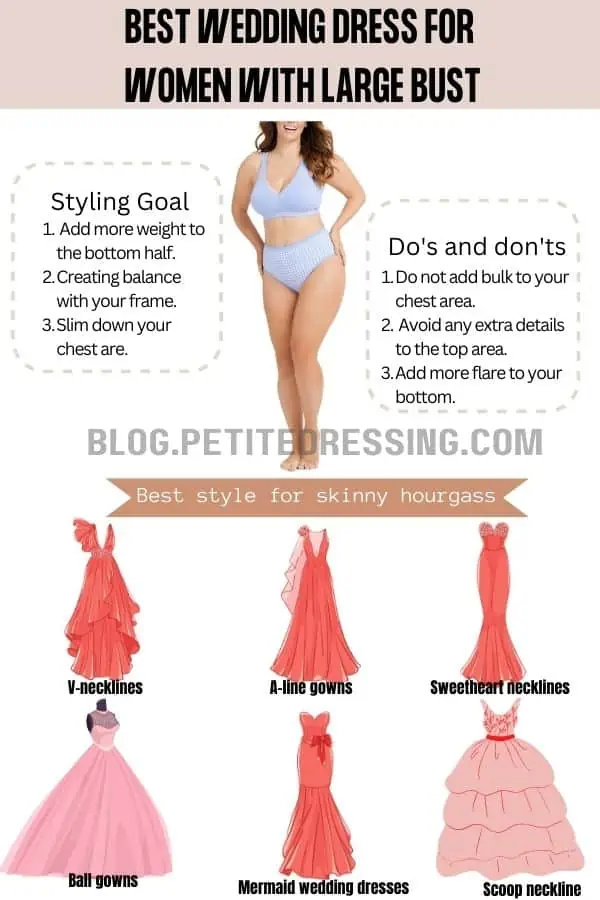 Necklines
Sweetheart necklines
Sweetheart necklines are one of the most flattering neckline options for women with large busts. The neckline perfectly shapes around your chest and shows some cleavage. If you wear a wedding dress that has the correct amount of support, this will lift your bust and make it look amazing. 
Sweetheart necklines are also very feminine and often associated with romance, hence the name they were given. This type of neckline is for a woman who is not afraid to show some cleavage and is confident with the chest she has.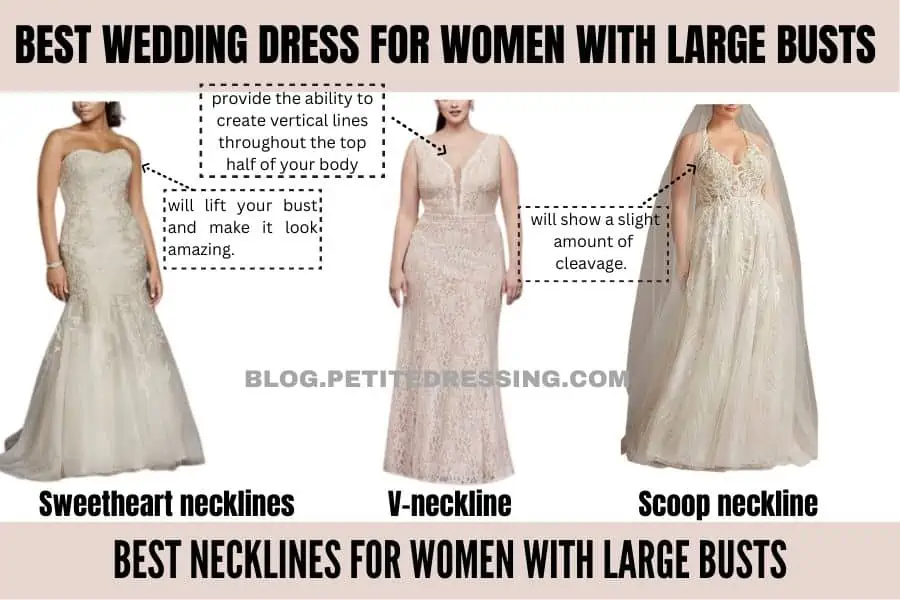 V-neckline
Adding height to your frame will also create a slimming effect, which helps to make your bust less noticeable. V-necklines are stunning and provide the ability to create vertical lines throughout the top half of your body. The vertical lines will end up making you look taller due to the column method.
V-necklines are incredibly flattering, and give you the opportunity to show off your neck and collarbone. Showing some skin is never a bad thing, especially on your wedding day. You should be able to feel like the most beautiful person in the room, so accentuating your best features will be a step in the right direction.
Scoop neckline
A scoop neckline is one of the more modest neckline options. It provides more coverage than a sweetheart or v-neckline but still makes that part of your body look beautiful. Scoop necklines, depending on how deep of a scoop, will show a slight amount of cleavage.
This neckline style looks good on women with large busts because it doesn't add extra weight to your chest. Many women try to cover up and conceal their chest in order to make it look smaller, but that method usually has the opposite effect. If you have a large bust, that can not be ignored. Instead, you can focus on balancing it out and accentuating the body you have.
Styles and Silhouettes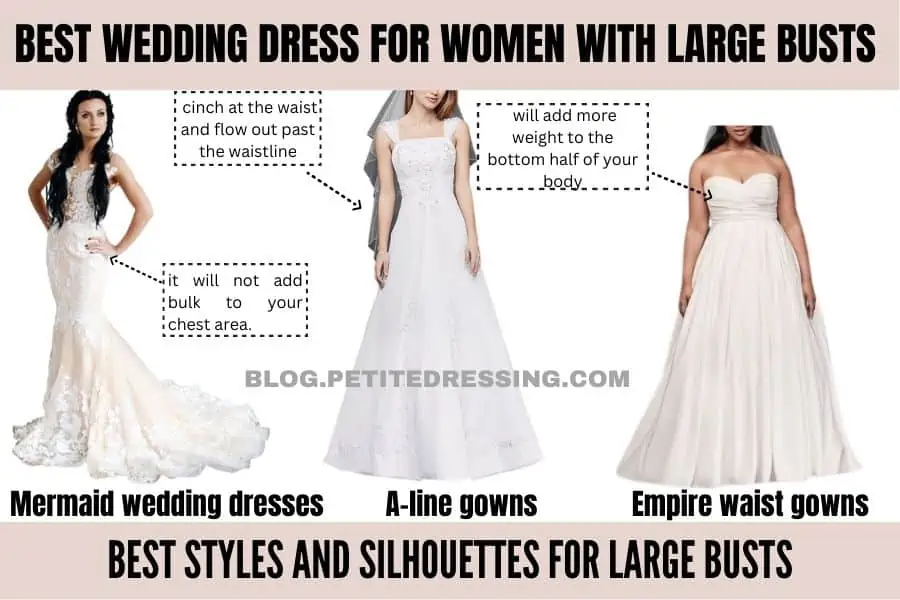 Mermaid wedding dresses
One of the best ways to create balance throughout your silhouette is to add more to either the top or the bottom of the dress. Since you have a large bust, you will want a wedding dress that combats that with a dramatic skirt.
Mermaid wedding dresses will fit tightly against your body and flare out at the knees. This is ideal for women with a large chest since the dramatic flare creates a perfect balance. Since the dress fits snugly against your body on the top half, it will not add bulk to your chest area. 
Many women with large chests are also curvy in other areas. This style of wedding dress is made to accentuate every curve you have. You deserve to feel beautiful and confident on your wedding day, and a mermaid wedding dress will make sure that all of your best features are noticed.
A-line gowns
A-line gowns have always been a classic wedding dress choice. They cinch at the waist and flow out past the waistline, creating an A shape. This style is universally flattering and slimming, and many brides immediately go for this choice.
This style of wedding dress is even more ideal for women with a large bust because of the flared skirt. Creating balance is essential with a long wedding dress, and the shape of the skirt will make sure to even things out.
It is important that you choose a neckline that is equally flattering with this dress style. The flare of an A-line dress is not dramatic enough to become the most eye-catching part of your look, so you will have to utilize other styling tips.
Empire waist gowns
A cinched waist will look marvelous on women with large busts. Empire waist gowns cinch directly below your bust, and lightly flare out past that point. This will help create an hourglass shape with your frame.
Empire waistlines were designed to flatter curves, which will work perfectly with your body shape. The flare of the skirt portion past the waistline will add more weight to the bottom half of your body, which will help to balance things out.
Some empire waist wedding dresses will make the waistline look obvious with a panel of fabric. If you want a more subtle approach, you can have a seamstress make the panel less noticeable, or just search for a subtler style.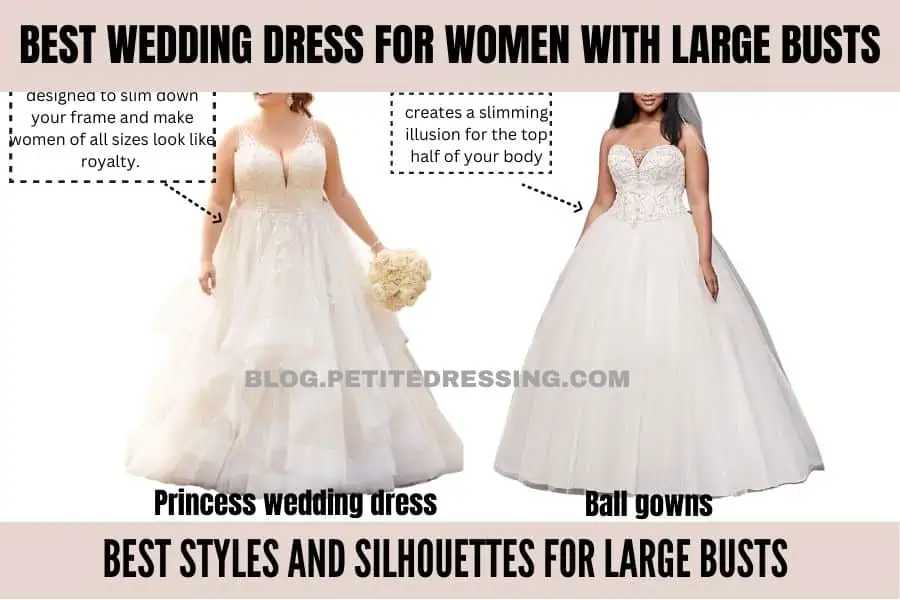 Princess wedding dress
Every woman deserves to feel like a princess on her wedding day. With this style of dress, you will actually be able to achieve this look. A princess wedding dress style will have a seamless cinch that fits snug around your waist. This style of dress is so popular because it works effectively to create the illusion of an hourglass shape.
Princess wedding dresses have a subtle cinch which makes this a more elevated and elegant choice. This style of dress is often accompanied by lace, but sometimes a simple satin gown is all you need. The dress is designed to slim down your frame and make women of all sizes look like royalty.
Ball gowns
In order to contrast against the size of your bust, you can add some poof to the skirt. As long as the top portion of the gown is form-fitting, the poof will not add too much bulk. Adding flare and drama to your skirt will draw more attention to that part of your body.
Ball gowns are elegant and always help to make your waist look smaller than it is. The poof creates a slimming illusion for the top half of your body. You will be able to feel beautiful, proportional, and slim all at the same time.
You will only want to be cautious of this style of dress if you are very petite, as it may end up making you look short. This style of dress is ideal for a bride that wants drama and flair as she walks down the aisle.
What to Avoid
Halter top wedding dresses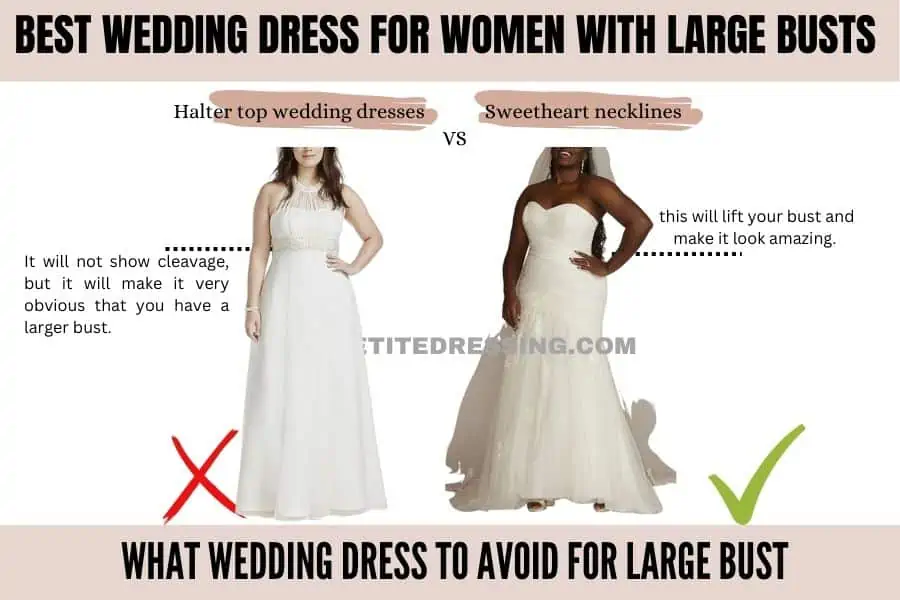 Halter-top wedding dresses may be sleek and elegant, but they will not look amazing on a woman with a large bust. The long halter top will add a lot of fabric to the top part of your body and will hug tightly against your chest. It will not show cleavage, but it will make it very obvious that you have a larger bust.
Halter-top wedding dresses typically have a thinner strip of fabric for the torso, which may lead to a lack of support. There is also a chance that the small amount of fabric will end up showing the skin on the sides of your bust. You may want to show some tasteful side chest, but it will make your freedom of movement much worse.
Backless wedding gowns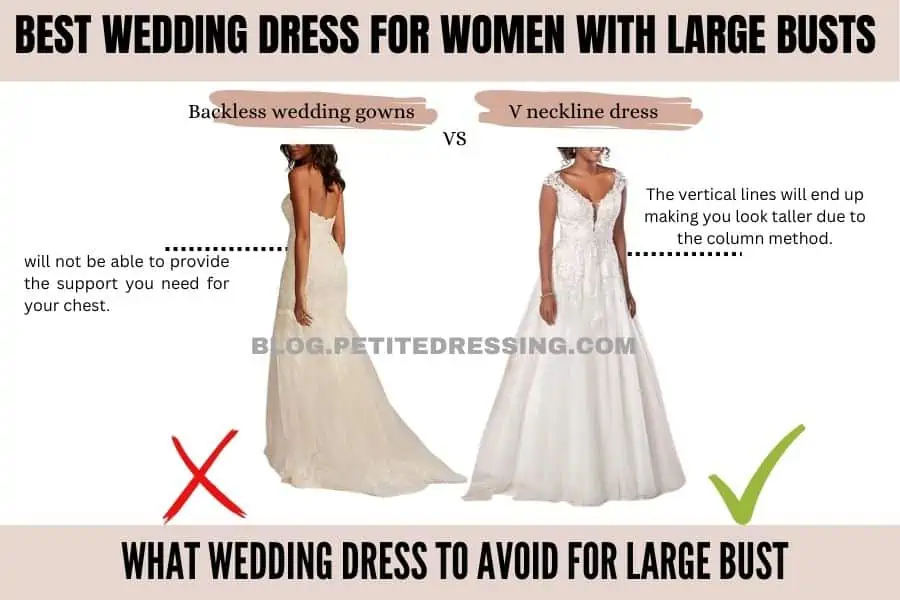 As a woman with a large bust, you know how important support is. If you do not have enough, you will have back pains and plenty of discomfort. Backless wedding gowns will not be able to provide the support you need for your chest. 
It is essential to have enough structured fabric around your torso. The structure around your waist will often have the greatest impact on the support you receive overall. A backless wedding gown will only take away the fabric you need.
If you want to show some skin on your back, that is more than okay. But you will have to be careful when it comes to how low the swoop of the back of the dress falls. You can even opt for a wedding gown that has cutouts or buttons on the back to add more flare to your look.
Feathers or ruffles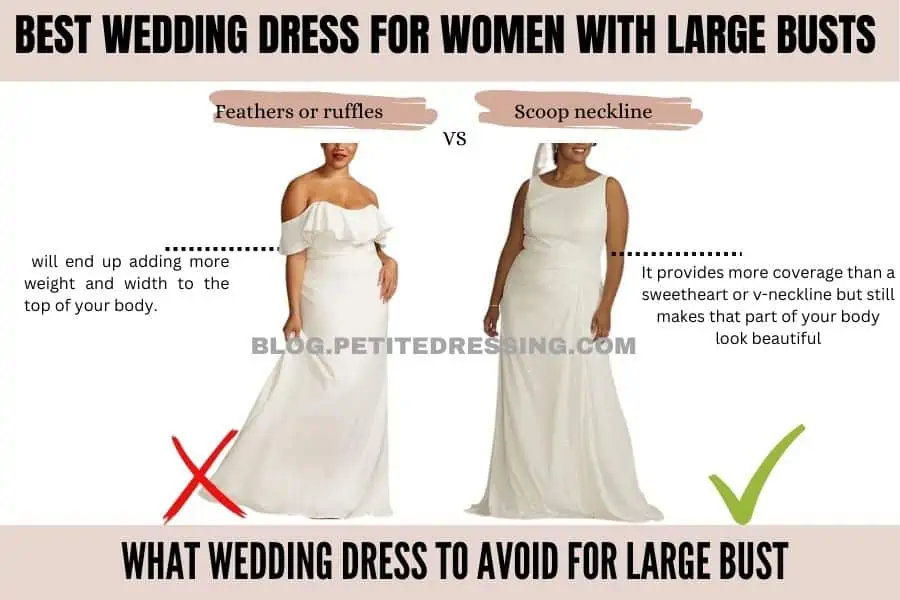 Since your large bust may already be more eye-catching than you would prefer, it is important to avoid any other features that may draw more attention to that part of your body. Feathers, ruffles, and dramatic poof on the top half of your body will only make this issue worse.
With the top portion of your wedding dress, simplicity is the best route to take. Lighter fabrics will be more breathable and comfortable, and will not be as distracting. Feathers and ruffles will also end up adding more weight and width to the top of your body. It is best to avoid any extra details to the top area so that you can focus on accessories and a dramatic skirt.