Most women can relate to wanting their bum to look good in the jeans they wear.
After many years of trial and error, I have discovered here's the 6 best types of jeans that can make your bum look rounder and lifted!
High Waisted Jeans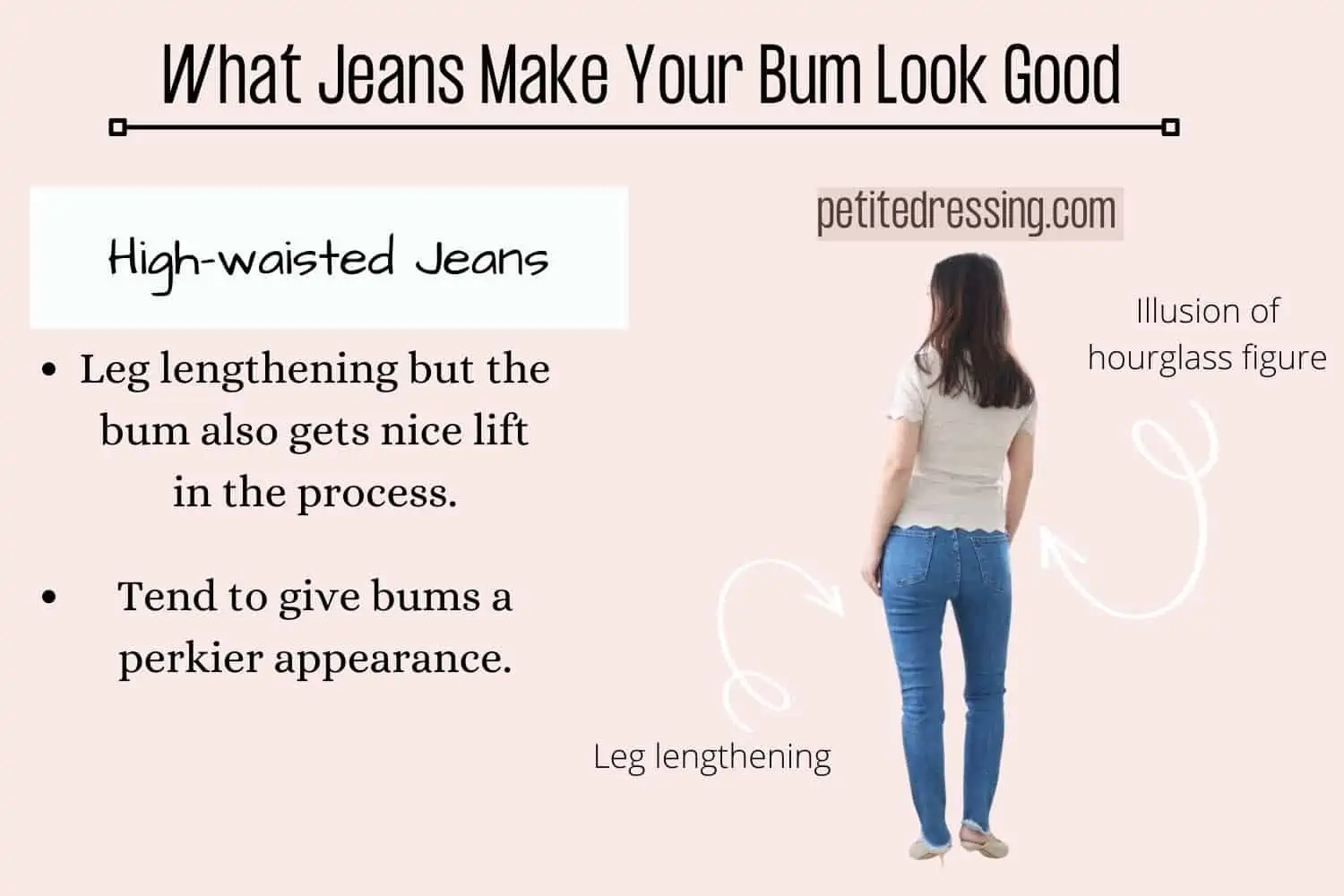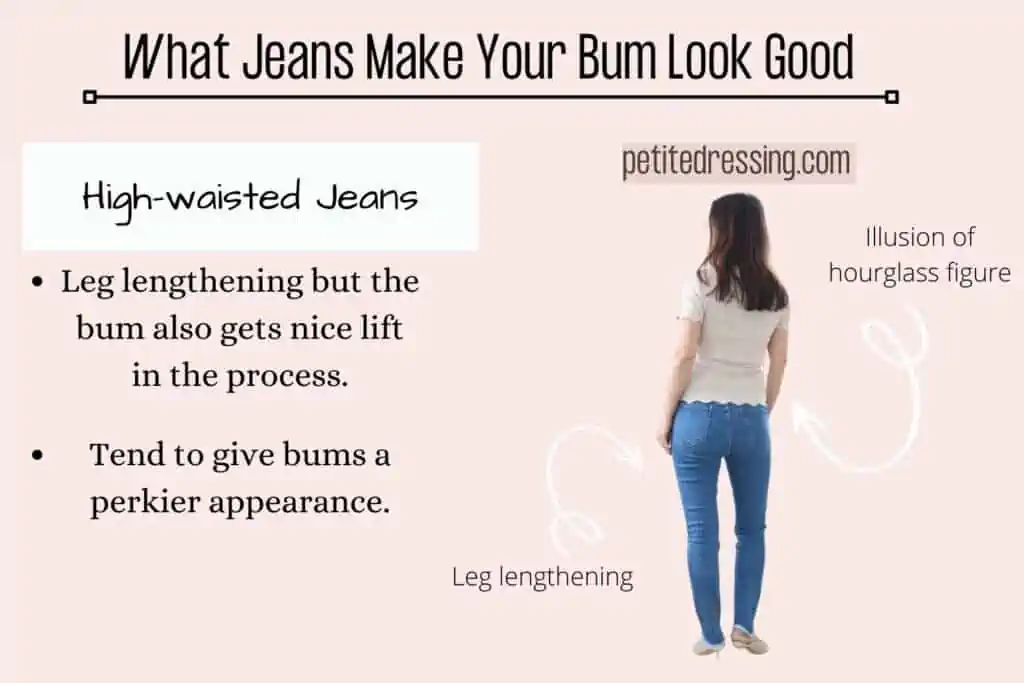 Hopefully you aren't tired of hearing about high waisted jeans because not only are they trendy, but they offer a lot of figure flattery benefits to them. One of the most commonly known benefits of high rise jeans is the leg lengthening but the bum also gets a nice lift in the process.
Regardless if you have a big bum or flat bum, due to the rise of this style denim sitting higher up on the body, high waisted jeans help to give the illusion of an hourglass figure. We often hear about the lifted effect benefiting the length of legs, but it does the same thing to the back of our bodies – bums included.
High rise jeans tend to give bums a perkier appearance, and can sometimes make it look more rounded depending upon the placement of pockets and such.
Stretchy Skinny Jeans
Another go-to jean choice for your bum is always going to be a great pair of stretchy skinny jeans.
Regardless of what the TikTokers are saying about skinny jeans, there's no denying they do wonders to flattering and enhancing curves. In fact, skinny jeans are one of the best jeans to make your bum look bigger.
The main reason stretchy skinny jeans make the bum look so good is because of the way they fit close to the body.
This is why choosing the right size and fit is so important. If the jeans get too loose throughout wear they'll end up bunching and falling in a not-so-flattering way.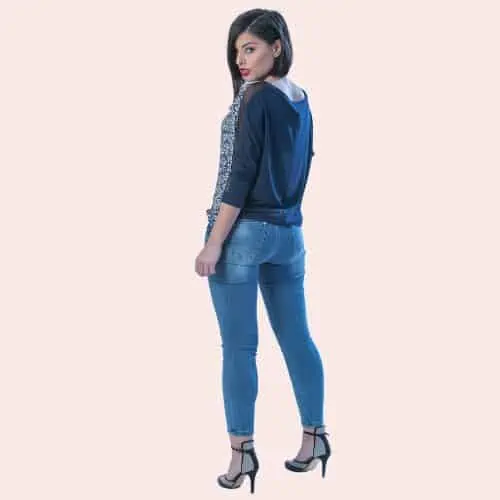 How to choose skinny jeans
It's important to opt for a pair of skinny jeans that have some stretch to them, the stretch not only makes them more comfortable to wear but also helps to hug the body and your natural curves.
When shopping for stretchy skinny jeans it's best to choose a pair that either won't stretch TOO much with wear, or buy them where they're a bit snug to give you some room for the give that happens with wear.
Sculpting Jeans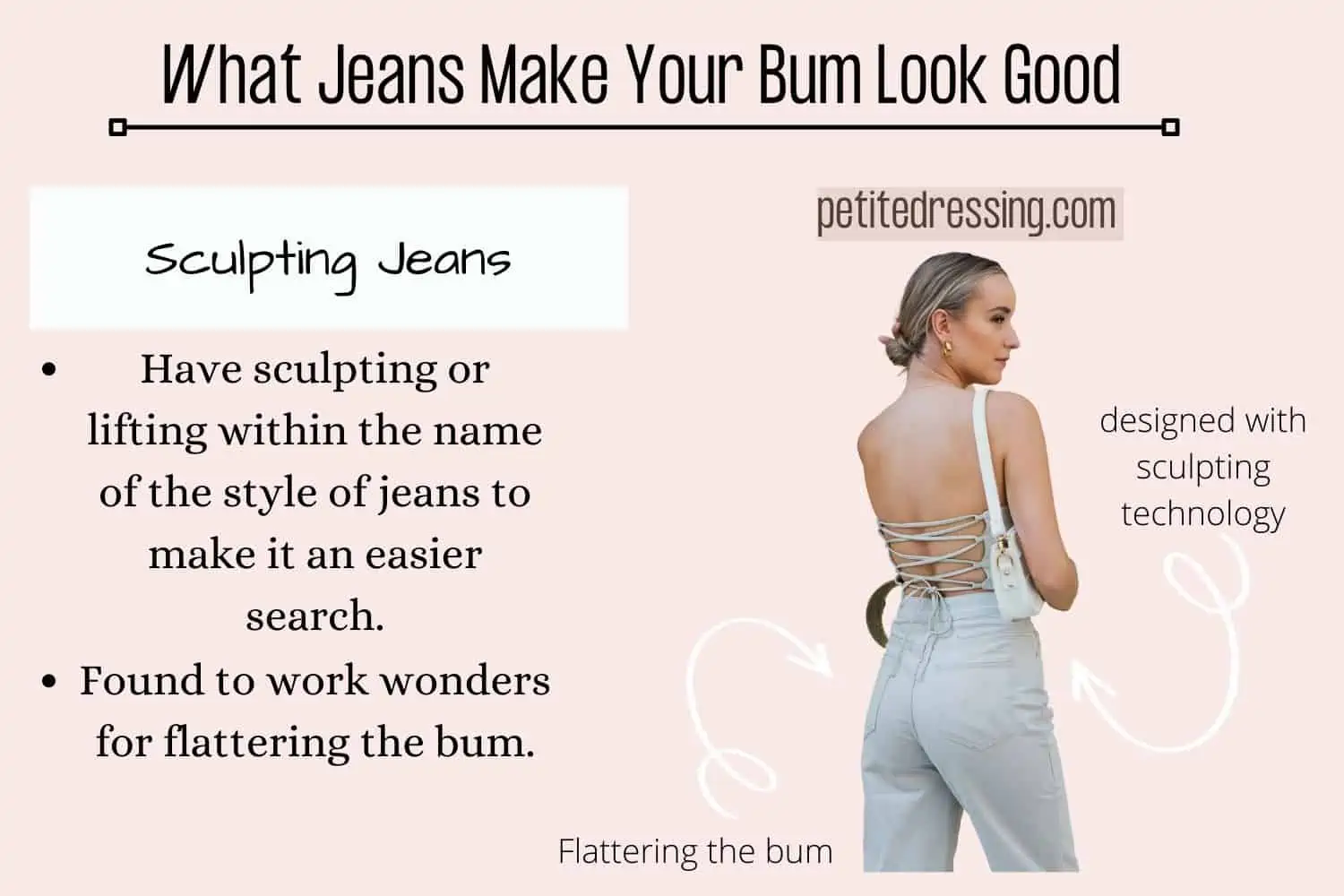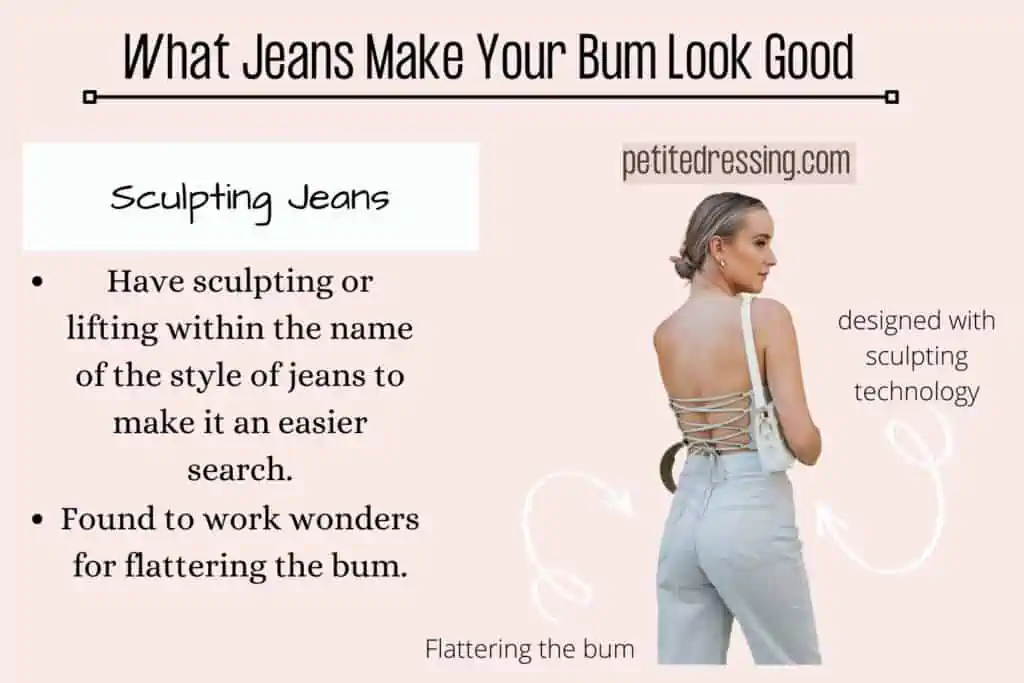 In today's fashion world there are SO many brands and styles available to consumers. With that has also come the rise in different technologies being introduced into clothing, especially denim.
In fact, many brands now offer jeans that are specifically designed with sculpting and/or lifting technology. This 'technology' has been found to work wonders for flattering the bum, and that's what much of the purpose of it is.
If you feel like you've tried a lot of the popular brands and nothing really works for you, it may be worth seeking out brands or styles that offer this special technology. Generally, you will find that they will have sculpting or lifting within the name of the style of jeans to make it an easier search.
High Placement Pockets
Pockets and their placement of them play a huge role in how flattering jeans are going to be on the bum. Most style experts suggest avoiding jeans that have no back pockets unless you have a curvy bum, to begin with.
Pocketless pants, otherwise, are much harder to wear and enhance the bum in the process.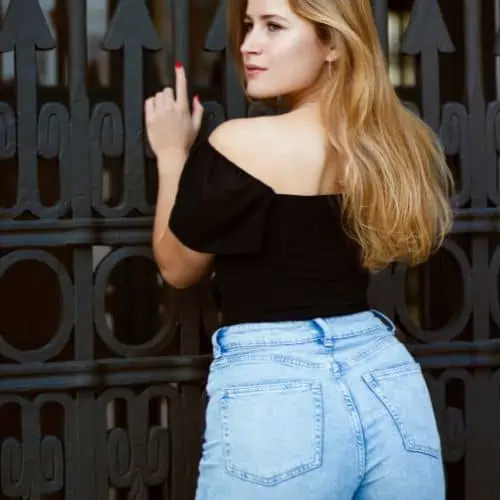 How to choose jeans pockets
If you haven't in the past, now is the time to begin paying closer attention to the types of pockets that are on jeans.
A good rule of thumb is to seek out back pockets that sit a bit higher up on the body. This means avoiding low-placement pockets.
Pockets that sit low on the bum are going to drag the bum downward, which isn't the most flattering to that part of the body. Instead, when the pockets sit a bit higher on the body it helps to make the bum look lifted.
Mid-Sized Back Pockets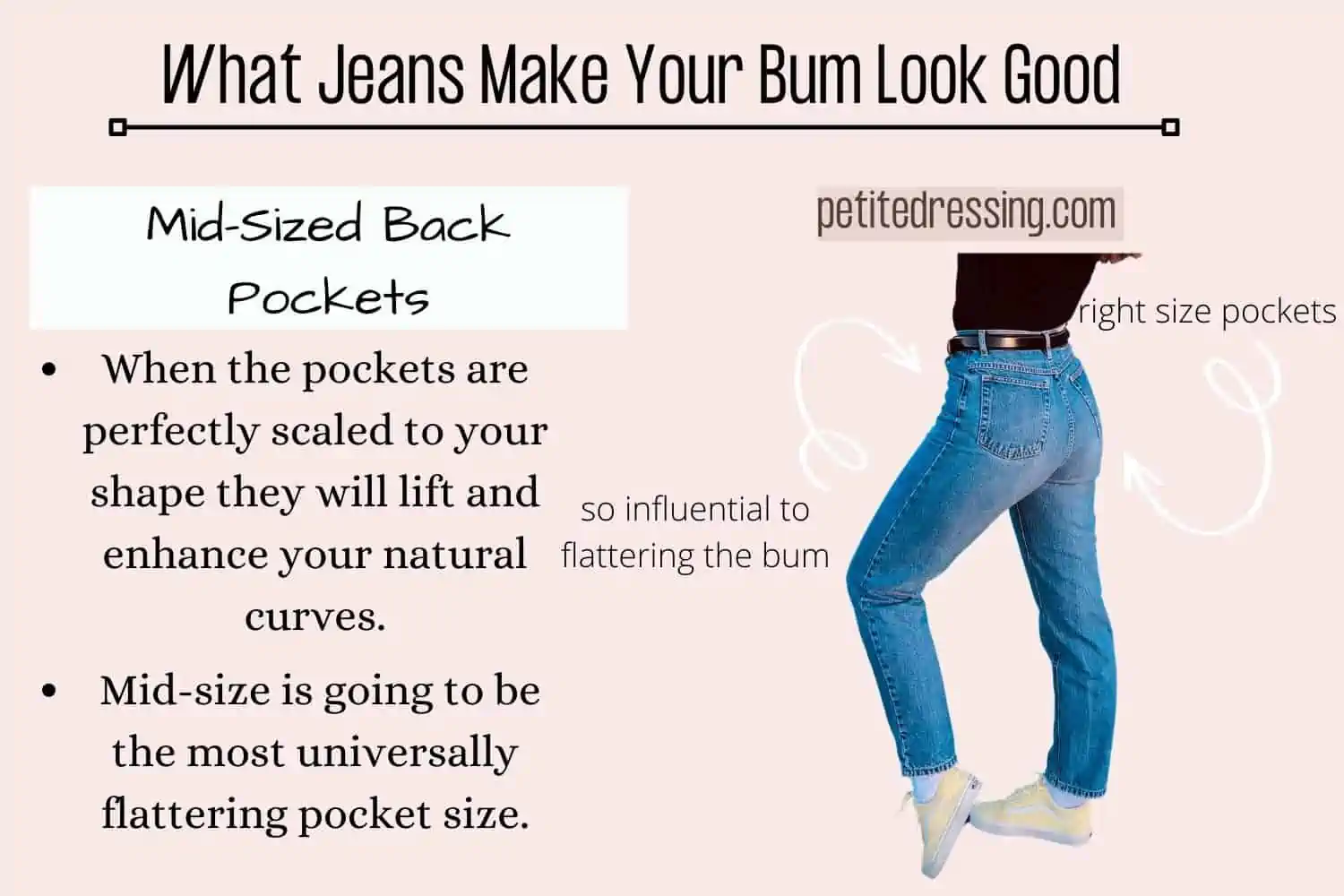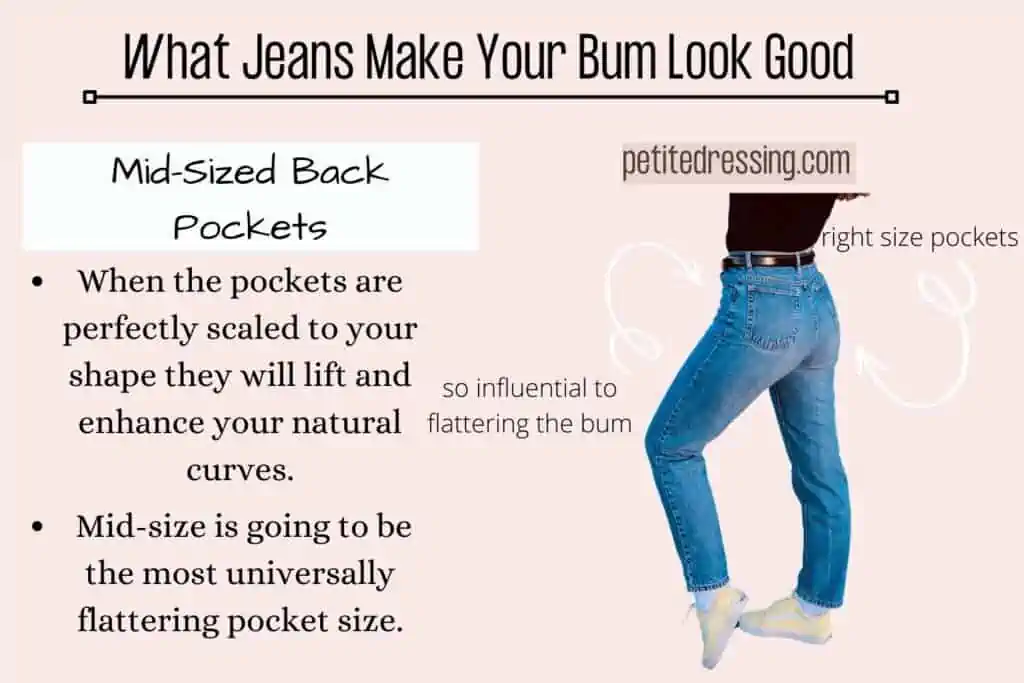 While on the topic of back pockets, because they're so influential to flattering the bum, in addition to the placement of pockets it's essential to choose jeans that offer the right size pockets. Yes, even the scale of the pockets are going to either work with or against the bum.
When choosing the right size pockets it's really all about selecting an option that's right in the middle. Mid-size is going to be the most universally flattering pocket size.
Pockets that are very small in comparison to your shape is going to make them look oddly scaled. If your goal is to make your bum look smaller, go with bigger size pockets.
On the flip side, pockets that are too big for your shape are going to take up too much space and be a little overwhelming.
If you're unsure about the size of pockets in relation to your shape, when trying on a pair of jeans, always do a turn and check out how the pockets look on your body. It will be pretty evident as to whether or not they're too big or too small for your shape.
When the pockets are perfectly scaled to your shape they will lift and enhance your natural curves, making your bum look great.
Deep yoke
The 'yoke' of jeans is going to be the area in the back that sits below the waistband of jeans. It generally has a v-shape to it that rests between the waistband and pocket area of denim.
It's not uncommon to find jeans with various yoke placements, or even no yoke at all.
Now that you know what the yoke of jeans is, it's important to pay close attention to where it sits on your body and its appearance of it.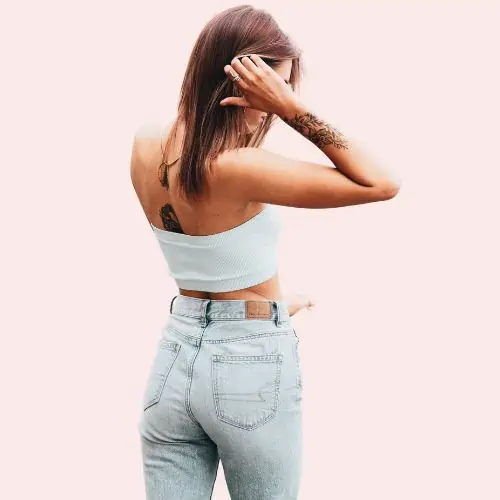 How to Choose Jeans Yoke
More often than not a yoke that's a little deeper in the 'v-shape' is going to be more flattering on the bum.
The deeper v-shape helps to accentuate the natural curves of the bum area of the body, giving your bum major enhancement.
Anytime you're looking to enhance the bum you'll want to avoid yoke-less jeans and opt for something that's more exaggerated in the v-shape.