If you ever wonder if women over 40 can still look trendy, you are about to get amazed by our list of fashion bloggers who are all over 40. Here are the 20 best style bloggers over 40 that will inspire you with their impeccable styles. Their outfits look both elegant and youthful, setting perfect examples for women over 40 that we can all still look so beautiful no matter what age we are.
The Dress Cellar
Seenonsarah of The Dress Cellar is a fashion blogger you will love if you are into more laid back looks. She has an amazing way of making even the simplest outfits look stylish. Her looks consist of pieces that you probably already own in your closet. However, she will make you love these simple pieces more so it's worth checking her blog out.
Sarah (above) is wearing a beautiful midi dress in shift style with a pair of sneakers for that girl next door look. It's a flattering outfit for women over 40 with different body shapes since the dress is not exactly figure-hugging. It's also very comfortable.
Angela Borja Style
Angela of Angela Borja Style, is the one to follow if you are looking for ways to make your outfits classier. She has mastered the art of coming up with chic pairings whether it's with a casual pairing with jeans or with a pantsuit. She also has a way of playing with proportions showing that you don't have to be a teenager to do so. That there is a more mature way to do this and get it right. She also has the art of playing with different textures in her so you can get all-round fashion inspiration from her blog.
Angela (above) is wearing a neutral outfit in the above picture. You never go wrong with a neutral monochromatic look. It's really age appropriate.
Club Forty
Claire of Club Forty is a blogger to follow especially if you have a preference for a more conservative look on most days. She often styles midi dresses and maxi dresses, pieces that are more mature and chic. There is a fear of such clothing aging you but when worn right, they will give you that mature look, but in a great youthful way even in your 40s. She is also great at putting together more casual looks that are fun but at the same time, so age appropriate.
Claire (above) is wearing an elegant midi length dress with a side slit and some mules, perfect for a day when you feel like being all dressed up.
21 Buttons
You'll find Izza of 21 buttons' blog amazing especially if you believe that you can wear a fun-looking outfit at any age. Her style will convince you that 40 is the new 20. From her denim looks to her fun skirts, her choice of prints and her lack of fear to experiment. Her blog will make you see fashion in your 40s in a different light and will inspire you to try switching things up a bit in your closet to make them more interesting.
Izza (above) is wearing a pretty printed shift dress with some colorful shoes, a simple look that you can put together on a day when girlie and casual is what you're going for.
March and May
Ana of March and May blog's style is amazing for plus size ladies over 40 who value the idea of always looking great as she is simply fabulous. She wears her clothes so well and every outfit exudes confidence. From cardigans to blazers, suits to dresses she is a versatile dresser. This means you will get different options of things to wear so that you have a different look for every day. Say goodbye to getting bored of your clothes if you draw inspiration from her.
Ana (above) is wearing a monochromatic outfit in blush, a youthful color combination that is also classy and will never go out of style.
Loved by Lizzi
Lizzi's blog Loved by Lizzi will definitely appeal to you if you just really love to step out looking like a lady. Just by looking at her pictures, you can tell that she puts a lot of thought into what she wears. From her choice of clothes to shoes and accessories, the colors she goes for which are mostly neutral and how well she balances her printed pieces with the rest of her outfit pieces. This is fundamental especially for women over 40 as the last thing you want is to have an outfit that's all-over the place. You want people to take you seriously.
Lizzi's outfit (above) demonstrates a nice way to tone down a floral piece. She's wearing a floral kimono over a top and jeans.
Style Loving
Just from looking at her blog Style Loving 2, you can tell that Karen has an immense love for prints and color. It's something a lot of women over 40 are afraid of. Most of all, you can see her love for fashion because of her bright but carefully curated looks. From her blog, you'll get a bit of everything and her outfits will bring you joy and inspire you to dress brighter.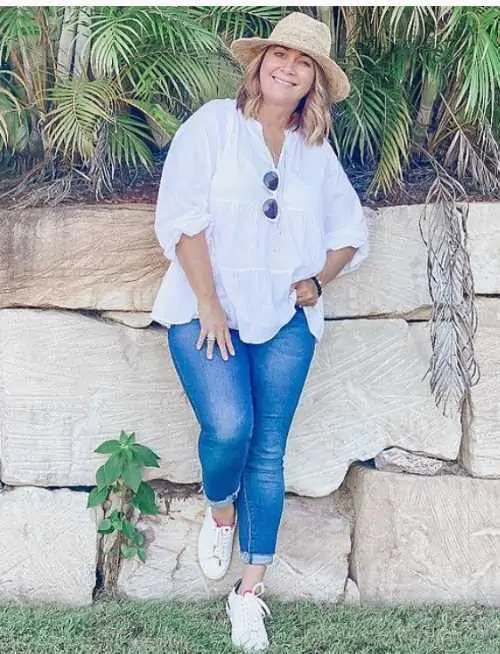 Karen (above) is wearing a relaxed fit white cotton blouse and skinny jeans with some sneakers for that casual vibe.
Mama Stylista
Deauvanne runs a blog called Mama Stylista and we can say she couldn't have chosen a better name. She is a proud mother with an amazing sense of style. She enjoys dressing up and keeps things nice and modern on her platforms. Her blog makes you realize that your 40s don't need to have too many restrictions when it comes to dressing. What matters is that you get something that fits your body right.
Deauvanne (above) is wearing a green jumpsuit with some frilled detail. She paired it with some open shoes. It's a chic, laid-back look.
Emma Paton
Emma Paton's blog is also great for those women over 40 who love color and are in search of some fashion inspiration. Her outfits seem to emphasize the fact that the colors you pick can go a long way in influencing how you feel throughout the day. Aside from color, she also incorporates lots of fun prints and different silhouettes into her outfits, giving you the reader variety.
Emma (above) is wearing a simple animal print dress with some chunky sandals and a straw bag for a great spring-summer outfit.
Louise Fashion Blog
Louise of Louise Fashion Blog is a lady over 40 that sure knows how to mix it up when it comes to her sense of style. Sometimes she'll wear something as edgy as a pair of ripped jeans while sometimes, she will strut in the most feminine dress. It's a great display of her confidence in her style and from her, you can learn a thing or two about the same.
Louise (above)is wearing a satin polka dot dress with a pair of heels. It's a dressy outfit that is flattering and age appropriate that could take you from a date to an event or any other special occasion.
Maryanna Lurye
Maryanna's style is something to marvel about. Whether or not you're into bold outfits, you will definitely appreciate hers. In most cases, plus size women, not just in their 40s but also those in other ages shy away from bold prints, but not Maryanna. The moment you land on her posts on Maryanna Lurye you are greeted by the most fun looks that will surely brighten your day and inspire your next few looks if not a wardrobe cleanout or shopping spree.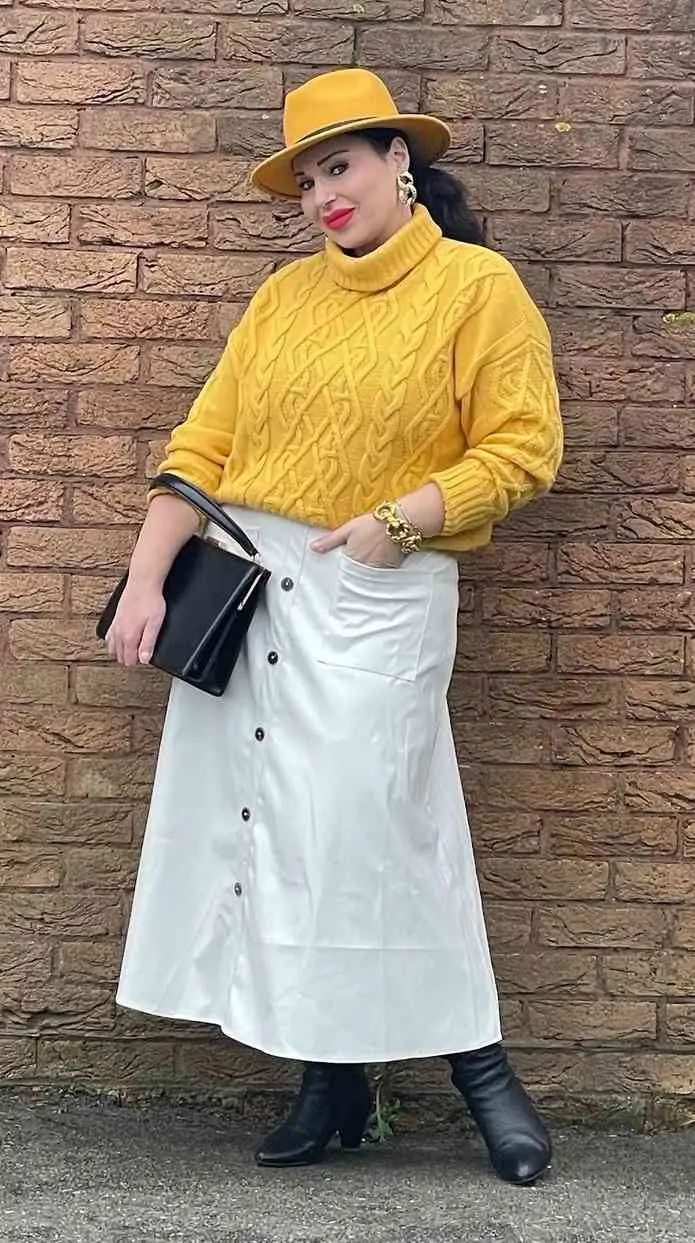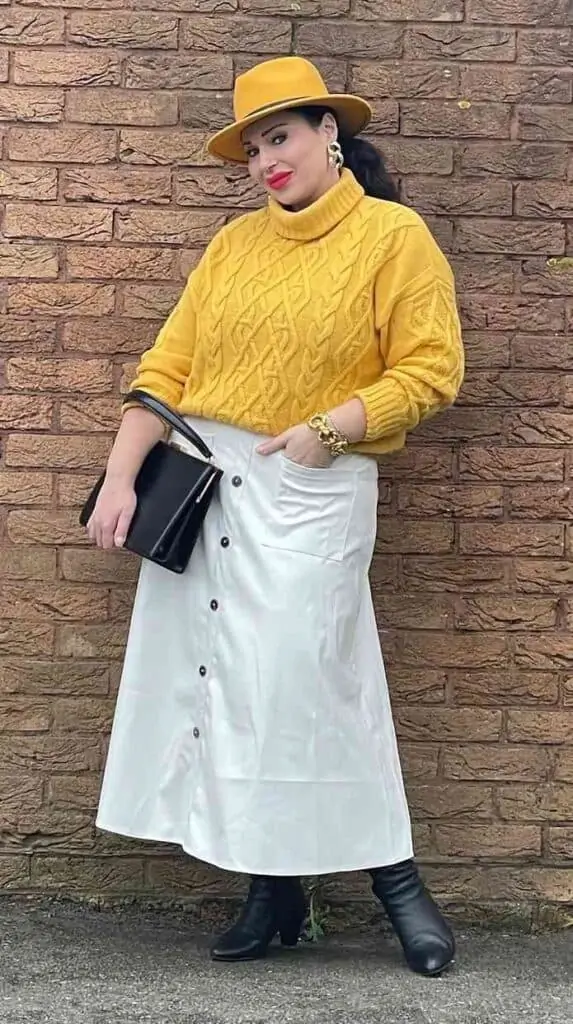 Maryanna (above) is wearing a yellow sweater with a skirt and a matching yellow hat. She also went for a black bag and some black boots just to balance out the look.
The 50 Plus Girl
Jona of The 50 Plus Girl blog shows that getting all dressed up is not a preserve for those in their thirties and younger. She shows that you can still get to wear what you want and be happy in it, considering she is 55 years old. Her outfits, whether casual or dressy ooze her elegance. From the images you find on her platform, you can tell that she has experience in putting together the best looks.
Jona (above)is wearing a a pink oversized blazer with black skinny jeans. It's a youthful look that is still age appropriate.
Casa Lollipop by Nadine
Nadine of Casa Lilipop by Nadine is a woman over 40 that certainly knows how to keep up with the latest trends. She dresses in clothes such as snake print ones that have been big lately, faux fur coats, pleated skirts and so many others. This goes to show that you don't have to give up on fashion as you grow older. Rather, stay up-to-date with what's going on. You deserve to look great at any age and her style tells you exactly that.
Nadine (above) is wearing a snake print dress with a black blazer and a pink bag just to add a pop of color to the whole look.
San Fransisco Bay Style
Through Haylie Constantino's blog, San Fransisco bay style, the biggest lesson you get is that you can give younger girls a run for their money. Haylie's style is youthful, as if to defy age or to emphasize that it really is just a number. She doesn't shy away from pieces such as shorts, tights and graphics t-shirts, among other things that most women in their 40s stay away from.
Haylie (above) is wearing a black skater dress with orange print. She paired it with some black heels and a black bag for a simple look.
Miss Crystal Blog
Crystal of Miss Crystal Blog is another one to follow. She started her platforms to bring a different perspective to the beauty and fashion world which is often filled with younger people or younger influencers. Her style often involves midis, maxis and some jeans here and there, basically pieces that make the most comfortable outfits. Her looks are appropriate for different environments which is great for people looking for versatile outfits.
Crystal (above) is wearing a bright polka dot dress with a pair of heels and a matching nude bag. This is a great look for a lunch or brunch during spring or summery weather.
Stylemystyle40
Abi of Stylemystyle40 shows you that despite being a mum in your 40s, you can still look great. Through her blog, she also shows that you do not have to break the bank to look awesome. She wears clothes that can take you through different seasons. She also shares how accessories such as bags can transform your look so easily.
Abi (above) styled a beautiful cable knit sweater with a pair of black faux leather leggings and blush nude shoes. Since the sweater is oversized, the leggings perfectly balances out the volume of the top, creating an elegant but edgy outfit suitable for any age.
Party Till Dawn
Dawn of Party Till Dawn blog styles looks that really any woman regardless of their age or body shape can look great in. Her pictures just get you happy as they ooze joy but you will love her different outfits even more. She looks great in girlie pieces such as florals and pinks but also looks amazing in tougher looks like animal prints and ripped jeans.
Dawn (above) is wearing an animal print matching set with everything else black. Anyone can look great in such a matching set
Sabrina Engels
Sabrina of Sabrina Engels's style is mostly casual. She goes for simpler looks often wearing jeans and pants that anyone really can feel confident in. Her laid back look is also so easy on the eye and through her, anyone who struggles to pair different things together can find joy in knowing that even your pair of jeans can have you looking all sorts of amazing.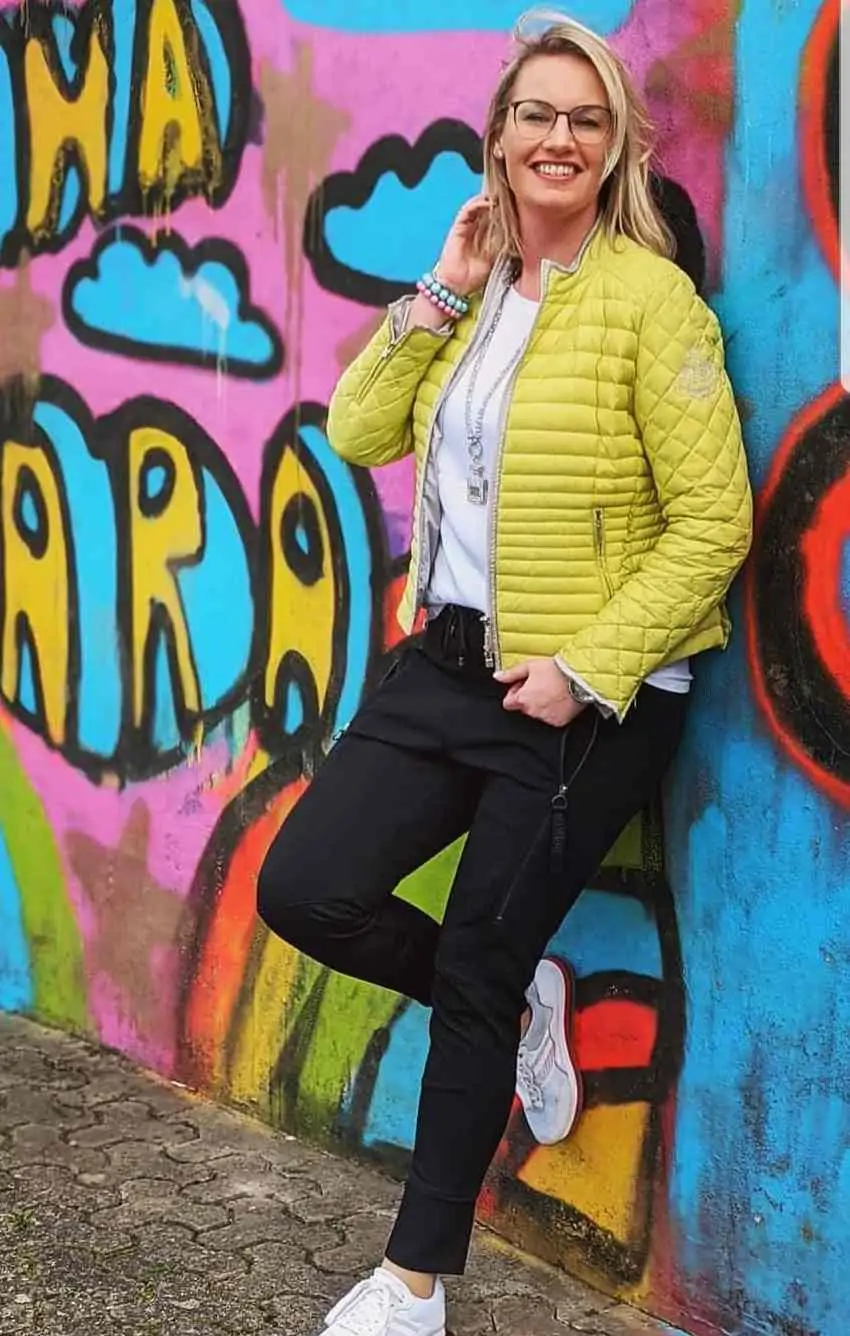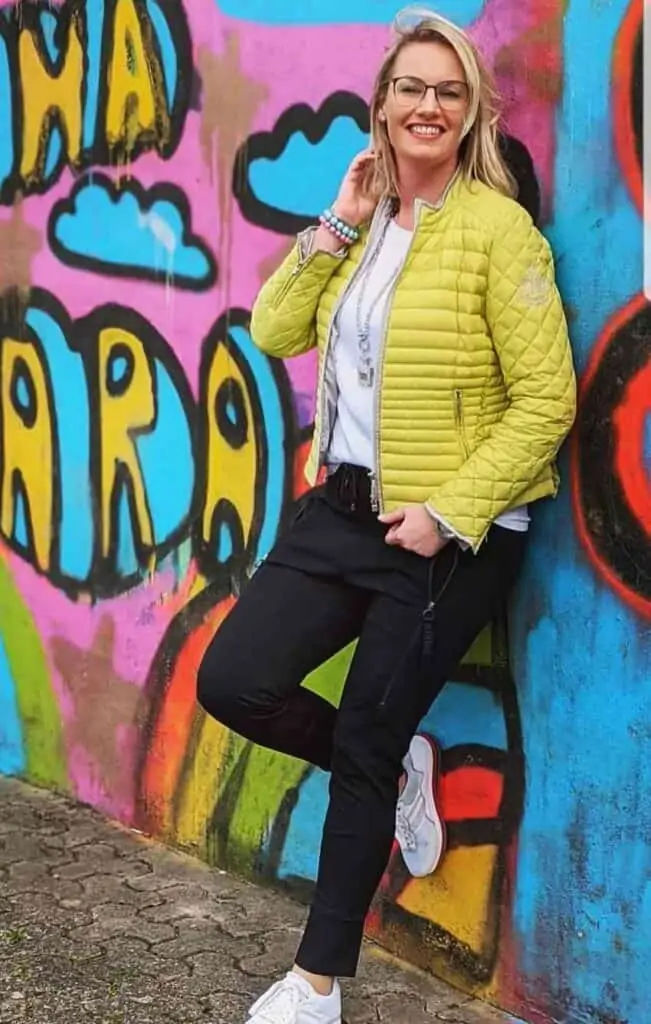 Sabrina (above) is in her element wearing some great black skinny pants with a top and jacket. As long as you get the right fit, even casual clothing can look amazing.
Emma Tmgr
Emma of EmmaTmgr is a grandmother with amazing style. Looking through her fits gives you the confidence to pull of pieces that are a bit out of an over 40s comfort zone like shorts and off-shoulders. Through her outfits, you also get to understand why certain pieces such as denim jackets never go out of style.
Emma (above) is wearing a blush satin blouse with black skinny jeans, and finished the look with peep toe black pumps. This is a classy and elegant outfit that looks expensive but also modest.
Hi Bellas
Jesica of Hi Bellas has such feminine style. You'll love her if you are the girlie girl. She shows you how to own your being a lady through her colorful, printed dresses, pants, accessories that include the ever classic scarves and so much more.
Jessica (above) is wearing a white button-down tucked into a beautiful A-line skirt and added a red bag and some red heels for a pop of color. A-line skirts are great for any body shape.
So catch up with these amazing style bloggers for that much-needed style inspiration.